Red Pike, High Stile, High Crag and Haystacks.
Red Pike, High Stile, High Crag and Haystacks.
Buttermere, Cumbria
23km walk covering 4 Wainwright Fells, including Wainwright's favourite, Haystacks.
Distance - 23km (14 miles)
Ascent - 965m
Duration - Approx 6 hours
Terrain - Tricky! First part is a steep incline of 755m which took us around 2.5 hours. Much of the walk is a bit of a scramble up rocky cliff faces and down loose screes. Enjoy!
Parking - We parked at the Buttermere Court Hotel. View Parking Map
View Route On Map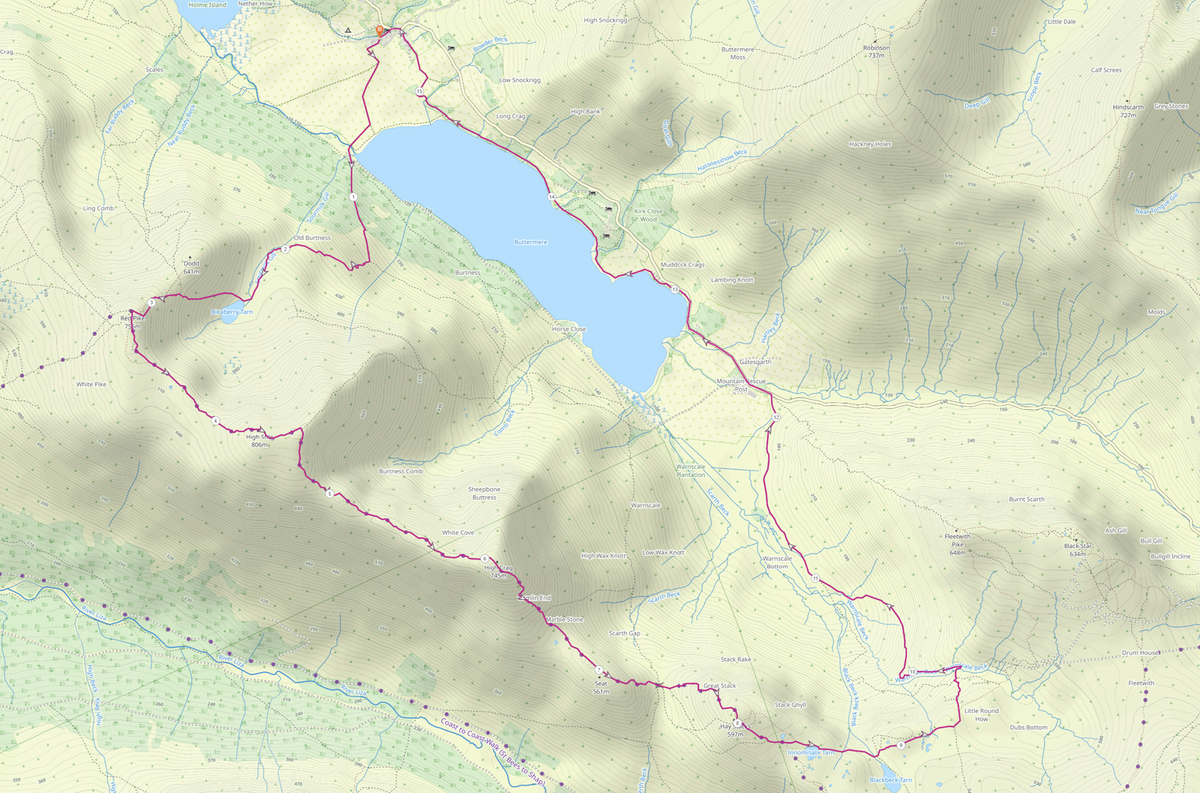 Our trip to Buttermere was a few months in the planning and we were going to tackle four Wainwright's in one day. We decided to take it easy on day one, have some good food and an early night before we headed for the hills on the second day.
We were extremely lucky with the weather - sunny and fifteen degrees. Perfect walking conditions! The route we originally planned was a 13km walk starting from Buttermere village, heading to Red Pike first followed by High Stile, High Crag and Haystacks if we were feeling fit.
We set off just after 9am and there were very few people around. Brilliant! We had done our research and read that the route up to Red Pike was the toughest part - relentlessly steep for about 755m, so we were ready for it and were going to take it slow. There was so much to admire on the way though: pretty woodland, increasingly impressive views over Buttermere and fairly easy terrain at this point. There is also a lovely little waterfall, fed by a tarn a little further on.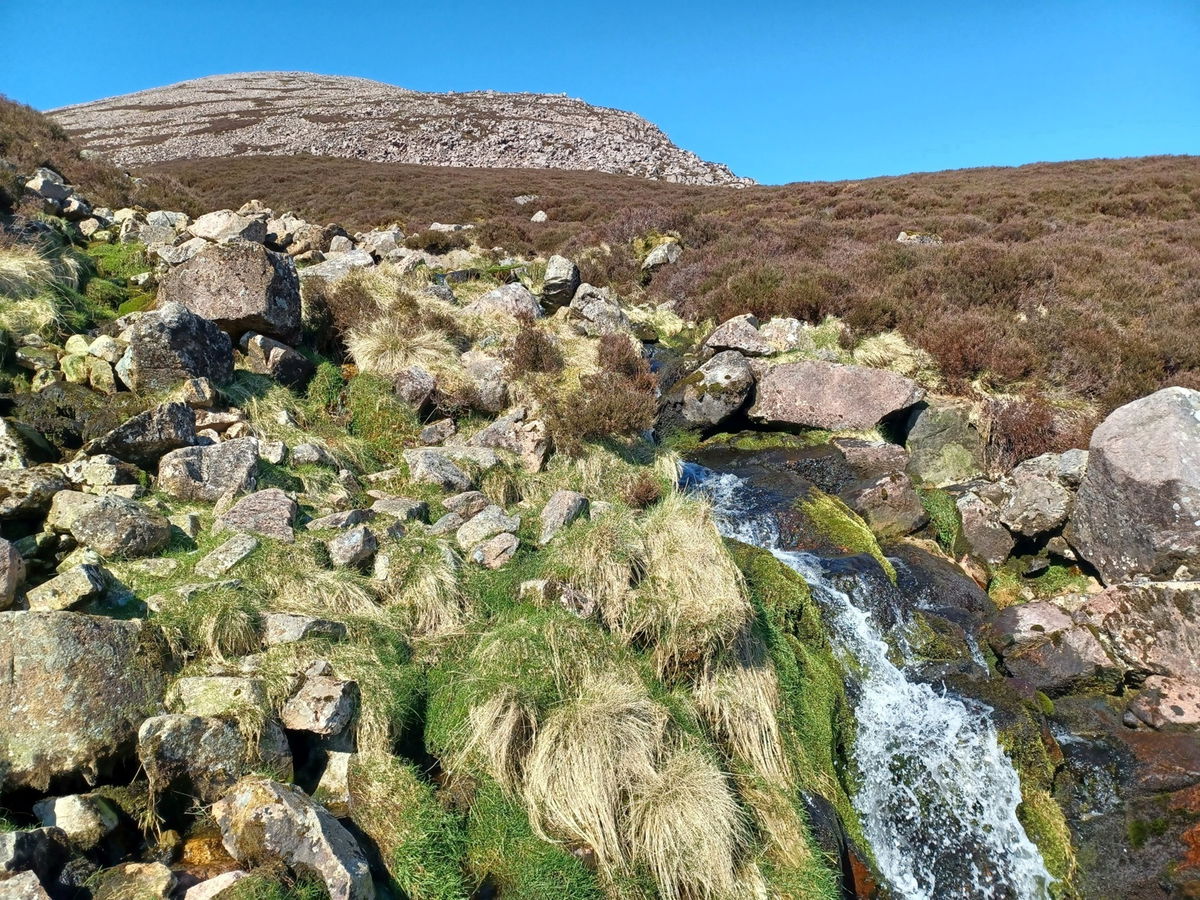 Bleaberry Tarn is about 500m up and we had to have a sit here, it was so beautiful. After a water stop, there was one last push and the terrain started getting a bit more tricky at this point.
Red Pike gets it's name from the presence of Syenite in the rock, which gives the stones a red colour. Our hands were bright red as we reached the summit. This is the trickiest part and a bit of a scramble to the top, but it's only a few minutes and you're soon enjoying views over Buttermere, Crummock Water and Ennerdale Water. So far so good!
The hard work was done (or so we thought!) and it was onwards to High Stile. This was relatively flat and it gave us a bit of a breather. There were beautiful views everywhere we looked and we only had a gentle 52m incline to the highest point of the walk. It's worth noting that there are cairns at the top of High Stile and you think you've reached the top, however the summit is slightly off the track but you'll spot it.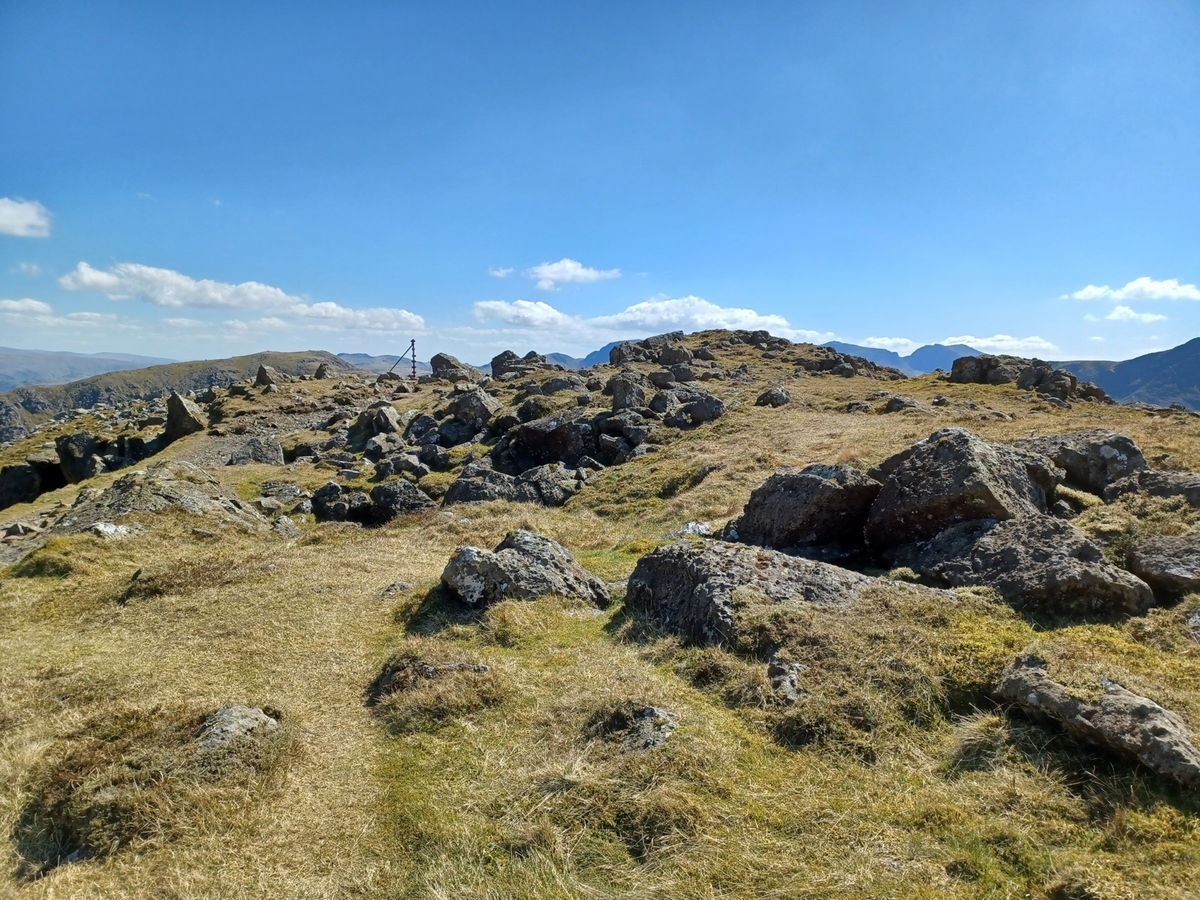 It was a gentle fall of 50 or 60m and a distance of 1km to the next Wainwright - High Crag - and here's where the fun started. High Crag is 744m high and wind was picking up here. In actual fact, we looked like we were in a wind tunnel and gusts must have been about 45mph, so battling down Gamlin End was no picnic to begin with. Then we discovered the path down was loose slate and about 0.5km long with a drop of 200m. It looked completely insurmountable and I wasn't sure I could do it. But the alternative of heading back the way we came seemed no fun either, so onwards we went.
After five minutes I was taking baby steps and sliding all over the place, so started sliding down on my bum. At this point two fell runners cantered past us having a chat and made it look really easy - it wasn't! So about 30 minutes later we finally made it to the bottom. Looking back up at High Crag, it looked like Mount Everest and I will never do it again! Wainwright himself called this section 'the unpleasant and slippery scree of Gamlin End'. Indeed.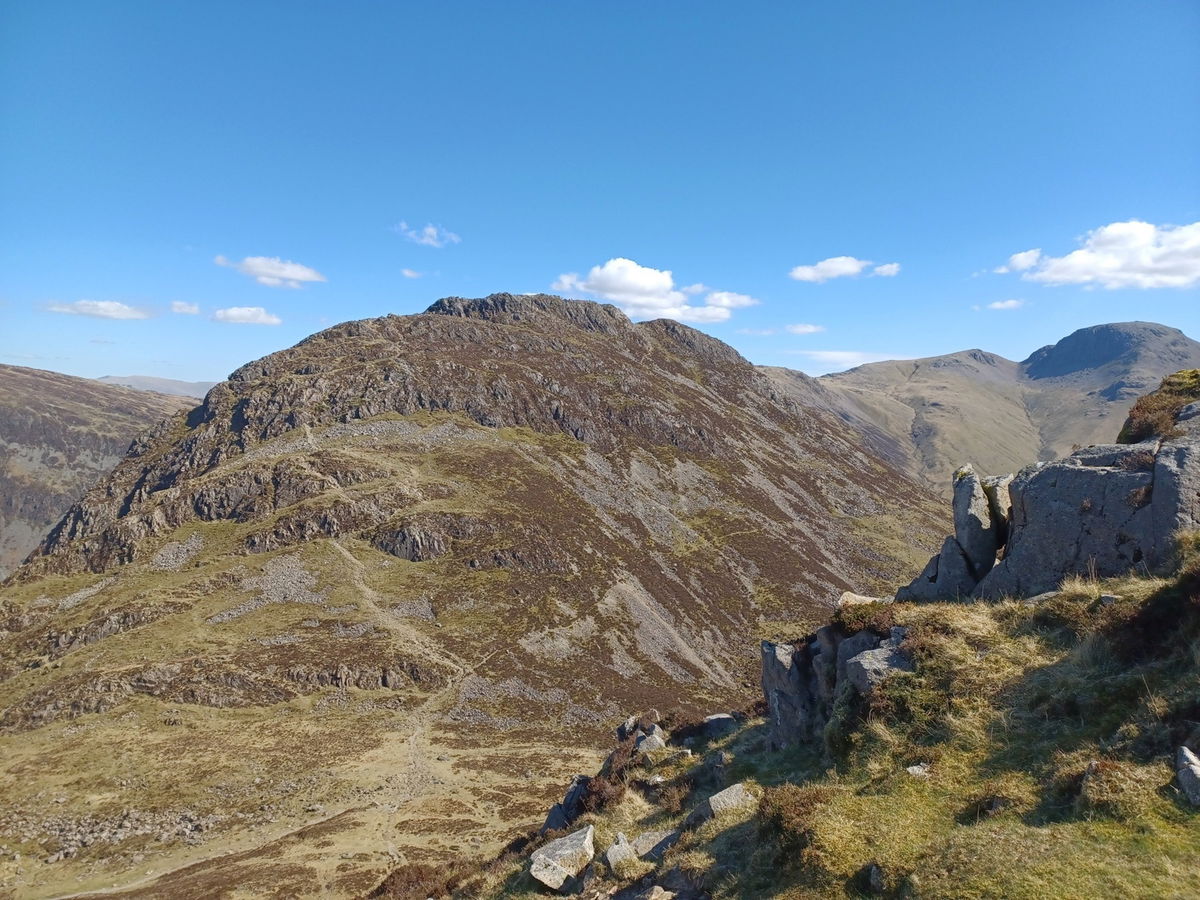 We had successfully made it and could either head back to Buttermere or tackle Haystacks. I was feeling like I had done enough at this point, but with a bit of convincing ('We've come all of this way, it would be a shame not to!'), we headed up to Haystacks. What convinced me most however, was that Haystacks was Wainwright's favourite fell and where his ashes were scattered.
It was by far the busiest part of our journey, so it must have been good. Right?
A couple were coming down, so we asked them what the terrain was like. We were told it wasn't too bad - a couple of tricky bits but fine if we were experienced walkers. They also advised us of a slightly longer but easier route down than heading down Scarth Gap into Buttermere. (Their suggested route added an extra 10km to our walk in the end. Oops!)
I honestly thought the route up to Haystacks was terrifying. There were parts where there seemed to be nothing to hold on to with a sheer drop below, and I was at the point of being frozen in fear. Thankfully this part was short, and we made it unscathed. Another 20 minute scramble, and we made it to the top. The top of Haystacks made it all worth it. There was a beautiful tarn and more spectacular views for miles and miles - stunning. Would I do this one again though - probably not!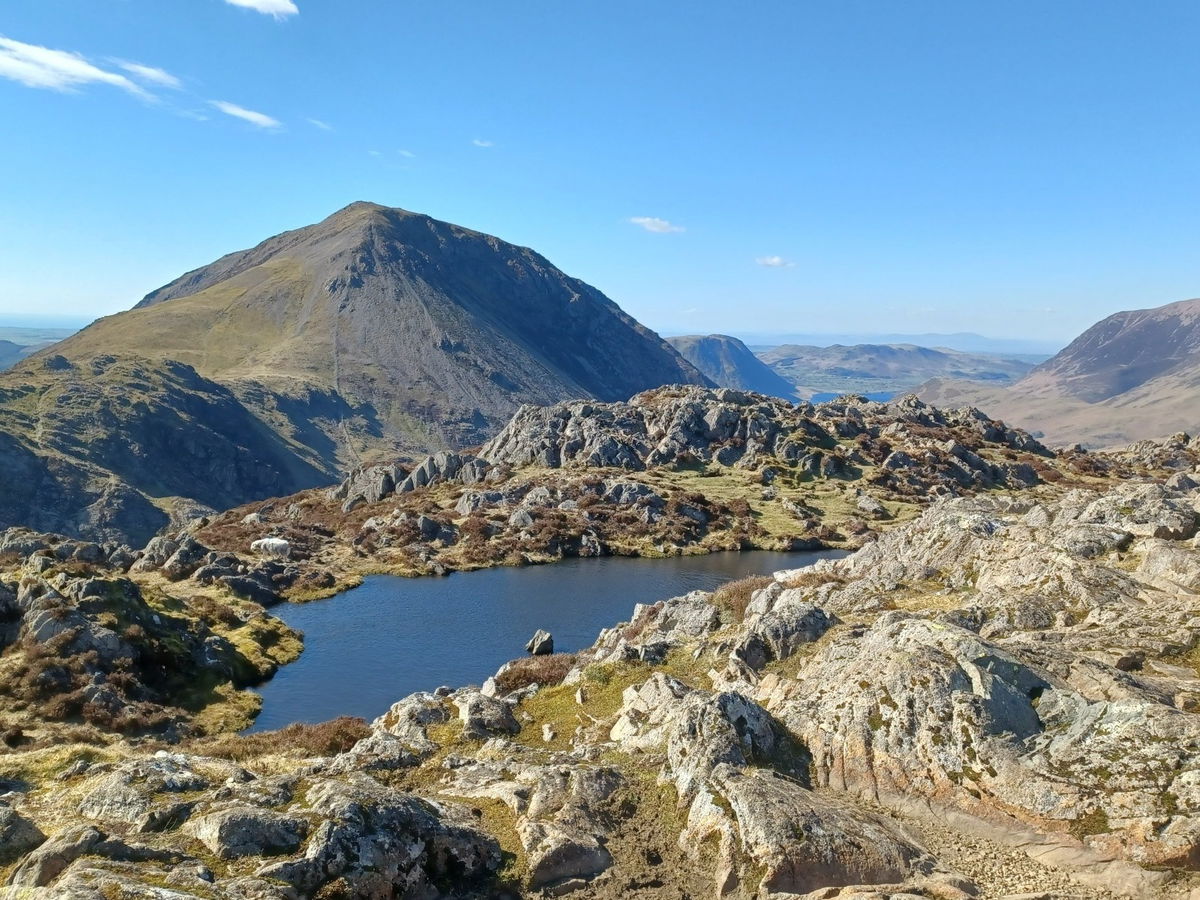 We took the couples advice and headed back the slightly longer way back, as I really did not fancy heading back the way we came. This started out a lot more gently and not far along the route was Innominate Tarn. This was probably my favourite part of the entire route. Peaceful, unspoilt, picturesque and beautiful.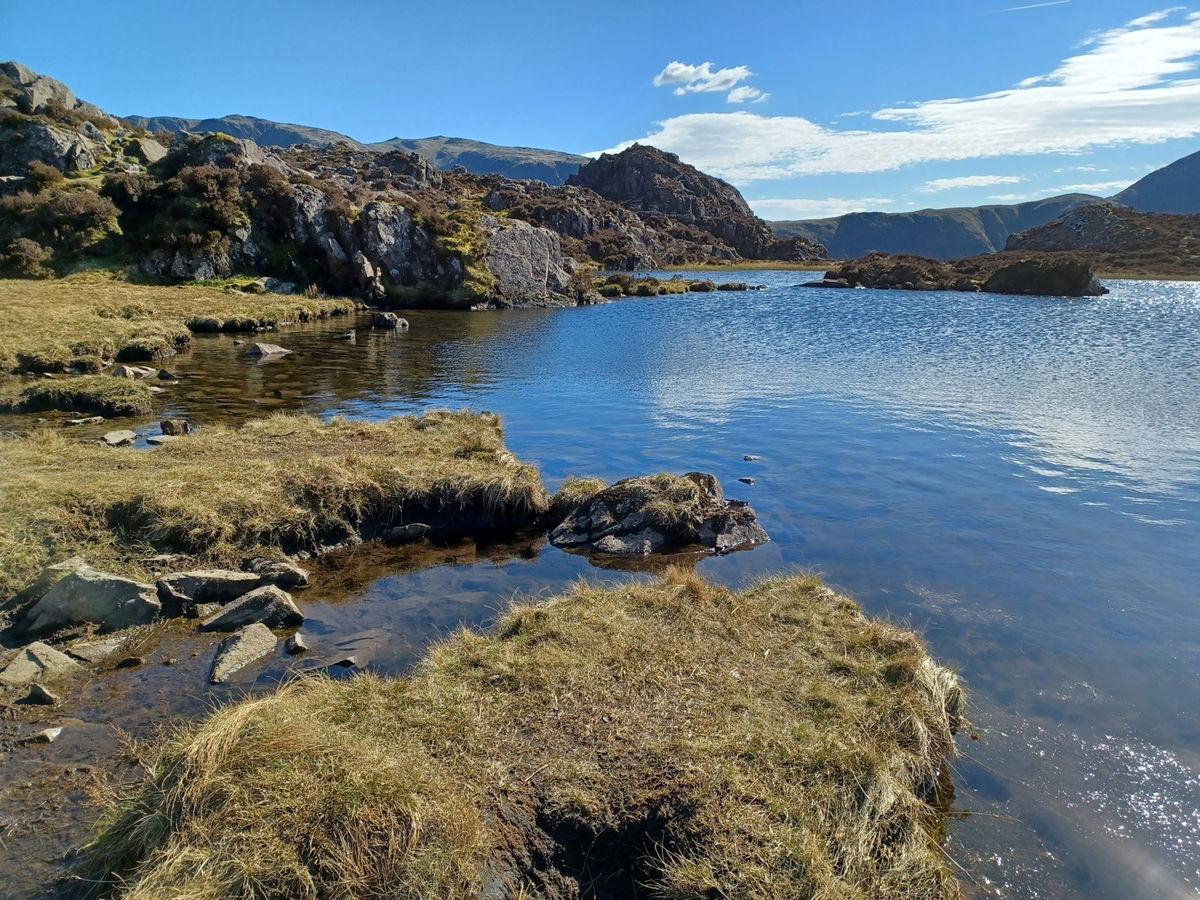 Our route now felt like it might never end. We headed upwards (again! How?) and we aimed for a path around Green Crag, skimming Blackbeck Tarn. We got lost after that, and ended up heading over Warnscale Beck and on to the Old Quarry Path. (Losing the path is not recommended! There were a few people watching us and we realised we were a good way from the track.) HOWEVER, we made it to the quarry path and there is no getting lost here - it is an obvious route back to Gatesgarth Farm.
This took us about two hours as the path was a gradual descent with loose rocks all the way. Another tricky part of the walk, but we were used to it by now and Gatesgarth Farm was on the horizon like an oasis in the desert.
Depending on the time of day, there is a kiosk at the farm selling snacks, drinks and ice cream so you can have a rest here.
Then the route back to Buttermere is easy, just follow the path on the north side of the lake and you can't get lost. We stayed at Buttermere Court Hotel and can highly recommend the local steak pie and chips - you'll be ready for it.
Would I do this walk again? Almost certainly no, but we saw some spectacular waterfalls, tarns, scenery and met some lovely people on the way. The highest point of the walk was High Stile at 807m, however with all the ups and downs, there was an overall climb of 965m. We set off at 9am and got back around 6.30pm, so it's one to do while there is daylight. Would I recommend it? I'd probably say just enjoy the photos from the comfort of your sofa instead. Enjoy!

Where to Park For Red Pike, High Stile, High Crag and Haystacks.
Where To Park For Red Pike, High Stile, High Crag and Haystacks.?
What three words
We parked at the Buttermere Court Hotel.
}
Contributed by Sandra Clemens
I love the great outdoors and have been a National Trust & English Heritage member for years. I also love going off the beaten track and finding places like Sharp's Folly or Rothley Castle which are hidden gems in Northumberland. My favourite recent hike was climbing Red Screes in the Lake District on a whim, not fully grasping how high 776m was. It was still an achievement to conquer a Wainwright walk and I hope to do more one day.
More Walks from Sandra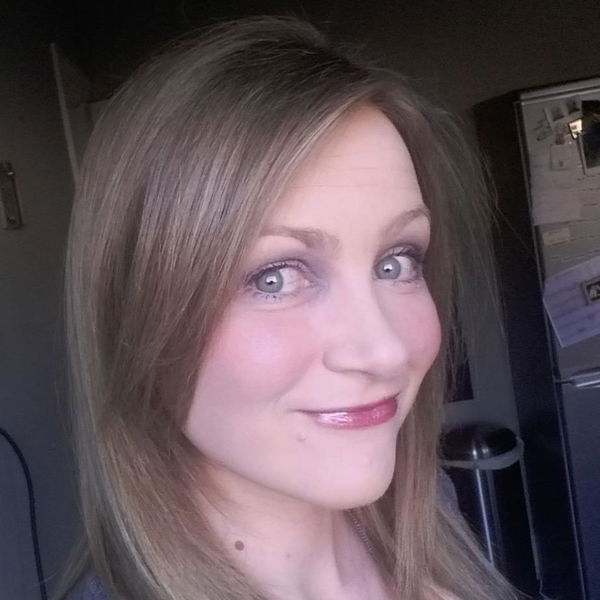 More Places In Buttermere
Find more fabulous places in Buttermere, Cumbria and if you know of a place we haven't listed, then let us know.
Oh no! We couldn't find any more places for this area. Don't worry, we're adding new places all the time, so please check back again soon.
Find Us On Facebook
We post all our new places daily on our Facebook Groups page, so join the group today and be notified when we add a new place.
Join Our Facebook Group