Seaton Carew
7km
Hartlepool
County Durham
Seaton Carew
Hartlepool, County Durham
A wander around the seaside resort of Seaton Carew in the Borough of Hartlepool.
Distance - 7km (4 miles)
Ascent - 14m
Duration - Approx 2 hours
Terrain - All on flat pavements so easy on the knees and then a bit on the beach.
View Route On Map
The first thing you notice at Seaton Carew is the Art Deco Bus Station and Clock Tower, plus toilets. The remaining curved shelter has its back to the coast, but is still a good place to sit and eat your chips. There are not many structures like this about now. It dates to 1938.
Ever thought about what Art Deco stands for? In 1925 there was in Paris an Exposition internationale des arts decoratifs et industriels moderne (International Exhibition of Modern Decorative and Industrial Arts).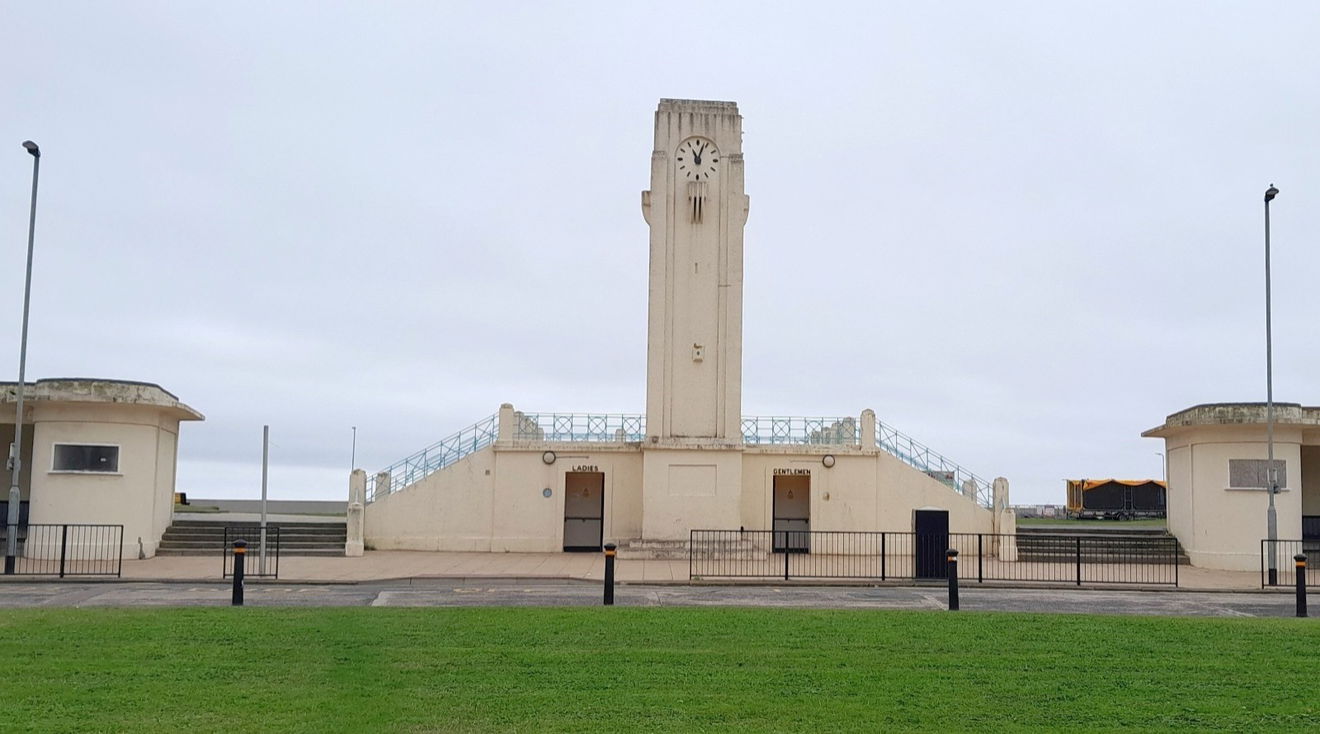 Thomas Mowbray Stonehouse was employed to design a shelter for the seaside visitor. There were also two shelters at right angles to the sea but got pulled down at the end of the 20th Century.
The curved bus shelters on either side of the clock tower were amongst the first to use reinforced concrete in this way, so it has become a grade II listed building.

Opposite the Clock tower is Church Street which I walked along and had a quick look at Trinity Church which dates to 1831. It was locked, so unable to venture inside.
I looked up why some churches have red doors and there are a few theories One being it depicts the ultimate sacrifice that Jesus made with his blood. Another is that it was a coloured used for churches to signal this was a place of sanctuary.
It is possible that the doors of the Schlosskirche (Castle Church) at Wittenberg where Martin Luther posted his 95 propositions were red.
There is a hint of that gothic look in the graveyard.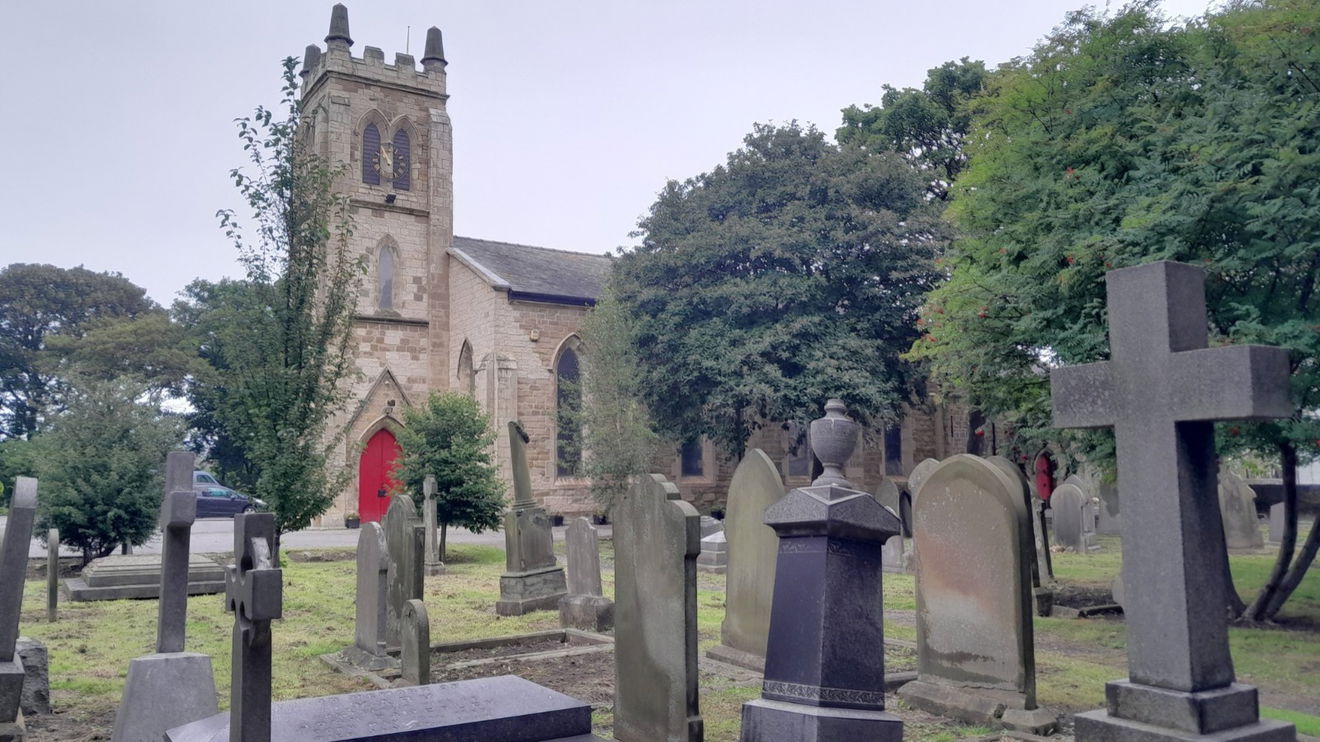 I then wandered along the Tees Road to the south until I took a left turn into Zinc Works Road which is a cinder bridle path.
There was a useful information board informing me that this was the 'Snooks' or 'Stints' and was common land which was a salt marsh regularly washed with salty seawater. The creeks are knowns as 'stells' or 'fleets' (Often used in place names).
In the 1700s the sea wall protected the land from the tides and the land was drained. Now it is a Site of special scientific Interest. I paused to photograph the 'Steel River Curlew' by Steve Tomlinson which is part of the Tees Rediscovered Sculpture trail. I cannot find a 'River' curlew and think the bill should be more curved, however, this is their sort of habitat.
I got from The Wildlife Trust website that 'An old Scottish name for the curlew is 'whaup' or 'great whaup'. Its evocative call has been immortalised in the poem, The Seafarer, which dates back to 1,000 AD, but may be even older: "I take my gladness in the. sound of the curlew instead of the laughter of men".'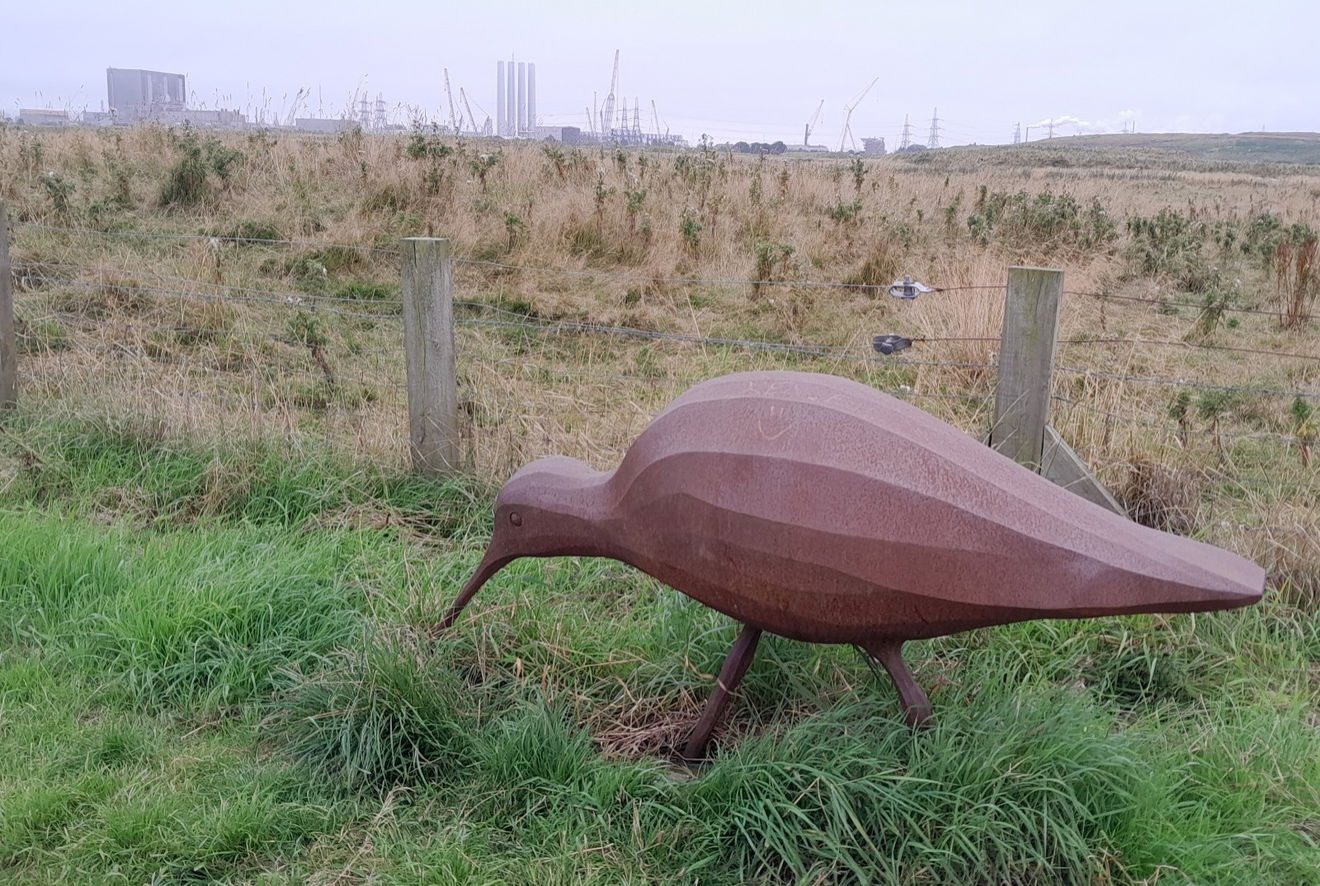 You start to see more of the industrial plants. With the Nuclear Power Station's imposing presence. It produces 60GW of electricity. Apparently, it was the first to be built near an urban area, which is actually an industrial chemical area. It was due to stop the production of electricity in 2026, however, this has been extended by 5 years due to the energy crisis.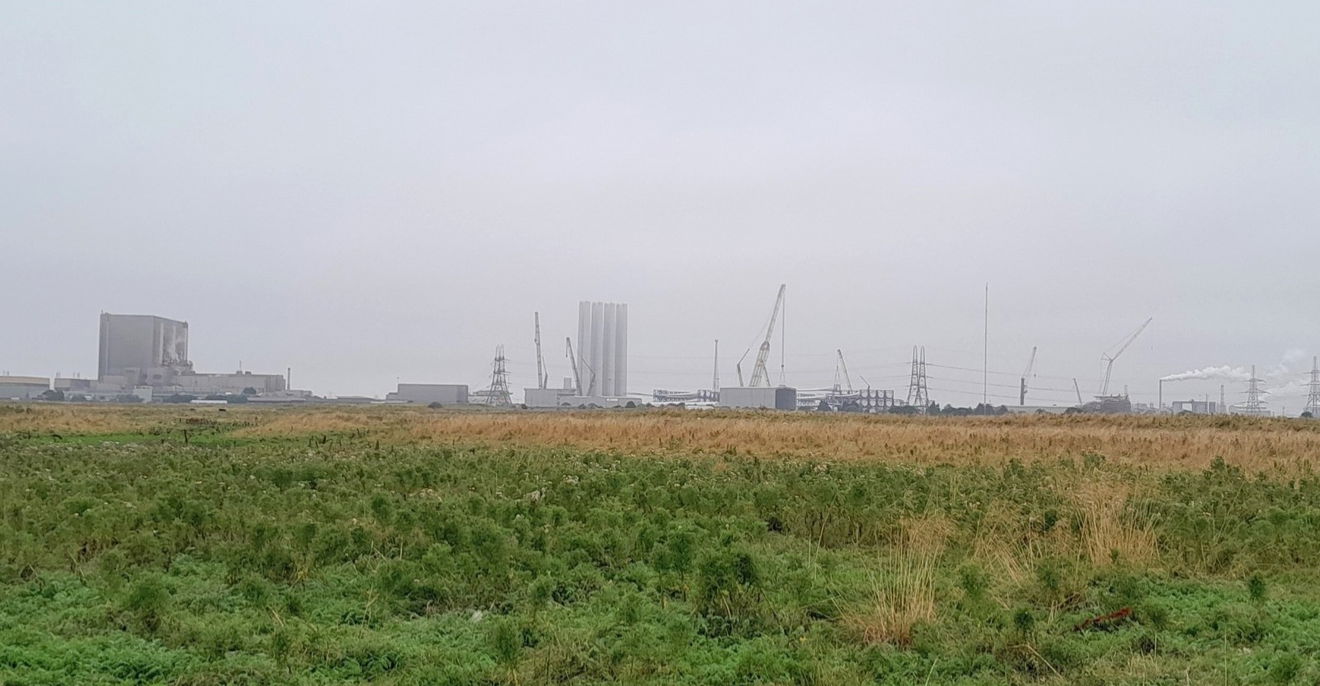 There's a wealth of chemical plants as It is part of the North East of England Process Industry Cluster (NEPIC). There is also a breakers yard for ships and offshore installations. At the end of Zinc Works Road was a zinc Smelter. There's an intriguing story I found on The Durham at War website, 'Seaton Carew Zinc Works' pertaining to a 'hotbed of spying'
You will come to a carpark of which you keep bearing east or straight ahead.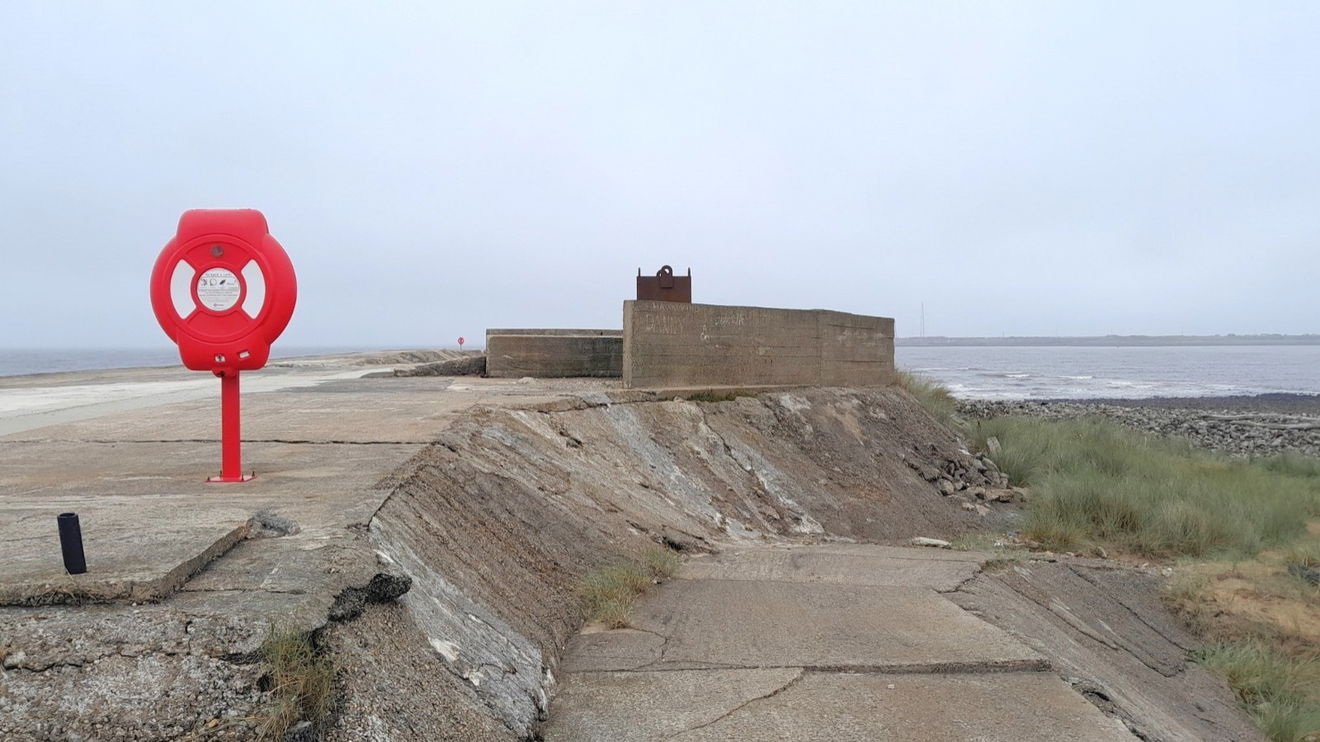 North Gare Breakwaters lure you to have a look through binoculars. I tried to capture the south of the Tees with a green navigational aid and a traditional lighthouse. Only if you enlarge the photo and squint will you see them.
These breakwaters are ½ mile long and were built between 1882 and 1891. Unfortunately, the last 55 yards have been deemed unsafe.
There is Teesside/ Redcar Windfarm producing 62MW of electricity. It started operating in 2013 and has a 22-year lease of which at the end the plan is that it will be decommissioned.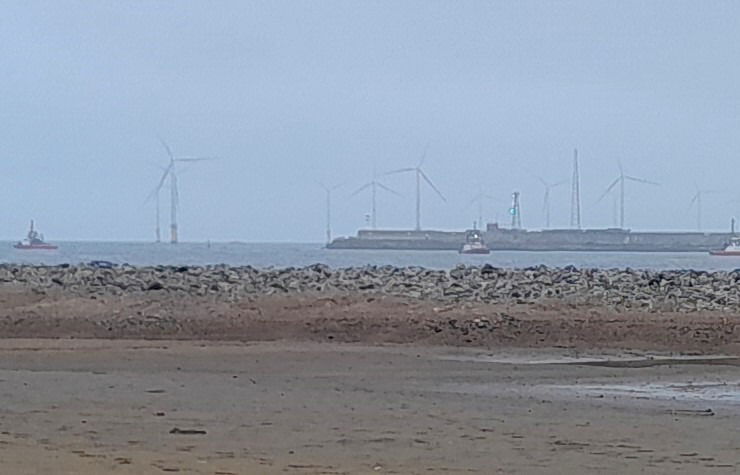 There is a fenced-off reserve at the shoreline. At the appropriate time of year, migratory birds congregate here before they fly. There is a hide 3 miles further on from carpark where Artic Seals are seen all year round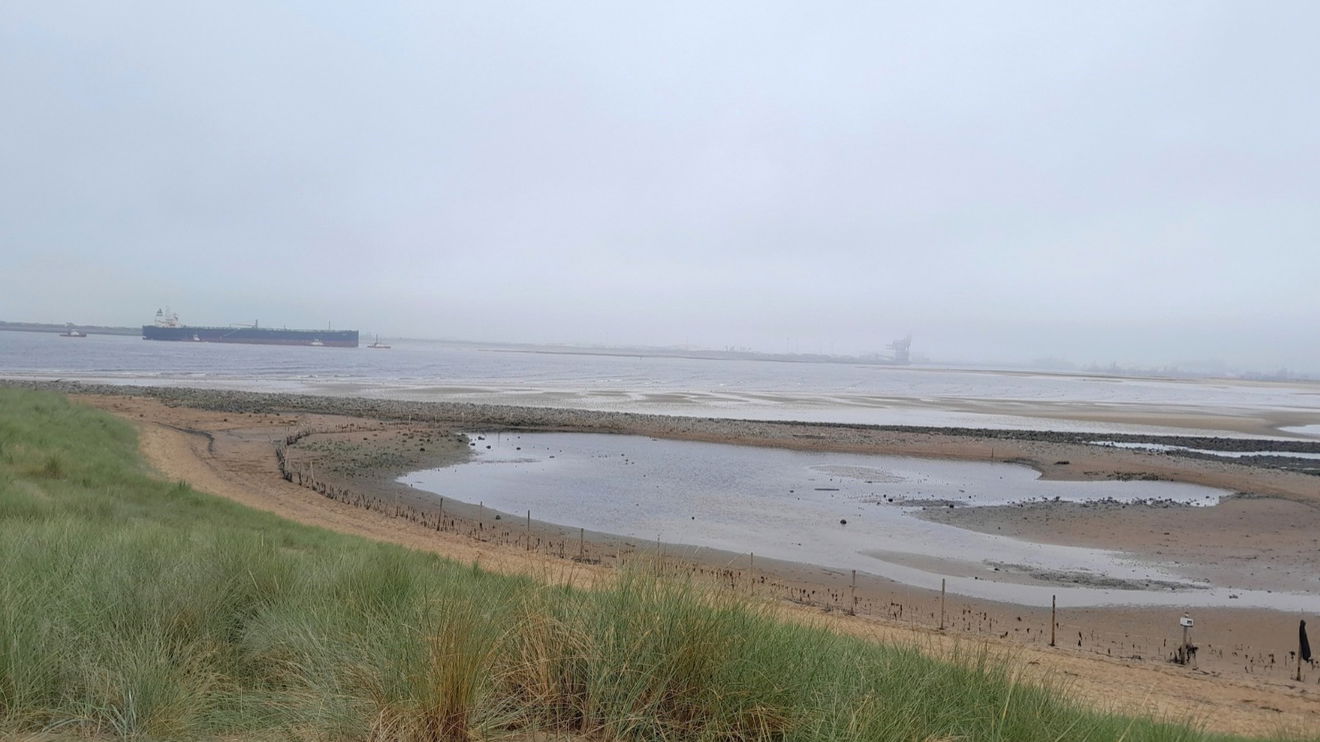 My next adventure was to head along the beach back to Seaton Carew village and thought I could take a shortcut through the dunes. I was wrong! The gorse and golf course prevented me. The grass-covered mounds on the golf course are the ash hills from the medieval days of salt extraction. Amongst the dunes, there is some wonderful Sea Buckthorn which was a first for me. The sand dunes are protected and provide a juxtapose landscape with the industrial works to the south.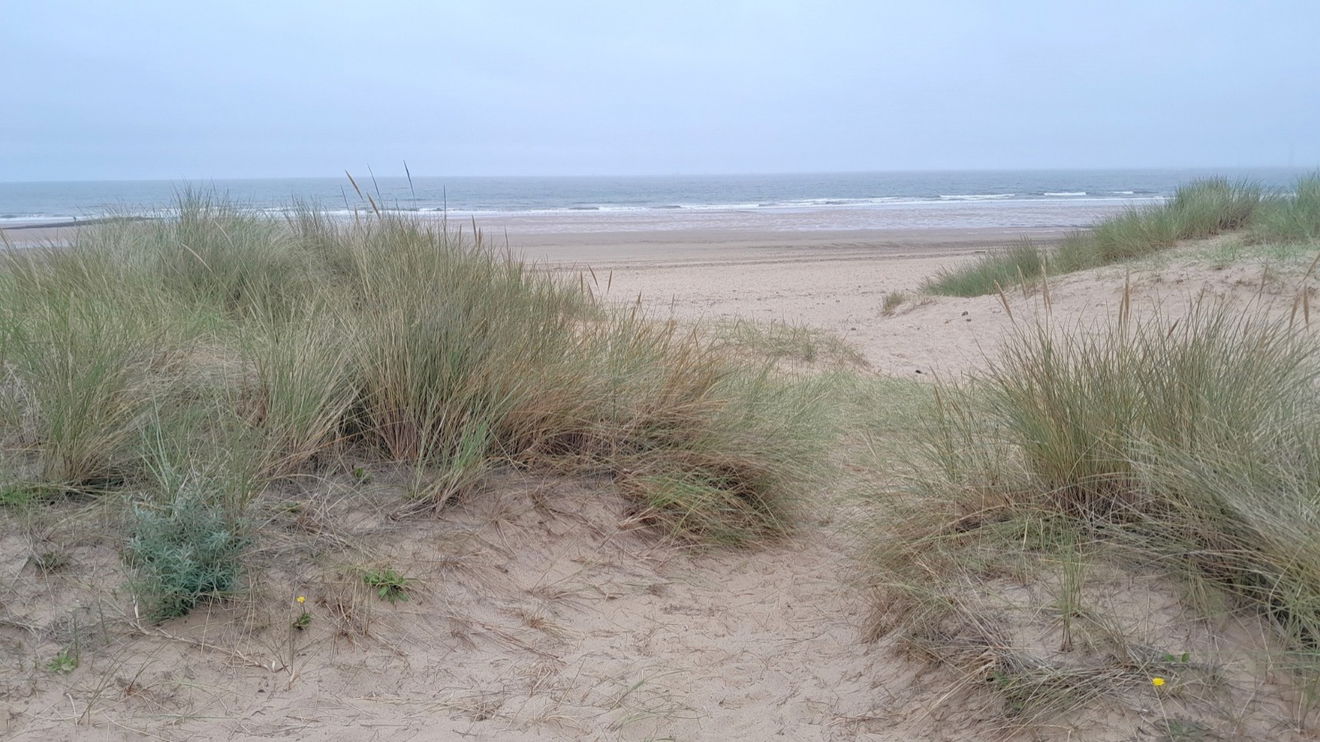 I did spot a Jellyfish on the beach. It was about 18 inches in diameter and I think after I did research it may be a lion's mane. Despite this poor chap's demise, the tentacles can give you a sting if hydrated, so steer clear!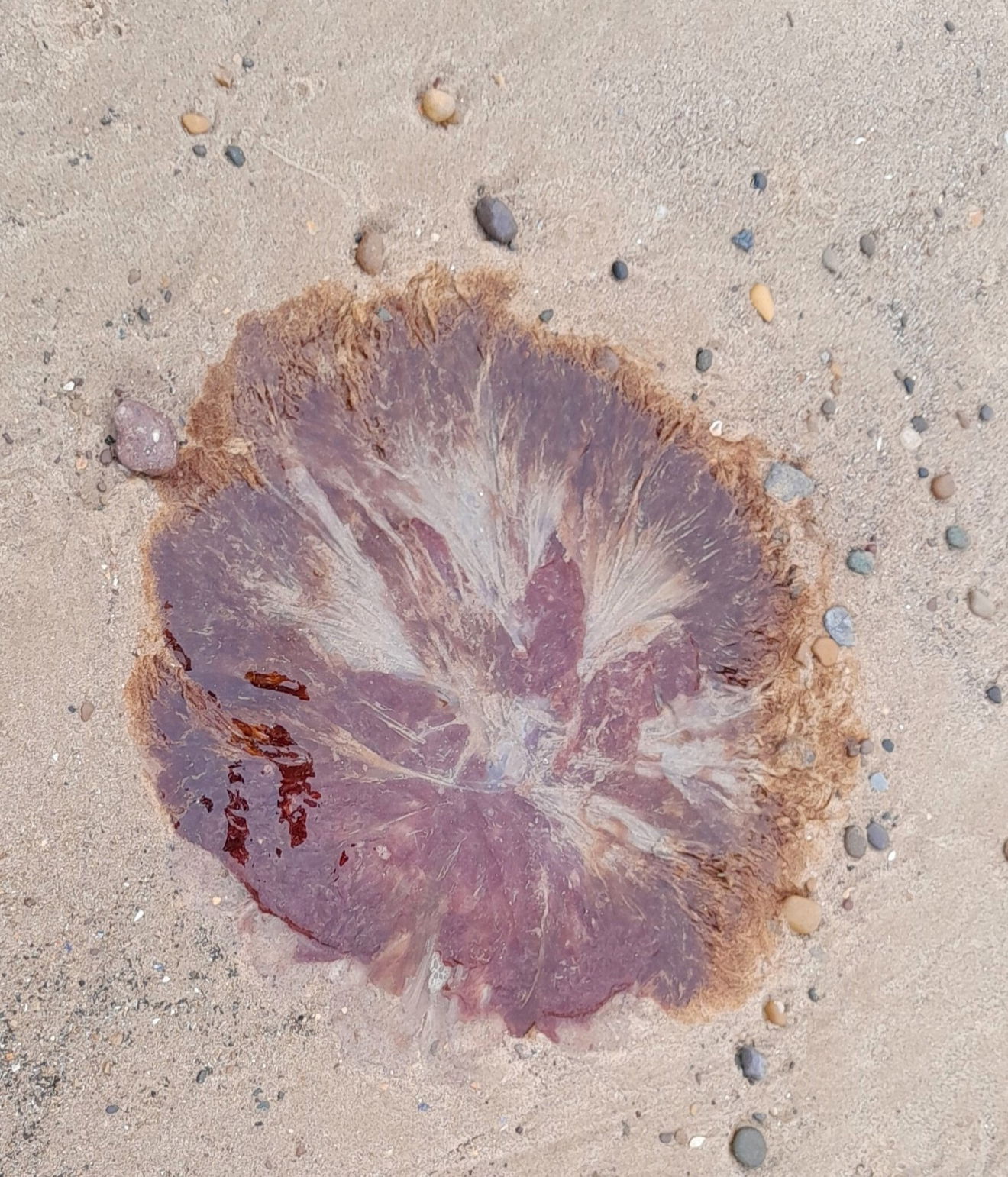 The beach is it somewhat protected from the cruel Northerly gales by Hartlepool's Headland which juts out.
If it hadn't been for the English Heritage information board I would have totally missed the Seaton Carew Wreck. Originally it was a colliery vessel, likely used to ship coal, but the experts were unable to date it or find out its origin and name it. There were over 60 known wrecked vessels along this coast. The Reverend Patterson of Trinity Church took what is believed to be a photo of it around 1888/1890. Then it lay dormant as it was buried until 1996 when it reappeared briefly. It was in 2002 that a considerable loss of sand exposed it by quite a few feet. The Stern has draft marks and this indicates that the lower hull survived intact to around 8 feet. Since 2017 it has made regular appearances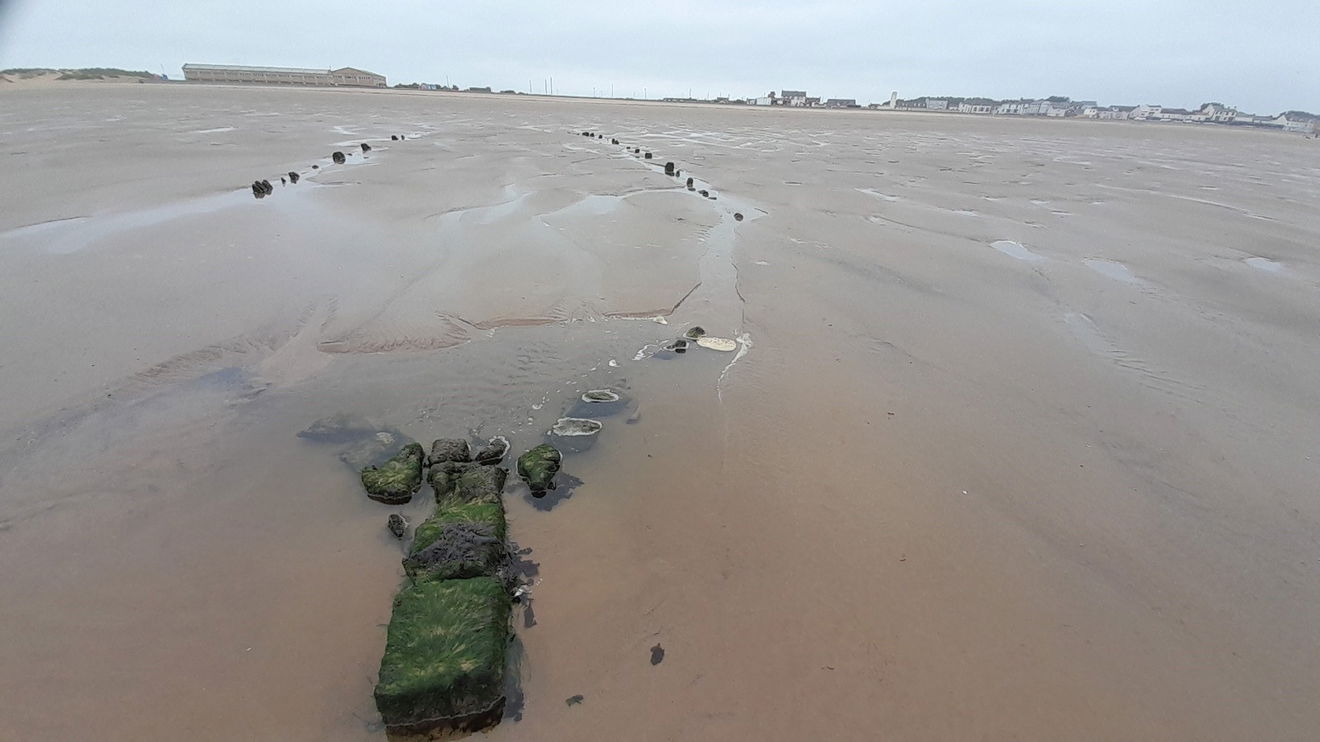 I then sauntered off to have chips and tea,
Where to Park For Seaton Carew
Where To Park For Seaton Carew?
What three words
}
Contributed by Rosalind Parker
Thanks for reading through and getting to the end of this post. I enjoy exploring the Fabulous North (Especially as a Southerner residing up North). I like 'snippets' of information, and more so, if they are obscure, amusing or meaningful. The photographs are taken on a mobile phone, without any enhancements.
More Walks from Rosalind
More Places In Hartlepool
Find more fabulous places in Hartlepool, County Durham and if you know of a place we haven't listed, then let us know.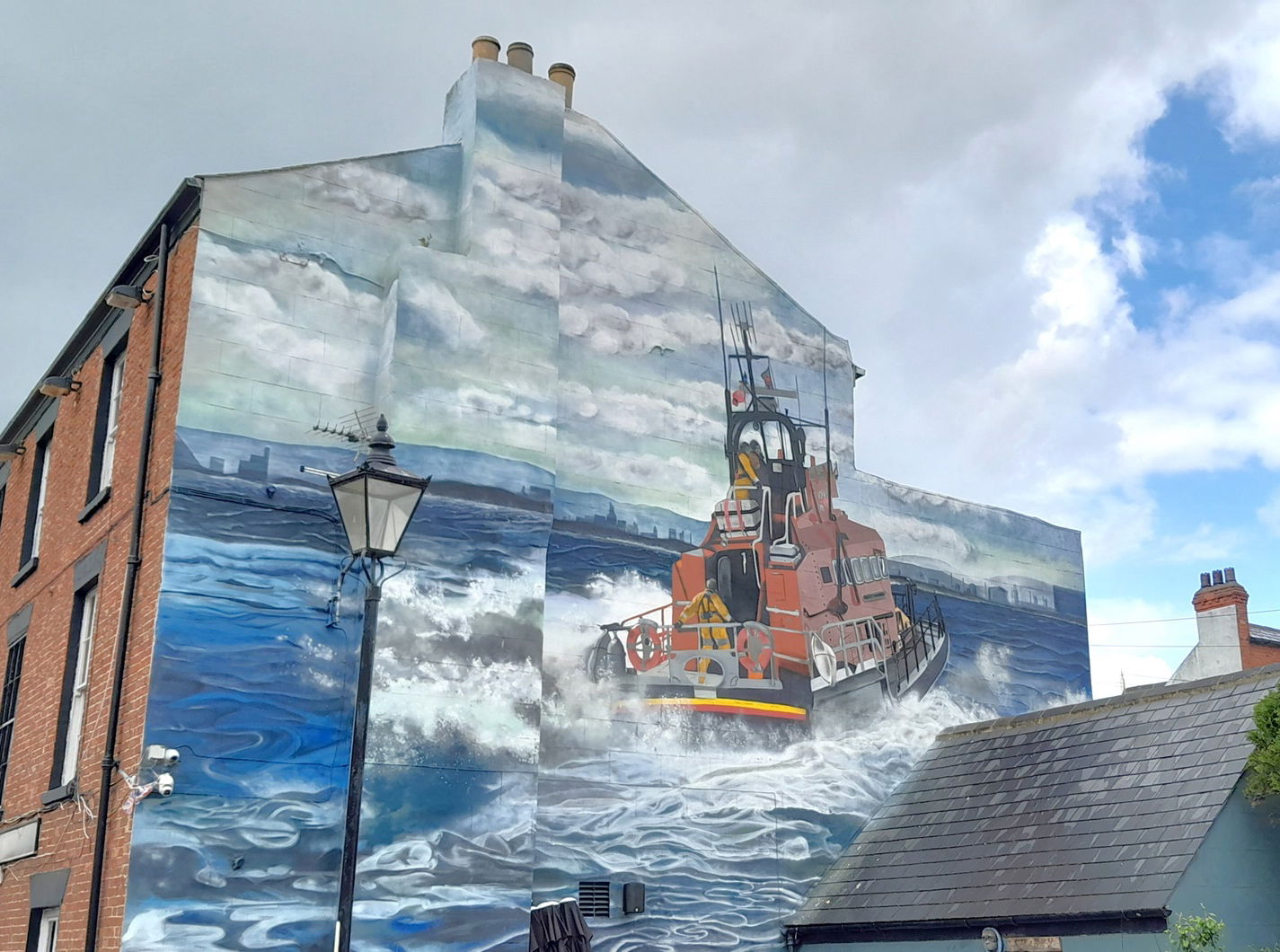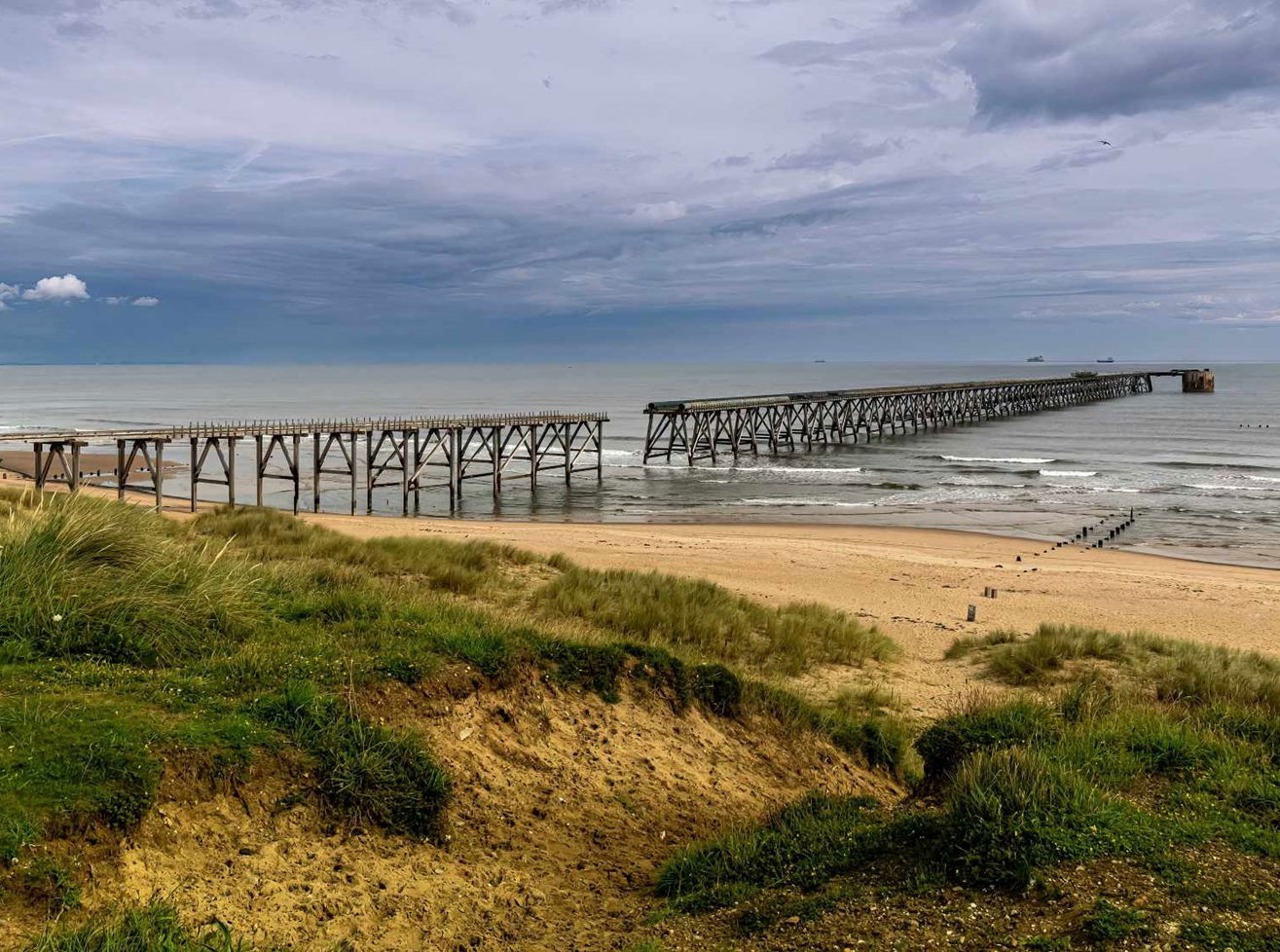 Steetley Pier
Landmark
Hartlepool
County Durham
A 2,000 foot long pier built in the 1960's to pipe sea water for the magnesia treatment works.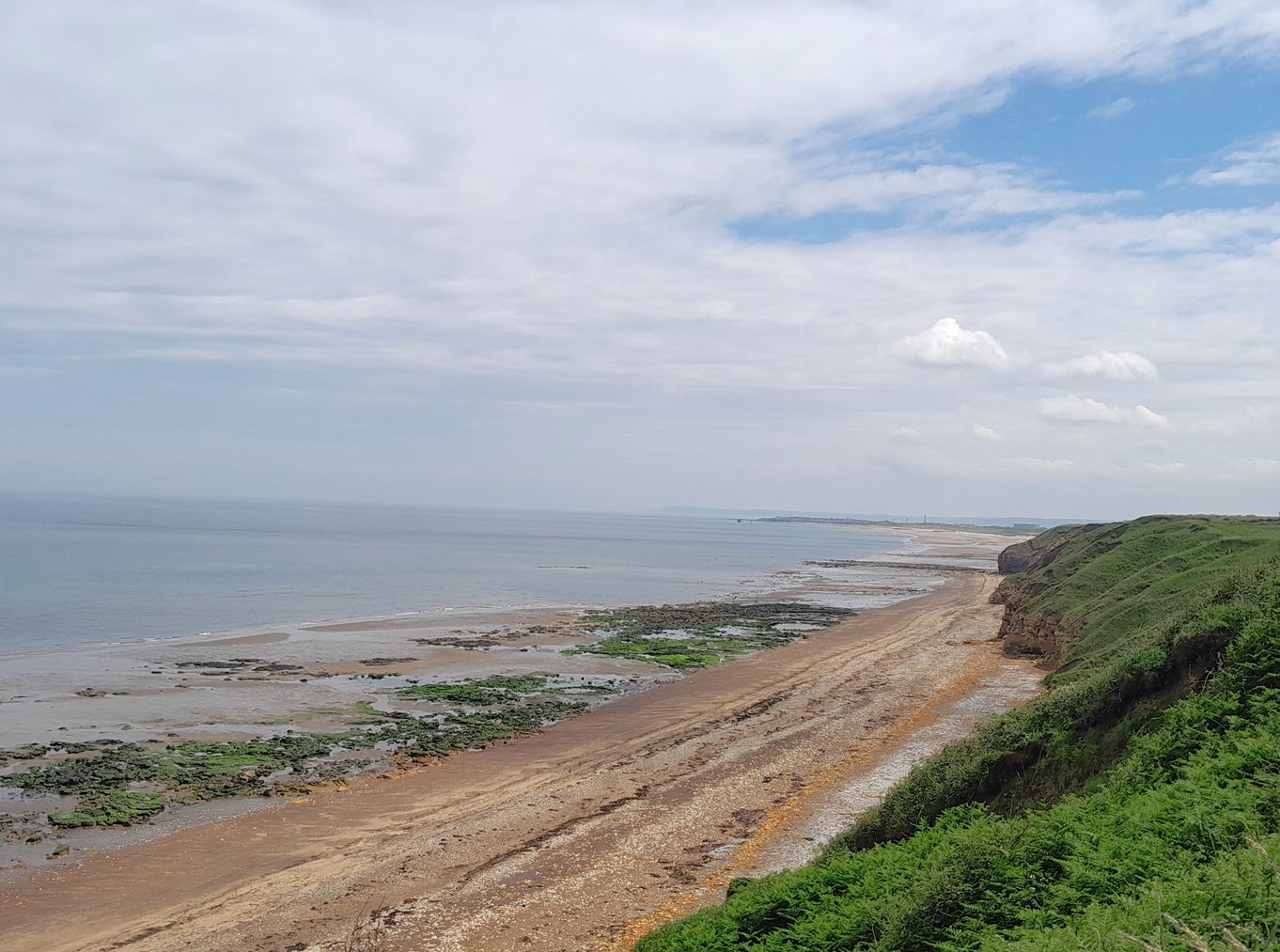 Blackhall Rocks
Landscape
Hartlepool
County Durham
Dramatic landscape and panoramic views of the coast. Stone art with science, history and mythology.
Find Us On Facebook
We post all our new places daily on our Facebook Groups page, so join the group today and be notified when we add a new place.
Join Our Facebook Group