Urban Artworks In Scarborough
6km
Scarborough
North Yorkshire
Urban Artworks Walk In Scarborough
Scarborough, North Yorkshire
An urban walk with steel artwork, stone steps, a castle, a church a lighthouse and sea views.
Distance - 6km (4 miles)
Ascent - 4m
Duration - Approx 2 hours
Terrain - All on street pavement.
Parking - Plenty of parking throughout the town, but we recommend parking on the West Pier which is right next to the start of the walk. View Parking Map
View Route On Map
Our mission in Scarbrough was to seek out 3 of Ray Lonsdale's steel artworks. Ray is world famous for 'Tommy' AKA Eleven o One in Seaham and find other gems throughout the region.
Ray also adds poignant prose to his work, quoting:
"A desire to create for emotion rather than function.".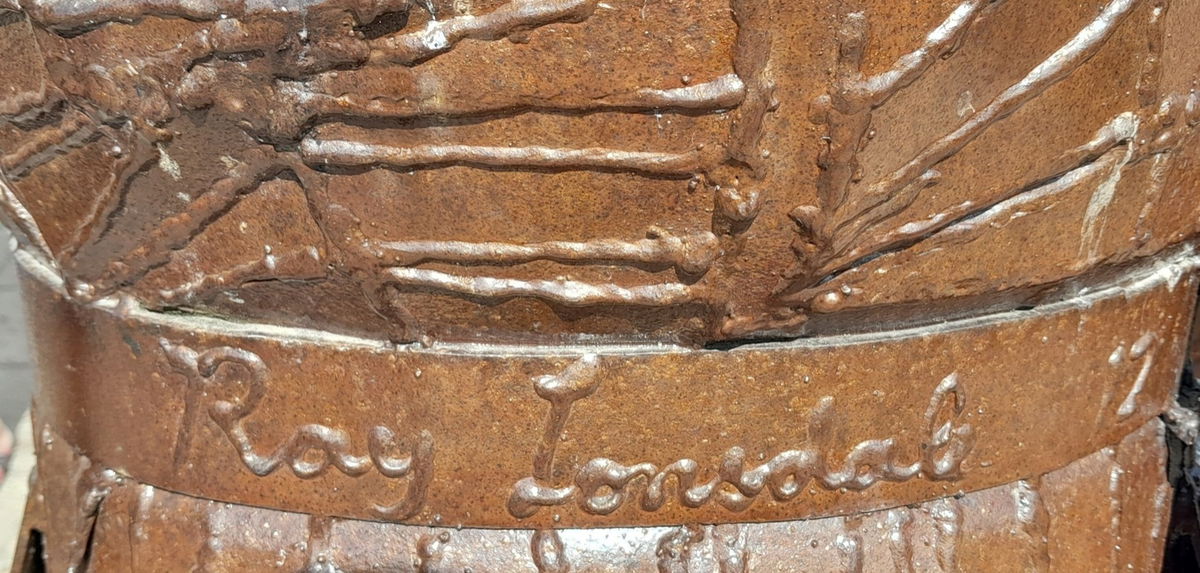 In Scarborough, the 3 artworks were paid for by a resident, Maureen Robinson, who as well as being a teacher would write for the local newspaper and devise walks. It seems she was very much into the heritage of the place and wished reminders to be installed.
There are a number of ways to do this walk, you will not be marked down if you choose a different way. En route we found further aspects to arouse our curiosity.
We started this walk by the Herring Girls which is metal artwork by Bill Corderoy near the Quay on Sandsgate. The girls tended to work in 3 and 4's gutting, salting, and filling a barrel of herrings also known as silver darlings. They came mainly from East Scotland during the Scarborough fair season of August and the start of September and this tradition continued up to World War II.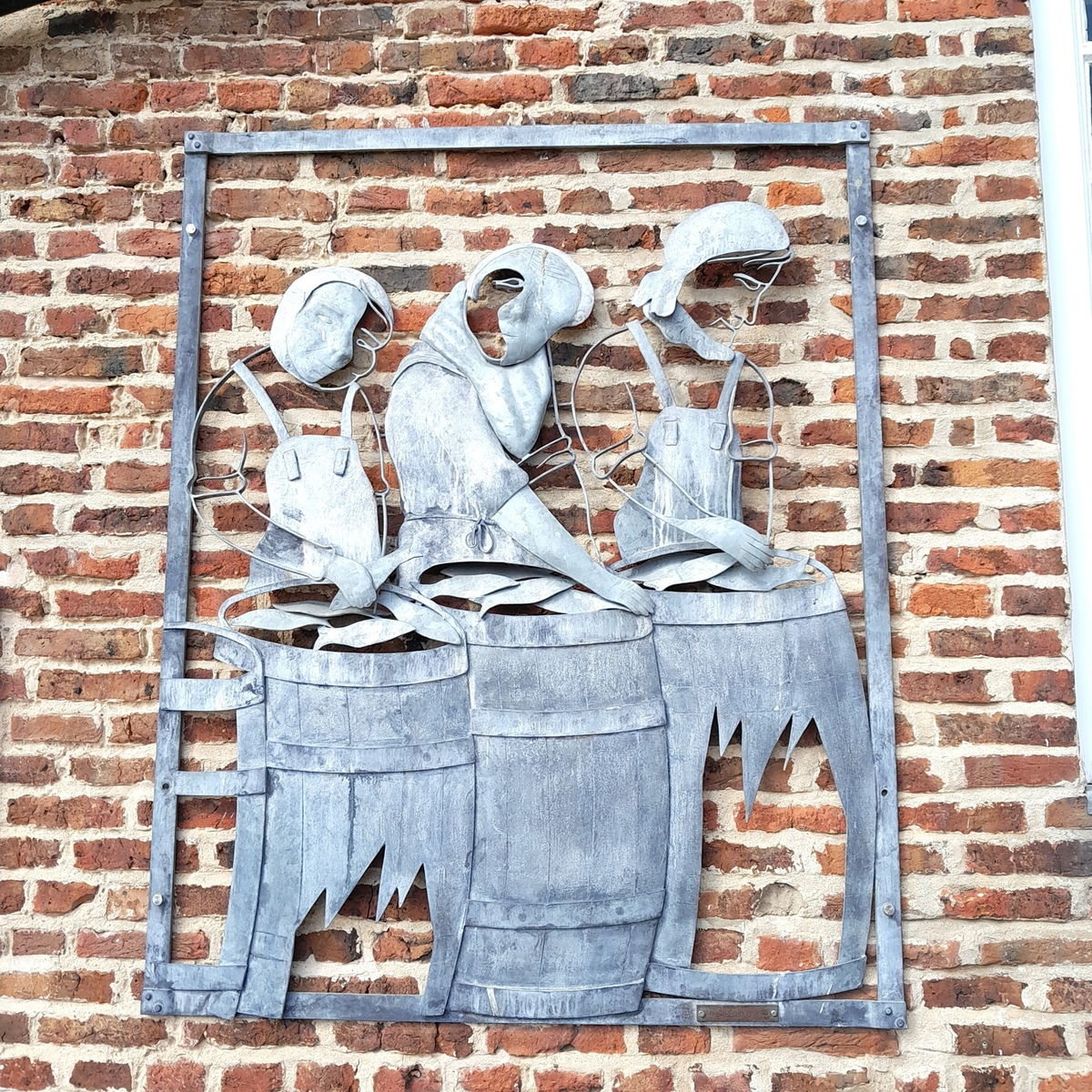 We walked along Sandside with the quay on our left and up Gilly Steps to The Smuggler and Apprentice. The corten steel statue of a life-size smuggler and his young apprentice reflects maritime history. It overlooks the South Bay, affording a lovely vista of the lighthouse.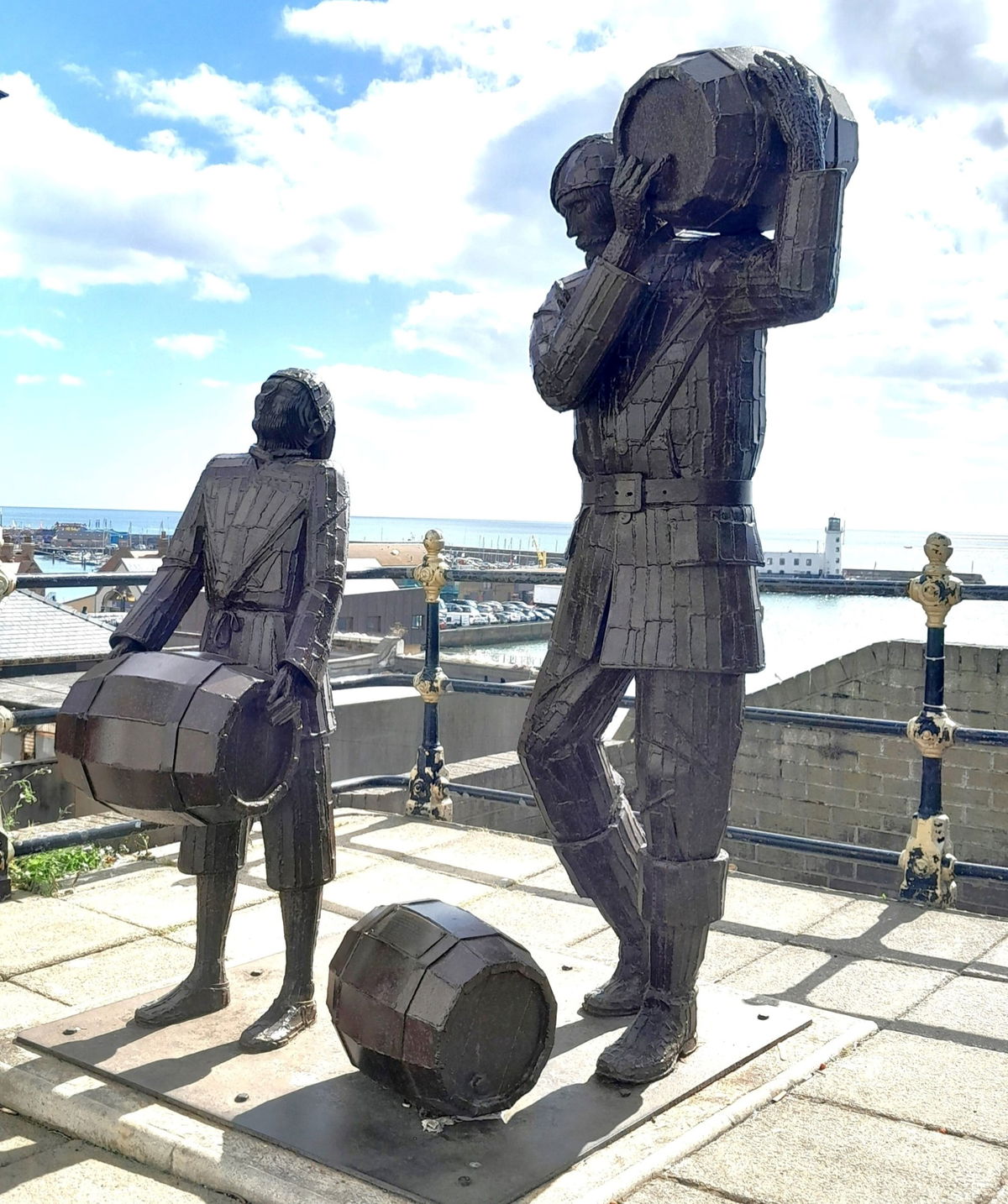 Mrs Robinson (The financer) said: "From being a child I used to go to Flamborough and was fascinated by the smugglers' cove. I have researched the history of smuggling since then, especially what went on in Robin Hood's Bay and the old parts of Scarborough. I wanted to try and capture some of that heritage".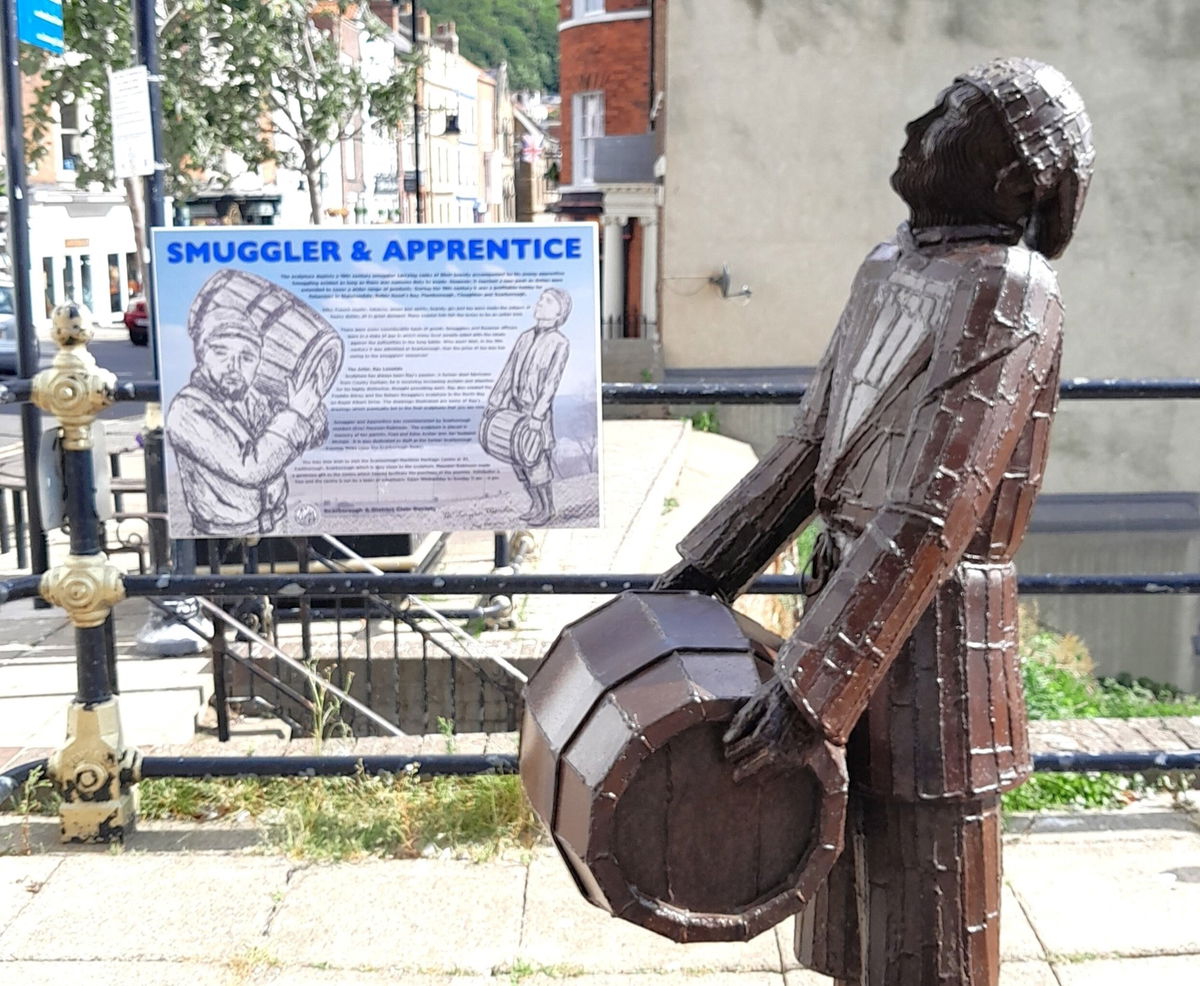 Here is the prose from Ray Lonsdale:
The Smugglers Apprentice (Lesson 1)
If someone whispers, you whisper back,
If someone shouts, you run.
But keep away from the well worn track,
For there waits a man with a gun.
Maureen has also helped protect the works with the coating of owatrol oil, and I can confirm the smuggler's arms are as hard as nails!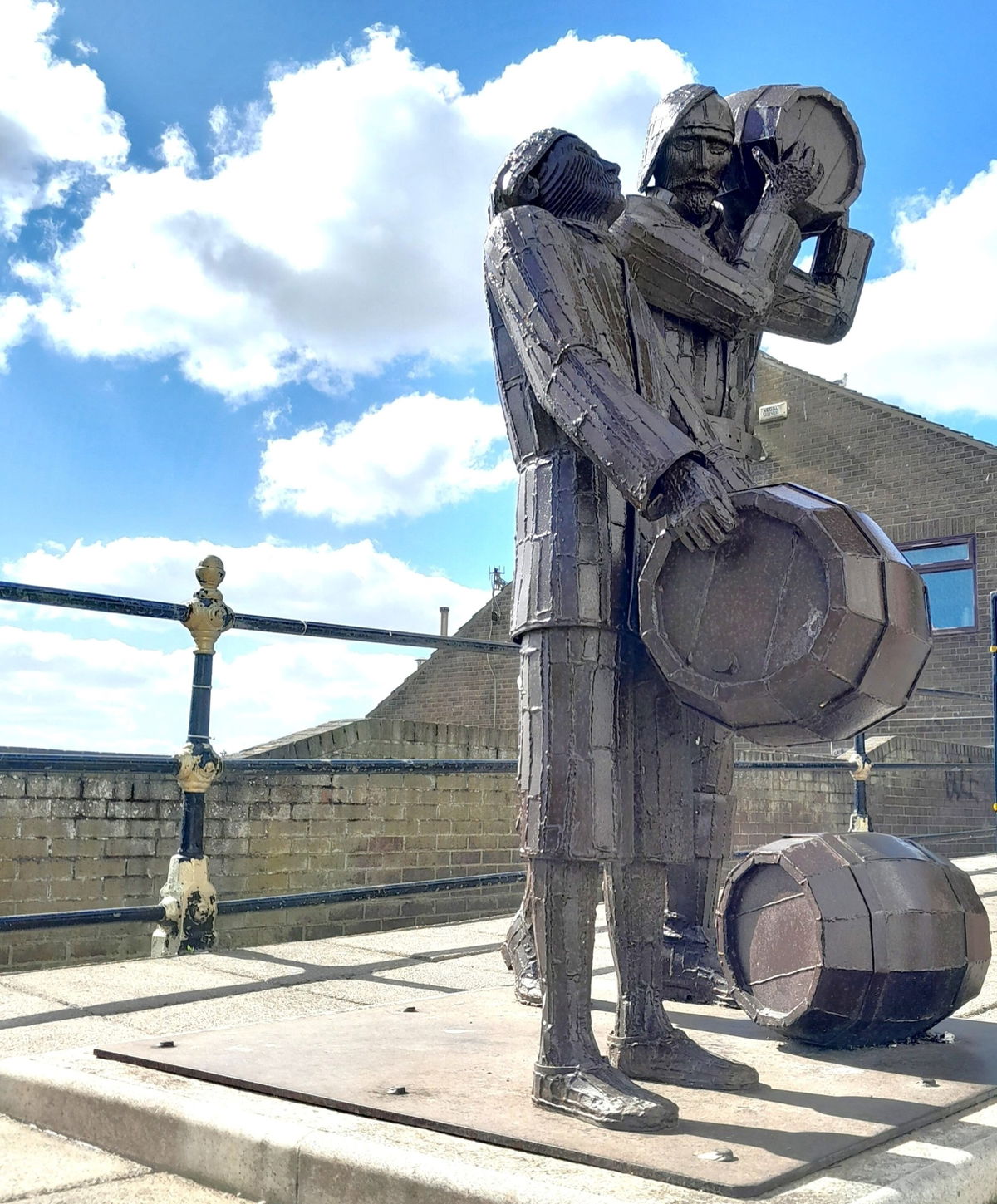 We walked along Eastborough and along The Bolts, which was a medieval passage and the residents in the overhanging buildings emptied their effluence into the street which would be washed away at high tide (not so high now). The Bolts is a French term for latrines.
We pass some dolphin and turtle sculptures in a yard. I do believe copper by the colour.
Upwards we go towards the castle, sometimes taking steep stone stairs that just seemed to entice you. There were plenty of rooftop views.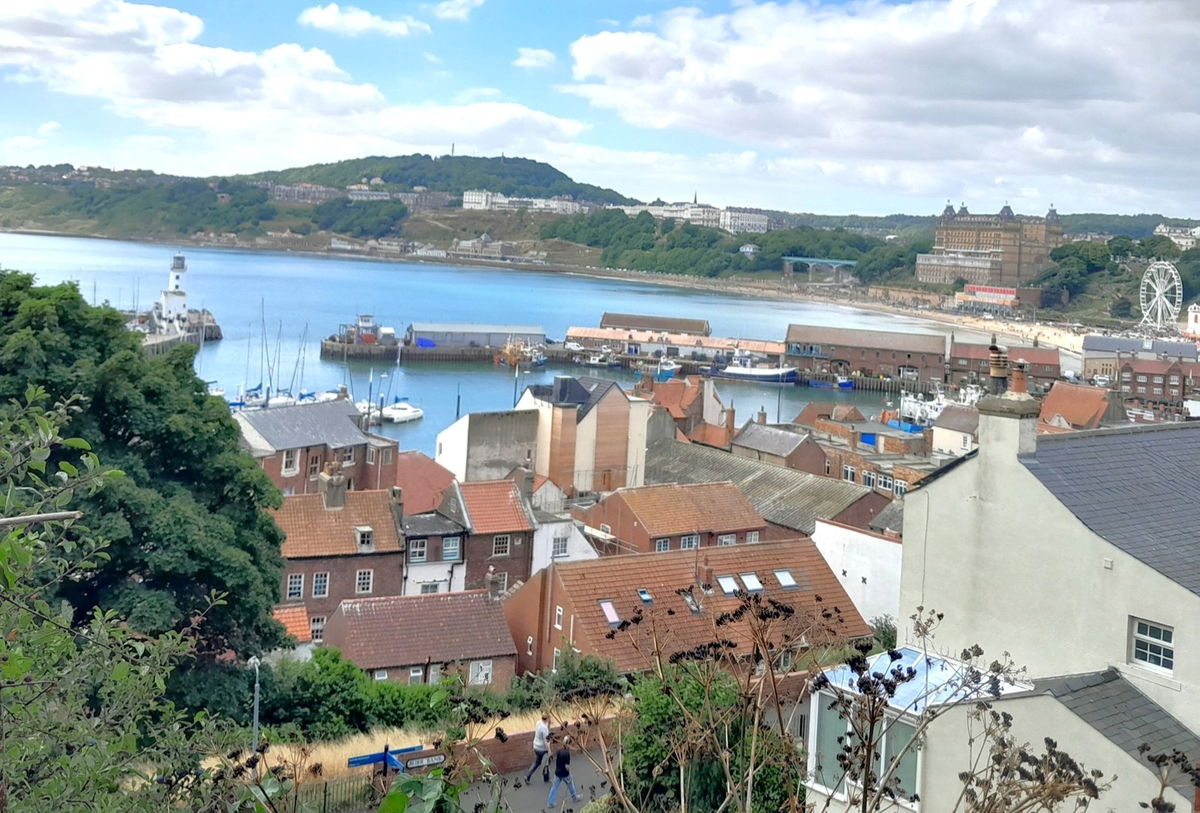 The castle was an impromptu photo opportunity.
The church, St Mary's with Apostles offered a most appropriate respite (tea, cake, and the loo).
Anne Bronte's grave is here as she was too unwell to make it home. Roundheads and Cavaliers also had a skirmish, neither faired well, just look at the ruins.
There's an attractive turreted building overlooking the churchyard and The Towers Hotel built circa 1860 for a local brewer.
We journeyed to the north overlooking the Royal Albert Park and the North Sea and our our descent could be described as a meander down, ready to see our next Ray Lonsdale installation.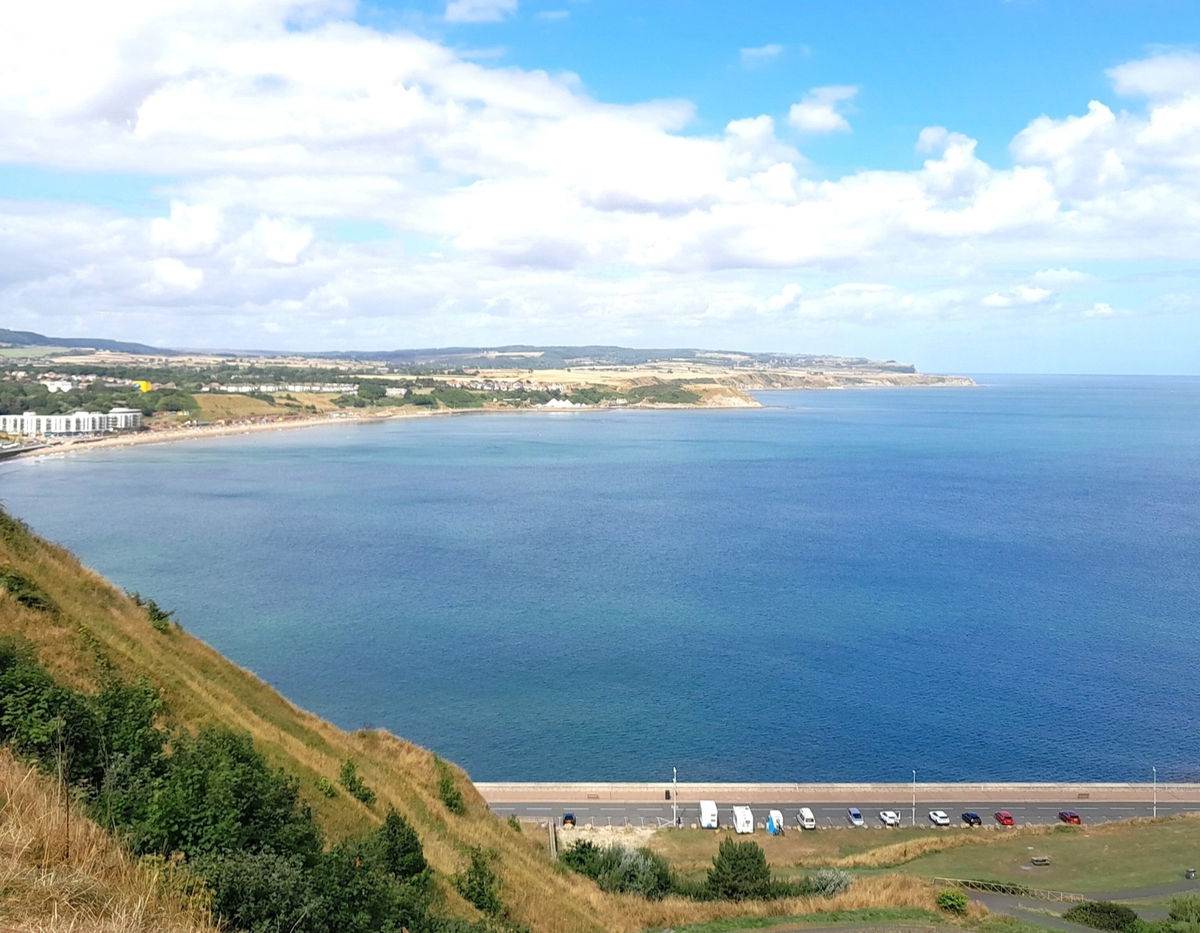 Unless you read the information or do some research, you would think it's just an old man looking out to sea, contemplating life and/or death.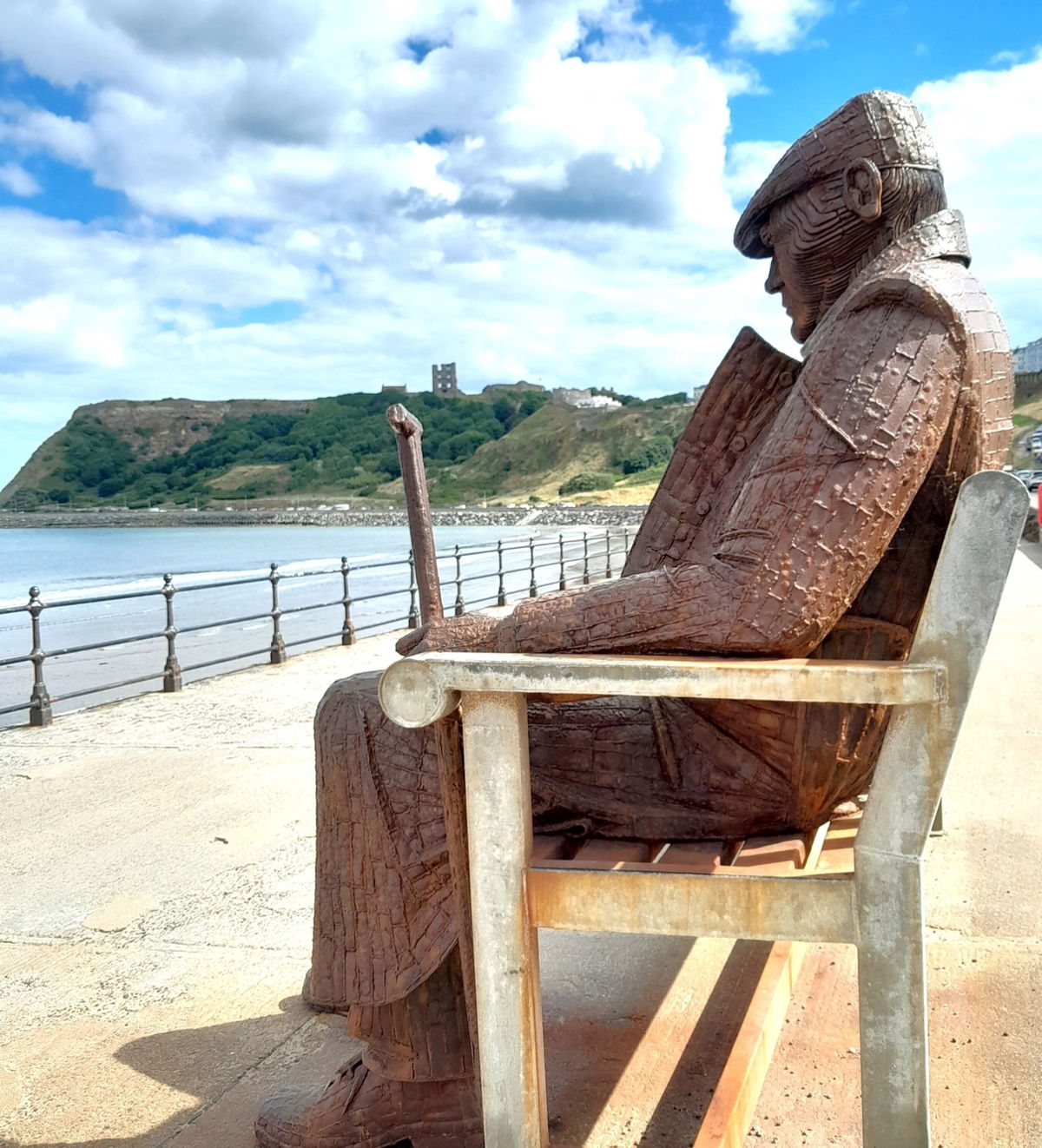 It is much more than that, it is Freddie Gilroy and the Belsen Stragglers. Freddie Gilroy was a 23 year old soldier in the Royal Artillery and one of the first to help liberate some of the 60,000 people from Bergen- Belsen concentration camp in 1945.
They were taken 2 kilometers away to a British camp that had basic aid. Belsen Stragglers was a term used at the time of the liberation.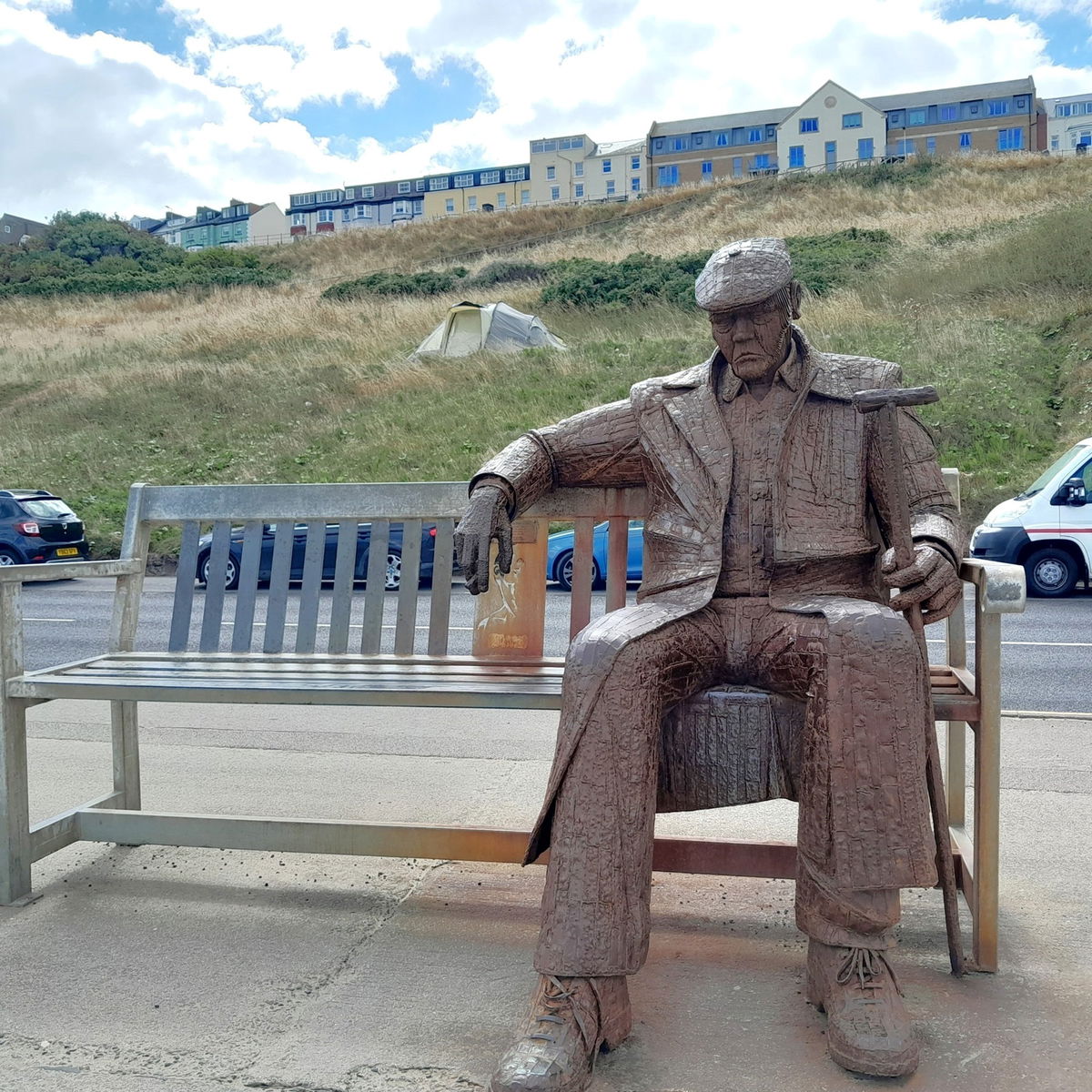 Freddie Gilroy and the Belsen Stragglers
They said for king and country
We should do as we were bid,
They said old soldiers never die
But plenty young ones did..
It is twice life-size and made from Ray's 'trademark' Corten Steel which does not require painting, but still suffers corrosion from the North Sea and seagull droppings!
Freddie Gilroy was a South Hetton brickmaker and colliery worker. He and Ray Lonsdale were friends, so naturally this piece was part tribute and part speculative as there was no buyer.
It was placed along the seafront as a 4 week 'loan' in 2011 and caused a lot of interest. Scarborough local, Jakki Willby set up a campaign to keep the artwork and Maureen Robinson steps in donating £50,000.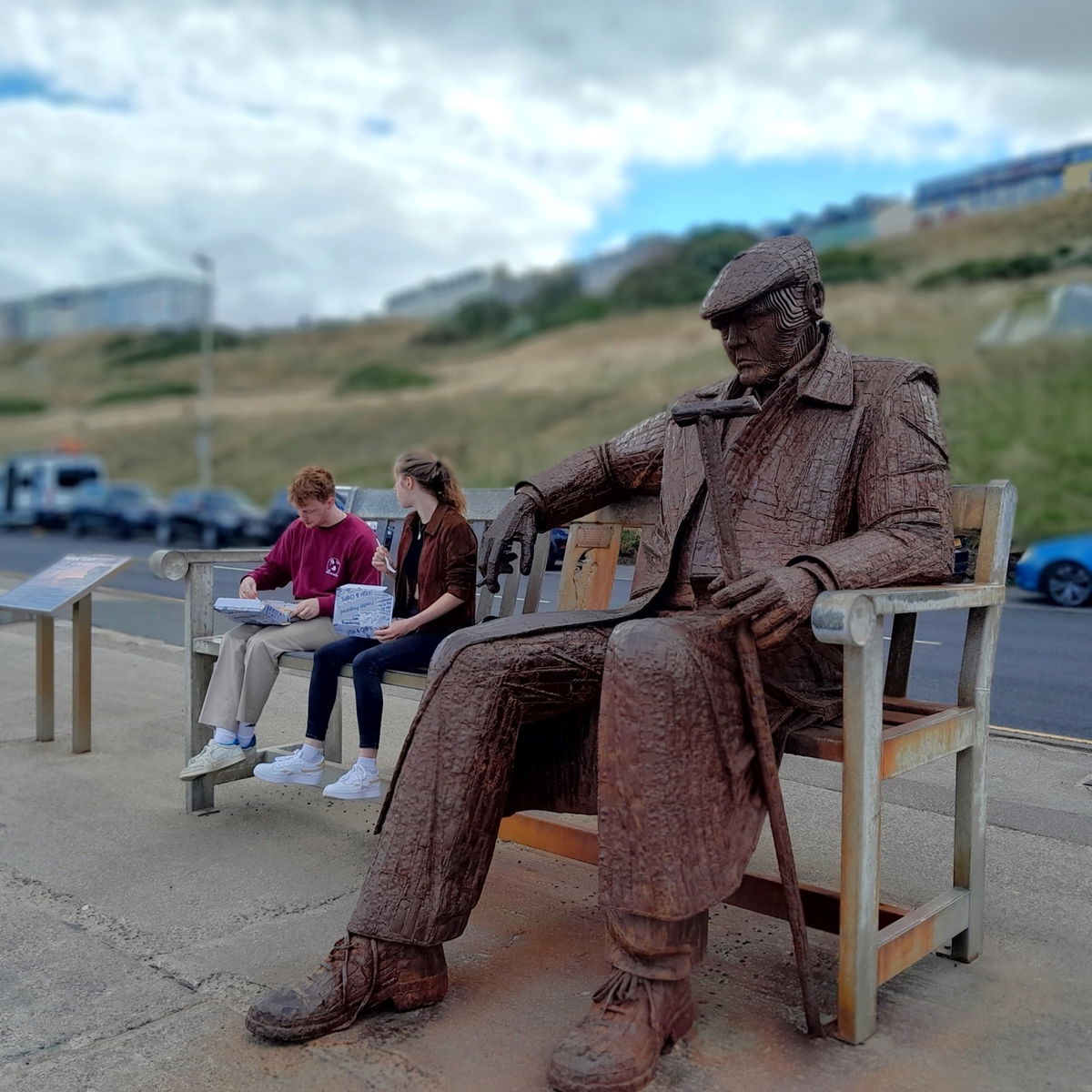 We took the longer walk back around The castle headland along Marine Drive.
At the end of the 19th century it was built primarily as a sea defense, but was also the first marine carriage drive in England, making it a popular seaside resort with a constitutional perambulation. It was a toll route though (see fees further down).
Construction started in 1897 and soon it became apparent that the sea was unrelenting and caused many setbacks and civil engineering nightmares. It was supposed to take only 3 years, but actually took 7 years, supposedly completed in 1904. The following year a huge storm washed away the North Pier, requiring more money for the contractors' repair. This took till 1908 to rebuild.
Sadly there is no North pier now. The North Sea still batters the coastline and this makes for bracing walks along Marine Drive, and great photo opportunities too (Which we didn't take!)
Here is a photo of the South Bay showing the Grand Hotel.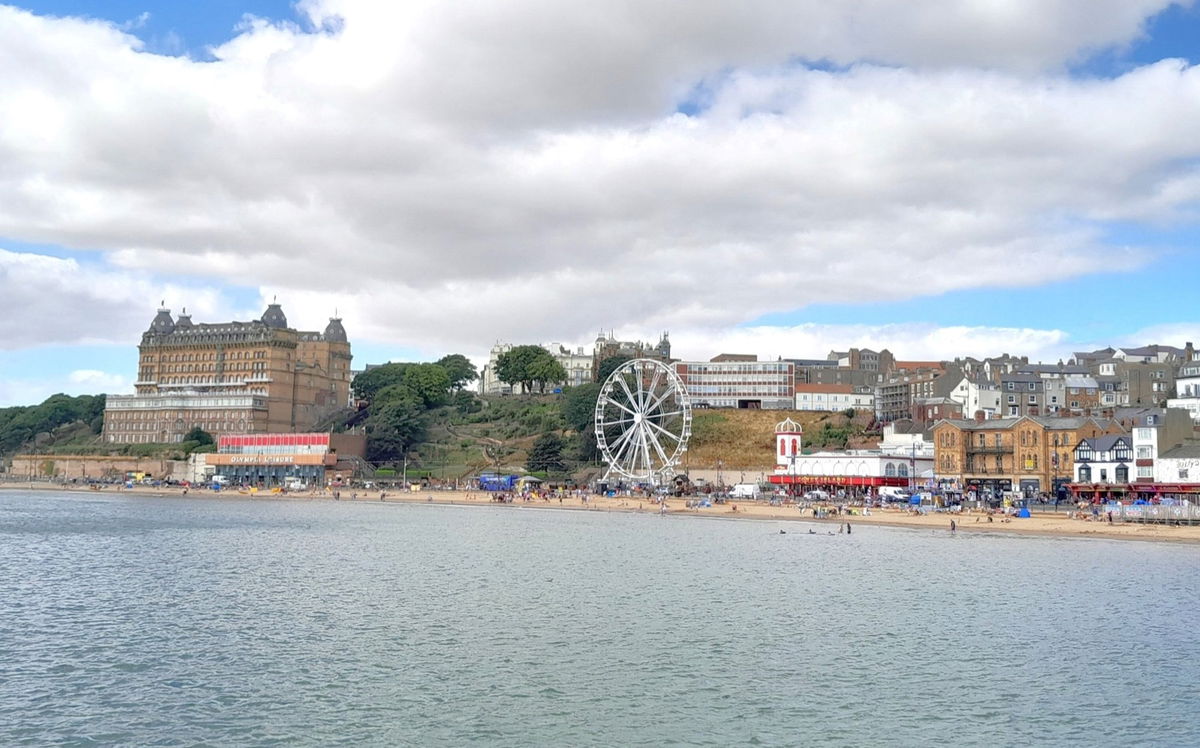 The quaint-looking Toll House on the south side is the only toll house that remains as the north side one has gone. There is an archway where the carriages passed through, paying 1d as did walkers, riders of horses or bikes, motorists, and those in bath chairs. Motorcyclists though had to pay 2d and 1d for whoever was pushing or riding the machine.
The toll was suspended during the 2nd World war and never reinstalled for walkers and was abolished for all Marine Drive users in 1950. I couldn't find information regarding the Toll House's current use.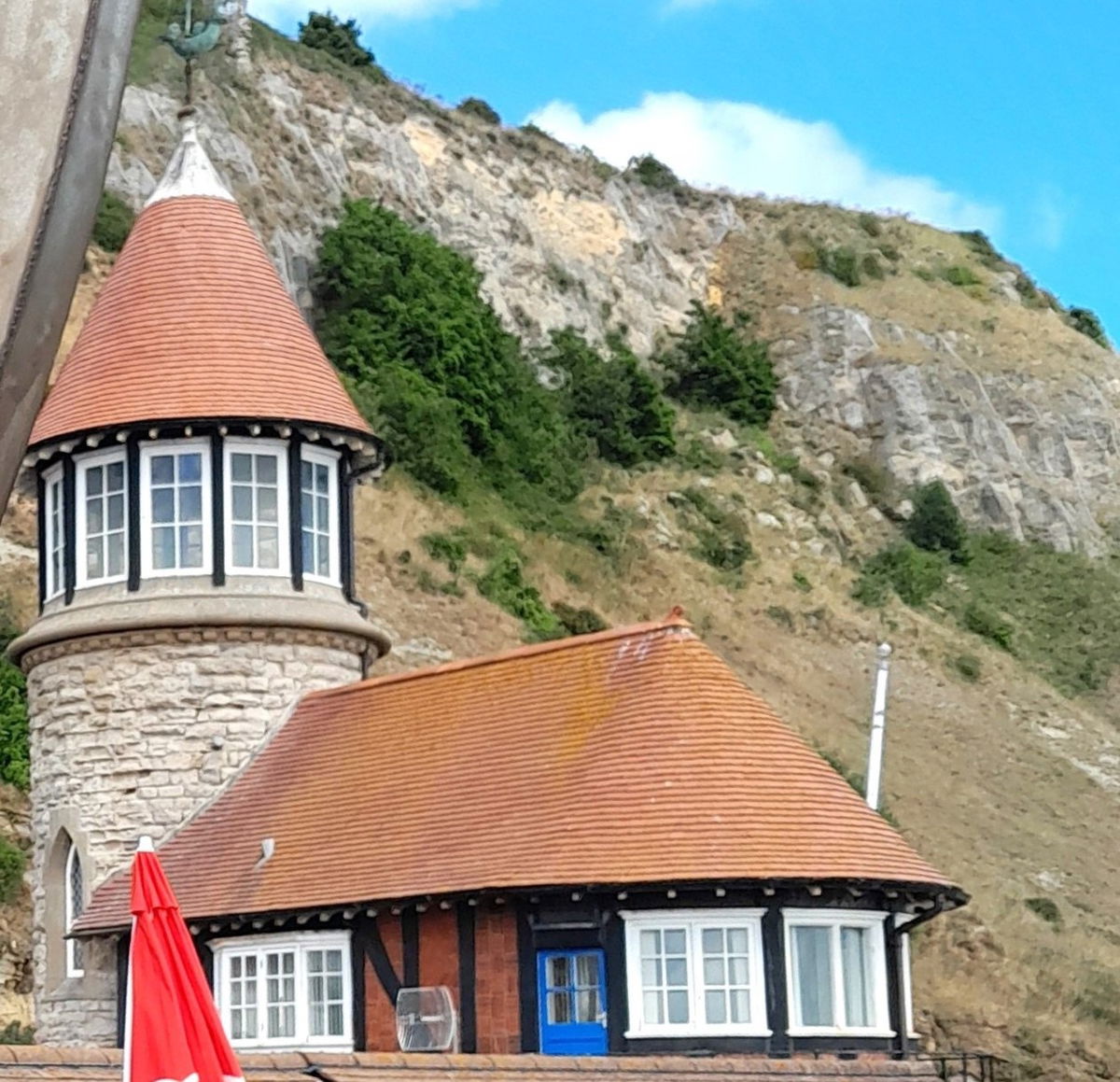 We then veer off around the Luna Park Funfair. To the East Harbour where we find Ray Lonsdale's installment The Tunney. This one is not in Cortsen Steel.
Apologies, as my photographs were hampered by commercial enterprises, so I tried some acute angles!
The Tunney
Big fish, little boat,
Just a rod a line a man,
Days when the tunney were here in the sea,
Not just in a ring pull can.
To catch Atlantic Bluefin Tuna was a sport during the 1920s and 1930s as they were considered the strongest fish in this country hence a challenge to rod and line fishermen. The information board gives a very good overview. Personally, I think the shame is that the fish meat was not sold off.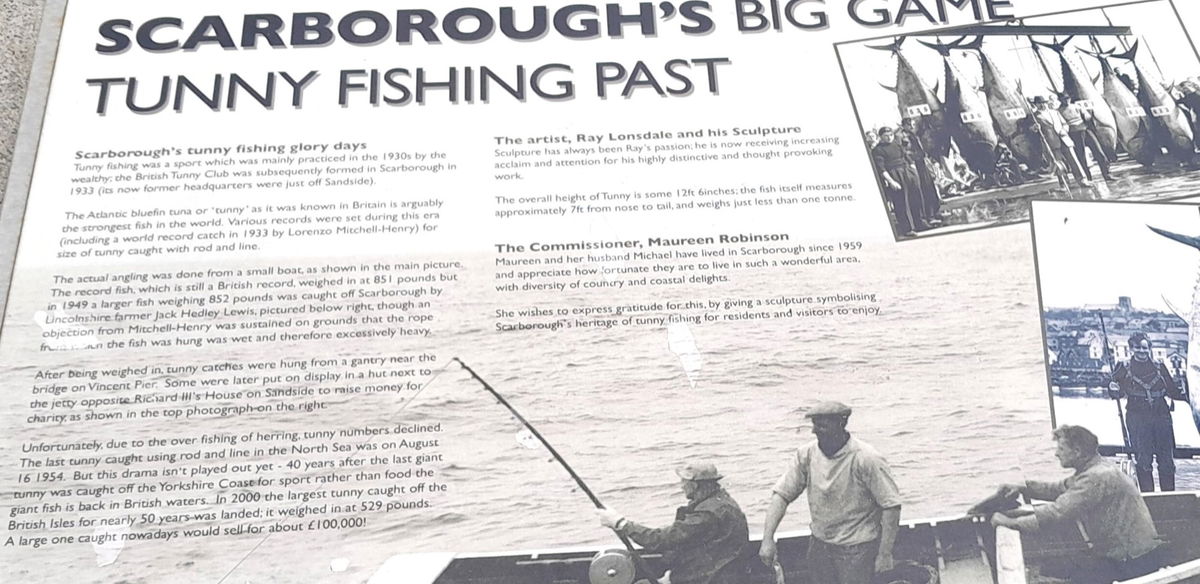 We extended our walk around the Harbour with some birdwatching and pleasant views. There was a 1914 Vickers pattern 13 pounder naval gun, a Diving Belle sculpture, and of course the lighthouse.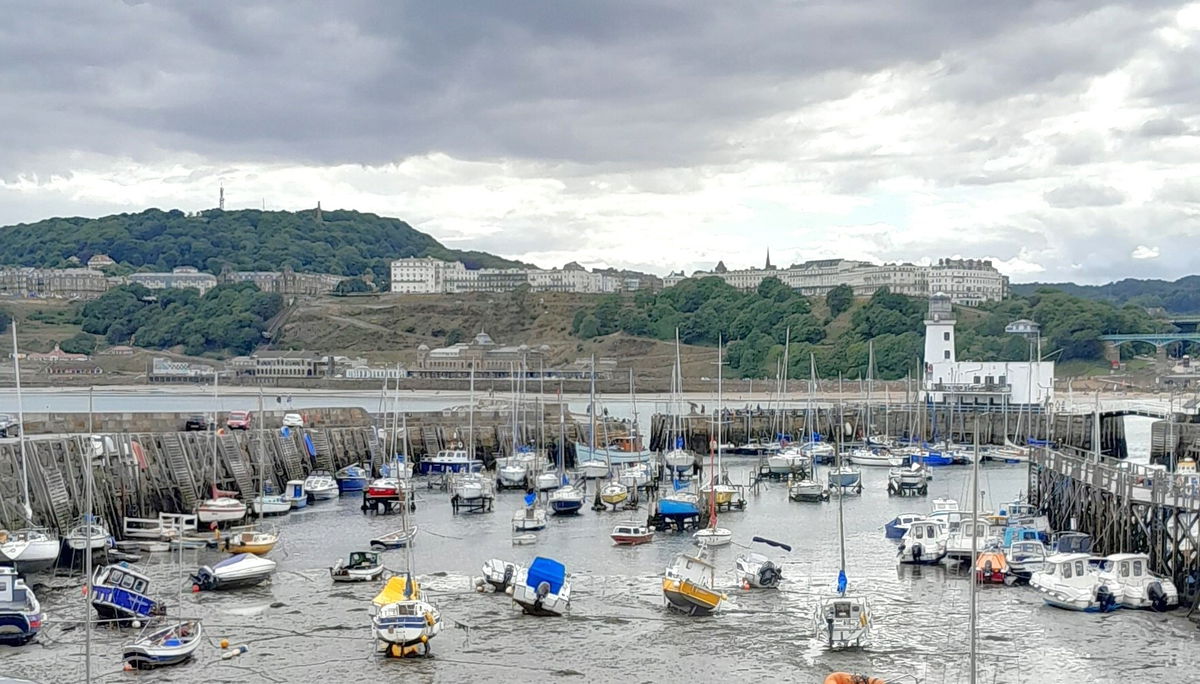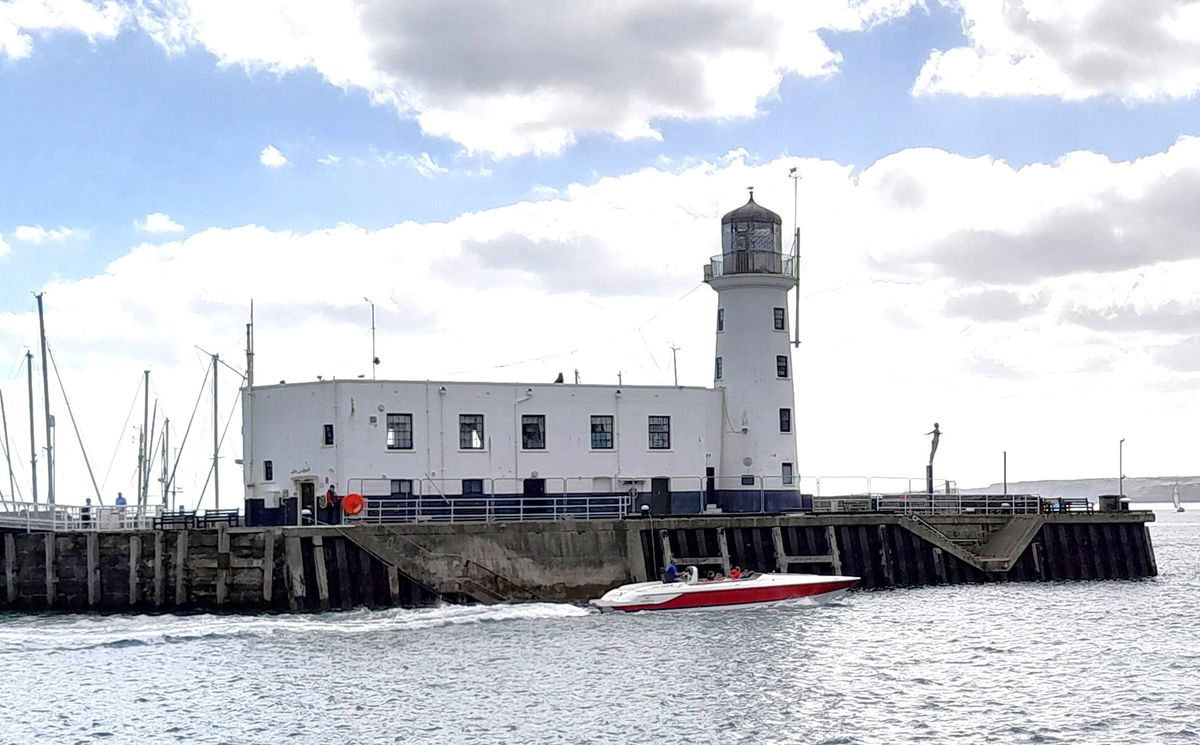 We hope you enjoyed our meander around the Scarborough sculptures and is a wonderful to spend the day.
Where to Park For Urban Artworks In Scarborough
Where To Park For Urban Artworks In Scarborough?
What three words
Plenty of parking throughout the town, but we recommend parking on the West Pier which is right next to the start of the walk.
}
Contributed by Rosalind Parker
Thanks for reading through and getting to the end of this post. I enjoy exploring the Fabulous North (Especially as a Southerner residing up North). I like 'snippets' of information, and more so, if they are obscure, amusing or meaningful. The photographs are taken on a mobile phone, without any enhancements.
More Walks from Rosalind
More Places In Scarborough
Find more fabulous places in Scarborough, North Yorkshire and if you know of a place we haven't listed, then let us know.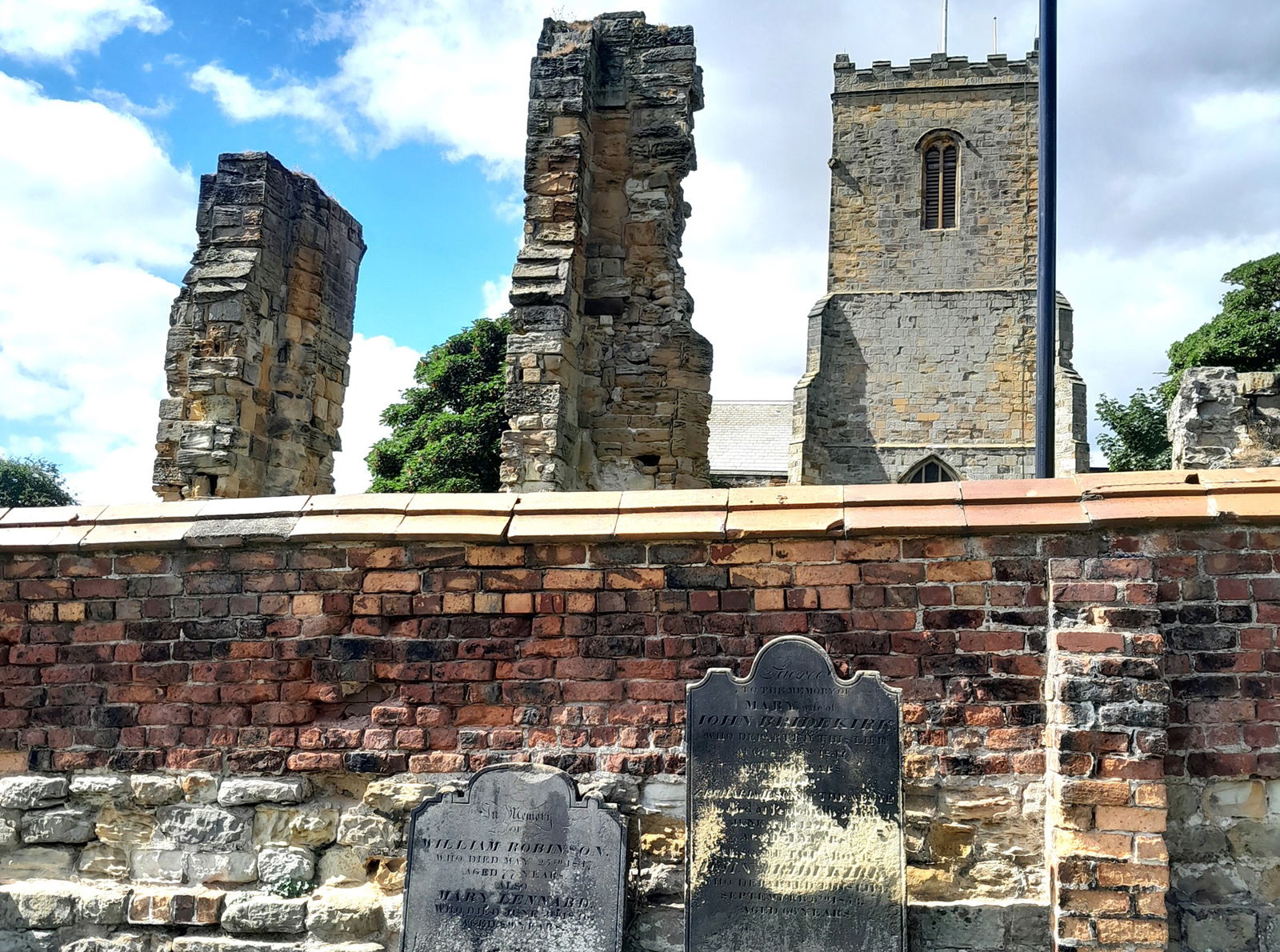 Saint Marys with Holy Apostles Scarborough
Religious Place
Scarborough
North Yorkshire
A 12th century church which was the scene of a Roundheads and Cavalier's confrontation and is also the final resting place of Anne Bronte.
Find Us On Facebook
We post all our new places daily on our Facebook Groups page, so join the group today and be notified when we add a new place.
Join Our Facebook Group