Collingwood Monument
Statue
Tynemouth
Tyne And Wear
Collingwood Monument
Statue In Tynemouth, Tyne And Wear
A Grade II* listed monument in Tynemouth, dedicated to Vice Admiral Lord Cuthbert Collingwood. A Napoleonic-era admiral noted for being second-in-command to Admiral Lord Nelson during the Battle of Trafalgar.
If you find yourself walking along the coast around Tynemouth and North Shields there is a statue, visible for miles around, gazing out to sea. We have all no doubt heard about the exploits of Admiral Nelson at the Battle of Trafalgar, but the exploits at that battle of one of the North East's very own often get overlooked. This statue is a monument to one of Britain's great seamen and a Morpeth native.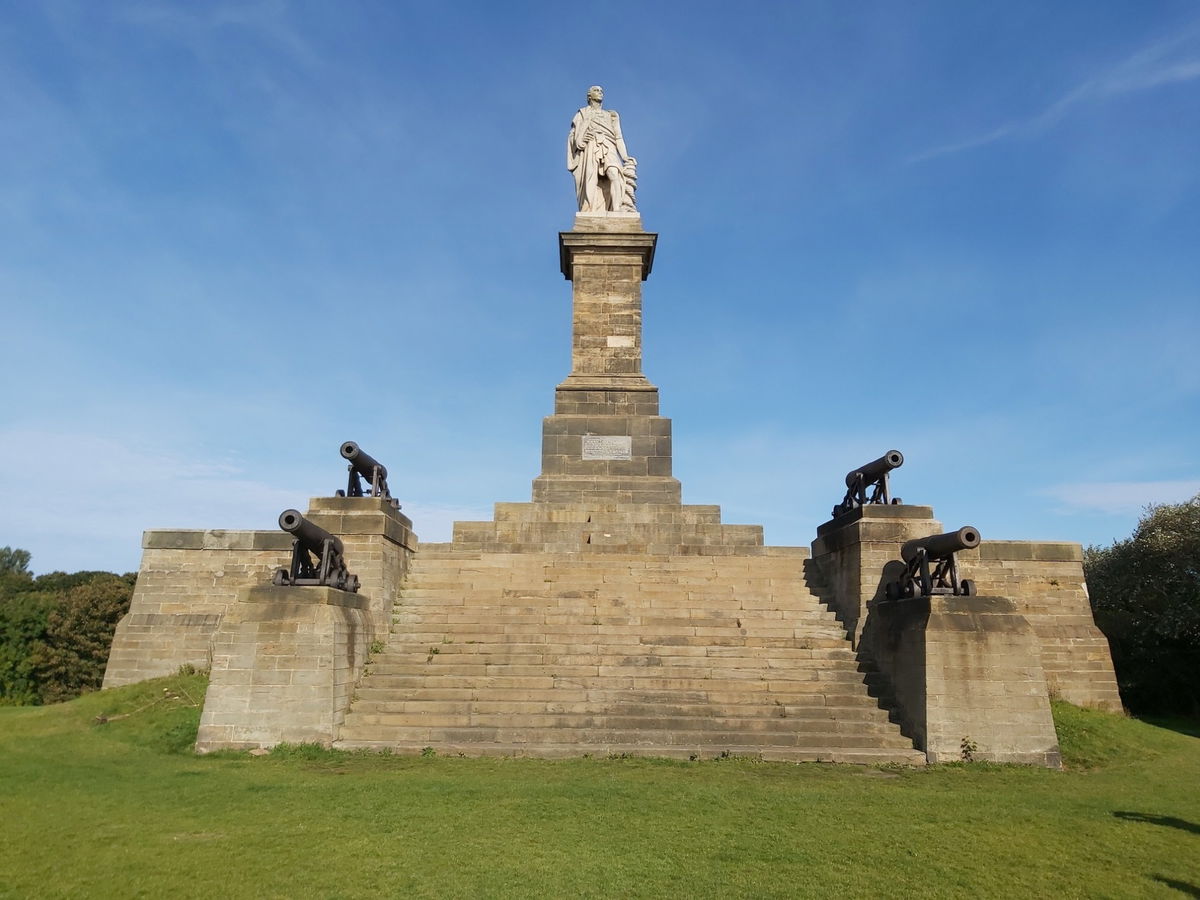 The Collingwood Monument is a Grade II* listed monument in Tynemouth, England, dedicated to Vice Admiral Lord Cuthbert Collingwood. A Napoleonic-era admiral noted for being second-in-command to Admiral Lord Nelson during the Battle of Trafalgar, Collingwood is sometimes referred to as the forgotten hero of Trafalgar.
Erected by public subscription in 1845, this Grade II* Listed monument was sculpted in marble and sandstone by John Graham Lough (who also has a connection to some of the graves in St Andrew's Church, Kiln Pit Hill) and stands on top of a pedestal designed by well-known, local architect John Dobson. The position of the monument marks Collingwood's family connection with North Shields (members of his family lived close by at Chirton, North Shields) and allows the statue to be seen from the sea and the river. The four cannons flanking the steps came from the flagship Royal Sovereign and were added in 1848.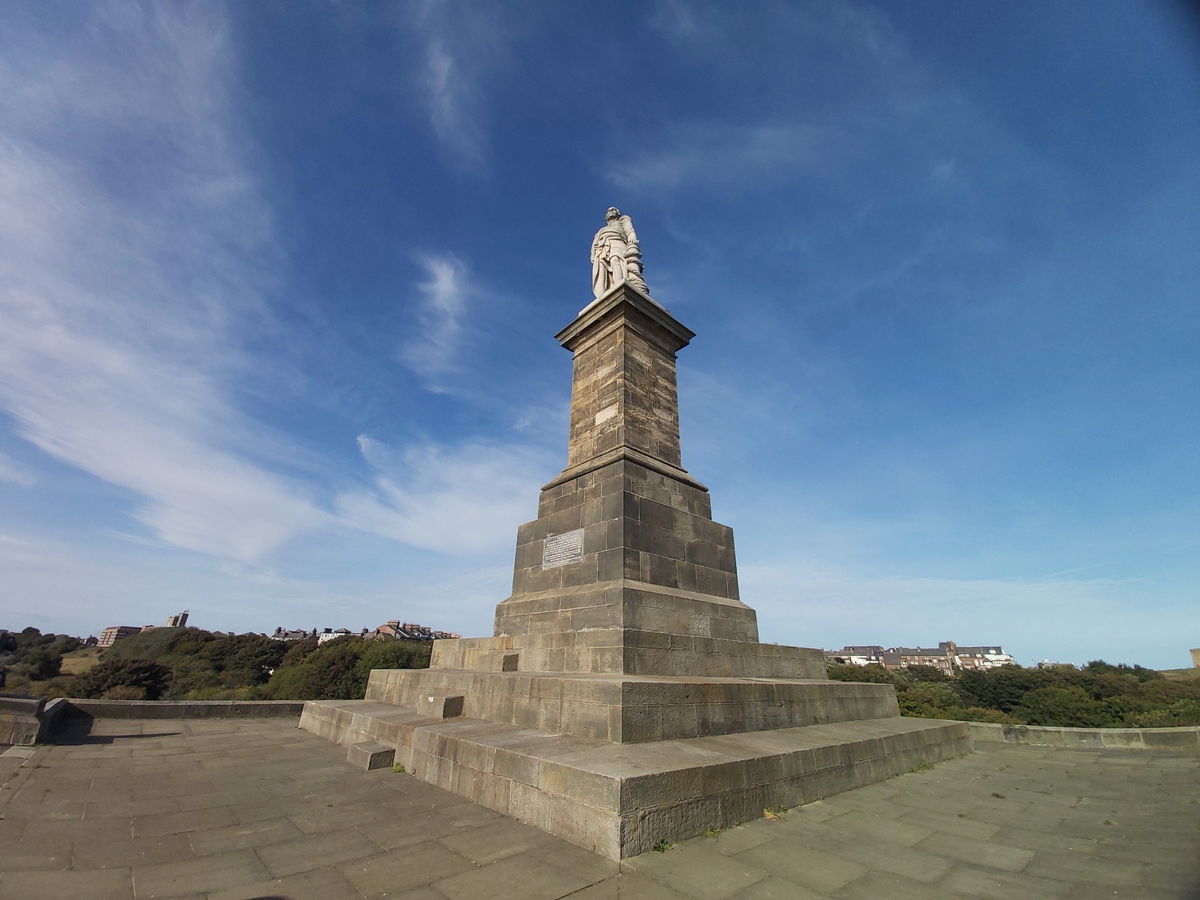 Lord Collingwood was born in Newcastle upon Tyne, the son of a merchant, in 1748. He attended the Royal Grammar School and joined the Royal Navy as a volunteer at the age of 12. From there he continued his nautical education under his cousin Captain Richard Brathwaite. After serving in the British Naval Brigade at the Battle of Bunker Hill during the siege of Boston in June 1775, Collingwood was commissioned on the same day as a lieutenant.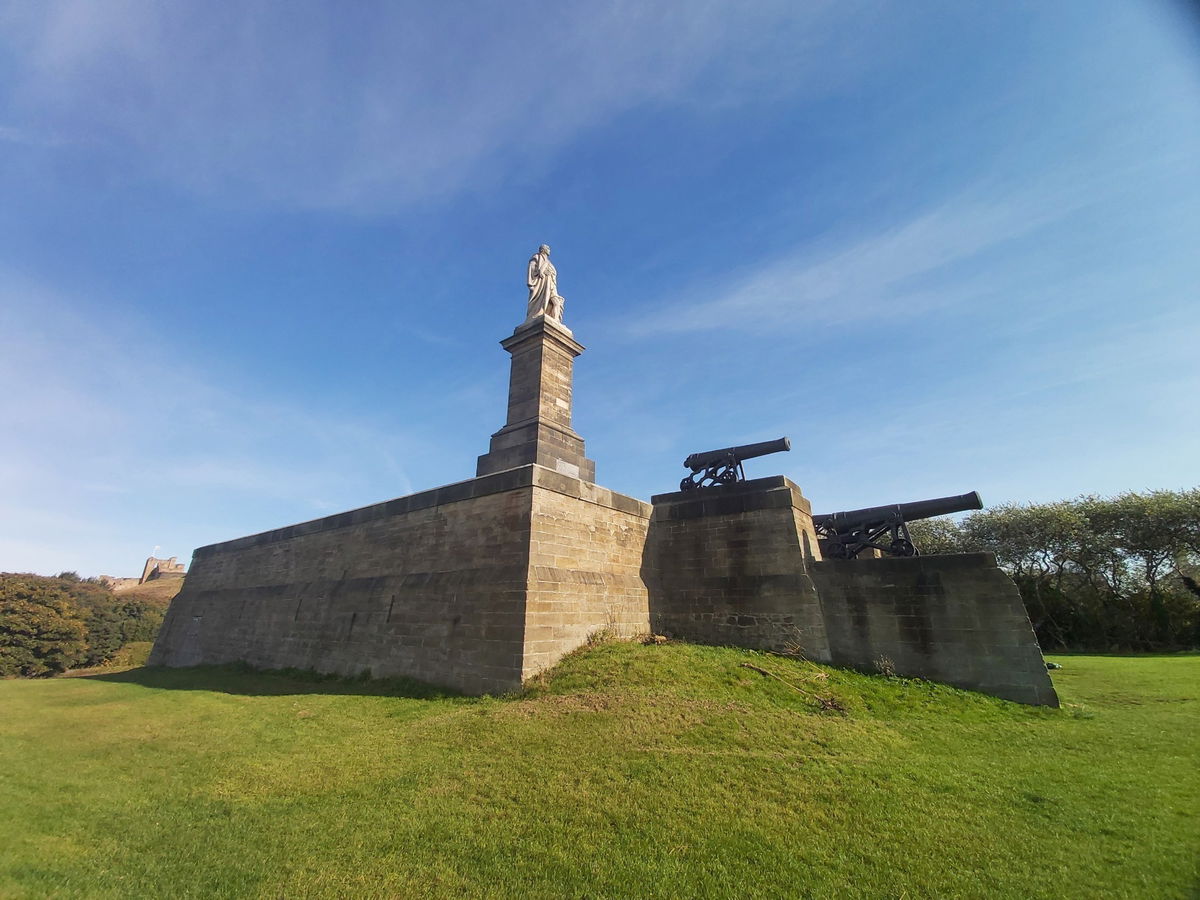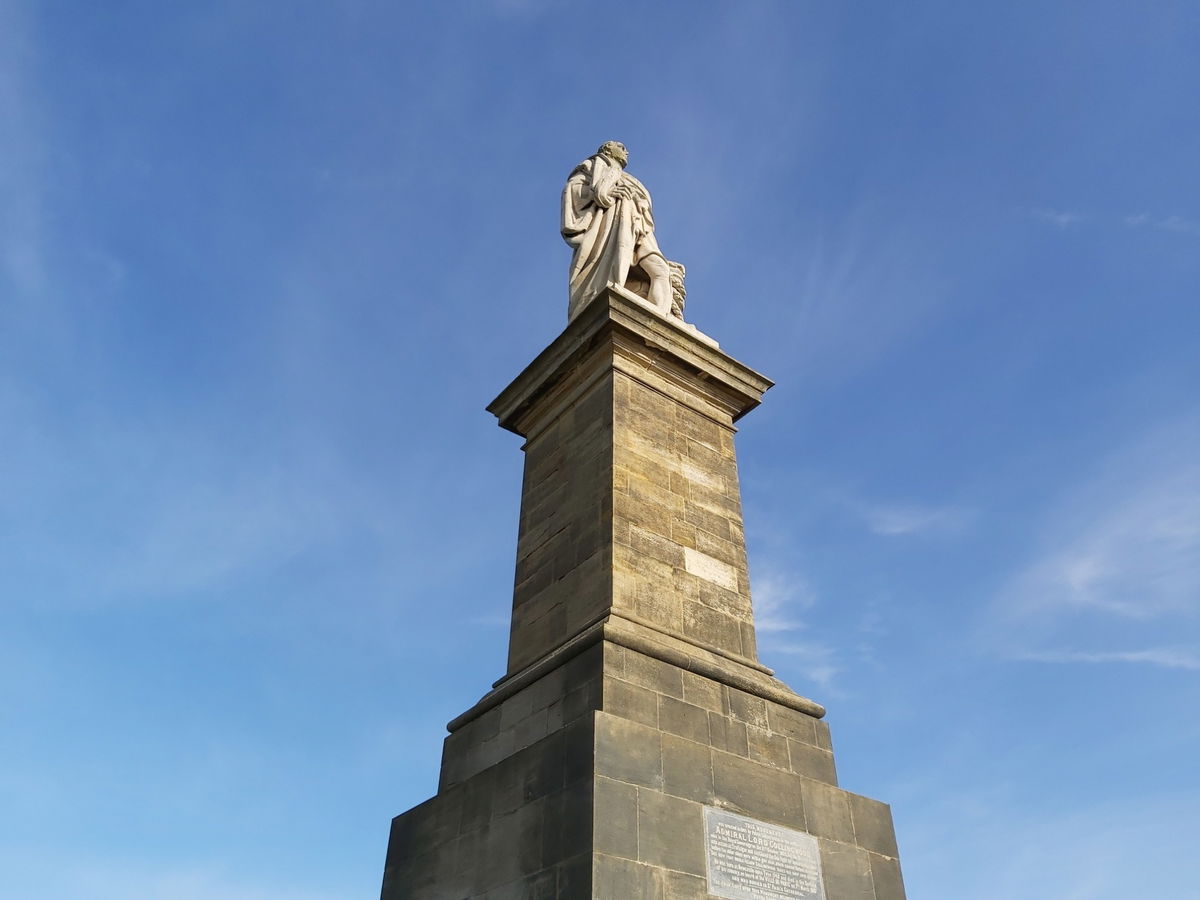 His first command was HMS Badger, succeeding Horatio Nelson as Captain, and his first major command was HMS Sampson. Collingwood was promoted to vice-admiral in 1804, and at the Battle of Trafalgar on 21 October 1805 was second in command of the British fleet under Admiral Nelson. While Nelson was on board HMS Victory at the head of one half of the fleet that day, Collingwood was on board HMS Royal Sovereign, which was the first British ship to engage.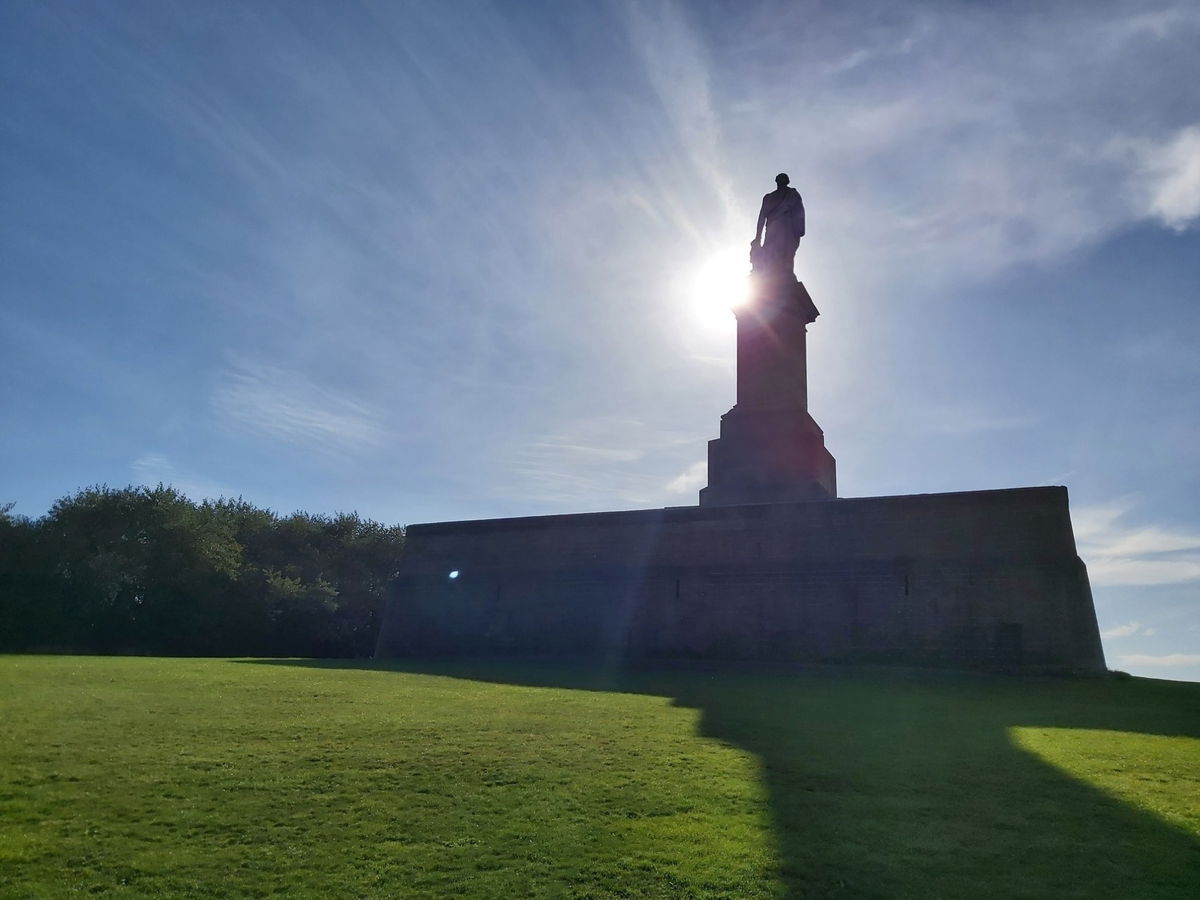 On the death of Lord Nelson, Collingwood assumed command of the British fleet, transferring to HMS Euryalus. Collingwood then led the fleet and completed the battle plans that he and Nelson had created together. For his role in the battle Collingwood was given the thanks of both houses of Parliament and awarded a pension of £2,000 per annum, as well as being promoted on 9 November 1805 to Vice-Admiral of the Red and raised to the peerage as Baron Collingwood, of Caldburne and Hethpool in the County of Northumberland.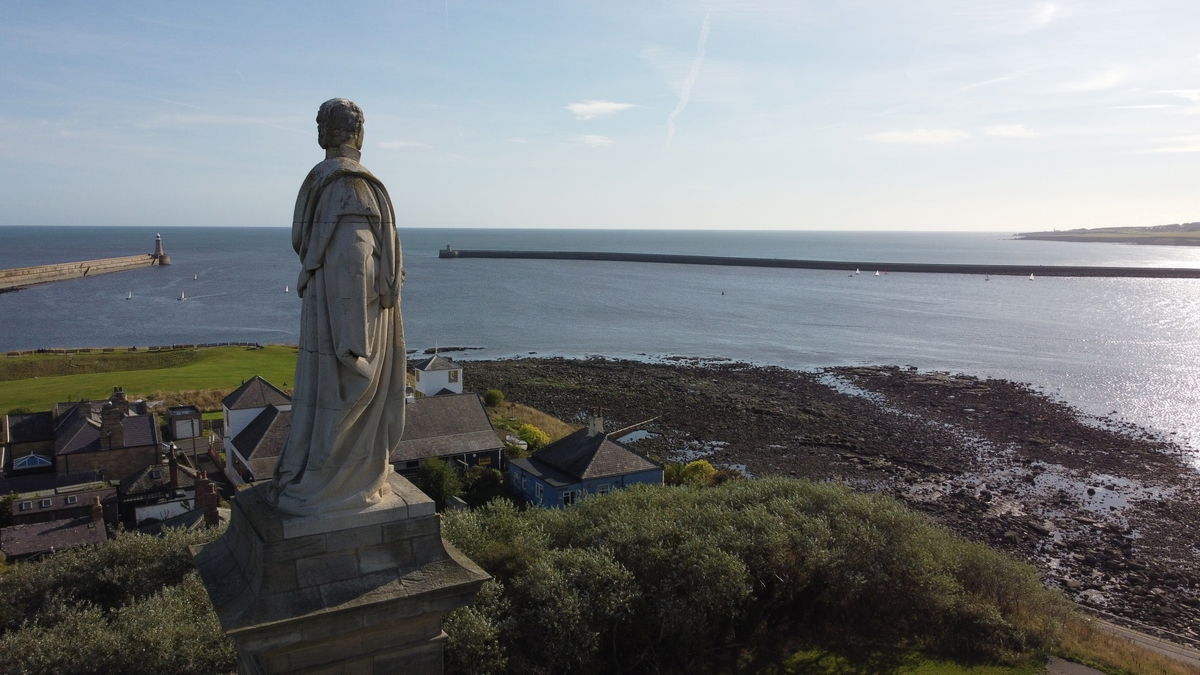 In 1805 Collingwood was appointed the Commander-in-Chief, Mediterranean Fleet. After requesting to be relieved of his command the Government stated that it urgently required an admiral of his calibre to lead against the dangers of the French and her allies, and that his country could therefore not dispense of him. However, in 1809 his health declined and he was granted leave.
In 1810 Collingwood died of cancer on board the HMS Ville de Paris as he sailed for England. He was laid to rest beside Lord Nelson in St Paul's Cathedral. During his career he had served in the American Revolutionary War, the French Revolutionary Wars and the Napoleonic Wars, and had been awarded three Naval Gold Medals, making him one of only three people to share the distinction of earning that total.
Though remaining fond of his North East roots, Collingwood never returned to his family in Morpeth after the Battle of Trafalgar.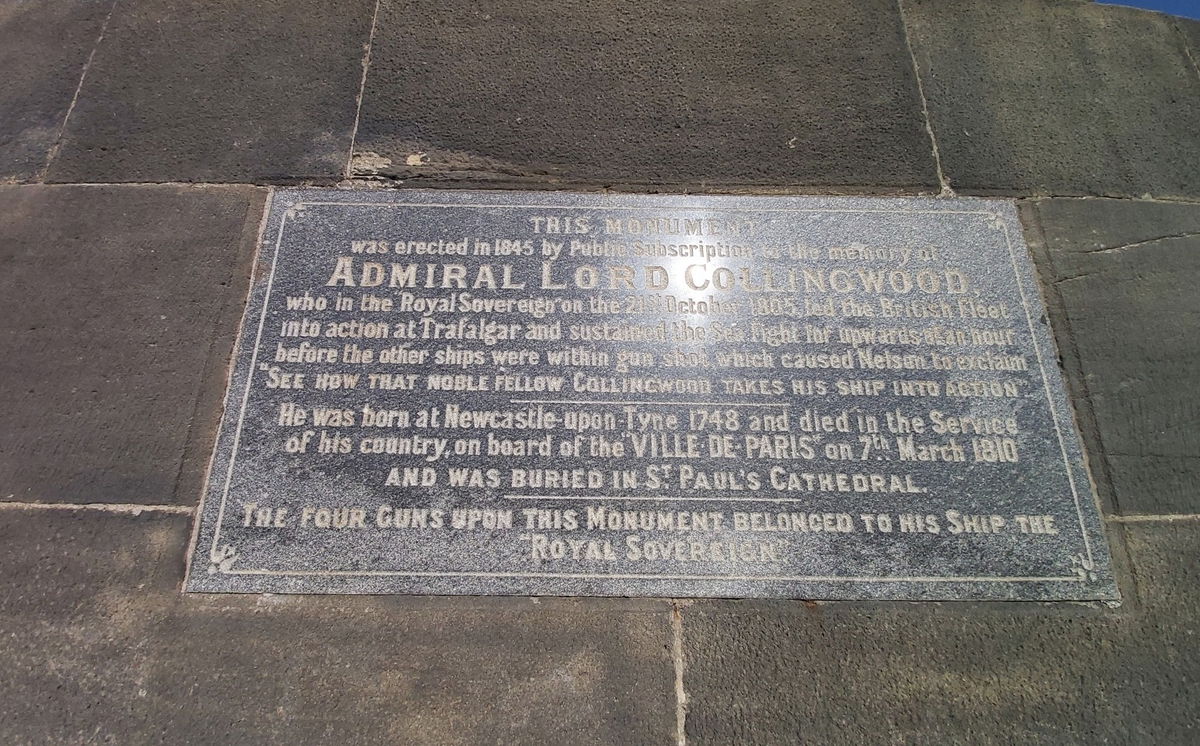 The inscription on the monument plinth reads:
THIS MONUMENT
was erected by public subscription to the memory of
ADMIRAL LORD COLLINGWOOD
who in the Royal Sovereign on the 21st October 1805 led the British fleet into action at Trafalgar and sustained the sea fight for upwards of an hour before the other ships were within gun shot which caused Nelson to exclaim
'SEE HOW THAT NOBLE FELLOW COLLINGWOOD TAKES HIS SHIP INTO ACTION'
He was born at Newcastle upon Tyne 1748 and died in the service of his country on board of the VILLE DE PARIS on 7 March 1810
AND WAS BURIED IN ST PAUL'S CATHEDRAL
THE FOUR GUNS UPON THIS MONUMENT BELONGED TO HIS SHIP THE "ROYAL SOVEREIGN"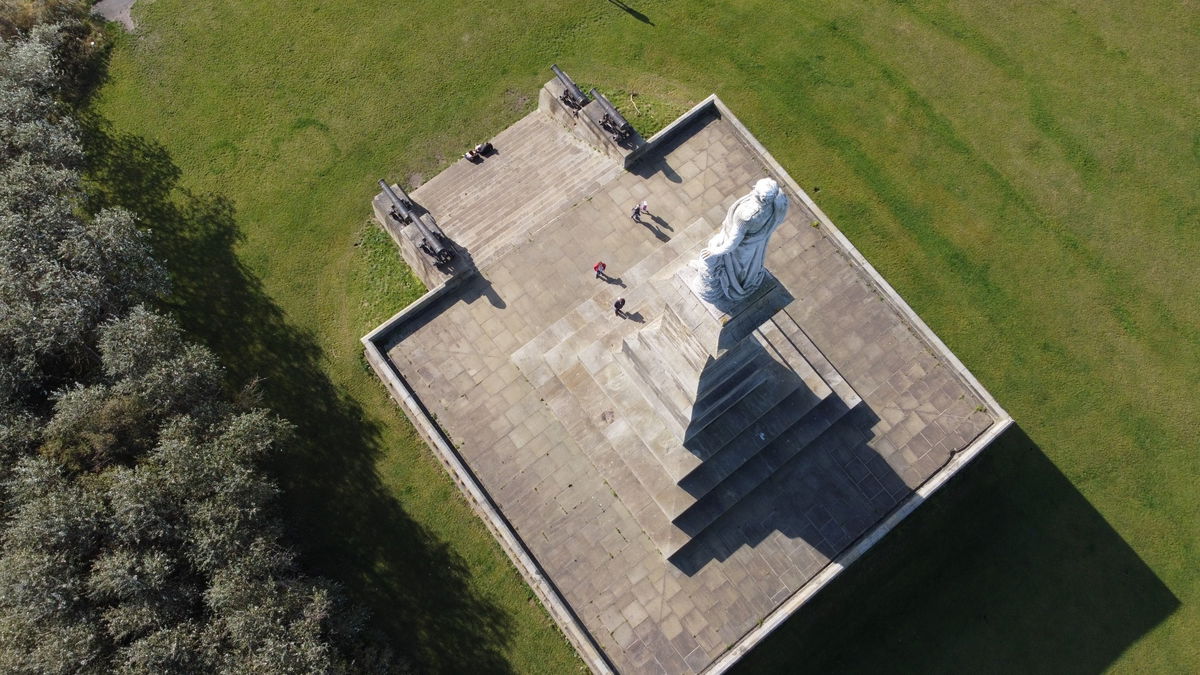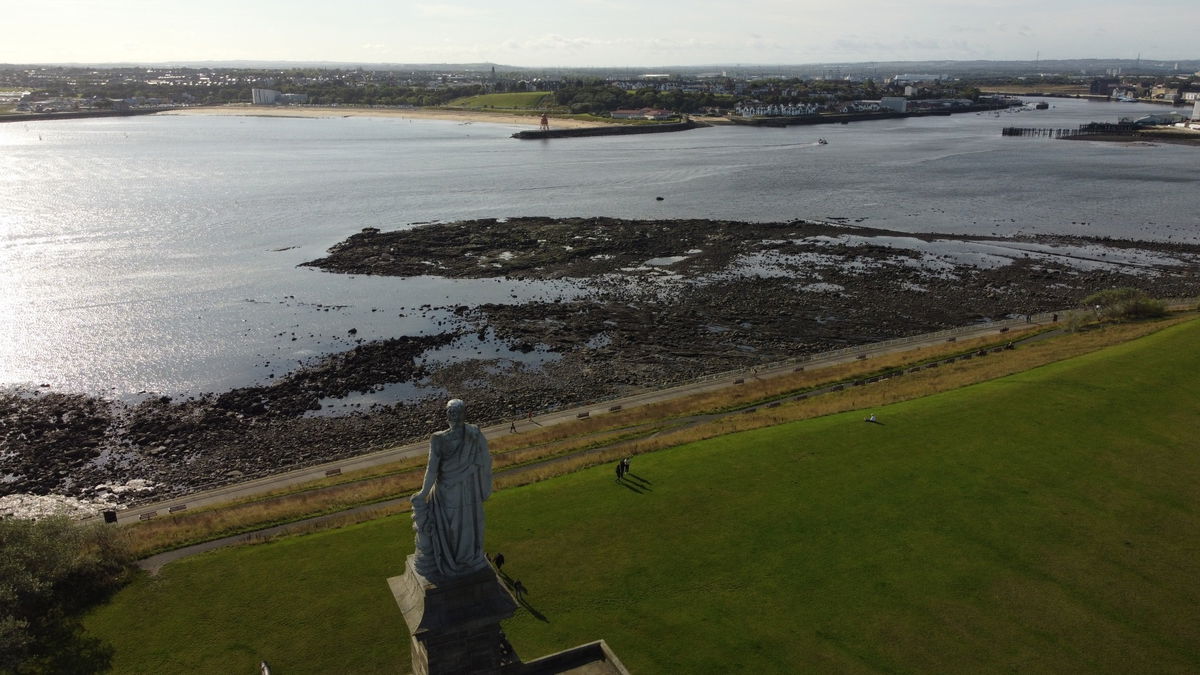 How To Find Collingwood Monument
Where To Park For Collingwood Monument?
Show Parking On Google Maps
Lat / Long
55.01551, 55.01551
What three words
There is fee parking to the north of the monument just off Pier Road or to the east at Tynemouth Shore Pay and Display Car Park.
Contributed by Andrew Gardner
I love being outdoors, in nature, and experiencing the relaxation it brings. Wandering through the northern countryside seeing unexpected buildings, historic places and occasionally surprised wildlife is one of life's great pleasures.
More Places from Andrew
More Places In Tynemouth
Find more fabulous places in Tynemouth, Tyne And Wear and if you know of a place we haven't listed, then let us know.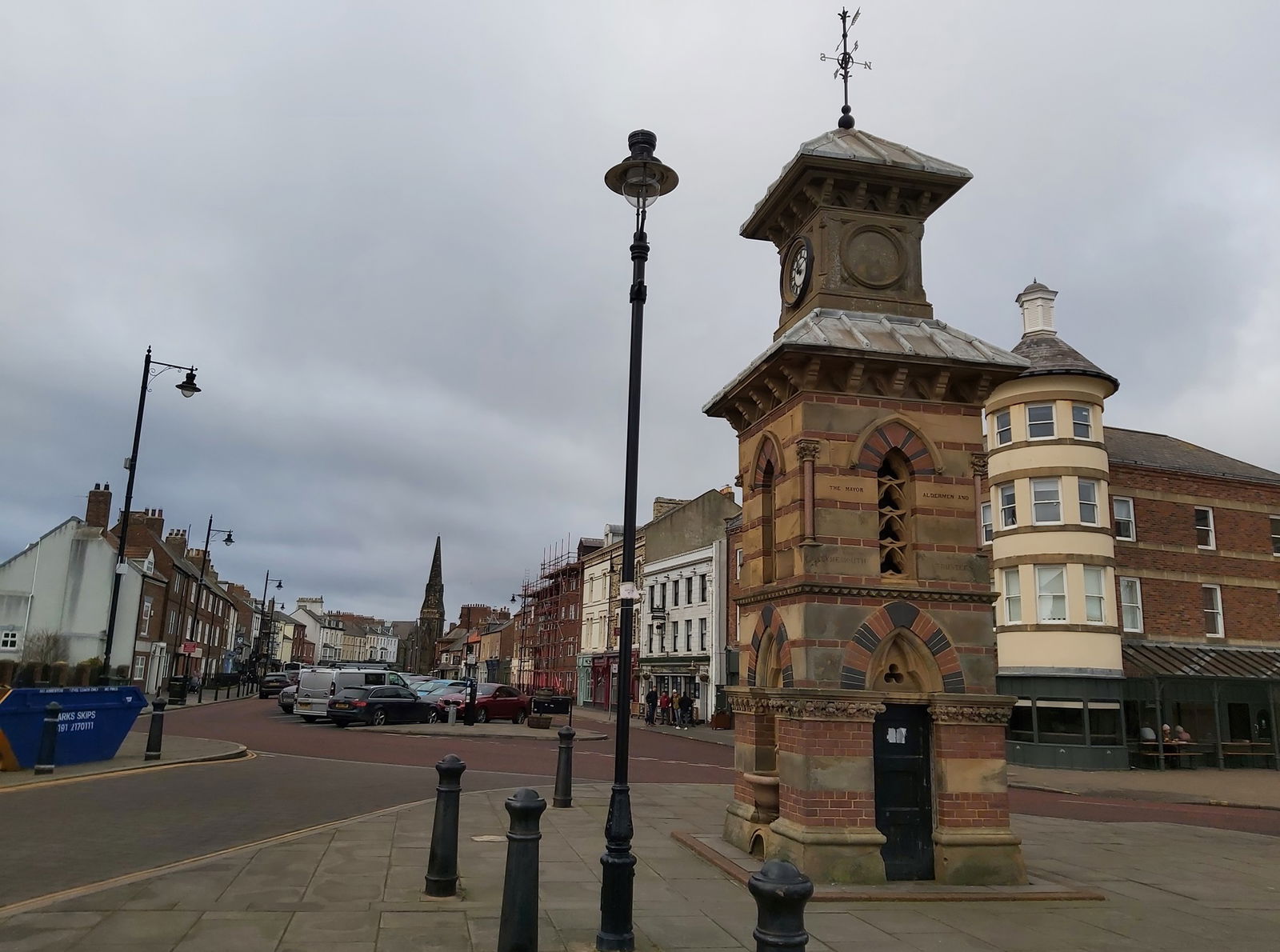 Tynemouth Clock Tower
Tower
Tynemouth
Tyne And Wear
A Grade II listed Clock Tower and Drinking Fountain in the Venetian Gothic Style.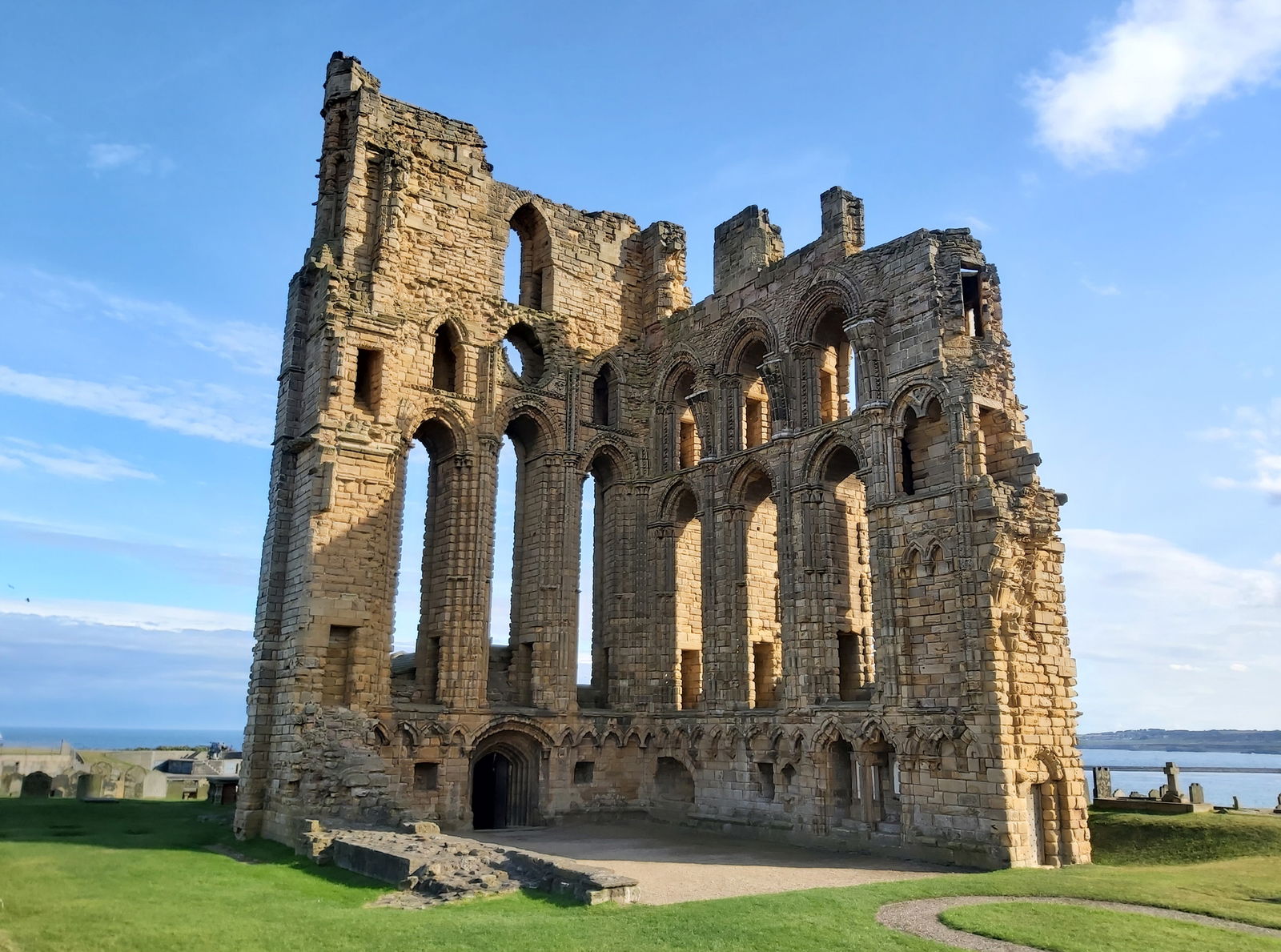 Tynemouth Priory And Castle
Religious Place
Tynemouth
Tyne And Wear
A combined moated castle and gatehouse with the ruins of a Benedictine priory where early kings of Northumbria were buried.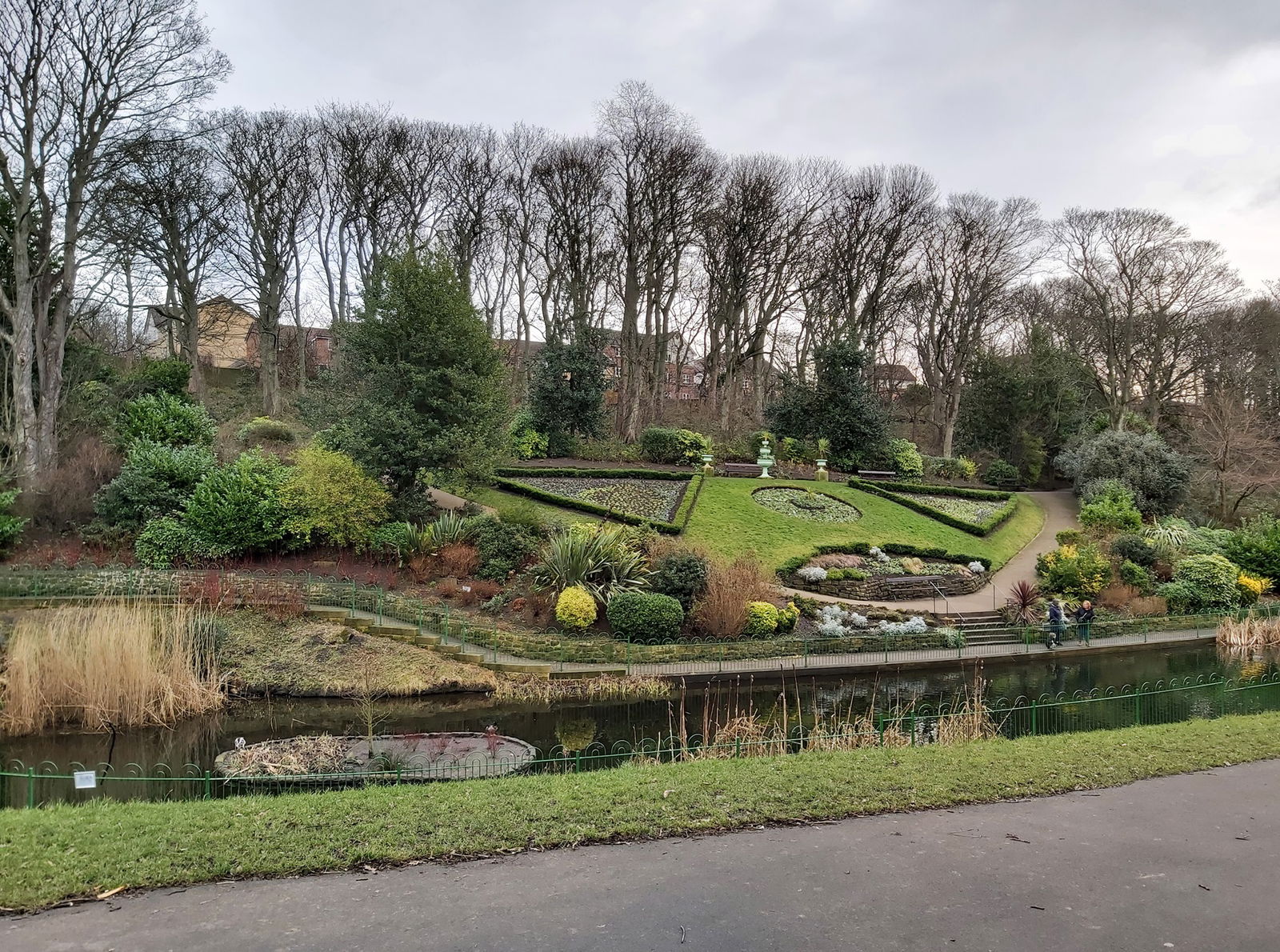 Northumberland Park
Landscape
Tynemouth
Tyne And Wear
A traditional Victorian Park packed with features sitting between Tynemouth and North Shields.
More Statues
So this statue wasn't enough and you want more? Don't worry we have you covered.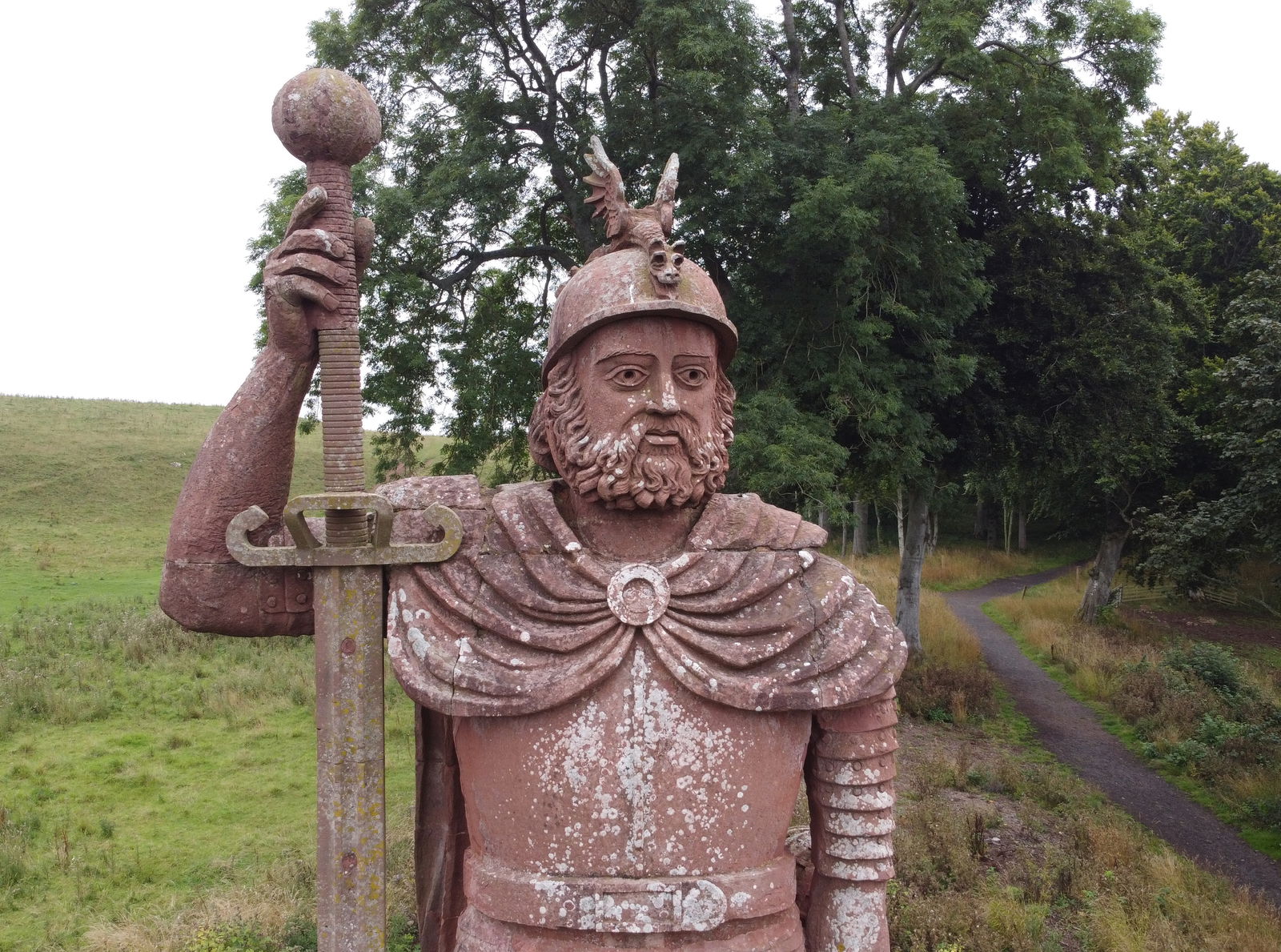 William Wallace Statue
Statue
Melrose
Borders
A red sandstone statue of of William Wallace overlooking the River Tweed Valley near Melrose.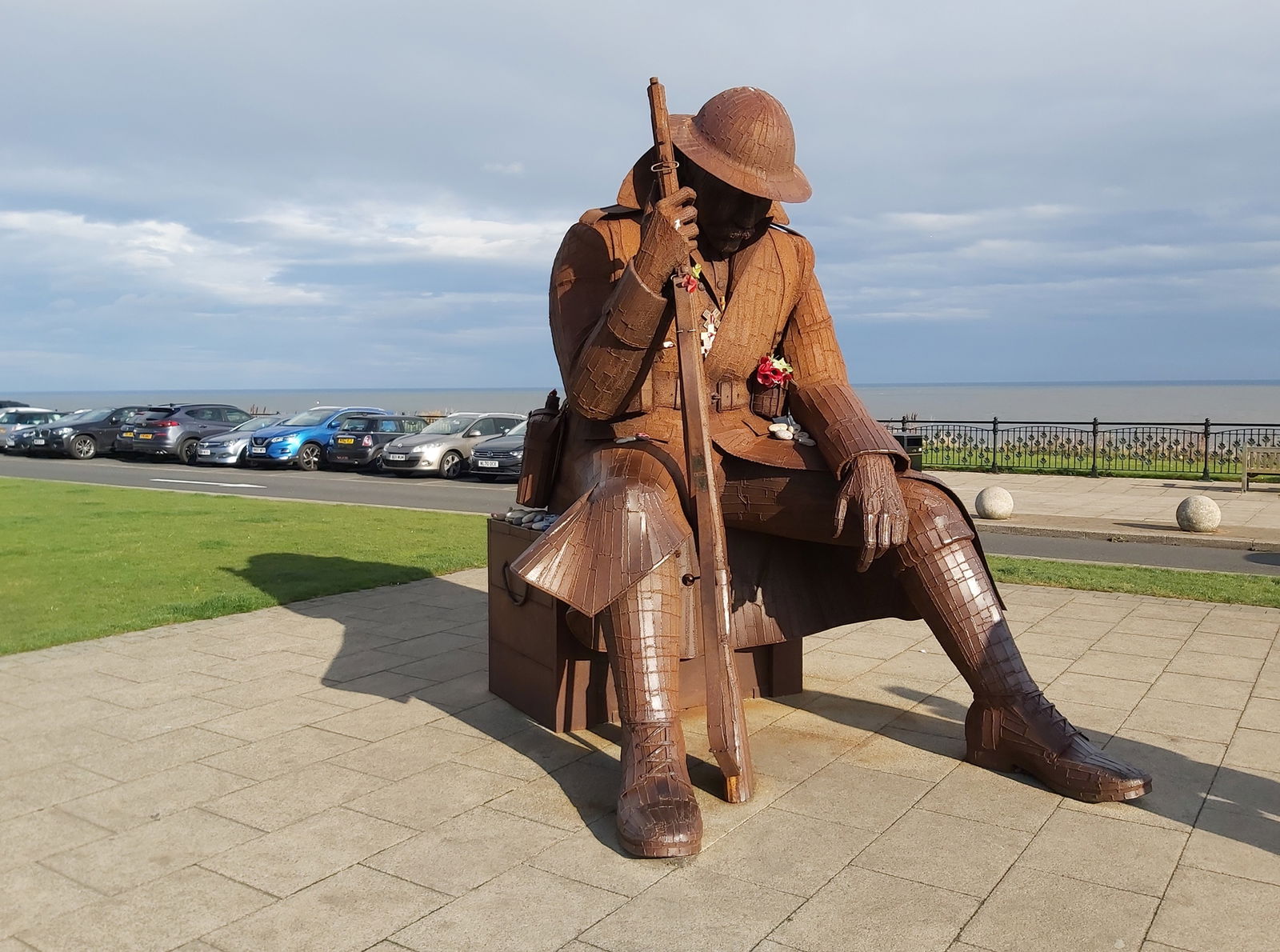 Eleven O One
Statue
Seaham
County Durham
A statue of a British infantryman commemorating the end of World War 1.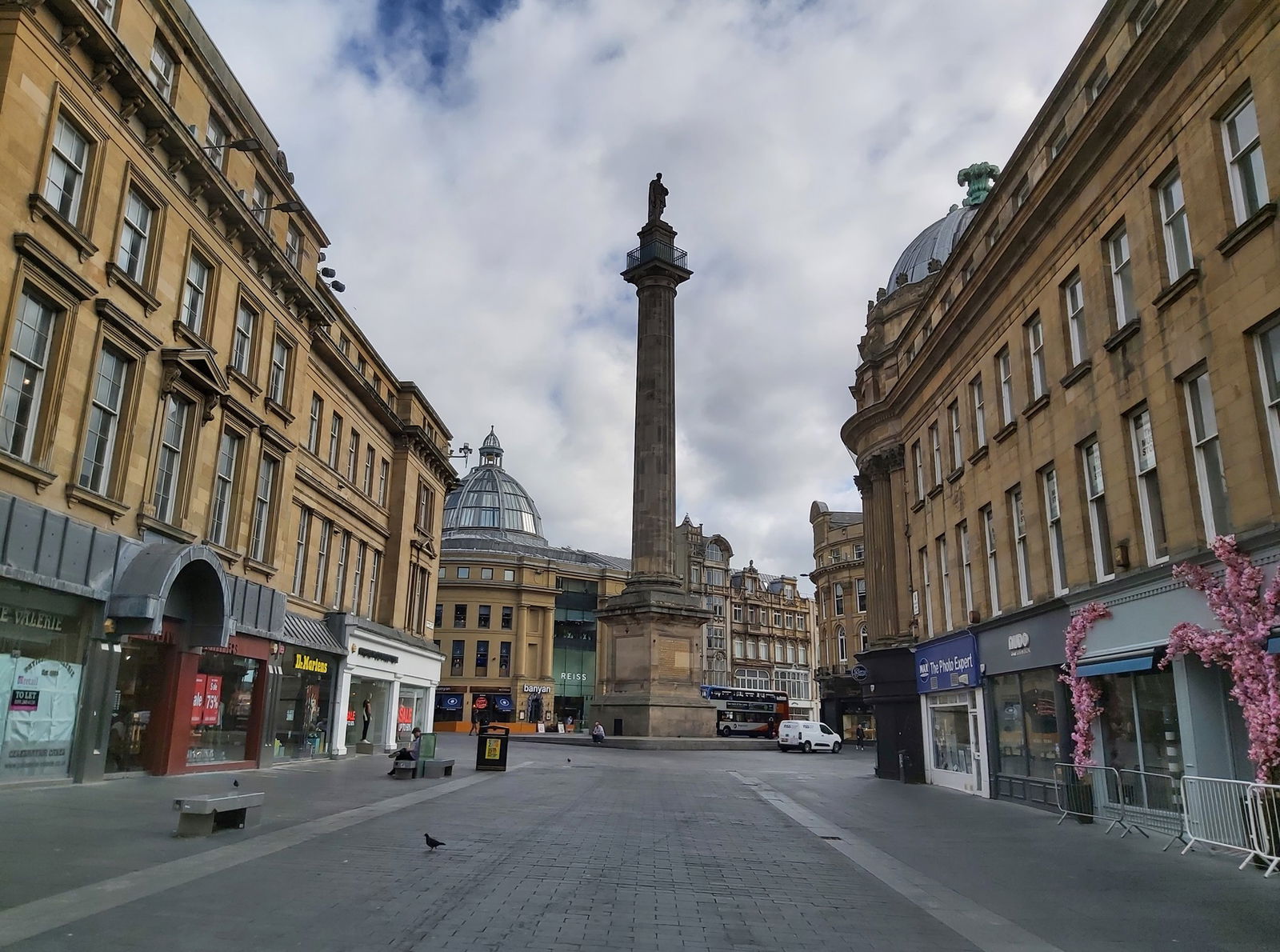 Grey's Monument
Statue
Newcastle City Centre
Tyne And Wear
Monument dedicated to Charles Grey, 2nd Earl Grey built in 1838.
Find Us On Facebook
We post all our new places daily on our Facebook Groups page, so join the group today and be notified when we add a new place.
Join Our Facebook Group