Evelyn Column Felbridge Monument
Statue
Edlingham
Northumberland
Evelyn Column Felbridge Monument
Statue In Edlingham, Northumberland
A column in memory of James Evelyn's parents, moved from Felbridge up to Lemmington, Northumberland.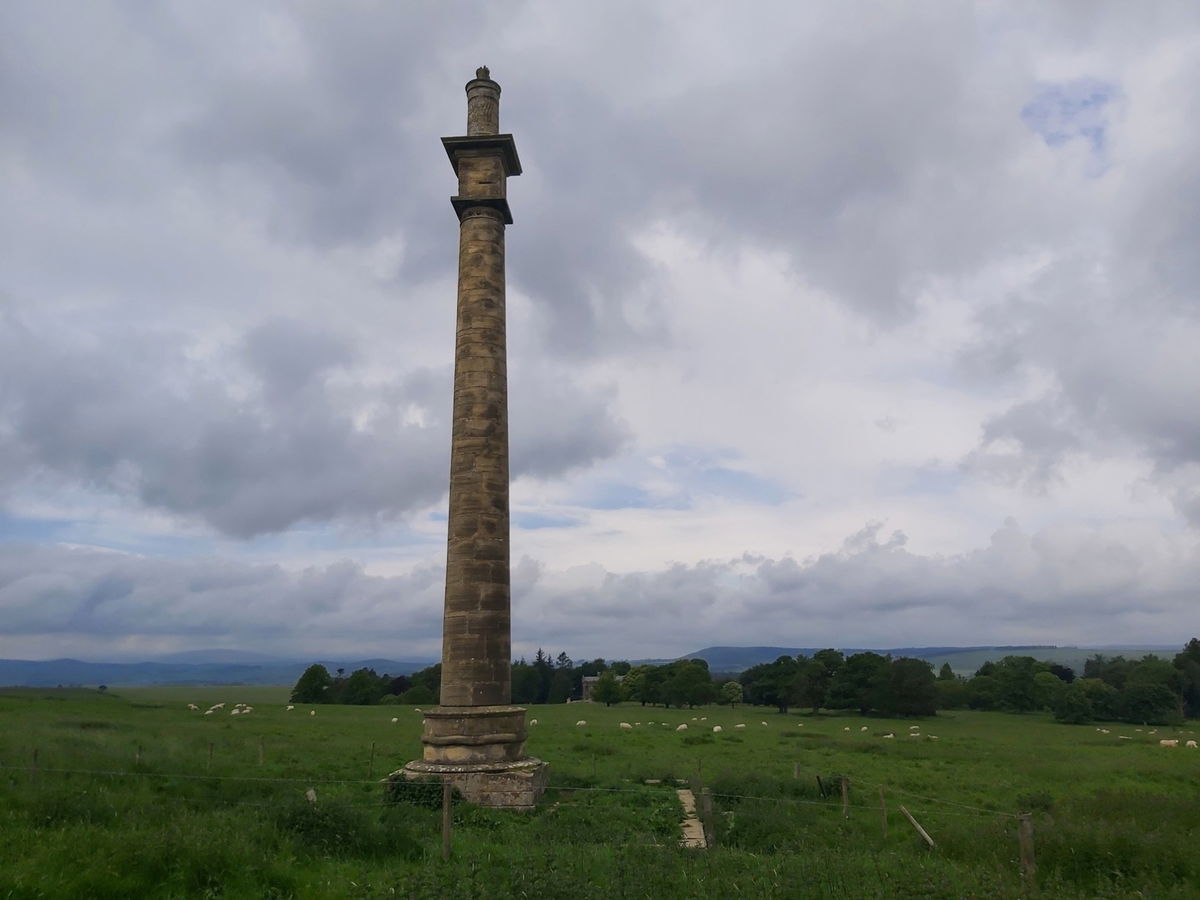 If you're taking the back road between Alnwick and Rothbury, then you may be surprised at the number of amazing things to visit along such a short stretch of road. There is Edlingham Castle, St John The Baptist Church, an old viaduct, Corby's Letch Waterfall, Corby's Crags and also the seat with the amazing view.
But there is more! In the field near to Lemmington Hall is the Evelyn Column, also known as the Felbridge Monument.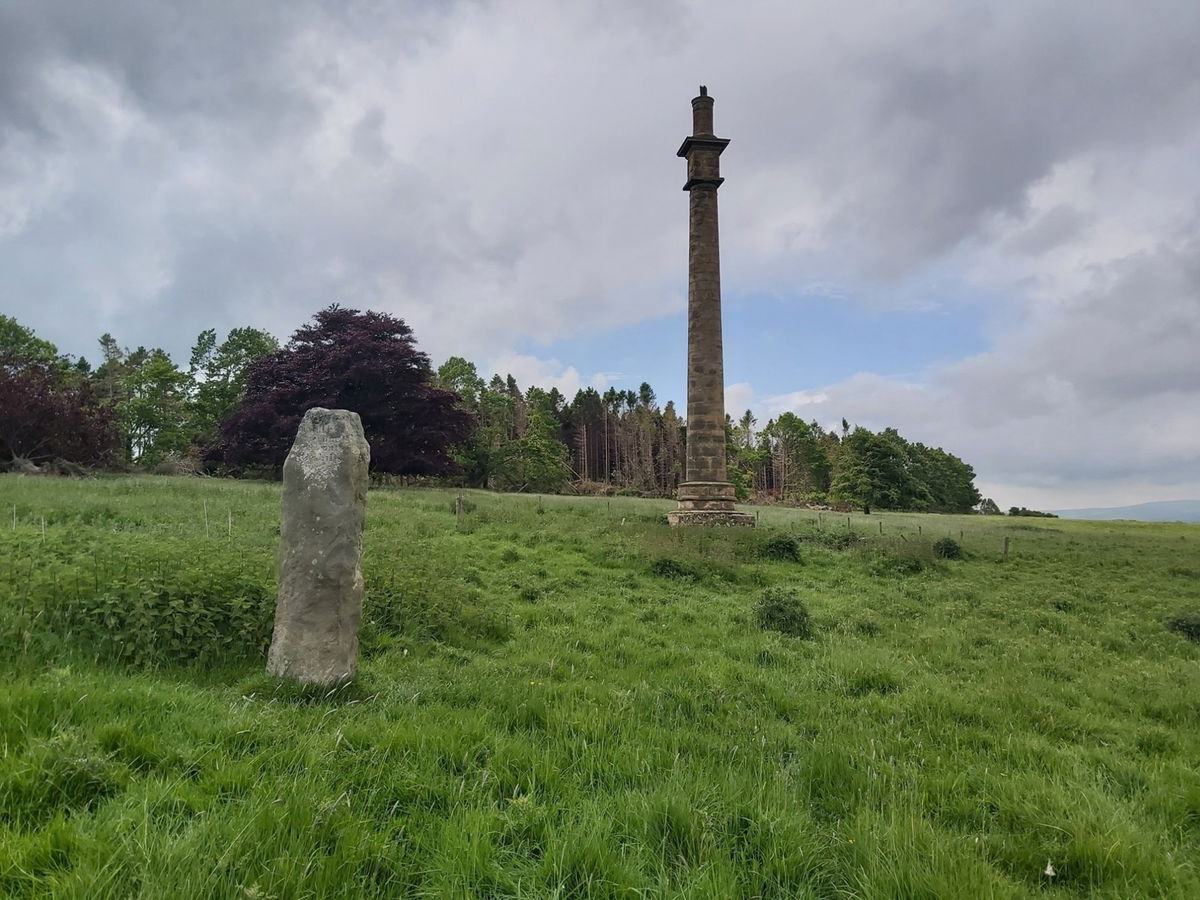 The column is 24m high (around 80ft) with what looks like another little column on top. Next to the column is also what look like 3 gravestones and also a standing stone. As always, there is a story behind it.
A chap called James Evelyn wanted to create something as a tribute to his parents Edward and Julie Evelyn and so he asked the architect Sir John Soane to design something to commemorate them. The column's simple lines are meant to signify 'birth', 'life' and 'eternity'.
It was unveiled in the village of Felbridge on the Sussex-Surrey border in 1785 and also includes an inscription of Addison's Hymn of Gratitude near its base.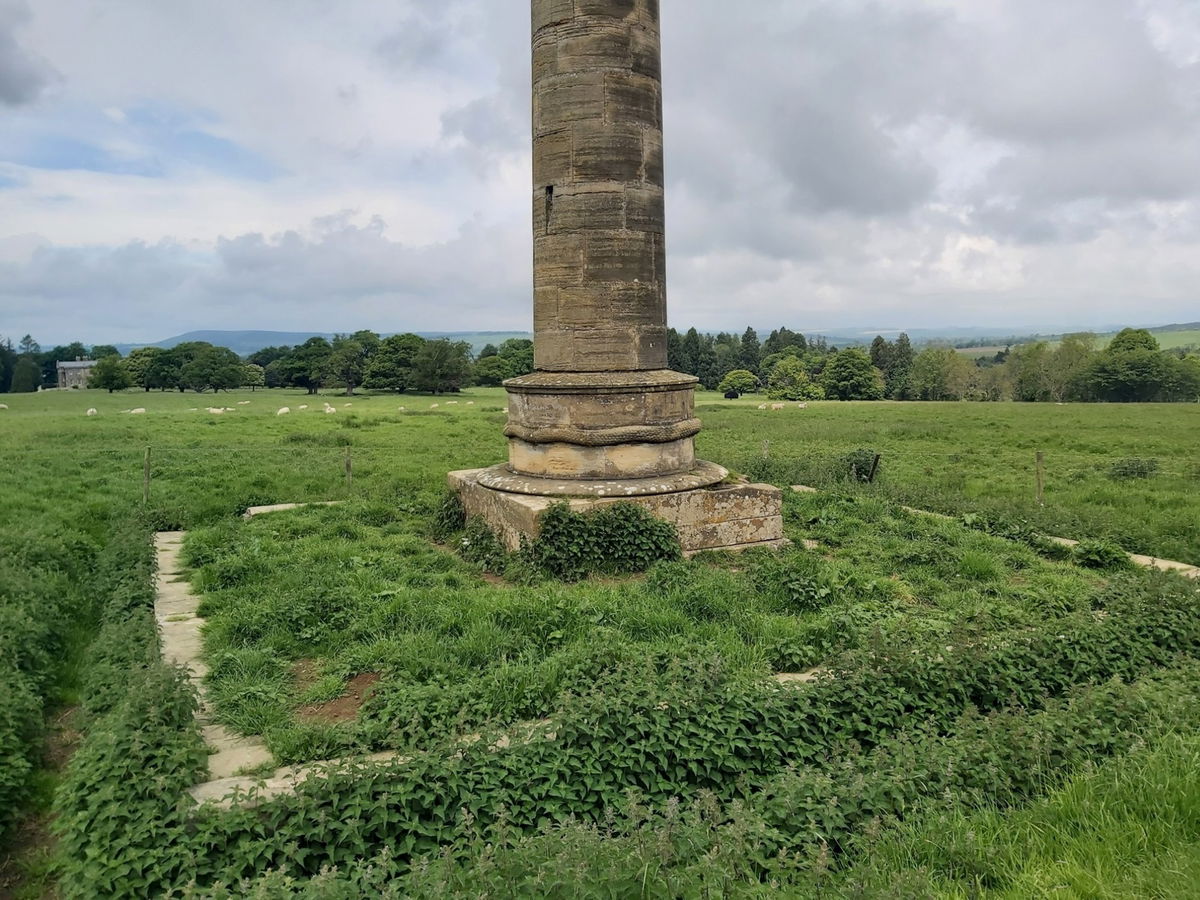 But how did it end up in Northumberland?
Sir Stephen Harry Aitchison had recently purchased Lemmington Hall and must have been looking for statues and trinkets to titivate his new place. (A bit like the olden day version of late night, drunken Amazon purchases!).
With the Felbridge estate being sold off in 1927, the column must have caught his eye as he had it shipped up by road, sea and then a little railway right to the door! We're glad he did, as it's lovely to look at.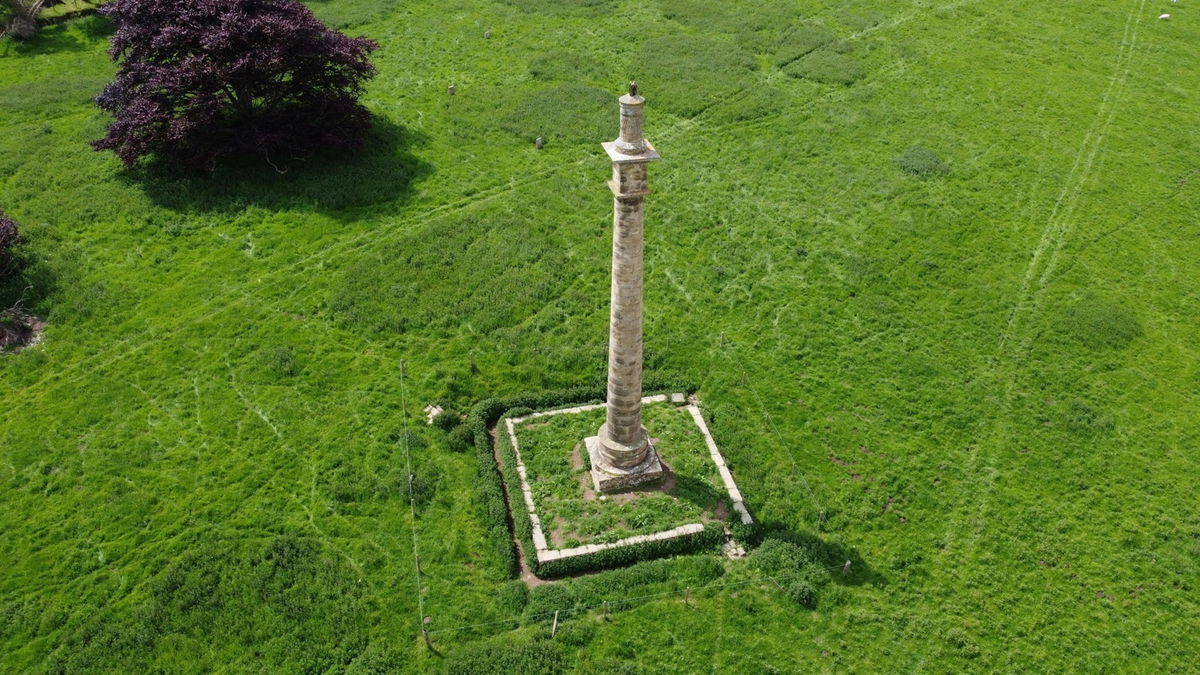 Now as mentioned before there are also 3 gravestones nearby, but they are actually stones to commemorate the children of Sir Walter Aitchison (born in 1923, 1925 and 1927). Sir Walter was the successor of Sir Stephen.
We're going to be honest and say we totally missed the stones when we visited. We only found out about them when we did research for this write up. Fortunately we managed to see them on our drone photos. We're blaming the grass that was a bit long at the time! You can see them clearly on the below shot.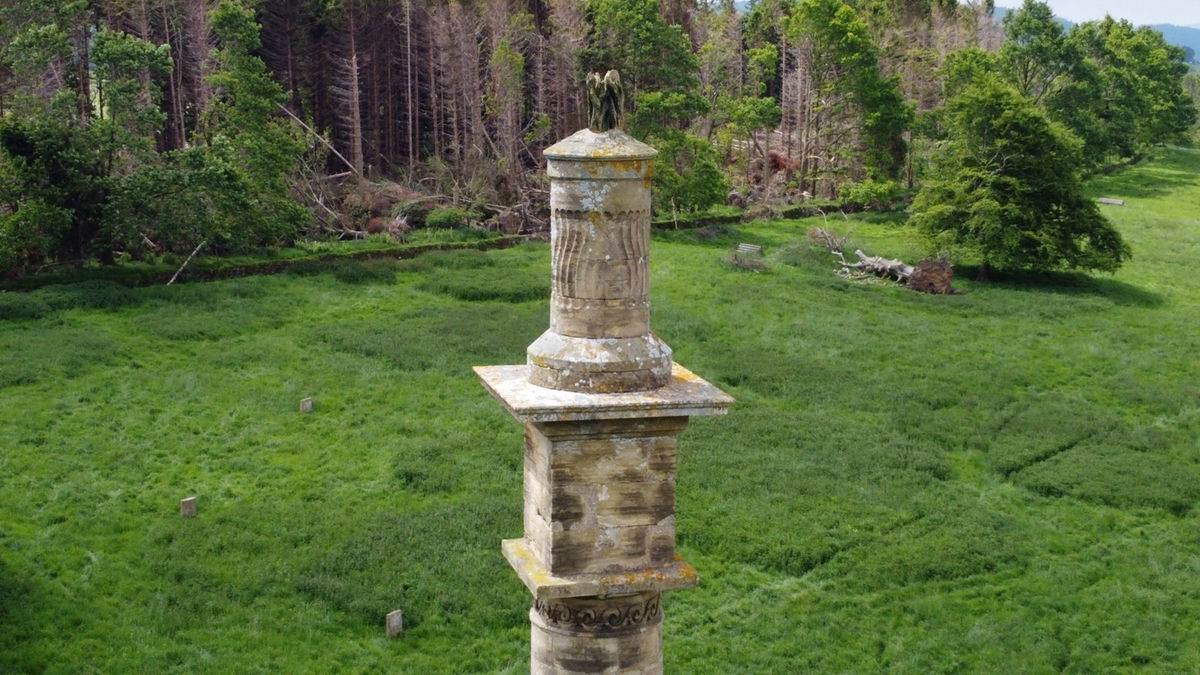 And that's not all. There is also a standing stone right next to the column too. It has an inscription which reads "I will lift up mine eyes unto the hills".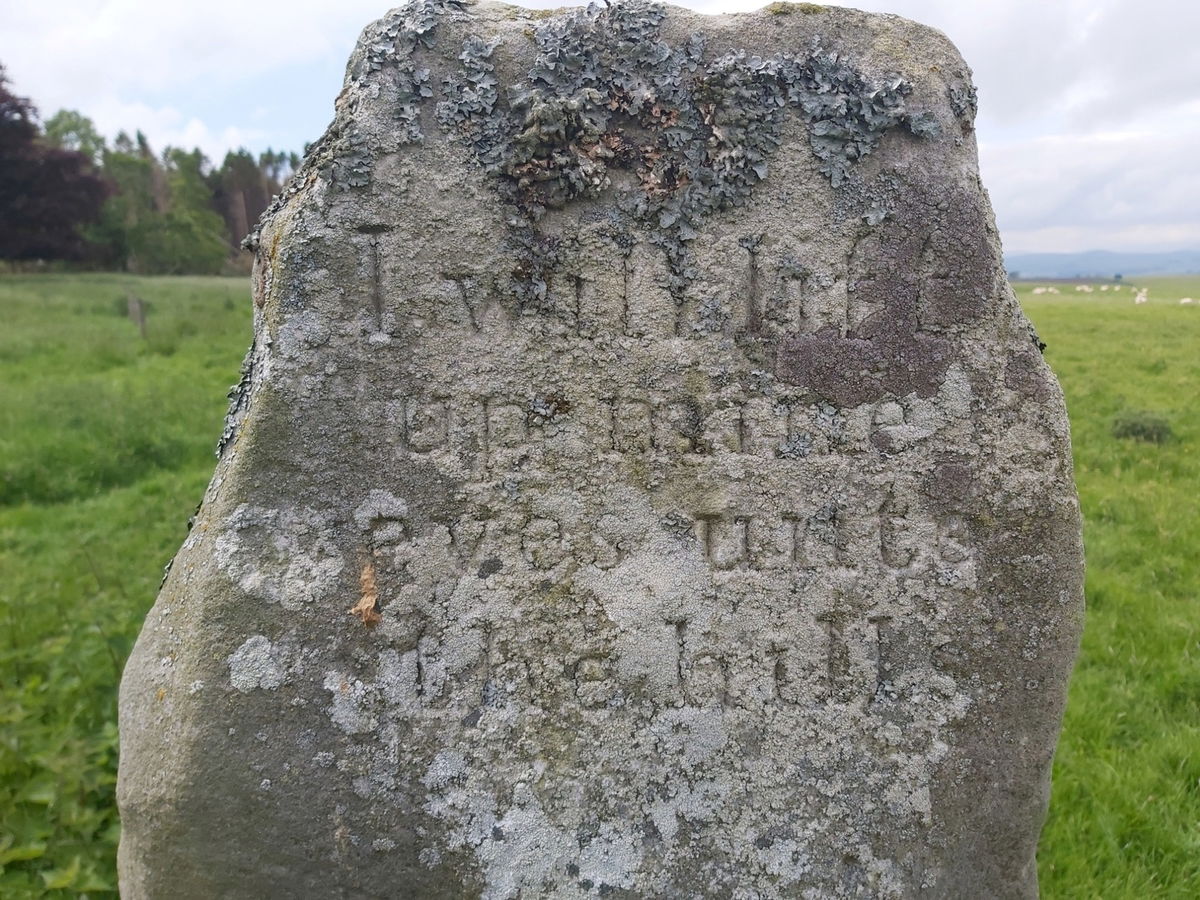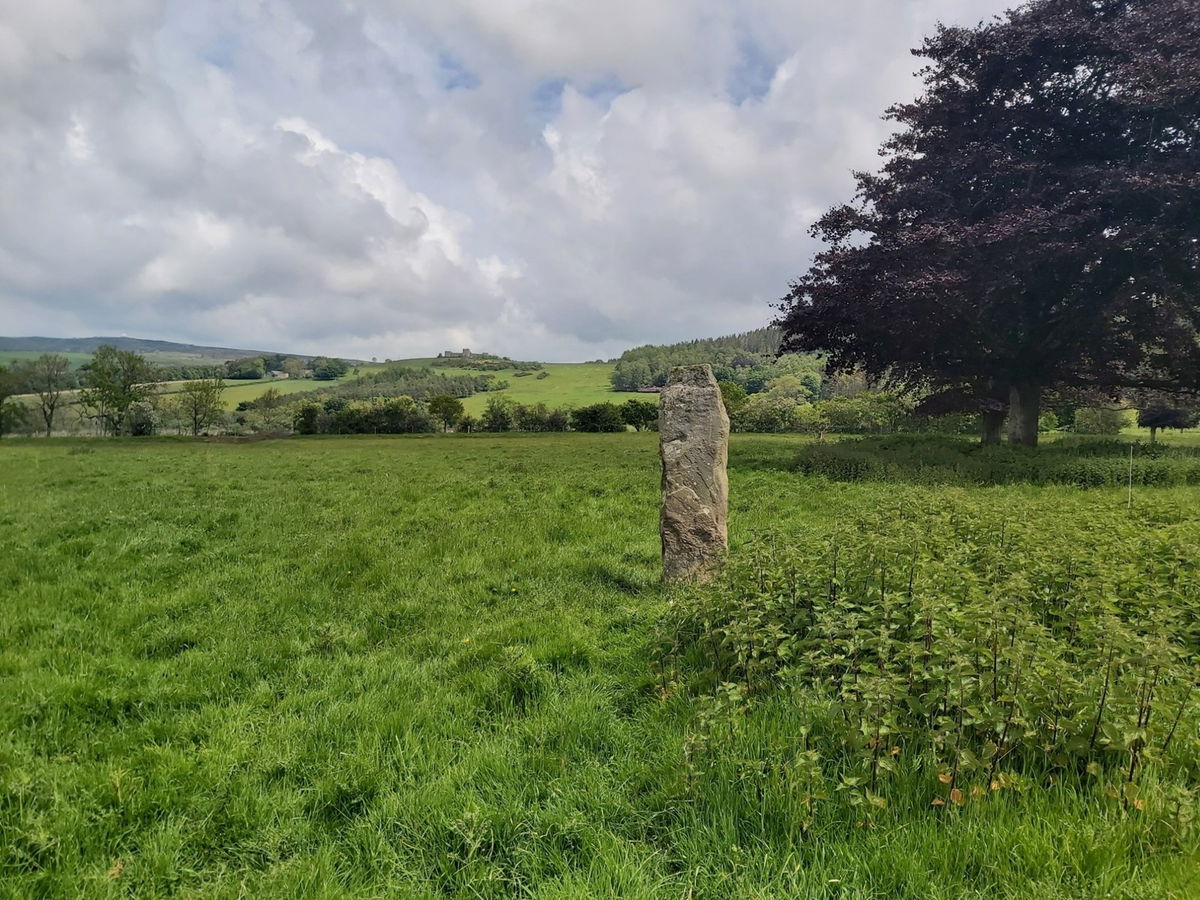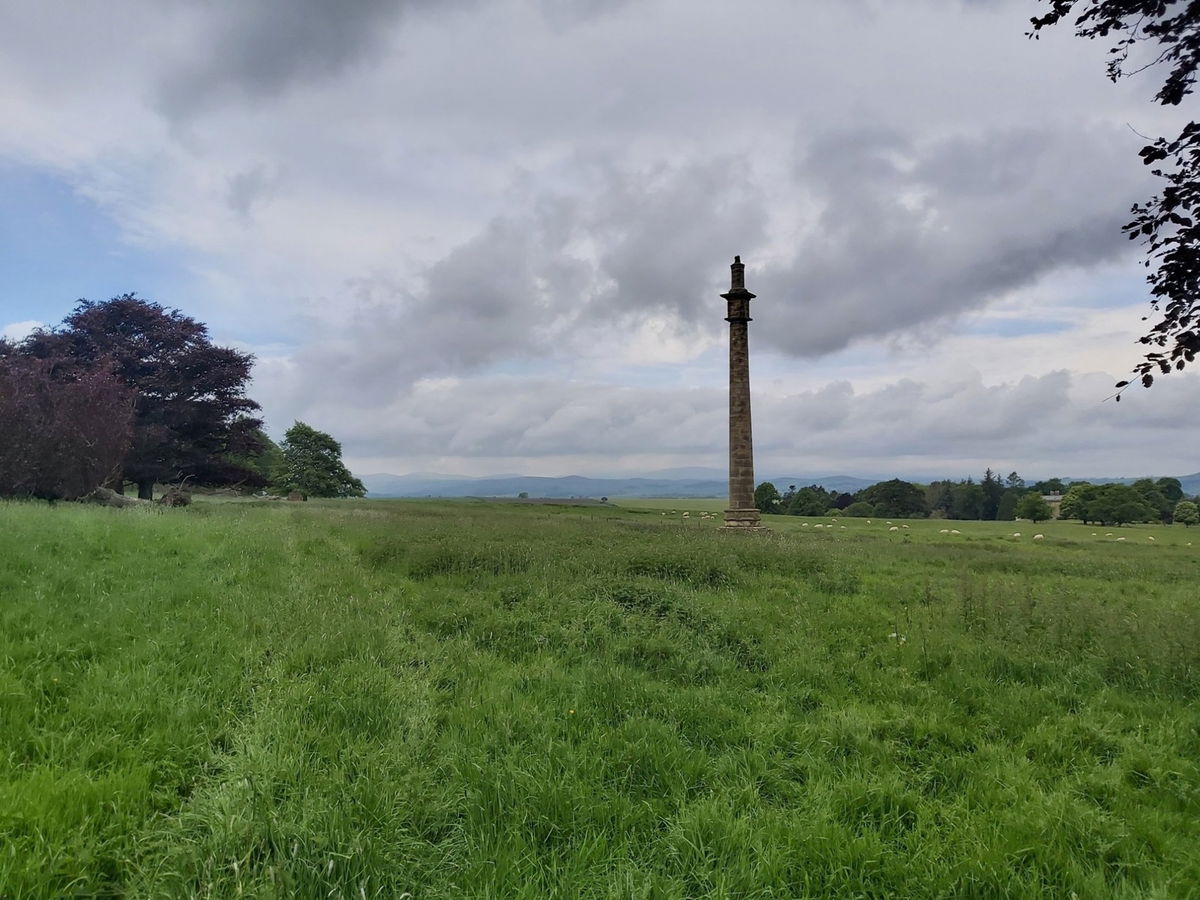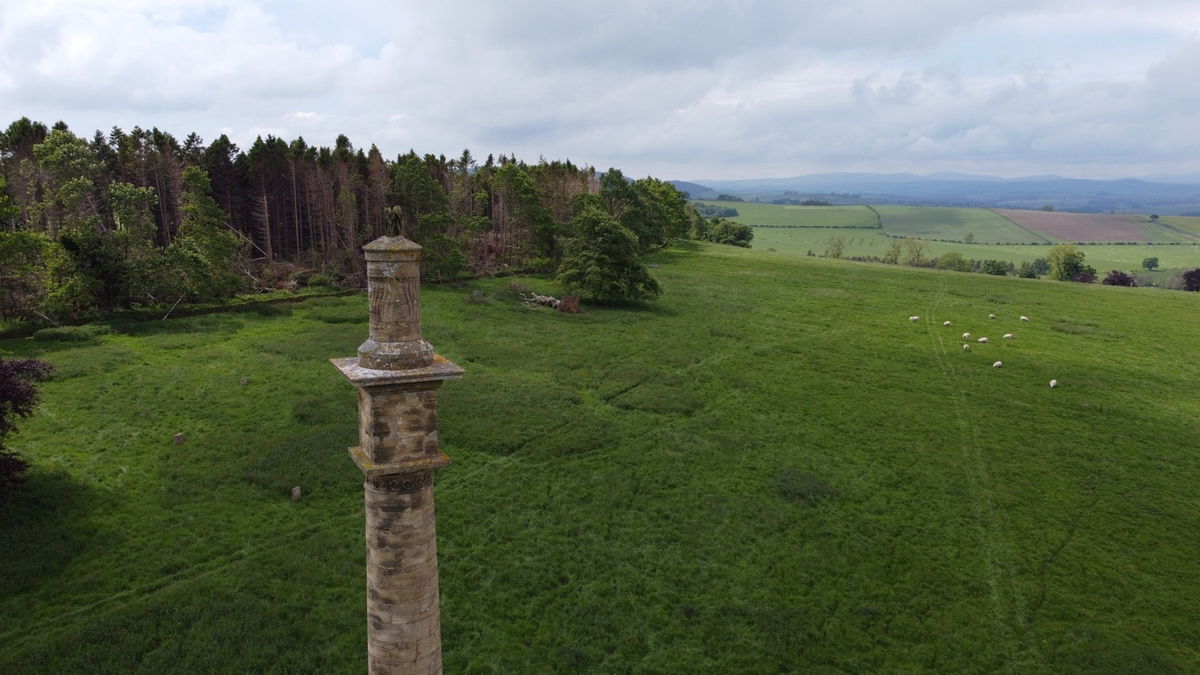 We found this one on a walk on the Shepherd's Walks website, but due to the storm damage we had to take a few detours and ended up hopping a gate into the field, so we're not sure if we came the right way. So check your route before you head out.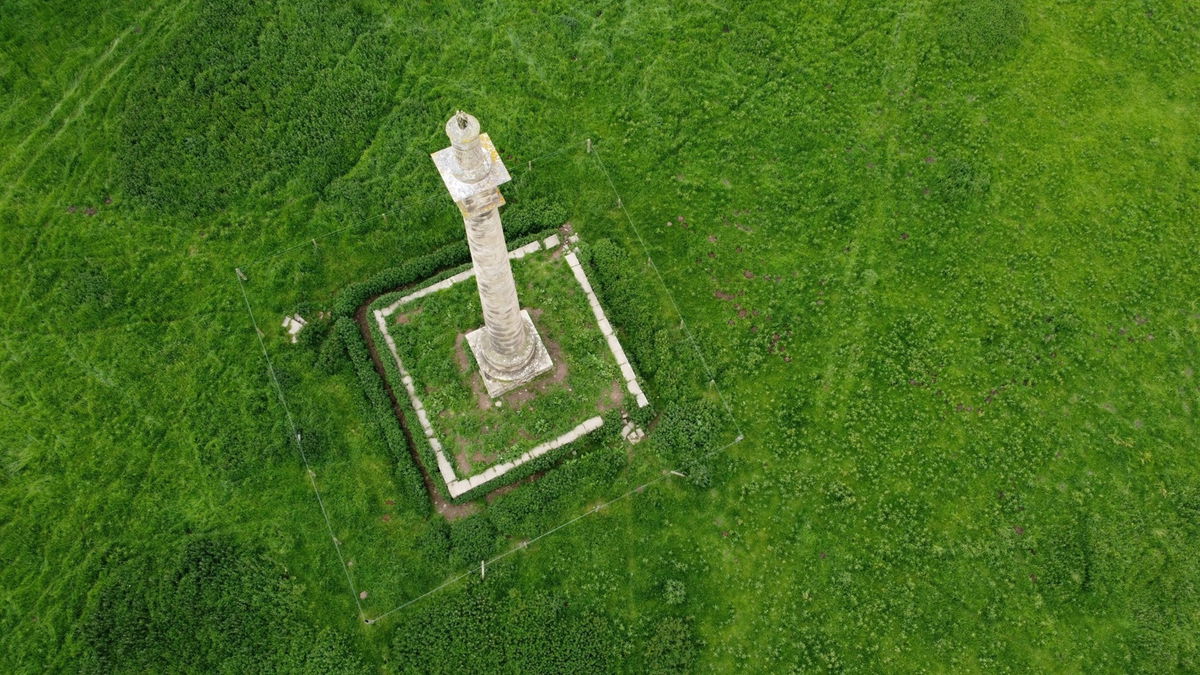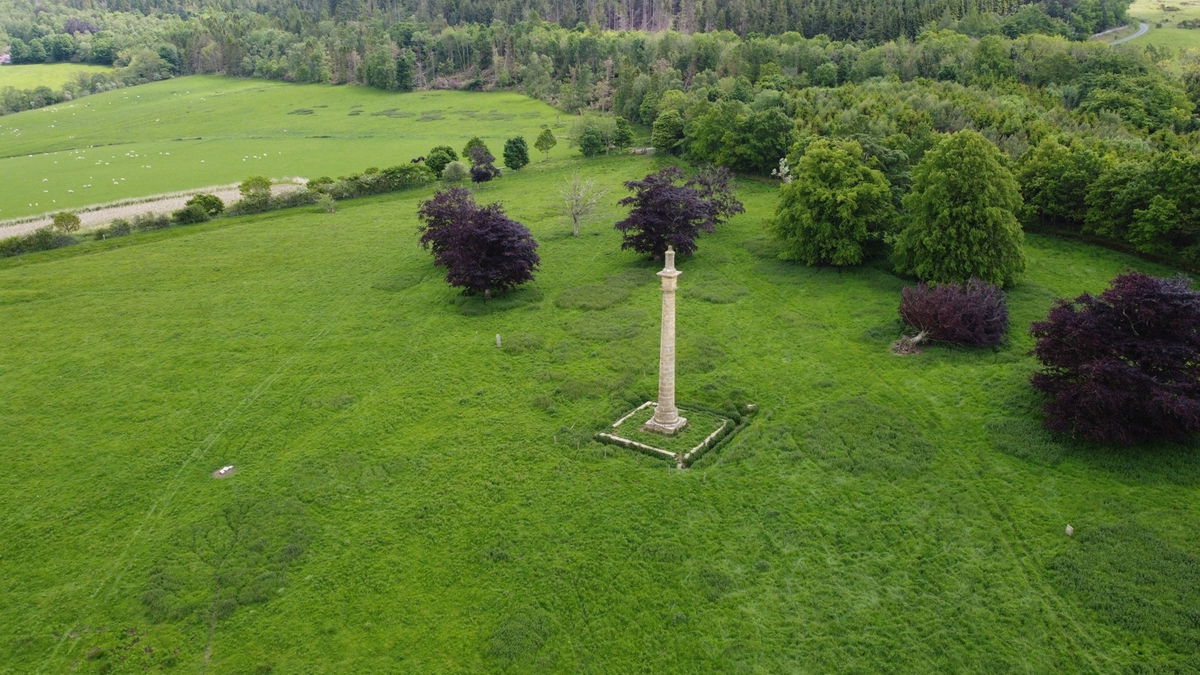 How To Find Evelyn Column Felbridge Monument
Where To Park For Evelyn Column Felbridge Monument?
Show Parking On Google Maps
Lat / Long
55.390726, 55.390726
What three words
There is a layby on the road for parking just a few minutes away from the monument.
Contributed by Simon Hawkins
Thanks for checking out this place on the Fabulous North! I do enjoy a wander out in to the countryside trying to find hidden gems that not many people know about. You can't beat a rogue Pele tower up a remote hill or a mysterious stone circle or a stunning waterfall secluded in a forest.
More Places from Simon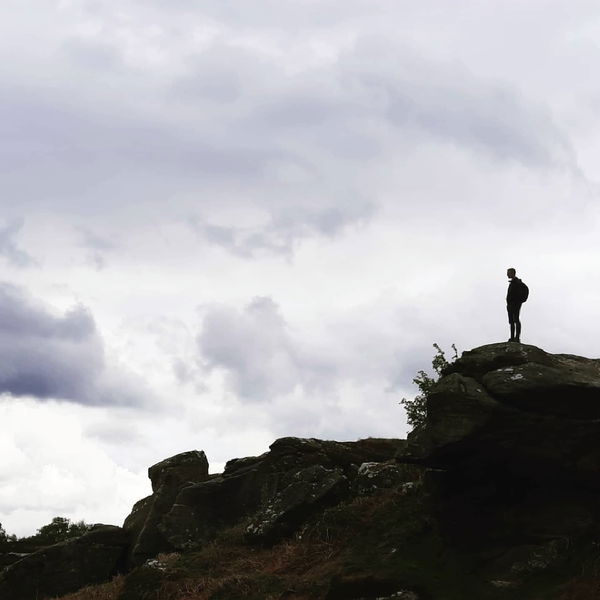 More Places In Edlingham
Find more fabulous places in Edlingham, Northumberland and if you know of a place we haven't listed, then let us know.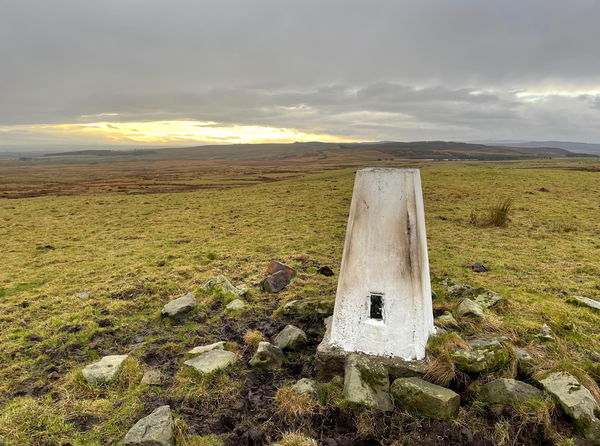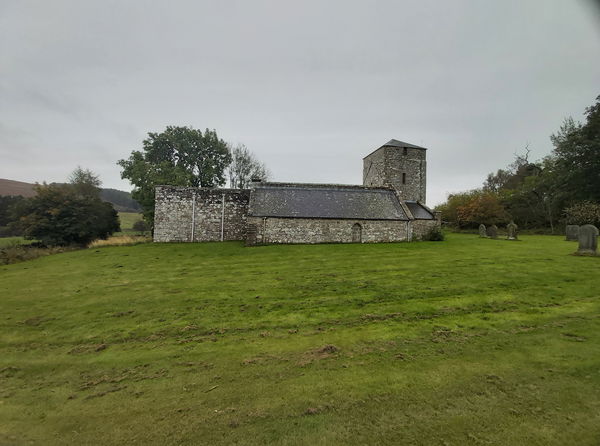 Corby's Letch
Waterfall
Edlingham
Northumberland
A lovely 2 level waterfall just under a bridge near Edlingham.
More Statues
So this statue wasn't enough and you want more? Don't worry we have you covered.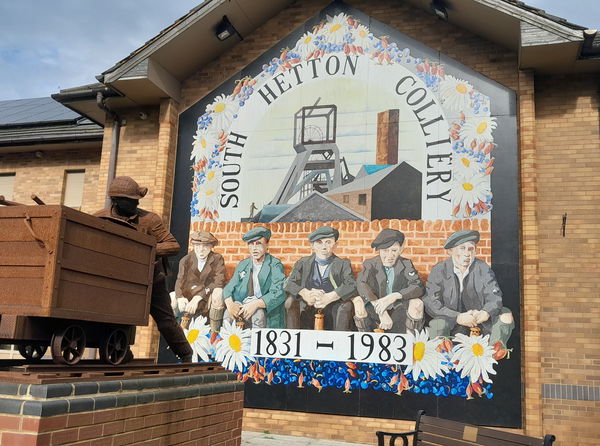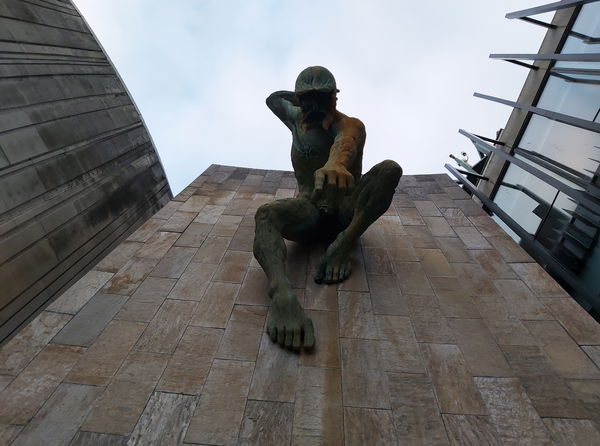 River God Tyne
Statue
Newcastle City Centre
Tyne And Wear
A bronze sculpture of the River God Tyne found on the side of the Civic Centre building.
Dolly Peel Statue
Statue
South Shields
Tyne And Wear
A statue to local heroine Dolly Peel, a smuggler, fighter against the pressgang and eventually nurse.
Never Miss A Fabulous Place
If you are afraid of missing out on all the fabulous places we post, or just want to be the first to know, then sign up to the Fabulous North.
Each week we will email you all the brand new places that we visit.
Sign Up To Alerts
Find Us On Facebook
We post all our new places daily on our Facebook Groups page, so join the group today and be notified when we add a new place.
Join Our Facebook Group