Old Durham and 6 Bridges
Durham, County Durham
A walk along The River Wear and into Old Durham Gardens crossing over 6 bridges.
Distance - 5km (3 miles)
Ascent - 54m
Duration - Approx 1 hour
Terrain - Cinder/concrete paths by the River Wear, grass in Old Durham Gardens and muddy paths when it rains in Pelaw Woods.
Parking - Park at Houghall Lane, walk over River Wear on Shincliffe Bridge. Head North by carefully crossing the A177 and you are on the Weardale Way path View Parking Map
View Route On Map
There are lots of lovely little walks to be found in Durham and this one has you crossing over a crazy 6 bridges!
The first bridge is Shincliffe Bridge which the A177 races over and it may have been a crossing point for the Romans.
The bridge was designed by Durham architect Ignatius Bonomi and constructed in 1826.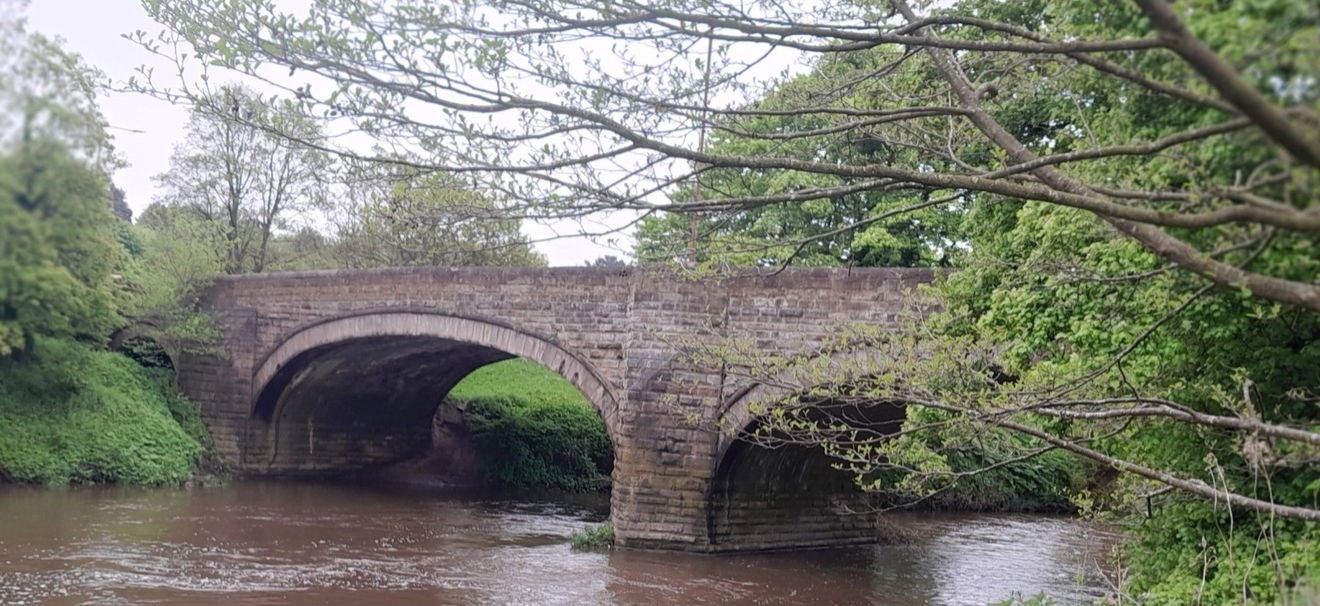 The second bridge is Maiden Castle Bridge, they'll be more about that at the end of the walk.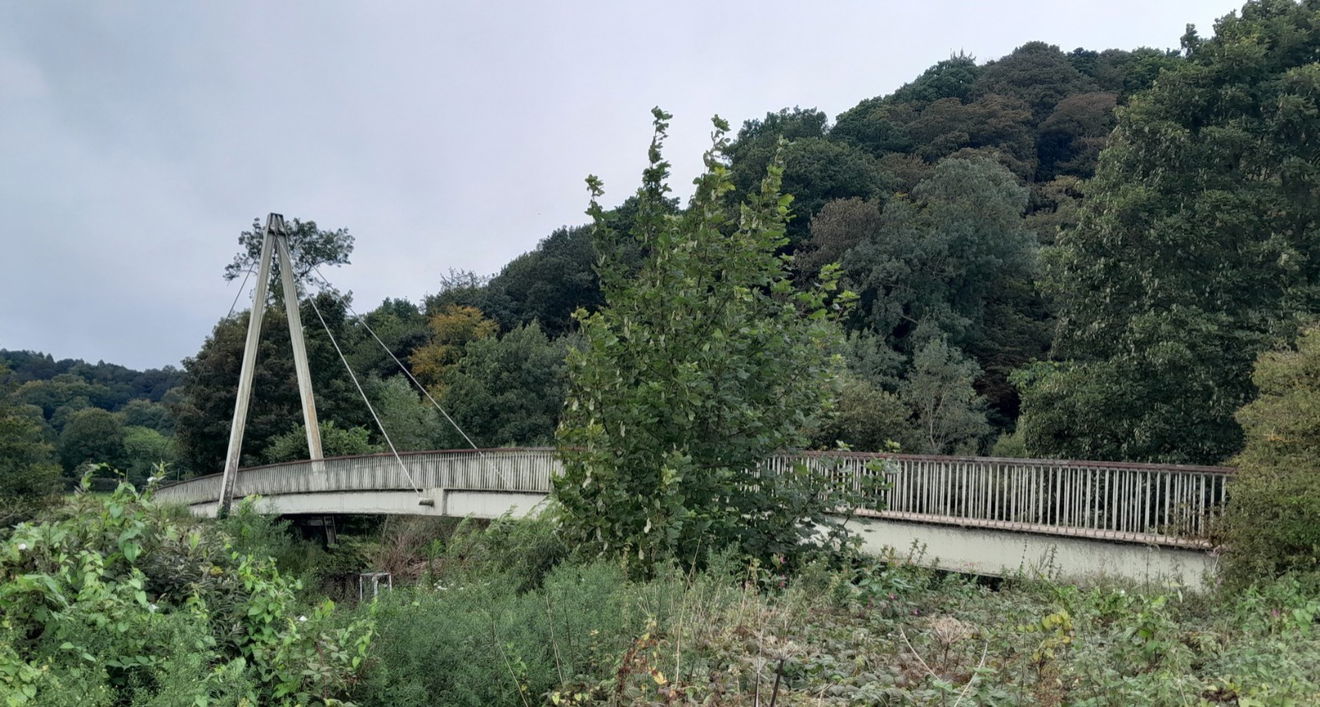 We head off at a right angle to the River Wear across a sports field and along a track which brings you to an intersection with Old Durham Beck and the old railway line. This is bridge number 3 affording a pleasant vista of the old railway line.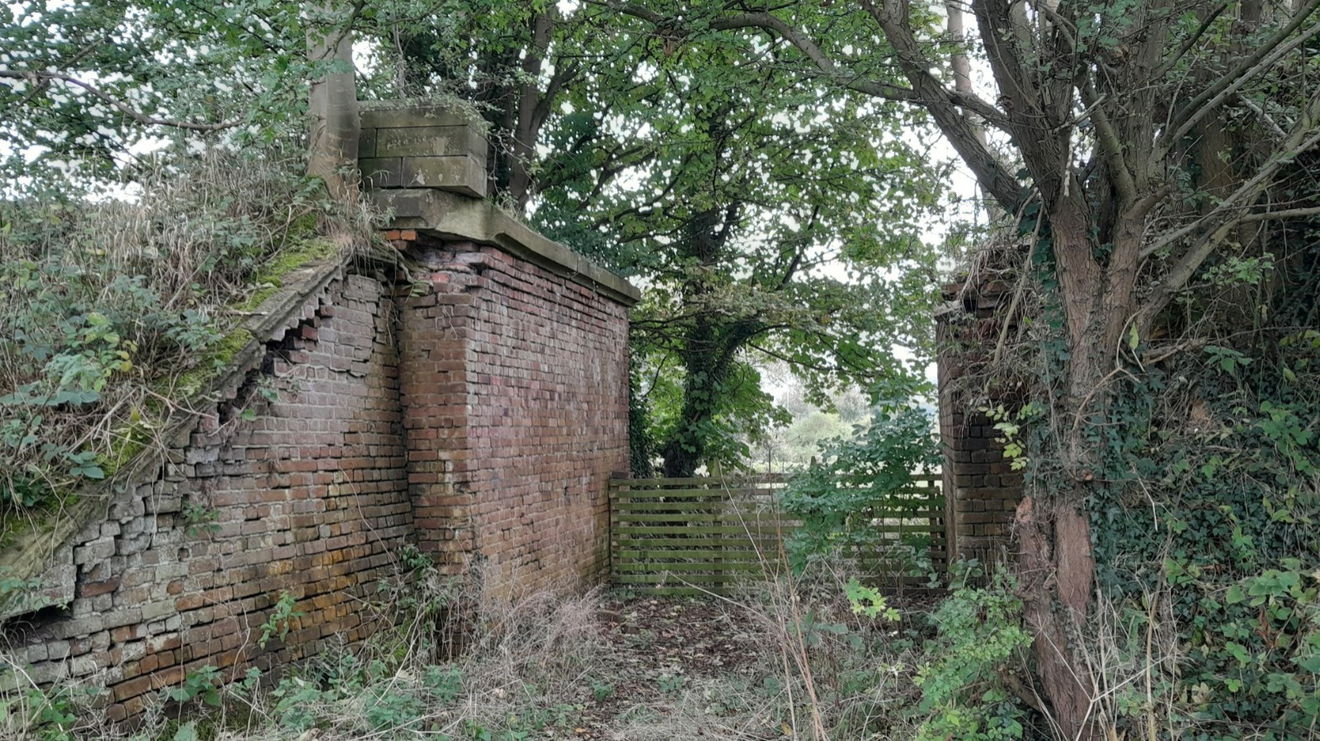 We head then into Old Durham Gardens and the Orchards. Most of these trees are damson.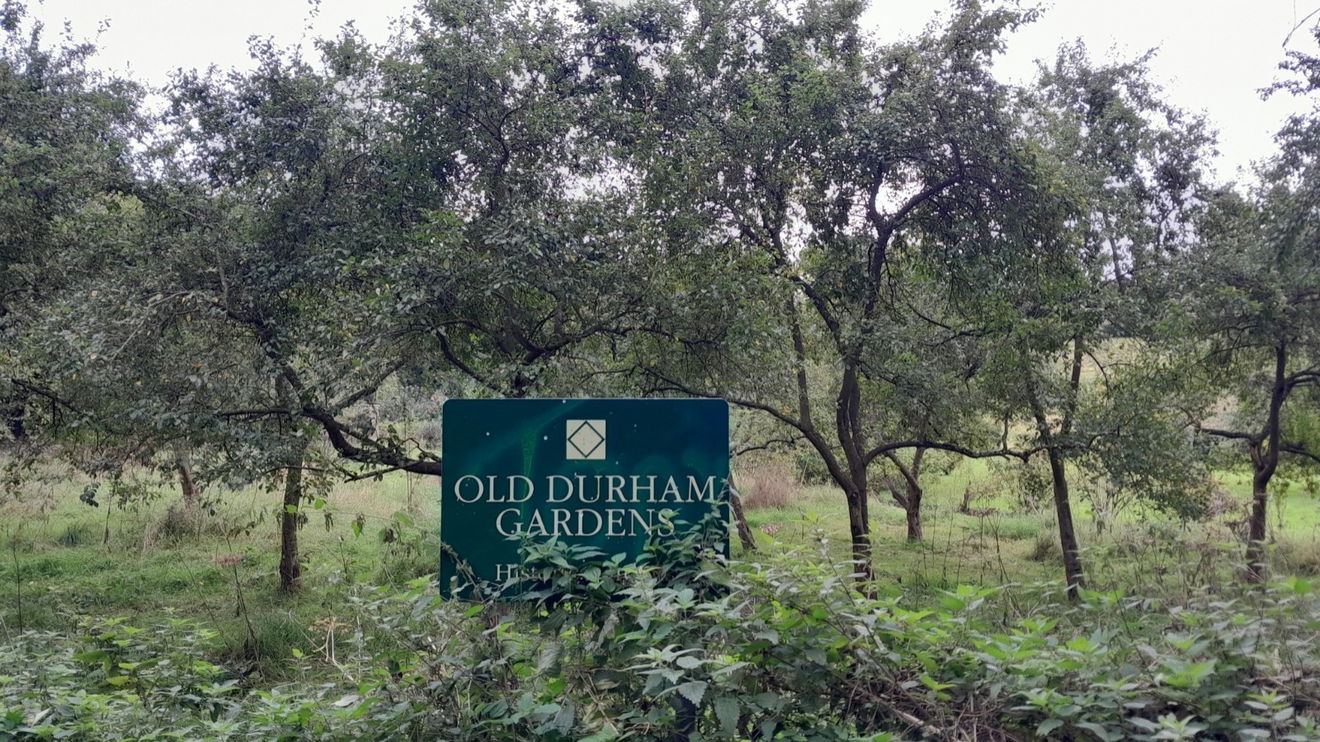 The Gazebo is a popular photographic opportunity, somewhat looking like a Roman sentry position? It was built in alignment with Durham Cathedral. Upstairs would have commanded fine views of the city back in the 17th and 18th centuries. Fortunately, it has been refurbished since 1985.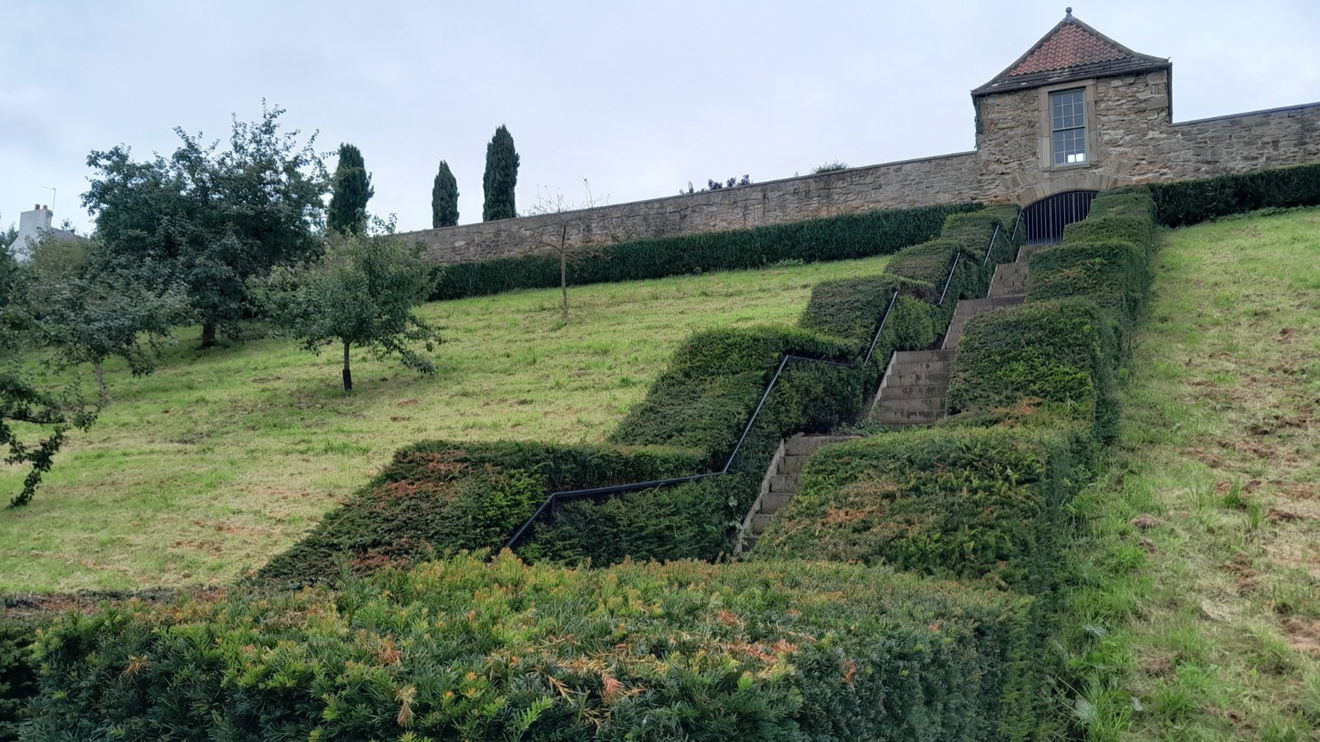 There is a mosaic on an easel behind those bars.
Can you spot what is wrong with this mosaic of the River Wear through Durham City?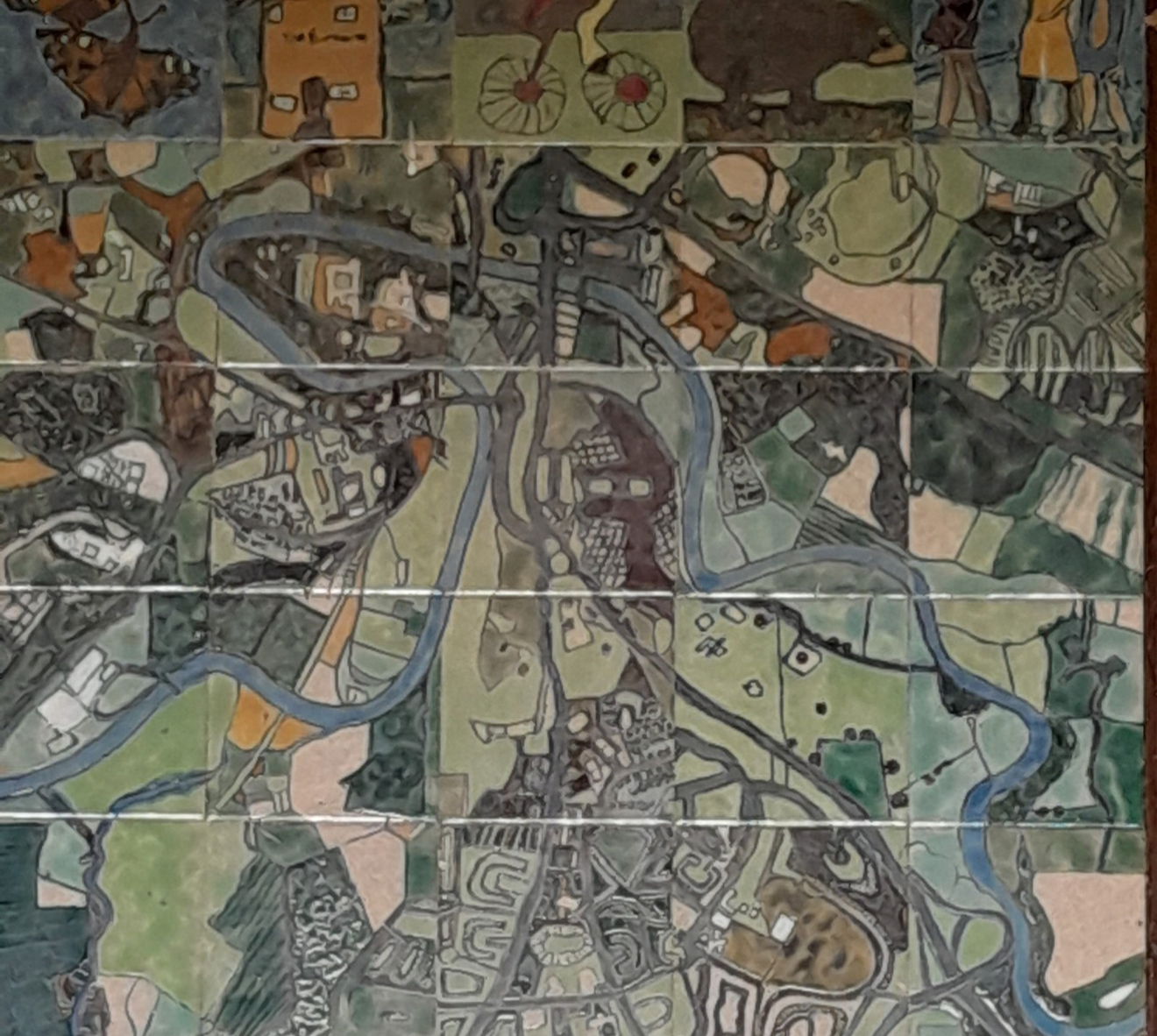 The photograph is now shown in the correct orientation with North at the top.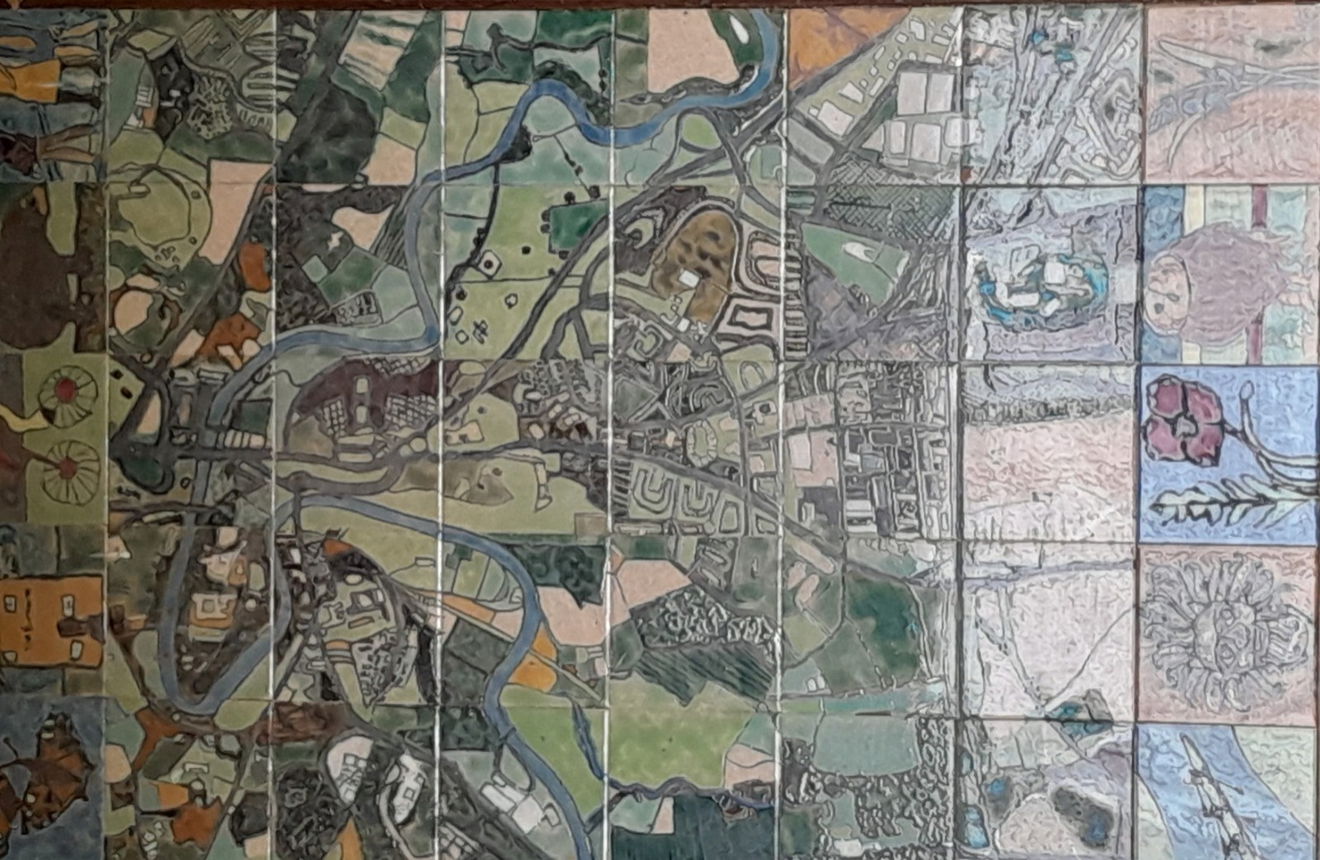 The high stone walls around the garden were built for espalier fruit trees.

The formal gardens are open Thursdays and Sundays from March to September. Here is a view from the gate..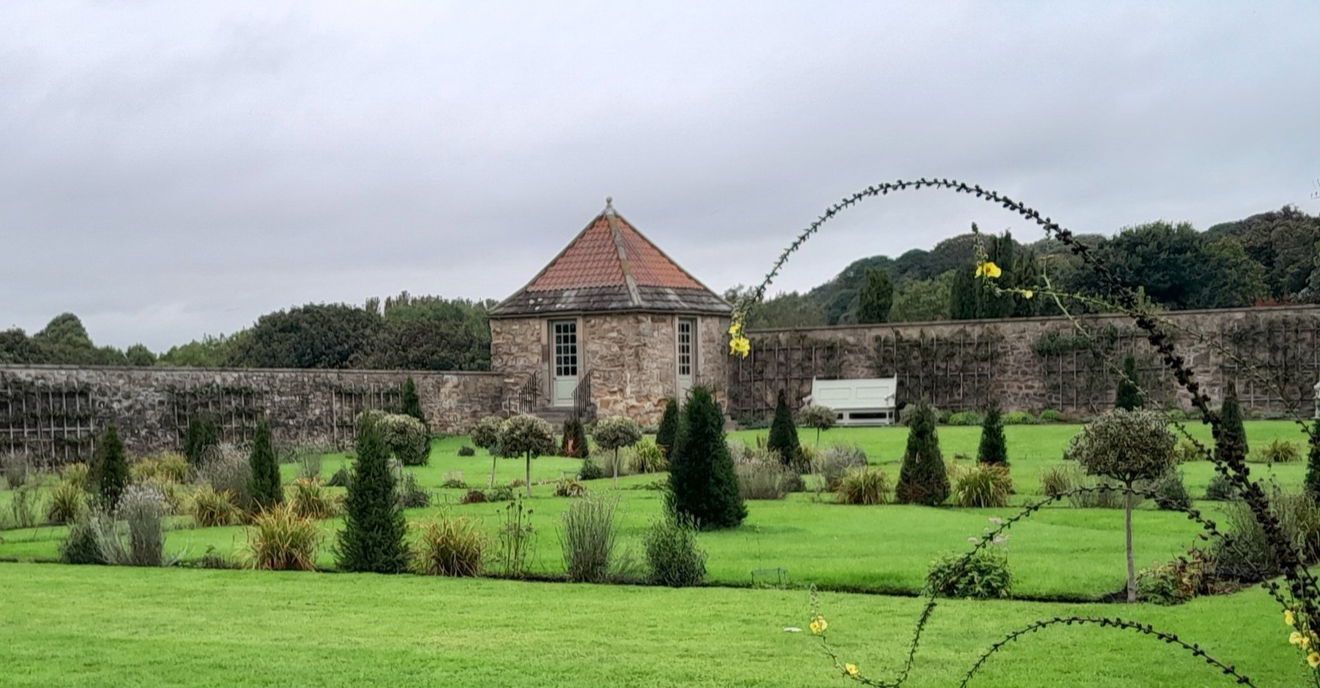 I continued my walk around the back of Old Durham Gardens and along a track past some quaint cottages. This just a barn though..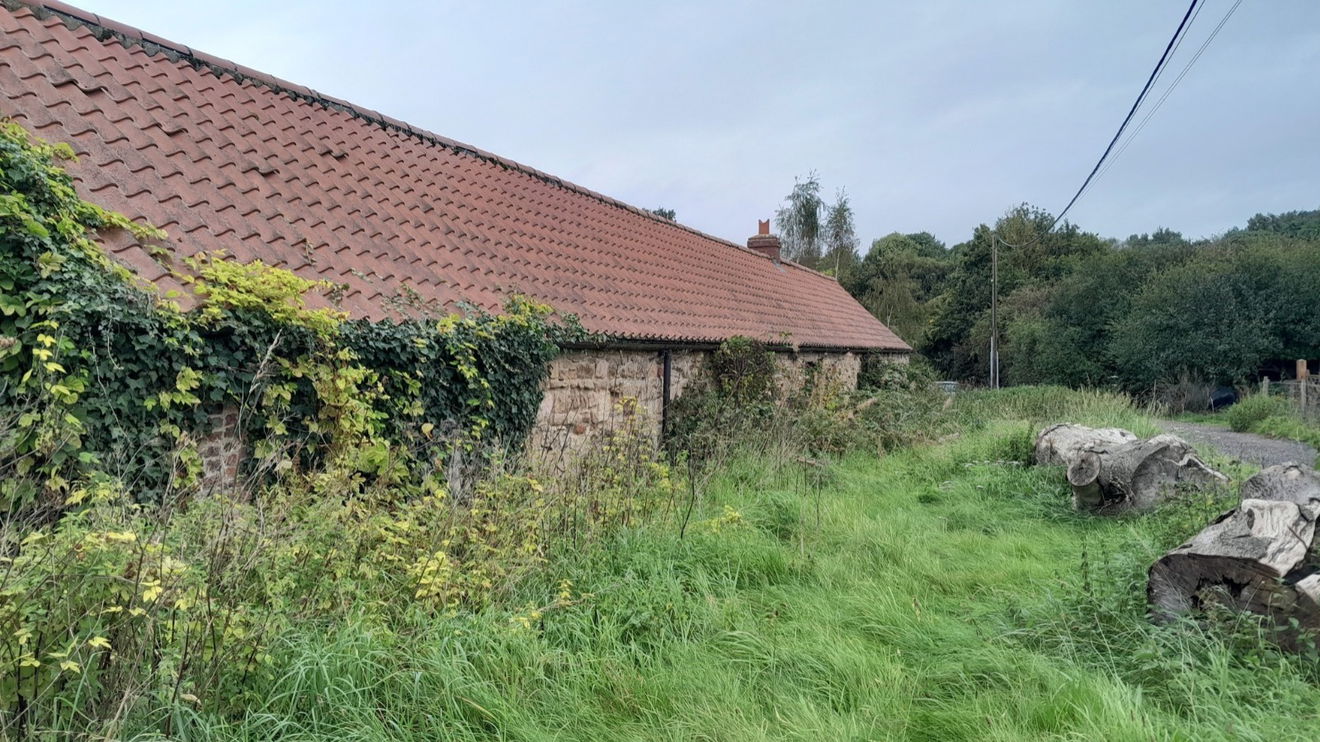 It was really a case of heading up through Pelaw Woods now to Bridge number 4, The Silver Link Bridge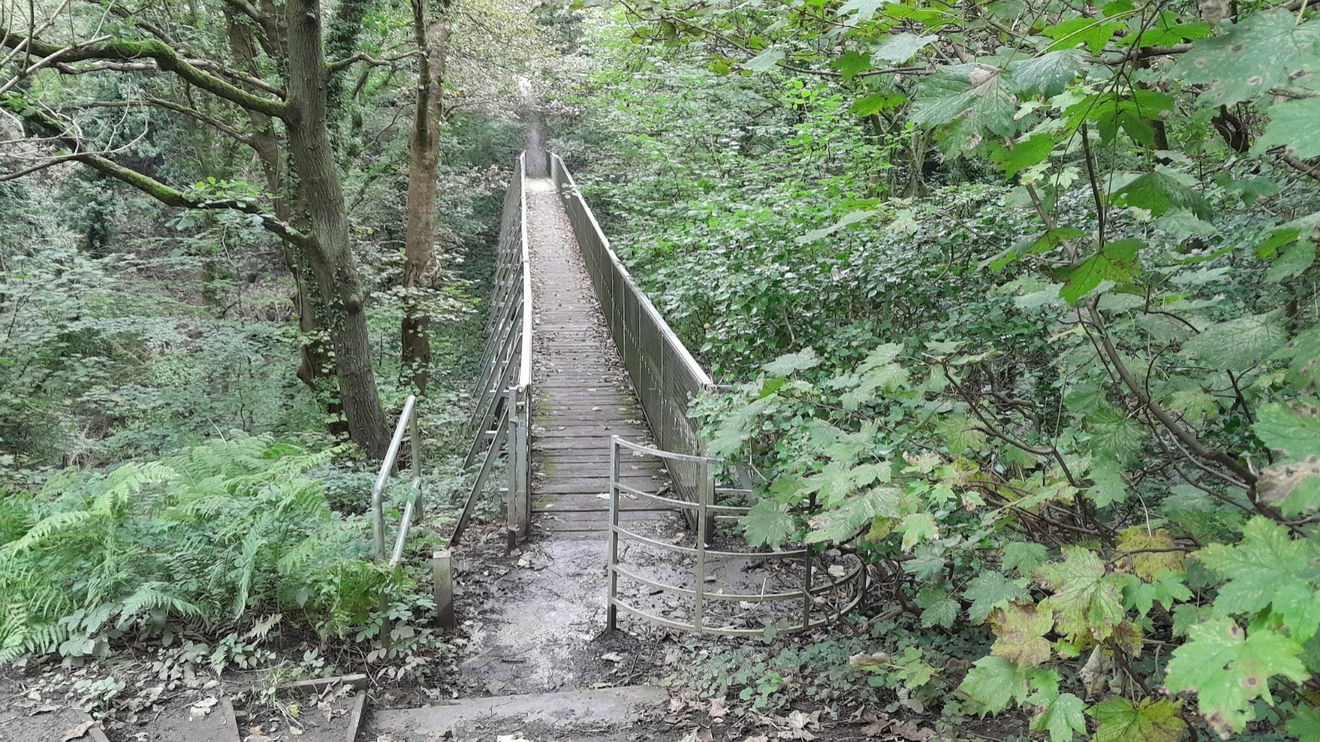 I am thankful to Rik Mitford who kindly provided some information. This bridge was built in 1938 and has a 190 foot span over The Pelaw Wood Beck.
There is a design model in Durham Town Hall. Thanks to Rik for this photo.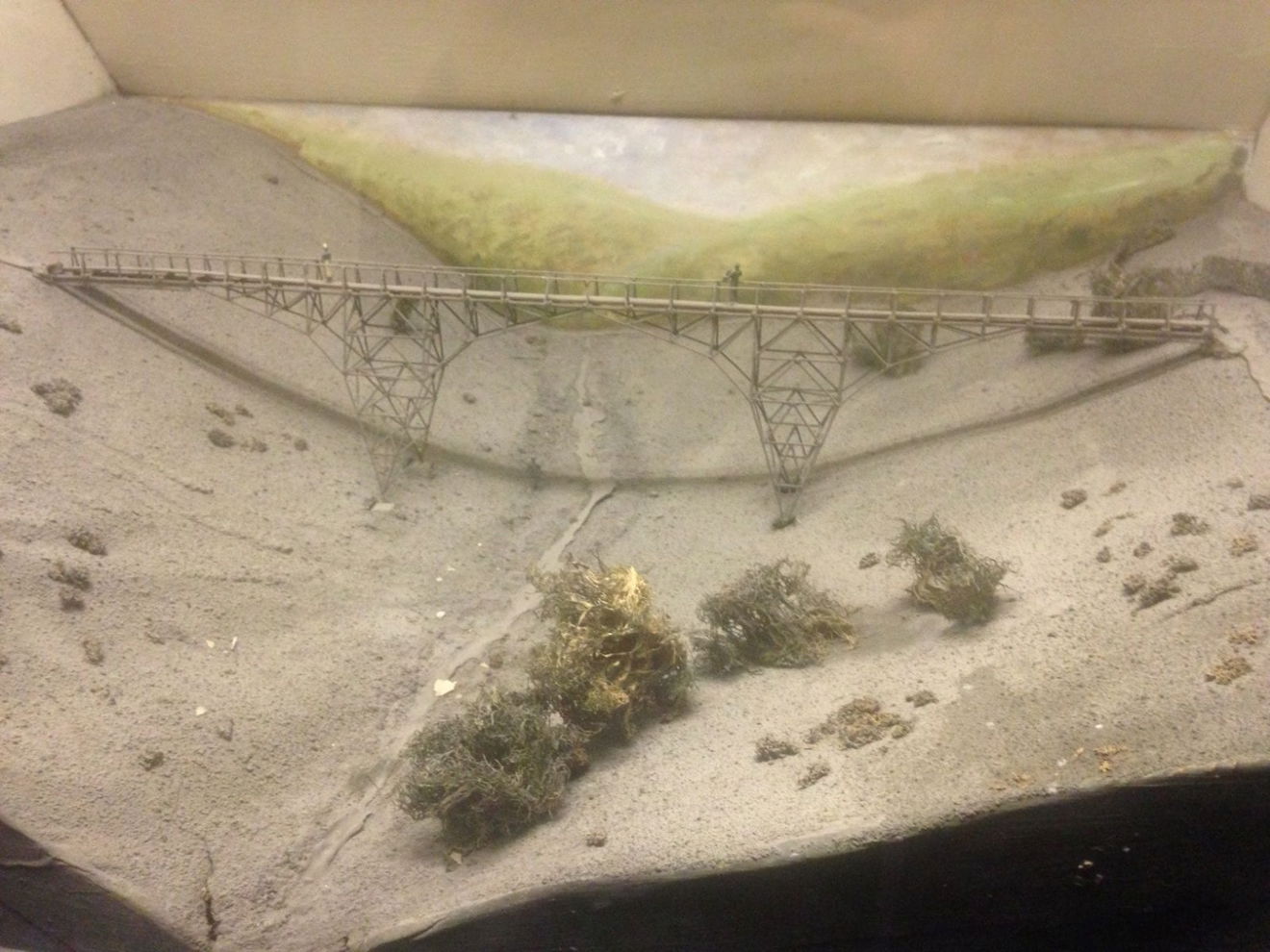 The company that built the Silver Link Bridge was called The Cleveland Bridge & Engineering Company and were based in Darlington. This Bridge was somewhat modeled on one of their other commission: The Victoria Falls Bridge over the River Zambezi between Zimbabwe and Zambia. Other works included The Tees Transporter Bridge, The Wembley Arch, The ForthRoad Bridge, and The Humber Bridge.
Unfortunately, the company went into administration in 2021.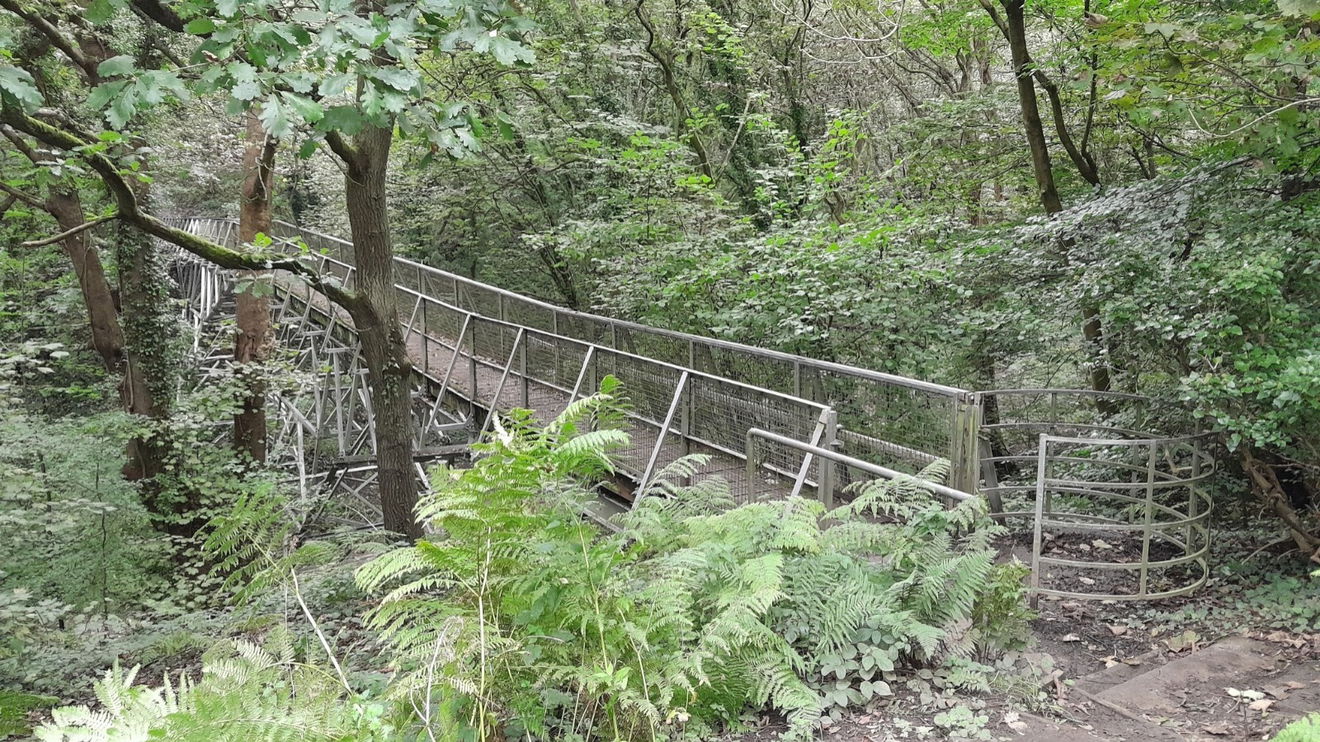 I ventured down to the bottom and rather than fall abruptly, I slid gracefully. Initially, I thought the neighbourhood just dumped their waste glass in this area. I then read there was a nearby bottle works called Woods and Watson which operated from 1890s to 1996. They also made a Coke-type drink called 'Wotcheor ' which was a Gordie expression for a greeting such as 'what cheer'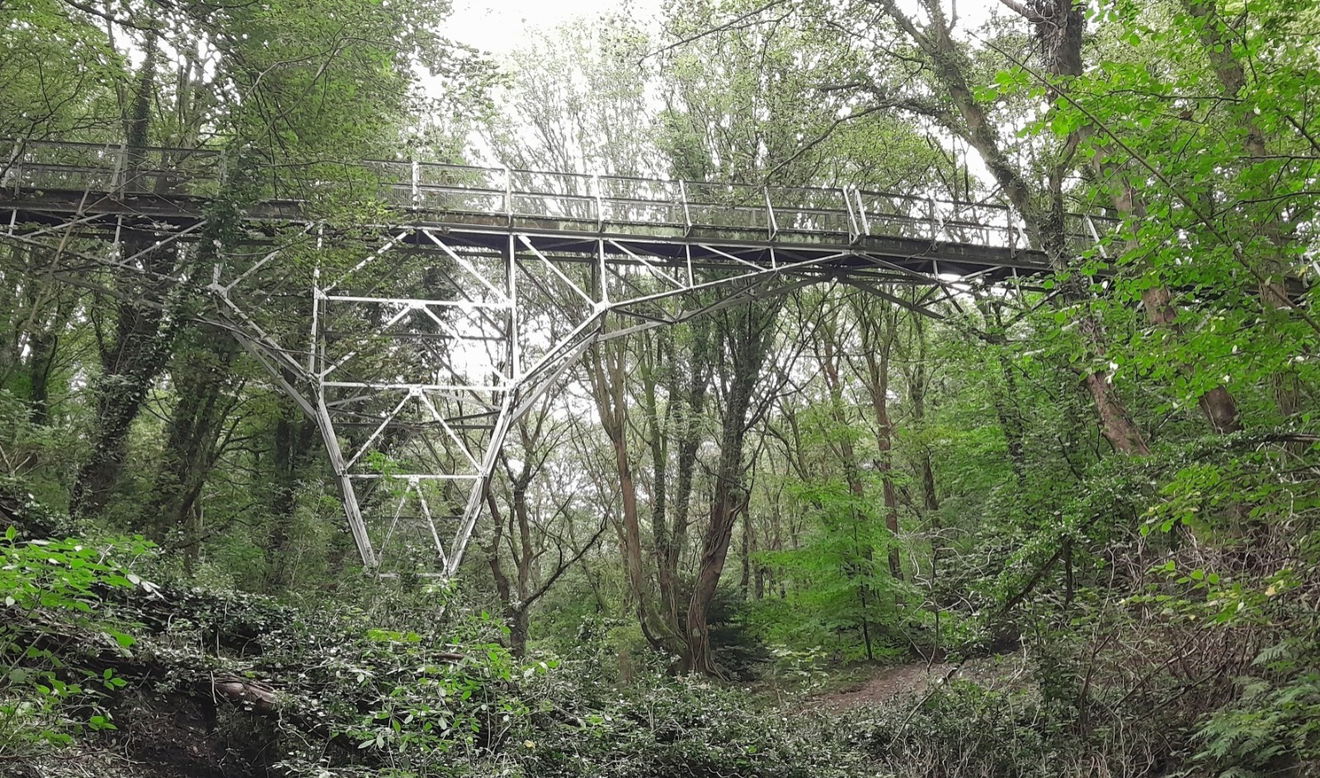 It somewhat reminds me of an electricity pylon. I also read comments on facebook of youngsters would show their prowess by climbing up the bridge!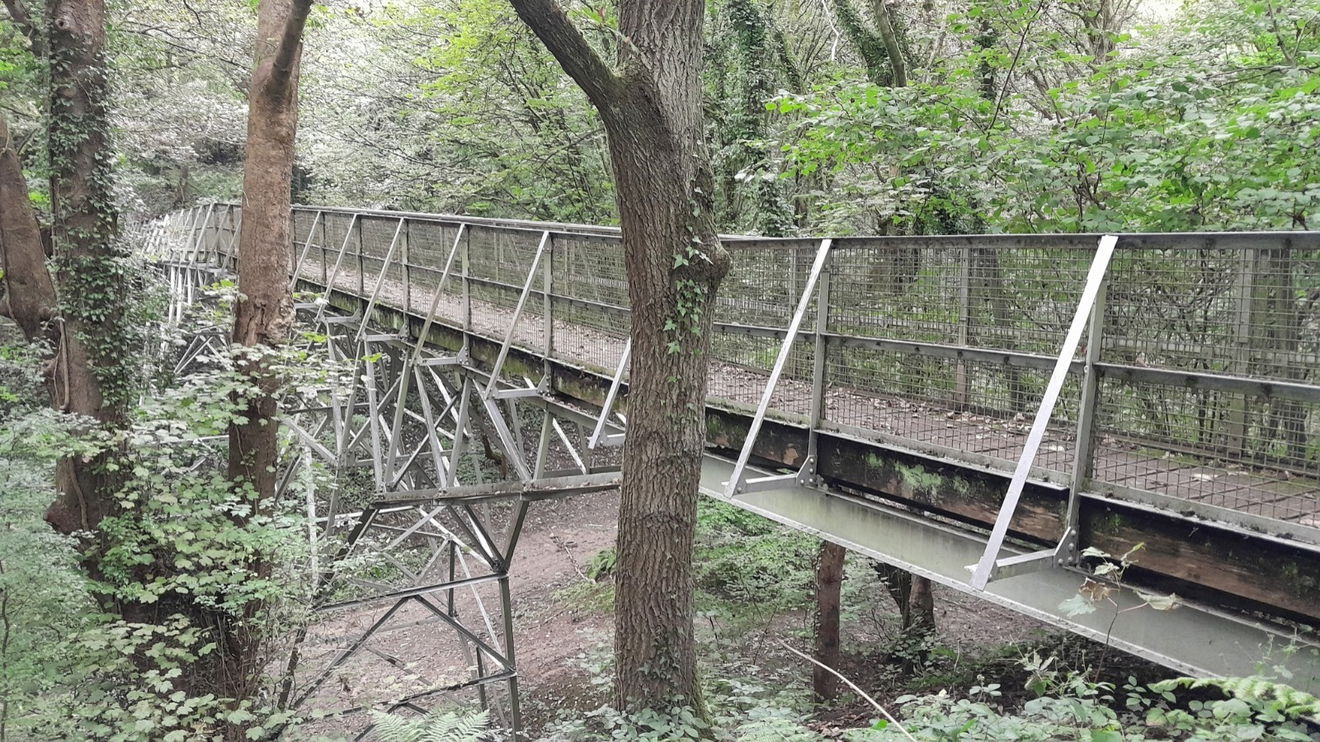 I scrambled back up and then headed back down through the Woods this time towards the River Wear. I had a sneaky view of Durham Cathedral and other landmarks such as the copper cupola of the Old Shire Hall, now an Indigo Hotel. Also, you can see HMP Durham.
The railings here had been given many a lucky rub.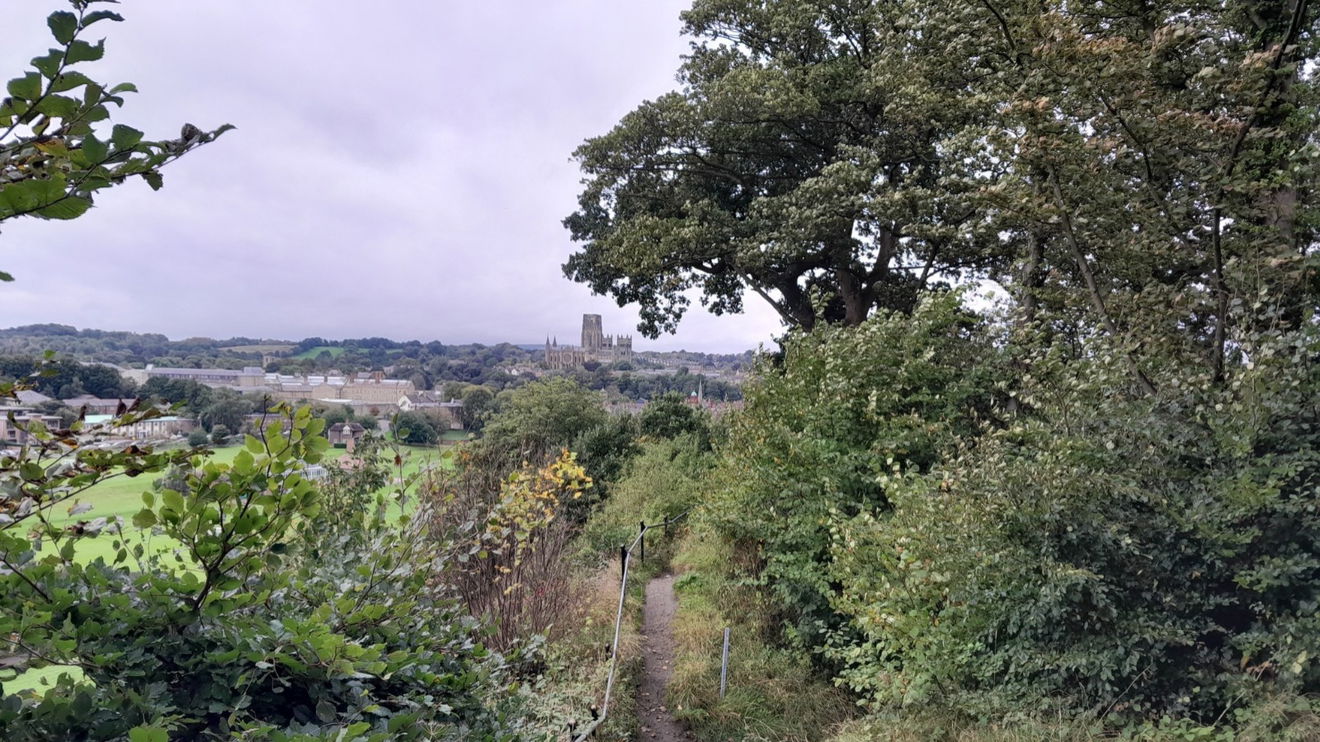 I followed the River Wear from a higher level and then dropped down and crossed Bridge Number 5, The Kingfisher Bridge, which is where Old Durham Beck meets The River Wear. This bridge opened in December 2007 and has provided a full riverside experience walk/run/amble rather than the rougher terrain of the woods. Apparently, Kingfishers were seen in the vicinity when designing and building it.
I do wonder if there was a former bridge there as the stone indicates.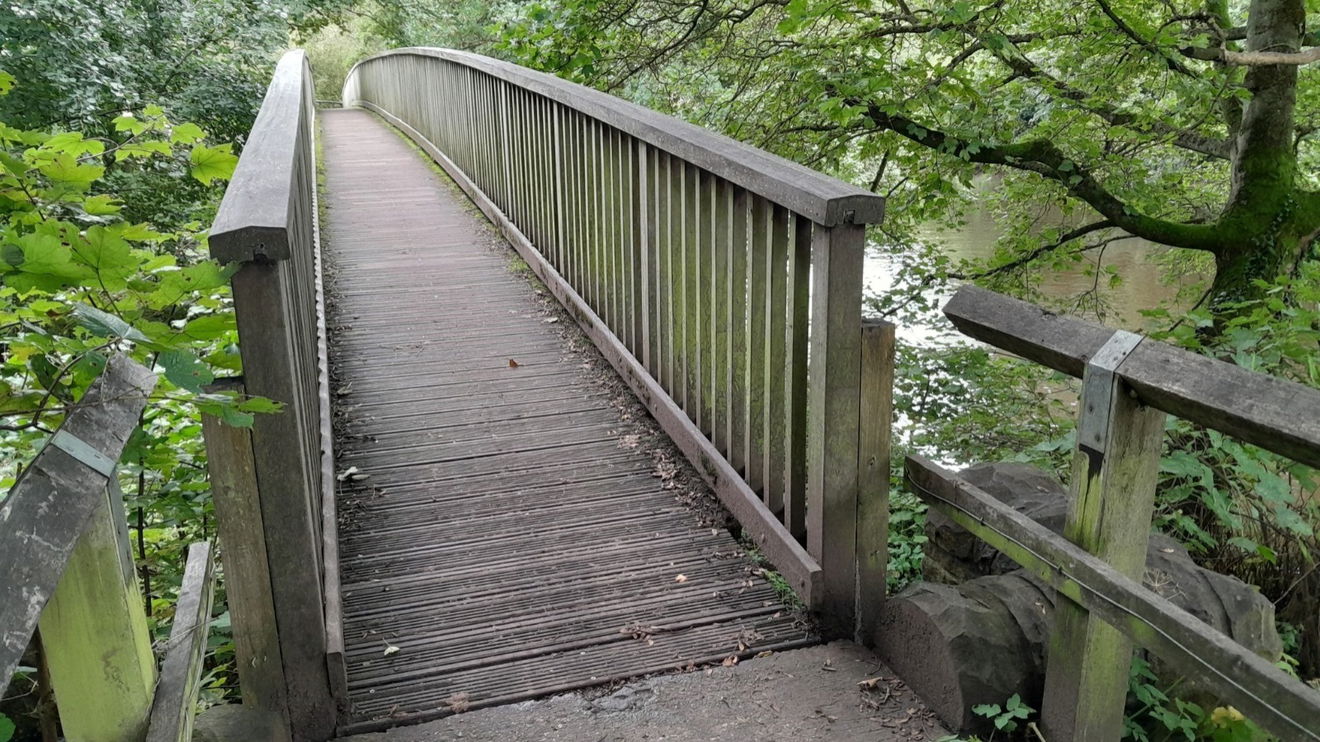 I then came to bridge number 6. This railway bridge I guess at one time it crossed the river as you can see remnants on the far bank.

I was back to the Maiden Castle Bridge and this time I was going over it. I noticed a 'ducking stool' and surmised that was for the students that hadn't scored a goal in this sports complex!
We have to give a nod to the University as some of these paths and bridges, as they are permissible ways and encourage students to get about. From this side of the bank, it was a quick walk back to the car.
If you wish at any stage you can extend this walk into Houghall Woods, Shincliff, or Durham City.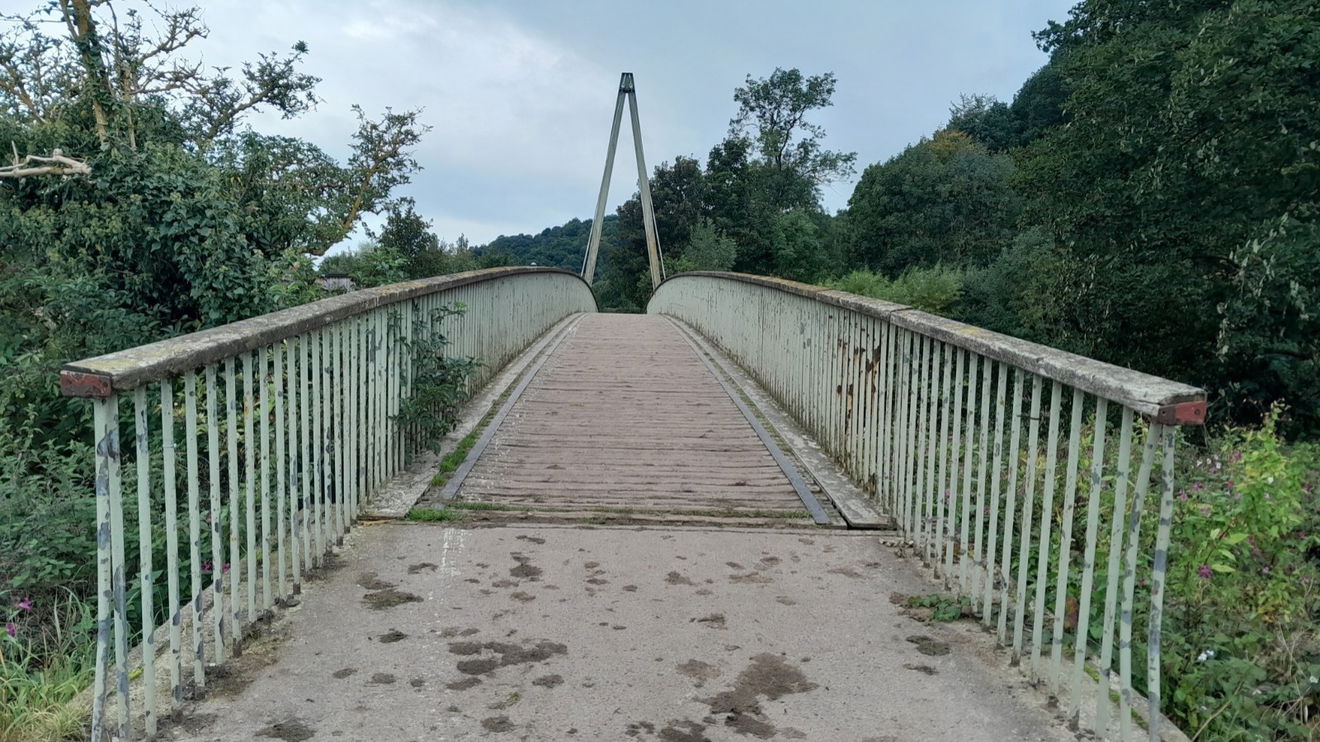 Where to Park For Old Durham and 6 Bridges
Where To Park For Old Durham and 6 Bridges?
What three words
Park at Houghall Lane, walk over River Wear on Shincliffe Bridge. Head North by carefully crossing the A177 and you are on the Weardale Way path
}
Contributed by Rosalind Parker
Thanks for reading through and getting to the end of this post. I enjoy exploring the Fabulous North (Especially as a Southerner residing up North). I like 'snippets' of information, and more so, if they are obscure, amusing or meaningful. The photographs are taken on a mobile phone, without any enhancements.
More Walks from Rosalind
More Places In Durham
Find more fabulous places in Durham, County Durham and if you know of a place we haven't listed, then let us know.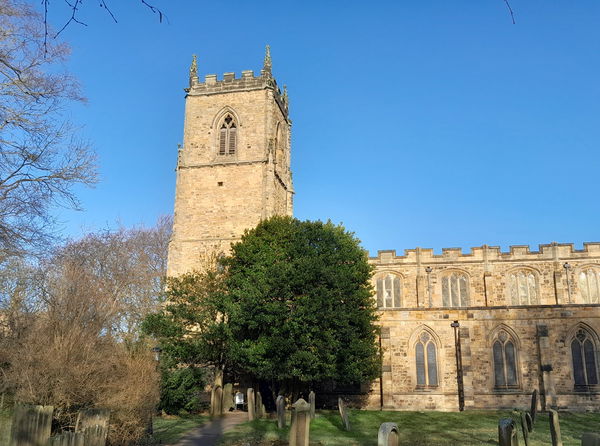 Saint Oswald's Church Durham
Religious Place
Durham
County Durham
A lovely church in a quintessentially British setting. Possibly the oldest in the Durham diocese.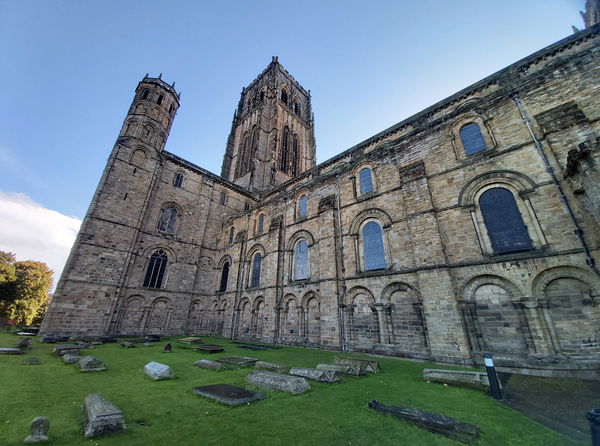 Durham Cathedral
Religious Place
Durham
County Durham
A stunning 900 year old cathedral built on a peninsula formed by the River Wear.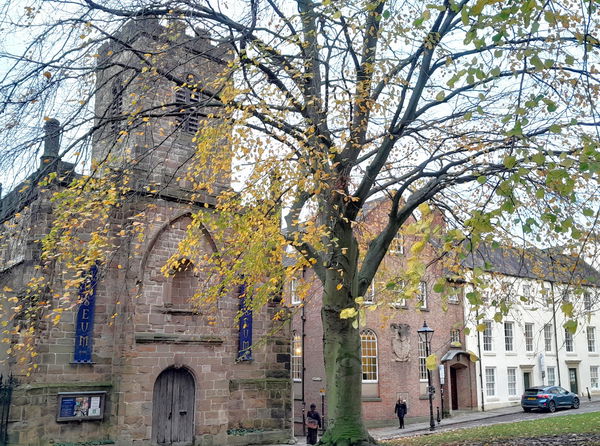 Find Us On Facebook
We post all our new places daily on our Facebook Groups page, so join the group today and be notified when we add a new place.
Join Our Facebook Group