Cresswell Pillbox
Military
Cresswell
Northumberland
Cresswell Pillbox
Military In Cresswell, Northumberland
WW2 pillbox disguised as a ruined house.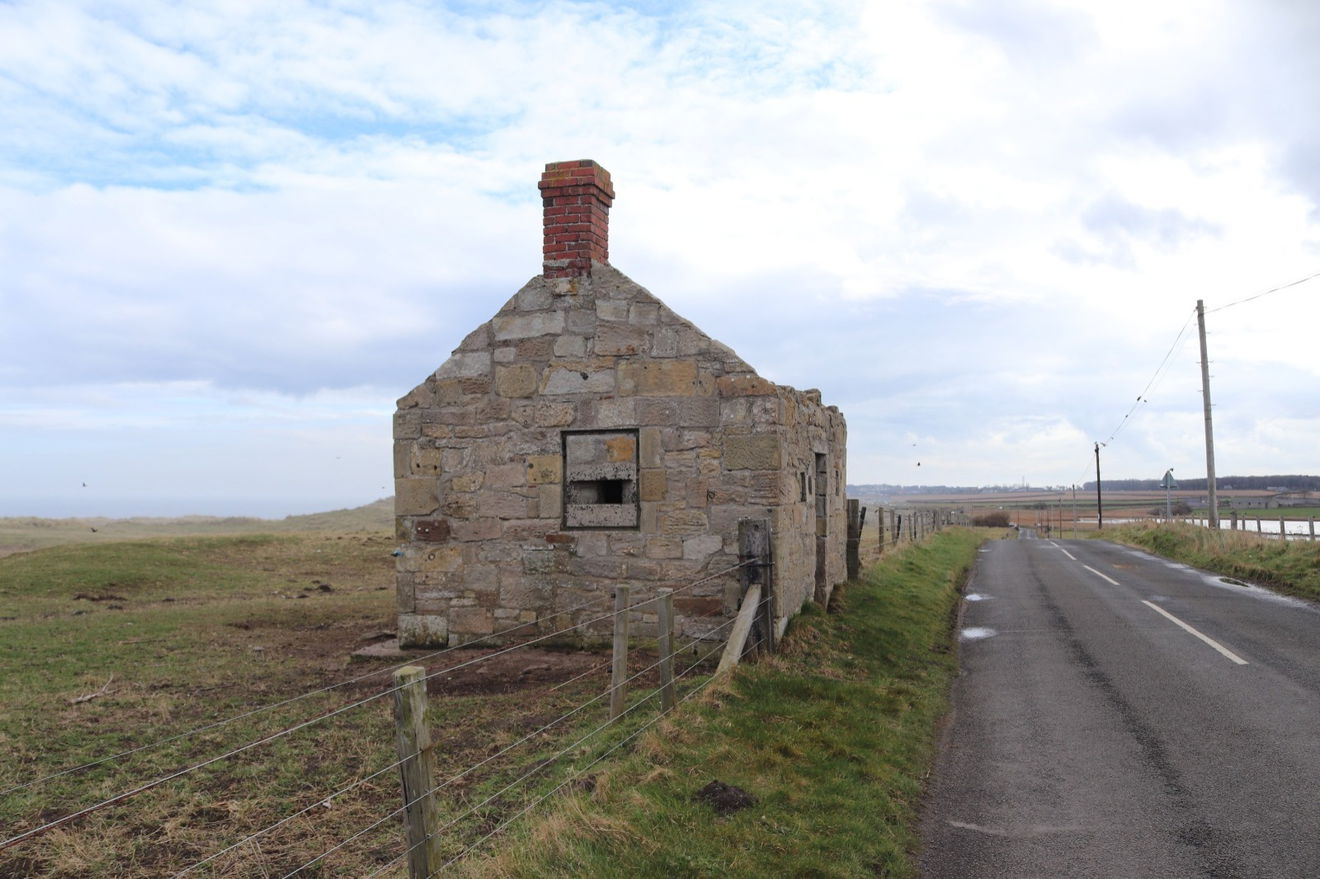 We've visited Cresswell numerous times over the last few years looking for Barn Owls, Egrets and other rarities and noticed this building on the side of the road. We completely overlooked it, imagining it was an abandoned farmhouse or something similar, but little did we know it has a fascinating history.
Druridge Bay was a very vulnerable part of the Northumberland Coast during WW2, because of its wide, level beach and the ease in which enemy crafts could land on to it. It needed strong defences and there are still a number of pillboxes amongst the sand dunes and anti-tank cubes in continuous lengths along the beach.
The pillbox on Hemscott Hill was built in 1940 as part of the British anti-invasion defences, and remains largely unchanged since then. It was quite unique in that it was built to look like a ruined cottage with stone walls and a collapsed chimney. The loopholes for firing weapons are hidden behind false windows and doors, and inside there are original features such as a blast wall for protection.
Pillboxes would normally be well hidden; covered in grass or built into the landscape, so because Cresswell Pillbox was in such an exposed location it had to look convincing. Clearly, it was very well designed, standing proudly to this day.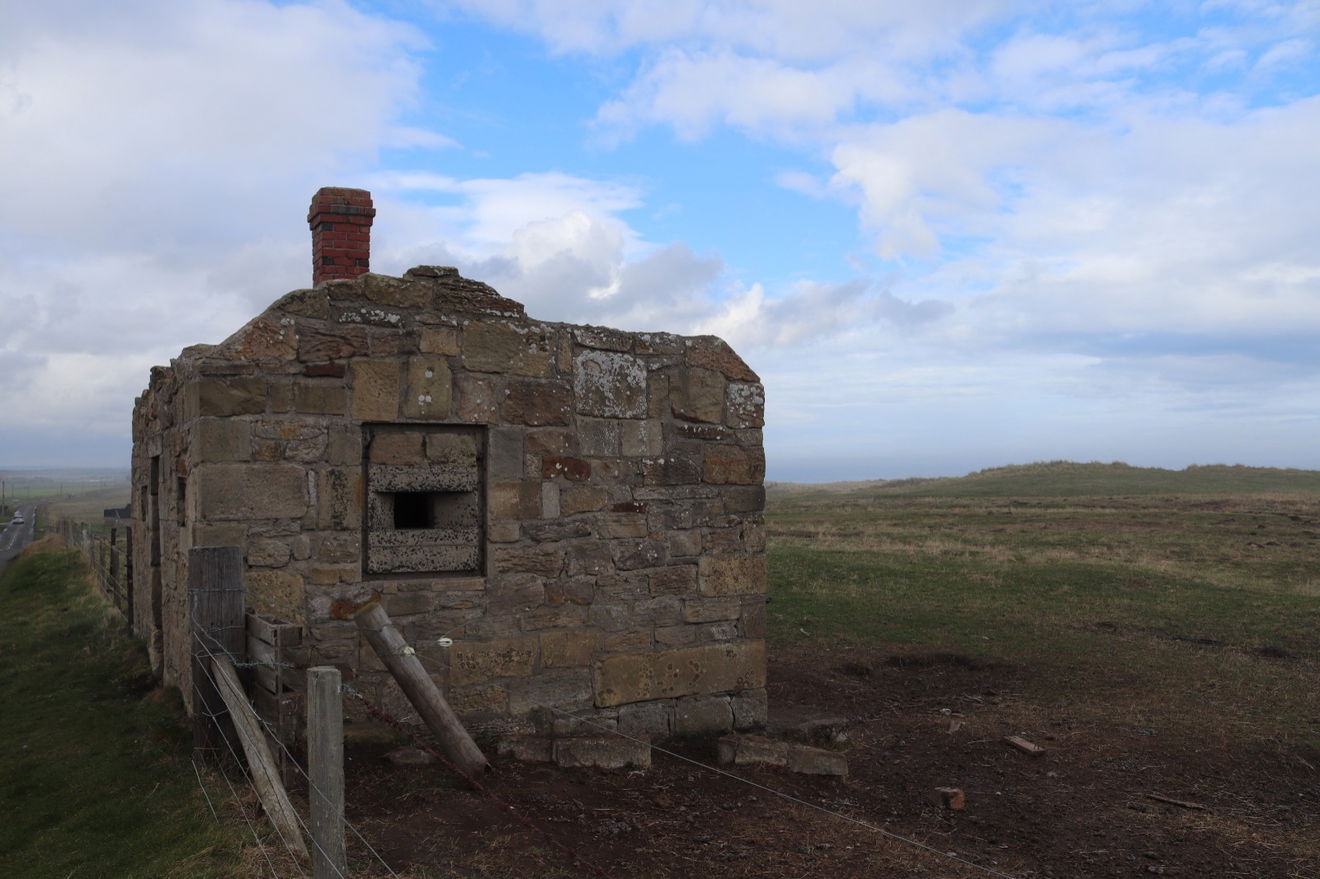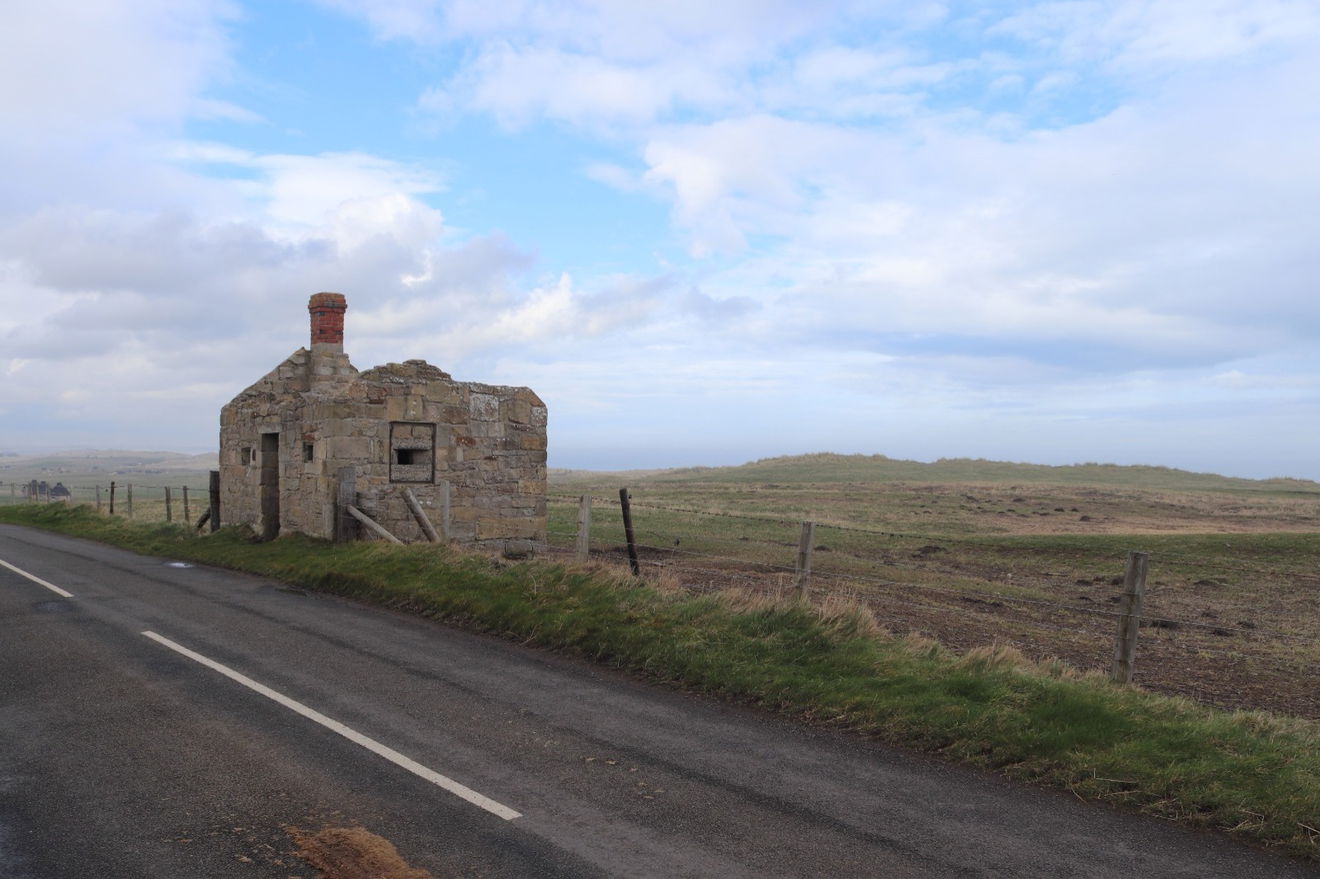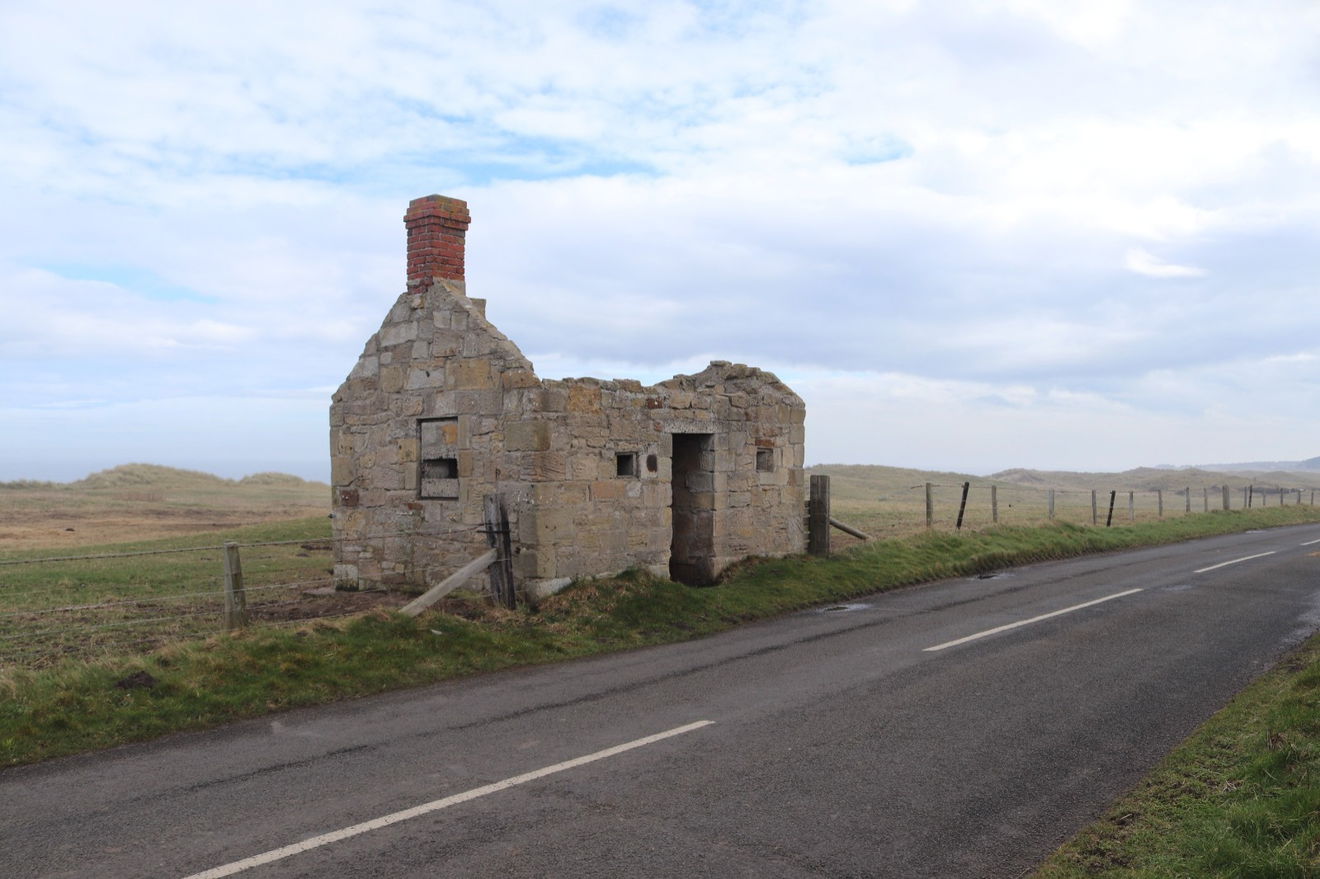 Despite it's importance, it has only fairly recently been given listed building status, on 15th September 2020. This date was chosen to mark the 80th anniversary of a key date in the Battle of Britain, a date when the RAF gained a decisive victory over the German Luftwaffe.
So, next time you're heading to the Drift Cafe in Cresswell for a cuppa and a scone, head 15 minutes down the road for a piece of history too.
How To Find Cresswell Pillbox
Where To Park For Cresswell Pillbox?
Show Parking On Google Maps
Lat / Long
55.244596, 55.244596
What three words
There are a few spaces around a 5 minute walk away from the pill box.
Contributed by Sandra Clemens
I love the great outdoors and have been a National Trust & English Heritage member for years. I also love going off the beaten track and finding places like Sharp's Folly or Rothley Castle which are hidden gems in Northumberland. My favourite recent hike was climbing Red Screes in the Lake District on a whim, not fully grasping how high 776m was. It was still an achievement to conquer a Wainwright walk and I hope to do more one day.
More Places from Sandra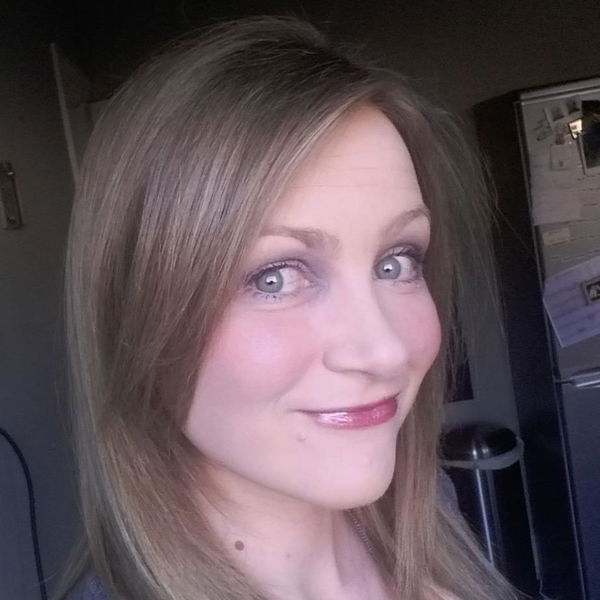 More Places In Cresswell
Find more fabulous places in Cresswell, Northumberland and if you know of a place we haven't listed, then let us know.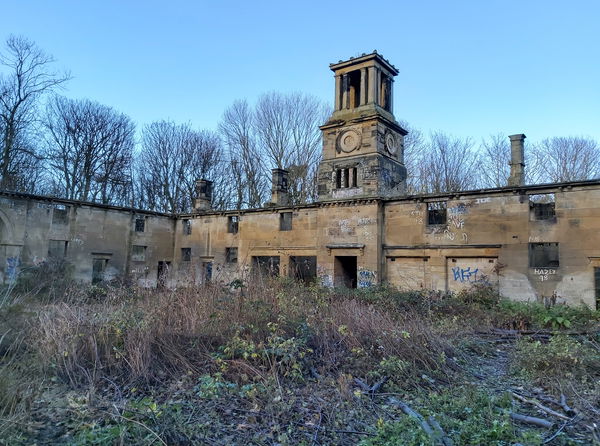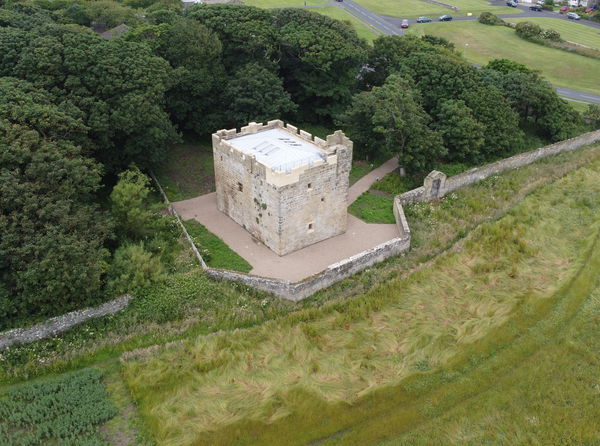 Cresswell Pele Tower
Tower
Cresswell
Northumberland
A recently renovated pele tower situated in Creswell on the coast.
More Militaries
So this military wasn't enough and you want more? Don't worry we have you covered.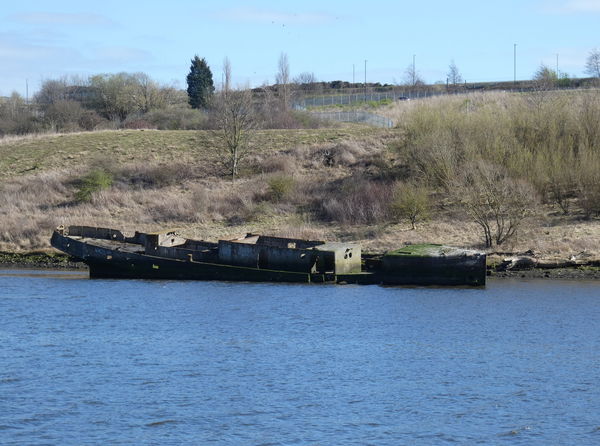 Cretehawser Wreck
Military
Sunderland
Tyne And Wear
The wreck of concrete tug 'Cretehawser' which sits on the banks of the River Wear.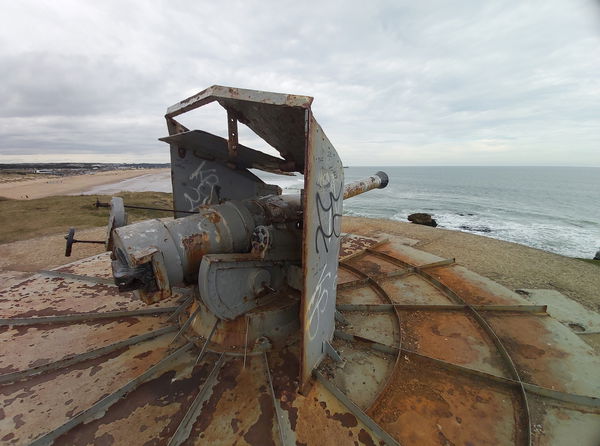 Trow Rock Disappearing Gun
Military
South Shields
Tyne And Wear
A unique gun that would disappear into its turret to reload, devised during the Crimean War.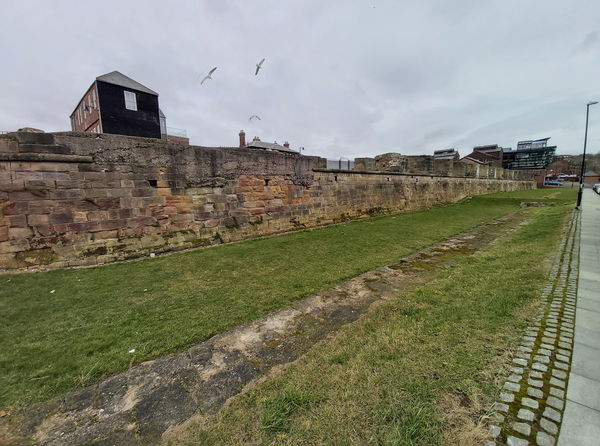 Clifford's Fort
Military
North Shields
Tyne And Wear
A defensive gun battery established near the mouth of the Tyne during the Anglo Dutch Wars in the 17th Century and used during various later conflicts.
Never Miss A Fabulous Place
If you are afraid of misssing out on all the fabulous places we post, or just want to be the first to know, then sign up to the Fabulous North.
Each week we will email you all the brand new places that we visit.
Sign Up To Alerts
Find Us On Facebook
We post all our new places daily on our Facebook Groups page, so join the group today and be notified when we add a new place.
Join Our Facebook Group