Mill Dam and Customs House
Building
South Shields
Tyne And Wear
Mill Dam and Customs House
Building In South Shields, Tyne And Wear
An urban conservation area, with grand buildings, cobbled lanes, River Tyne views, and a few pubs.
We had a jolly out to the Customhouse, South Shields for a show and were early, so we had a little mooch around Mill Dam and it was very pleasant.
It is a conservation area because it has some oddly interesting history. I shall briefly describe some of it.
How did Mill Dam get its name?! Yes, you've guessed it! George B. Hodgson (19th-century antiquarian) wrote that the corn mill is mentioned in 1347. The dammed River Branin ran through this area going somewhat southwards, then southeastwards, then eastwards. By the 1700s it was drying up and was filled in over time.
The mill was operated by water and could only work when the tide came in.
It was stuck in the middle of fishing to the West and salt panning to the east.
There is a pub/bar here called The Mill Dam!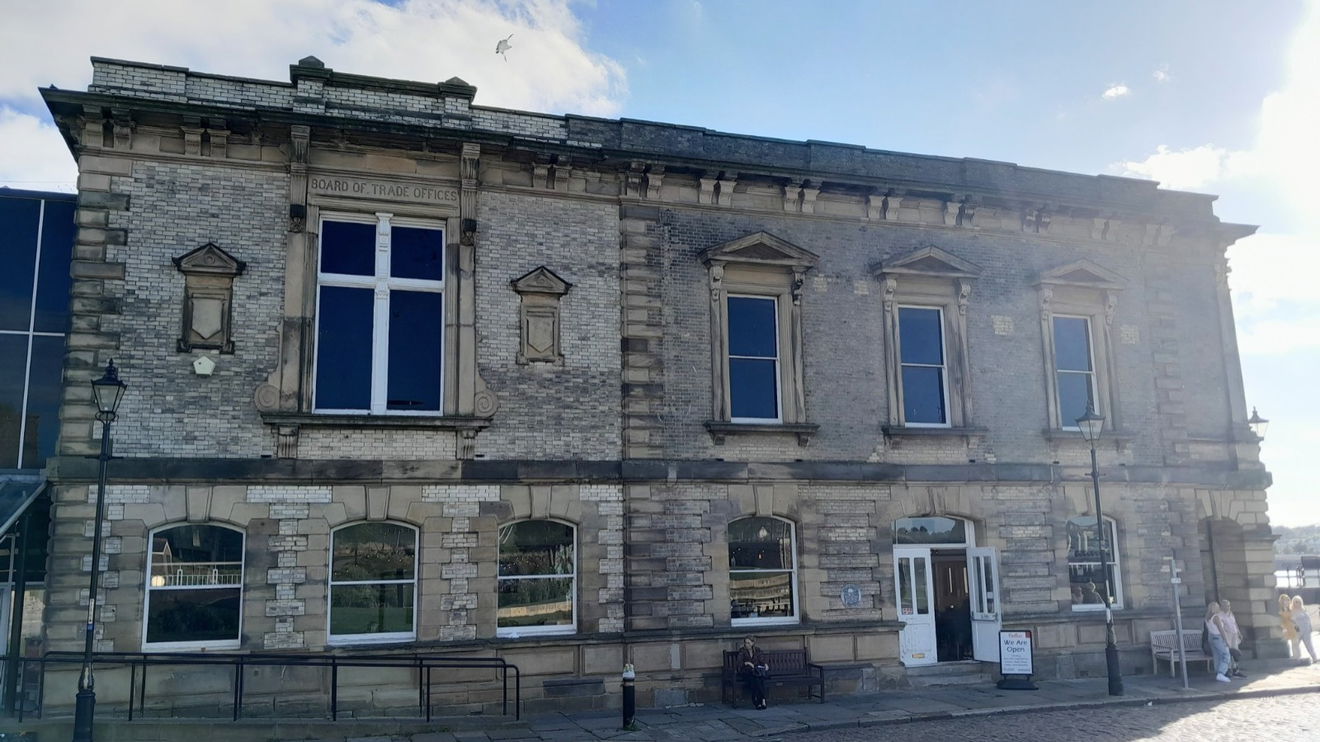 The Customhouse is the main building.
Built on part of the old Subscription Brewery site in 1863-4 as South Shields was declared a separate customs port in 1865.
T M Clemence designed it in the Renaissance style using ashlar stone.
The First floor is taller than the ground floor.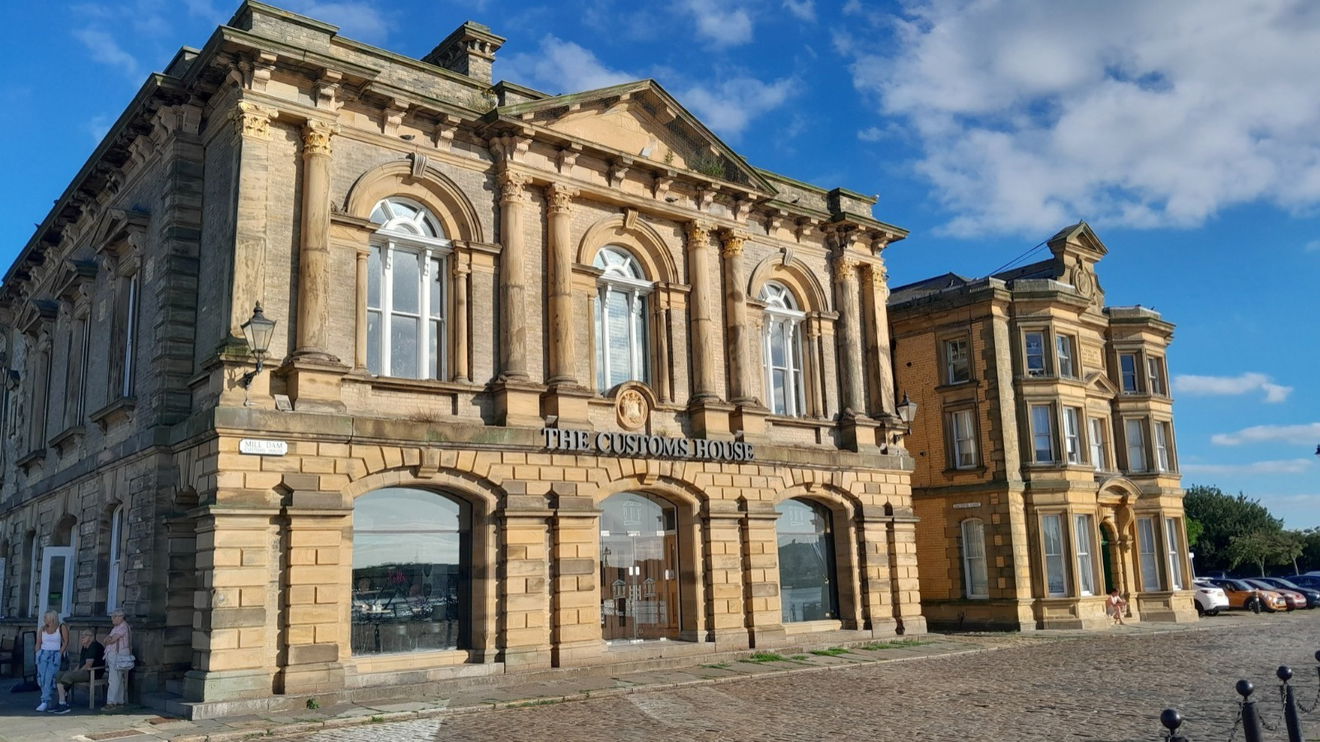 In 1878 a rear extension designed by J H Morton was added.
This was for offices for the local Marine Board. It was used until the early 1970s, then, with the decline in shipping it became defunct and left to deteriorate.
The Customhouse got listed in 1978 and the area became designated (Having a particular character or purpose) and a restoration program was proposed.
The Arts and Live Music Association purchased it in 1981 and in 1984 started to restore it.
The theatre was added and in 1994 it opened. To note their bar is called Bellas.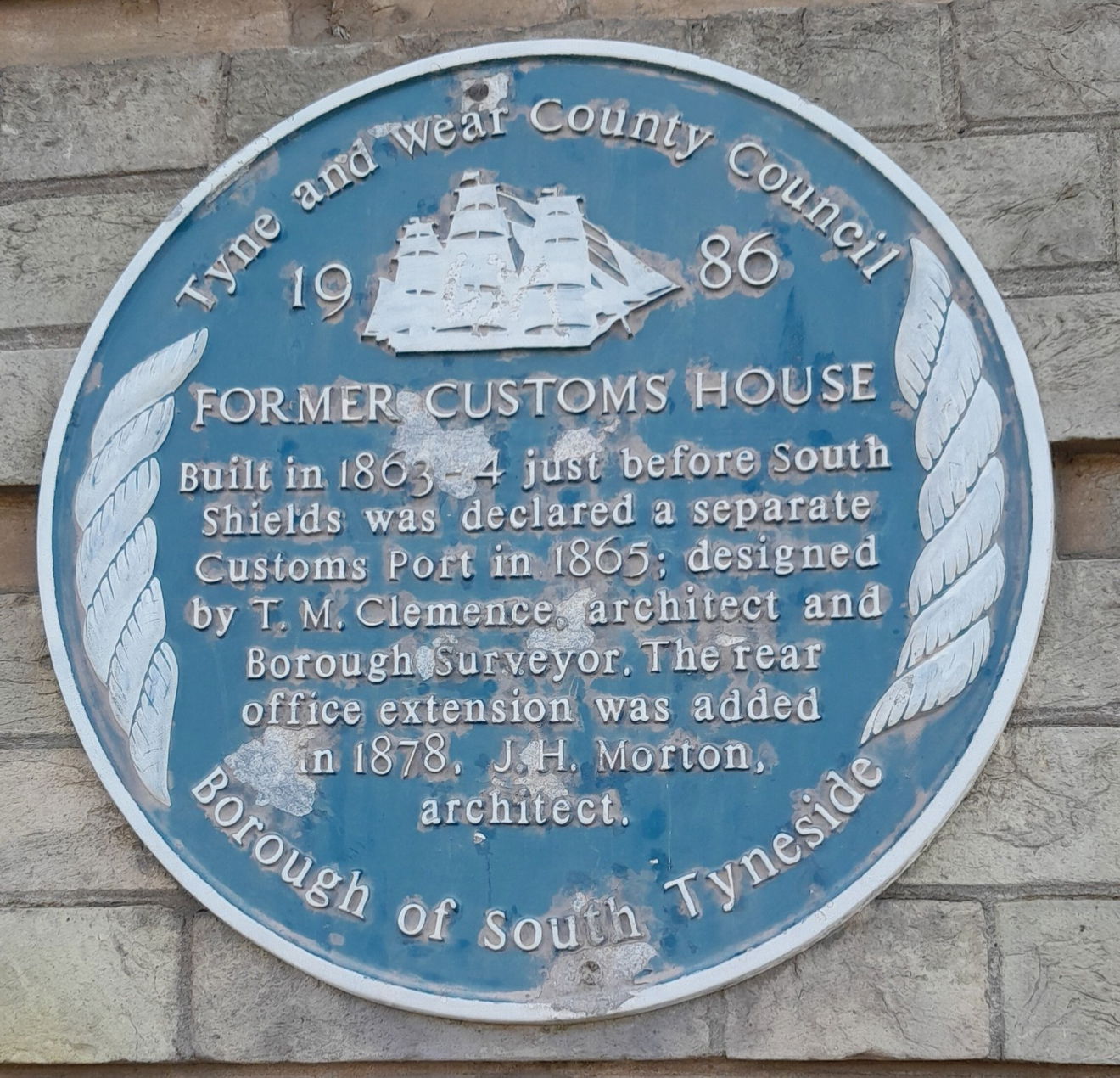 The building alongside the Customhouse was for The River Police and Tyne Port Sanitary Authority built in 1886.
Look up to the first floor and you can see the inscription with the date below.
Above this is a triangular-topped gable with the force's coat of arms.
The building got the nickname 'Deadhouse' as there was a mortuary behind it. There were plenty of bodies found in the Tyne River due to it being very busy, accidents, and people unable to swim.
The blue plaque by the front door has some interesting information as well.
The two buildings complement each other and are a reminder of the glory days.

The two copper-topped turreted building started as The German Seamans Mission in 1909 for the increasing number of immigrant sailors from Germany. After 5 years, it was the start of World War I; German sailors were deported or interned. It became a hospital during the war. After this, it was purchased by The Seamans Mission.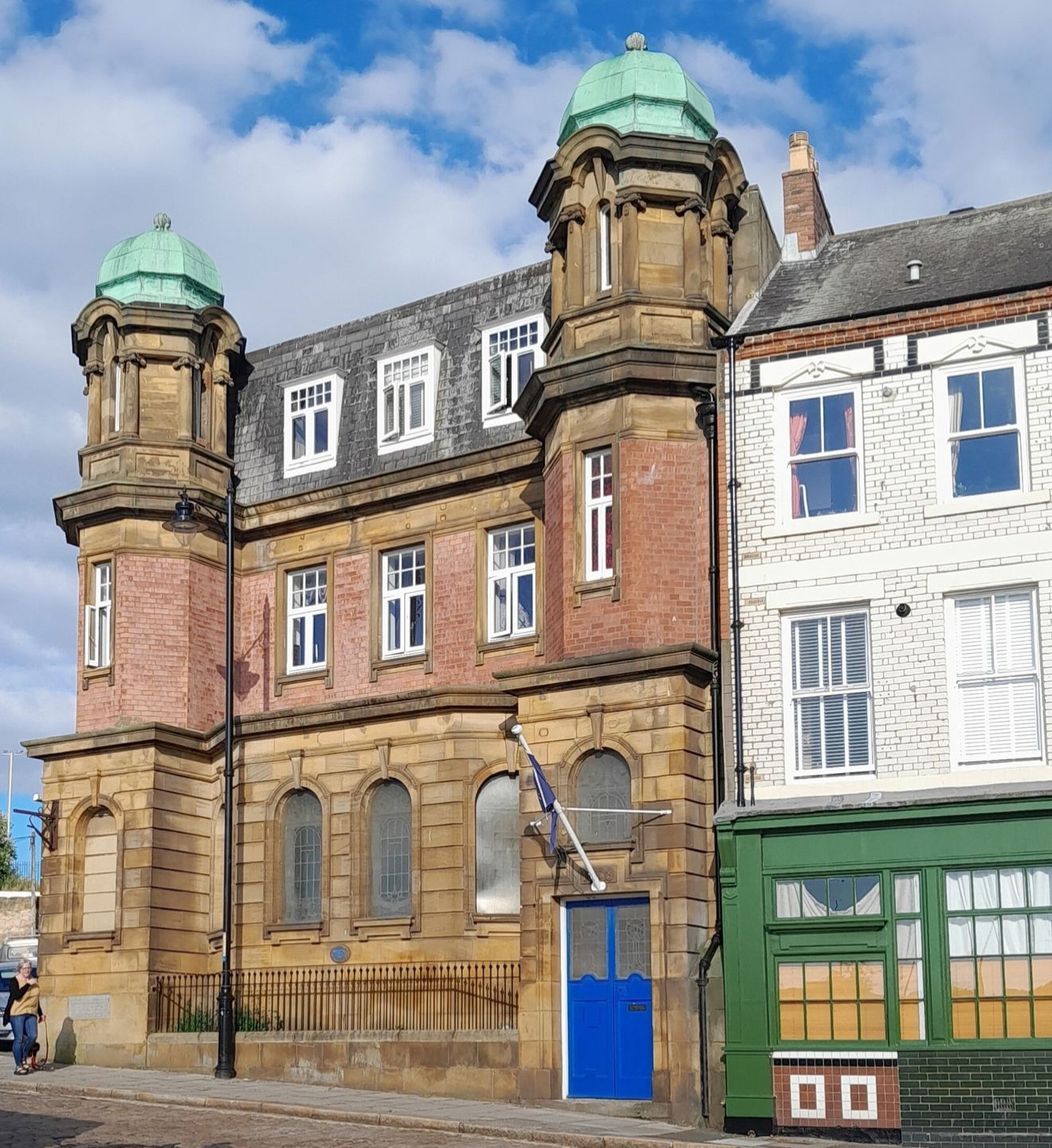 The Mission had another building a few doors down which is church-like. The two-story building contained a church on the first floor and a reading room on the ground floor.
Previously they had been using a steamer called the HMS Diamond (The ferry port is conveniently next door).
An anonymous donor gave them another steam Launch in 1894. This boat had the mission's Flying Angel flag hoisted constantly in full view.
Note the cellar pub called The Flying Angel. There's also a pub called The Steamboat.
Onesiphorus Dagnia (I had to look up this wonderful name) of Ouseburn fame set up a glasshouse around 1707 which was the first for South Shields.
In 1737 the site was brought by installments by John and his son Isaac Cookson. They entered into a partnership with Thomas Jefferies and made Crown Glass.
This is a glass for windows and originally it was blown forming a crown-like orb then opened up and made flat whilst still hot.
In the mid-19th century, the works passed to R and W Swinburn. The Chimney is now the only remains, dated 1865. It has been reduced in height.
The nearby Ballast Wagonway would bring coarse sand for grinding and take waste glass to the Bents. In 1892 Harton Coal Company brought it, and knocked it down to gain access to Harton Low Staiths.
Coal was brought here from Westoe Colliery by train line and shipped away.
Parts of the train line were used up until 1989.
There was a pub called The Railway, now it's called The Waterfront.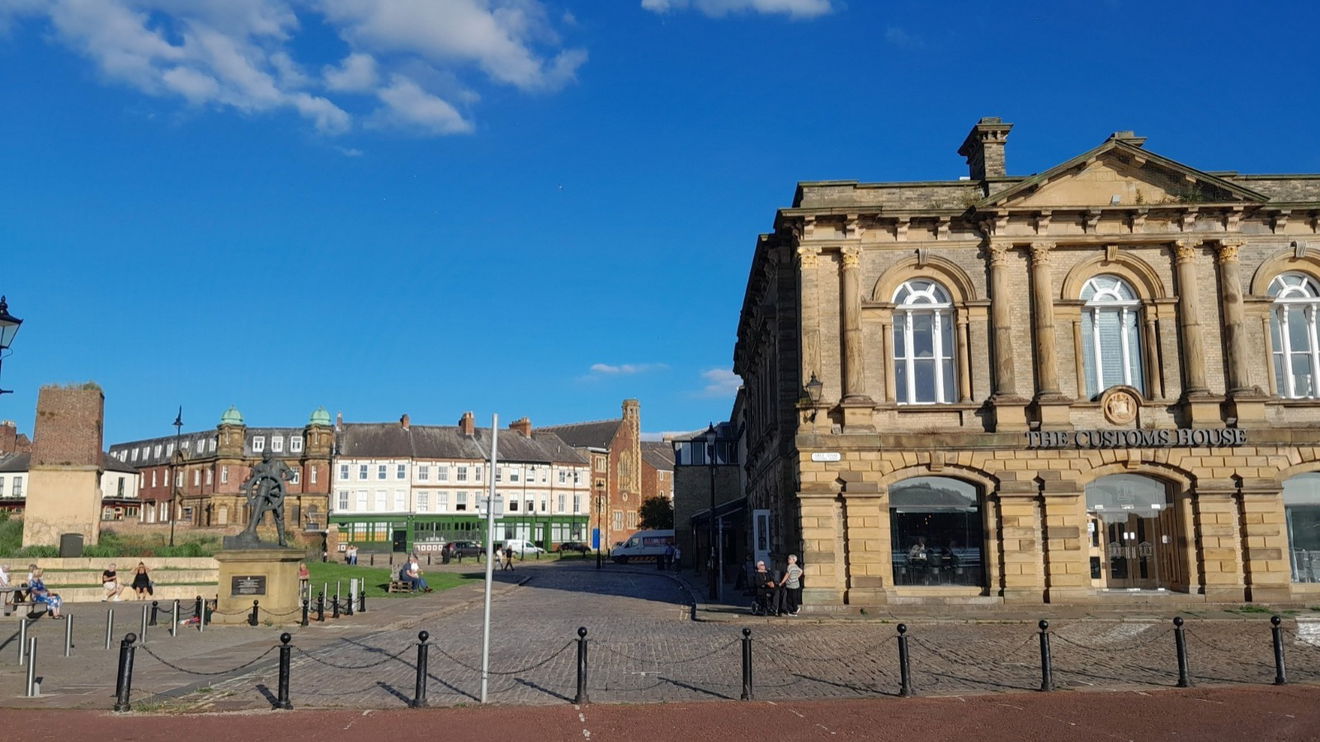 An area now filled in was known as Mill Dam Gut. It was suspected, thieves on the run would dump their stolen goods. It made headlines in 1926 as 'Treasure Hunt in the Mud'

In 1926 after the General Strike there was unrest in this area.
Sailors from Yemen had been encouraged to stay and work for the last 40 years and now there were tensions over acquiring work.
A riot broke out in 1930 and people were injured. 20 Yenemi were deported after they had done hard labour. Several English sailors were imprisoned.
The area was still thriving with wholesale merchants, anchor stockmen, and engineering works.
It needed a police box and had one.
However, nearby Commercial (The clues in the name) Road was being extended and by 1939 there were many empty places. After the Second World War, the place was becoming derelict.
By the time England won the World Cup the cobbled lanes had been covered in smooth concrete, and the gas lamps changed for modern ones. Building were rendered.
By 1973 some of the area had been cleared. In the late 1980s renovation had started.
The area now is back to being cobbled, cared for, and cultural.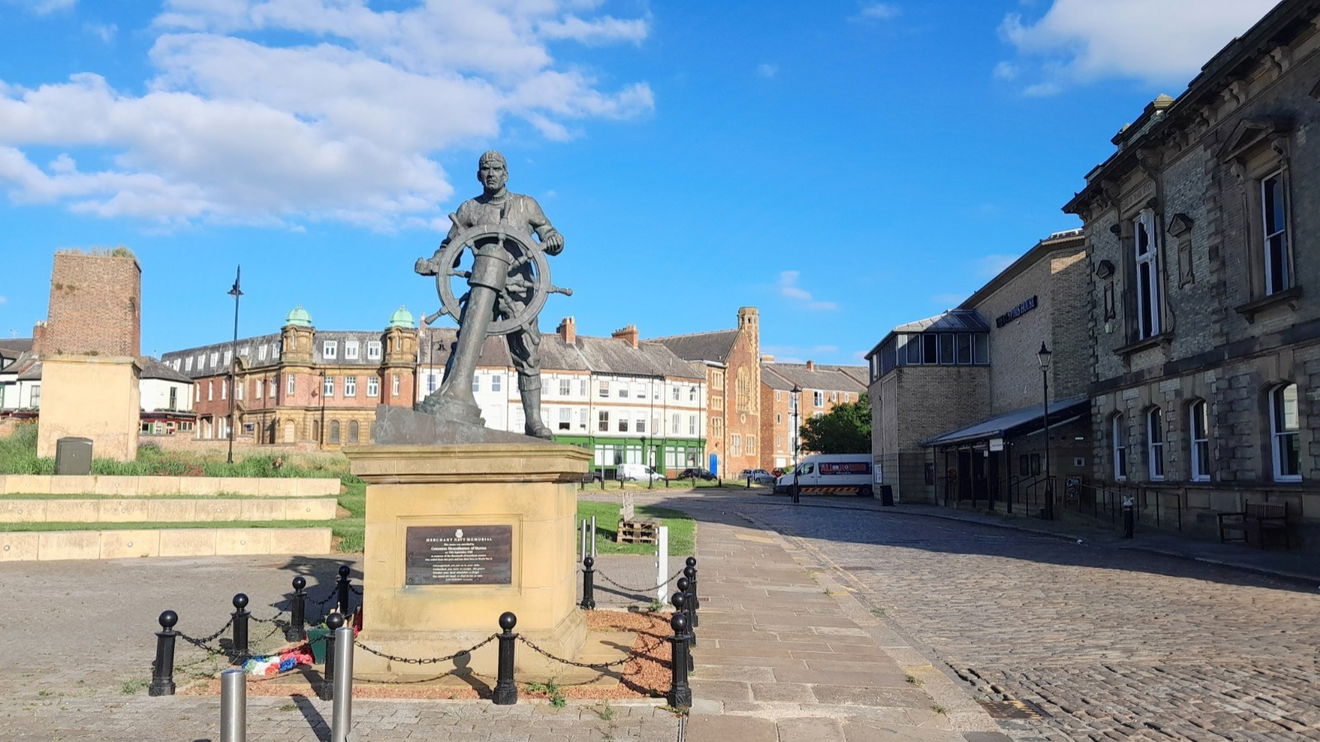 The Merchant Navy Memorial also doubles up as a salute to Jim Slater General Secretary to The National Union of Seaman. It's by Robert Olley (b.1940), Heritage Projects, Carol Graham (b.1951), and Burleighfield Arts Limited. Notice how the helmsman appears to be on an uneven keel. The statue is 1 ½ life-size.

How To Find Mill Dam and Customs House
Where To Park For Mill Dam and Customs House?
Show Parking On Google Maps
Lat / Long
54.994677, 54.994677
What three words
Parking on site.
Contributed by Rosalind Parker
Thanks for reading through and getting to the end of this post. I enjoy exploring the Fabulous North (Especially as a Southerner residing up North). I like 'snippets' of information, and more so, if they are obscure, amusing or meaningful. The photographs are taken on a mobile phone, without any enhancements.
More Places from Rosalind
More Places In South Shields
Find more fabulous places in South Shields, Tyne And Wear and if you know of a place we haven't listed, then let us know.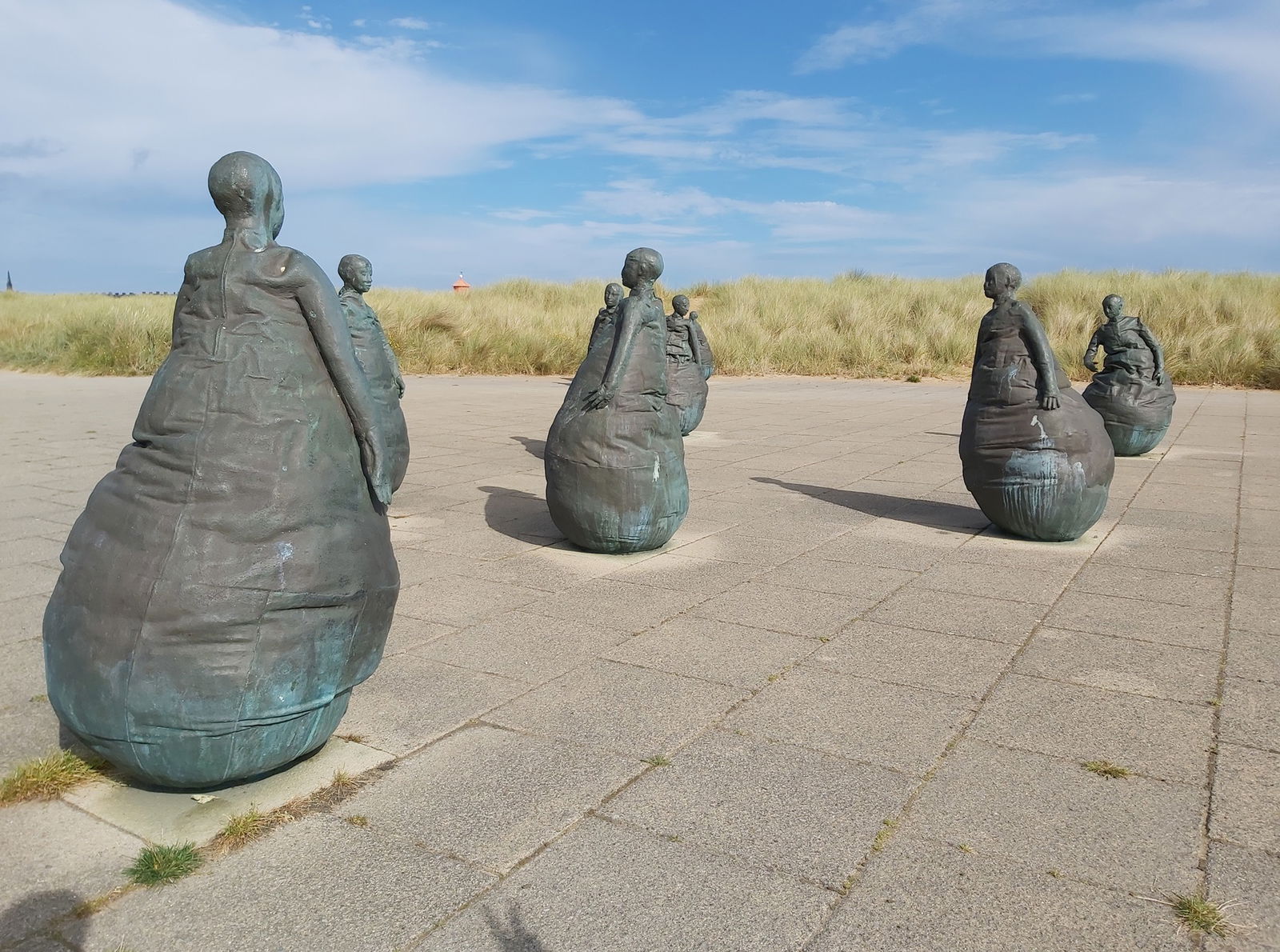 Conversation Piece
Art
South Shields
Tyne And Wear
A sculpture comprising 22 bronze figures by Juan Muñoz near South Shields beach.
Marsden Lime Kilns
Lime Kiln
South Shields
Tyne And Wear
Lime kilns on the coast near South Shields, built in the 1870s.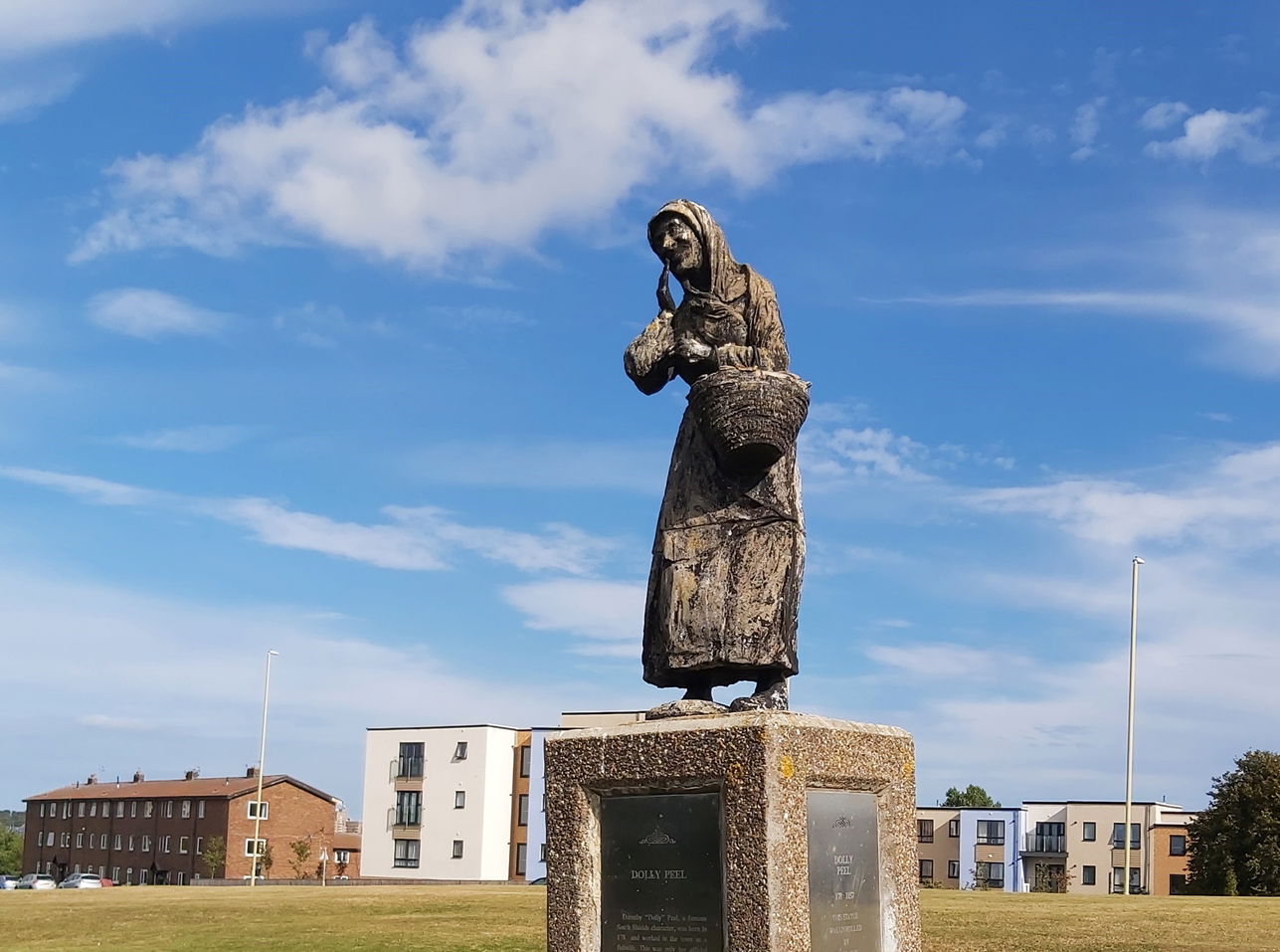 Dolly Peel Statue
Statue
South Shields
Tyne And Wear
A statue to local heroine Dolly Peel, a smuggler, fighter against the pressgang and eventually nurse.
More Buildings
So this building wasn't enough and you want more? Don't worry we have you covered.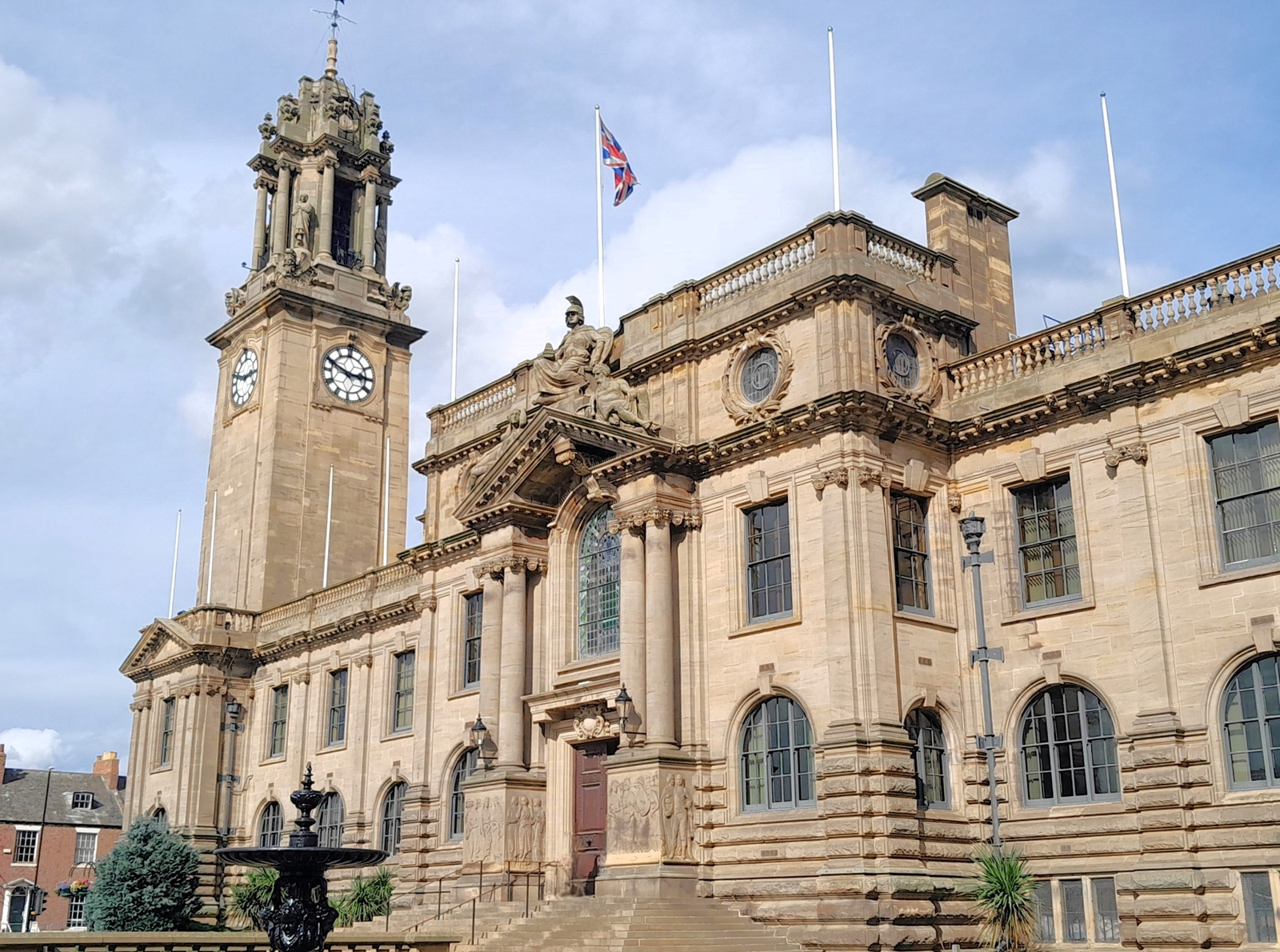 South Shields Town Hall
Building
South Shields
Tyne And Wear
Edwardian Baroque styled town hall which embodies civic pride.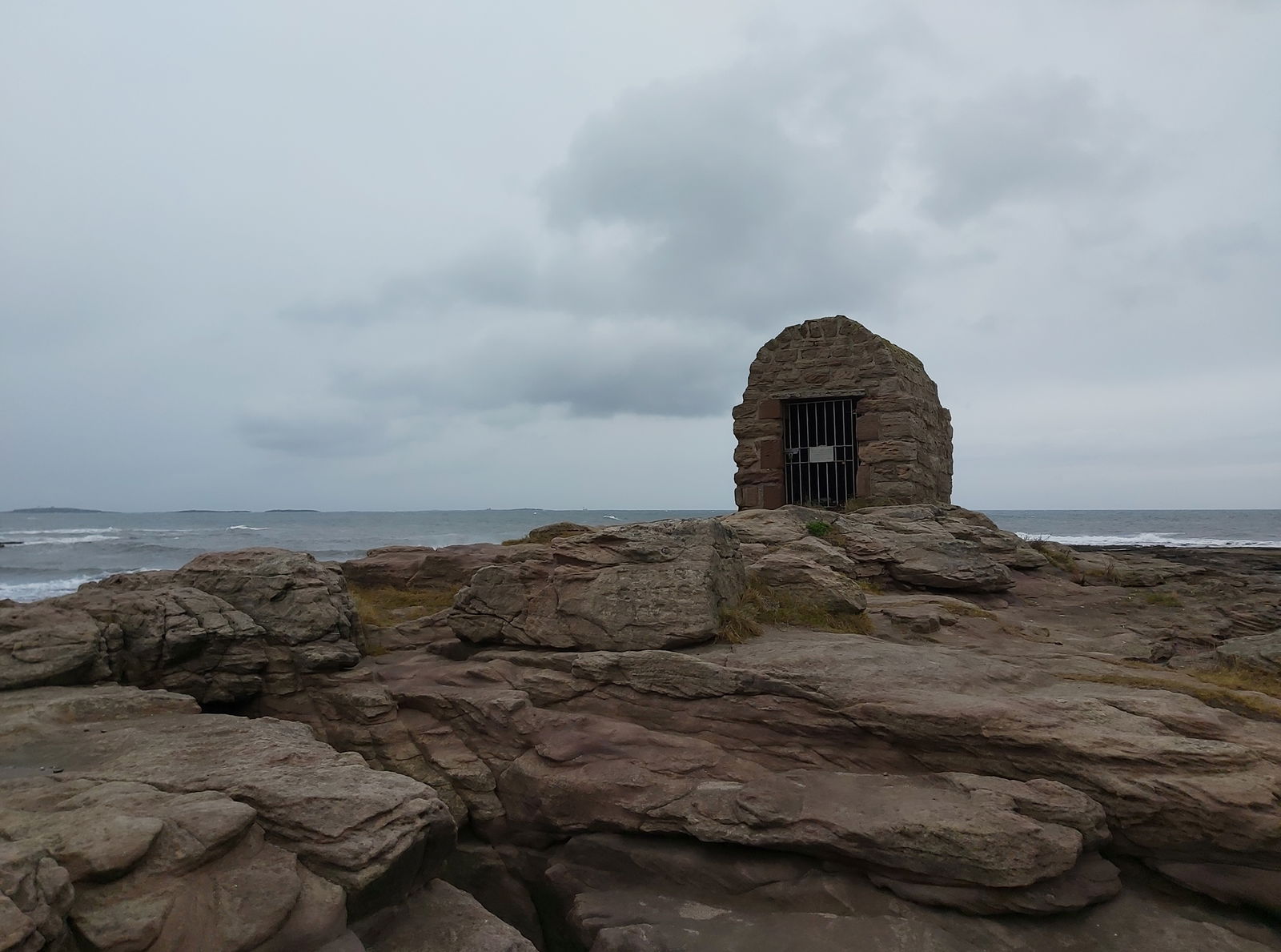 Gunpowder House
Building
Seahouses
Northumberland
A small stone building used to store the explosives during the construction of the seahouses pier and harbour.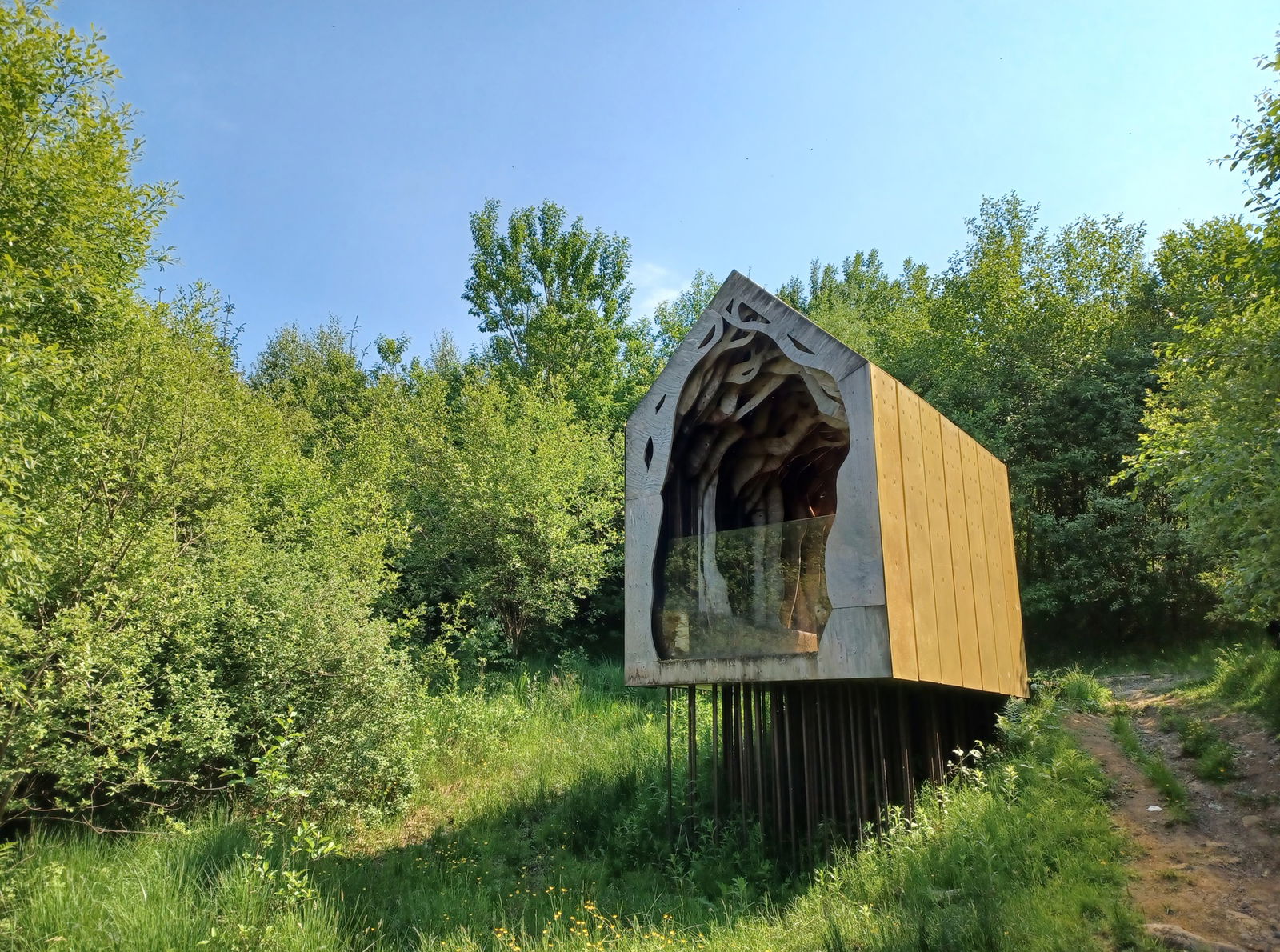 Freya's Cabin
Building
Kielder
Northumberland
A timber cabin set on the banks of Kielder Water mirrored on the opposite bank by another, more simple hut.
Find Us On Facebook
We post all our new places daily on our Facebook Groups page, so join the group today and be notified when we add a new place.
Join Our Facebook Group