Hepburn Moor And Ros Castle
17km
Chillingham
Northumberland
Hepburn Moor And Ros Castle Walk
Chillingham, Northumberland
A meander from Ros Castle down the west side of Hepburn Moor finding cairns, hillforts, pill boxes, crags and the Blawearie.
Distance - 17km (11 miles)
Ascent - 541m
Duration - Approx 4 hours
Terrain - Mainly rough paths cut through heather with some grassy paths.
Parking - Park on the grassy verge at the bottom of Ros Castle. View Parking Map
View Route On Map
Becoming one of my new favourite places to wander, the Hepburn Moors are packed with an abundance of wonderful treats to discover. The moors are predominantly covered with heather, but there are plenty of paths cut through them allowing you to meander off when you see something interesting in the distance.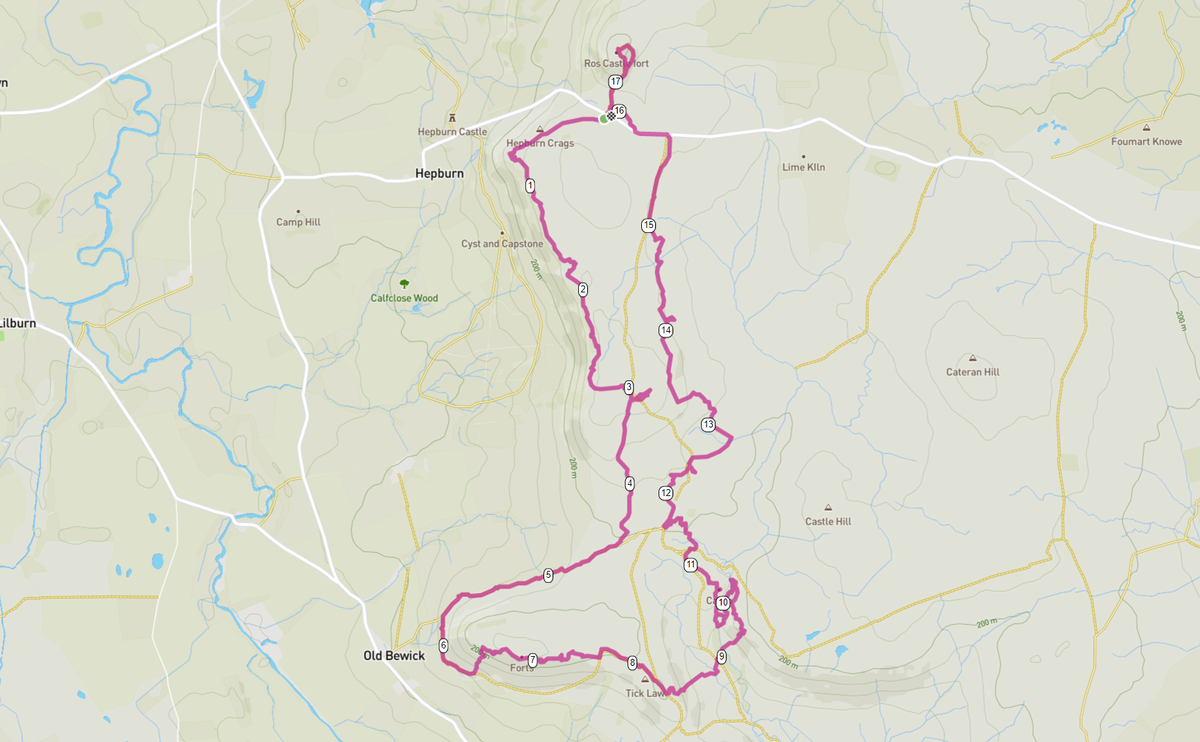 I start the route at one of my favourite places, Ros Castle. There is space on the grassy verges to park your car, or you can park at the Hepburn Forestry car park a kilometre down the road.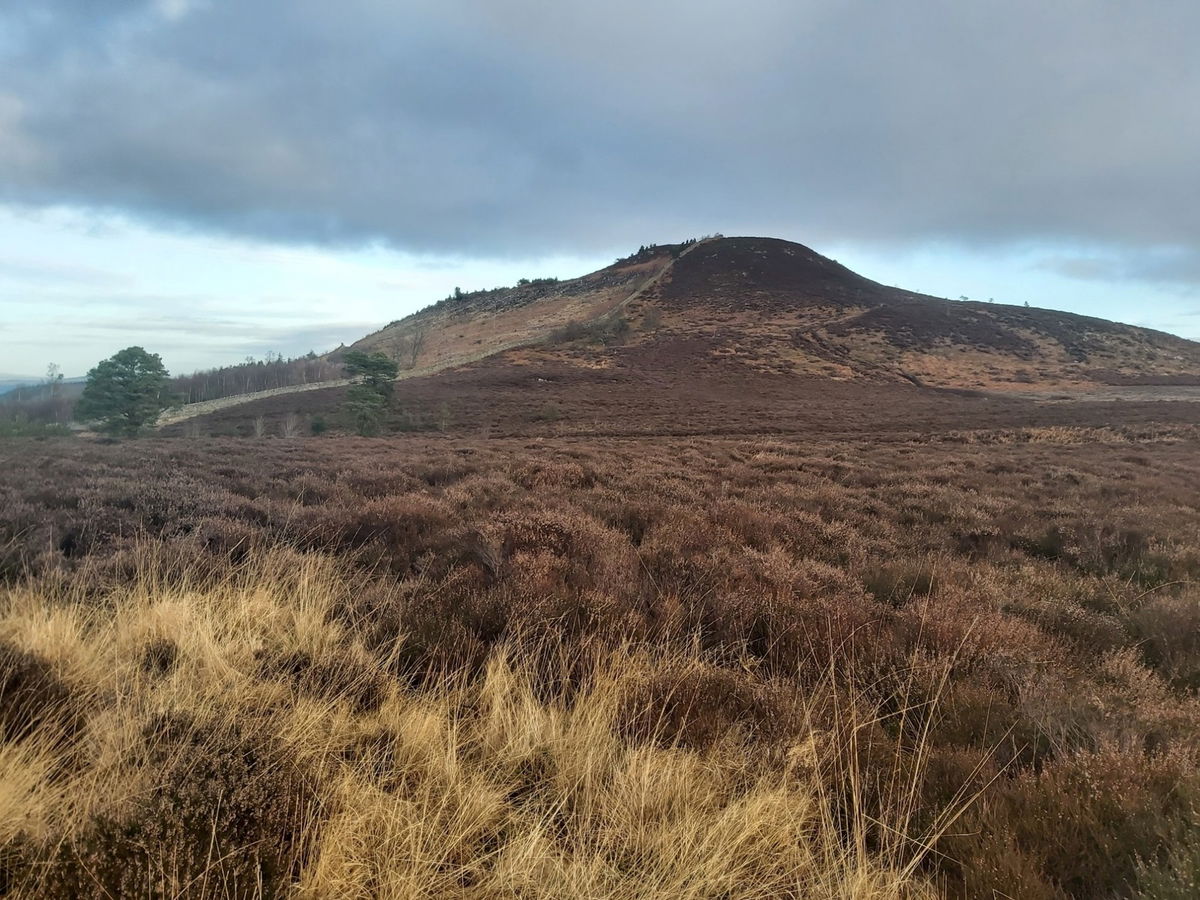 When passing Ros Castle, my rule is that you always have to climb it, but I will save that for the end of the walk. Directly opposite is a wide path south through the heather and I use that to pick up the trail.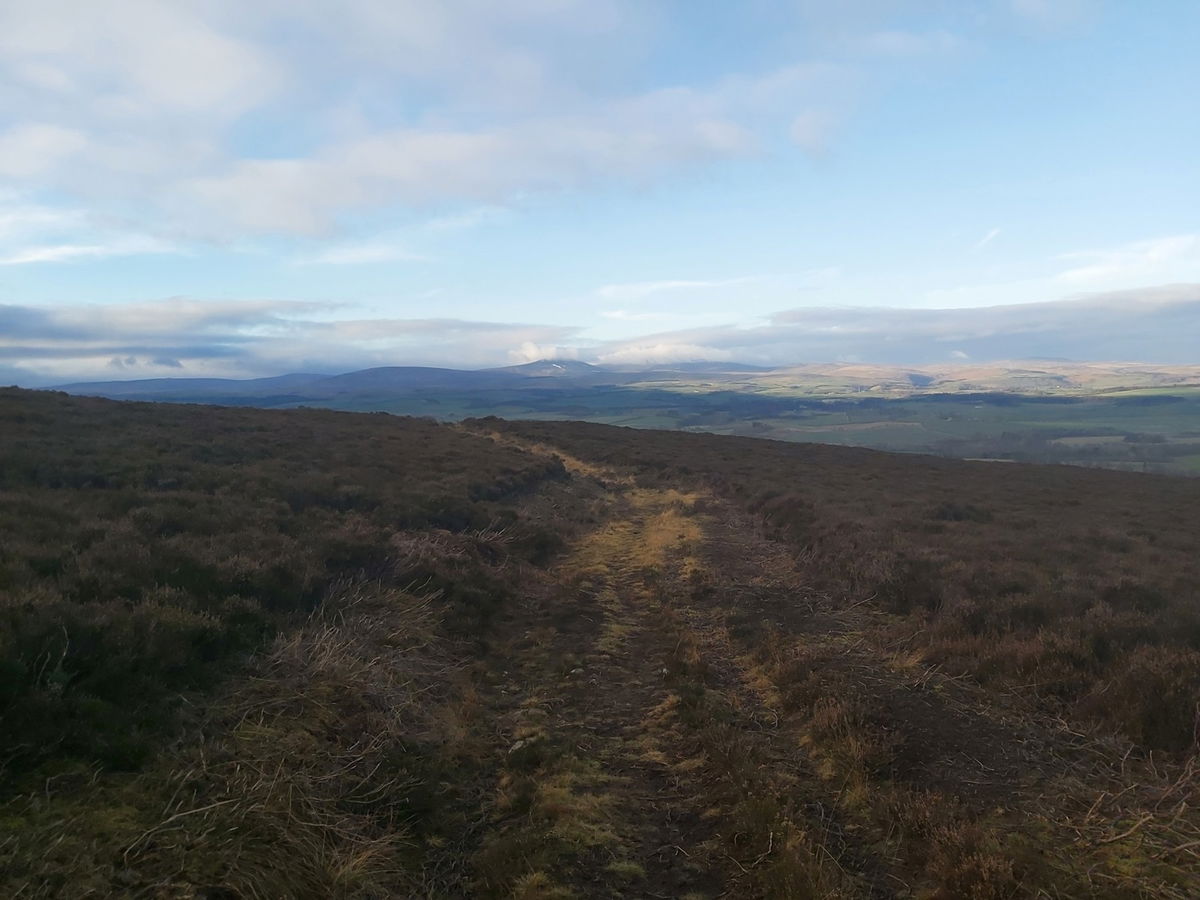 Peering west I can see Hepburn Bastle, the Hurlstone Tower (if you really squint your eyes) and a bit of snow on top of Hedgehope Hill and The Cheviot.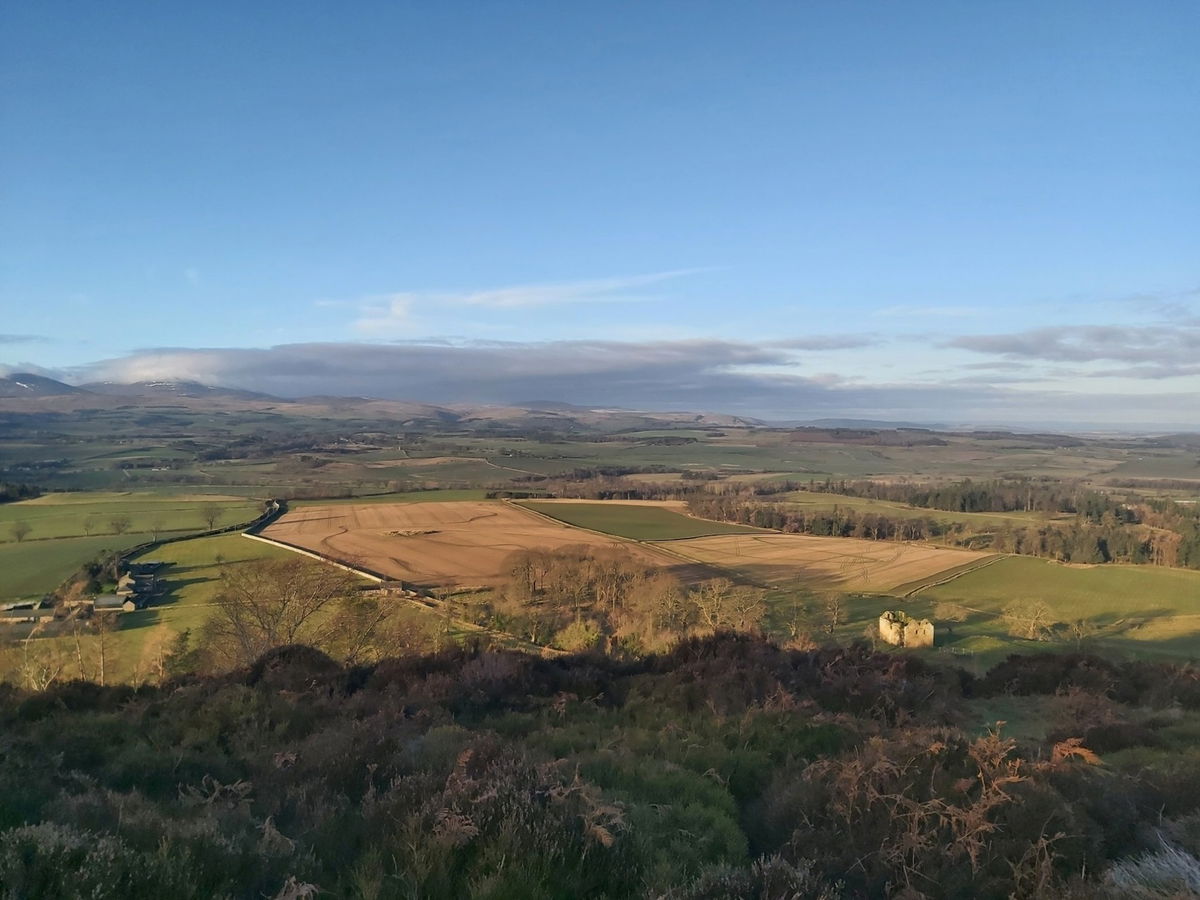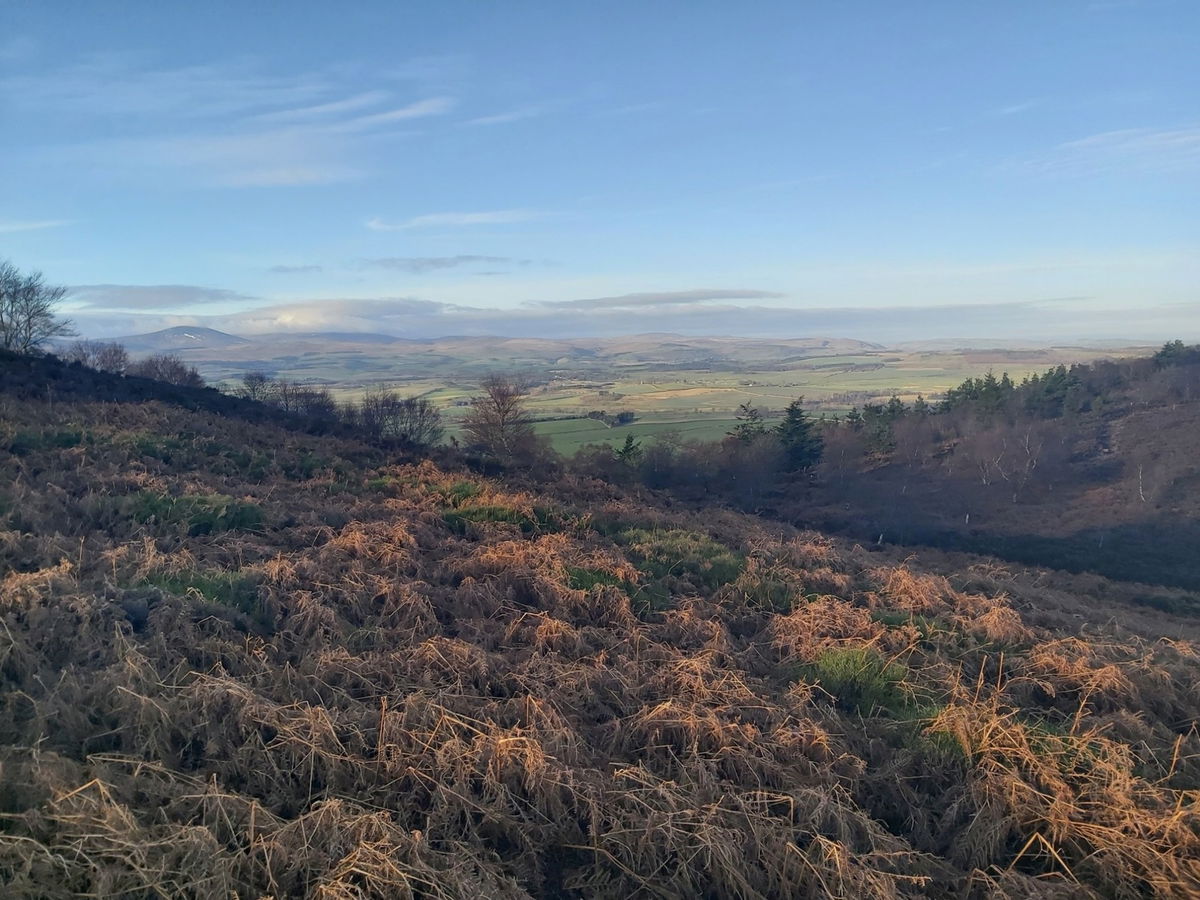 I take one final look back at Ros Castle disappearing in the distance and continue south hugging the fence line as I skirt the top of Hepburn Wood.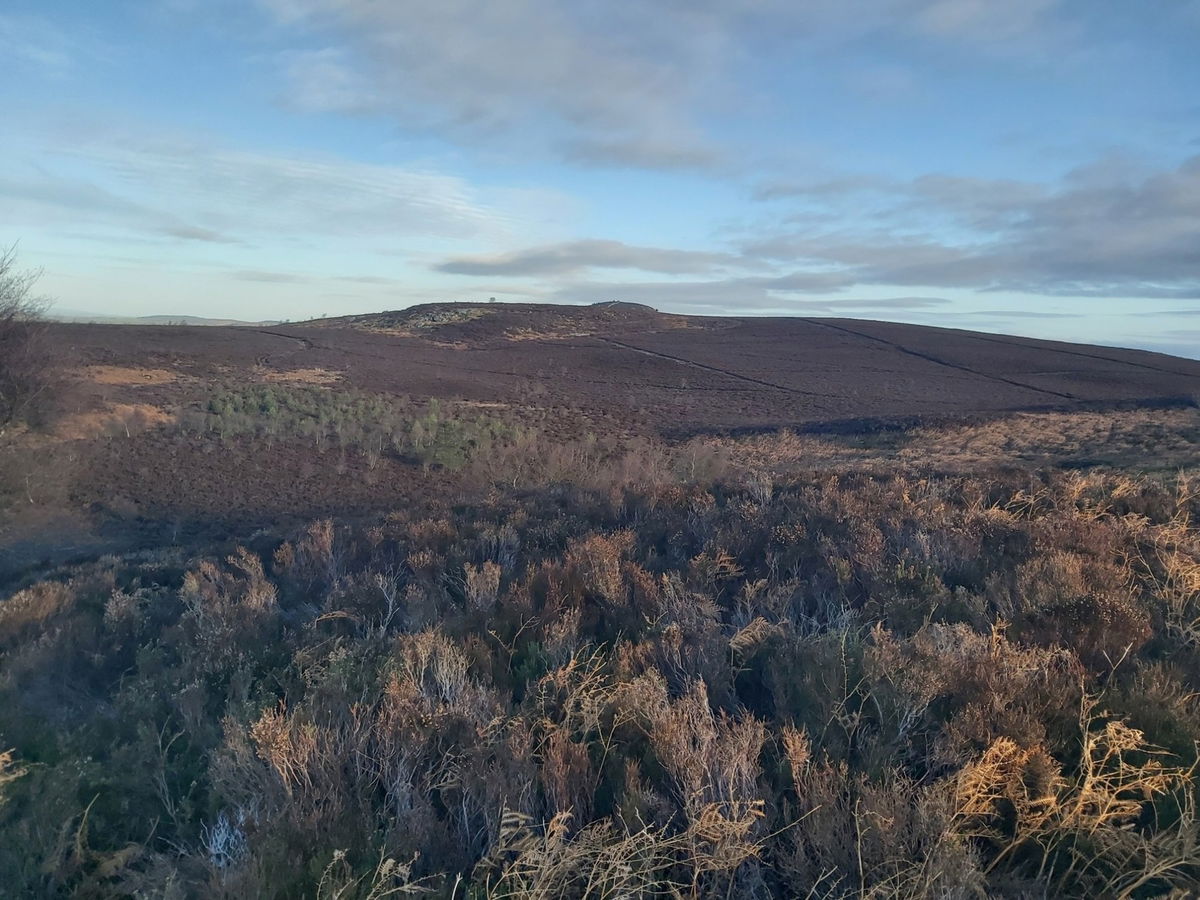 Find my first cairn of the day.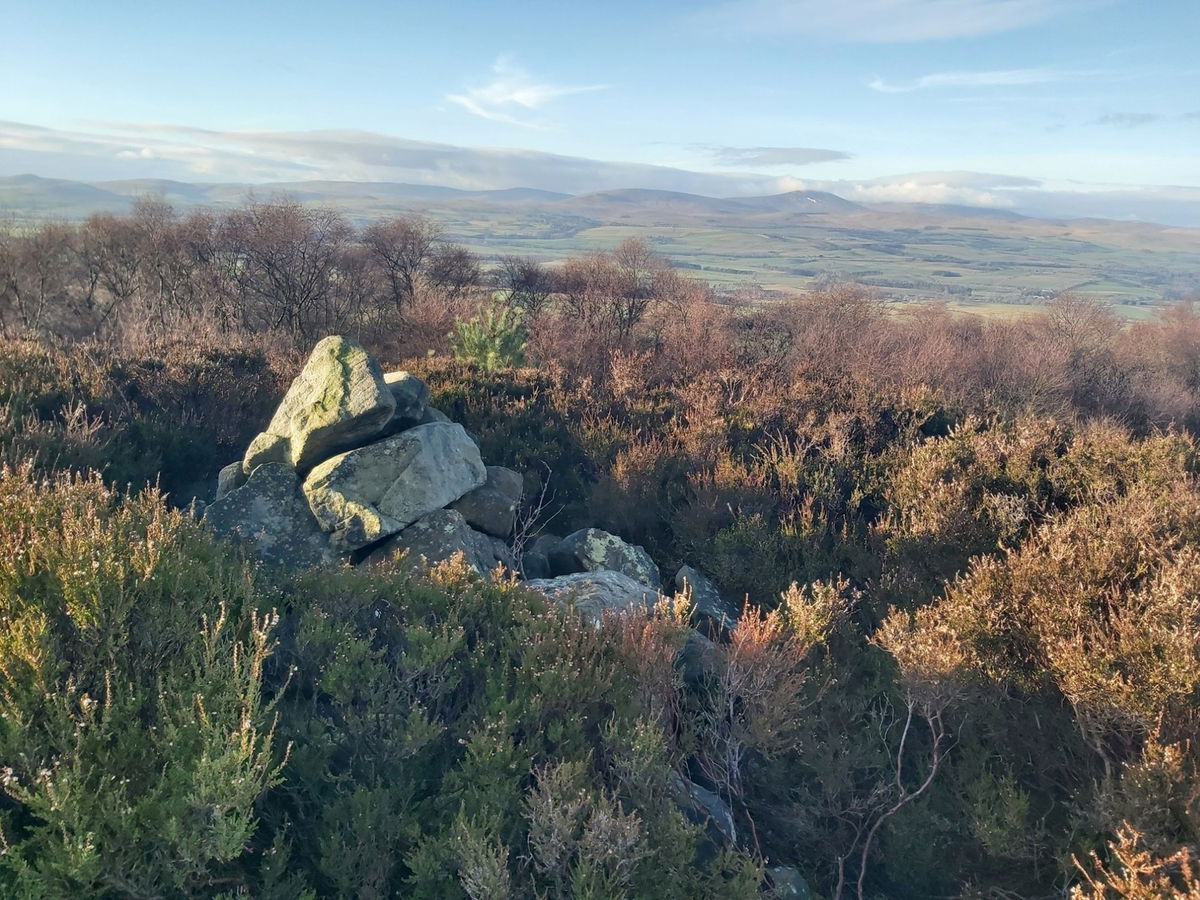 And another one in the distance. I did venture up to this one, but much preferred this photo from afar.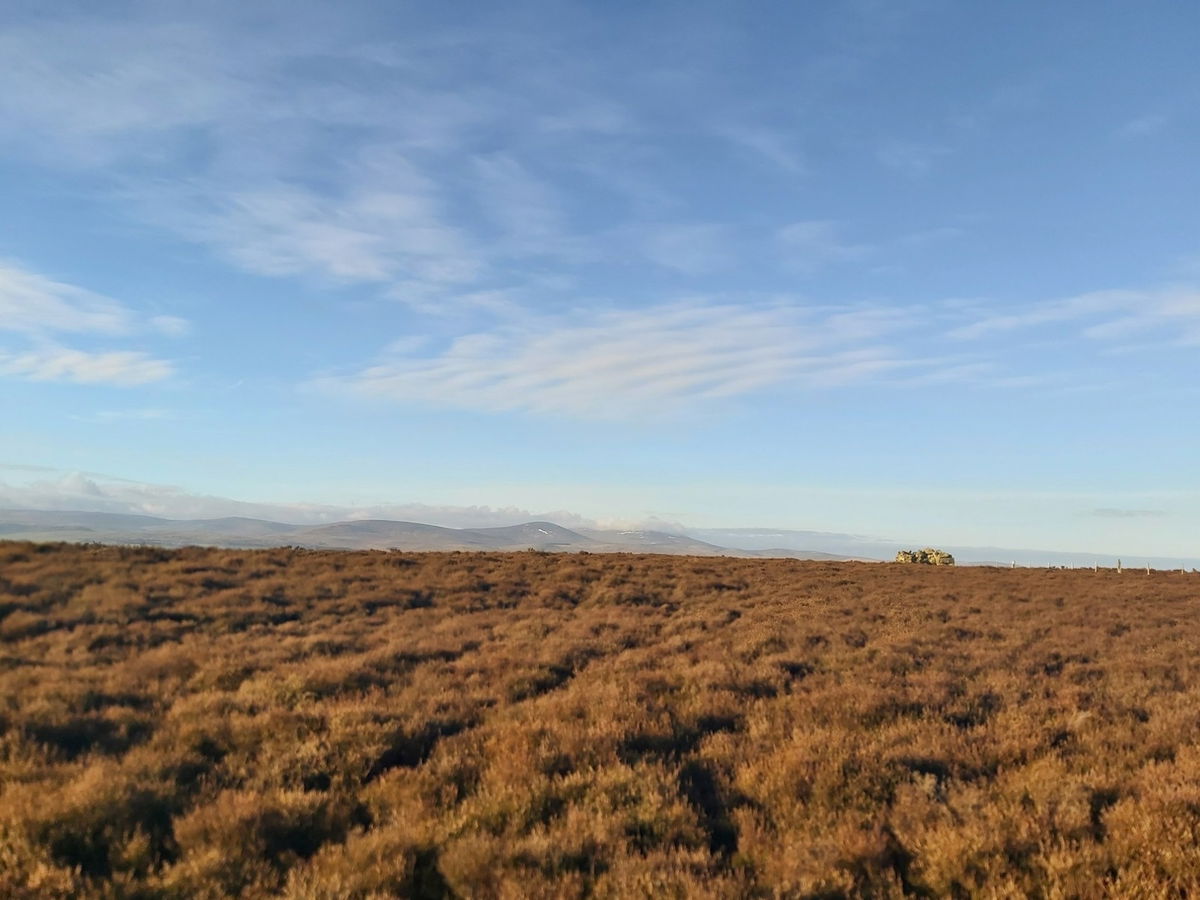 Always remember to have a regular look behind in case you are missing any amazing views like this one.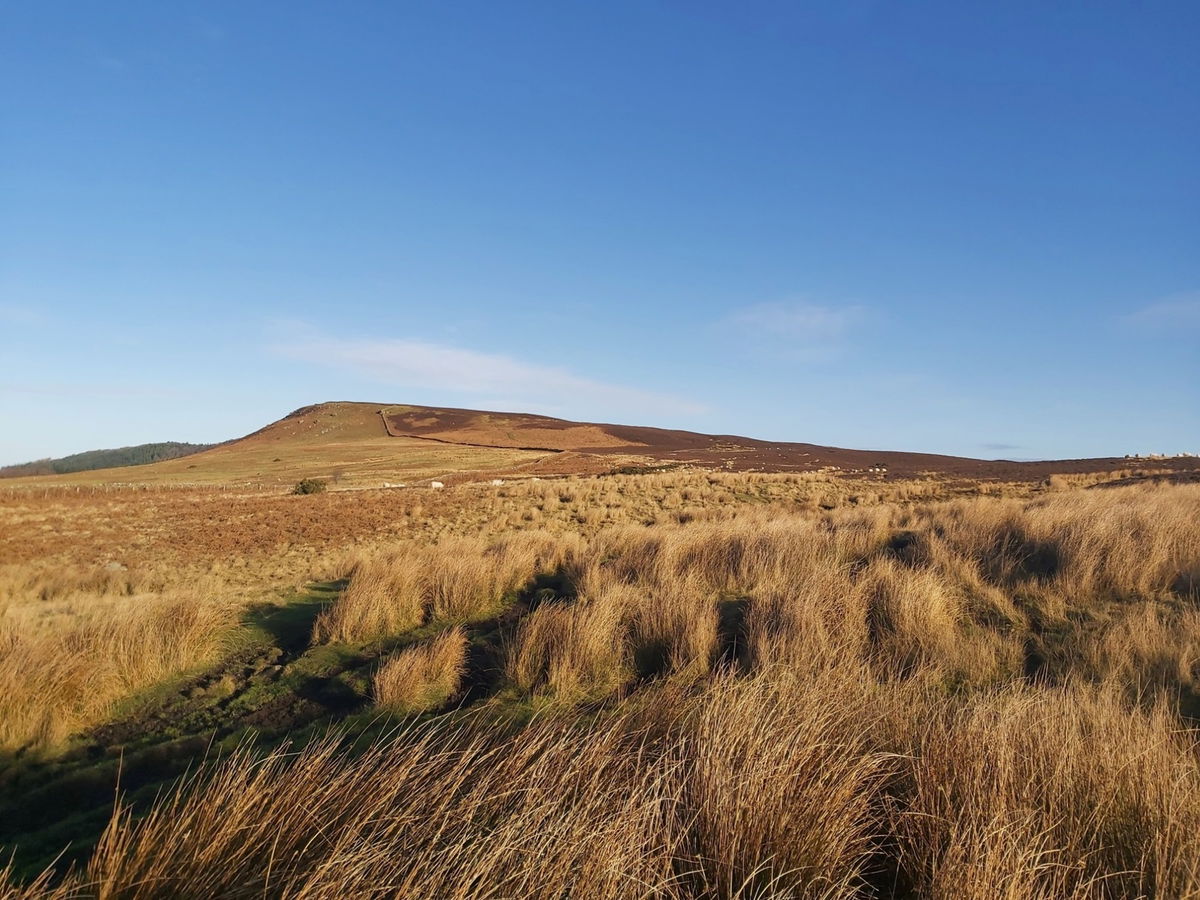 Now going to circle around Bewick Hill as according to the map there are cairns, cup and ring marks and also a hillfort up here. There is a permissive path around the north side, then open access land to the south. When you see this gate take the path left before you pass through it.
I'm onto open access land now, so time to have a wander to the top. It was a bit steep!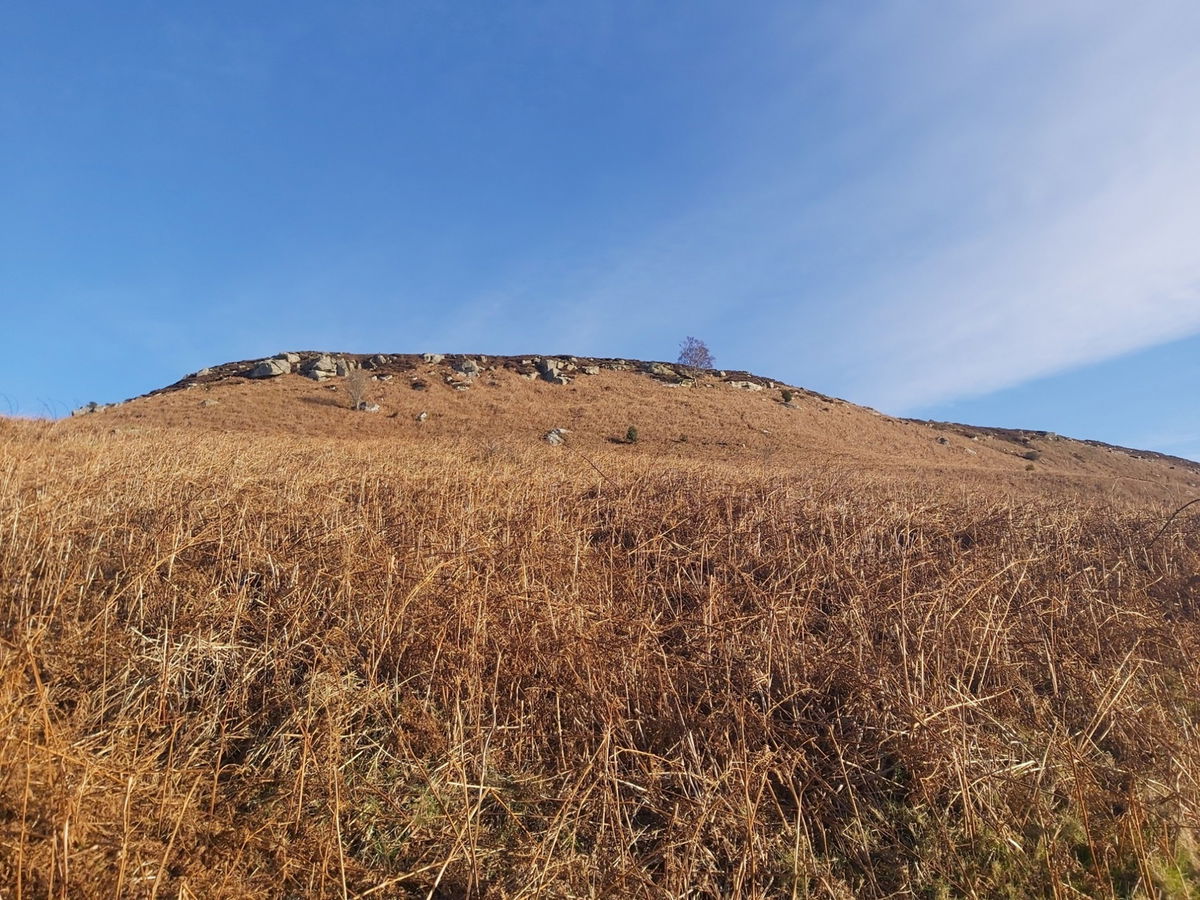 But the climb was rewarded with more lovely views over the Cheviots.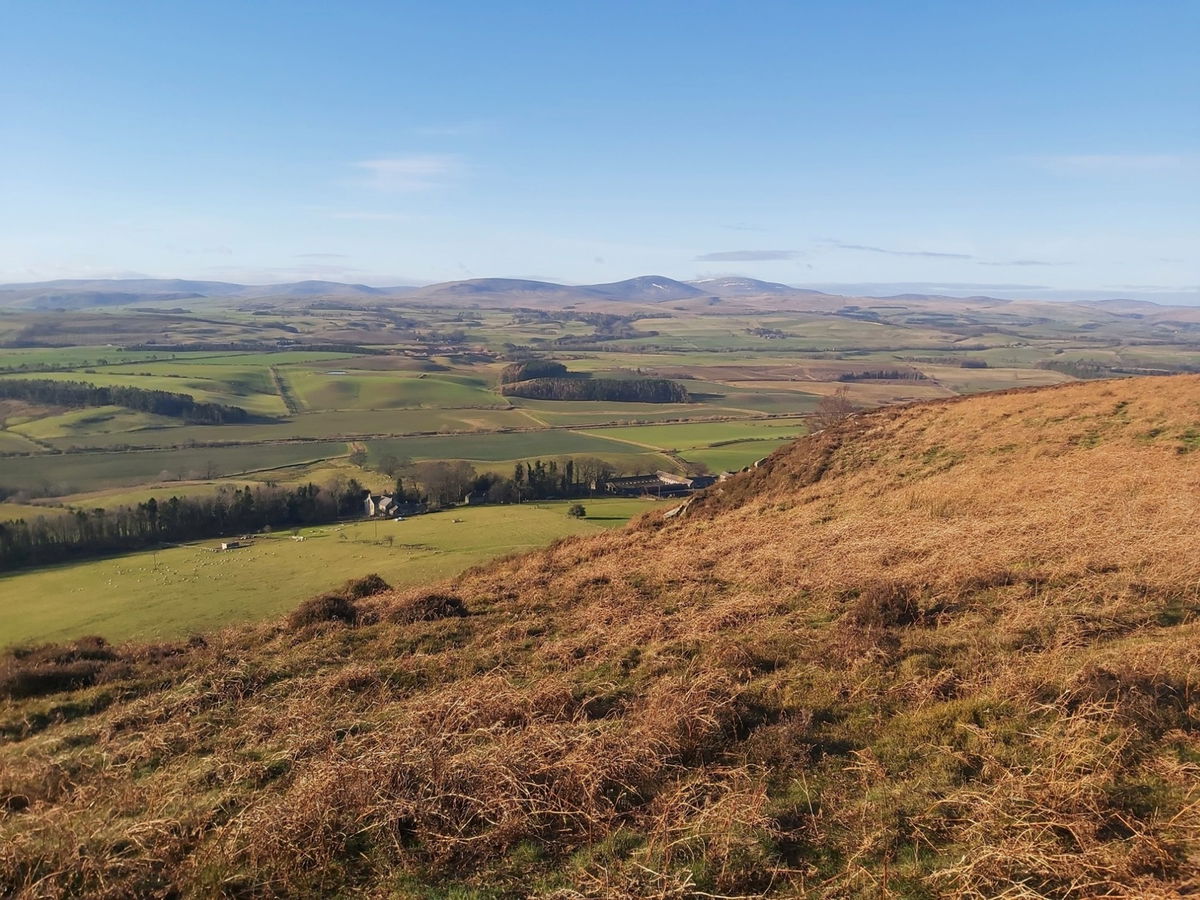 Can also see Ros Castle again peeking out in the distance.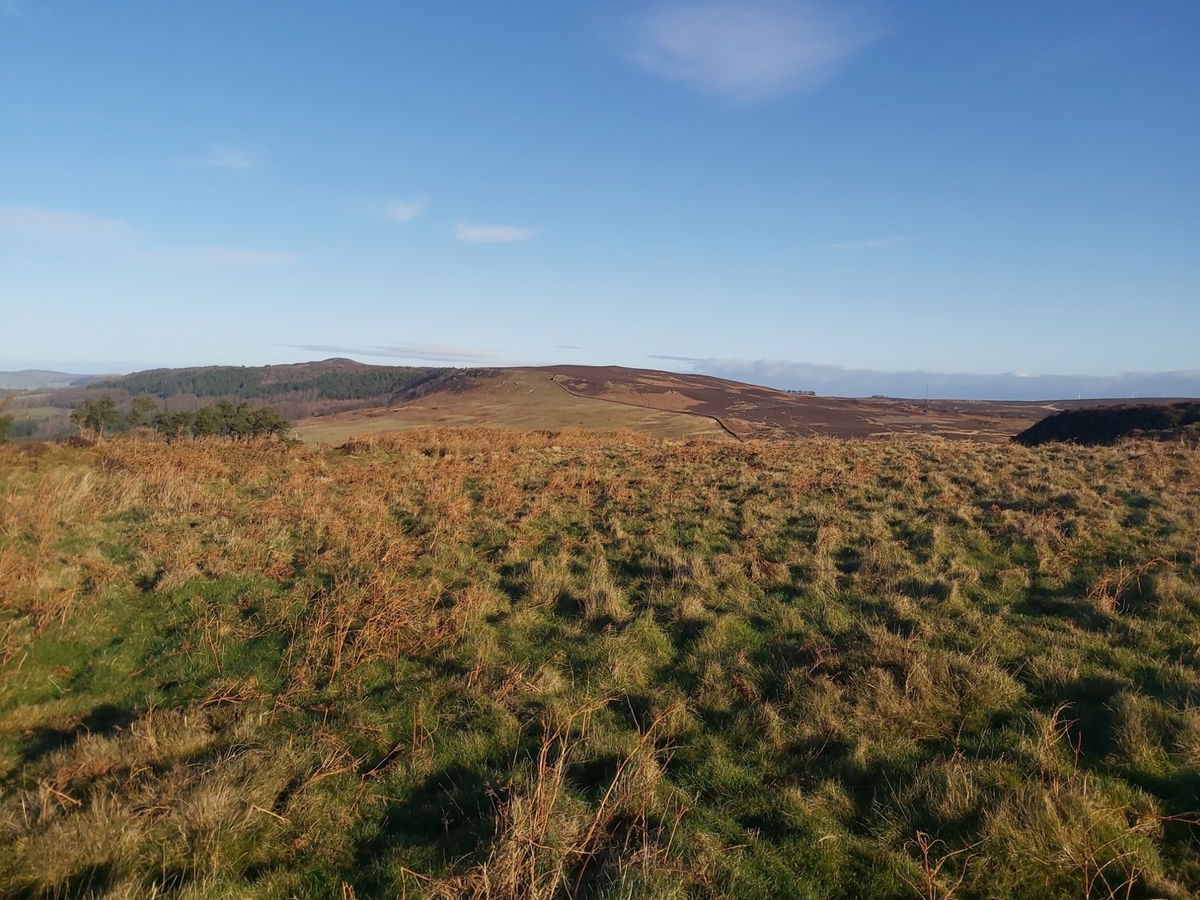 The main feature I had ascended for was a hillfort and it was apparently two side-by-side semi-circles. I could just make out the raised edges as I stood in what I guessed was the middle of them.
It would be much easier to see if I sent Red5 up to have a look.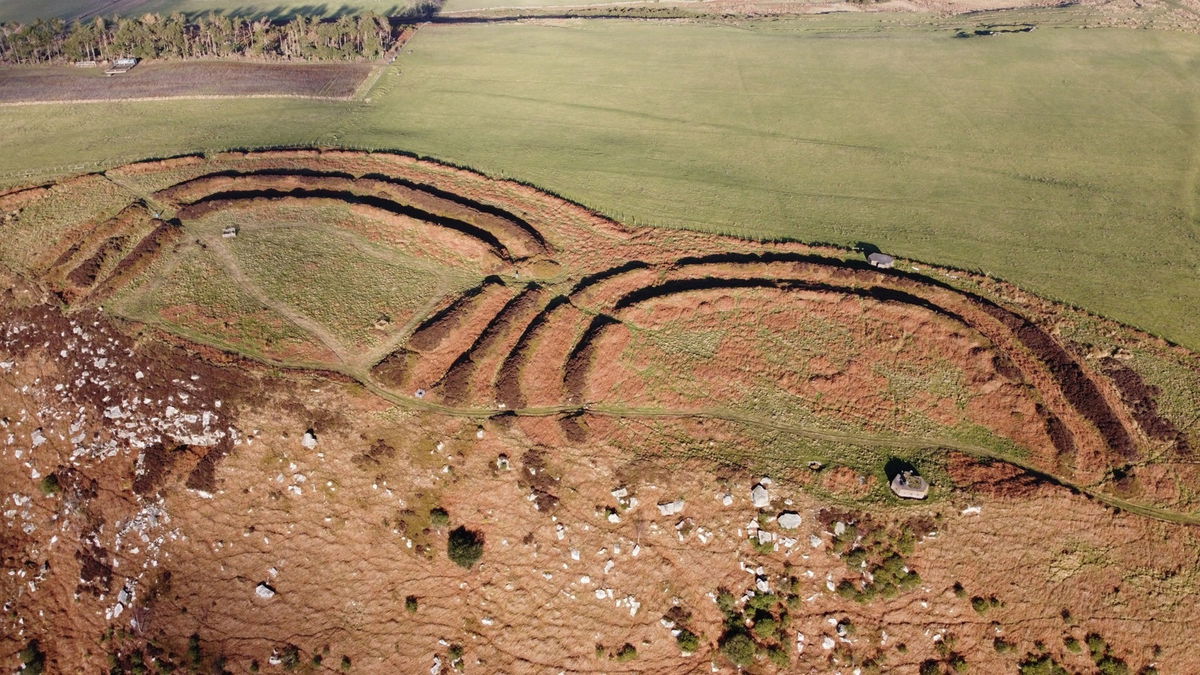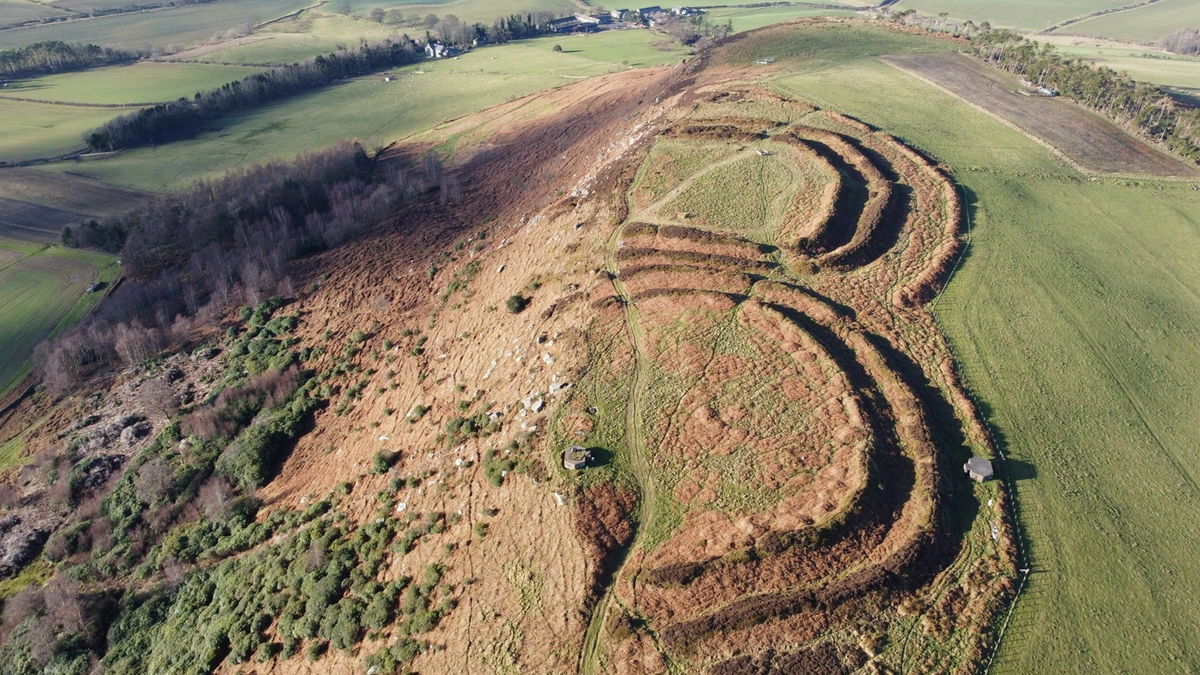 Now that is pretty spectacular! There were also a couple of pill boxes up here too. I easily found the southern one, but didn't realise there was another until I saw the aerial shots when back home.
Heading east off the hill I look out for some of the cup and rings mark that were indicated on the map.
Also some snow up here too!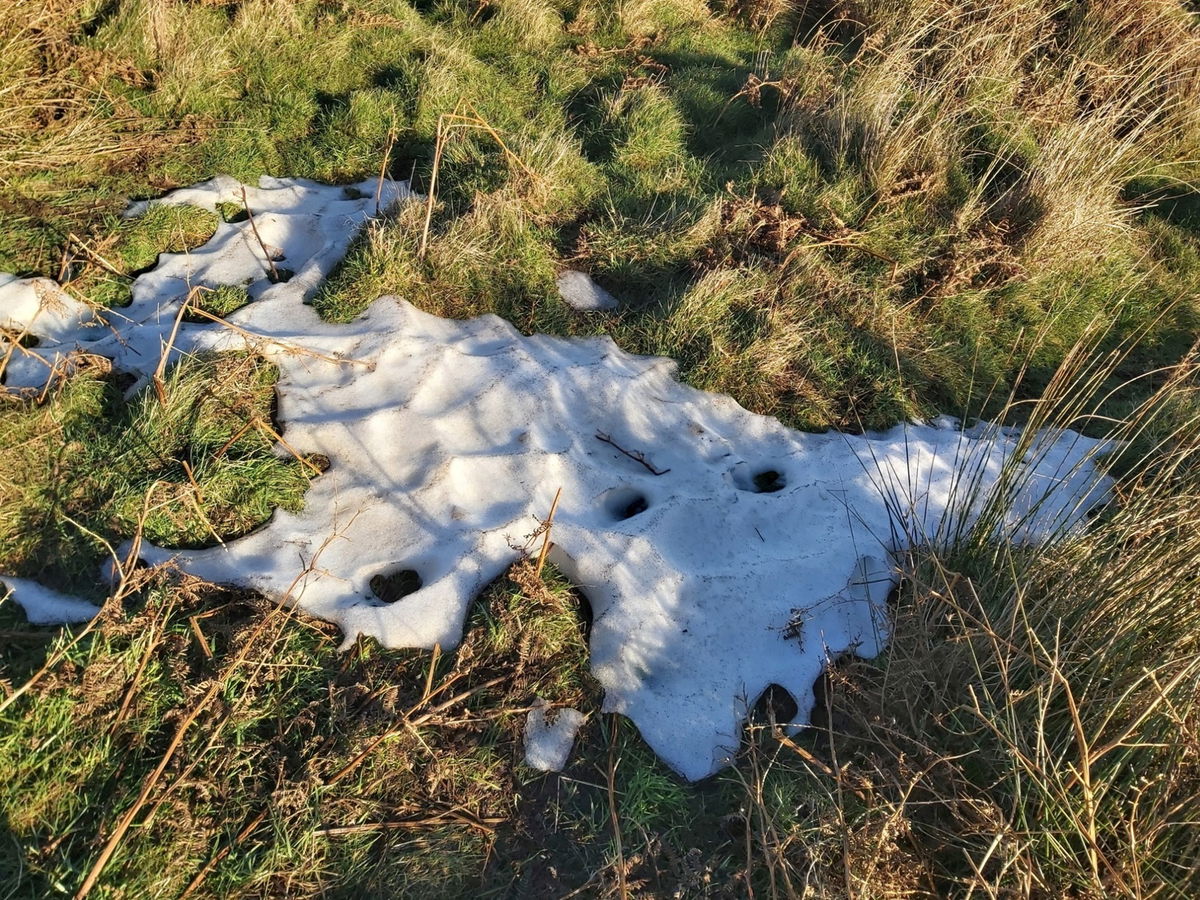 A final look back towards the hillfort on Bewick Hill as I head down back onto the moors.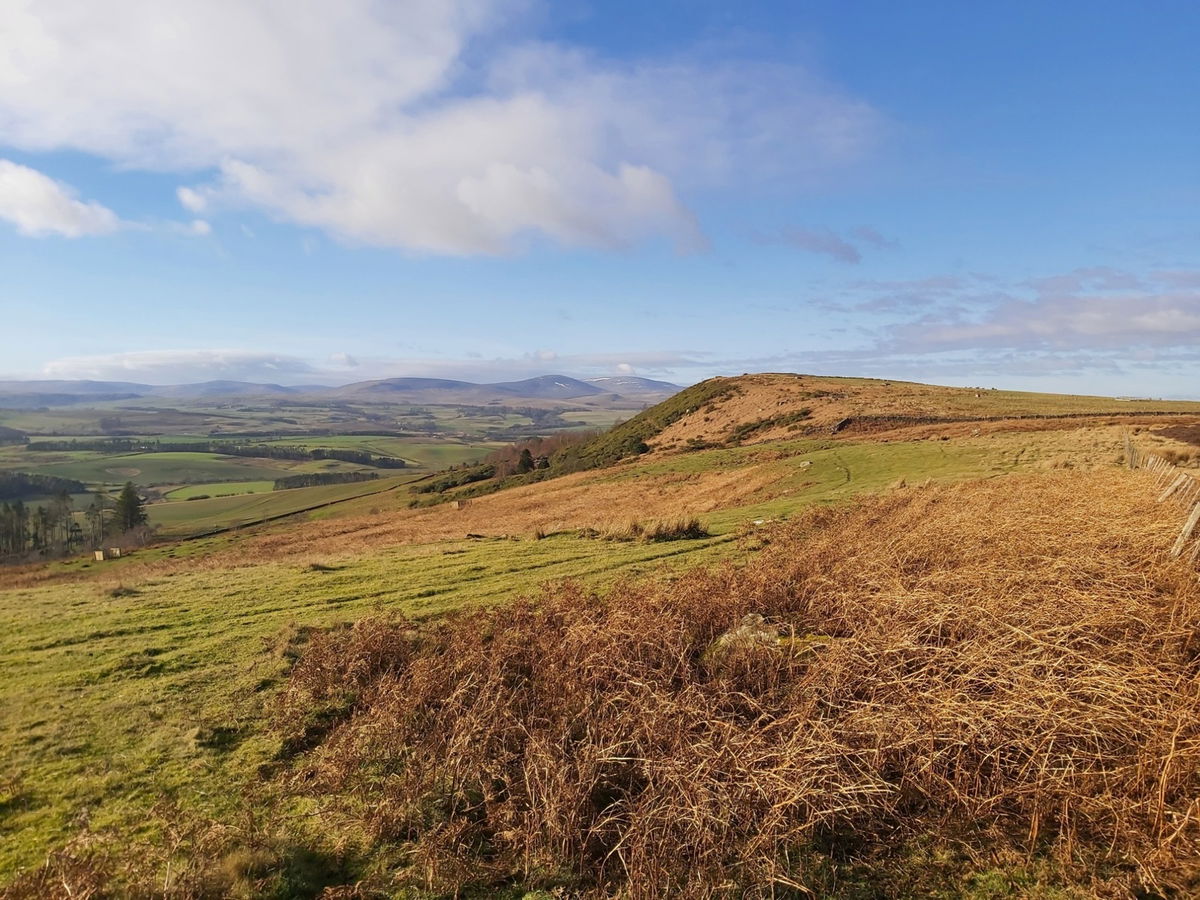 Next place to visit is where the Harehope Burn runs through Corbie Crags and Grey Mare's Crag. Just a short wander away.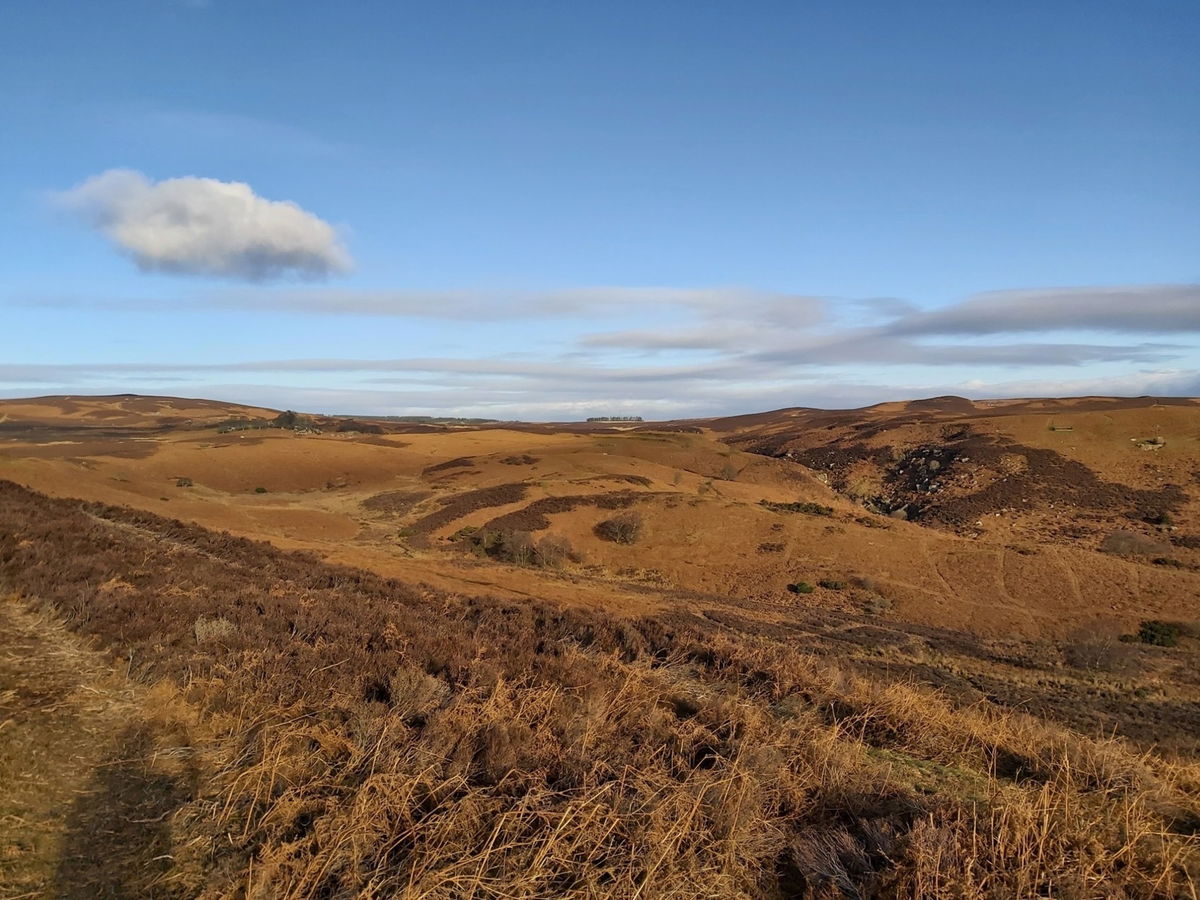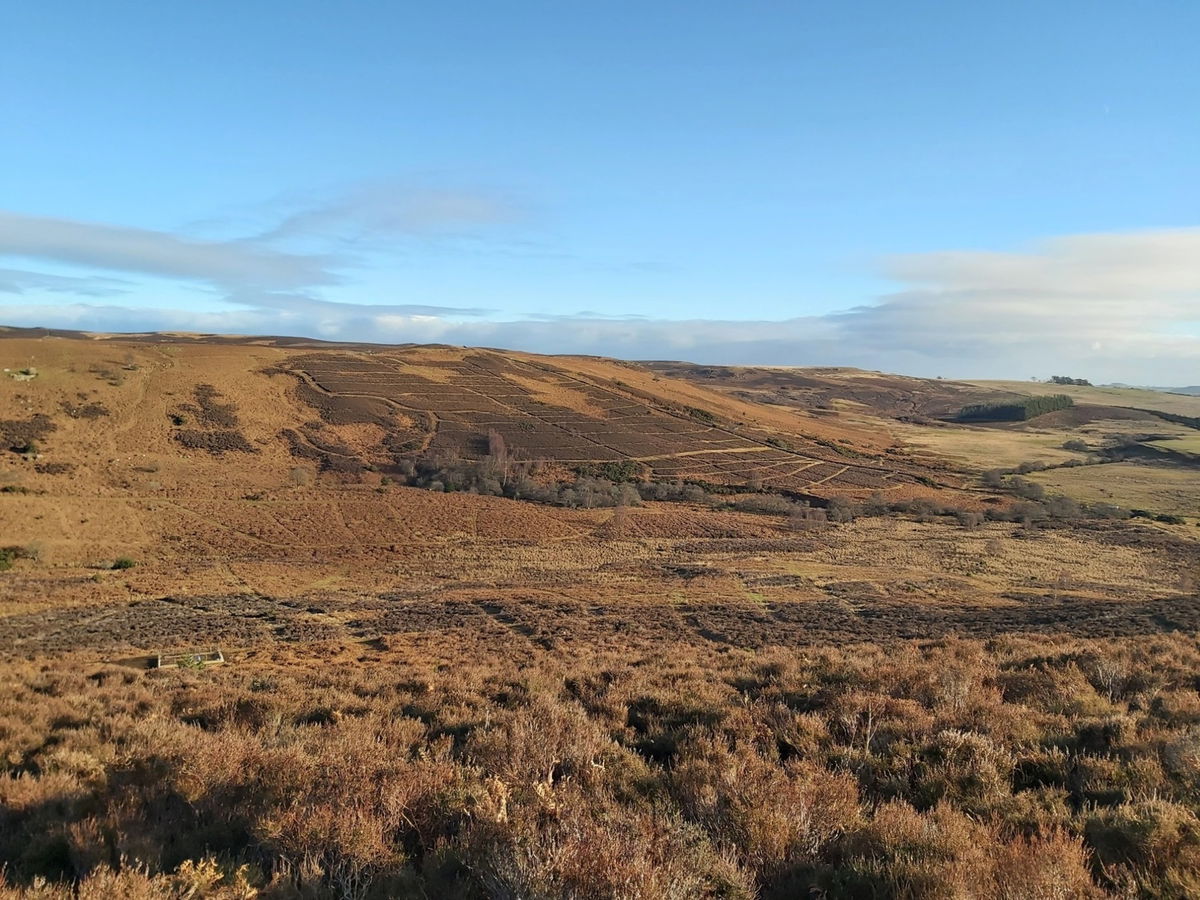 Wasn't sure how I was going to cross the burn, but then I spied a little bridge traversing it.
I wanted to head this side of the gorge as I saw this amazing precariously perched boulder and obviously had to investigate.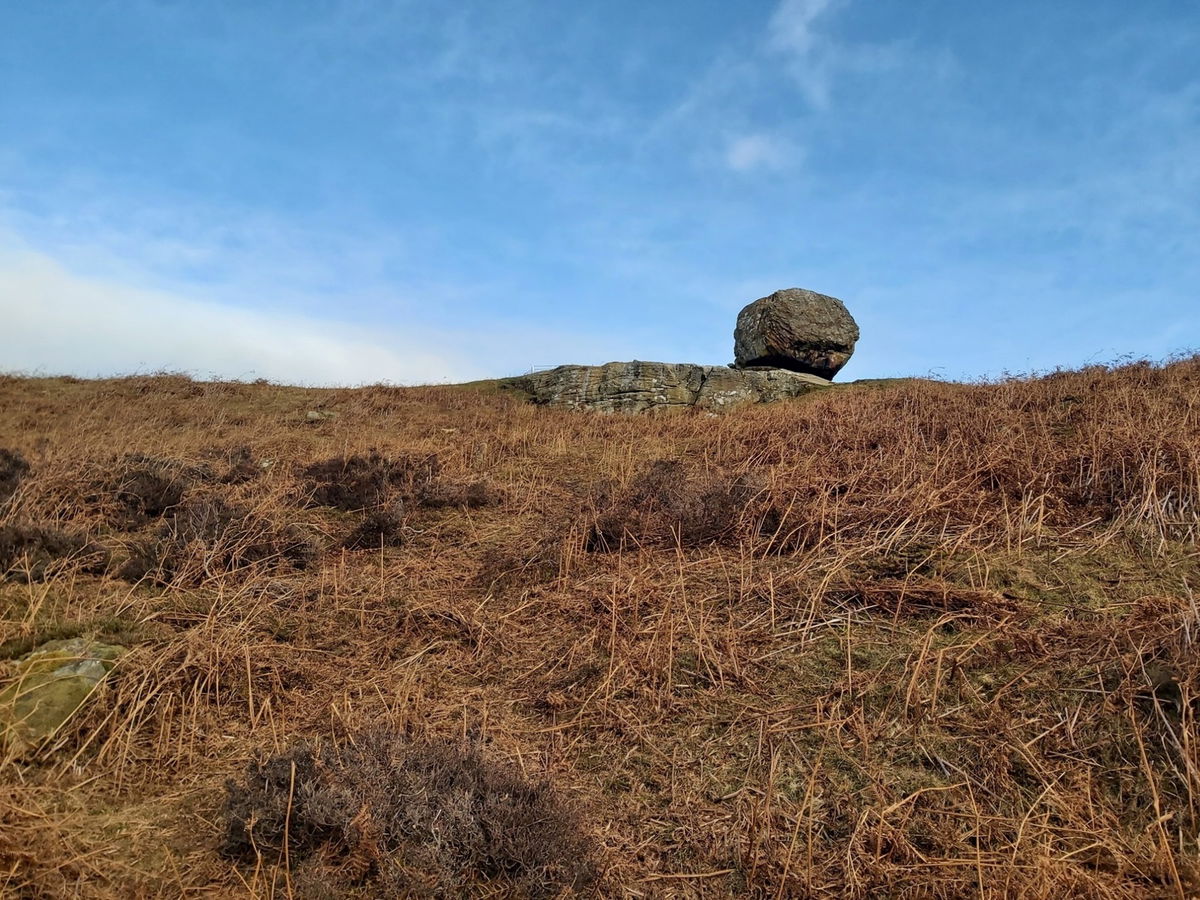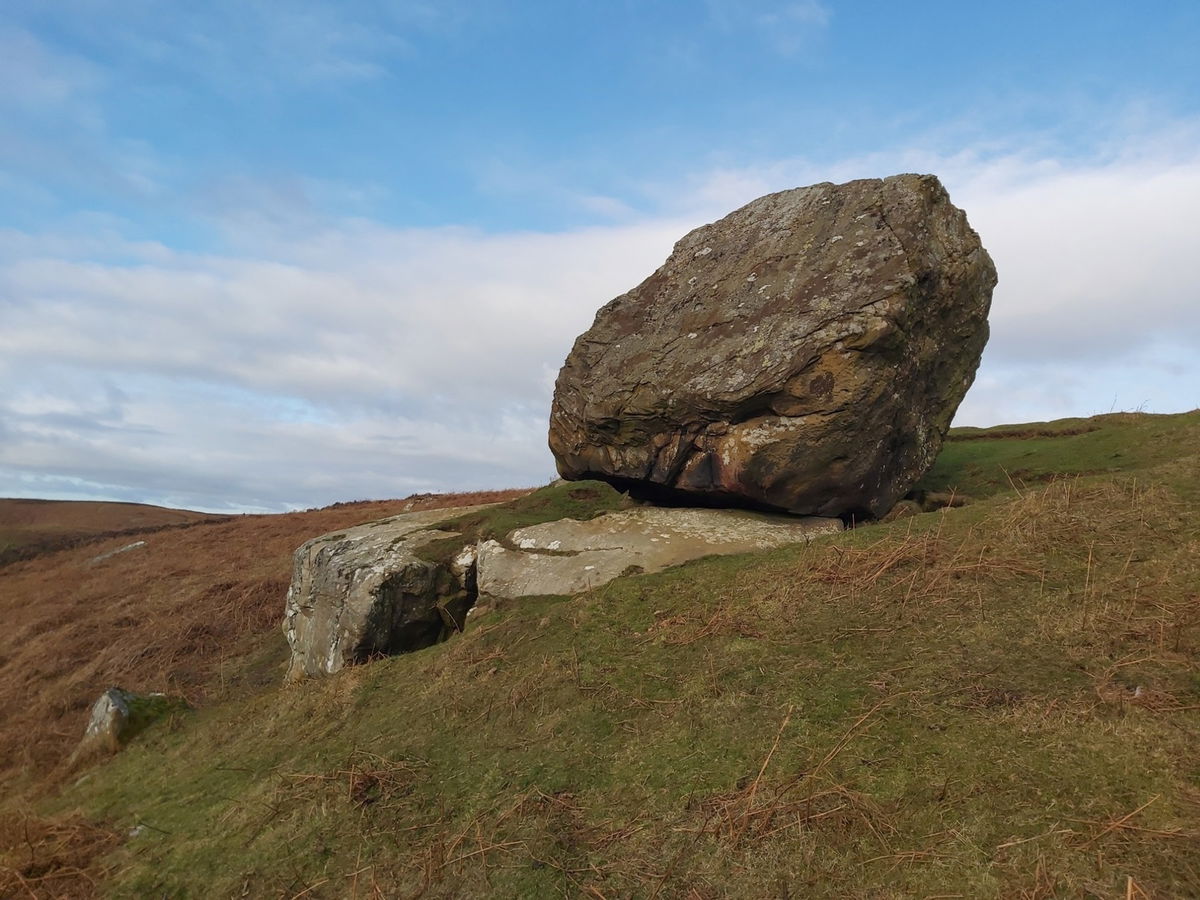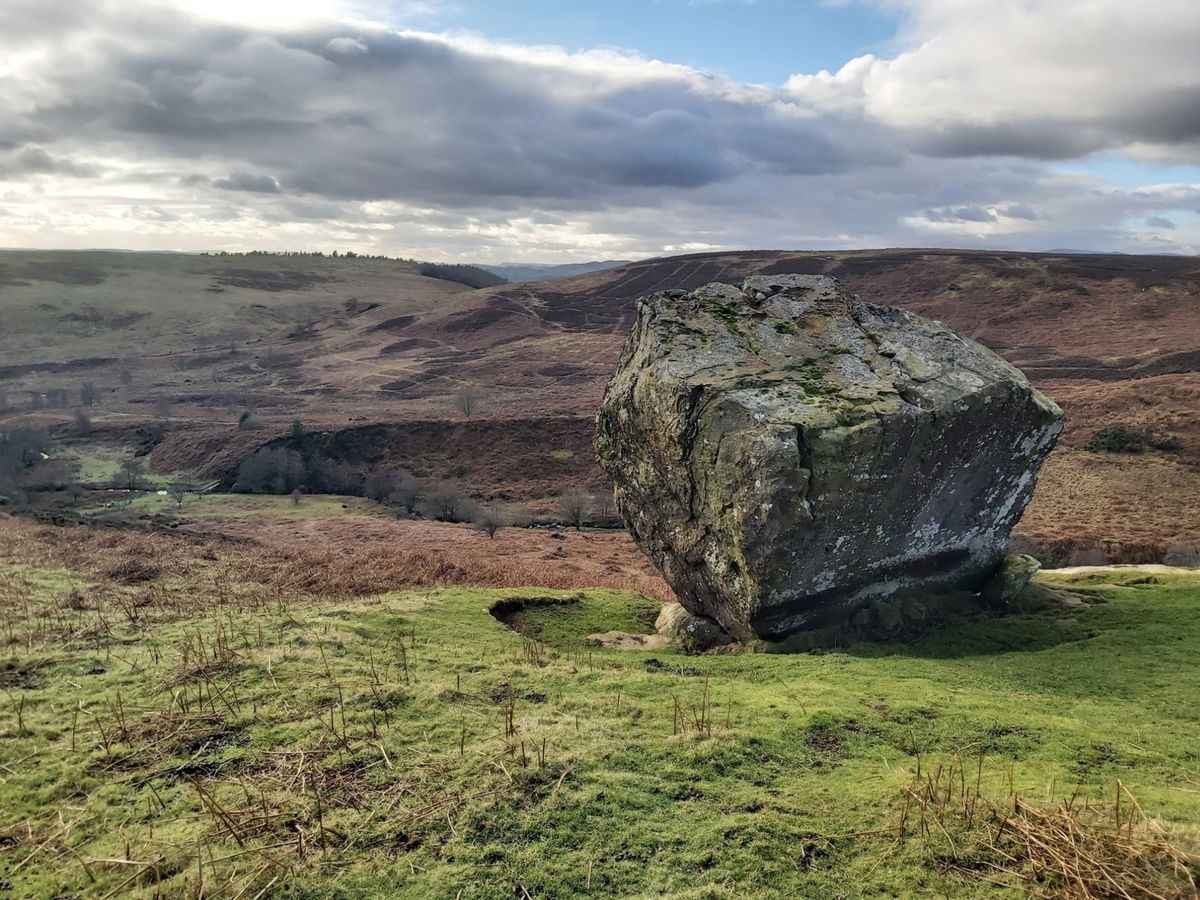 My plan here was to walk to the top of the gorge and take a few photos of the crags, but then I noticed a little bridge at the bottom.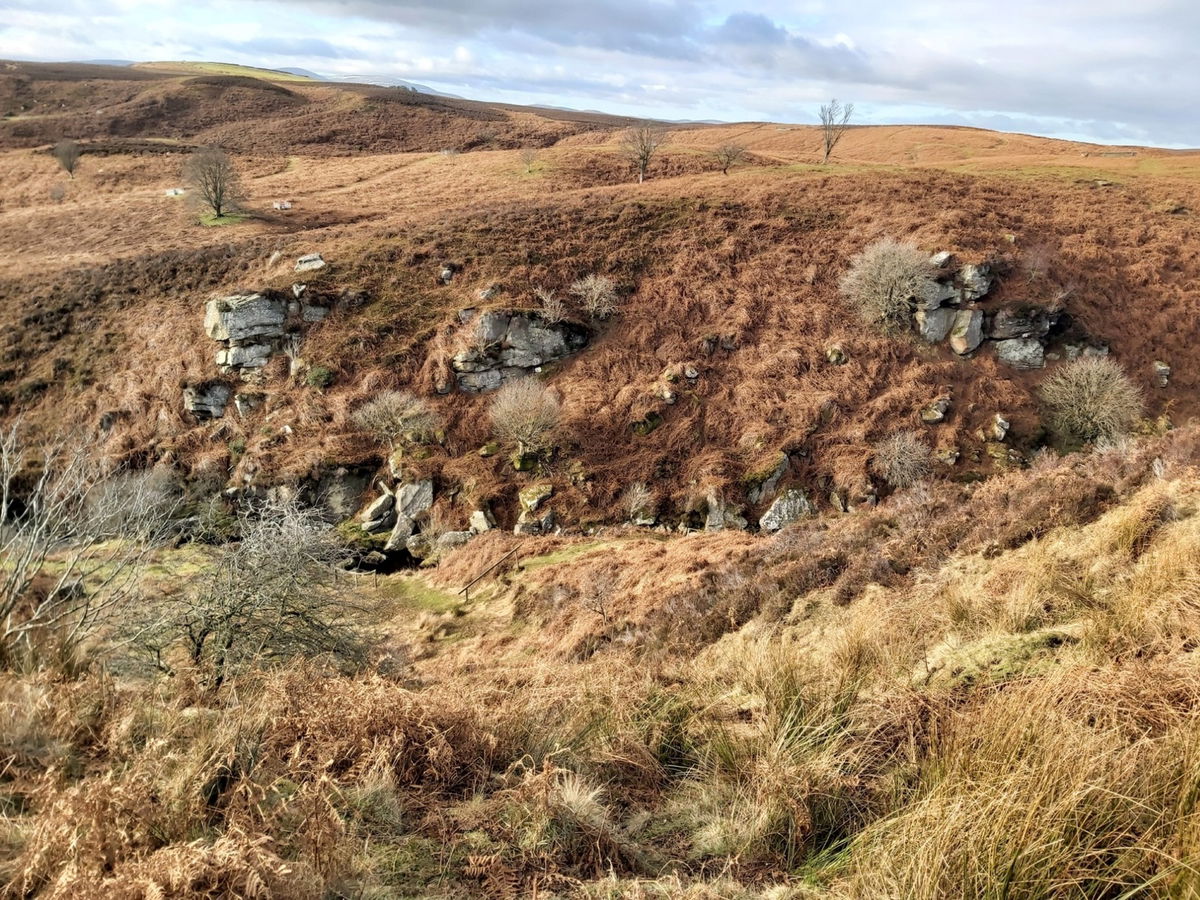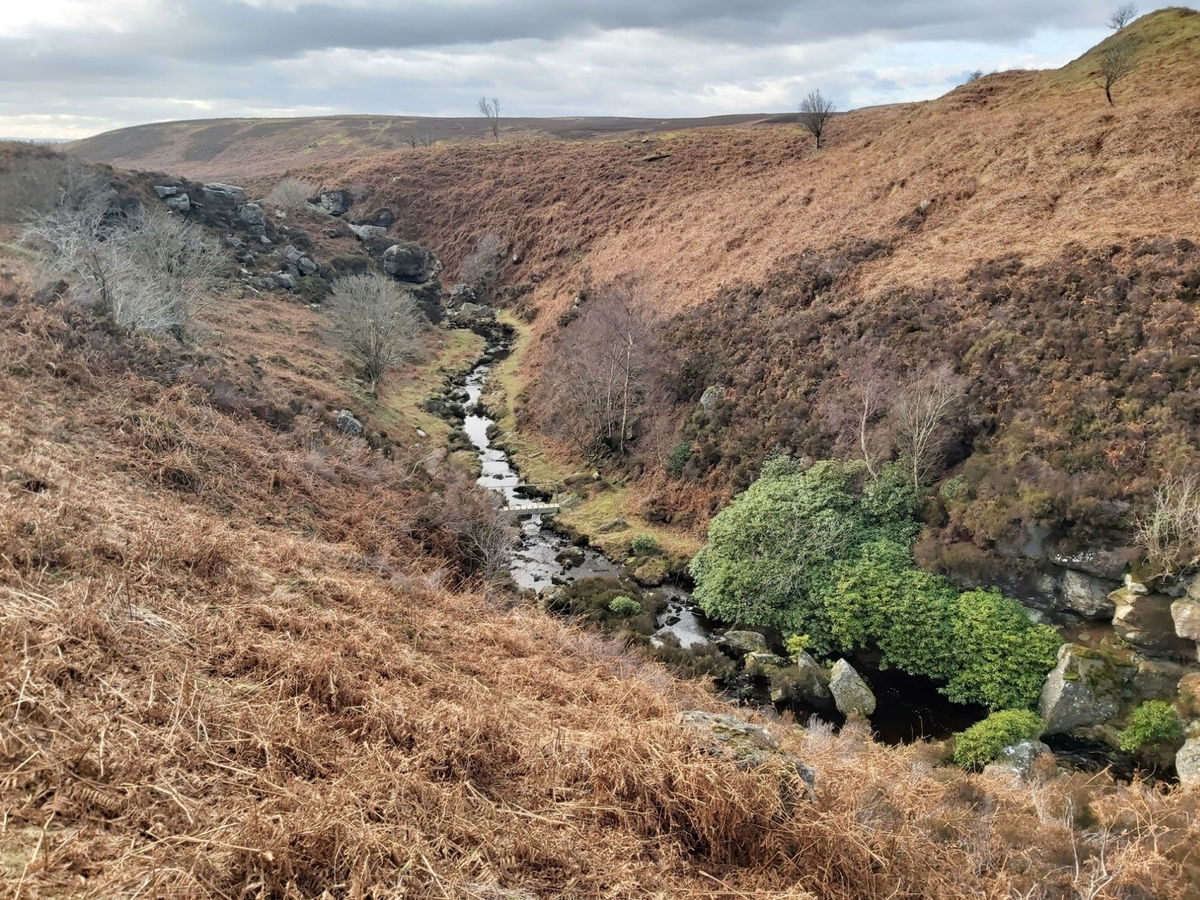 So I headed down to have a look and found the most wonderful little gorge with bridges criss-crossing it.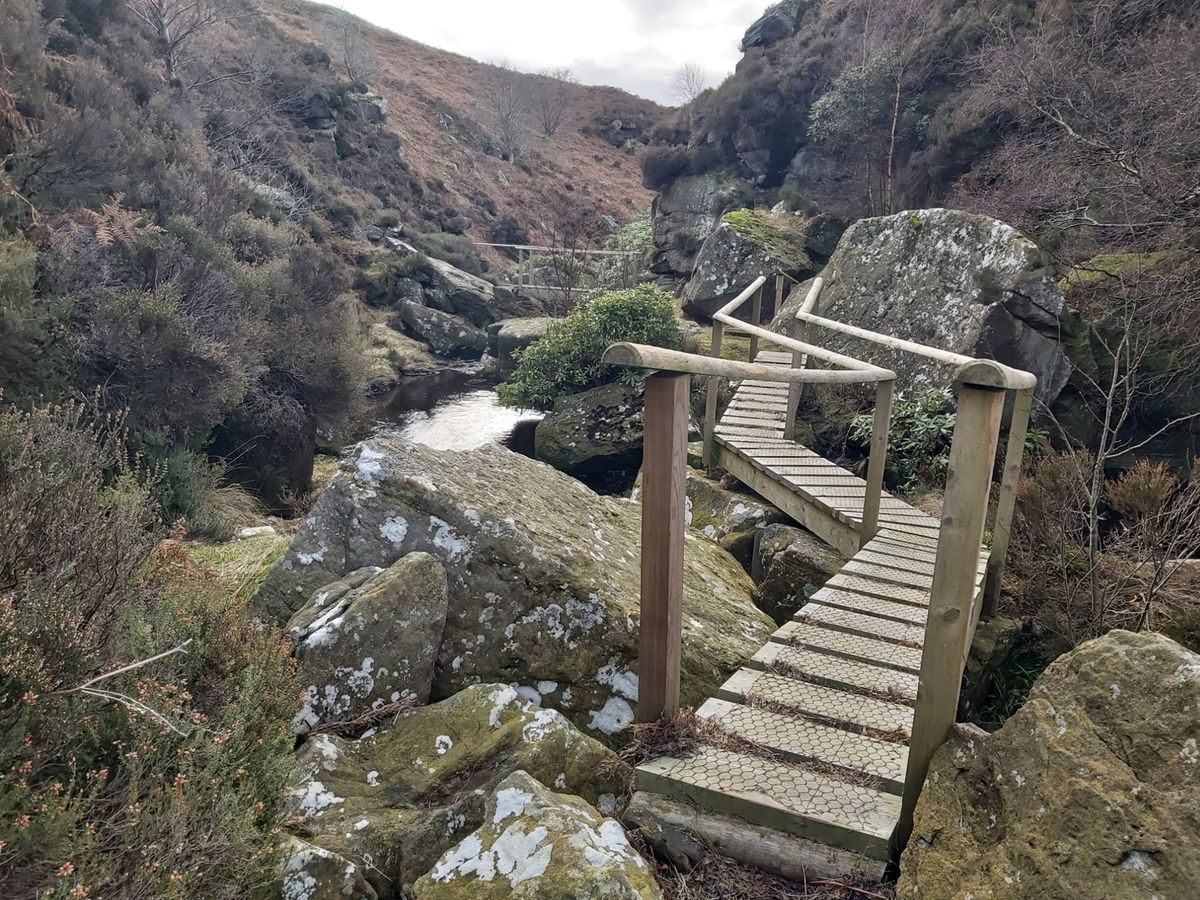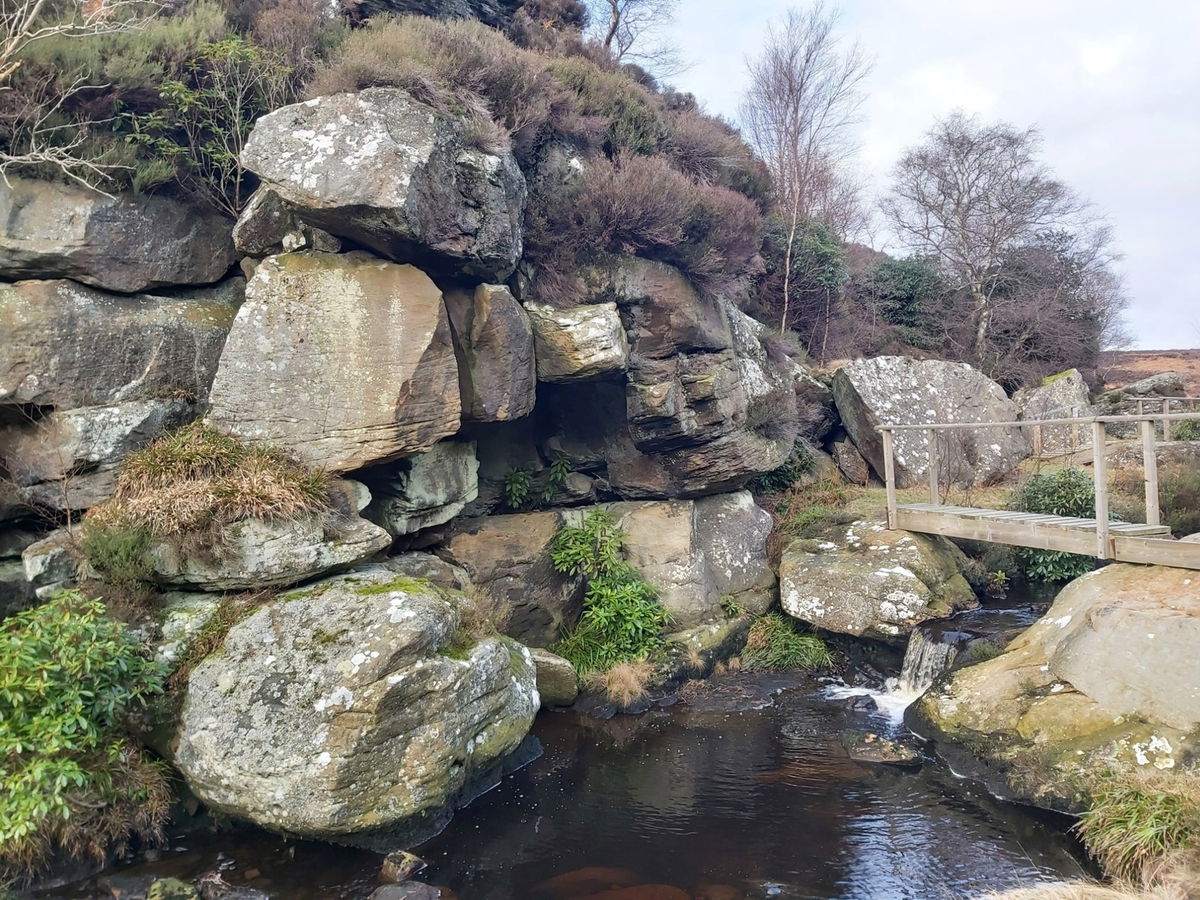 Lots of little mini waterfalls all the way down.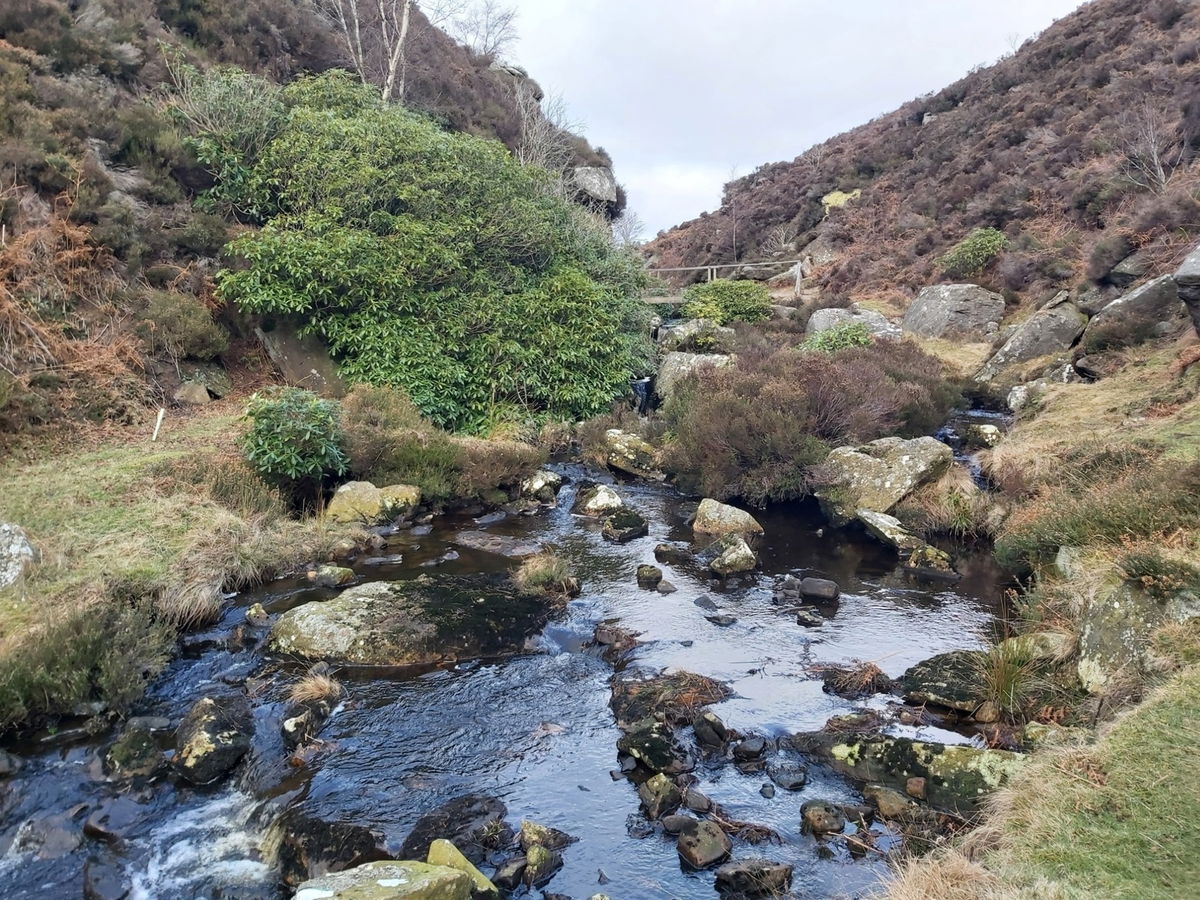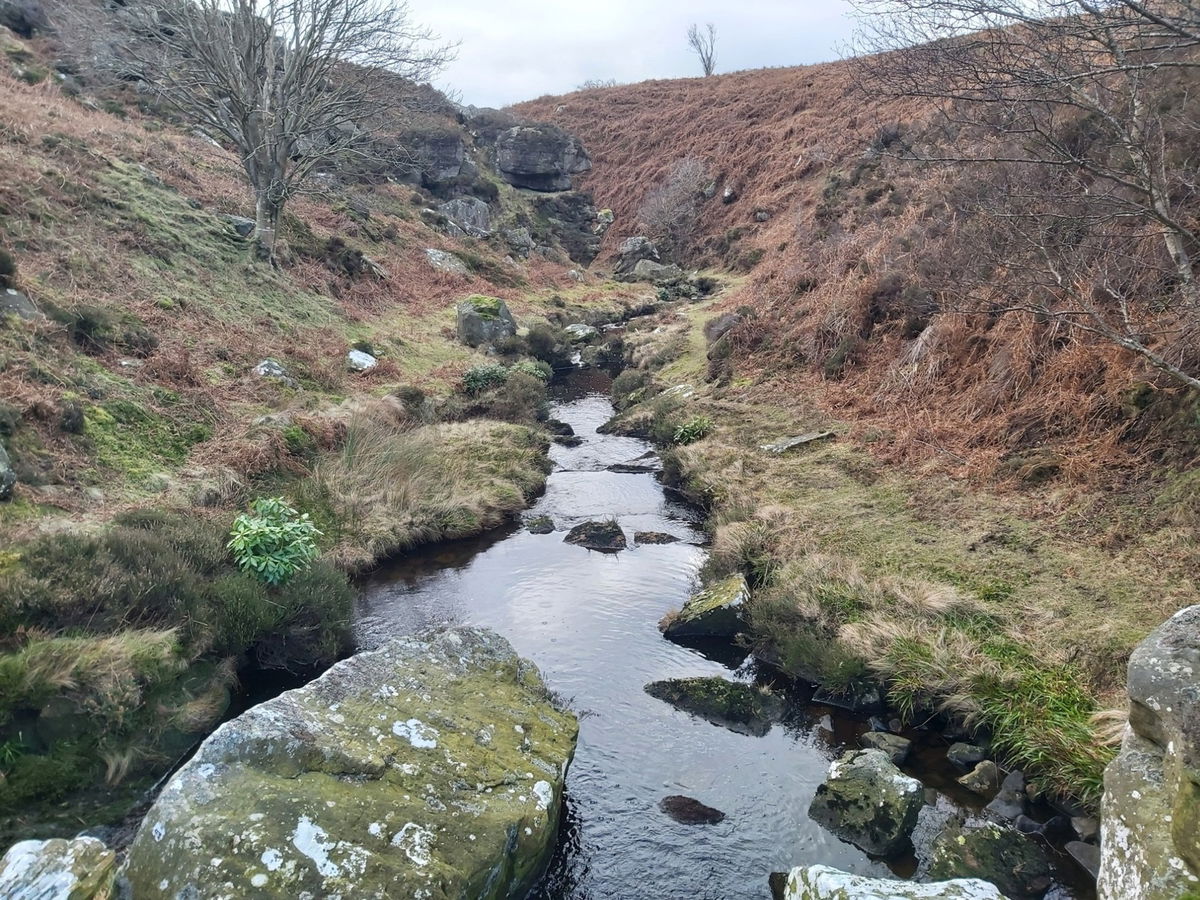 Then a huge rock face over the little meandering burn.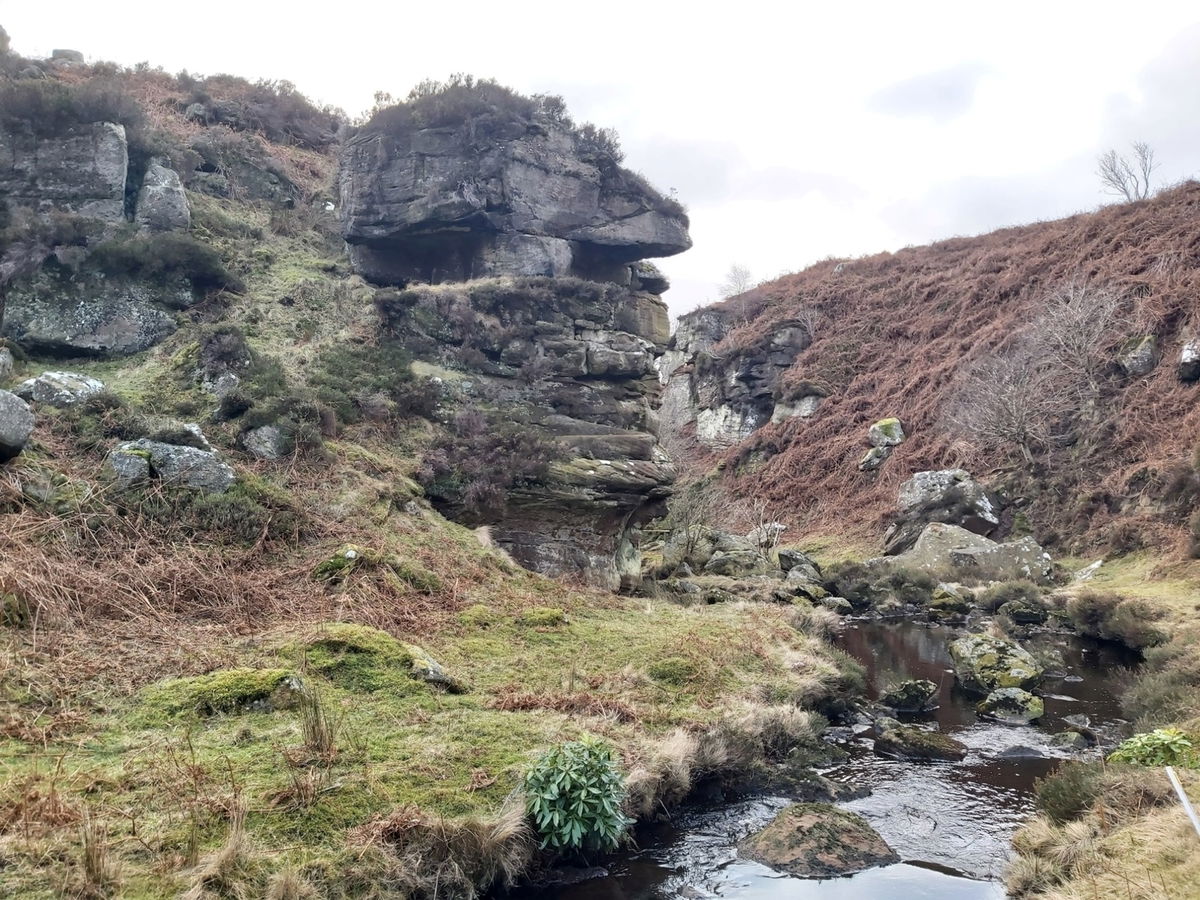 Such a pretty little gorge and a new favourite place!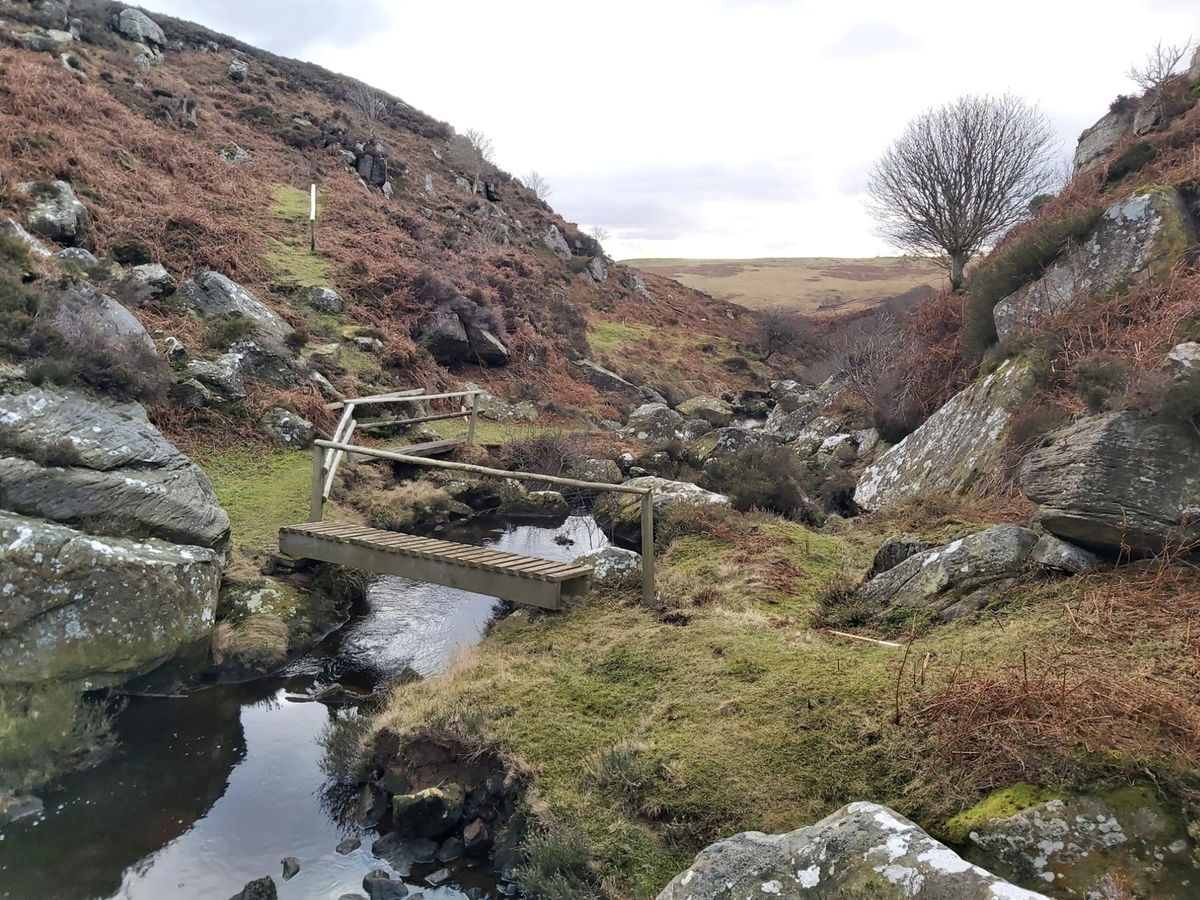 Then a lovely chunky waterfall.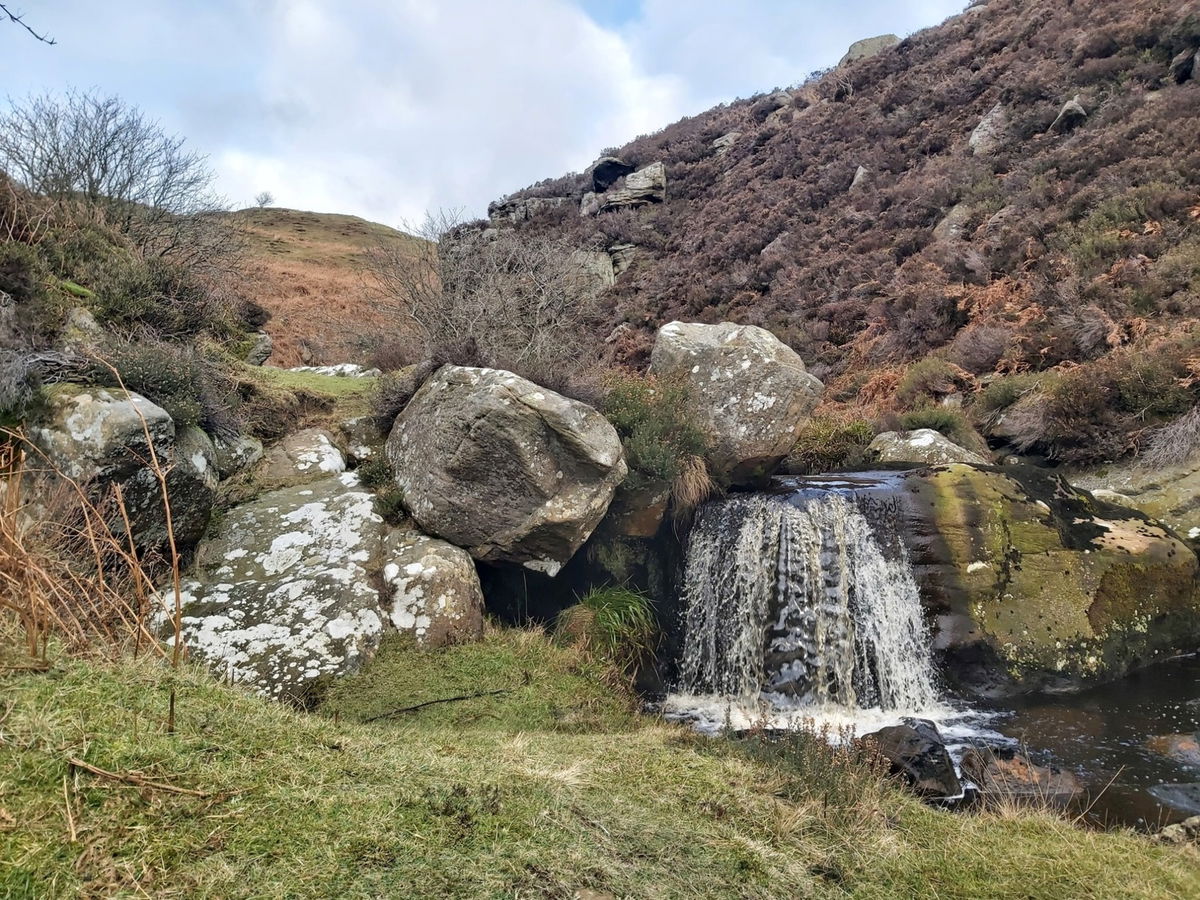 Even more bridges to cross as I header towards the end of the gorge.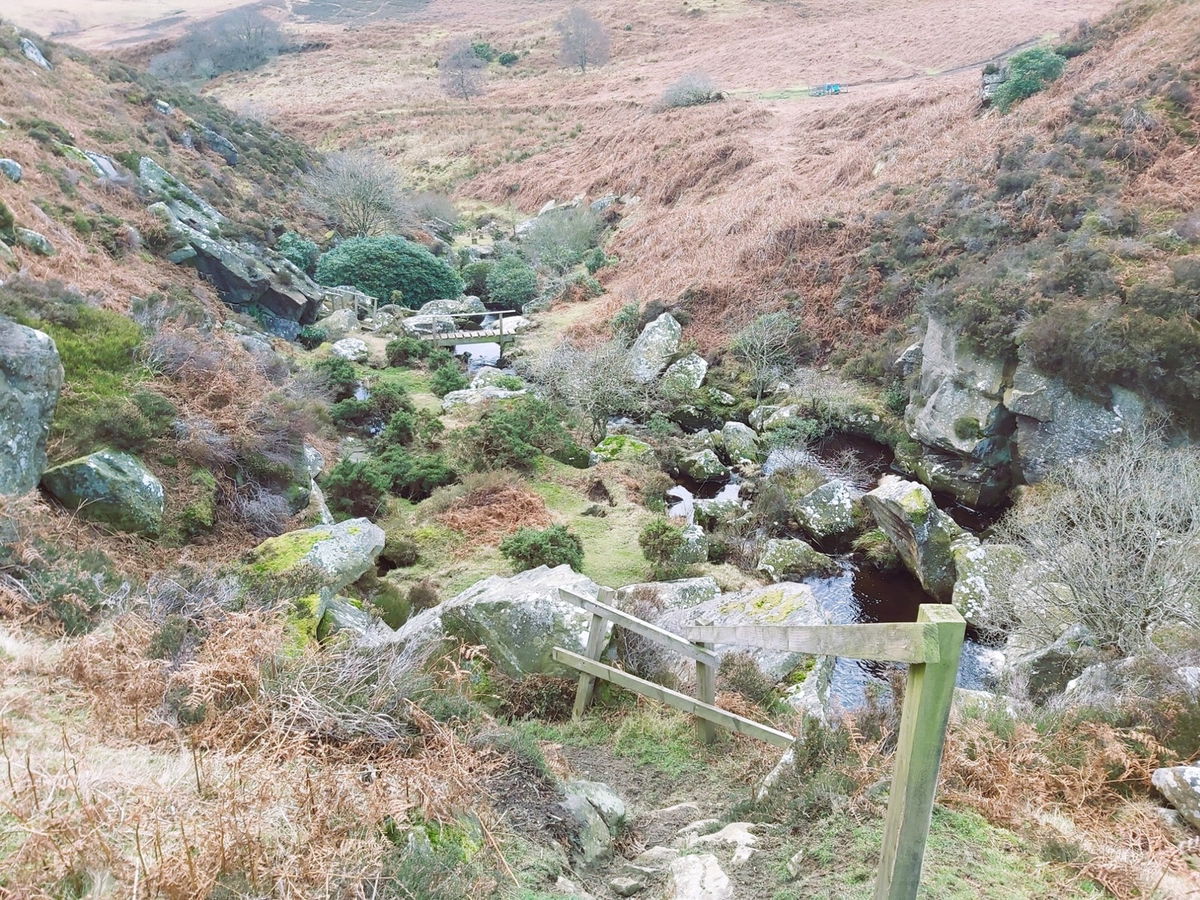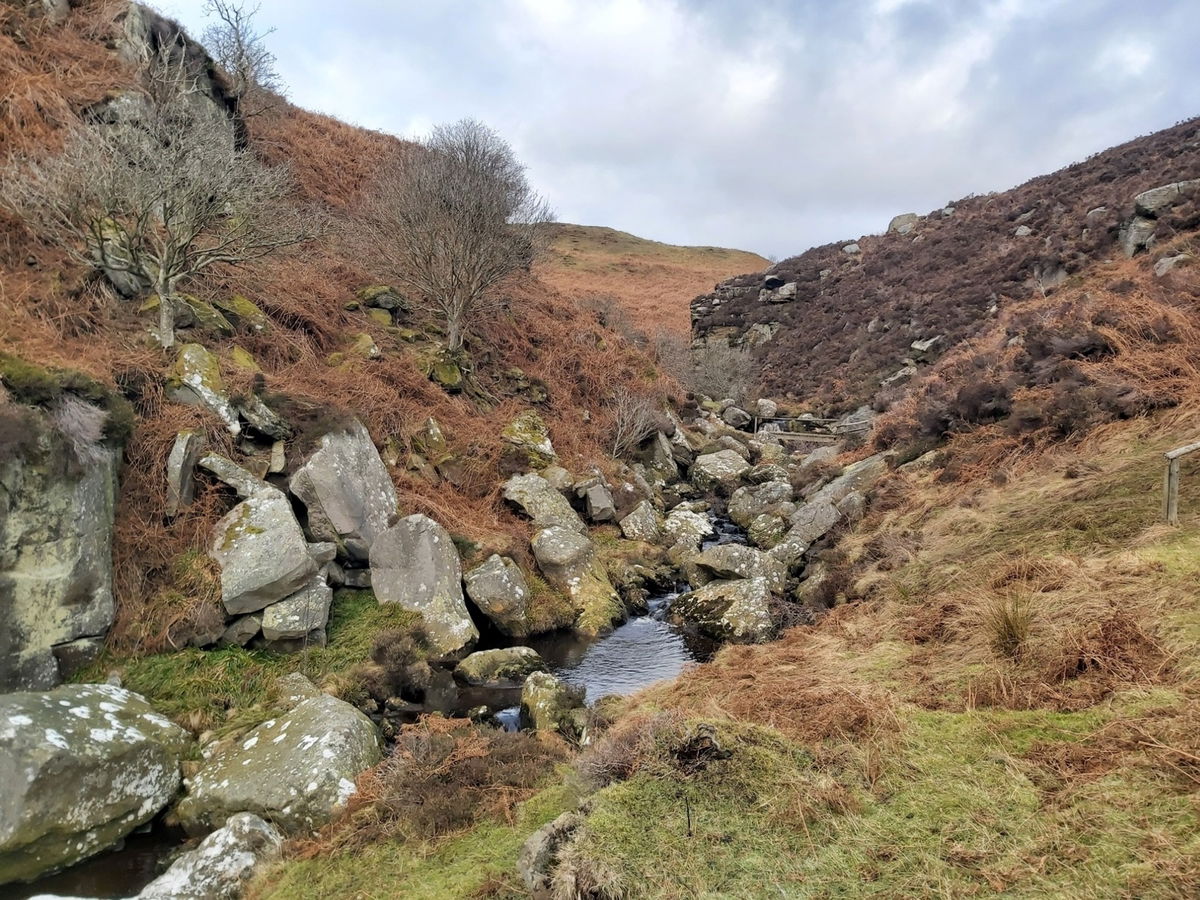 Finally at the bottom and one final picture of a tiny waterfall and then I head up the bank onto the west side.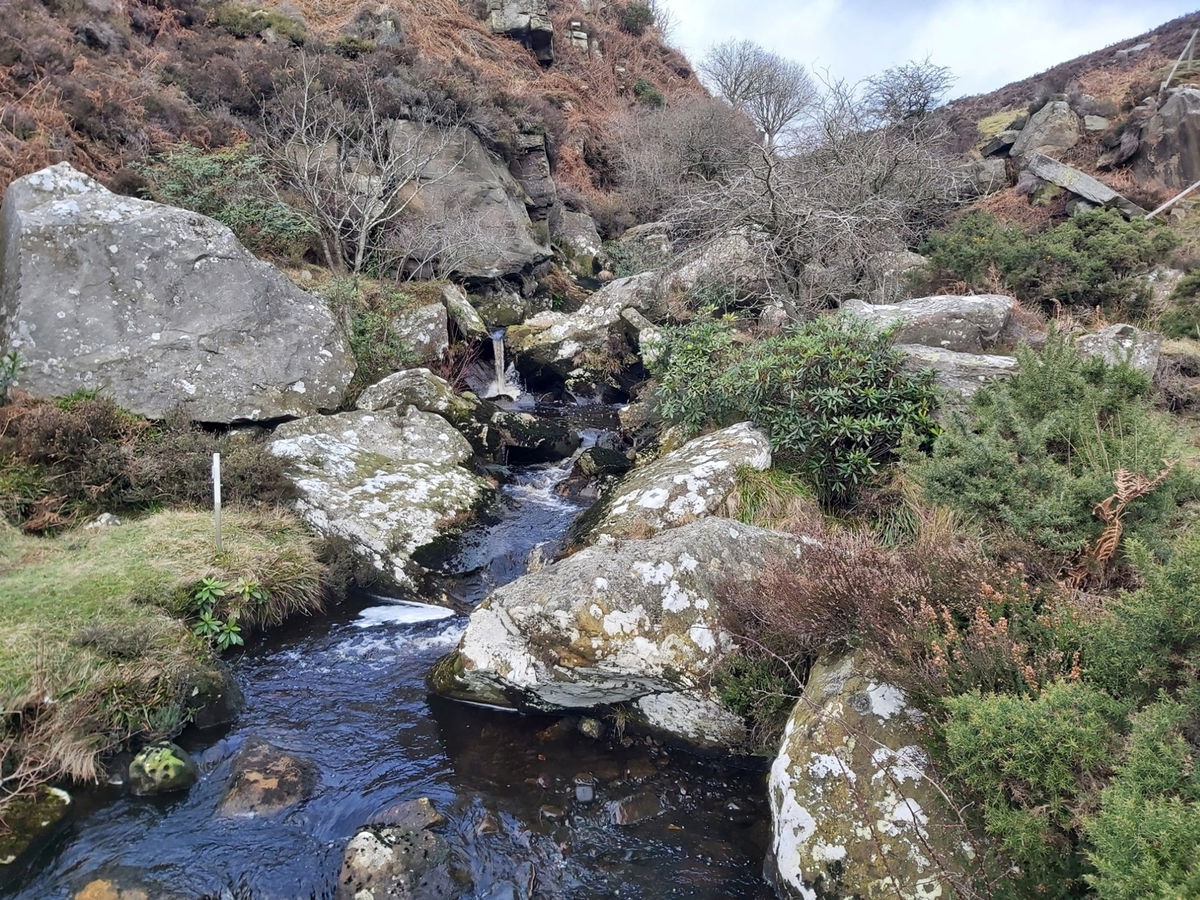 Overlooking the gorge is another hillfort. Doesn't look as spectacular as the last one, but always worth a look.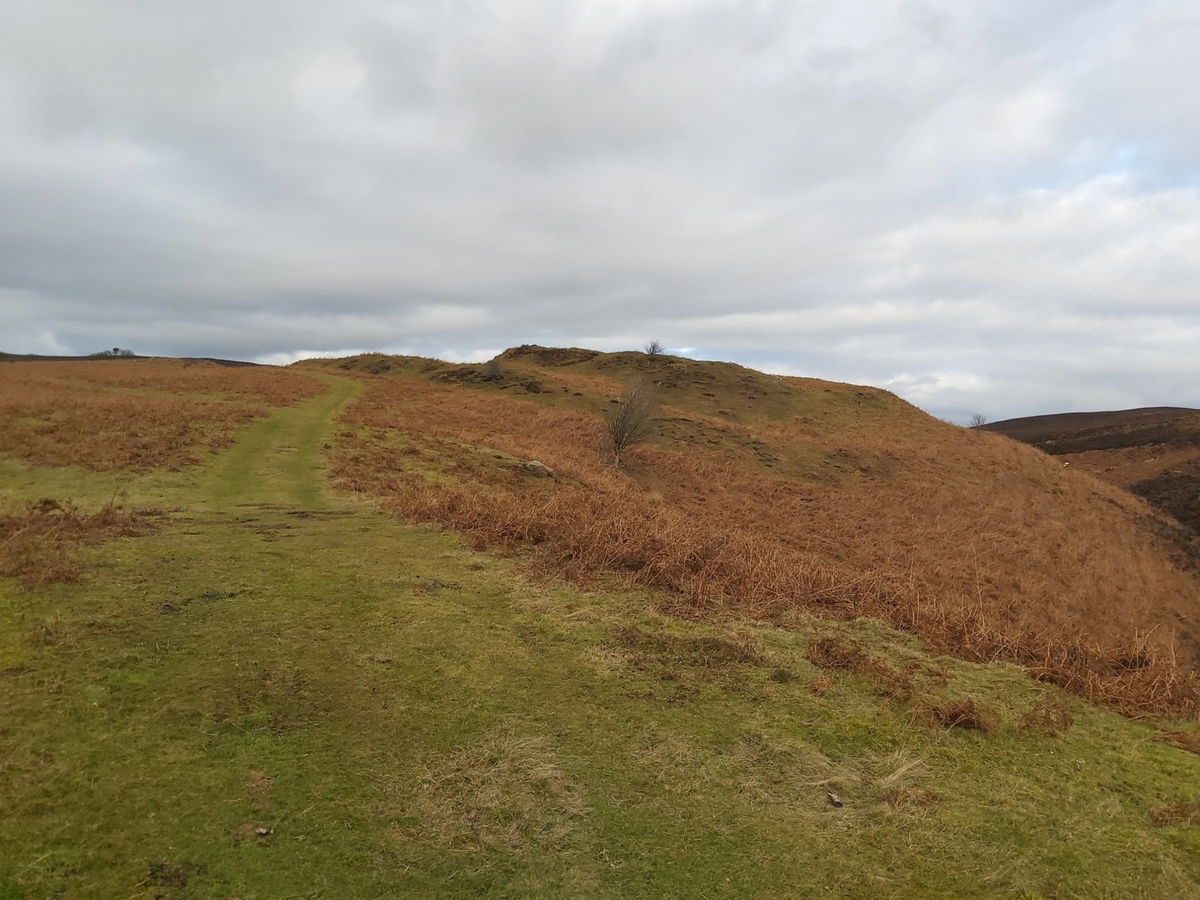 Difficult to see from ground level, so launched Red5 again for an aerial inspection.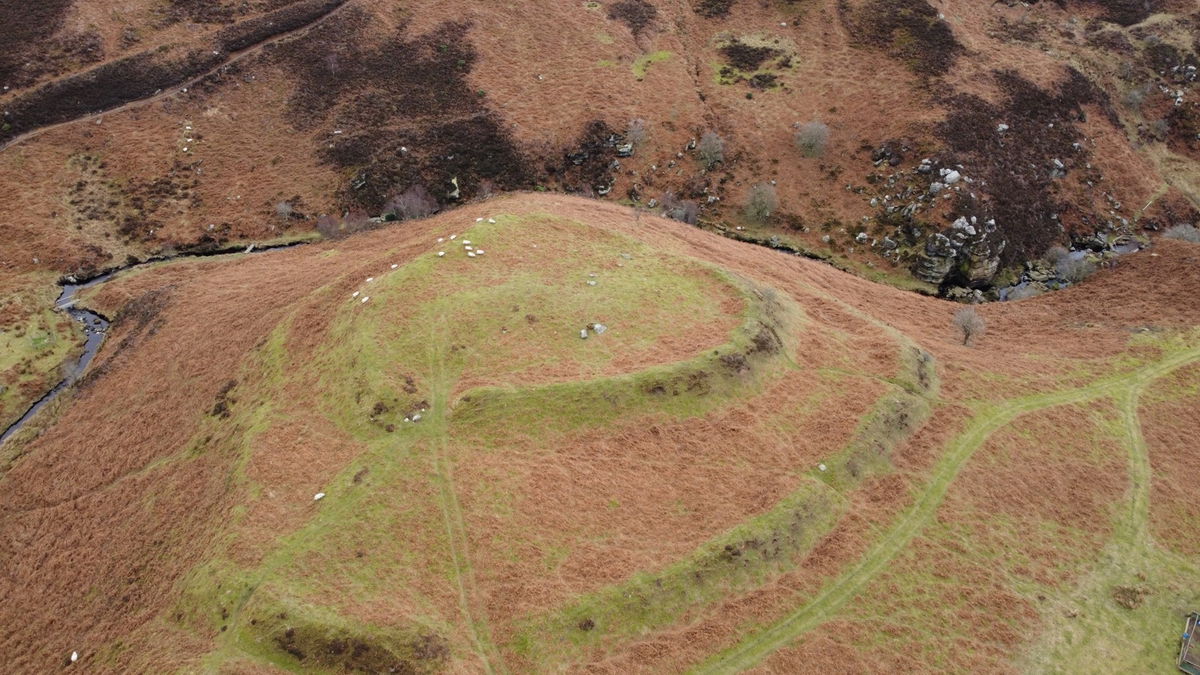 Heading north from the gorge and hillfort, my next destination is the Blawearie Shepherd's Hut and lots of fab rocks and crags surrounding it.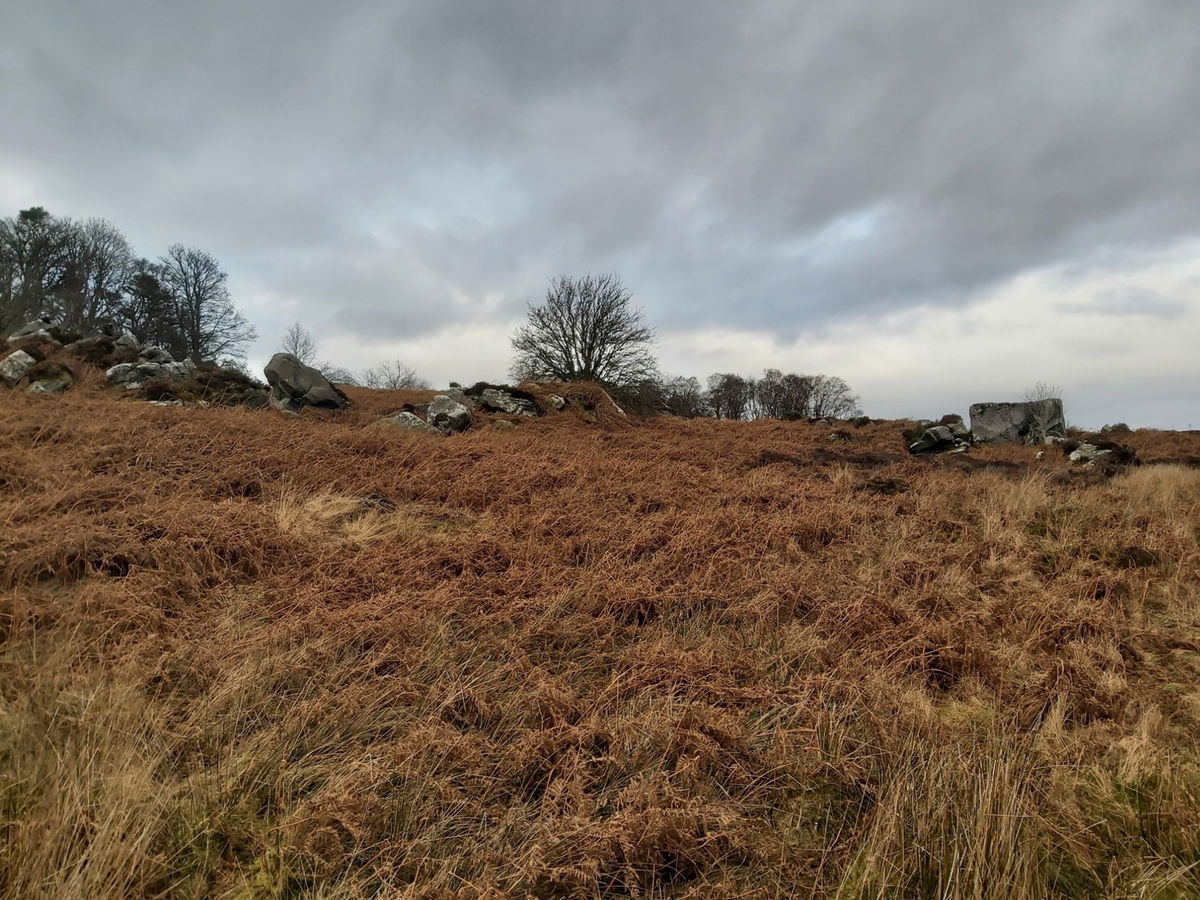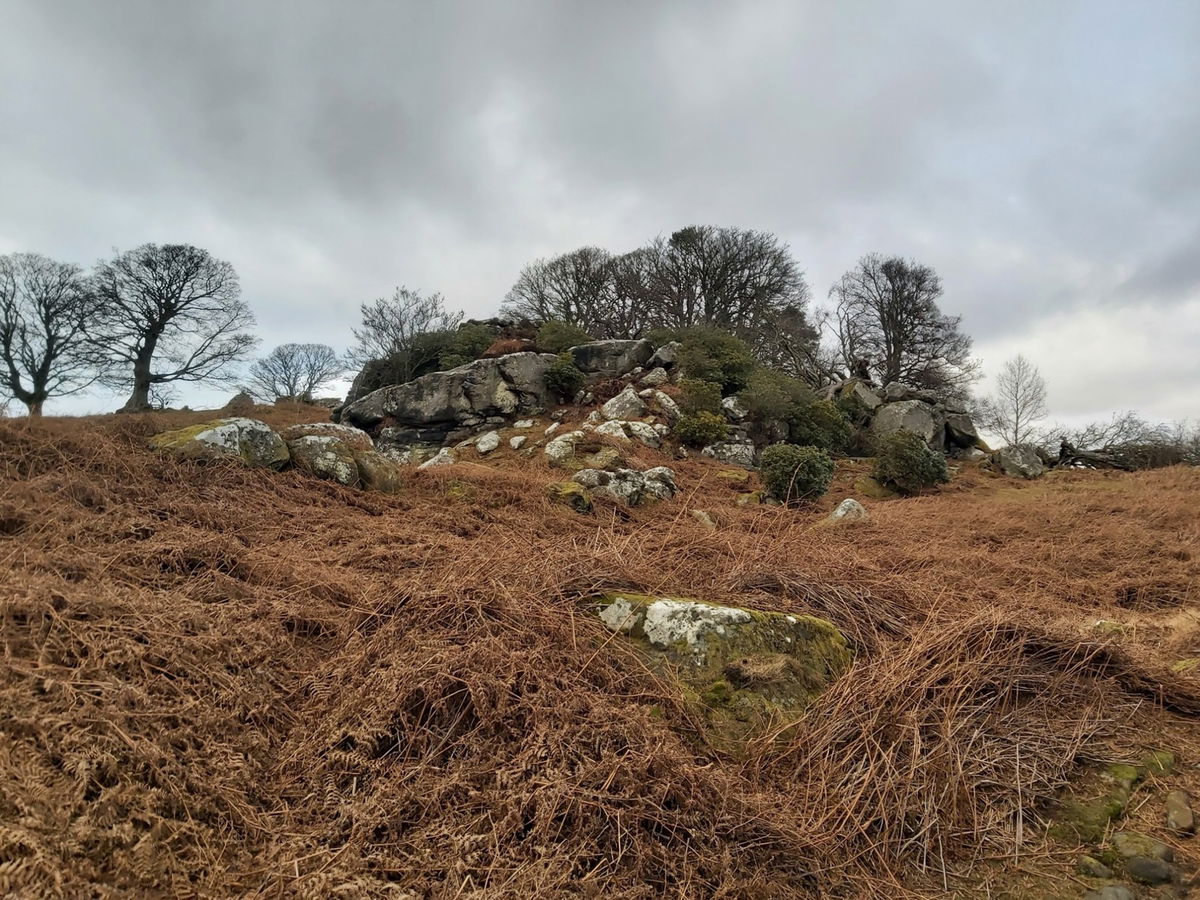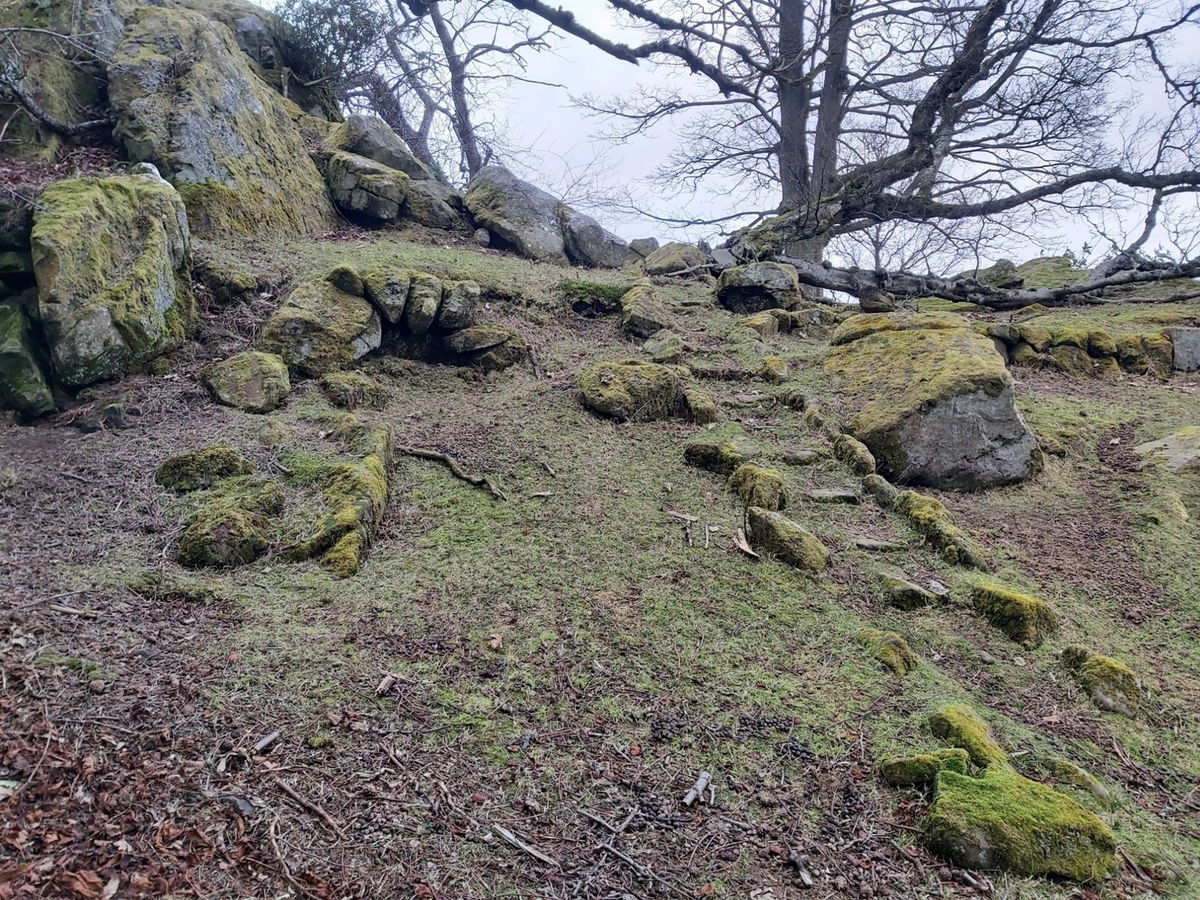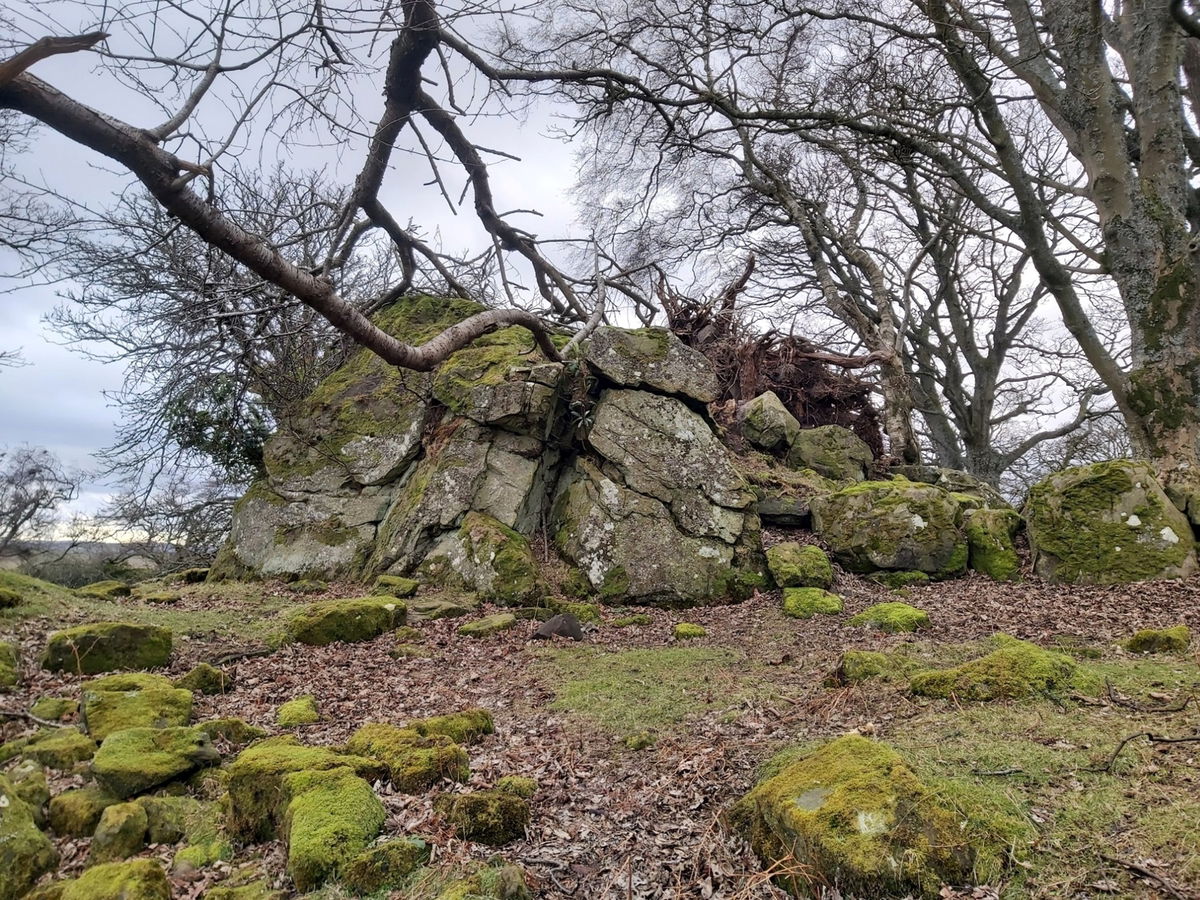 Then the Blawearie emerges out of the rocks. The hut was originally occupied by local farmers and shepherds until it was requisitioned by the War Office for military training.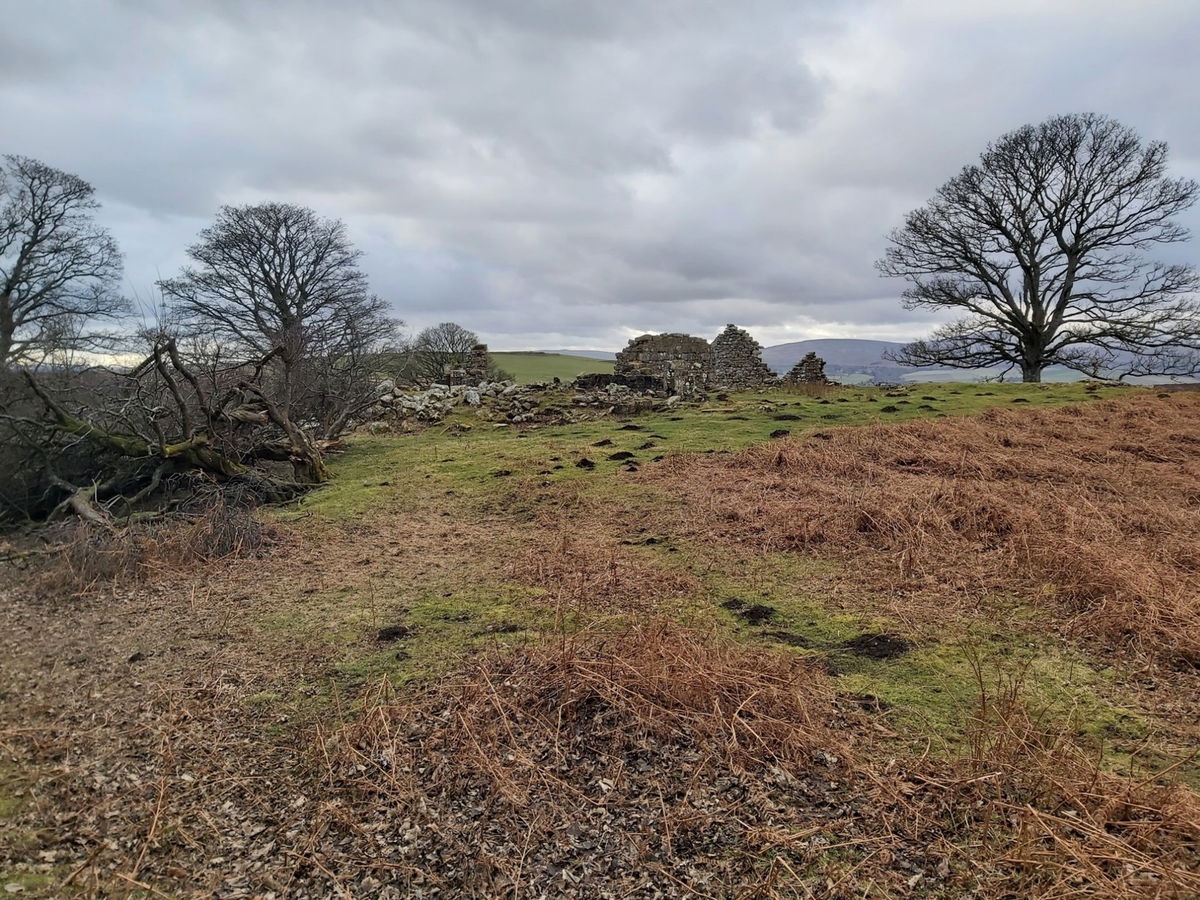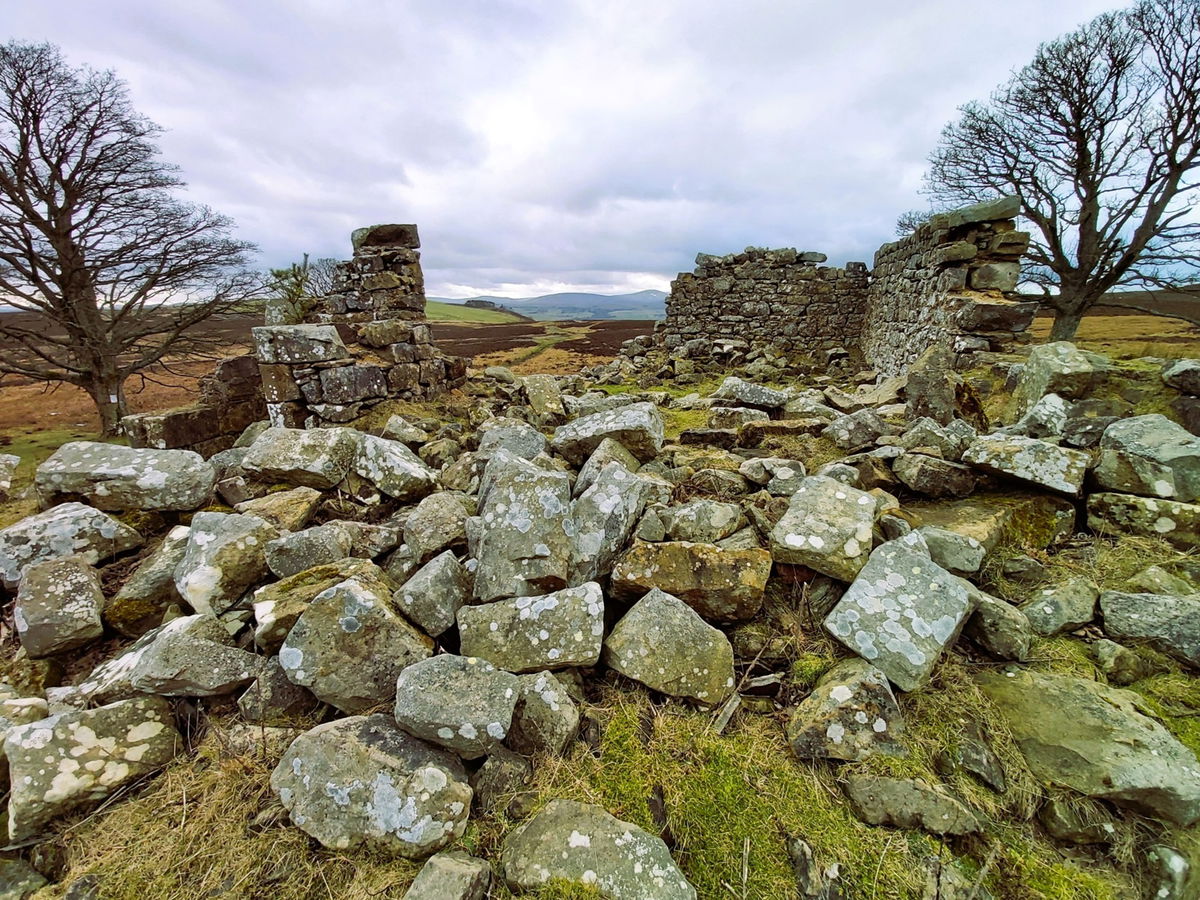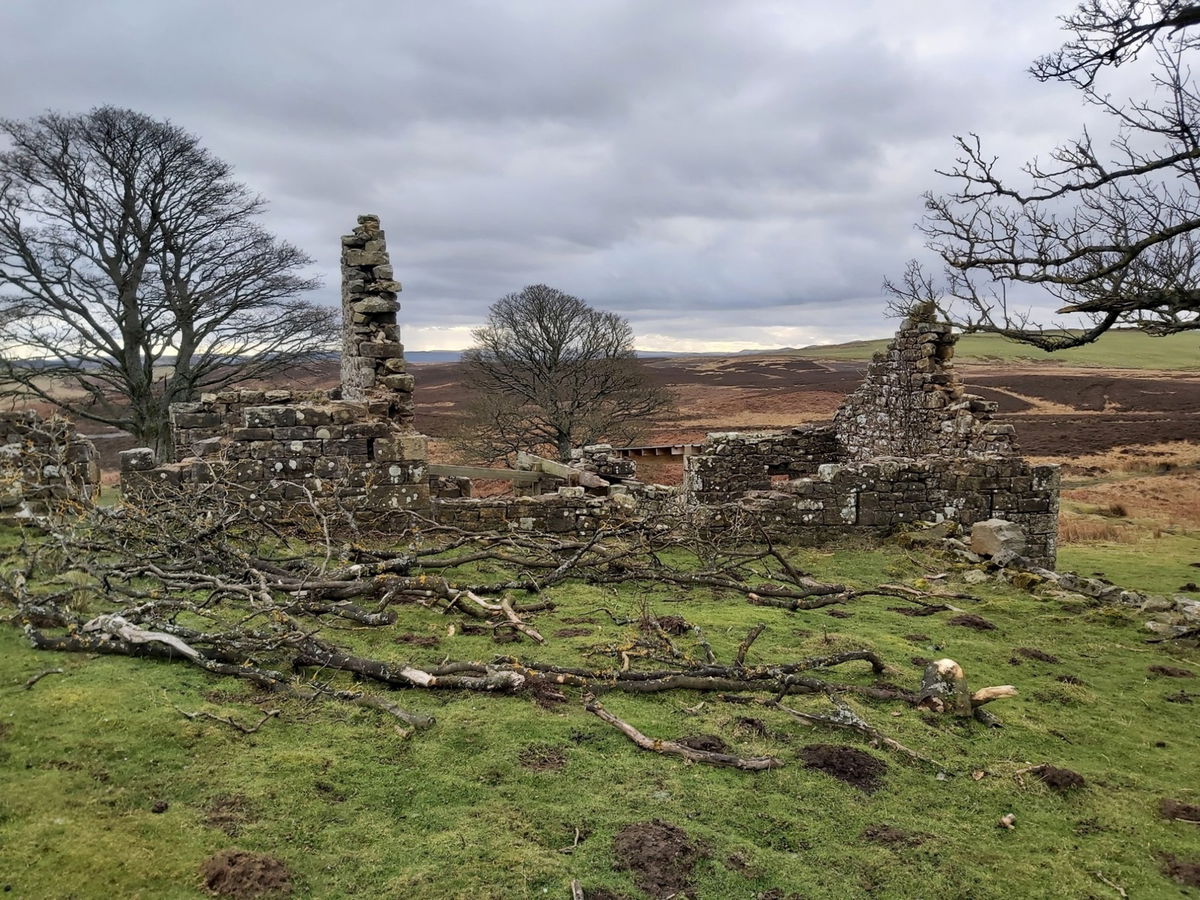 Around 150m away from the Blawearie is an old cairn and again best viewed from the air.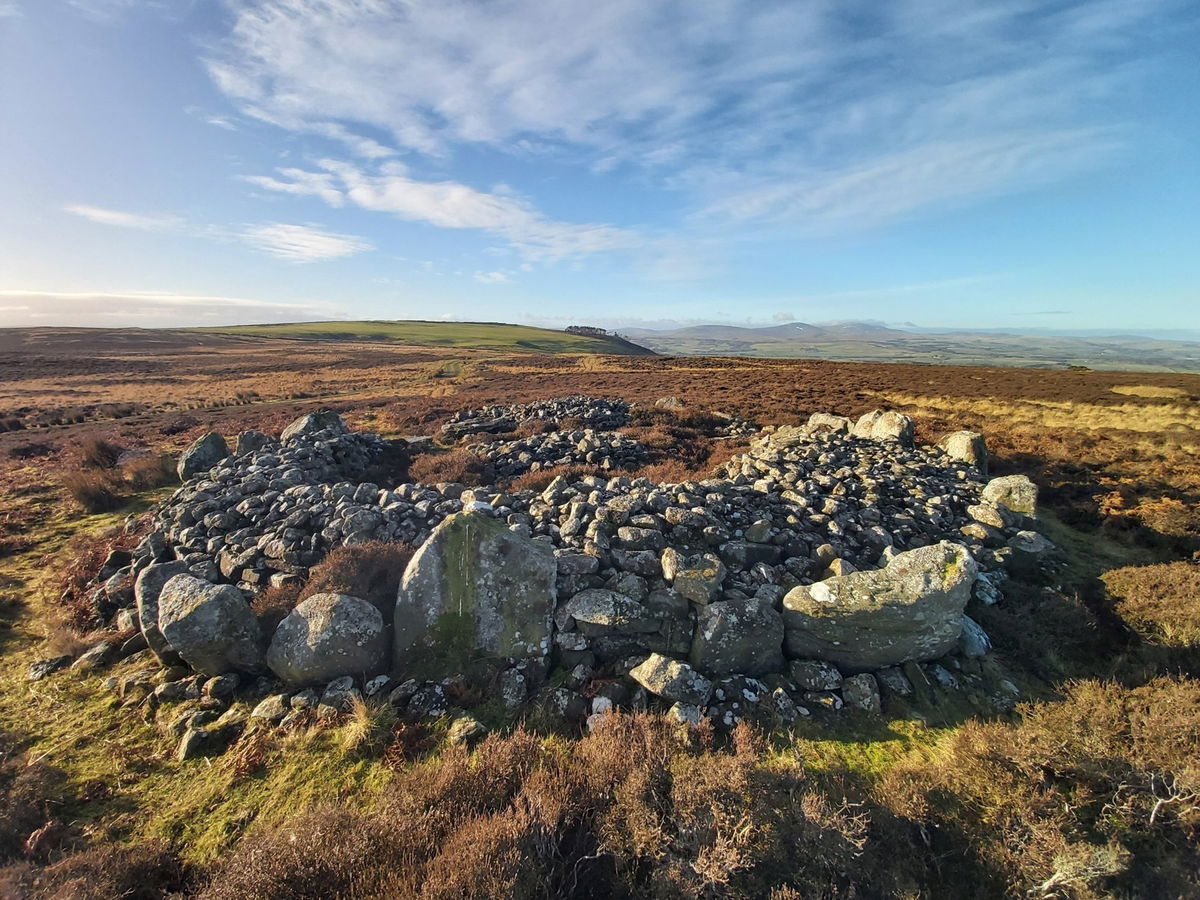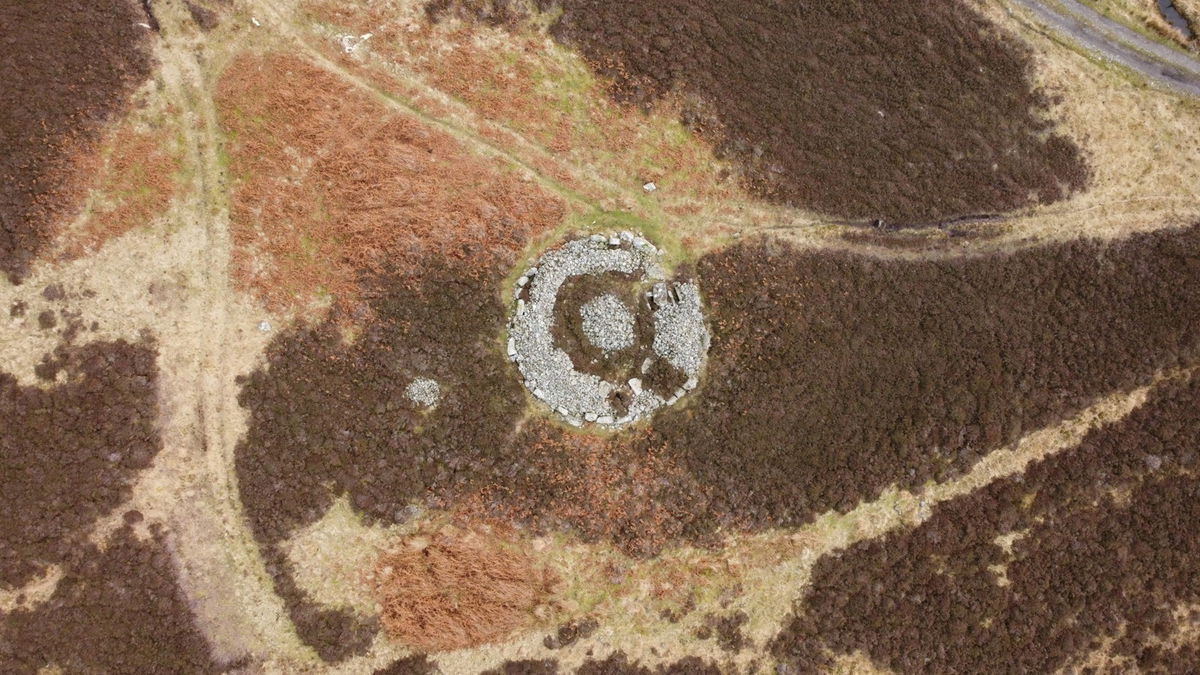 Then a quick exploration of the surrounding crags as I made my way back north.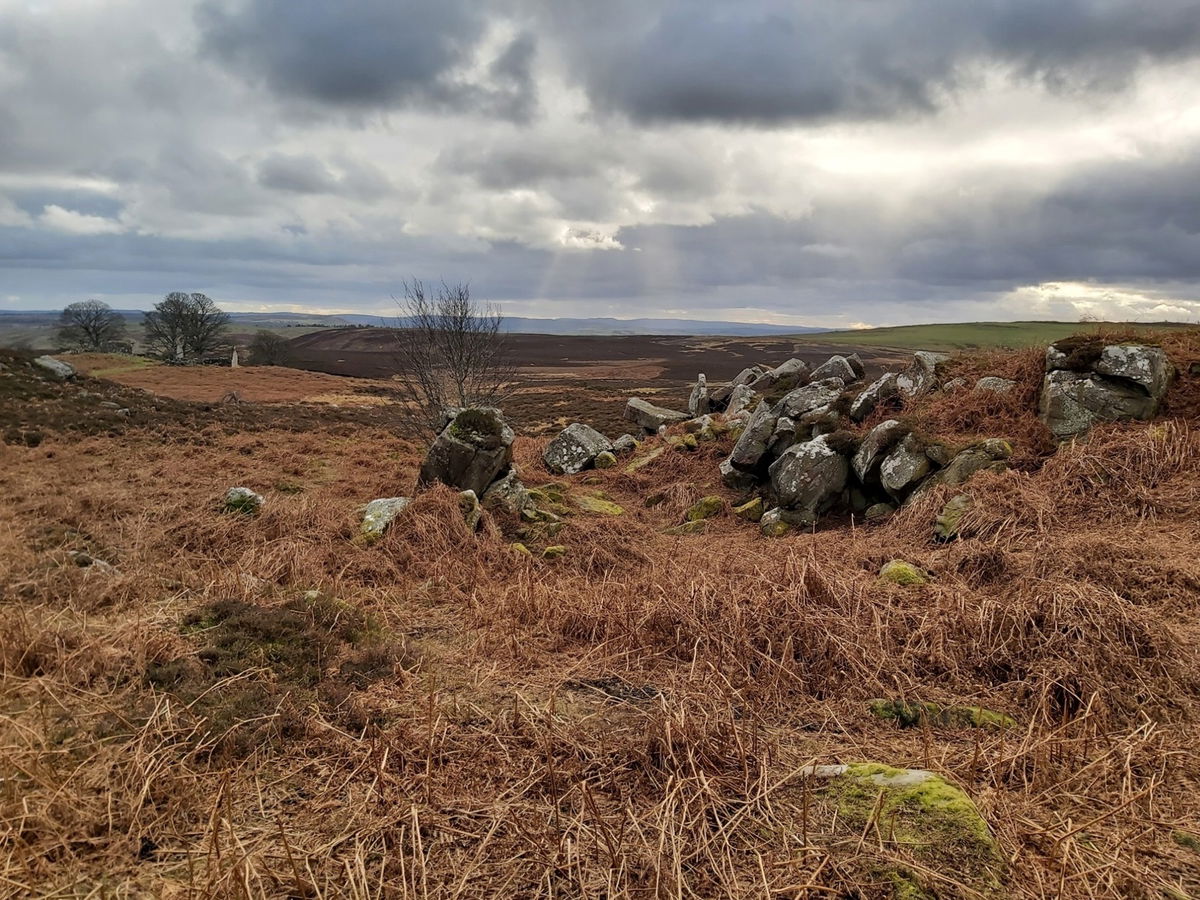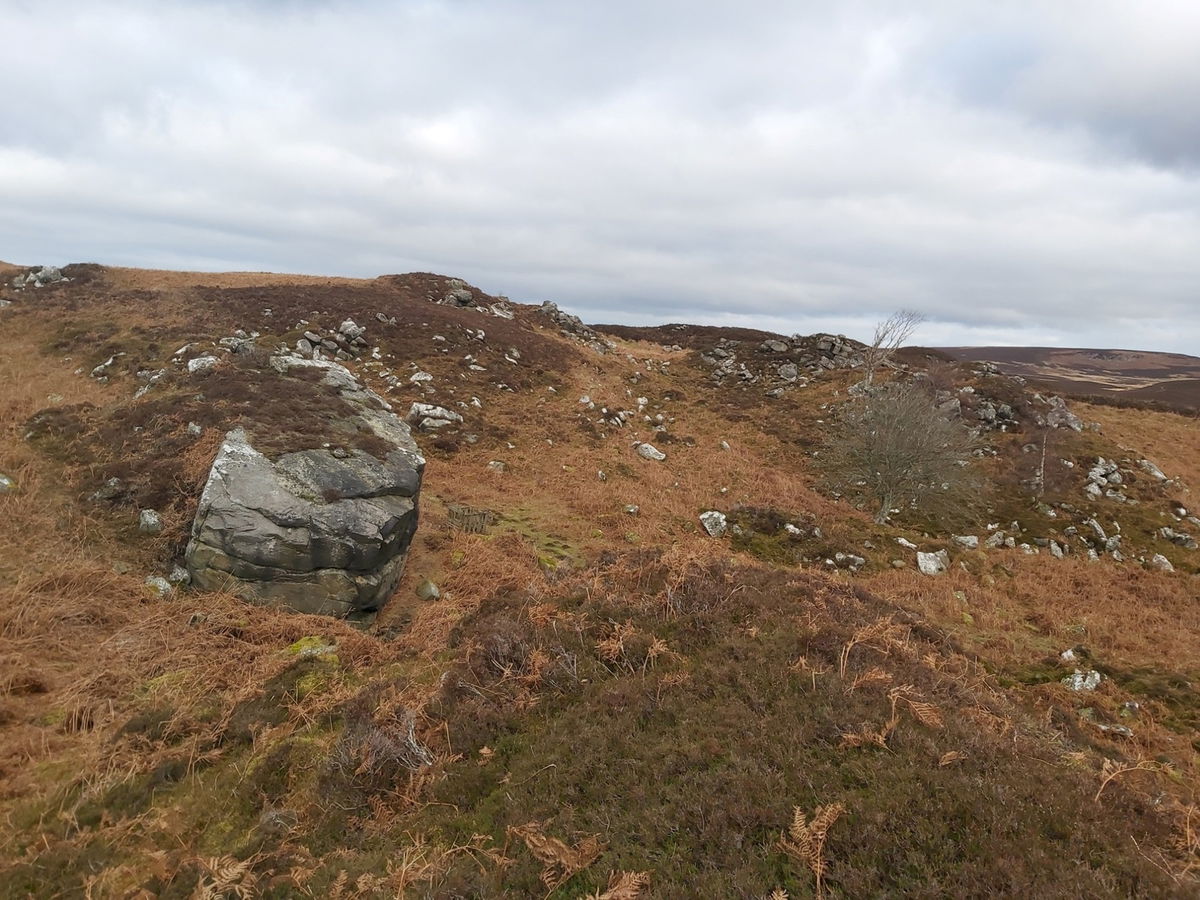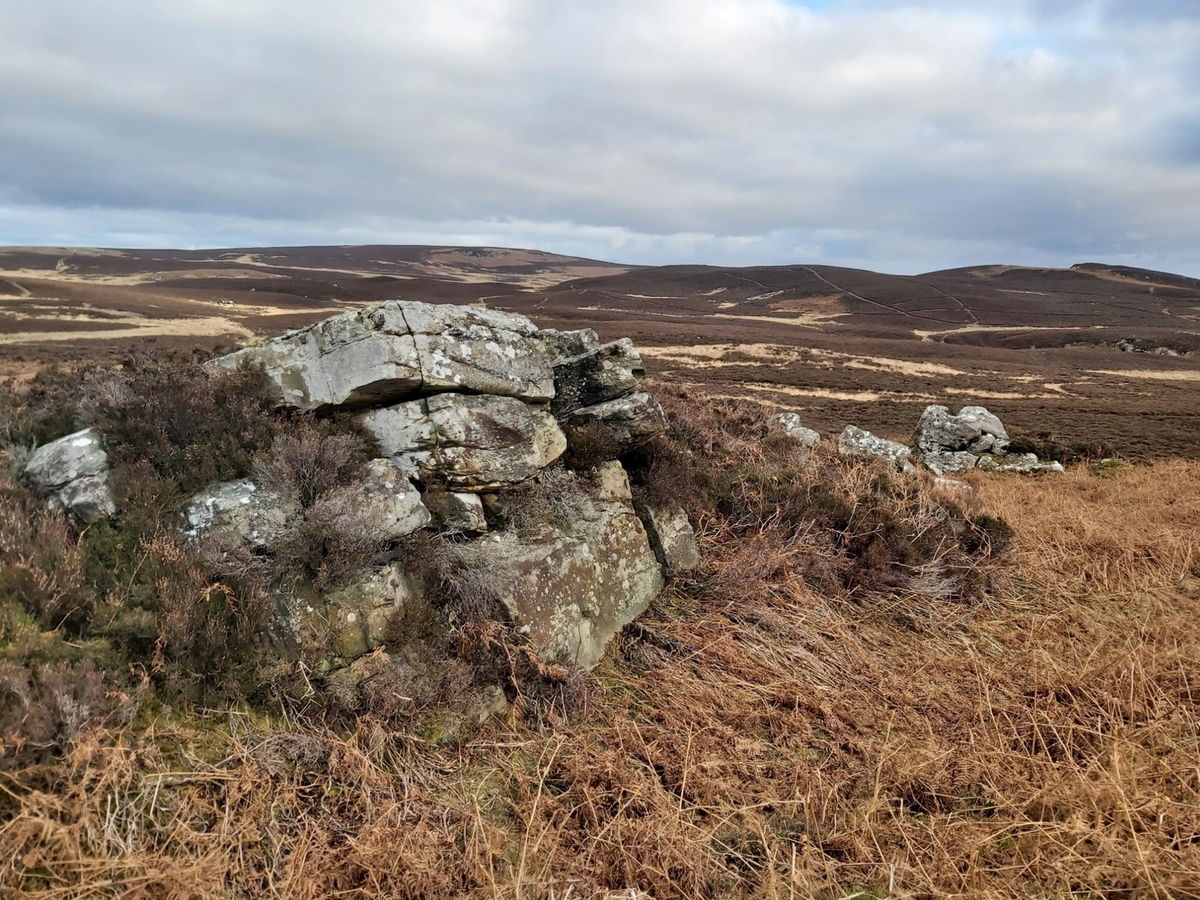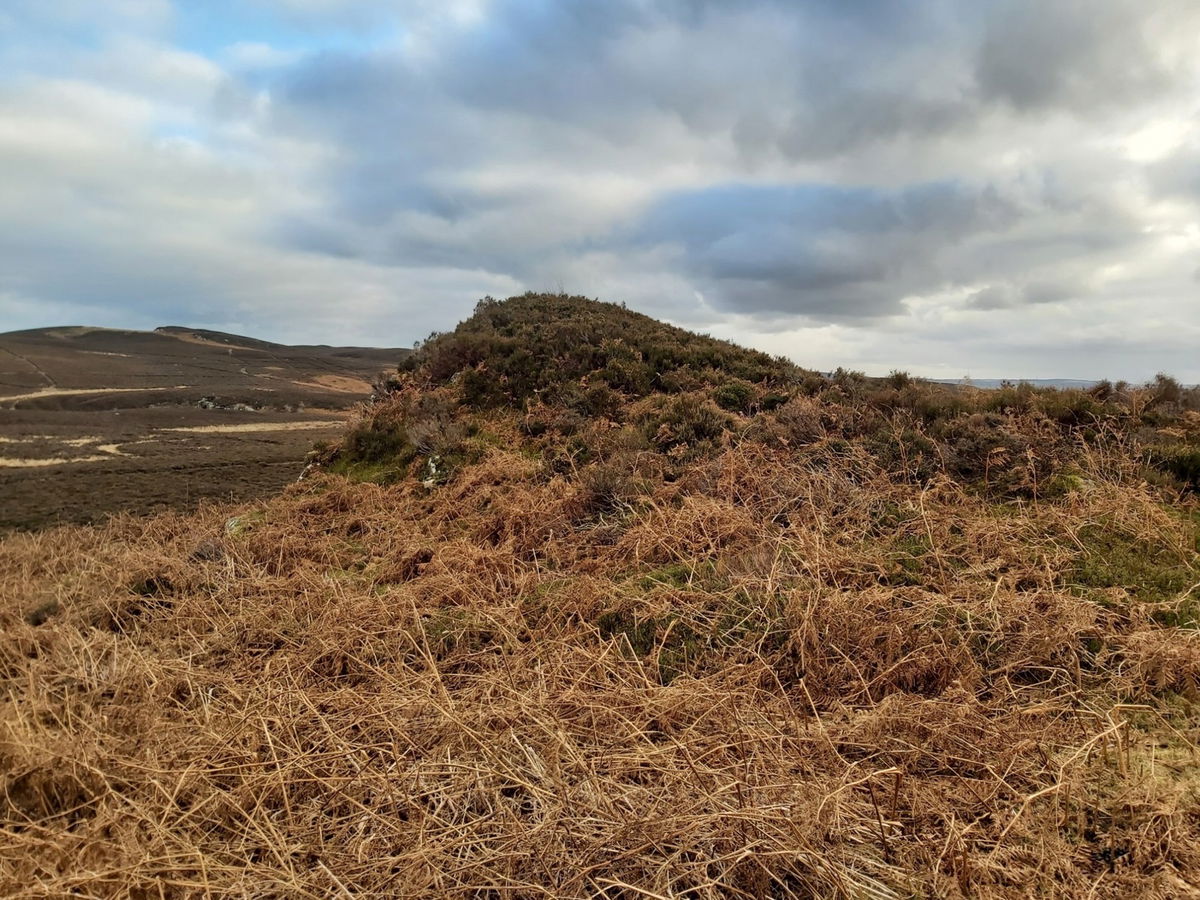 I then get my first view of Ros Castle as I start approaching the finish line. Still around 3km away from it though.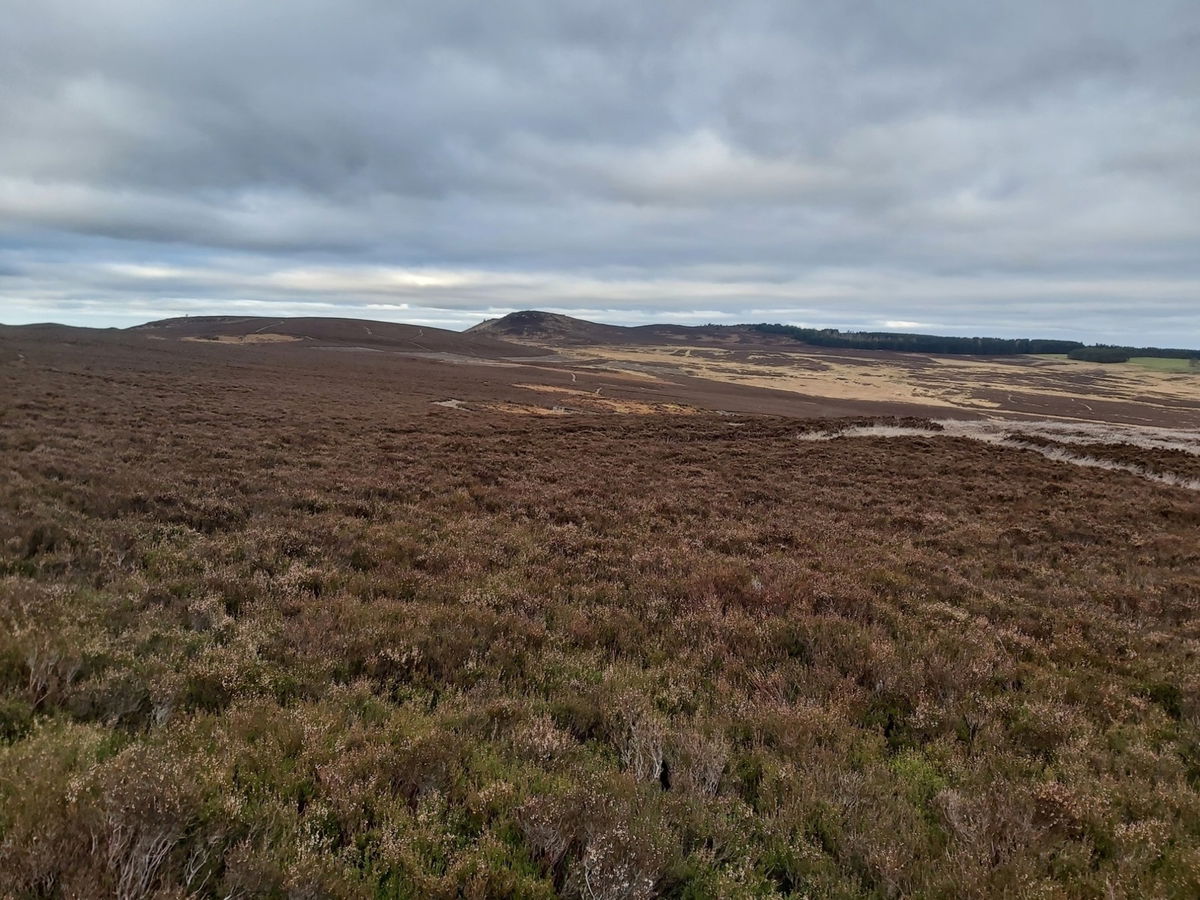 Found a couple of sheepfolds on the way too.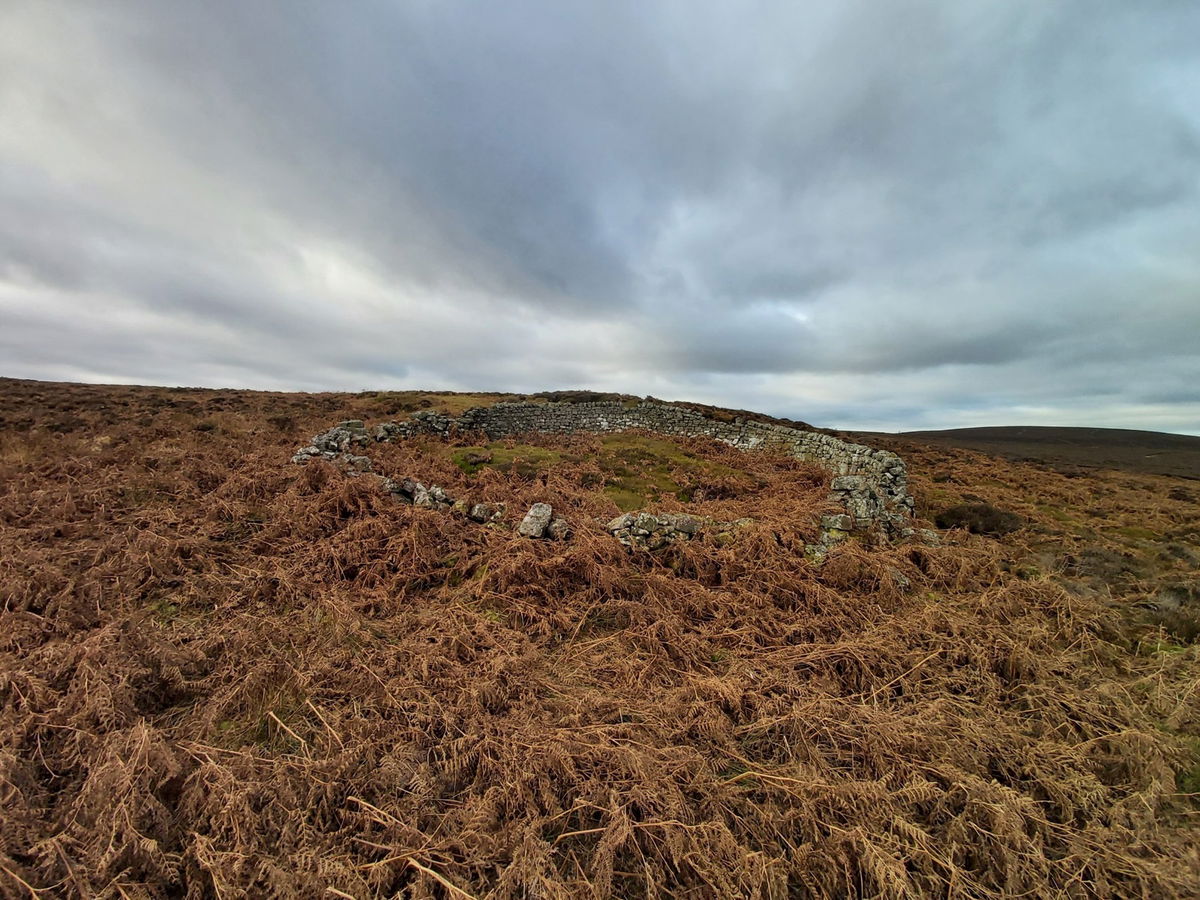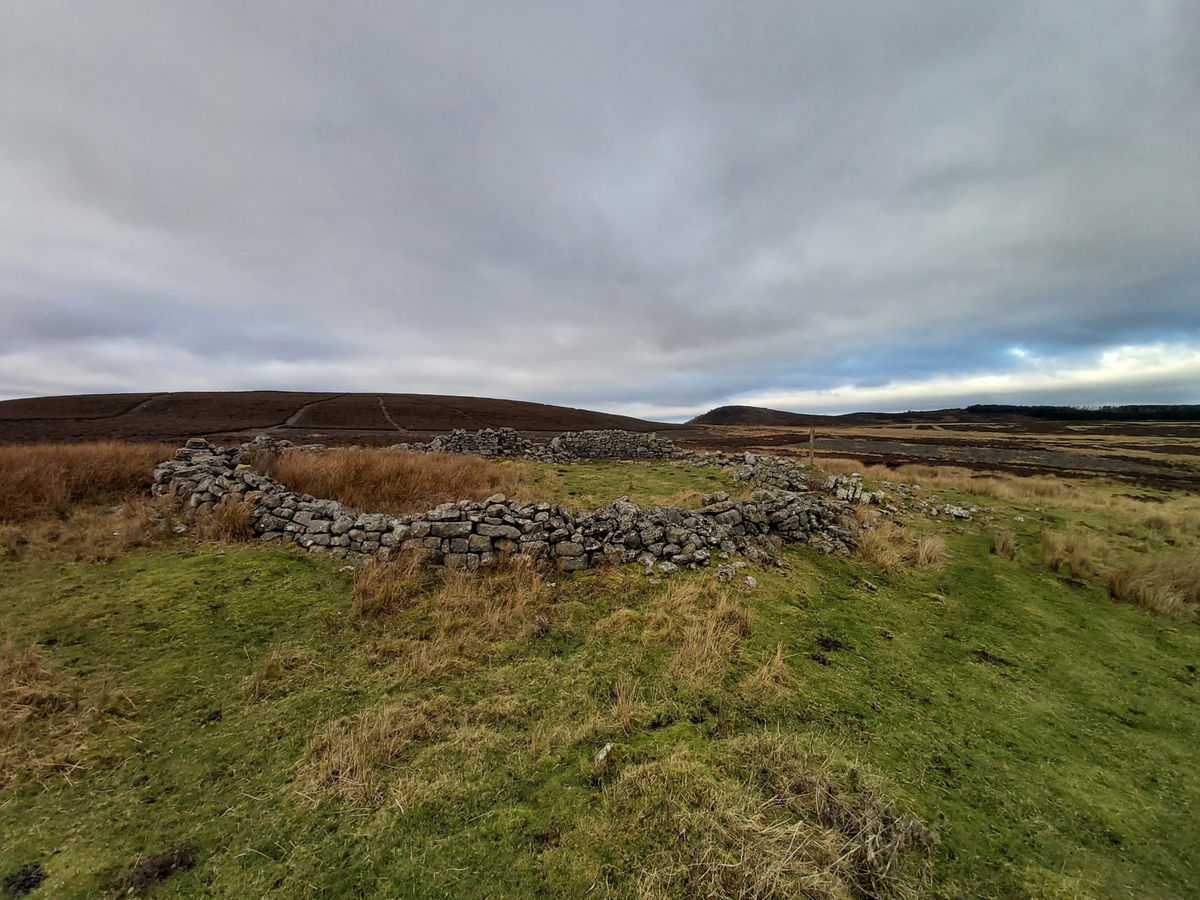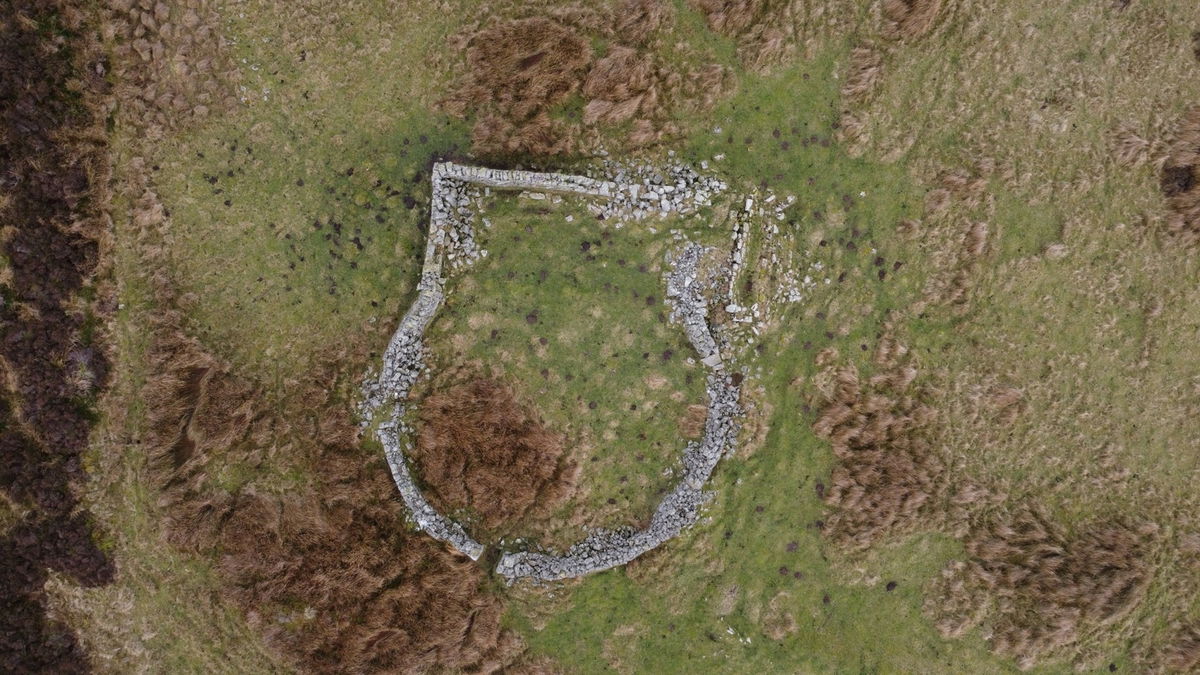 Back at the base of Ros Castle and the legs have just enough energy for a jaunt to the top.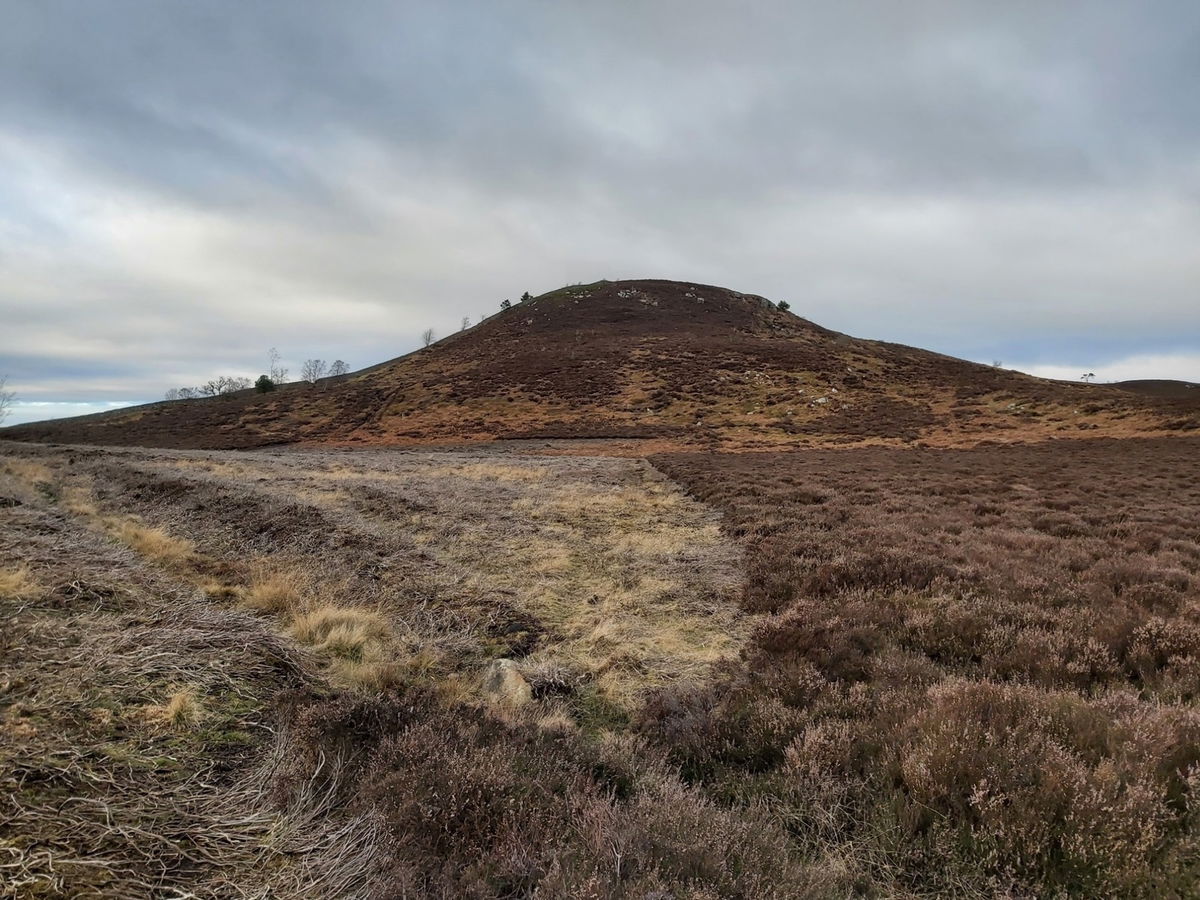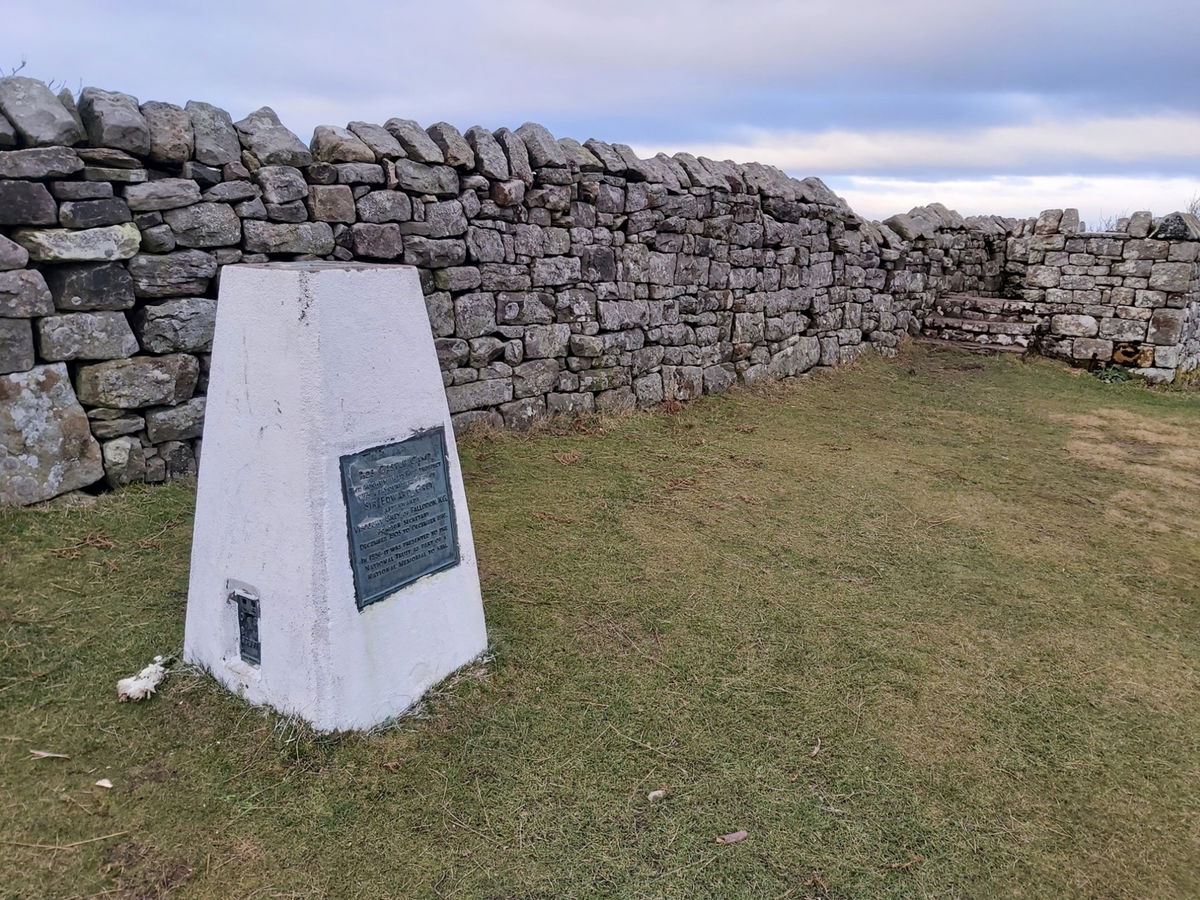 Beautiful views from the top and also sent Red5 up for a look too.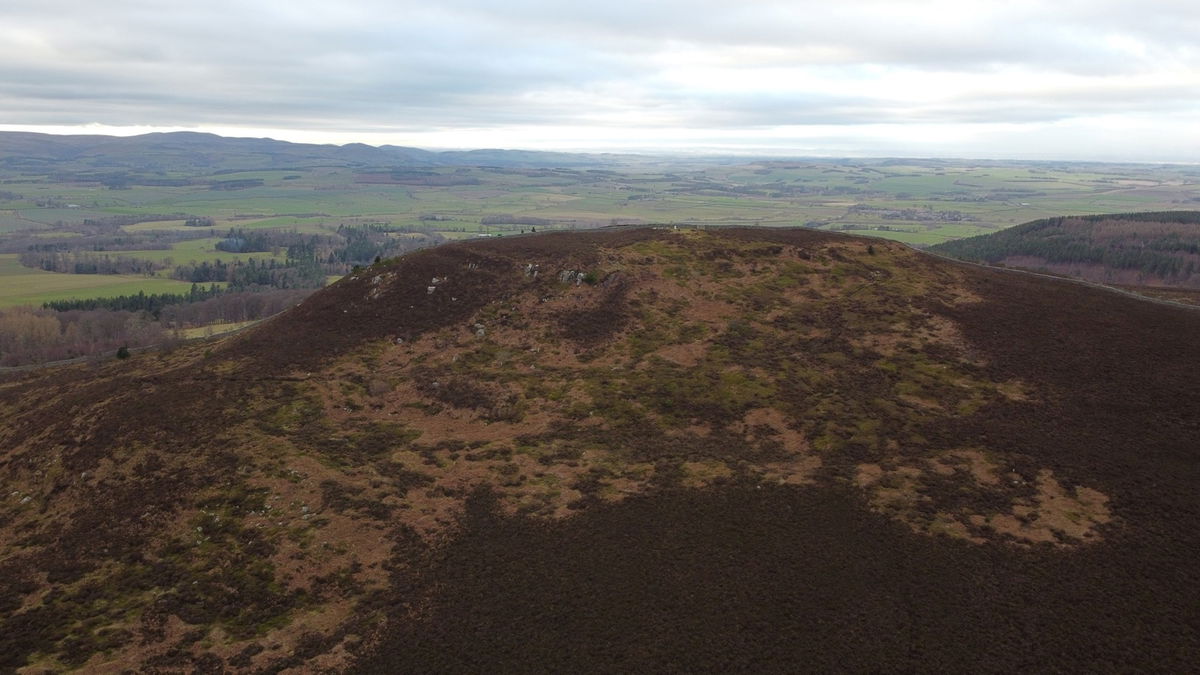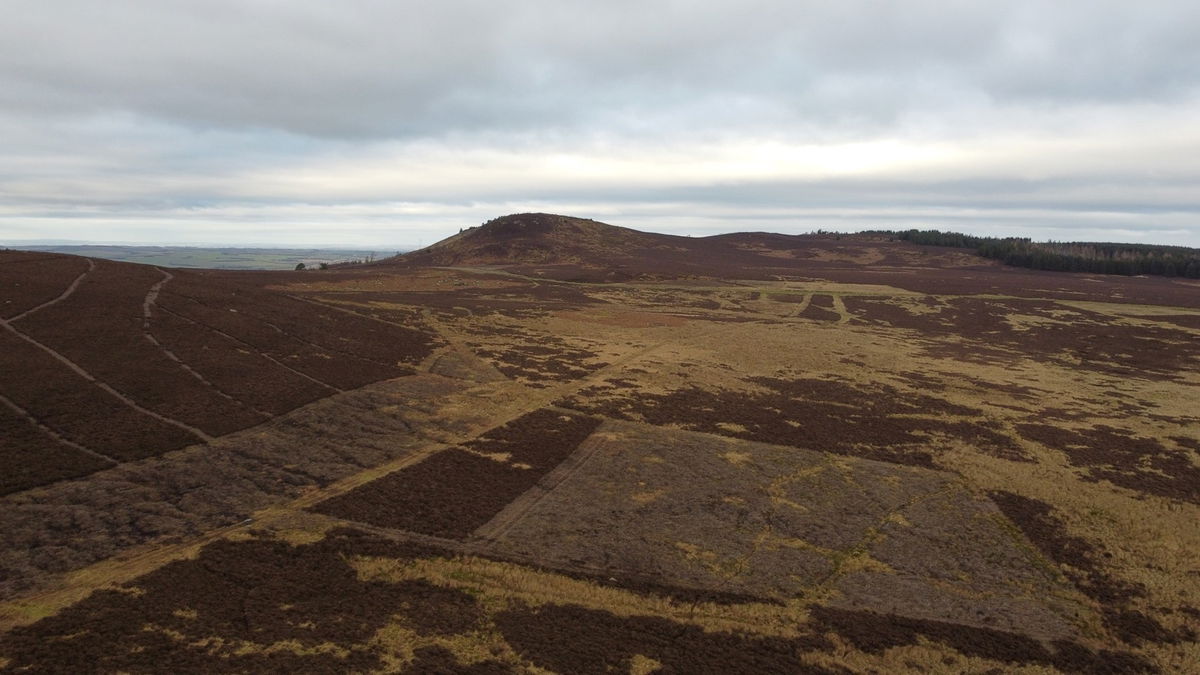 A quick descent and the car is waiting for me at the bottom. An absolute treat of a hike and will definitely be back to explore the east side of the moors.
Where to Park For Hepburn Moor And Ros Castle
Where To Park For Hepburn Moor And Ros Castle?
What three words
Park on the grassy verge at the bottom of Ros Castle.
}
Fabulous Places On This Walk
Discover what fabulous places you will find on this walk - Hepburn Moor And Ros Castle.
Ros Castle
Hill
Chillingham
Northumberland
Ros Castle is the highest of the Chillingham Hills, with a height of 315m.
Contributed by Simon Hawkins
Thanks for checking out this place on the Fabulous North! I do enjoy a wander out in to the countryside trying to find hidden gems that not many people know about. You can't beat a rogue Pele tower up a remote hill or a mysterious stone circle or a stunning waterfall secluded in a forest.
More Walks from Simon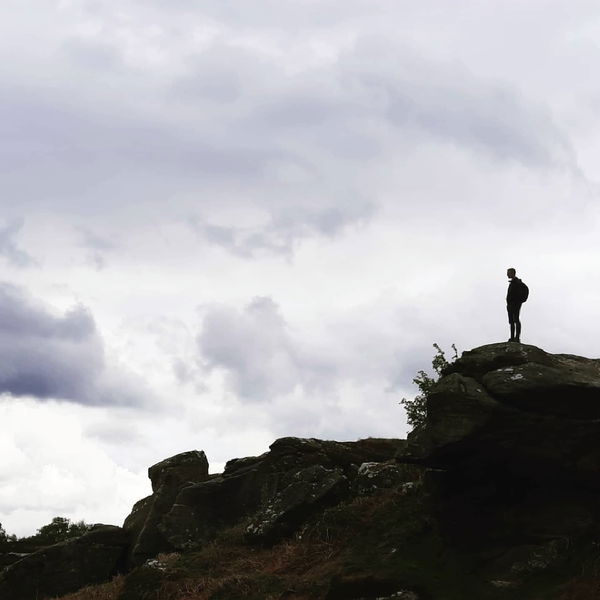 More Places In Chillingham
Find more fabulous places in Chillingham, Northumberland and if you know of a place we haven't listed, then let us know.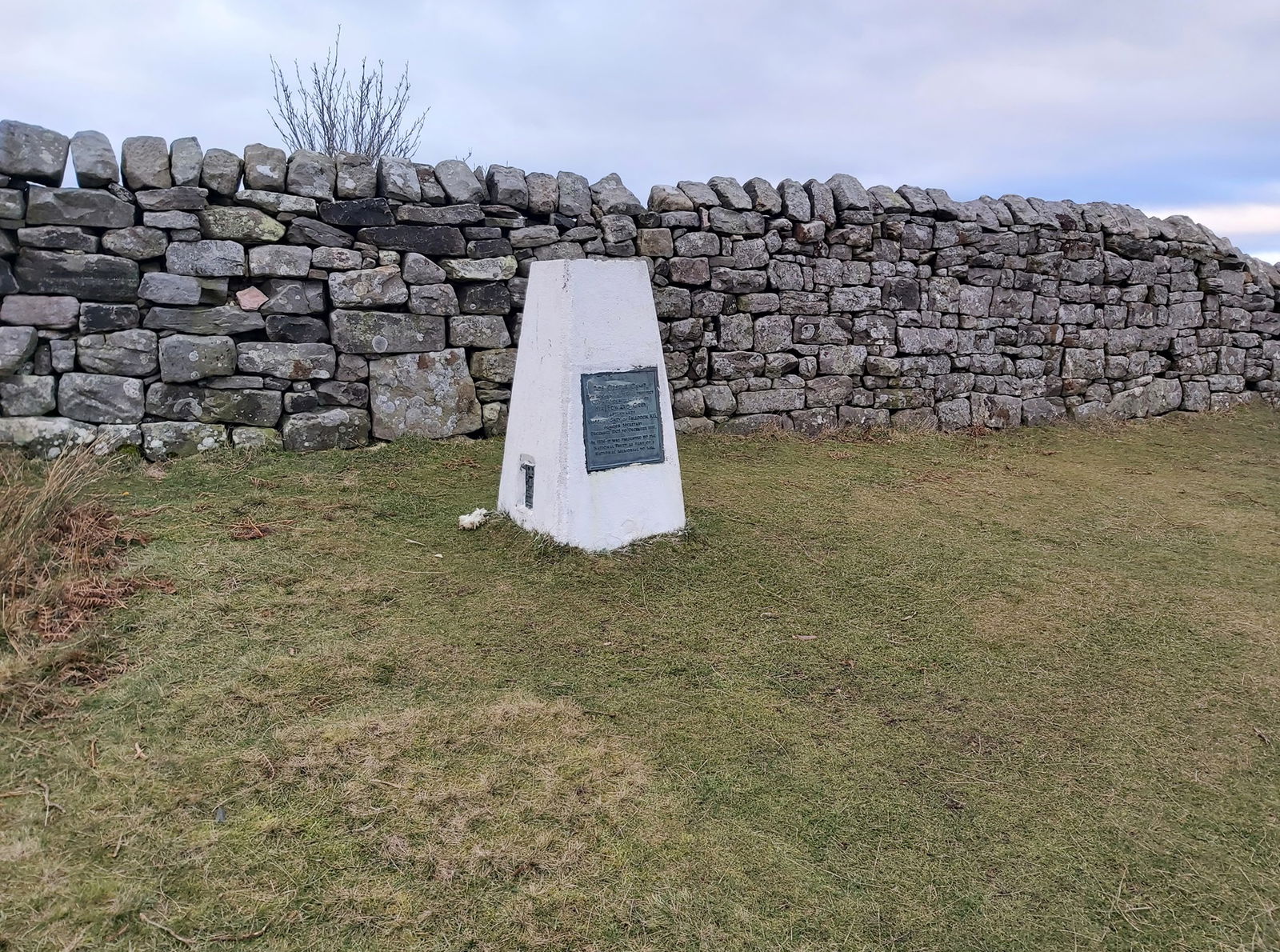 Ros Castle Trig Point
Trig Point
Chillingham
Northumberland
The trig point sitting on top of Ros Castle (316m).
Cateran Hole
Cave
Chillingham
Northumberland
A cave in a crater up on the moorland between Eglingham and Ros Castle.
Ros Castle Lime Kiln
Lime Kiln
Chillingham
Northumberland
A ruined lime kiln sitting between Cateran Hole and Ros Castle in the Alnwick area.
Find Us On Facebook
We post all our new places daily on our Facebook Groups page, so join the group today and be notified when we add a new place.
Join Our Facebook Group