Conversation Piece
Art
South Shields
Tyne And Wear
Conversation Piece
Art In South Shields, Tyne And Wear
A sculpture comprising 22 bronze figures by Juan Muñoz near South Shields beach.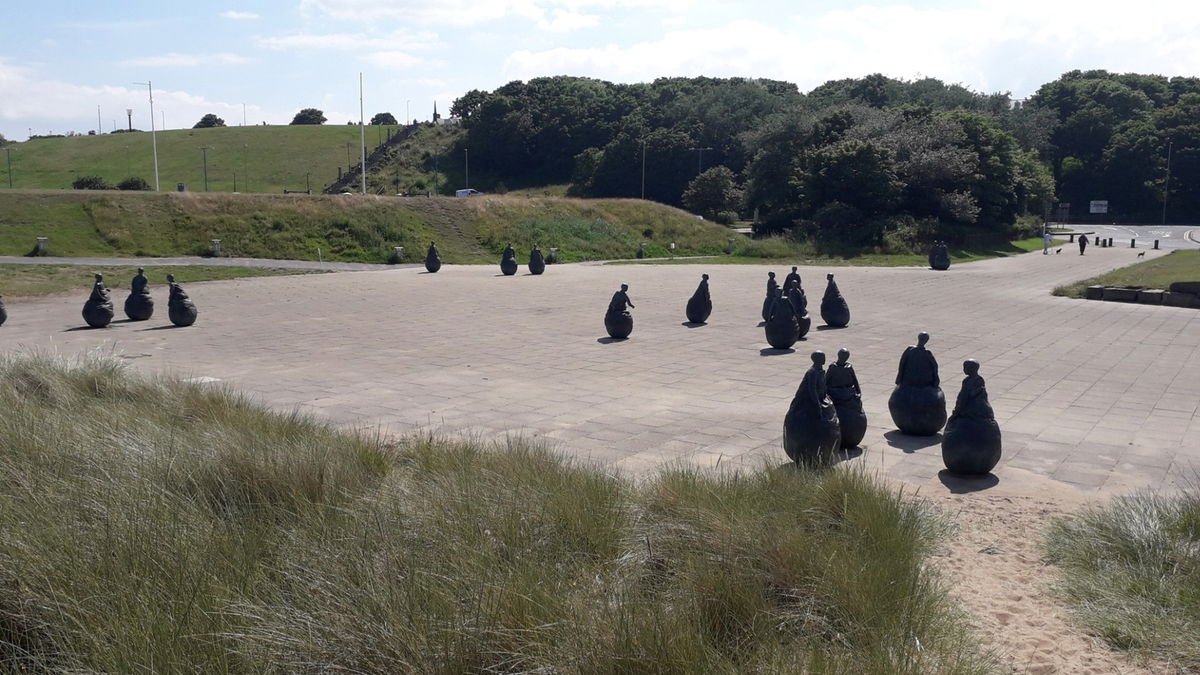 'Conversation Piece' is a sculpture that was created by the renowned Spanish artist Juan Muñoz in 1999. It comprises 22 bronze figures positioned around an open space in the dunes at Littlehaven, South Shields, each approximately 1.5 metres high and around a quarter of a ton in weight. Their position at the entrance to the River Tyne welcomes visitors from both the land and sea beyond.
The figures are arranged in small groups, with occasional isolated ones, seemingly engaging in conversation with one another. The artwork was originally imagined as being a visual play on the 18th Century style of painting that depicted informal social gatherings, cards games or musical performances. The figures area all monochromatic greys in colour, which may have something to do with Muñoz being colour-blind, but we at Fabulous North think it just adds to the otherworldliness of the piece.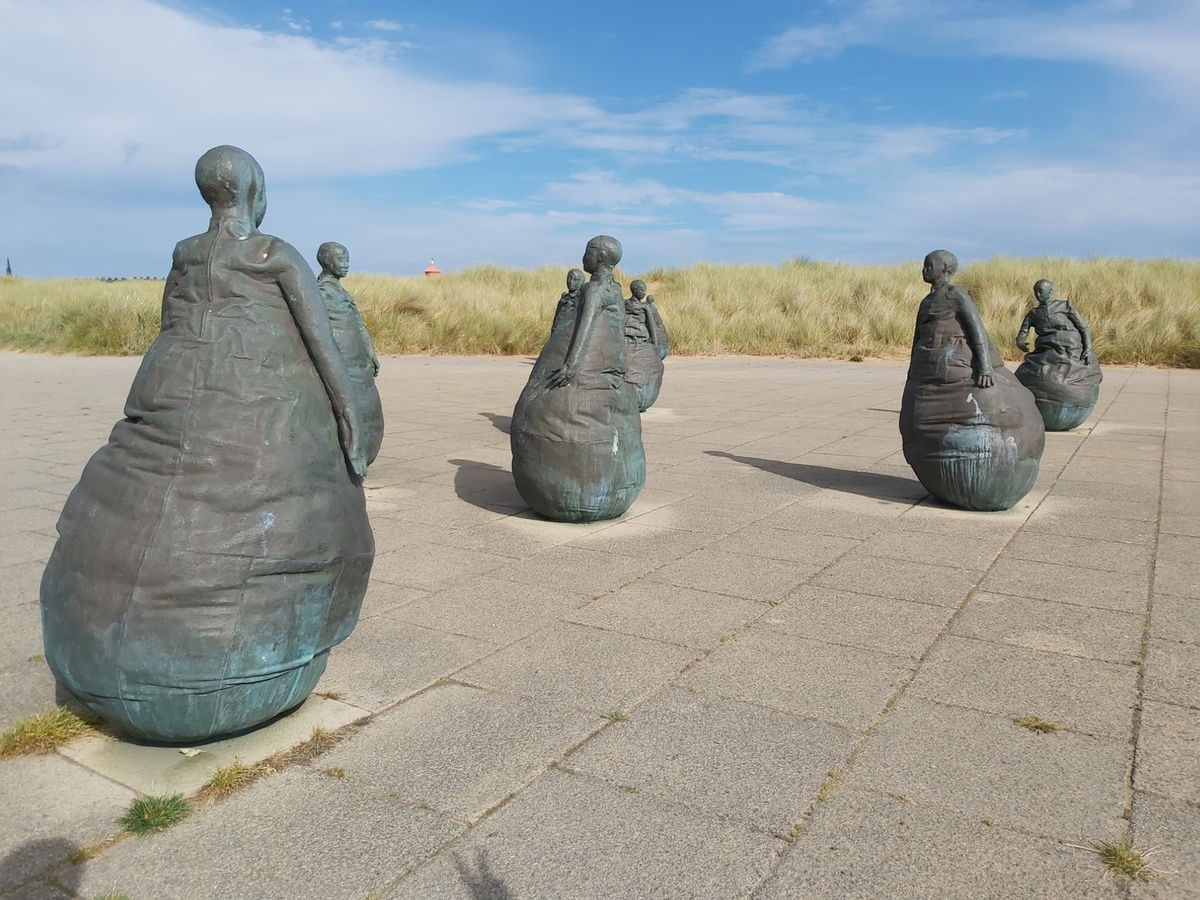 The figures are known affectionately by locals as the 'Weebles' after the toys of the 70s and 80s, though given their weight and robust fixing into the ground, it is no surprise these Weebles neither wobble nor fall down! The artist once said of them "they look like rolling figures, like tumblers, they are about movement but they can't move".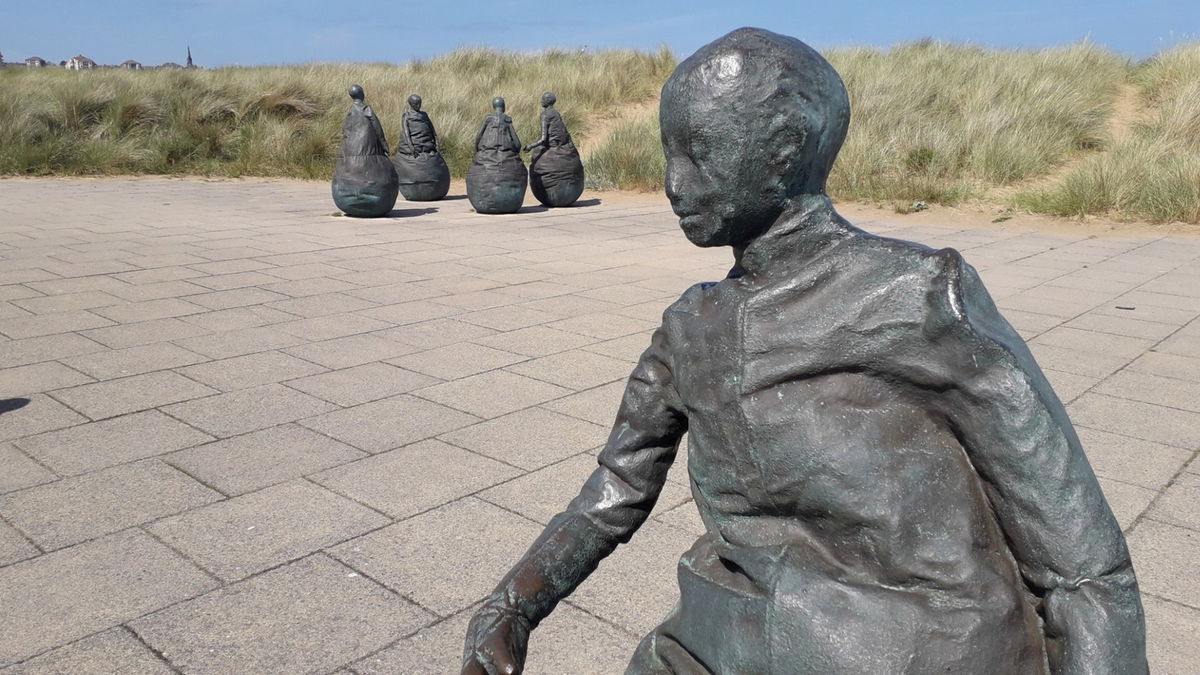 The sculptor was quite an outspoken artist in his home country of Spain, often criticising cultural institutions, so was never a well-loved figure of the establishment, so it is little wonder that such an outsider should have work that found a home, hundreds of miles from Spain in South Shields.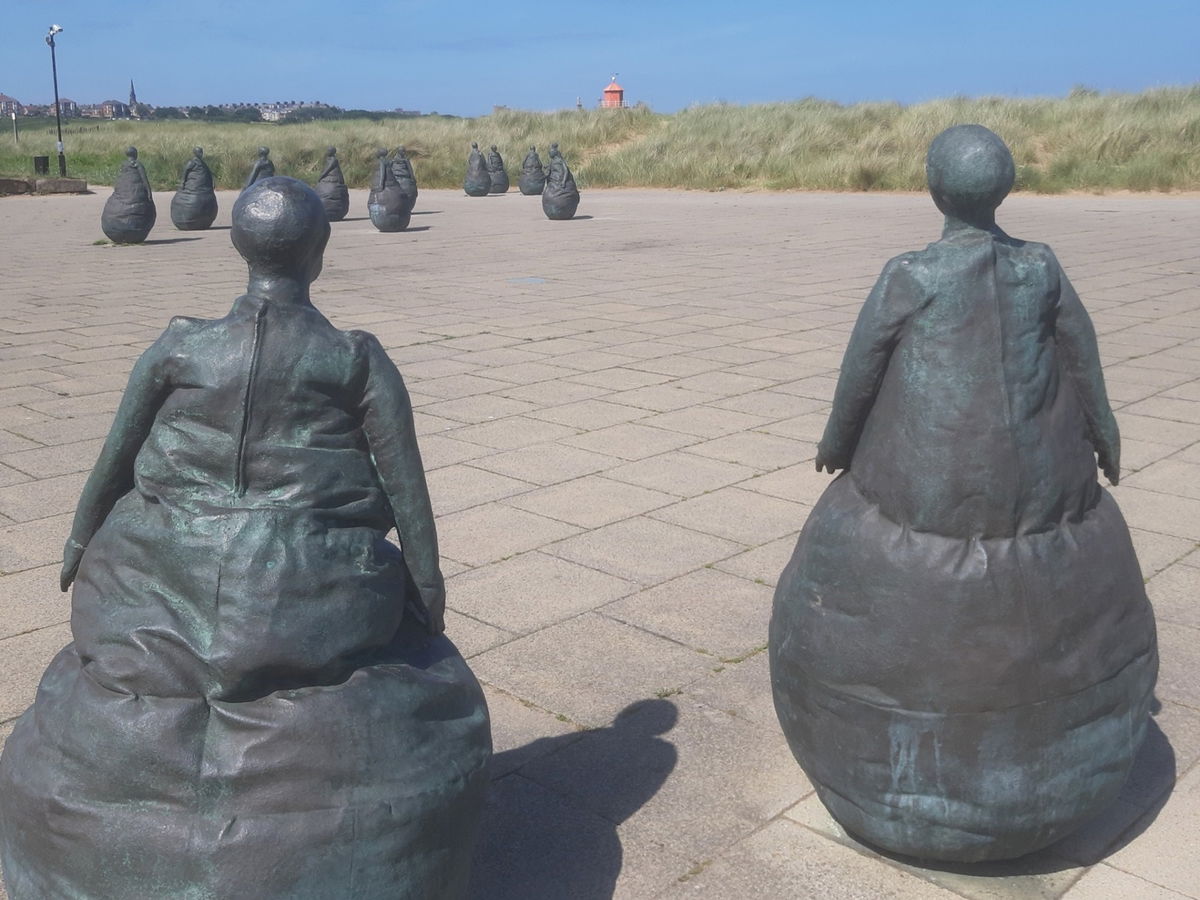 At South Shields, the figures stand, eyes closed or staring towards the distant horizon, in a strange, eerie silence, which is strange as the sculptor had often expressed an interest in sound and in particular radio. It is fitting perhaps that there is now an app which can be used to listen in to their conversations, written by Lee Mattinson and commissioned by Northern Stage as part of their "Out on the Toon" project. There was a QR code you could scan nearby when we visited to hear the conversations.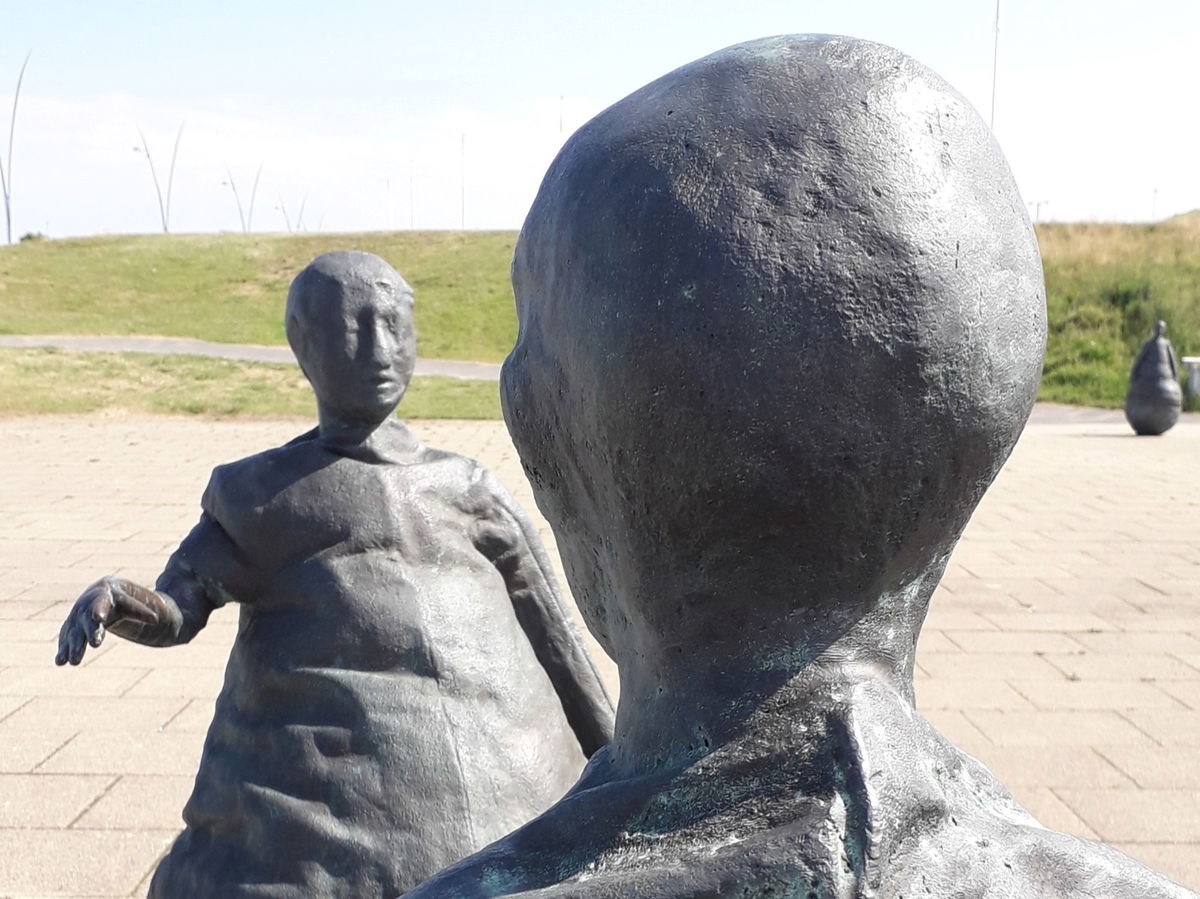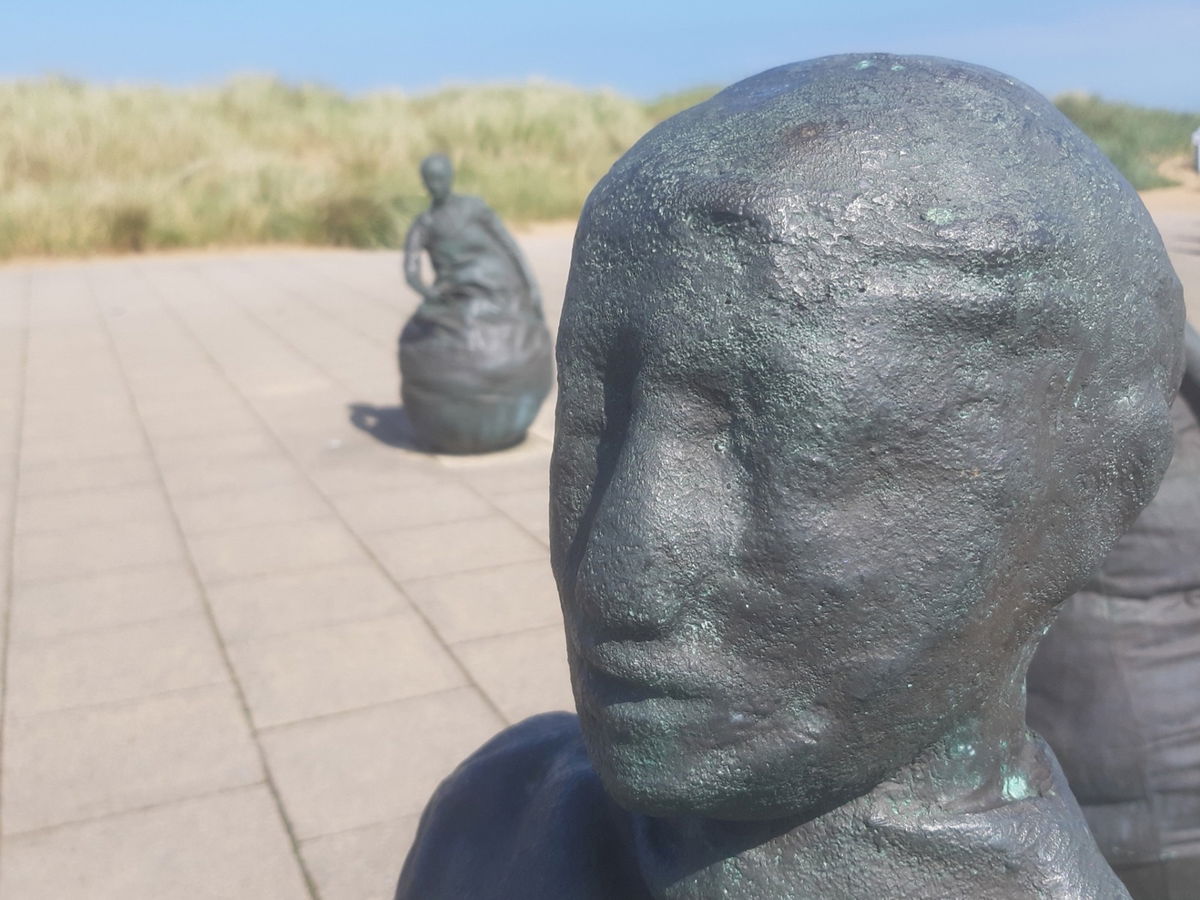 Sadly Muñoz died suddenly in 2001 aged only 48 years old, but his work will hopefully find a place in South Shields for many years to come.
"The way people react to the piece and the way they pass between them is very important" - Juan Muñoz (1953 - 2001)
How To Find Conversation Piece
Where To Park For Conversation Piece?
Show Parking On Google Maps
Lat / Long
55.005485, 55.005485
What three words
Parking can be found nearby at Harbour North Drive Car Park.
Contributed by Andrew Gardner
I love being outdoors, in nature, and experiencing the relaxation it brings. Wandering through the northern countryside seeing unexpected buildings, historic places and occasionally surprised wildlife is one of life's great pleasures.
More Places from Andrew
More Places In South Shields
Find more fabulous places in South Shields, Tyne And Wear and if you know of a place we haven't listed, then let us know.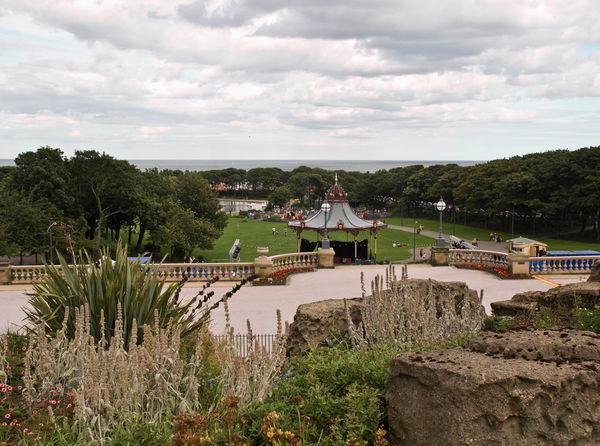 South Marine Park
Landscape
South Shields
Tyne And Wear
A Victorian Public Park on South Shields seafront that is part of a 4km chain of parks.
Dolly Peel Statue
Statue
South Shields
Tyne And Wear
A statue to local heroine Dolly Peel, a smuggler, fighter against the pressgang and eventually nurse.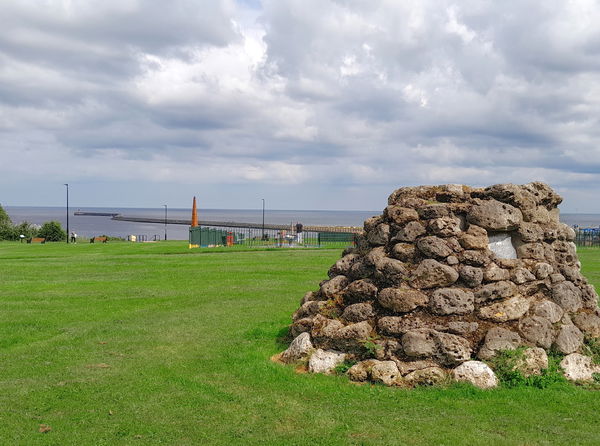 Lawe Top
Landscape
South Shields
Tyne And Wear
A pleasant green with many fine views of magnificent landmarks of North and South Shields.
More Arts
So this art wasn't enough and you want more? Don't worry we have you covered.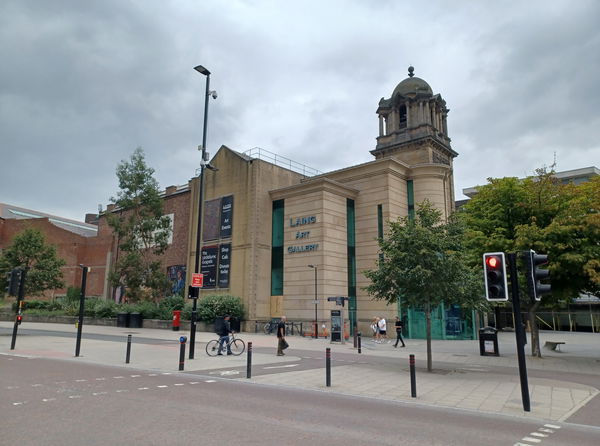 The Laing Art Gallery
Art
Newcastle City Centre
Tyne And Wear
A free art gallery in the centre of Newcastle housing works by Henry Moore, Thomas Bewick, Norman Cornish, Richard Hamilton and Charles Napier Hemy among others.
Ouseburn Art
Art
Newcastle City Centre
Tyne And Wear
The ever changing Ouseburn Street Art and Installations.
Man with Potential Selves
Art
Newcastle City Centre
Tyne And Wear
Three statues sowing the different aspects of a working man of Newcastle.
Never Miss A Fabulous Place
If you are afraid of misssing out on all the fabulous places we post, or just want to be the first to know, then sign up to the Fabulous North.
Each week we will email you all the brand new places that we visit.
Sign Up To Alerts
Find Us On Facebook
We post all our new places daily on our Facebook Groups page, so join the group today and be notified when we add a new place.
Join Our Facebook Group