Dunbar Castle
Castle In Dunbar, Borders
One of Scotland's strongest fortresses sitting in a prominent position overlooking the harbour of Dunbar.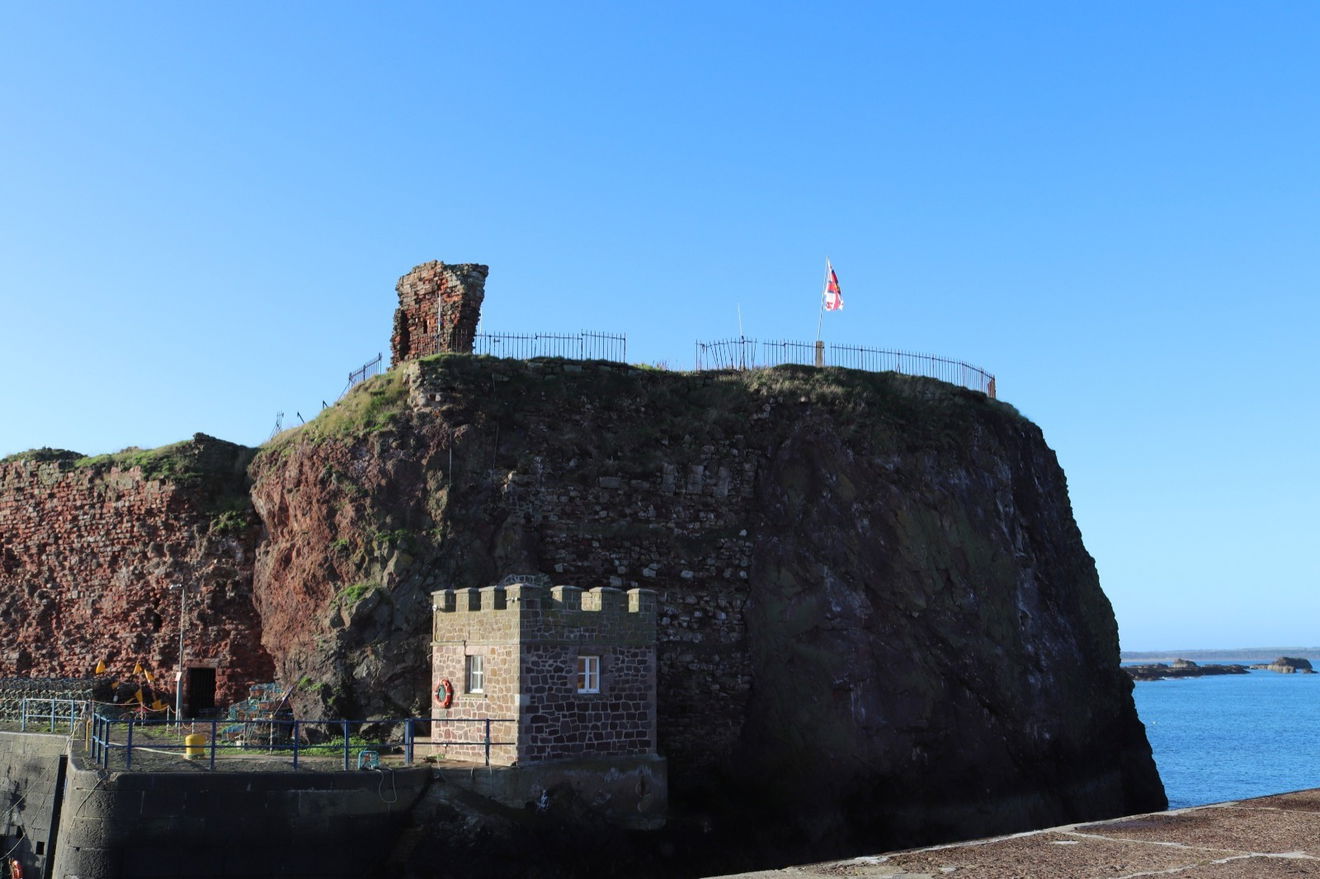 If you've just finished visiting the Dunbar Bear or are on an adventure in East Lothian, then add the Dunbar Castle to your to-do list.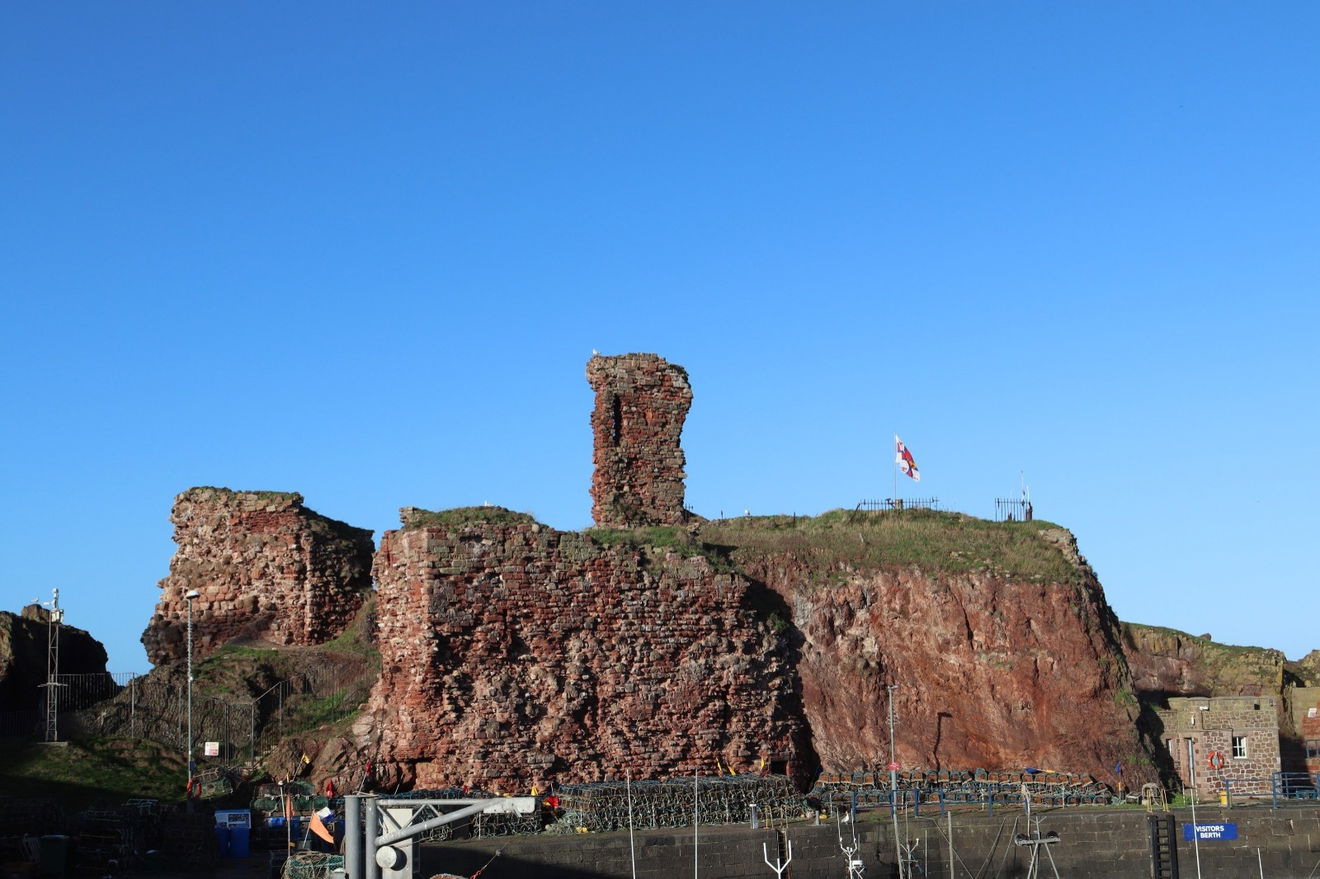 This little lonesome tower of rock sitting within Dunbar harbour is all that now exists of the once might Dunbar Castle. There used to be a stone arch connecting it to the mainland, but this was destroyed in the 16th century.
There was a further collapse in 1993 and as such you can't visit the castle, but you can get a great view as you stroll around the harbour.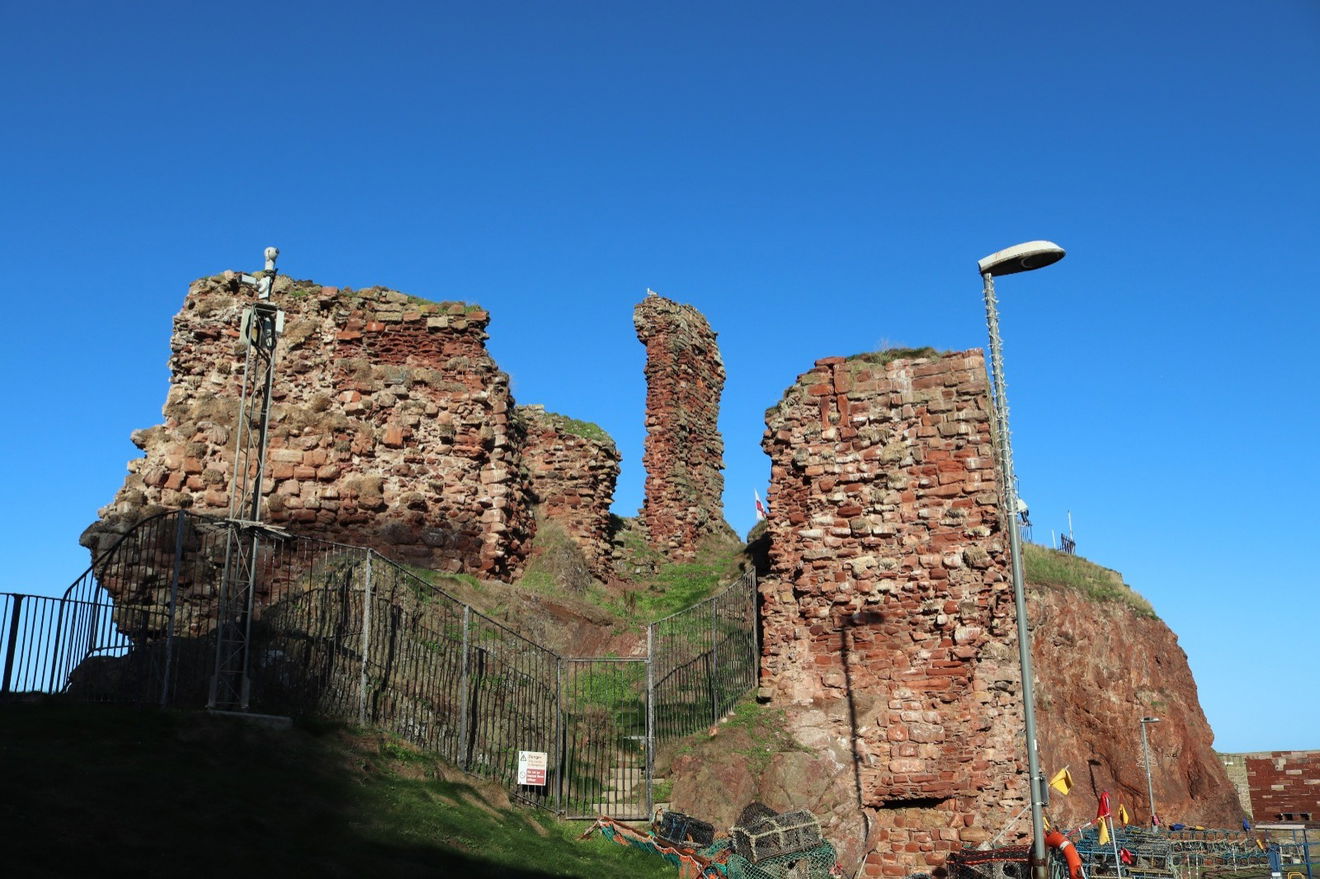 These defences were probably built by the Votanidi tribe who were pals of the Romans, who also had a camp at Chesters Fort. This was also a Northumbrian stronghold as far back as 650AD which Northumbria encompassing the East Lothian area.
There is plenty of history to unpack here and lots of better websites detailing this, so we'll just give you an overview here and you can forage on t'internet if you need a bit more.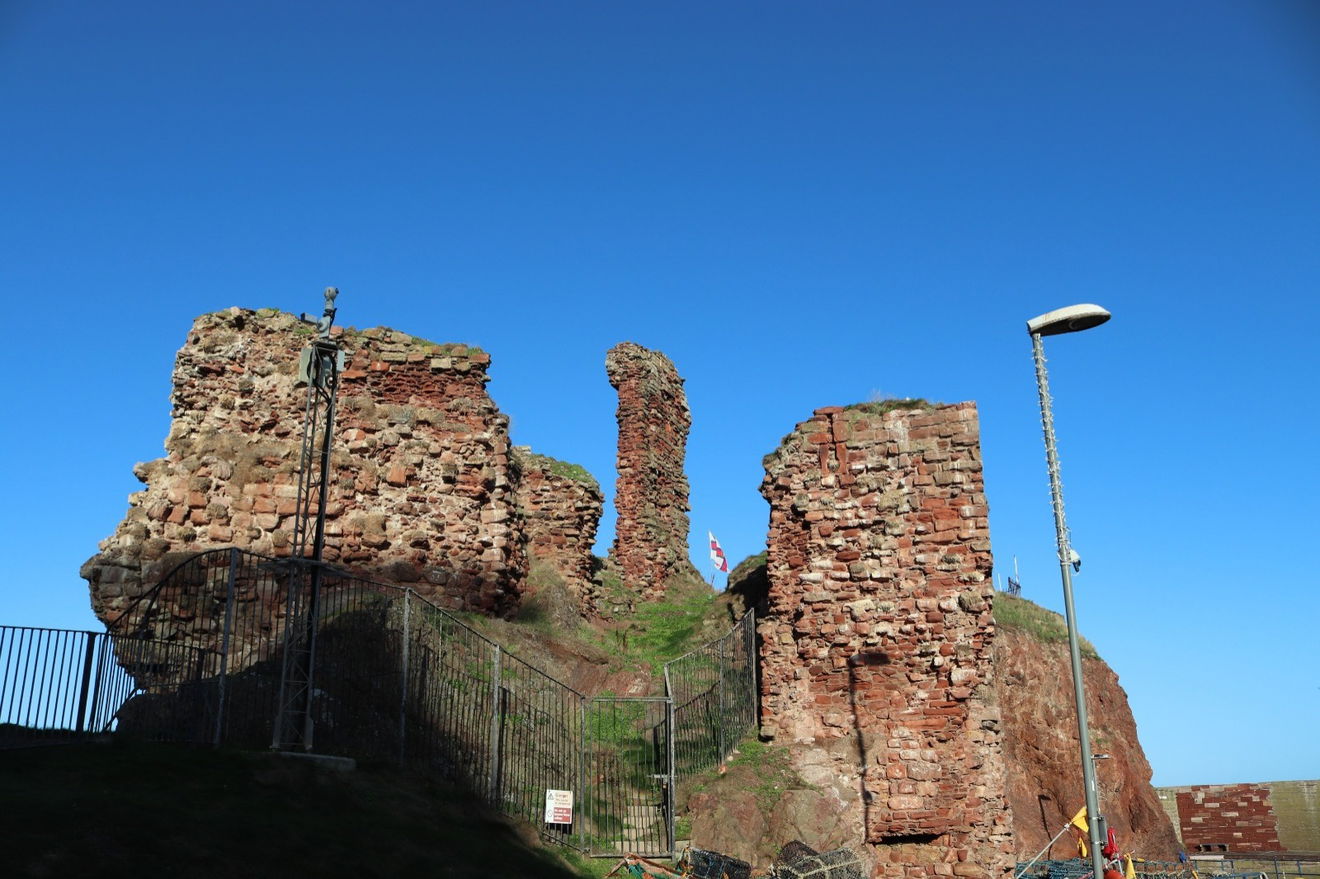 A chap called Gospatric, who was the Earl of Northumbria was exiled due to the Harrying of the North by William the Conqueror and headed up into Scotland to see Malcolm III. He then built the first stone castle here in Dunbar in 1070 and was named the 1st Earl of Dunbar.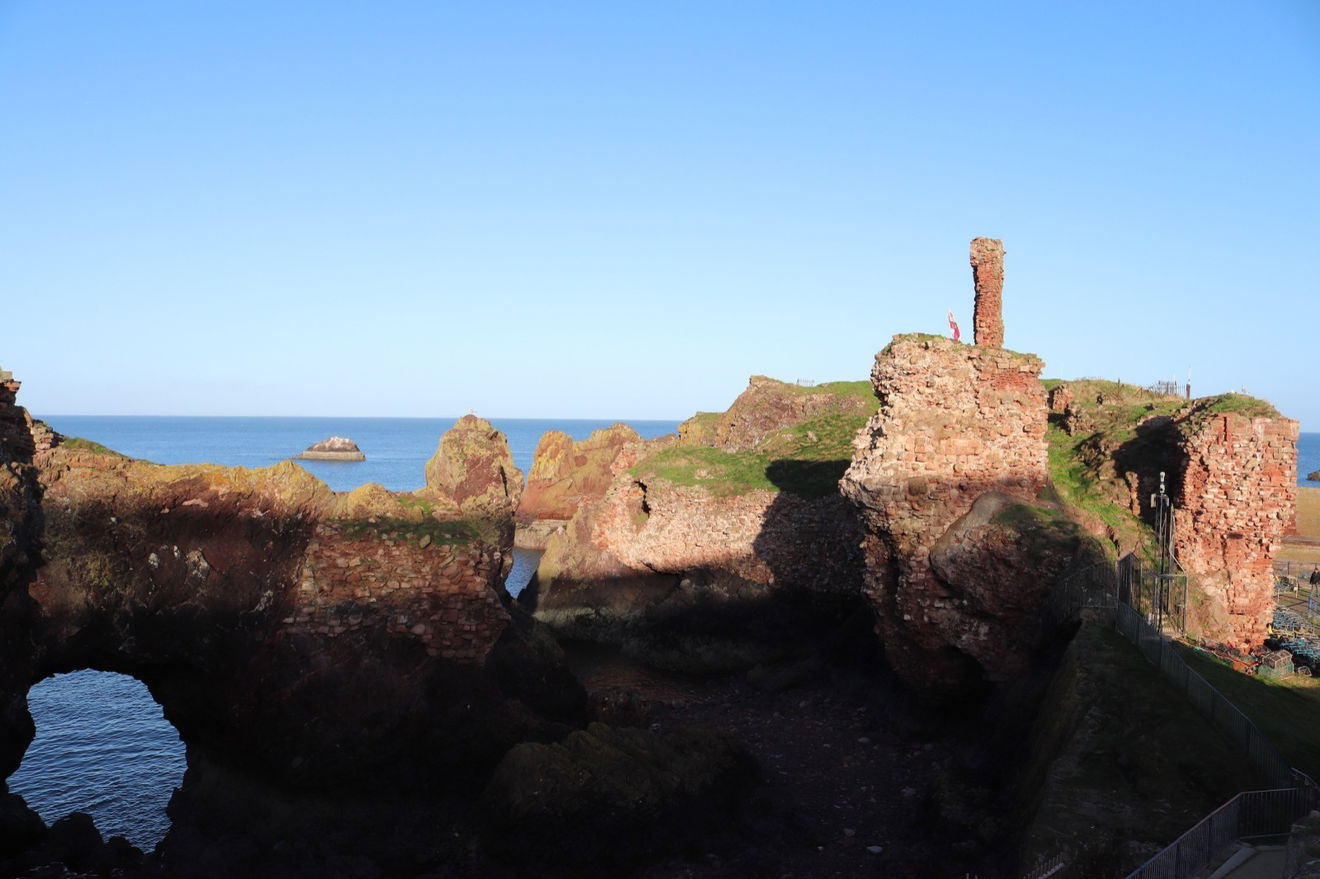 Then in 1457 the castle was dismantled to stop it being captured and occupied by the English, but towards the end of the century James IV restored it.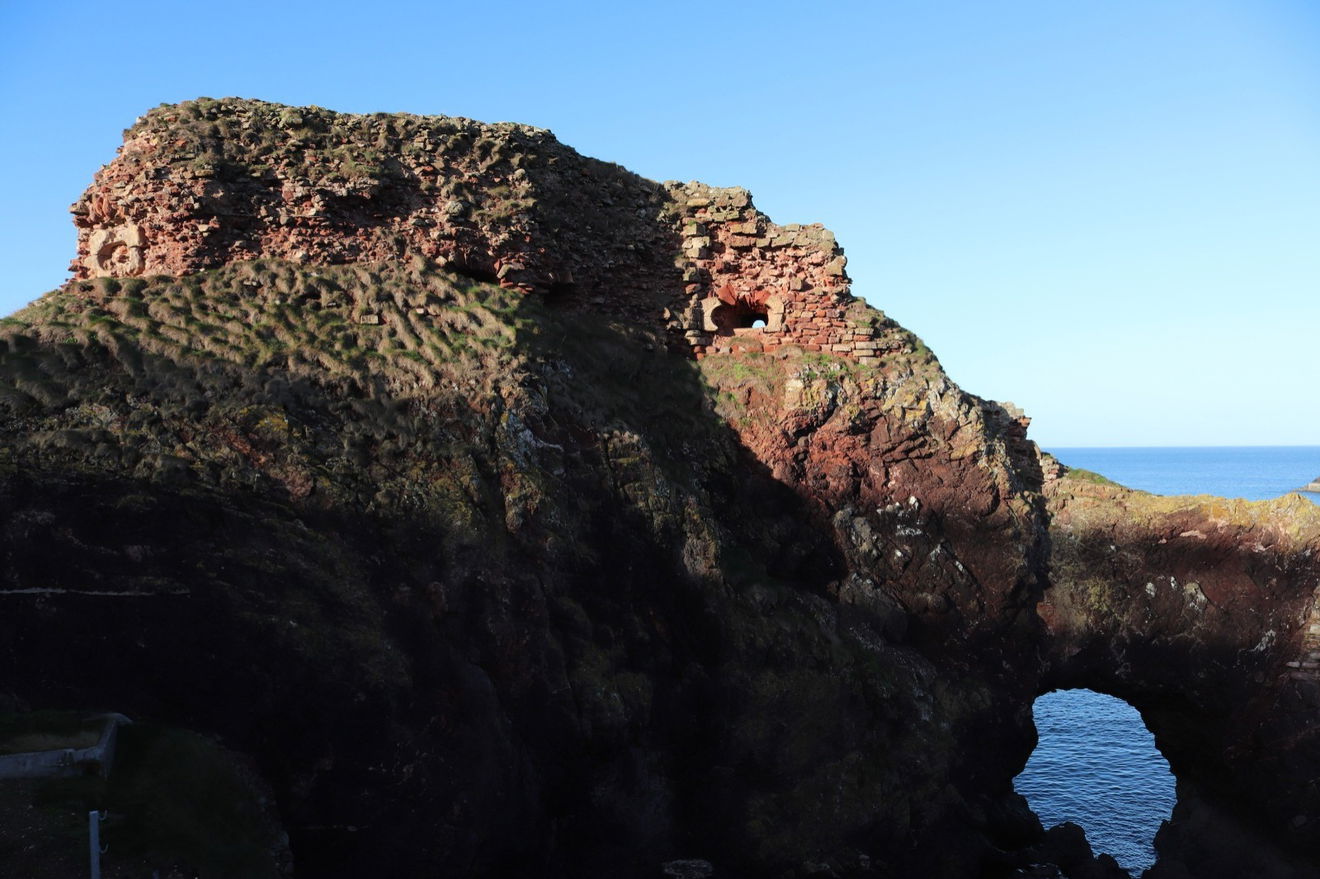 Then under the rule of James V, the castle was occupied by the French under the control of the Duke of Albany.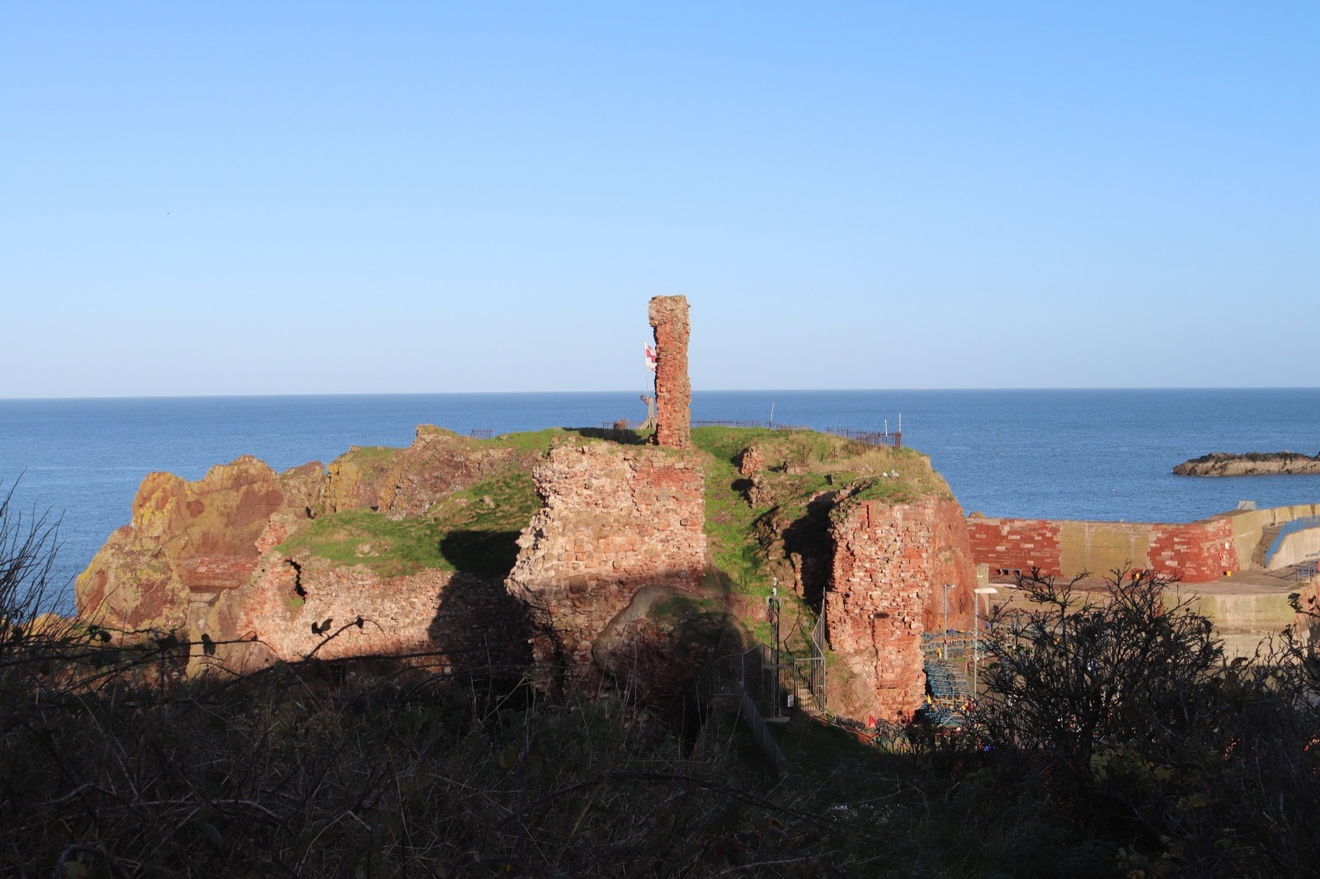 Then in the mid 14th century, Henry VIII's Rough Wooing saw the castle burnt by the Earl of Shrewsbury, but still remained in the hands of the French.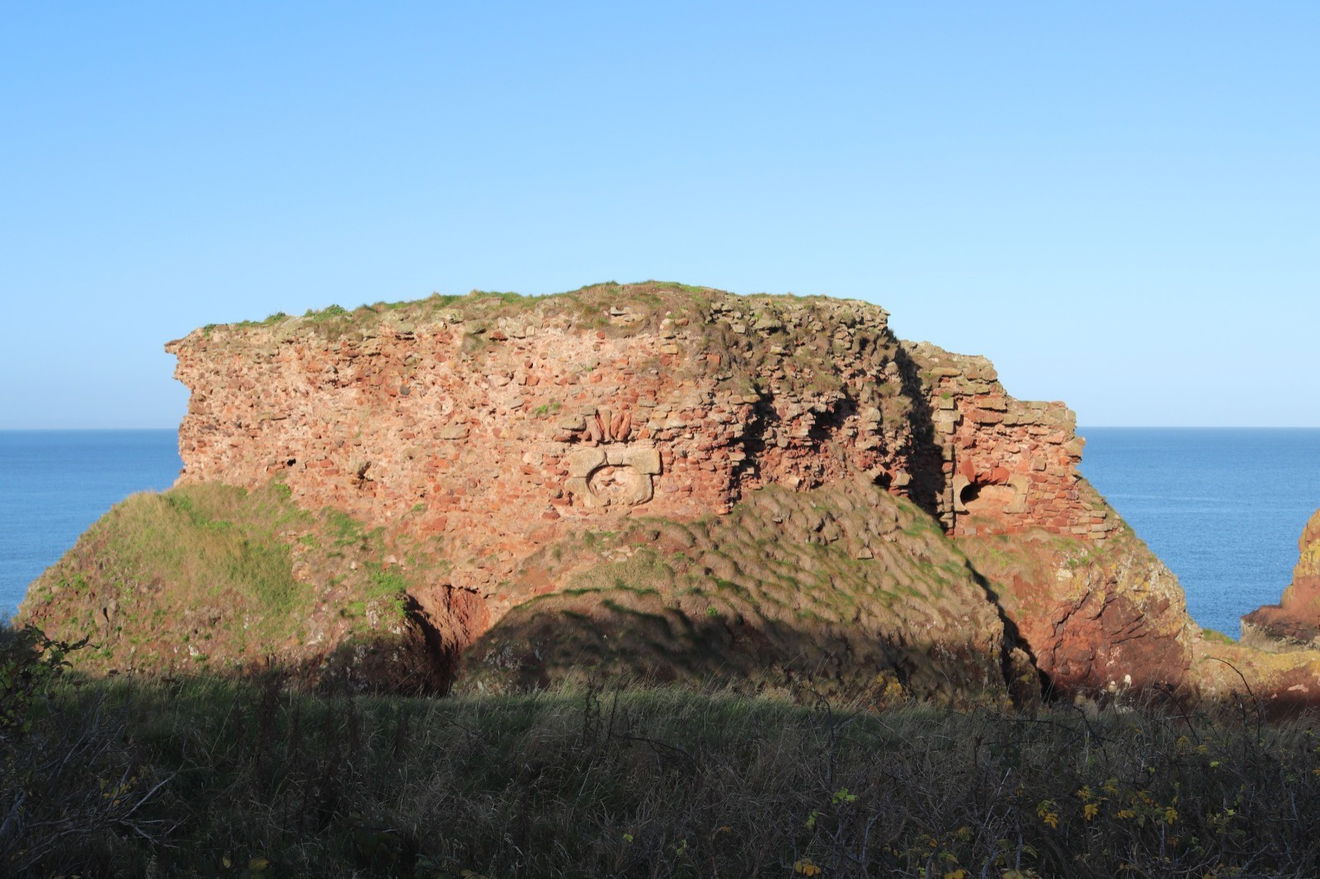 Mary, Queen of Scots then got involved in Dunbar Castle, appointing her half brother Lord John Stewart keeper of the castle in 1561. Mary even visited the castle, staying for a week in November of that year.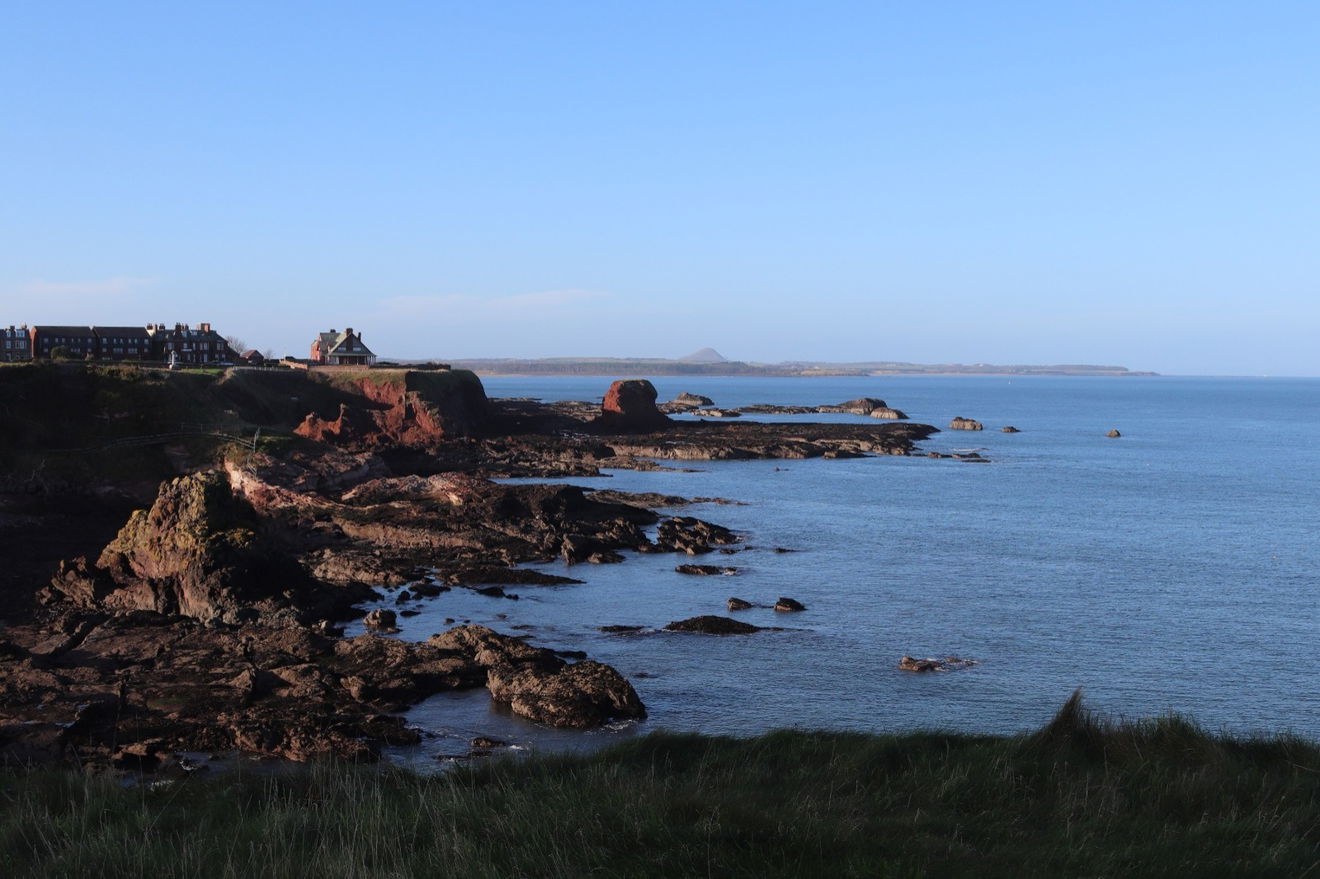 Following Mary's abdication, the defences were destroyed so it would no longer be a military stronghold. During the building of Dunbar Harbour in 1844, a large chunk of the ruins were dismantled and reused for the harbour.
Dunbar still has a historical military presence with the Dunbar Battery at the other side of the harbour.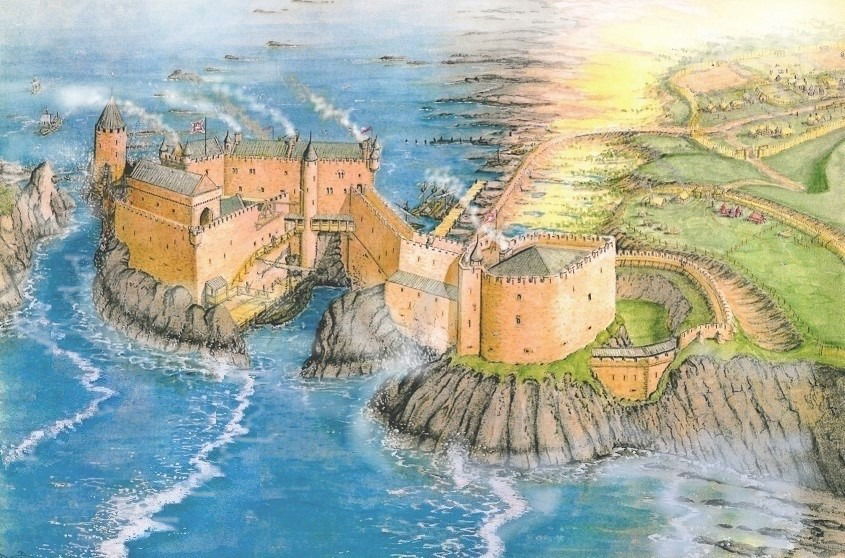 Thanks to Andrew Spratt for this amazing illustration of how the castle may have looked.
How To Find Dunbar Castle
Where To Park For Dunbar Castle?
Show Parking On Google Maps
Lat / Long
56.004272, 56.004272
What three words
There is a public car park just a short distance away.
Contributed by Simon Hawkins
Thanks for checking out this place on the Fabulous North! I do enjoy a wander out in to the countryside trying to find hidden gems that not many people know about. You can't beat a rogue Pele tower up a remote hill or a mysterious stone circle or a stunning waterfall secluded in a forest.
More Places from Simon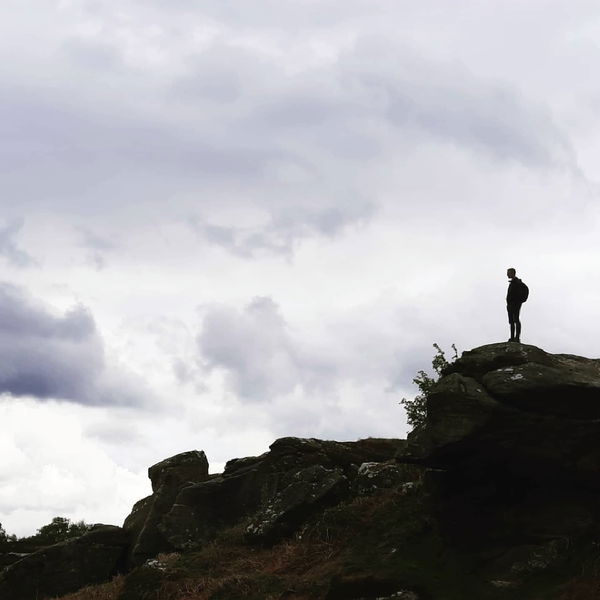 More Places In Dunbar
Find more fabulous places in Dunbar, Borders and if you know of a place we haven't listed, then let us know.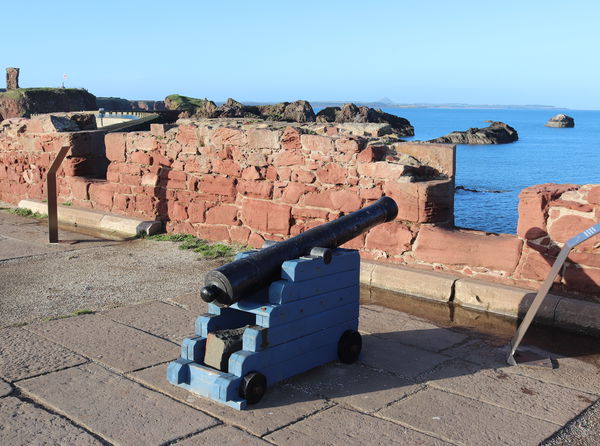 Dunbar Battery
Military
Dunbar
Borders
An 18th century battery protecting Dunbar Harbour from invasion and privateers.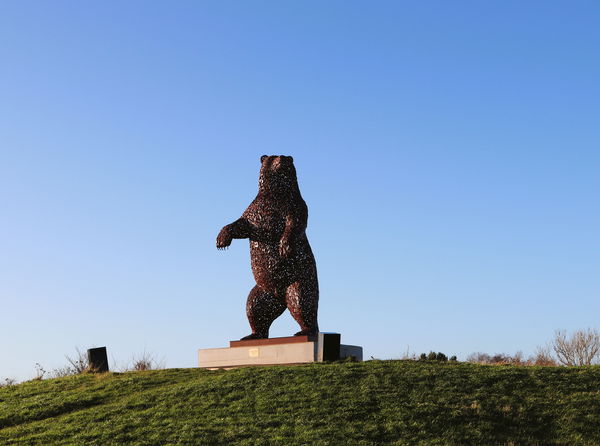 Dunbar Bear - DunBear
Statue
Dunbar
Borders
The DunBear is a steel sculpture of a brown bear in tribute to John Muir, the Dunbar-born naturalist and conservationist.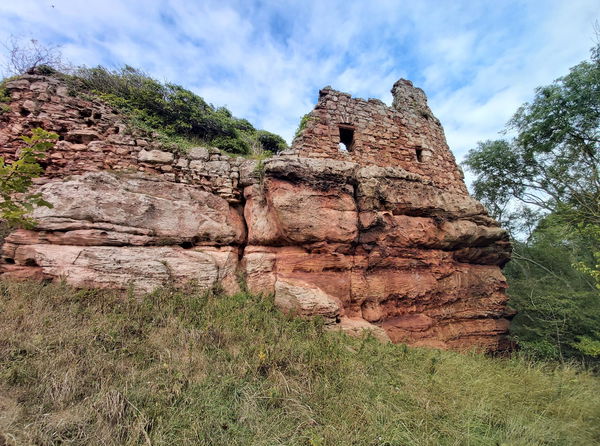 Innerwick Castle
Castle
Dunbar
Borders
A 14th century ruined castle in the small village of Innerwick built for Scottish royals.
More Castles
So this castle wasn't enough and you want more? Don't worry we have you covered.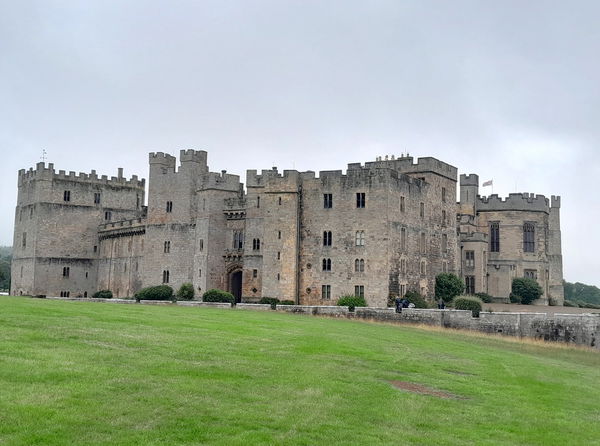 Raby Castle, County Durham.
Castle
Barnard Castle
County Durham
Medieval, Regency, and Victorian splendour all under several roofs. A wonderful deer park and woods. Oh and of course, it's haunted!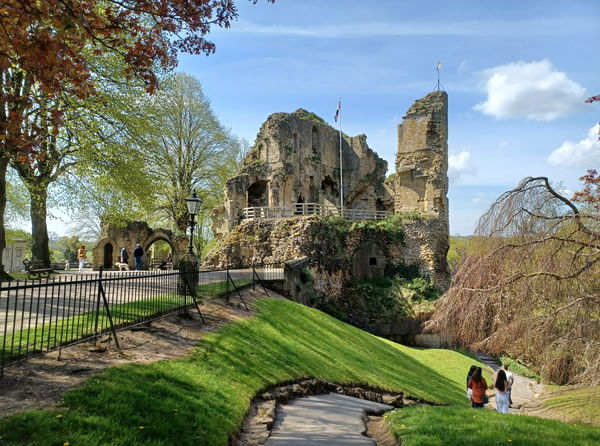 Knaresborough Castle
Castle
Knaresborough
North Yorkshire
A ruined fortress in the town of Knaresborough, North Yorkshire, first built by a Norman baron in c. 1100 on a cliff above the River Nidd.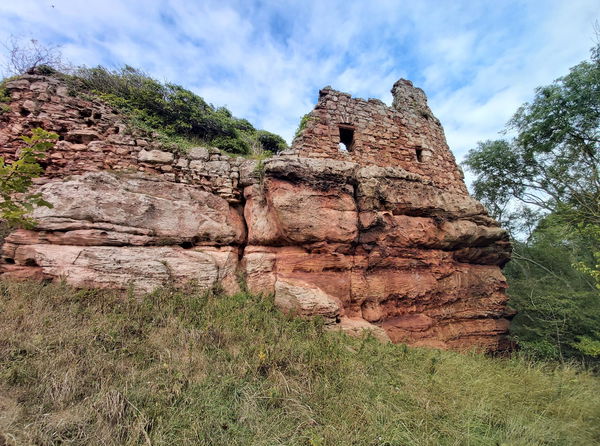 Innerwick Castle
Castle
Dunbar
Borders
A 14th century ruined castle in the small village of Innerwick built for Scottish royals.
Never Miss A Fabulous Place
If you are afraid of missing out on all the fabulous places we post, or just want to be the first to know, then sign up to the Fabulous North.
Each week we will email you all the brand new places that we visit.
Sign Up To Alerts
Find Us On Facebook
We post all our new places daily on our Facebook Groups page, so join the group today and be notified when we add a new place.
Join Our Facebook Group