Brough Law And Ingram Hillforts
14km
Ingram Valley
Northumberland
Brough Law And Ingram Hillforts
Ingram Valley, Northumberland
A wander around the hillforts in Ingram Valley including Brough Law.
Distance - 14km (9 miles)
Ascent - 612m
Duration - Approx 4 hours
Terrain - Hard mud and grassy tracks. Some wading through tall ferns.
Parking - Park in Bulby's Wood car park. Toilets here too which is a bonus! View Parking Map
View Route On Map
You can't go far in the Ingram Valley without bumping into a hillfort or ancient settlement, so with the weather lovely and sunny I decided to head up to see what I could find.
The chunkiest hillfort up here is Brough Law and that was the start of my adventure. Best place to park is Bulby's Wood car park which is right at the foot of Brough Law.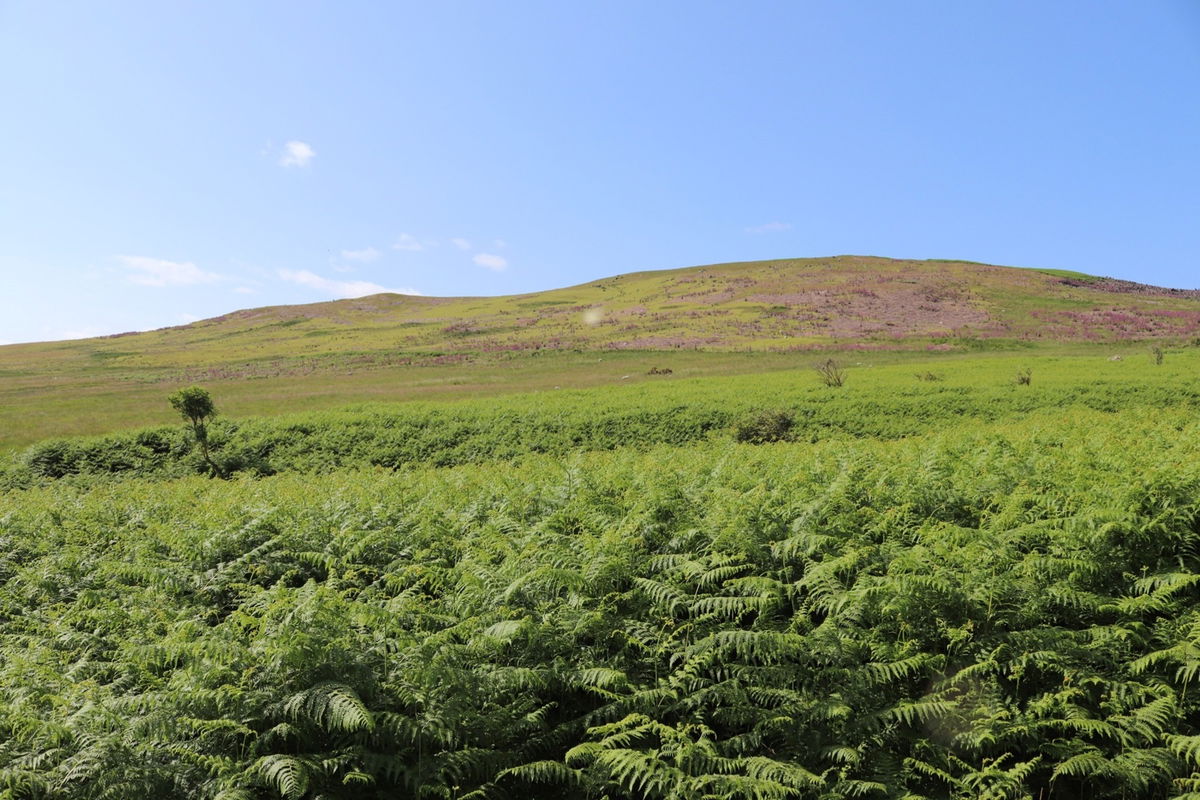 Just head across from the road from the car park and follow the fingerpost and track up to the top. You can't really go wrong.
As with most hills in The Cheviots there are a lot of false peaks. Just when you crest the rise, there is another one. Halfway up now and I can see Cunyan Crags over on Dunmoor Hill.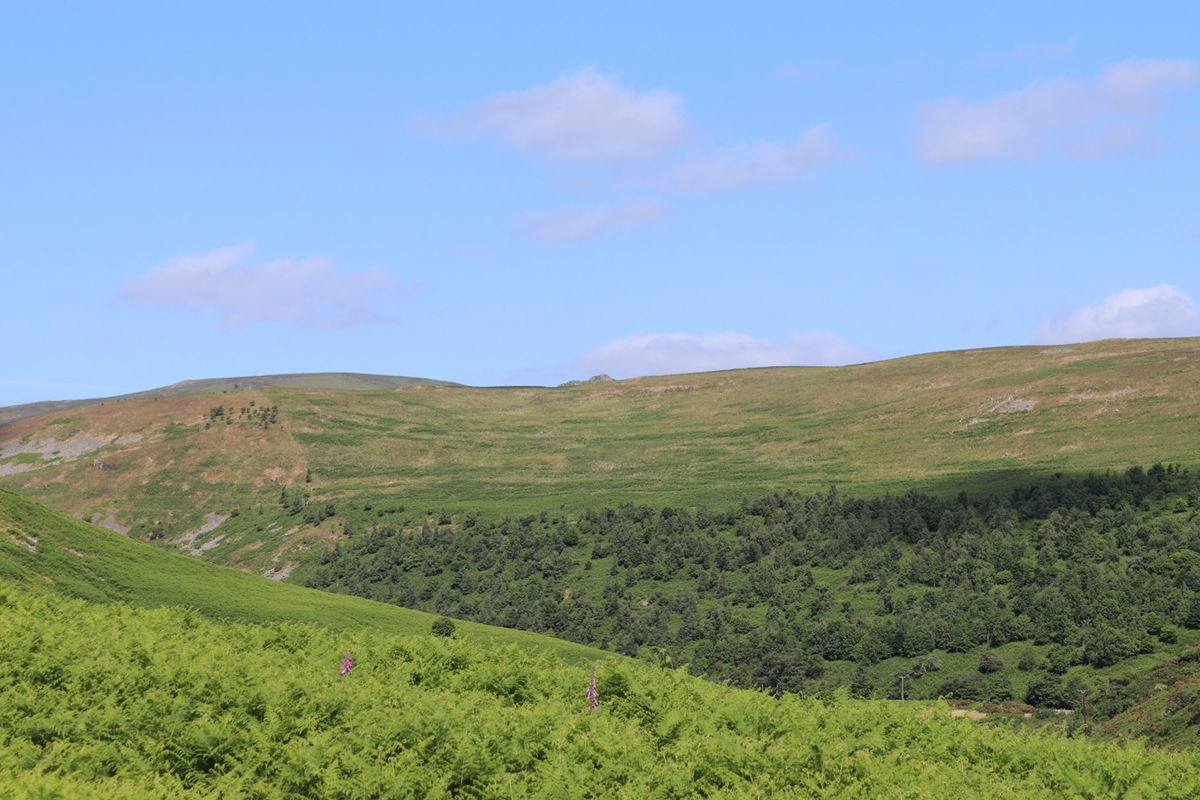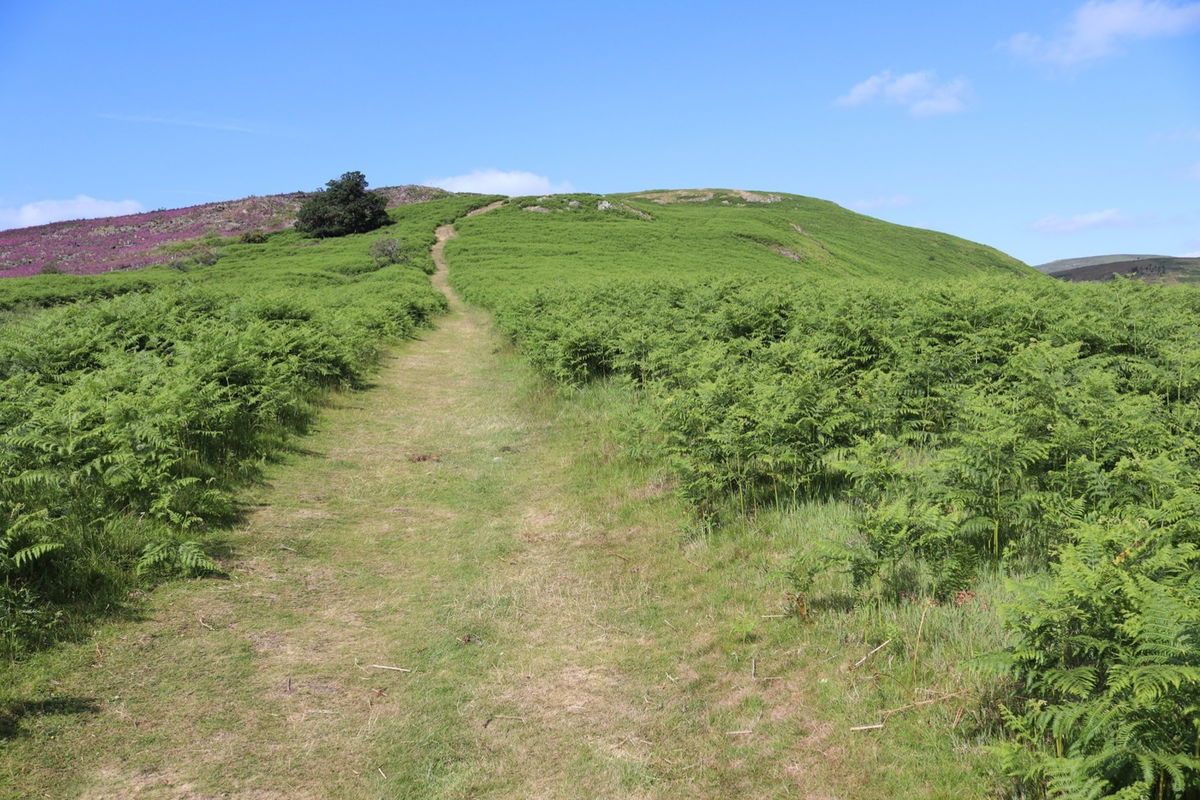 Nearing the top now and there is a little bench if you need a breather. I take a moment to have a look over my shoulder and see West Hill and Old Fawdon Hill in the distance. I will be making my way over there later.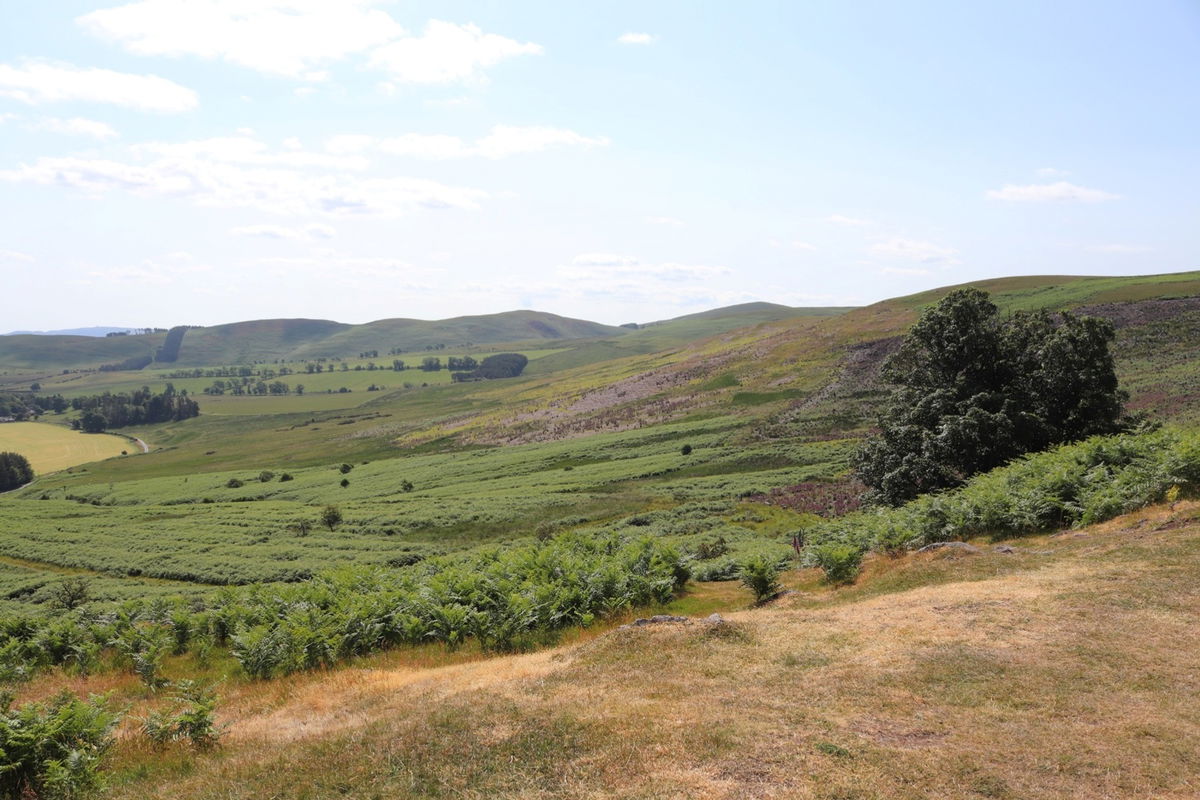 And I have made it to the top of Brough Law with a mighty hillfort on its head.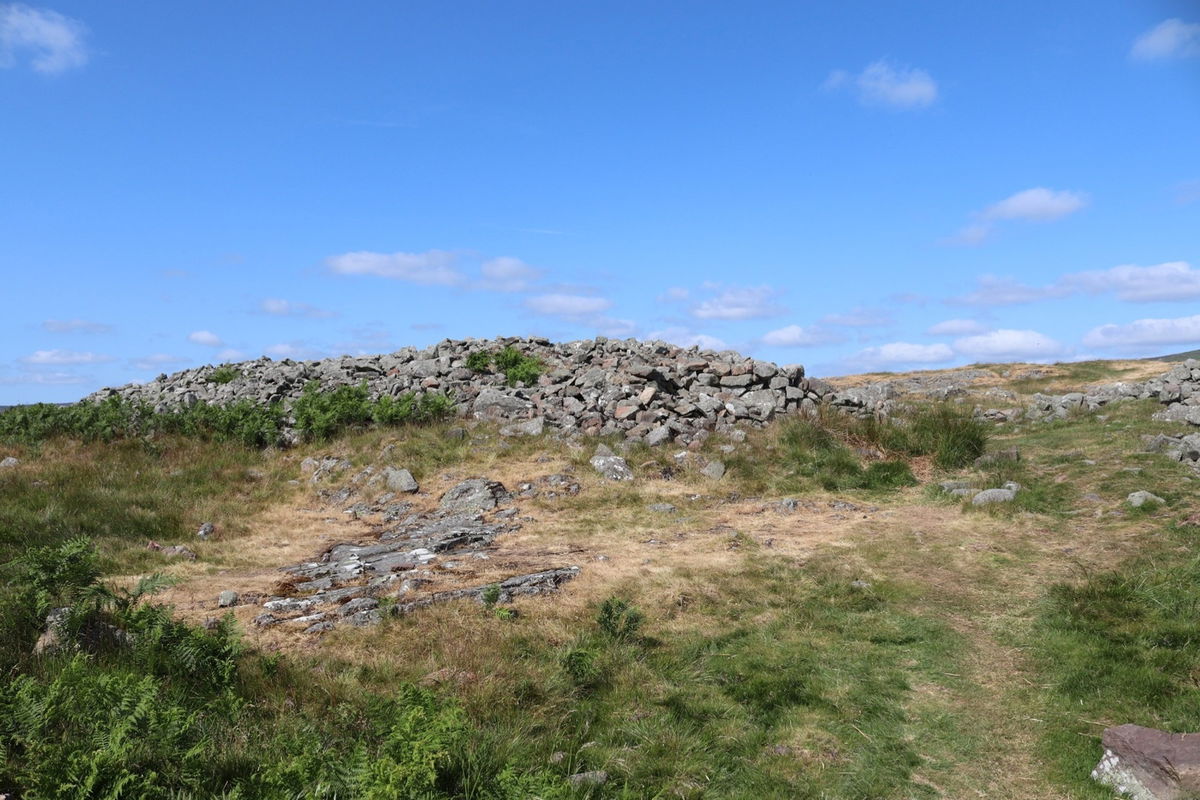 Difficult to see the hillfort from ground level, so I launched Red5 to get a better look.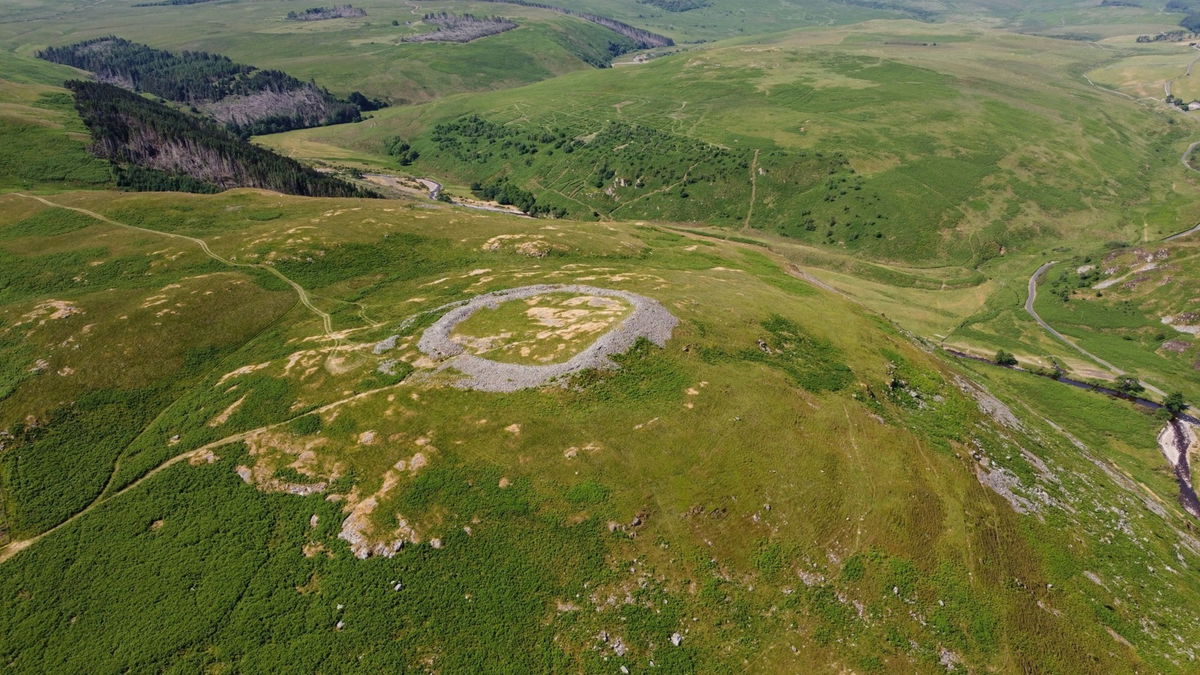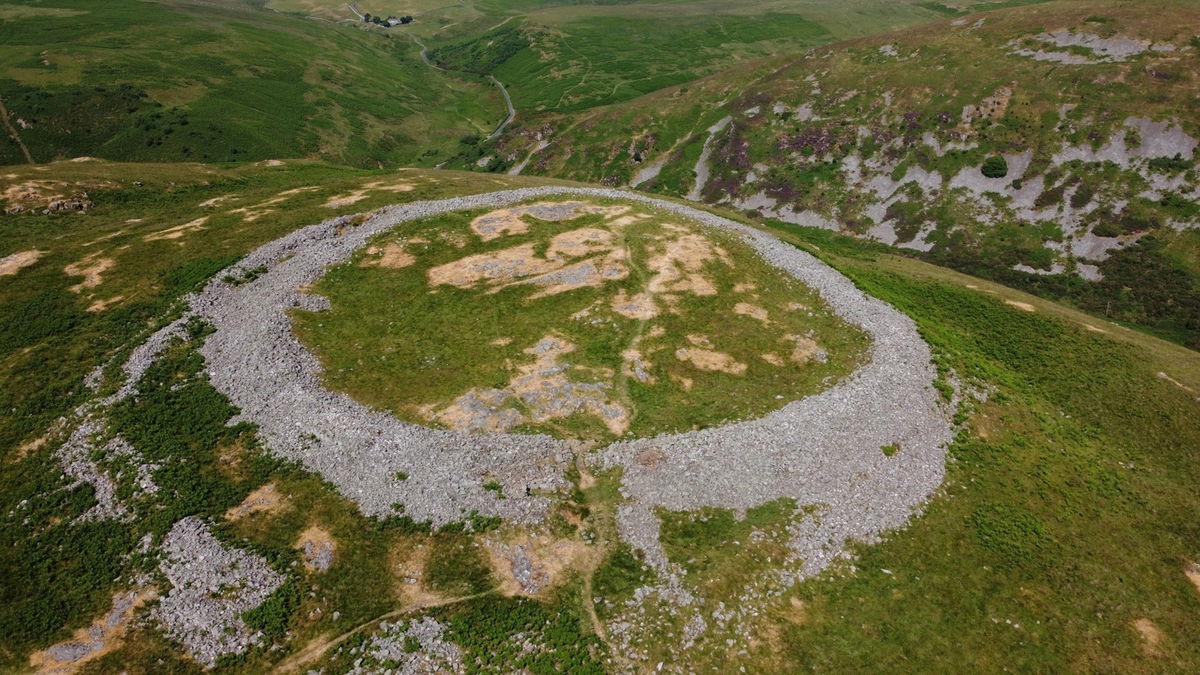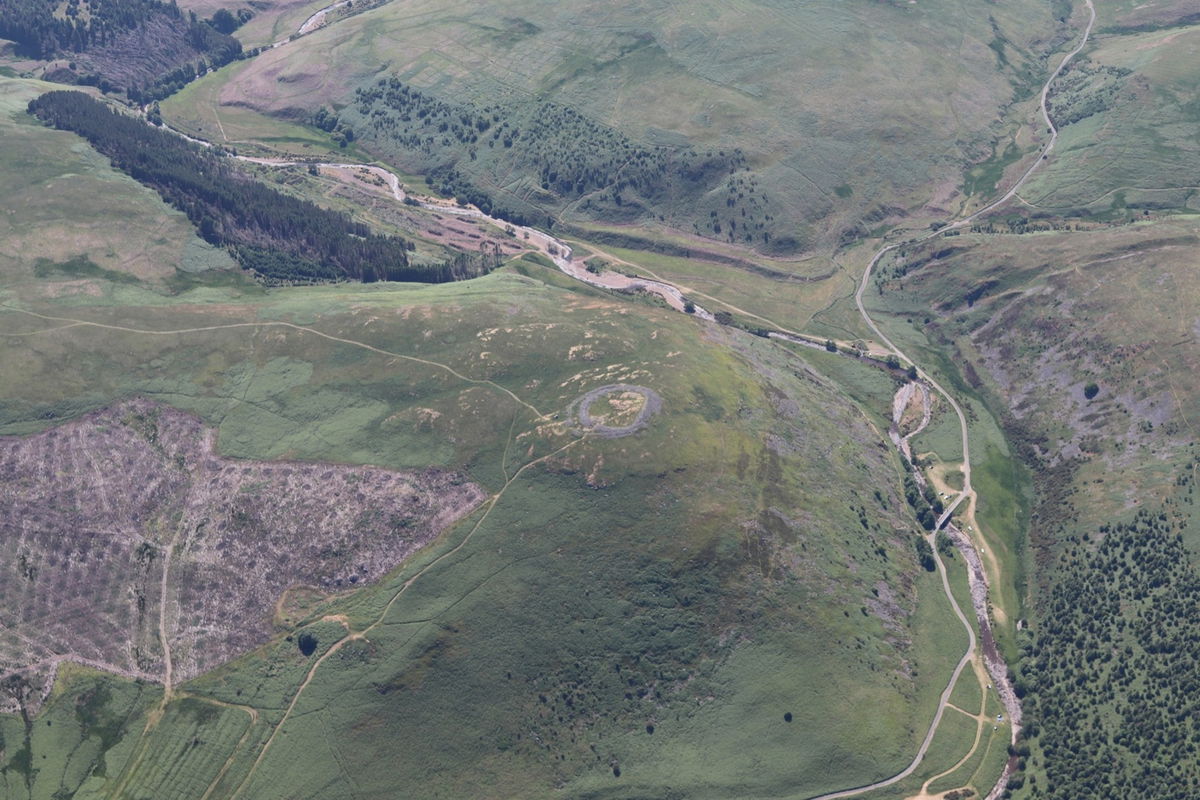 Belta of a view of Cunyan Crags from up here too.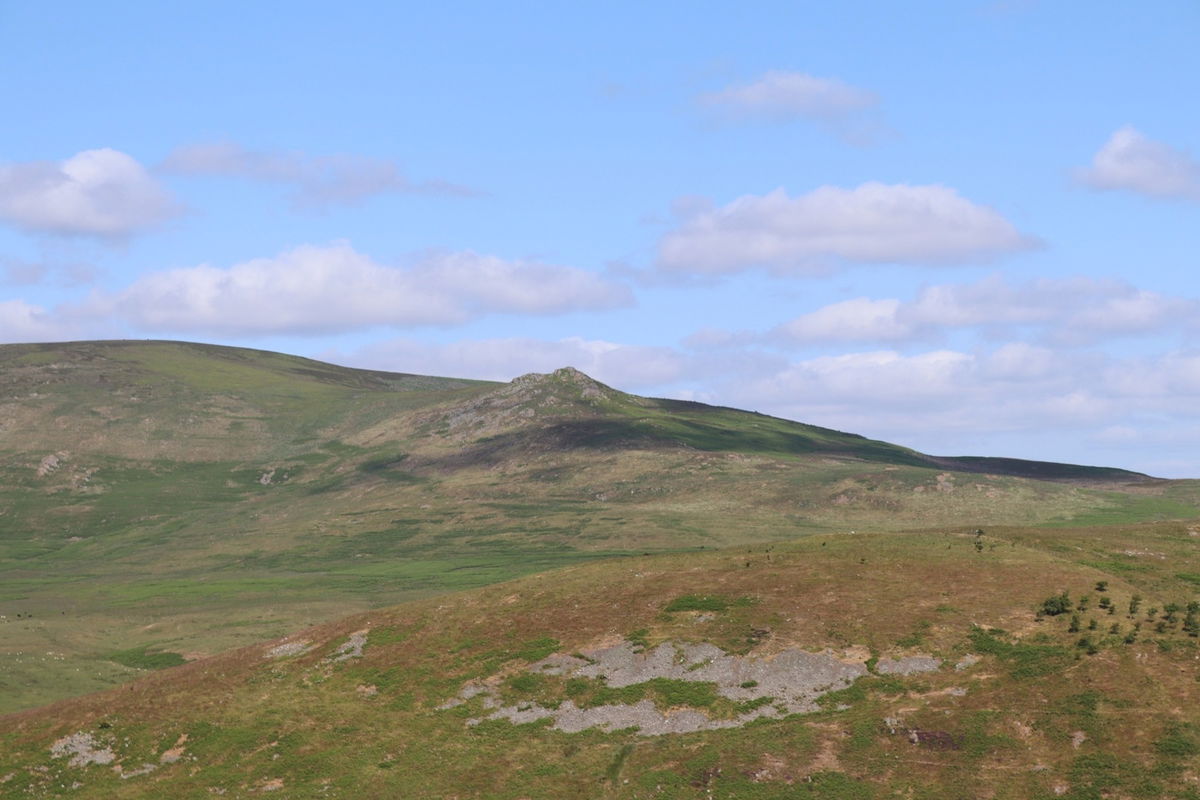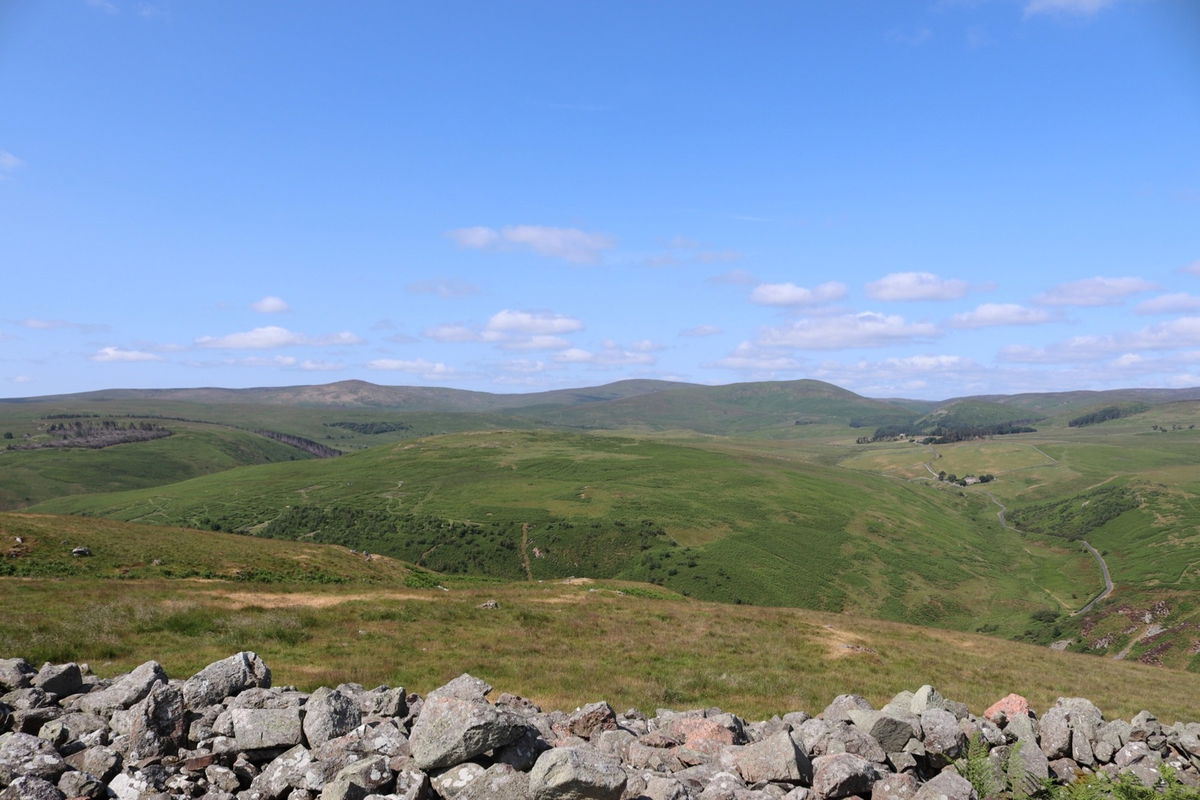 I head south from Brough Law and make my way towards Ewe Hill with a little diversion to a cairn.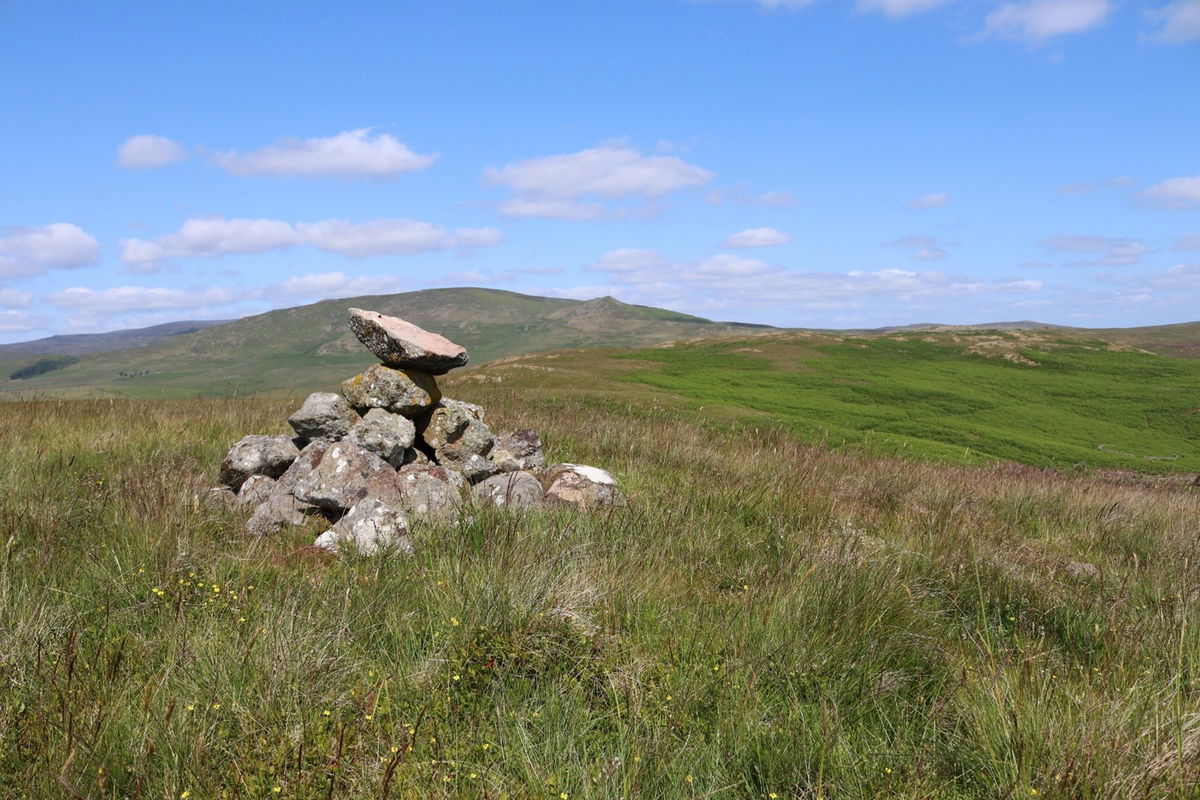 I spy another cairn on top of Ewe Hill and have a saunter up.
Then it's off through Little Cleugh, but not before I find another settlement.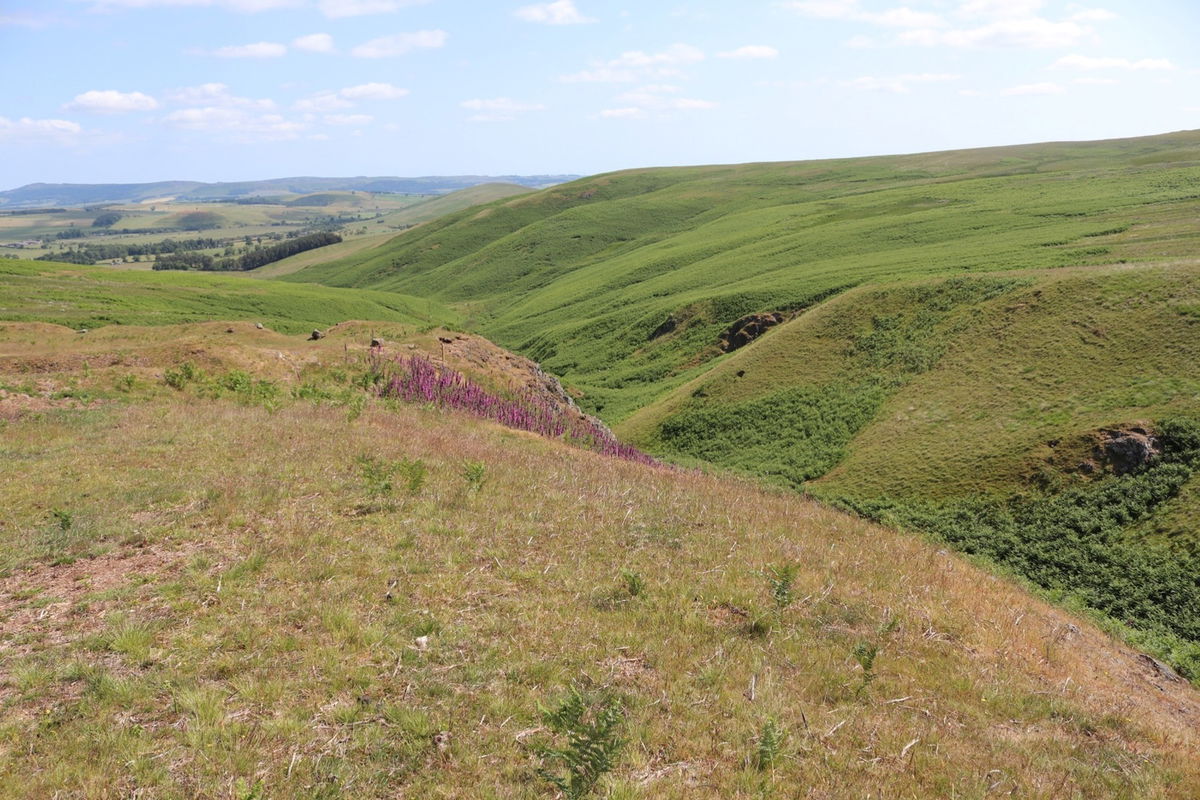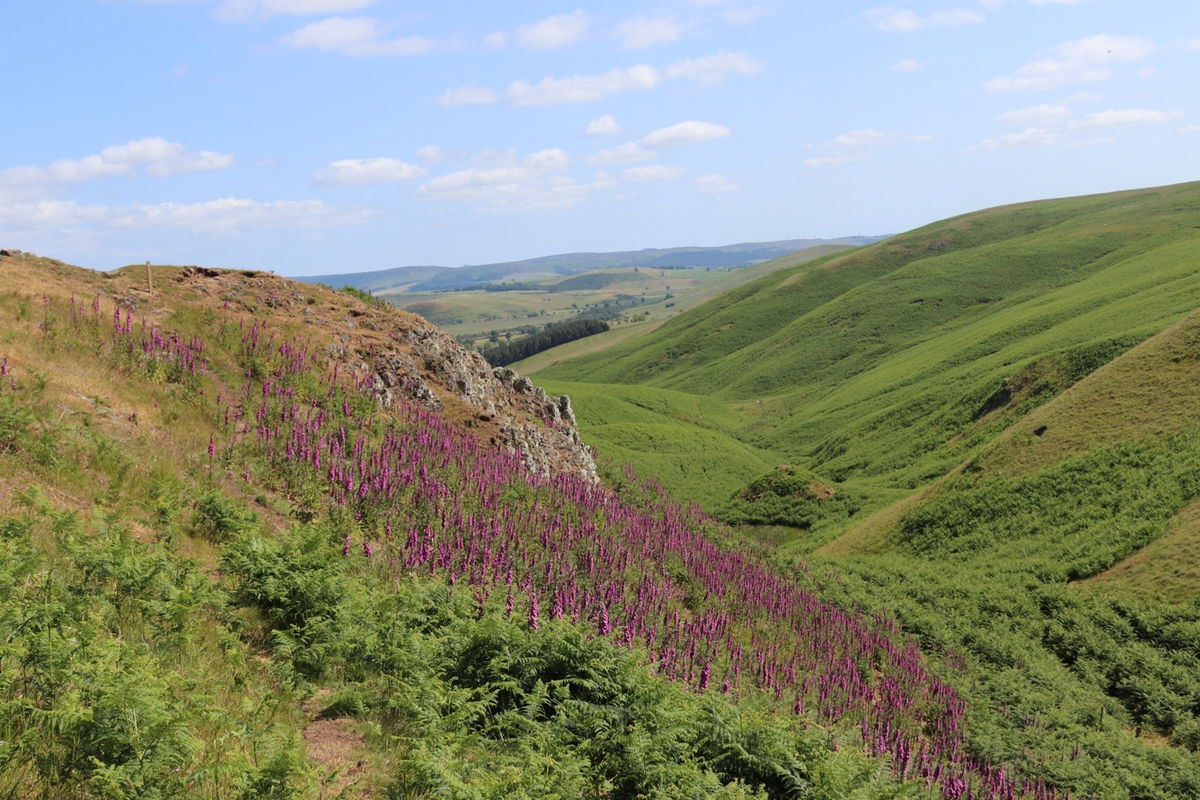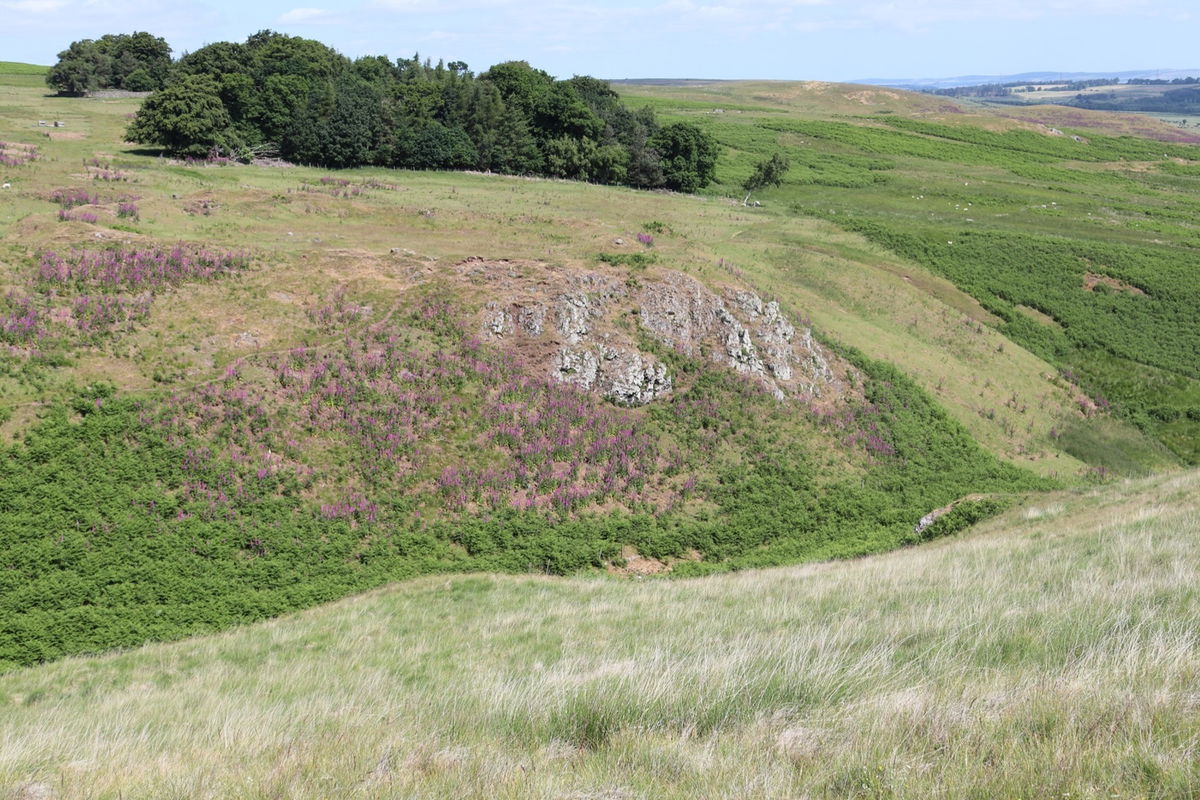 Again, difficult to see from the ground level, so I sent Red5 up for another look. This is called Middle Dean.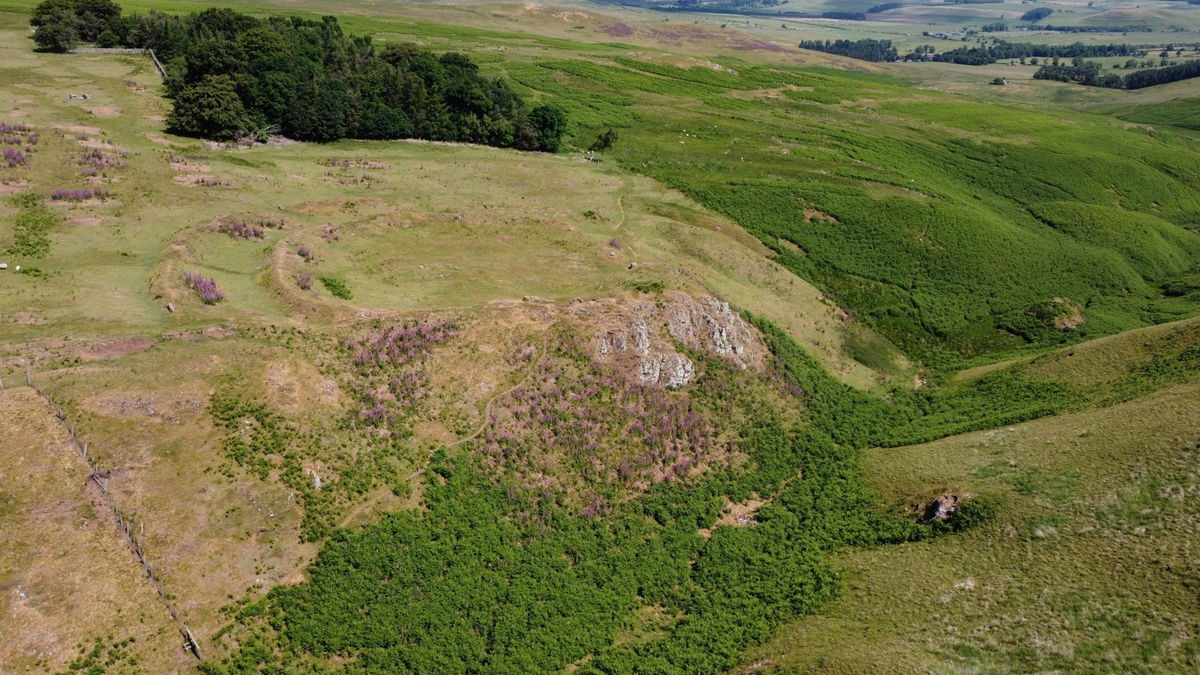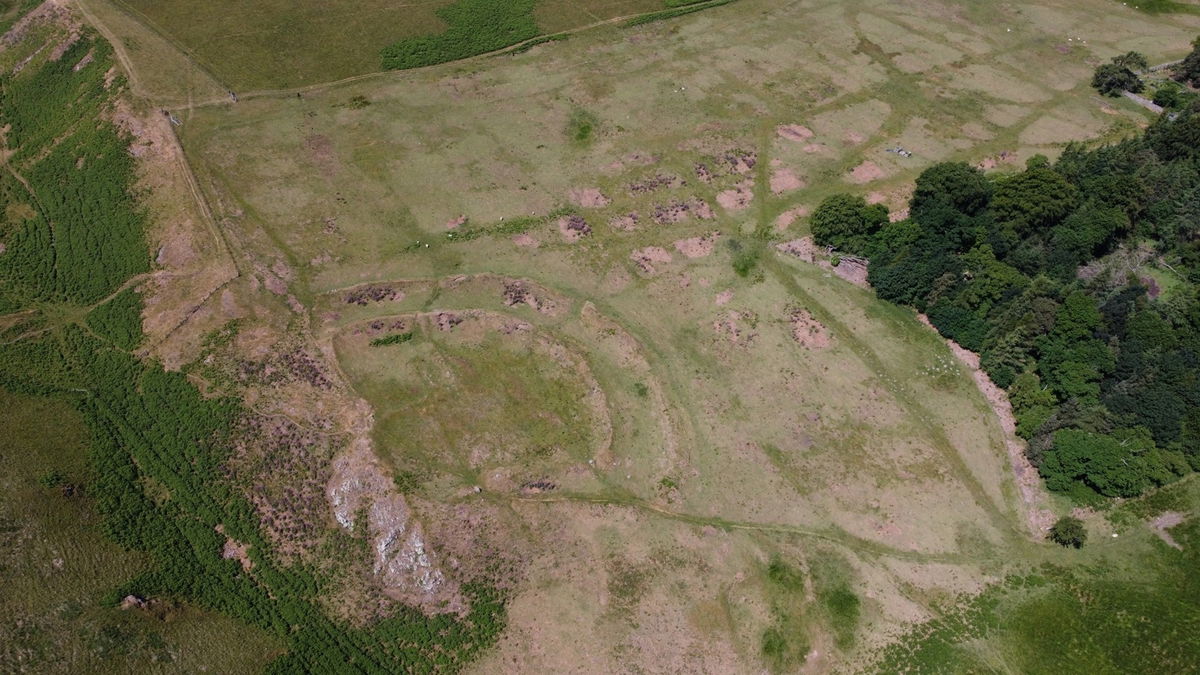 Now it's a short stroll to the top of Cochrane Pike.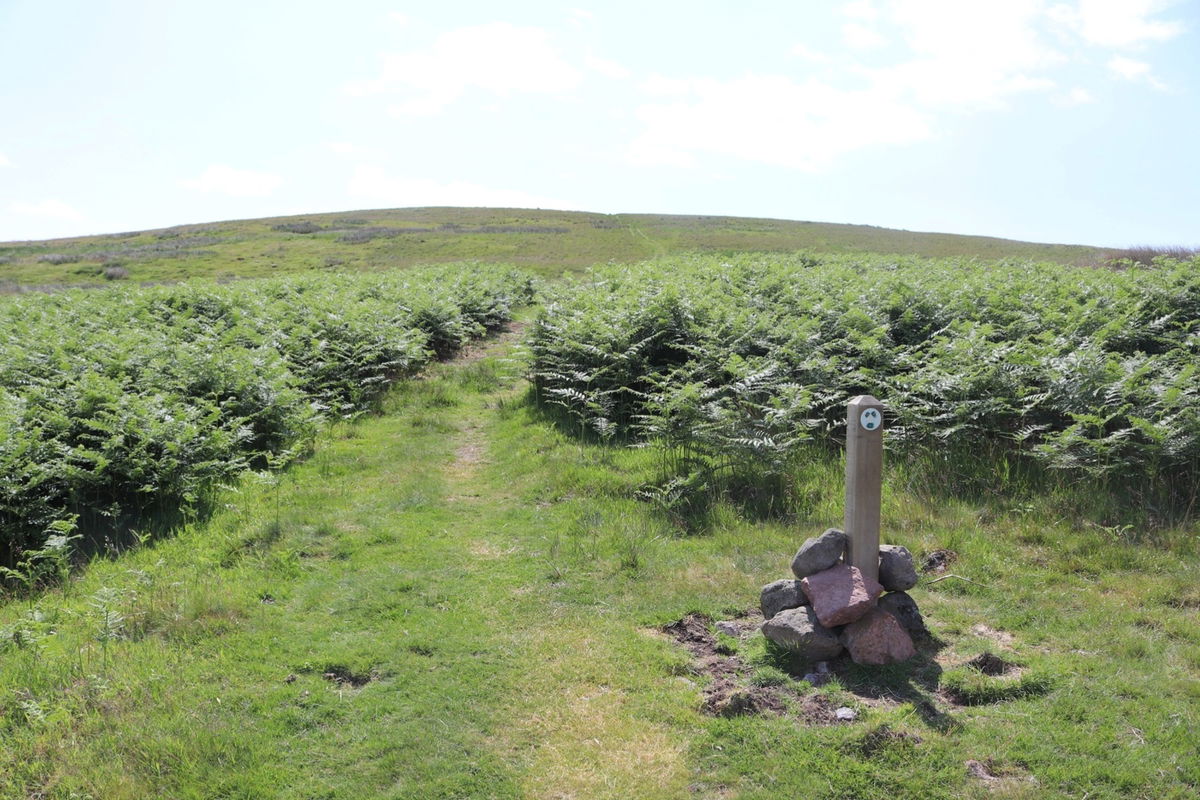 Once at the top I get a grand view over the nearby hills. To the left is my next destination of Old Fawdon Hill and to the right is Chubden, however this one is not on access land. There is a permissive path skirting Chubden around halfway up, but there is a lot of cattle on the hill, so I will just admire from afar.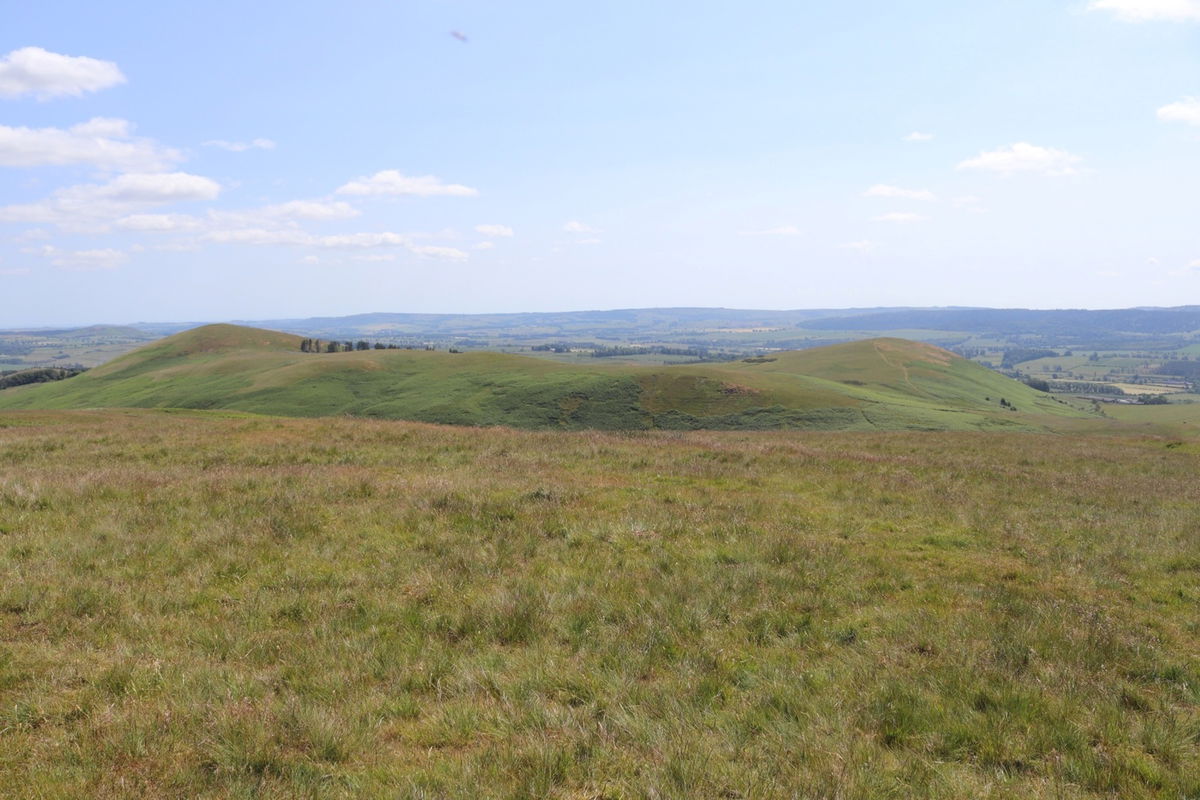 Again another settlement is up on Cochrane Pike so I sent up Red5 for a look. At this point it was really sunny and difficult to see the screen, but hopefully this is the settlement.
Time to head across to Old Fawdon Hill and the path leads me through some canny deep ferns.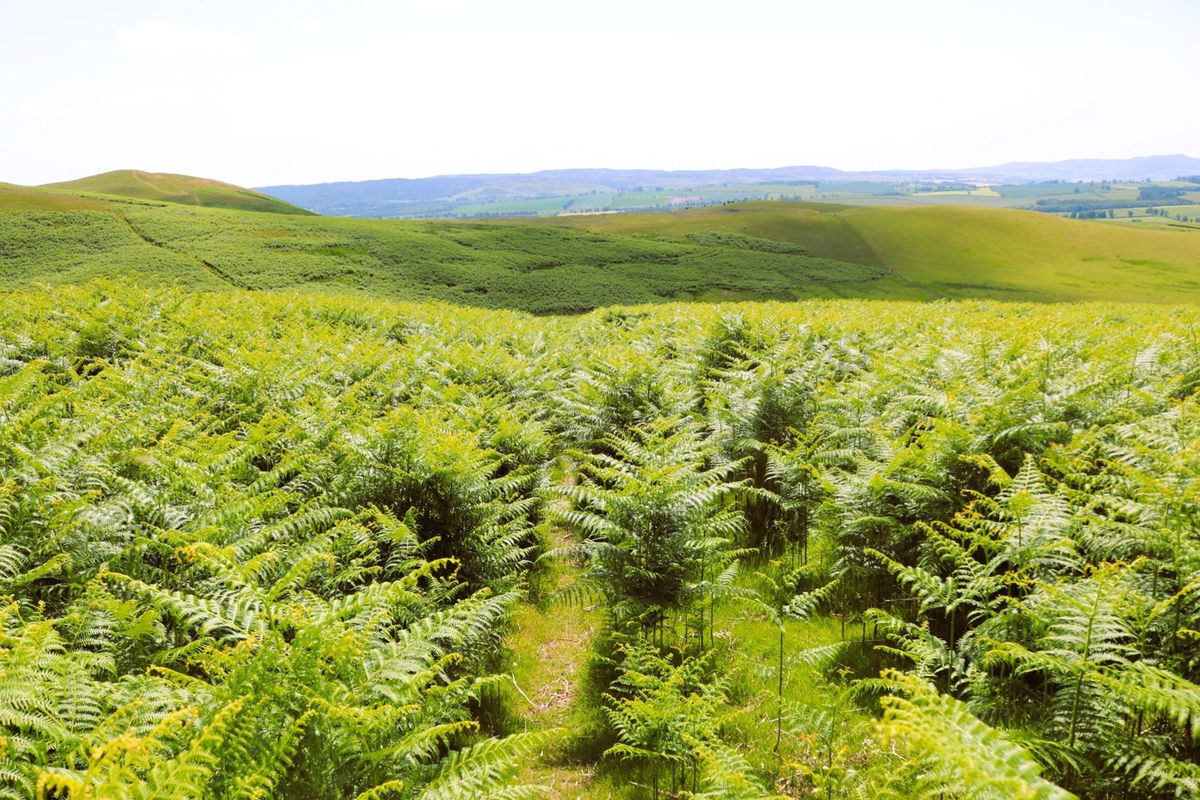 The peak of the hill is up here, but fortunately there is a permissive path leading through some slightly less dense fern.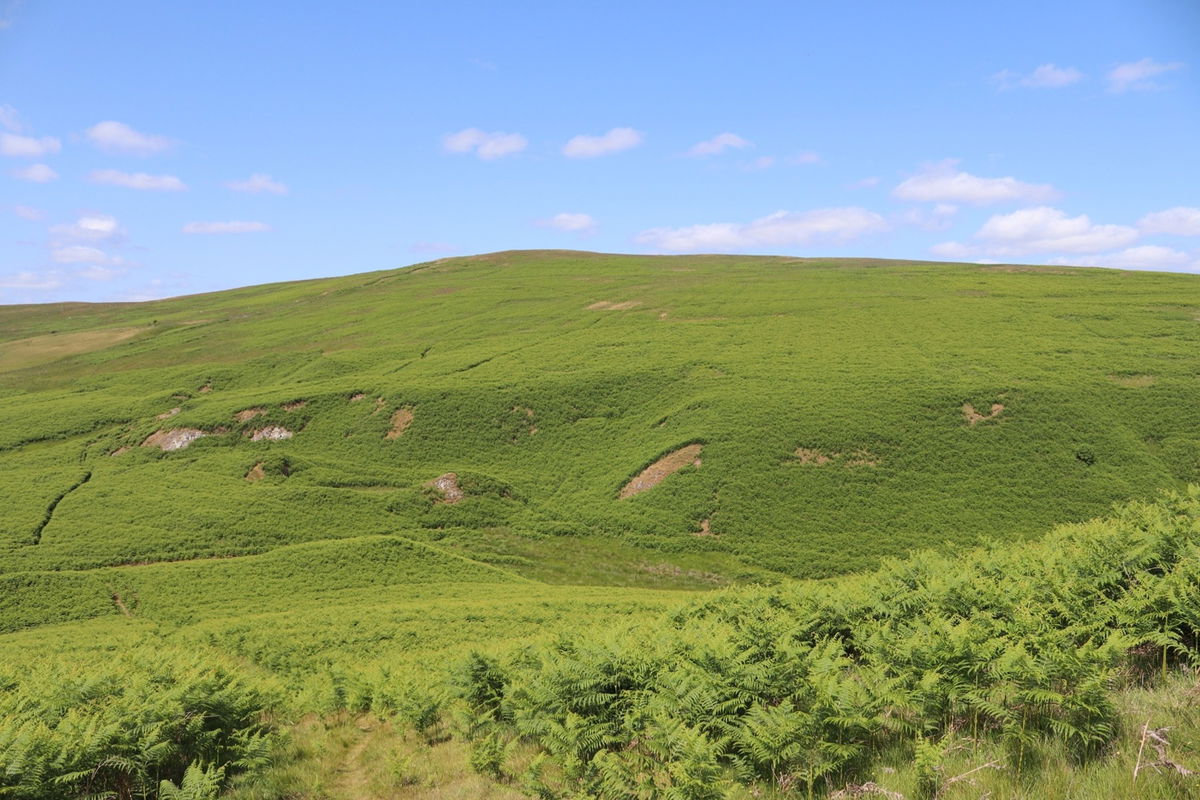 Entering the land used by Fawdon Farm and a little sign telling me what they do here.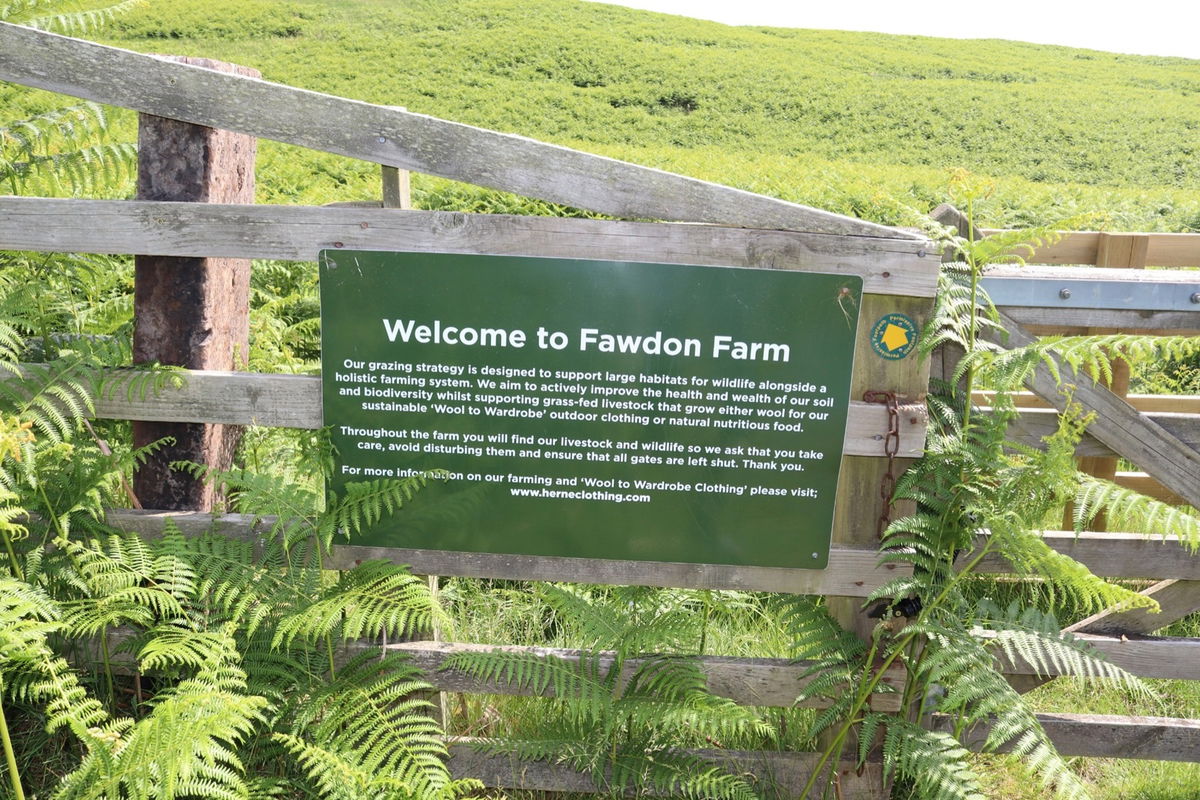 Halfway up and I look across to Chubden to spy a settlement at the foot of the hill.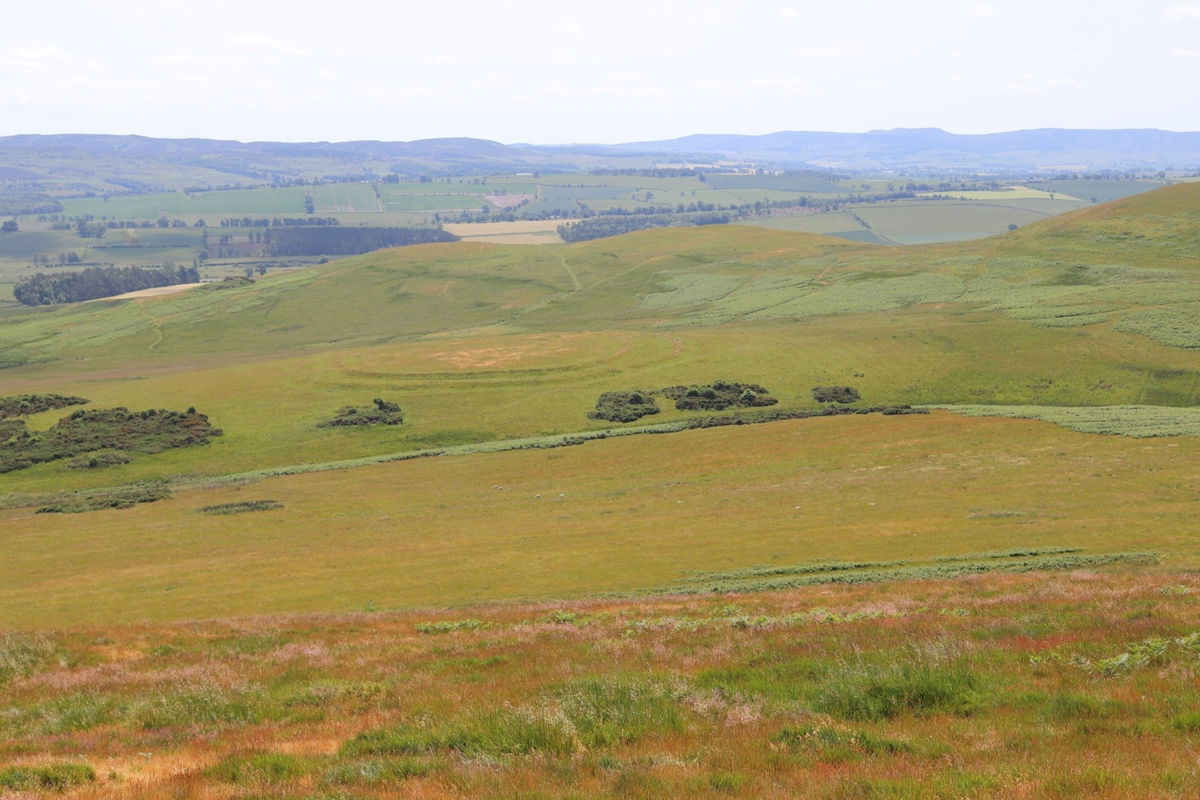 Now I get a much better view of the settlement on Chubden.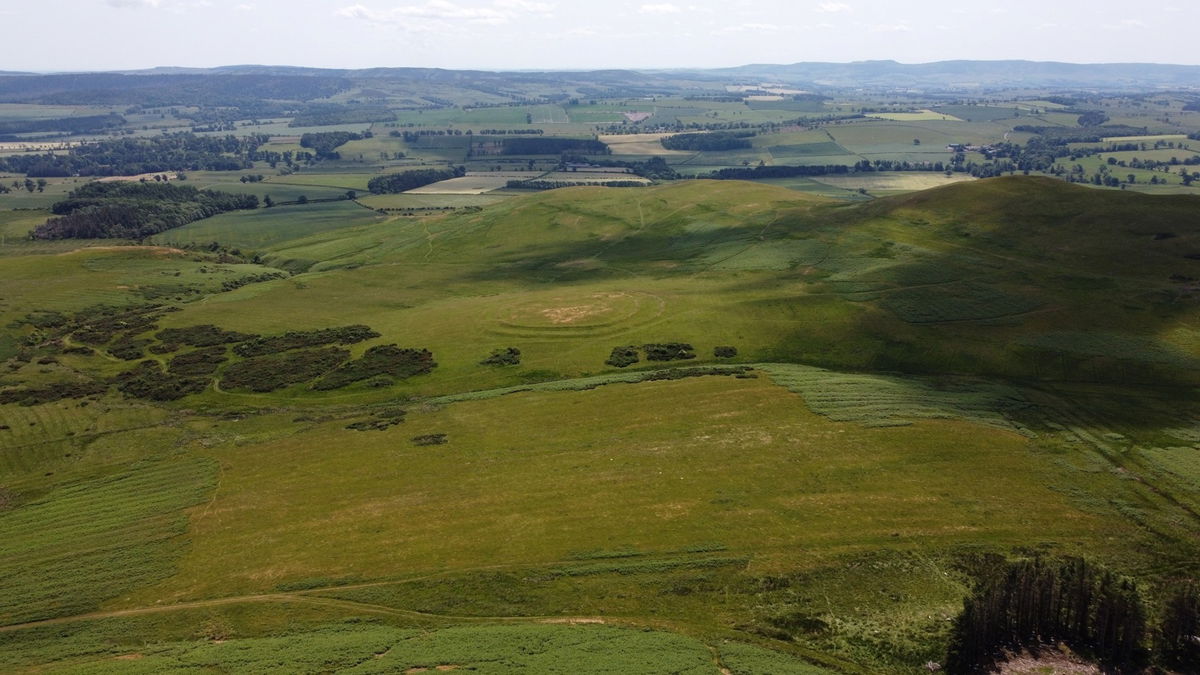 I launch Red5 for a better look.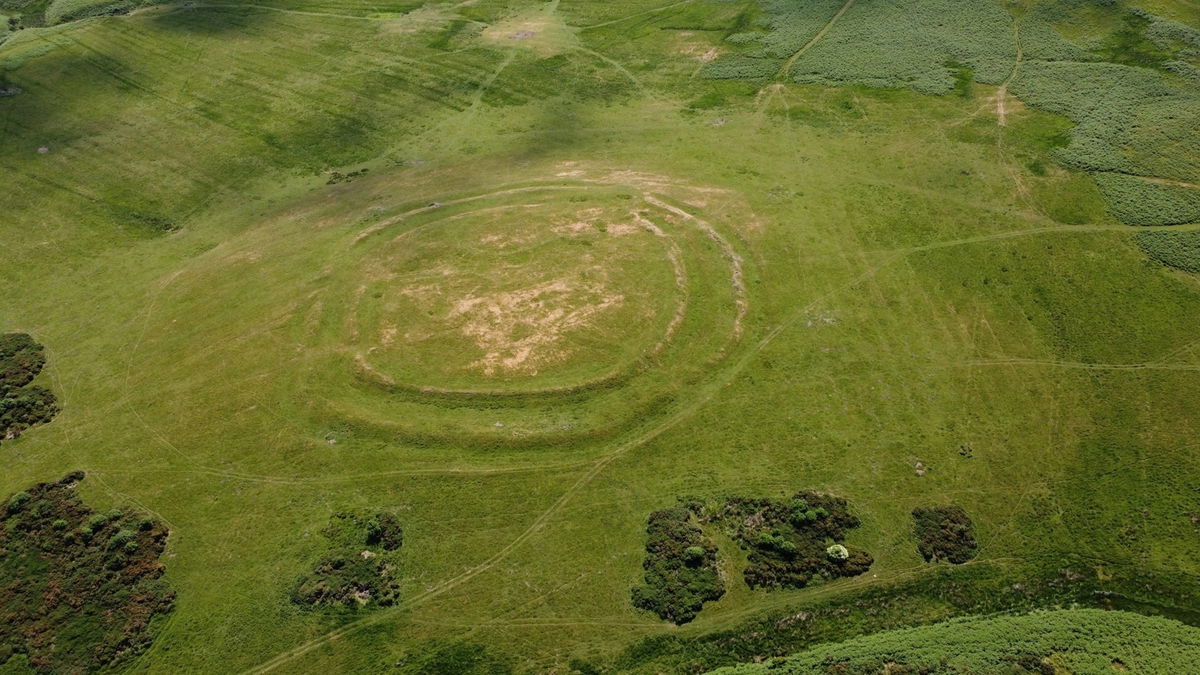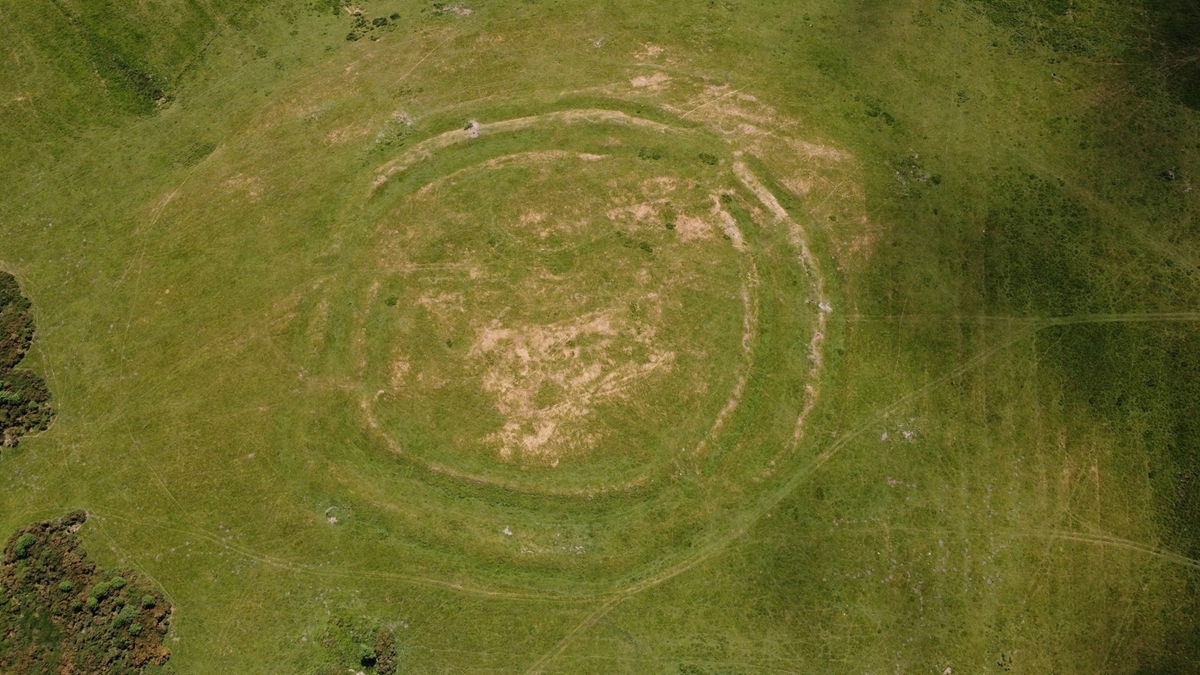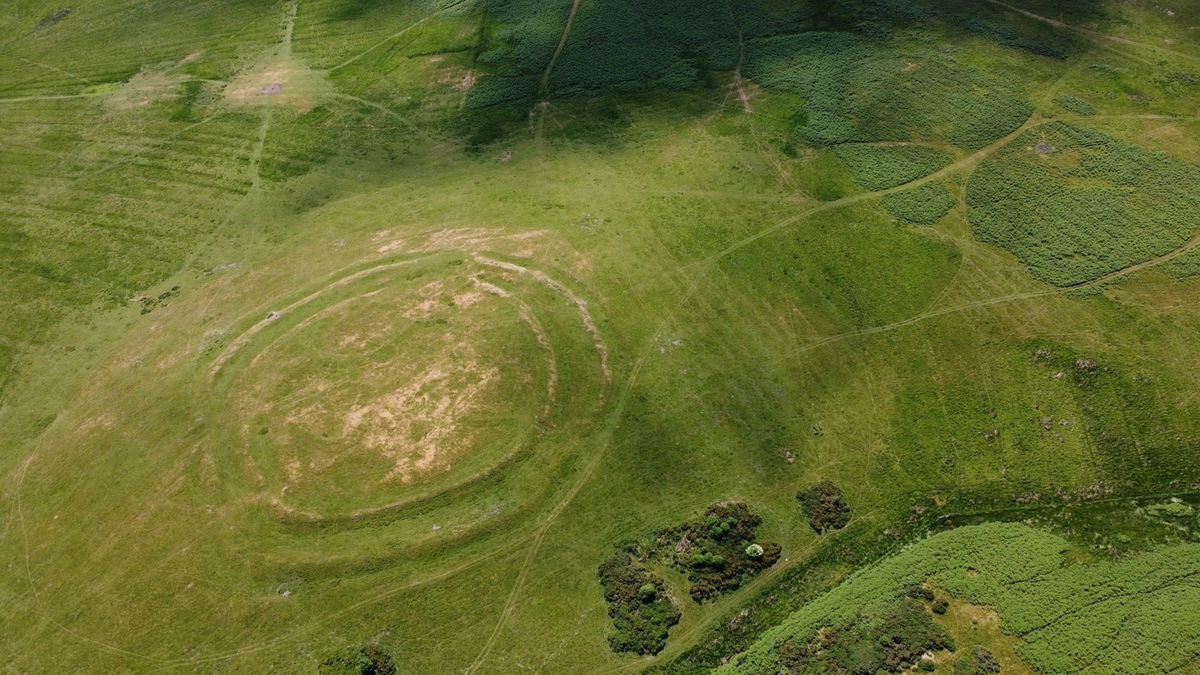 Amazing views from the top. To the north there is West Hill and Snail Knowe. Unfortunately neither of these are on open access land.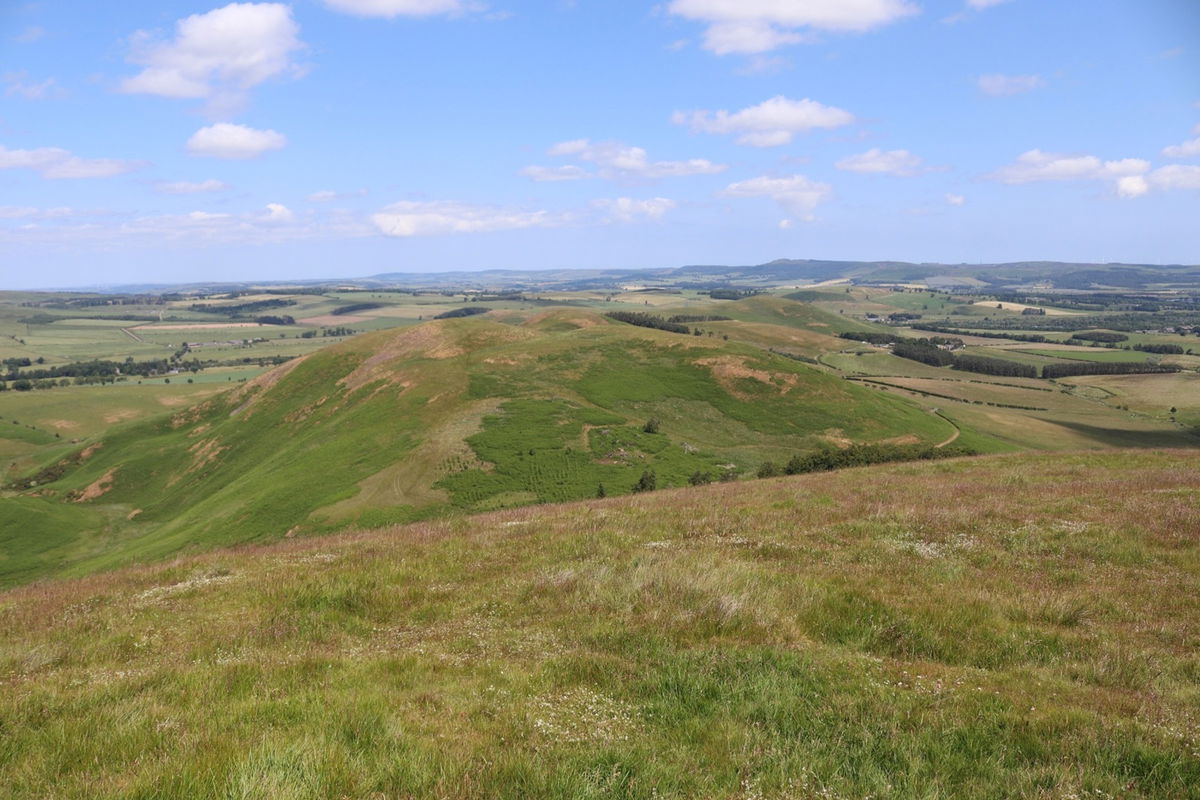 Then over to the east are two more hillforts on Castle Knowe to the left and Gibb's Hill to the right. Again only a permissive path running between them.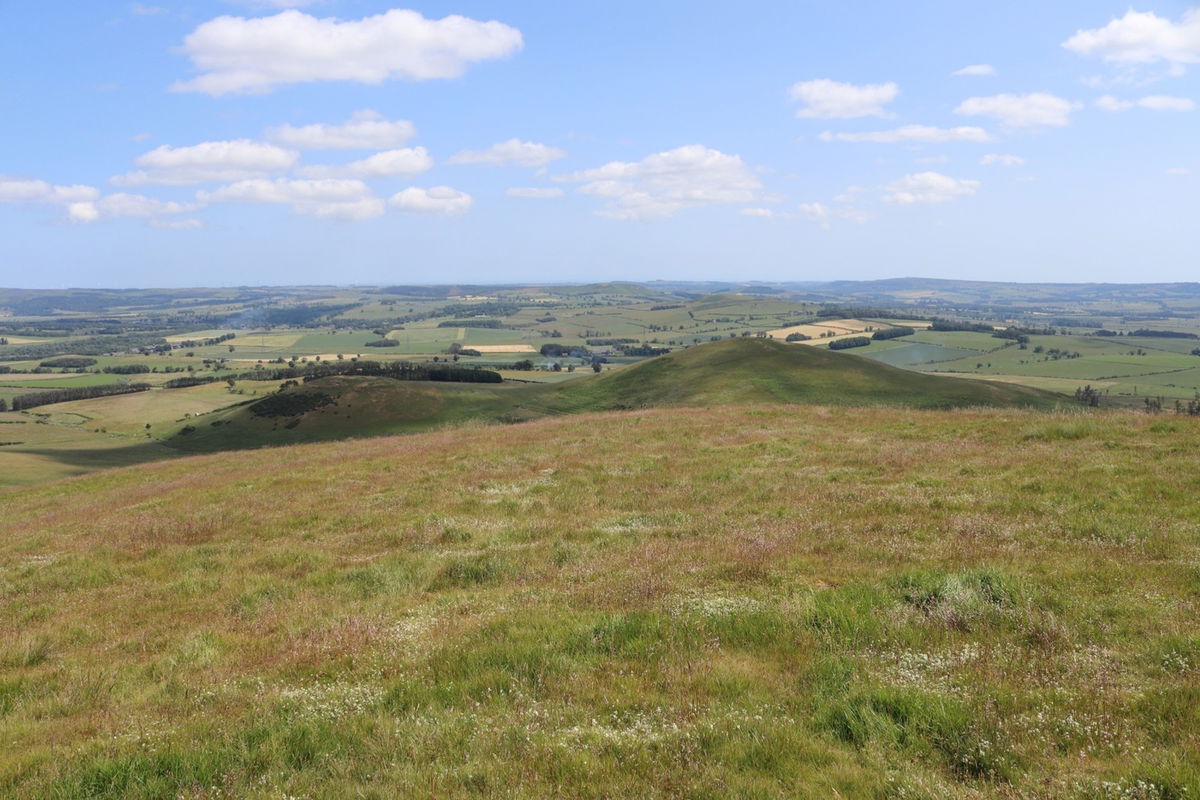 With Red5 still in the air, I send him over for a closer look. For Gibb's Hill I couldn't get a high enough picture to get a really good look at the top.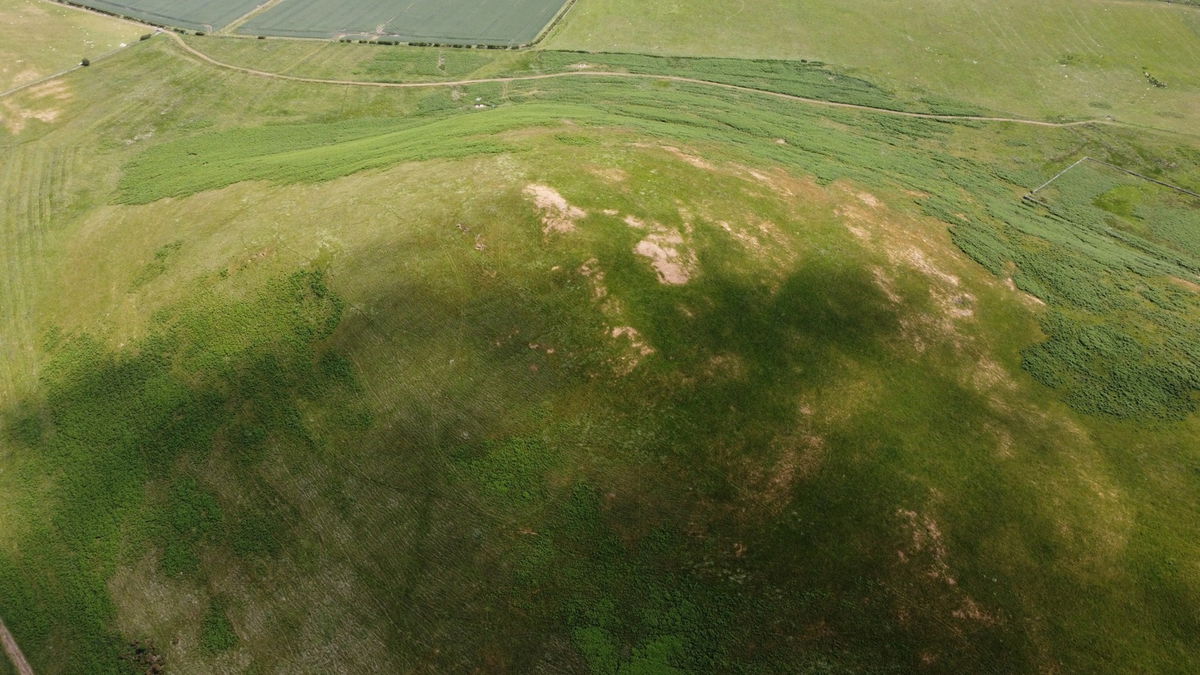 Much better views of the smaller Castle Knowe hillfort.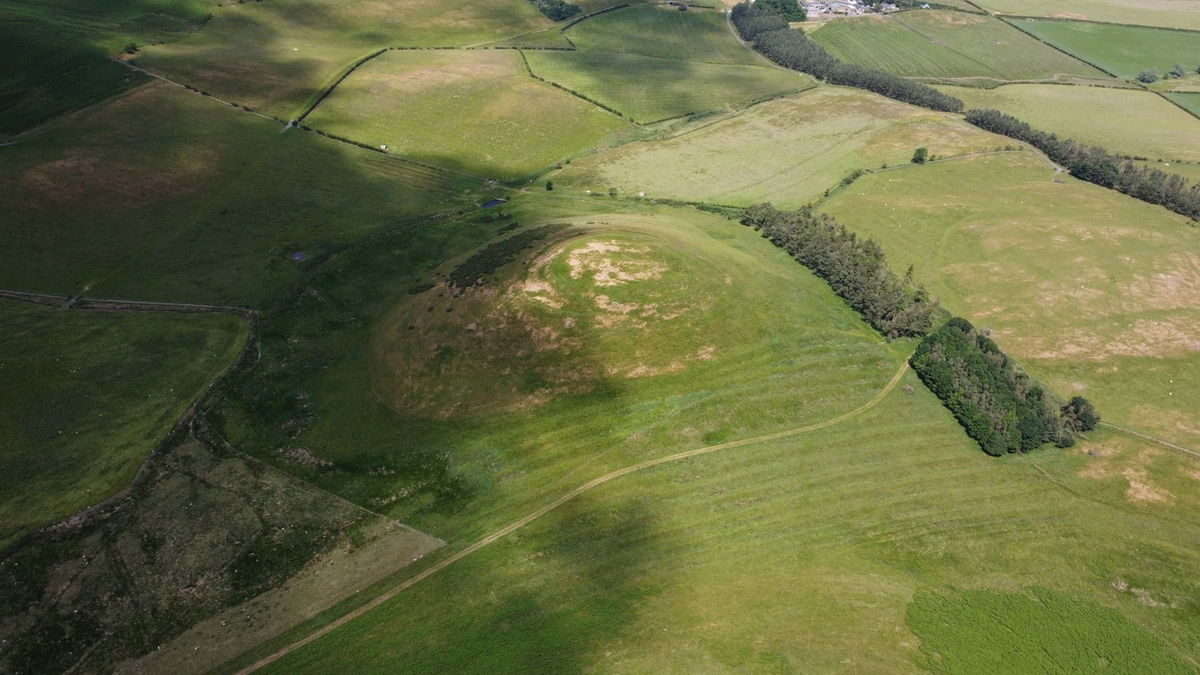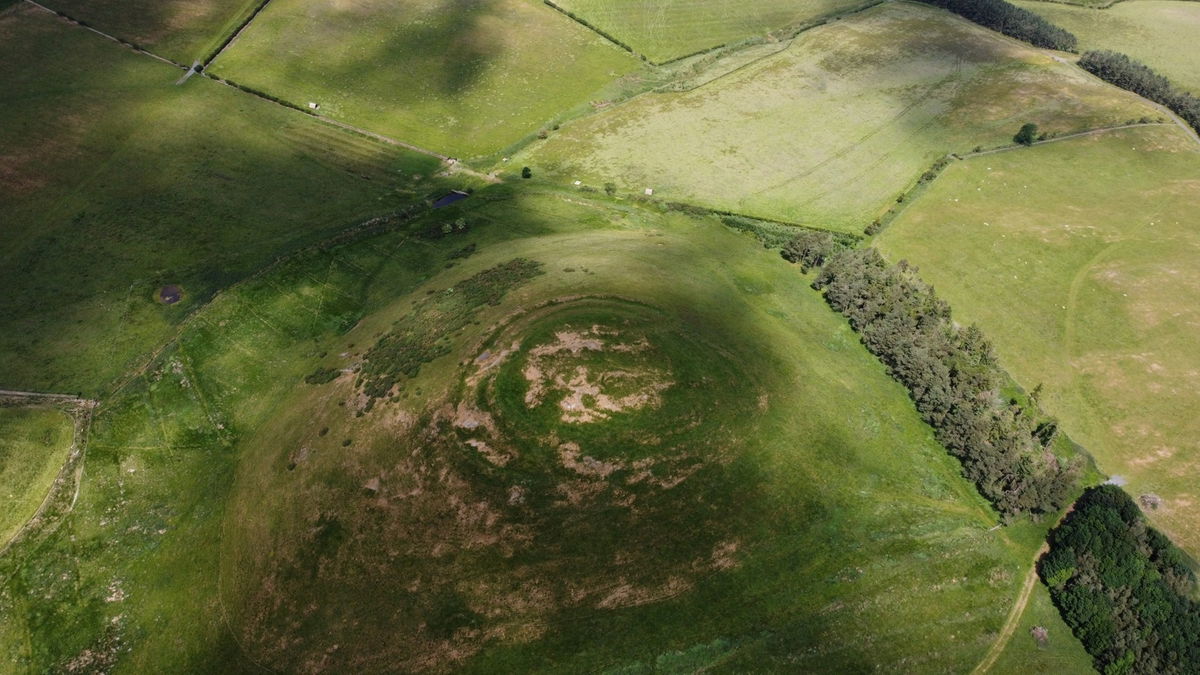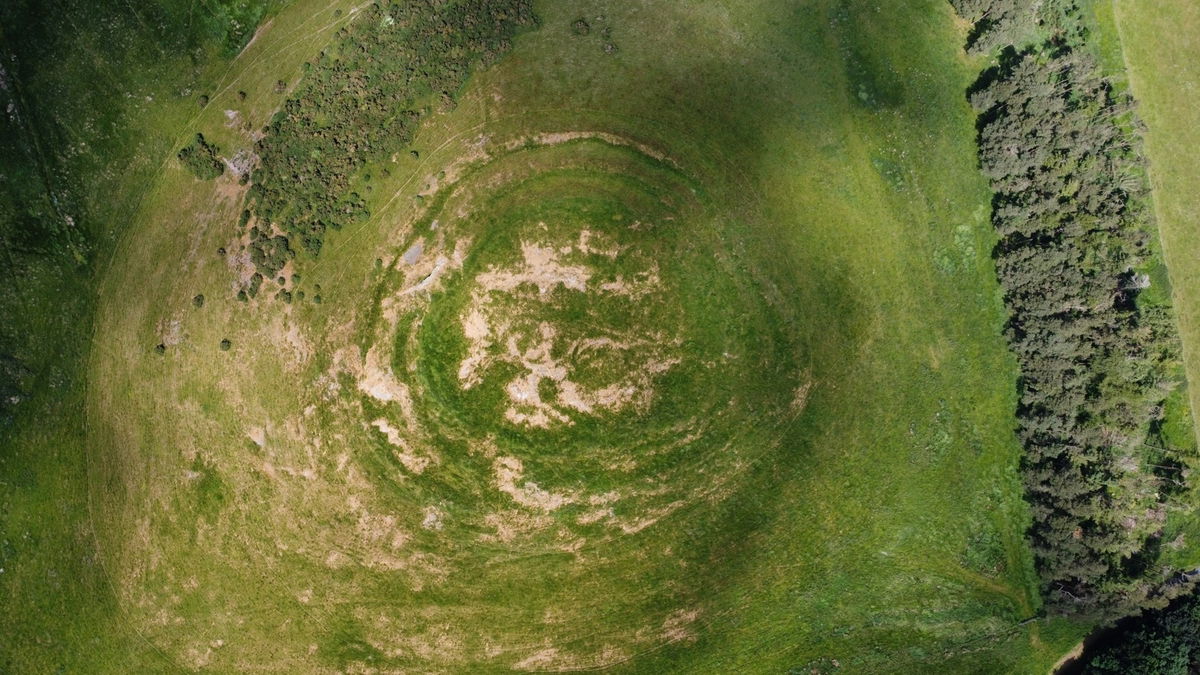 My plan now was to head across from Old Fawdon Hill to Wether Hill in a straight as line as possible. It's difficult to tell from the map what terrain you will face until you are actually here. The Fawdon Burn and a wadge of fern stands between me and Wether Hill so looks like I will be heading back the way I came.
I turn around and wave goodbye to Old Fawdon Hill and notice I am being followed by a huge swarm of flies. Even covered in Smidge I am still some Pied Piper for flies. (The Flied Piper!)
Having got home to write this up, I have just discovered there was a settlement surround the trig point. Didn't see any trace up there and very faint on Google Maps. Will have to have another visit.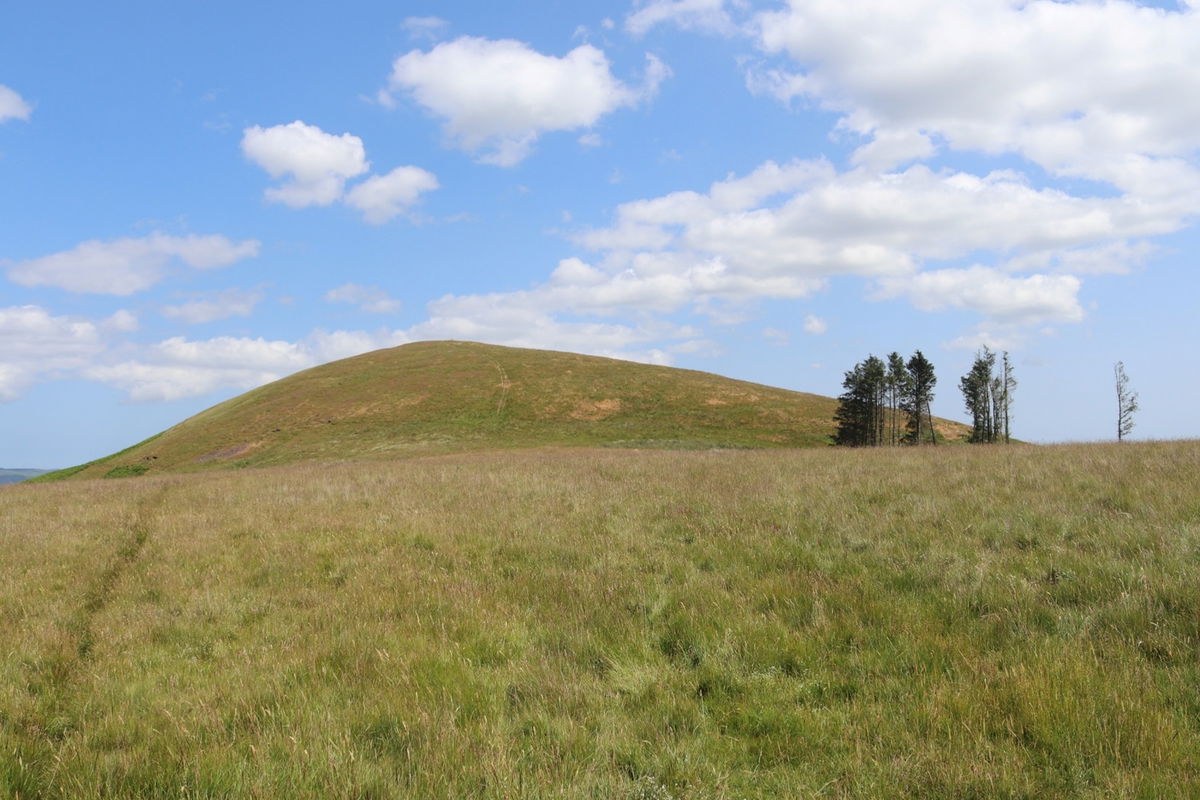 I head down the west bank of Old Fawdon Hill and there is definitely no way across the Fawdon Burn with all the fern, steep banks and also a fence at the bottom. I get a snap of the wonderfully named Gingling Cleugh and the little gorge.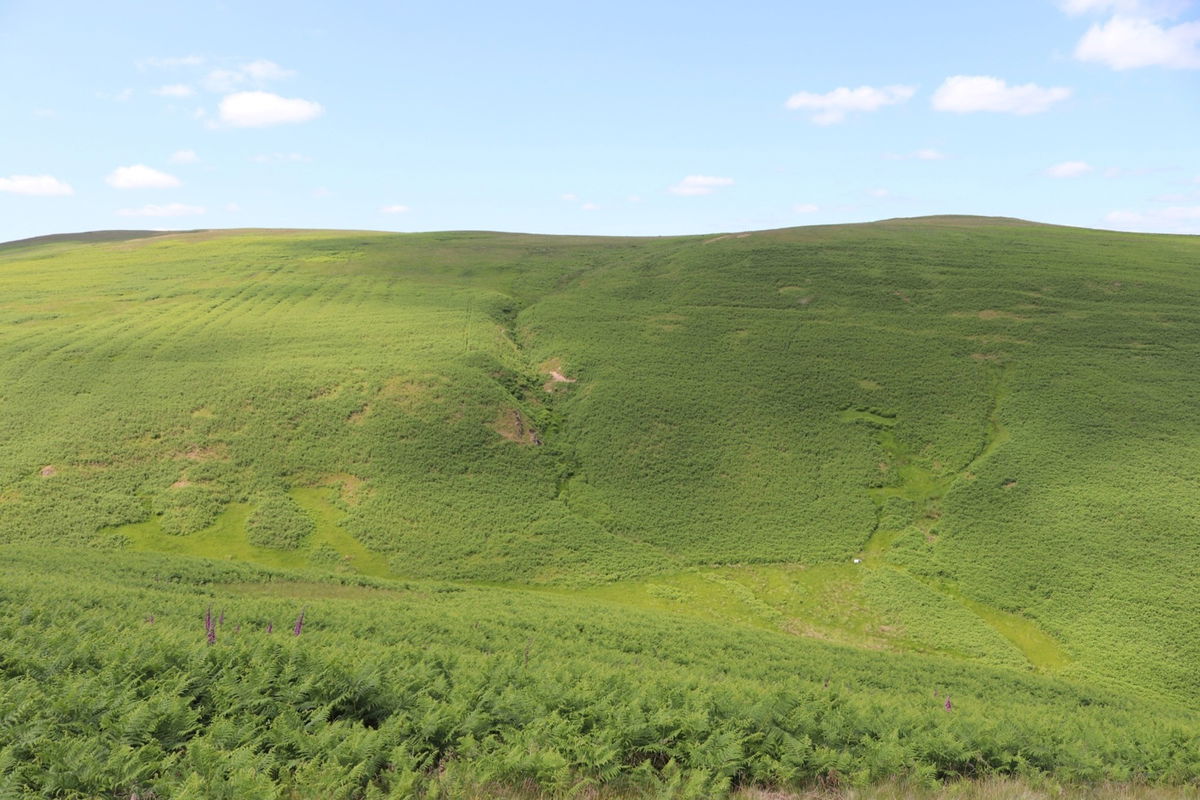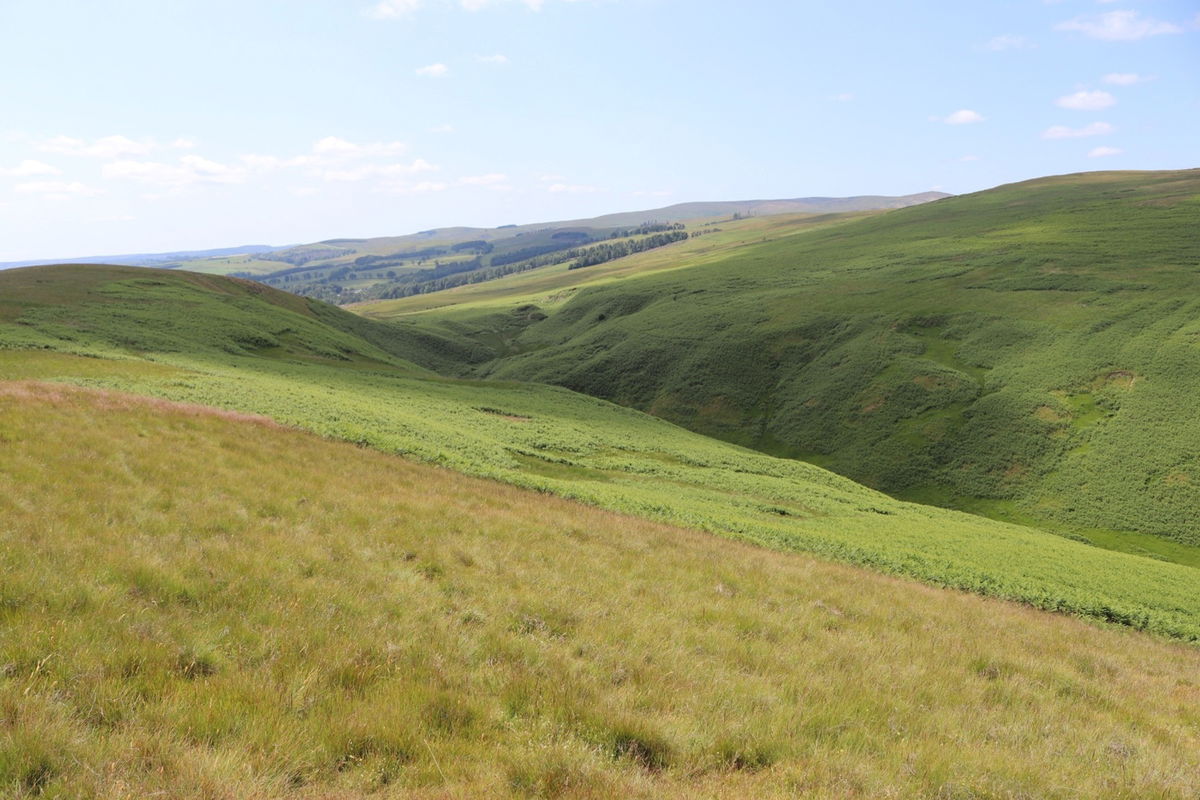 At the end of the gorge where I cross over to Wether Hill are some little rocky bumps that are known as the Bowl Holes.
I rejoin the permissive path and head up towards Wether Hill.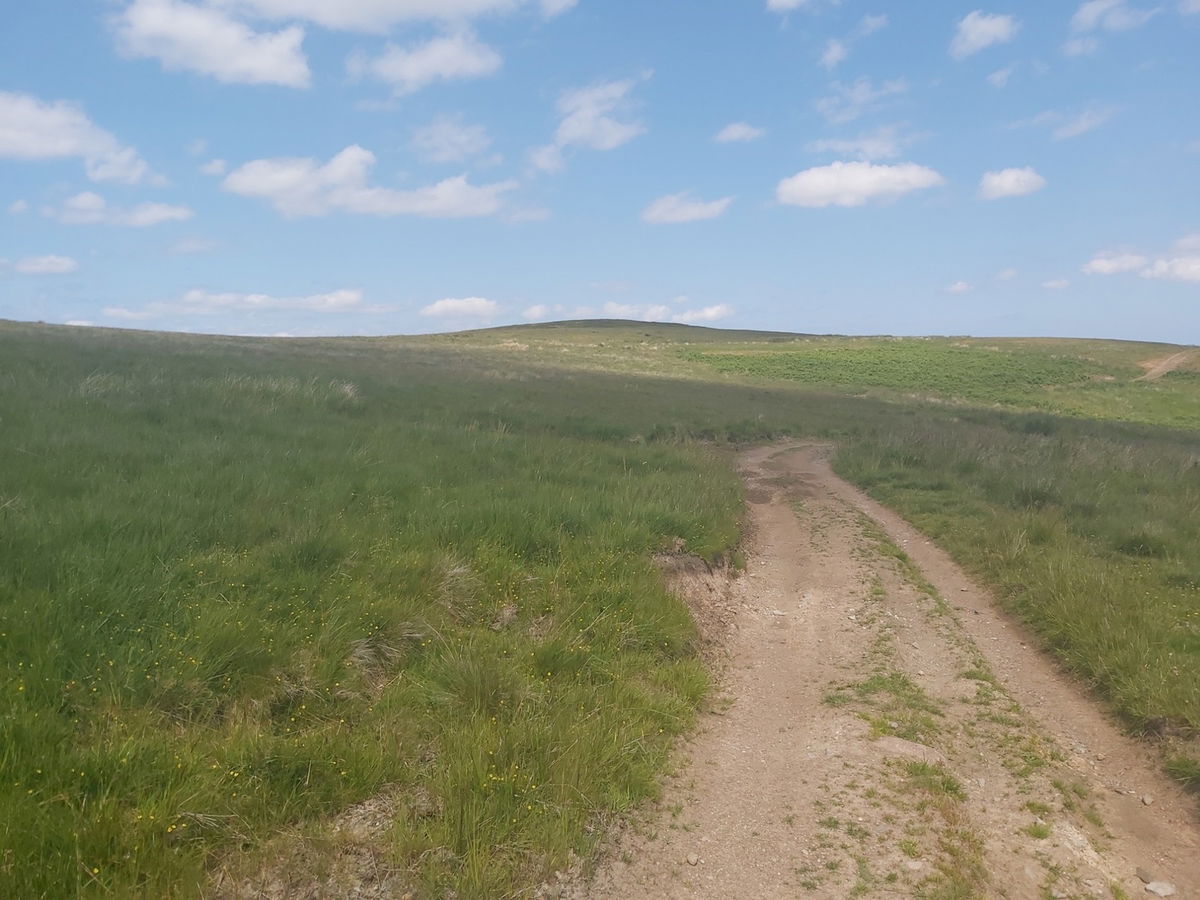 Another settlement up here and you can make out the outer henge at ground level.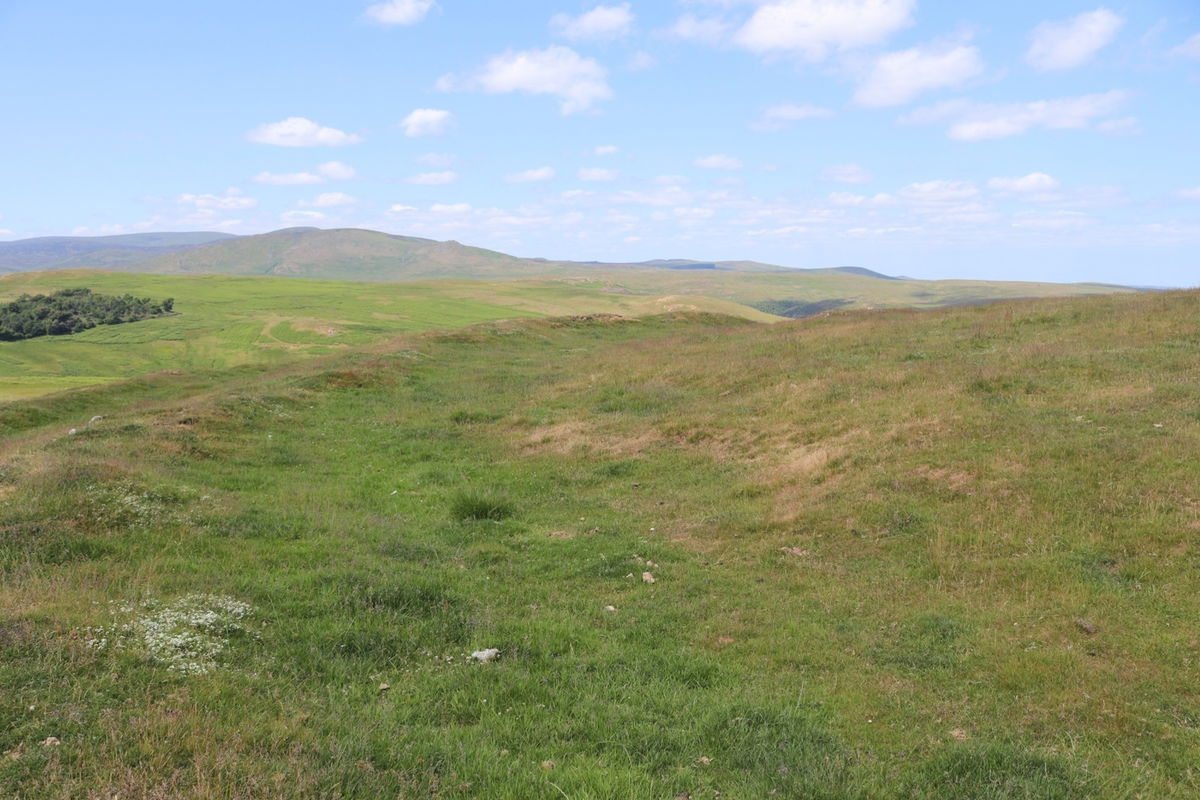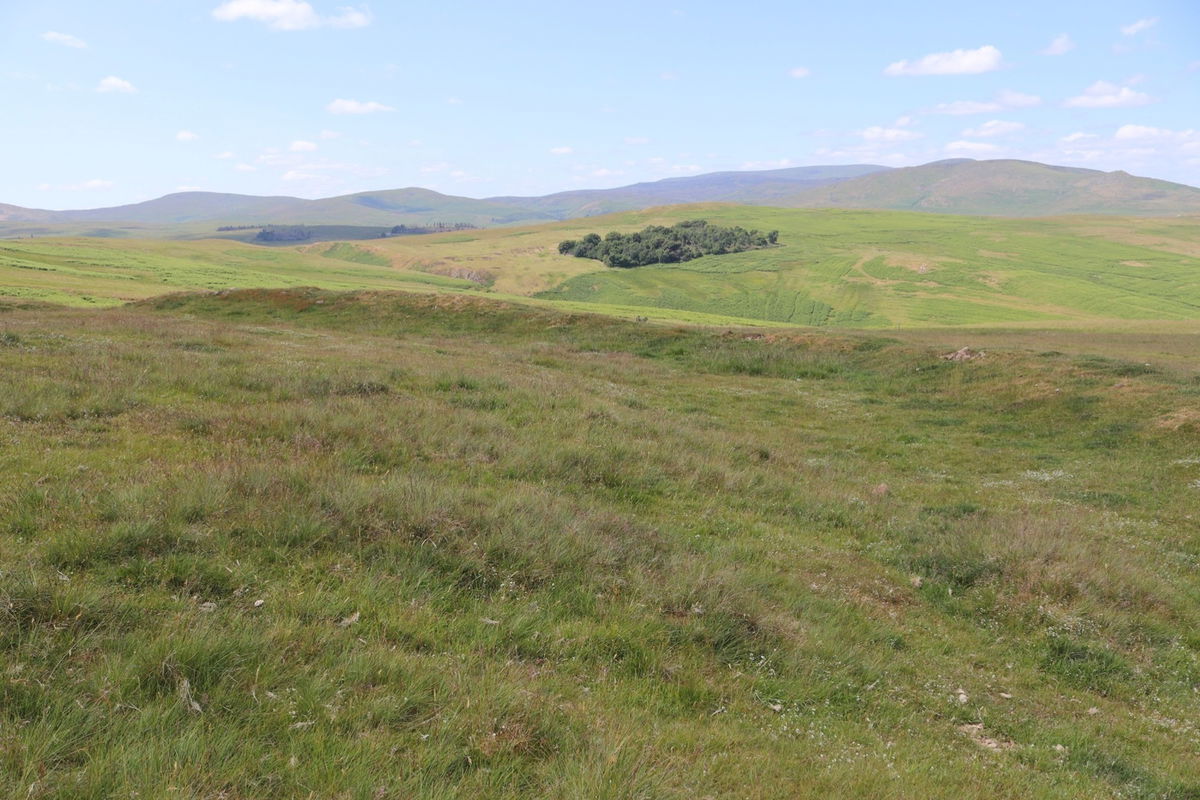 And yep I sent up Red5 for a glorious aerial view.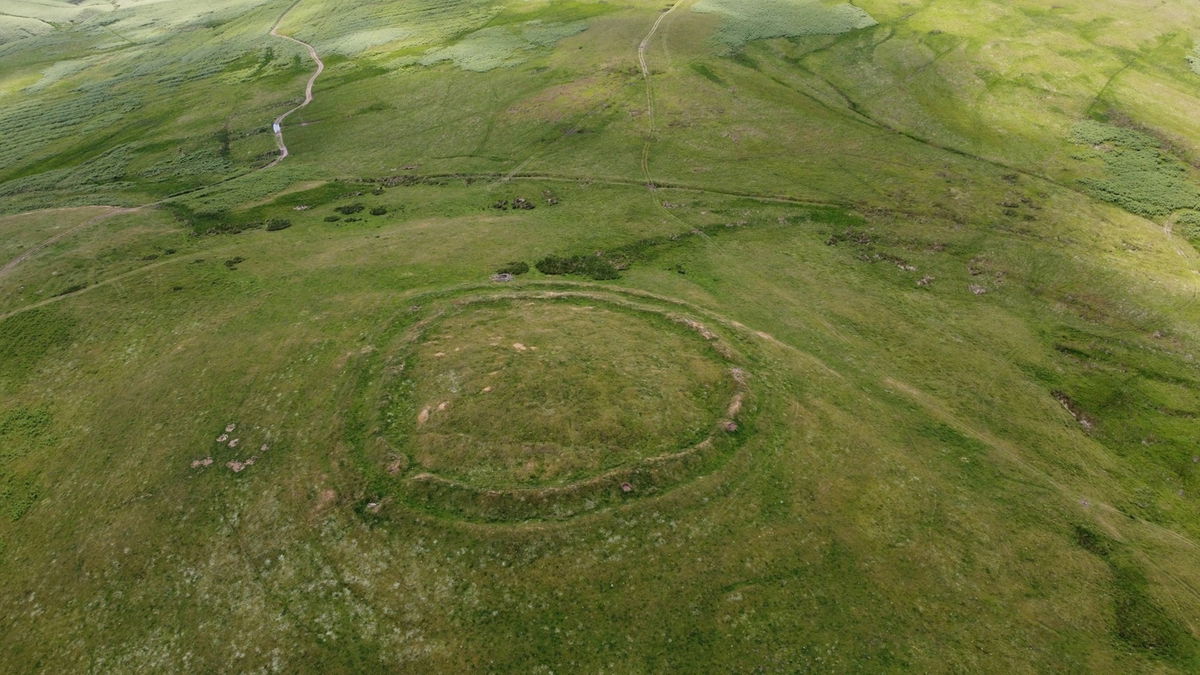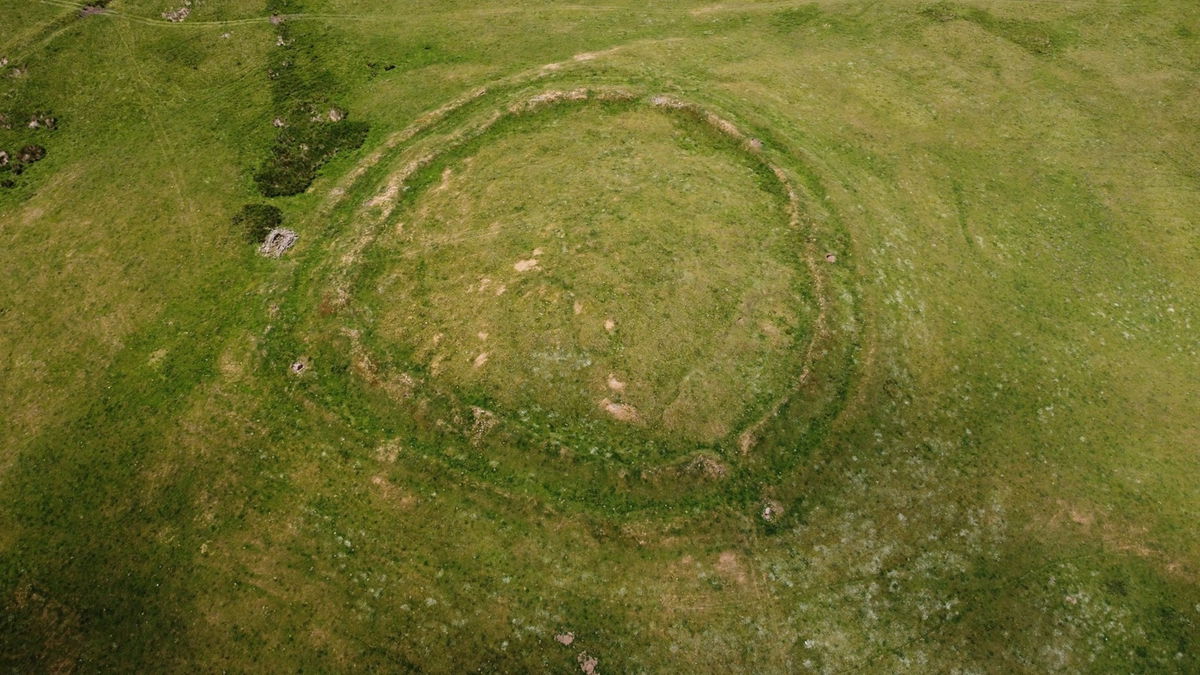 While admiring the view from the top of Wether Hill I catch a glimpse of the RRH Brizlee Wood Radome Golf Ball in Alnwick. You may have to get your reading specs out to see.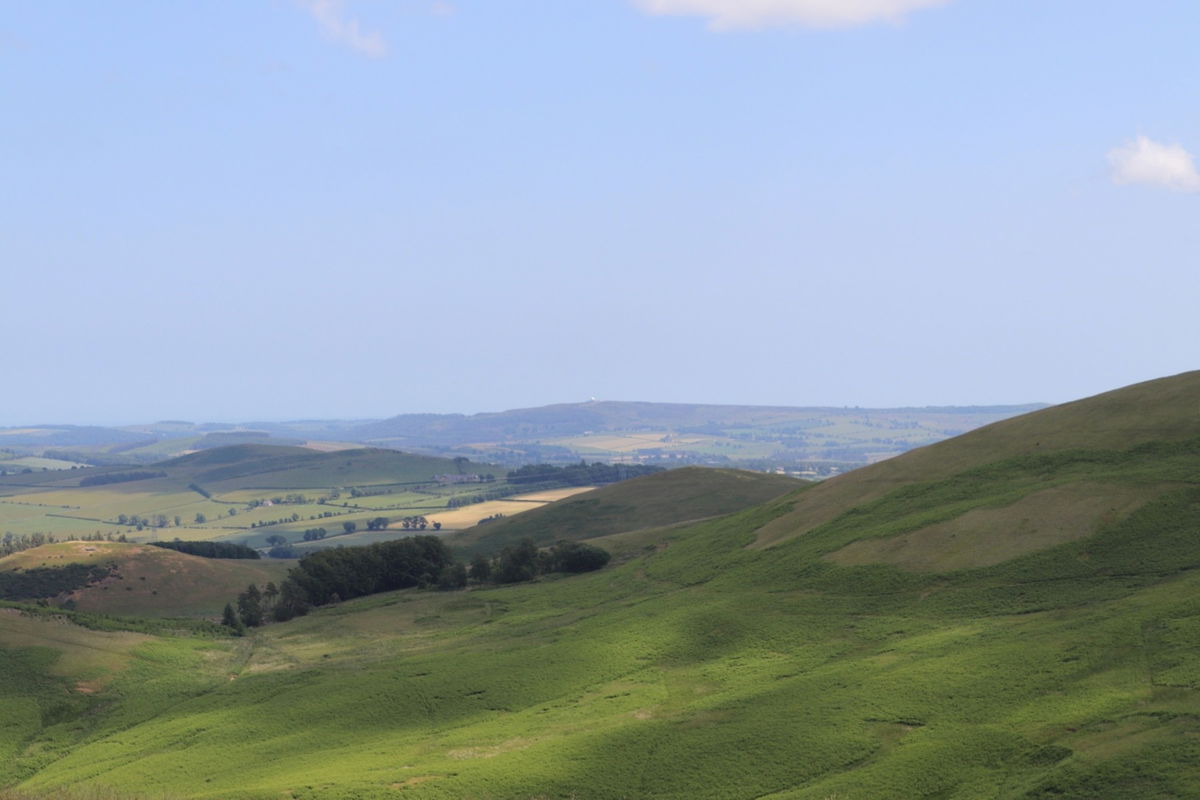 On to the home straight and I head towards Corbie Cleugh which will then lead me to Turf Knowe.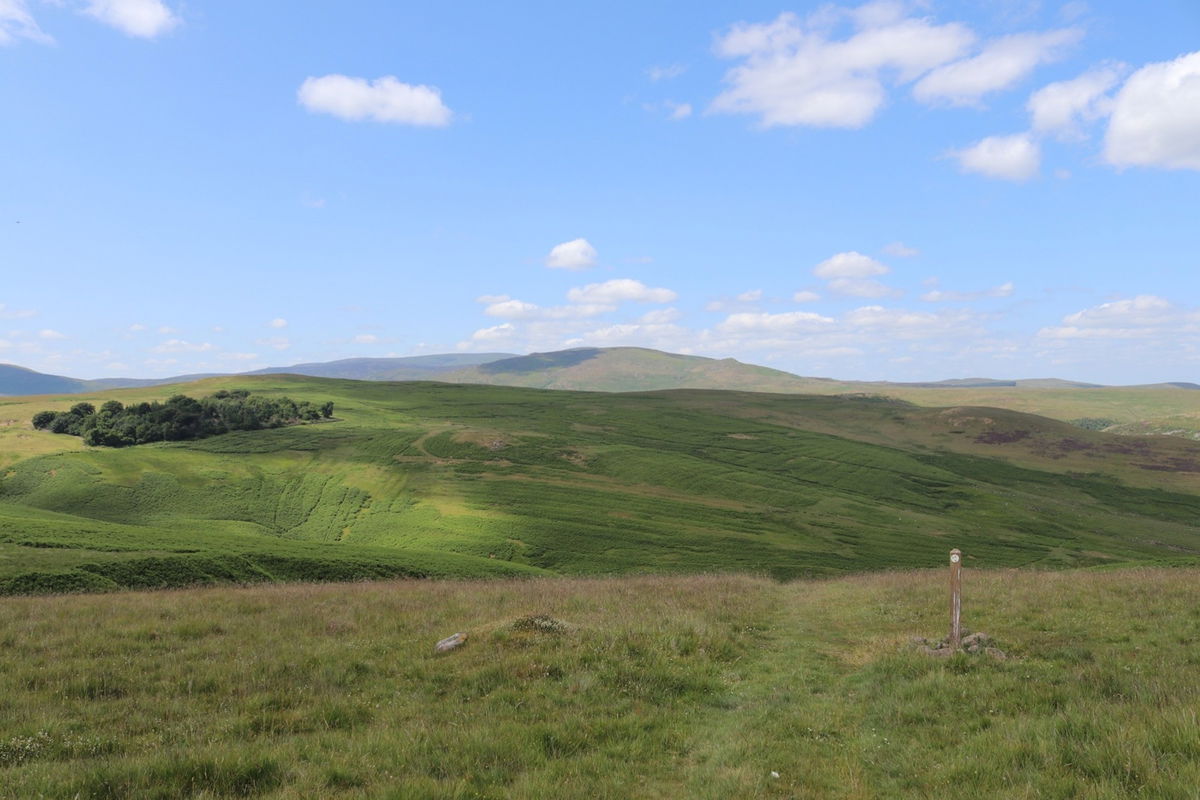 Corbie Cleugh looking a bit dry.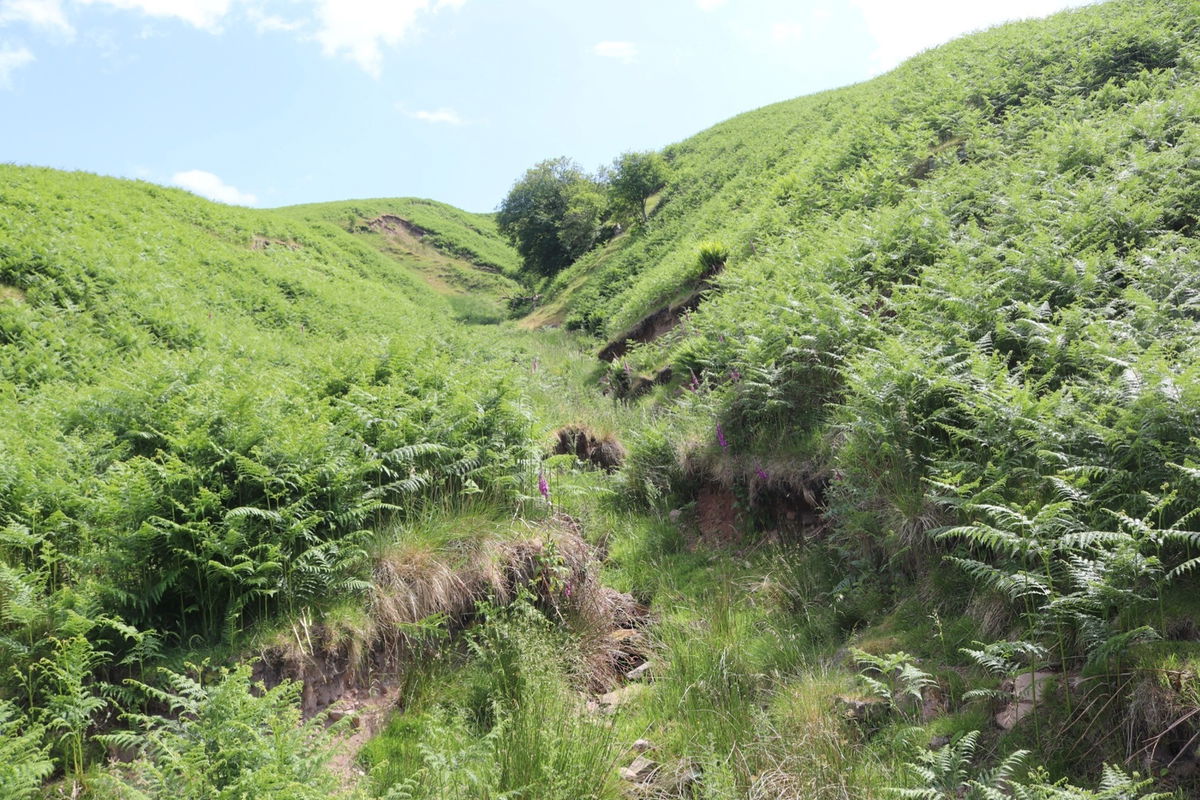 Then right in front of me is Turf Knowe and those lovely pink flowers adorning it are Foxglove (Digitalis).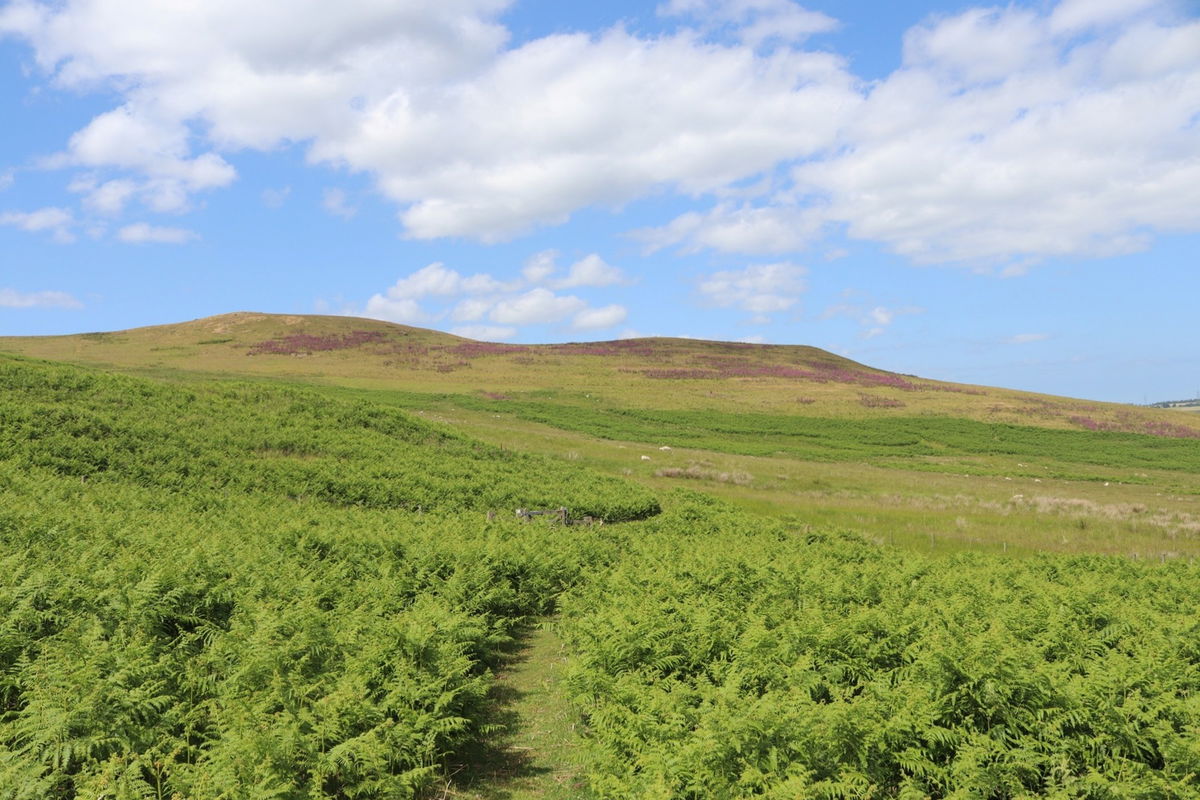 I head around the back of Turf Knowe and loop over its twin peaks.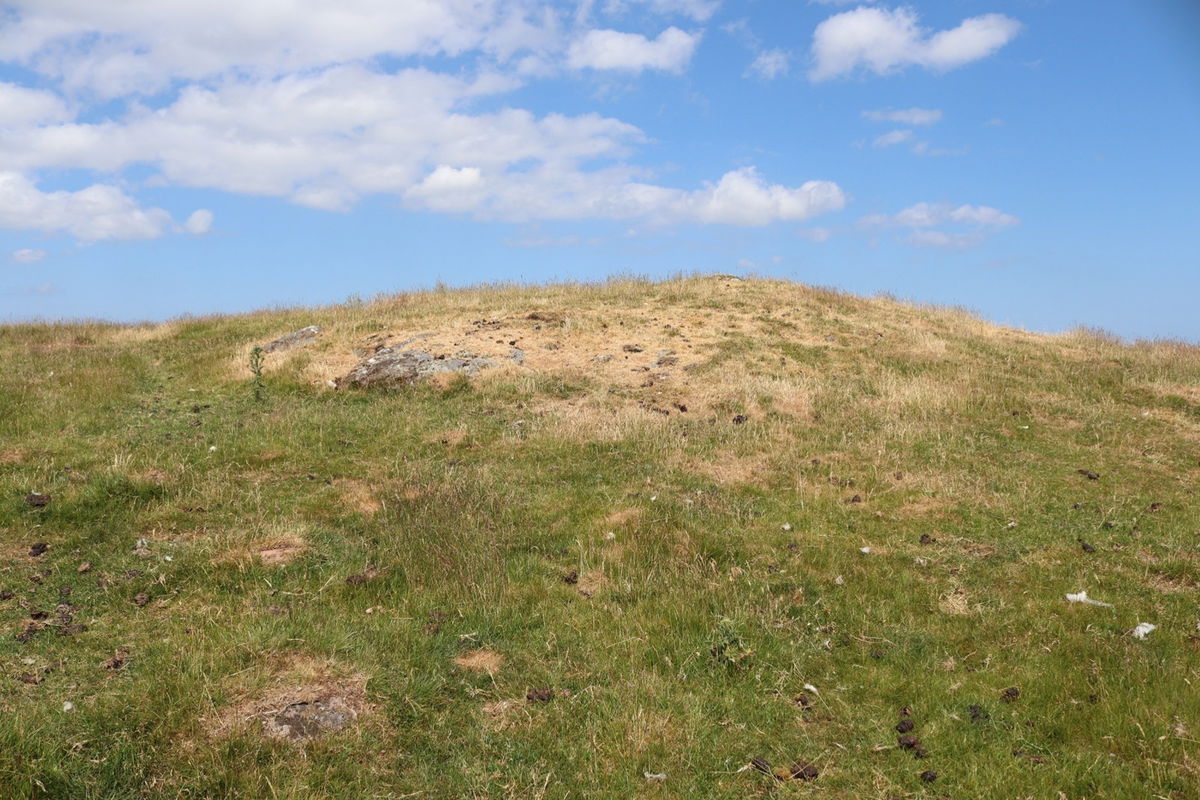 The map says there is a cairn up here, but not sure if I saw it. I did see a strange rock formation that looked like a hammer or axe. Maybe that was the cairn.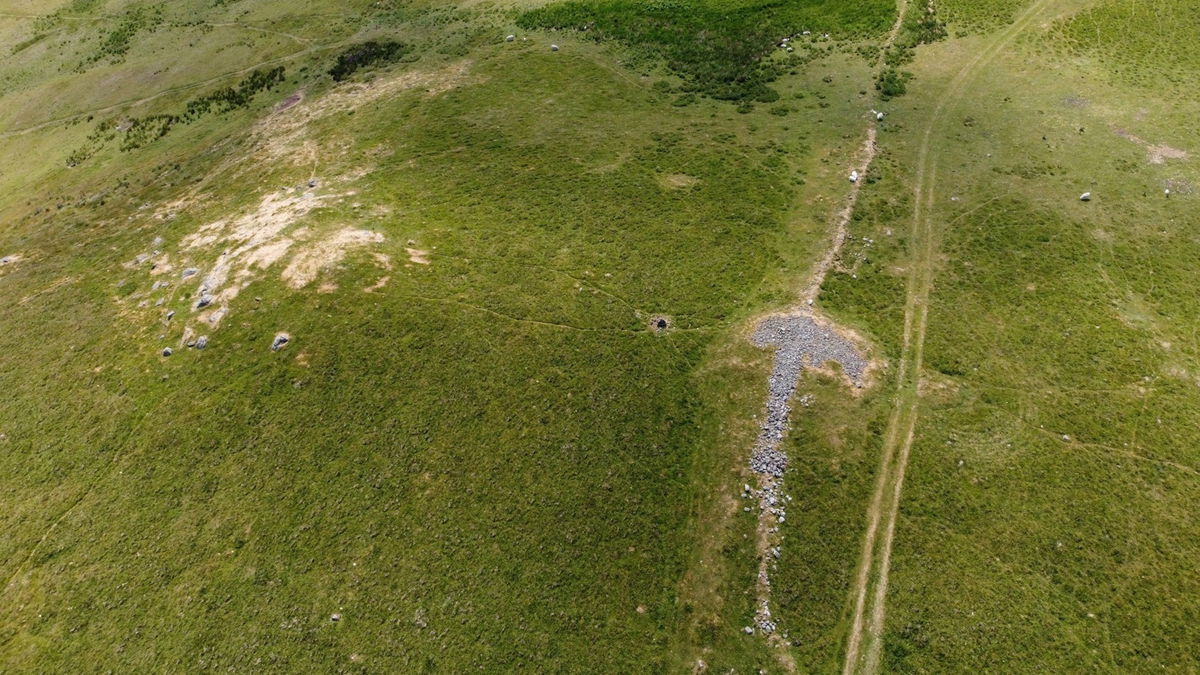 With Red5 still up in the air I snap a few aerial shots of this beautiful area.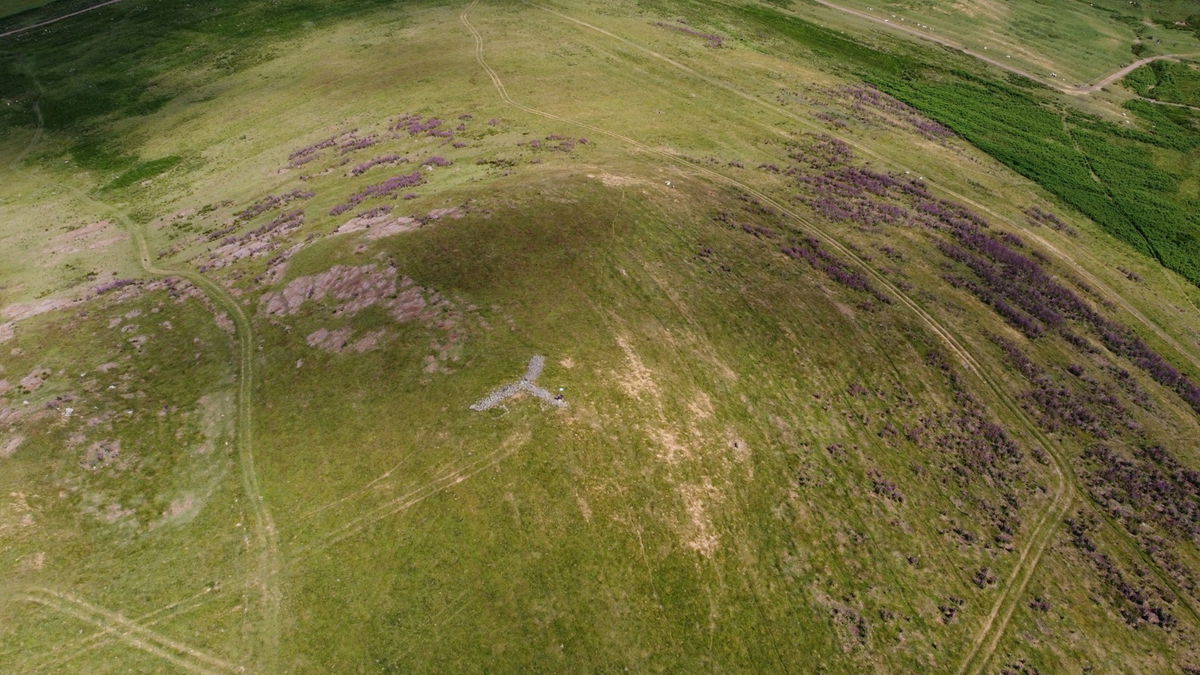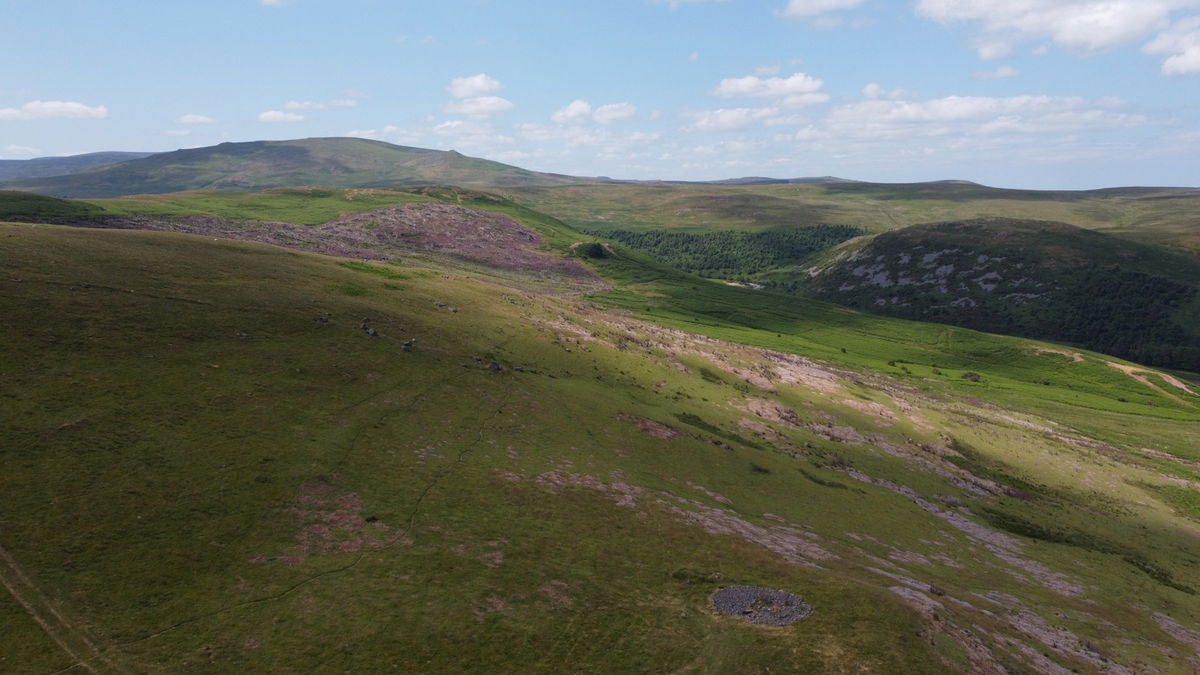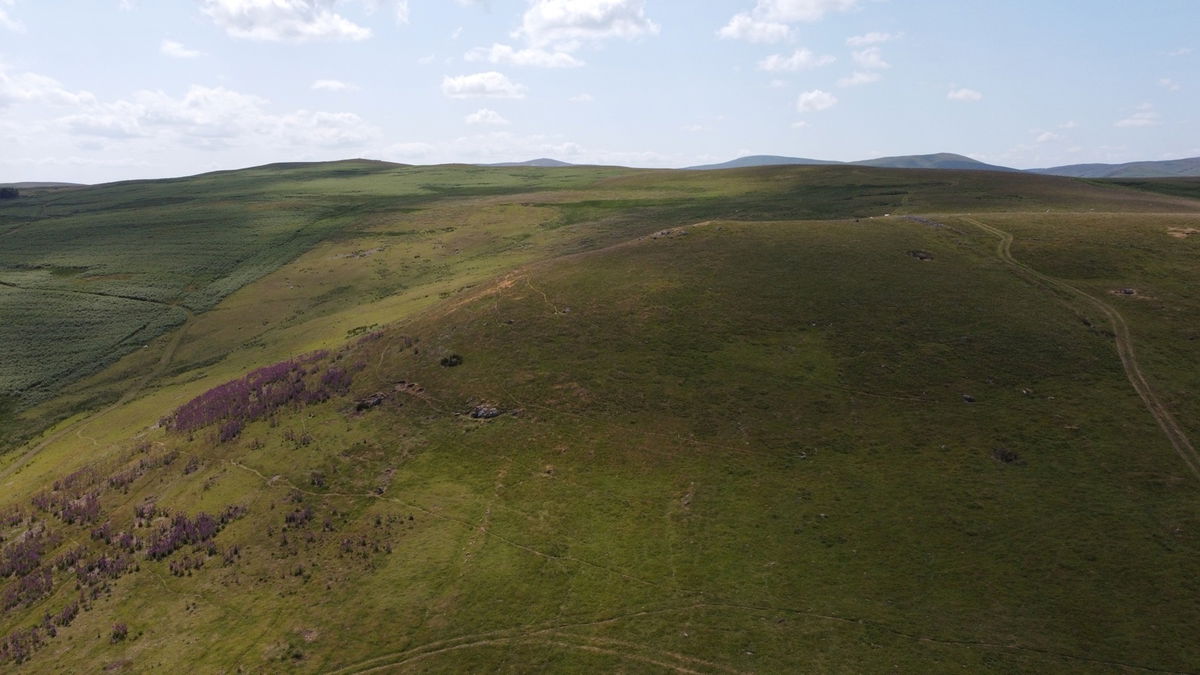 On the lower rise of Turf Knowe there is a lovely little tribute to two people who loved the Ingram Valley.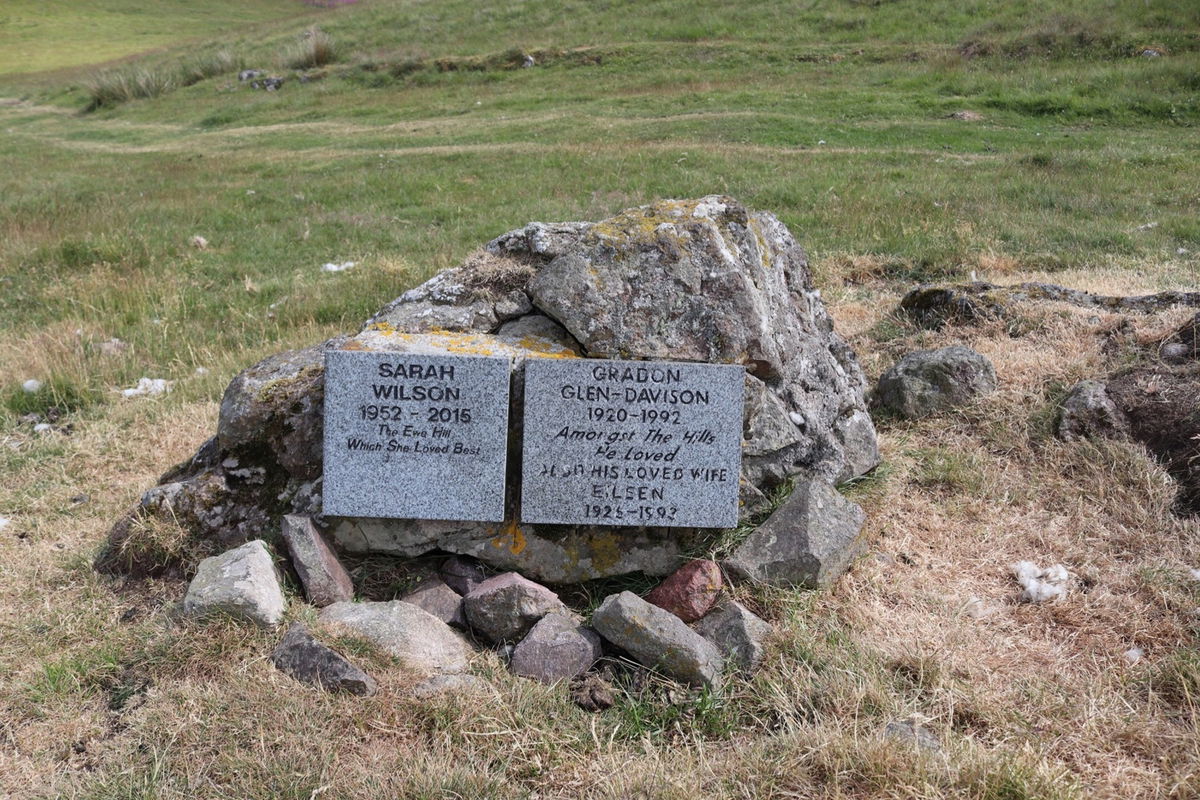 From the top of Turf Knowe I search for the settlement at the nearby Ingram Hill, but couldn't see it anywhere. Add this to the fact my water had ran out and with the temptation of the cold Irn Bru I have waiting for me in the car, I call it a day and start to head back.
I grab a final snap of Brough Law with Cunyan Crags in the background.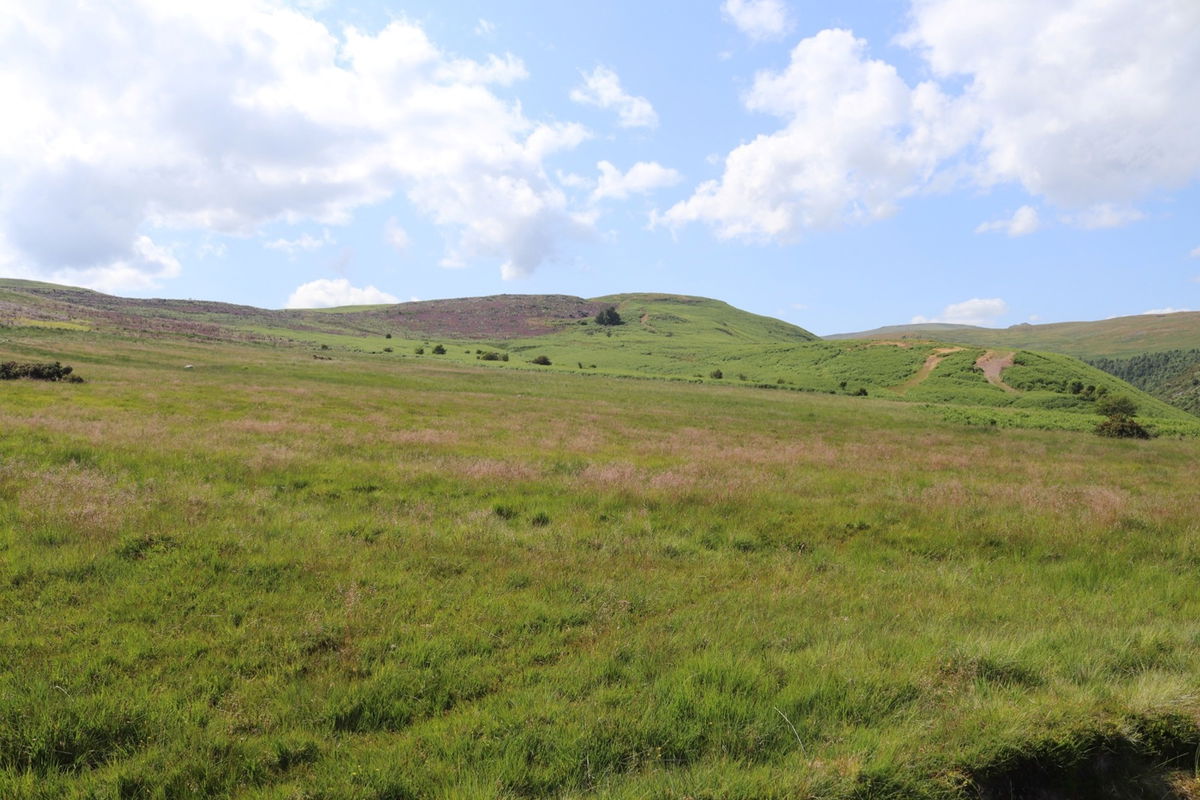 So it's down the hill to the road and I'm back at Bulby's Wood car park in no time. Thanks for reading and hope you enjoyed this walk. There are so many amazing places to visit in Ingram Valley. Have a look in the walks section on the Fabulous North website for your next adventure.
Where to Park For Brough Law And Ingram Hillforts
Where To Park For Brough Law And Ingram Hillforts?
What three words
Park in Bulby's Wood car park. Toilets here too which is a bonus!
}
Fabulous Places On This Walk
Discover what fabulous places you will find on this walk - Brough Law And Ingram Hillforts.
Old Fawdon Hill Trig Point
Trig Point
Ingram Valley
Northumberland
The trig point sitting on top of Old Fawdon Hill in Ingram Valley (315m).
Contributed by Simon Hawkins
Thanks for checking out this place on the Fabulous North! I do enjoy a wander out in to the countryside trying to find hidden gems that not many people know about. You can't beat a rogue Pele tower up a remote hill or a mysterious stone circle or a stunning waterfall secluded in a forest.
More Walks from Simon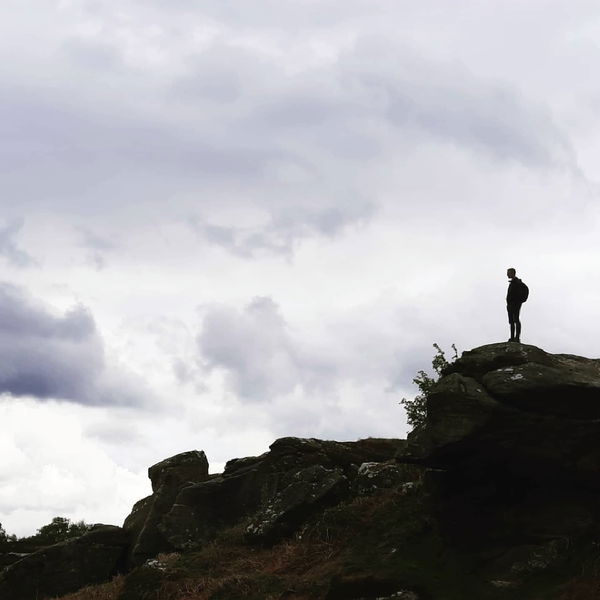 More Places In Ingram Valley
Find more fabulous places in Ingram Valley, Northumberland and if you know of a place we haven't listed, then let us know.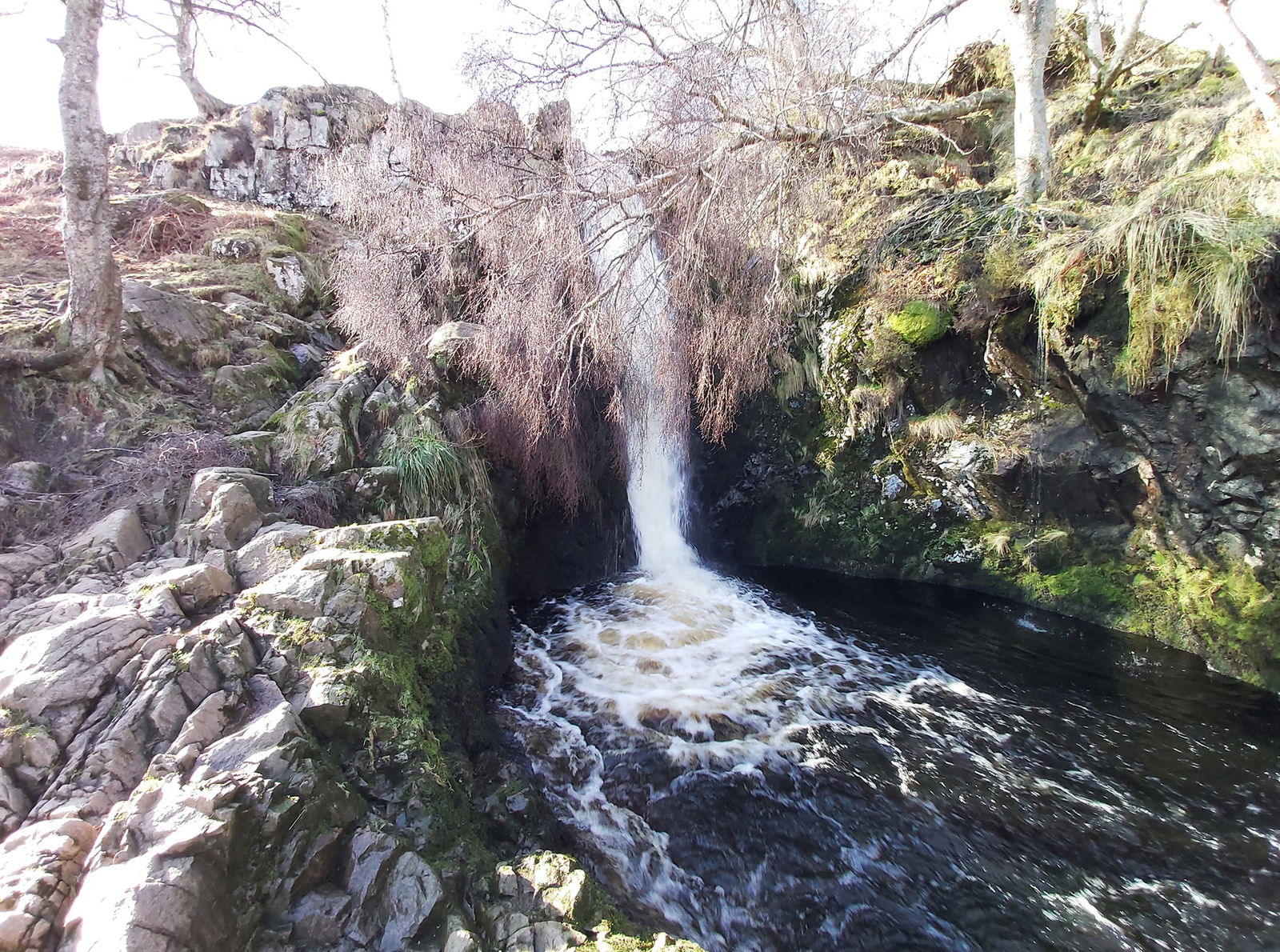 Linhope Spout
Waterfall
Ingram Valley
Northumberland
An 18 metre waterfall in the beautiful Ingram Valley.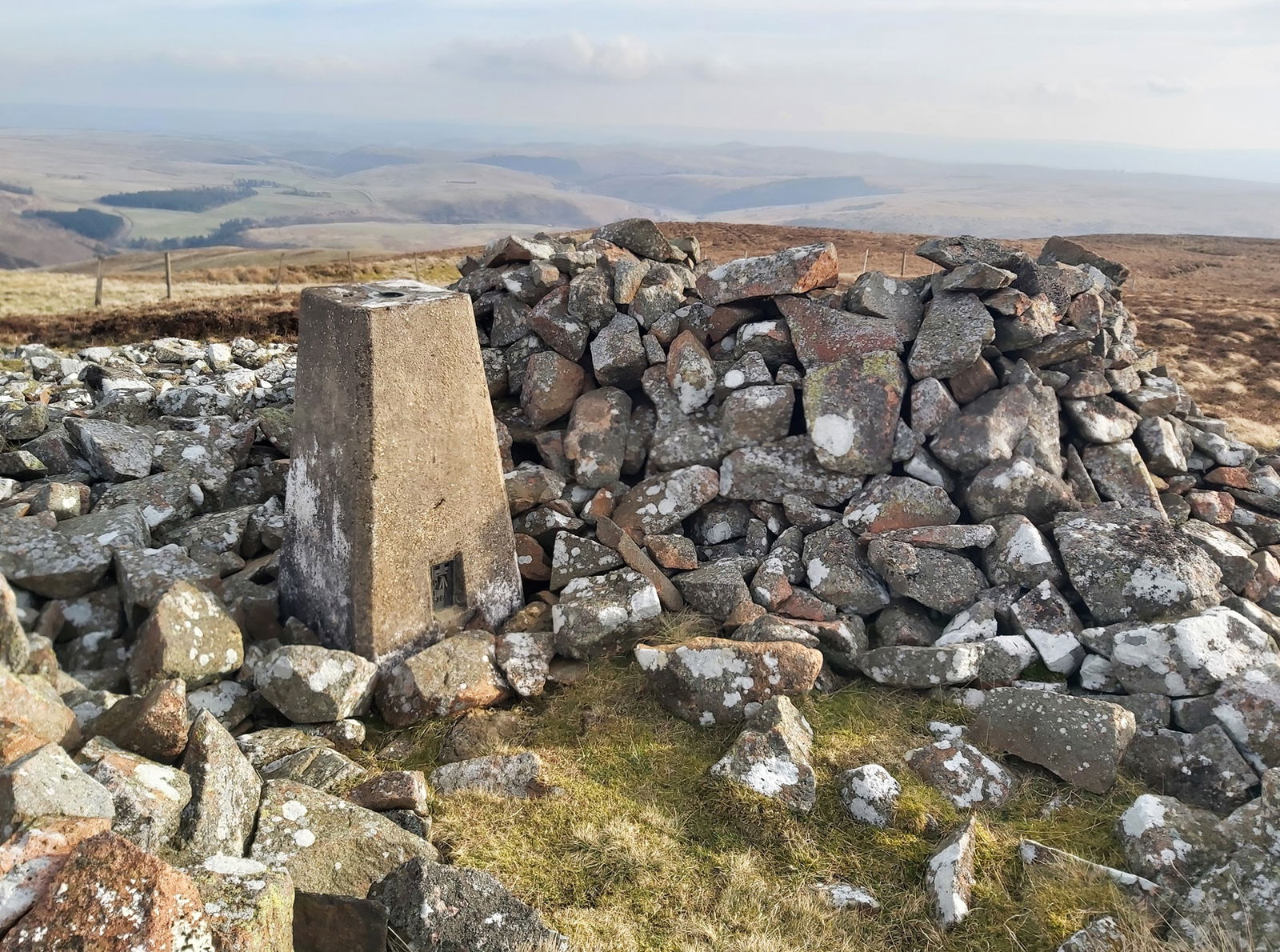 Shill Moor Trig Point
Trig Point
Ingram Valley
Northumberland
The trig point sitting on top of Shill Moor (529m).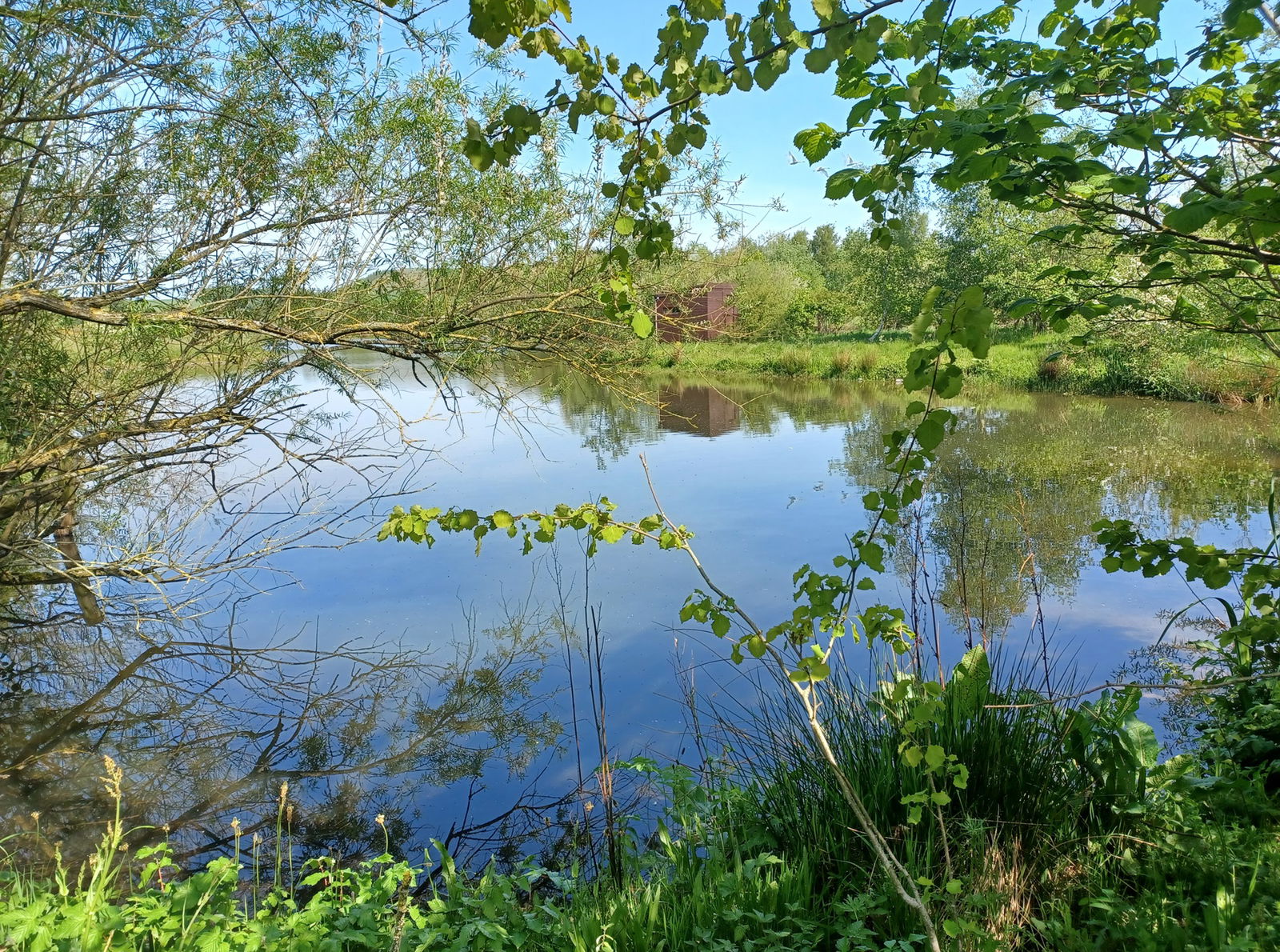 Branton Lakes Nature Reserve
Landscape
Ingram Valley
Northumberland
A Nature Reserve alongside the River Breamish in the Northumberland National Park
Find Us On Facebook
We post all our new places daily on our Facebook Groups page, so join the group today and be notified when we add a new place.
Join Our Facebook Group