Great Standrop, Cunyan Crags and Linhope Spout
18km
Ingram Valley
Northumberland
Great Standrop And Cunyan Crags
Ingram Valley, Northumberland
A wander up to the Great Standrop on Hedgehope Hill via Cunyan Crags and the smaller crags on Dunmoor Hill with a return visit to Linhope Spout.
Distance - 18km (11 miles)
Ascent - 857m
Duration - Approx 4 hours
Terrain - Some gravel, but mainly grassy and heather paths. As always expect bog!
Parking - Park off the road just before Lindhope Village at Hartside. View Parking Map
View Route On Map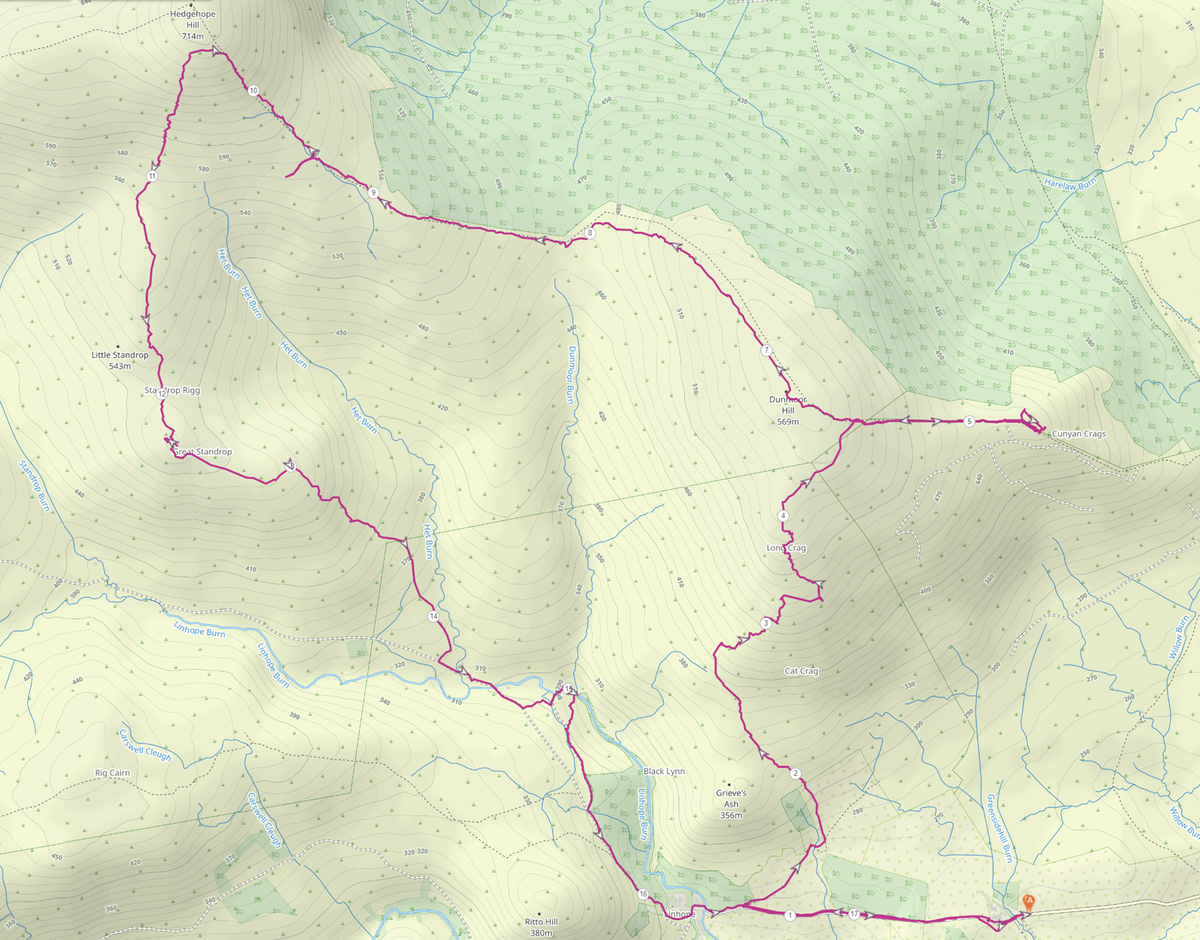 A few years back when we were visiting Linhope Spout, I spotted a cool and massive rock sprouting out of the nearby hillside and wondered what it was. Let me see if I can dig the photo out. Here we go.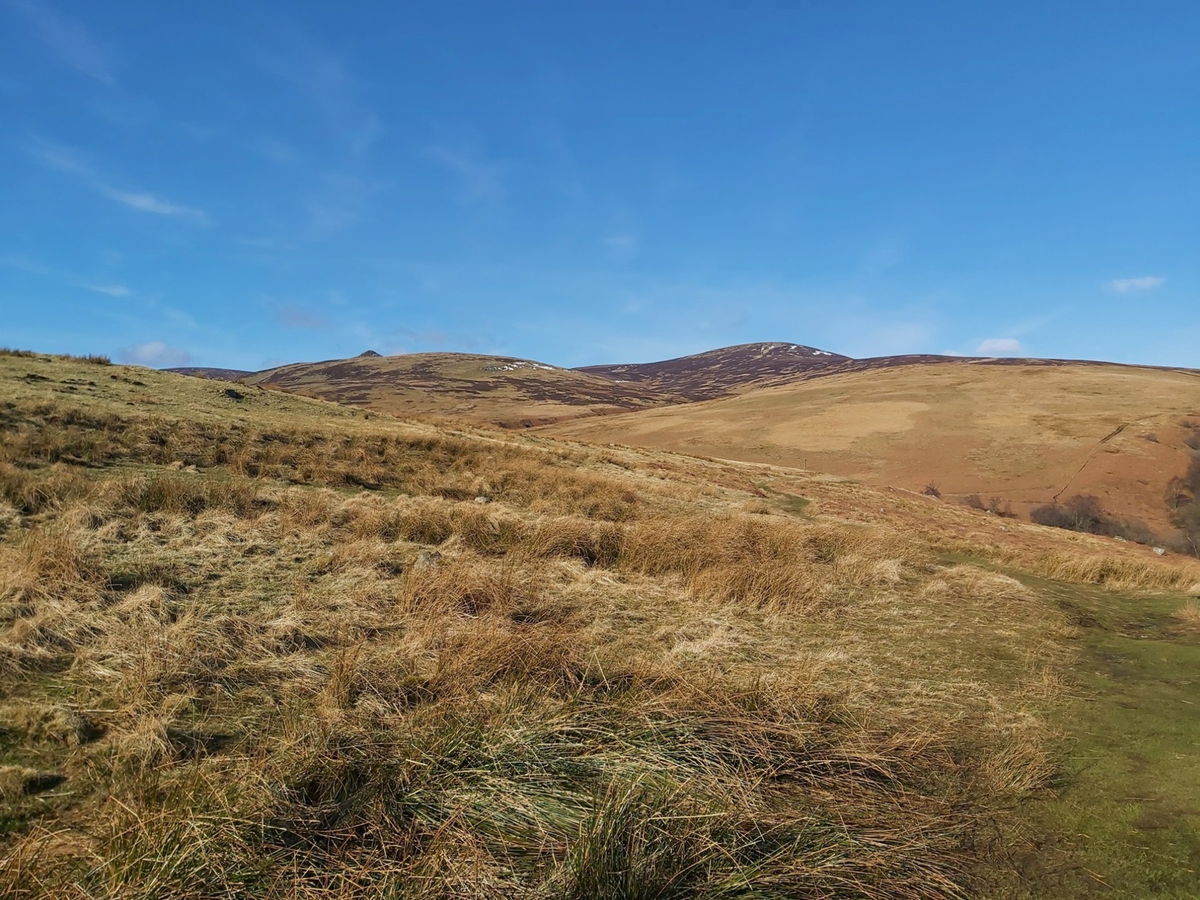 My naïve slightly younger self thought that it didn't look too far and wondered if I could nip to it. At the time I was just dressed in jeans and trainers, so fortunately I didn't attempt it.
A few years later when I started to get into hill walking I found out that it's called the Great Standrop and sits on the edge of Hedgehope Hill which you can see to the right of the picture. It also has a sibling called Little Standrop next to it.
With a bit more nous and a canny few hills under my belt, I set off to conquer the Great Standrop. However it turned out to be my nemesis.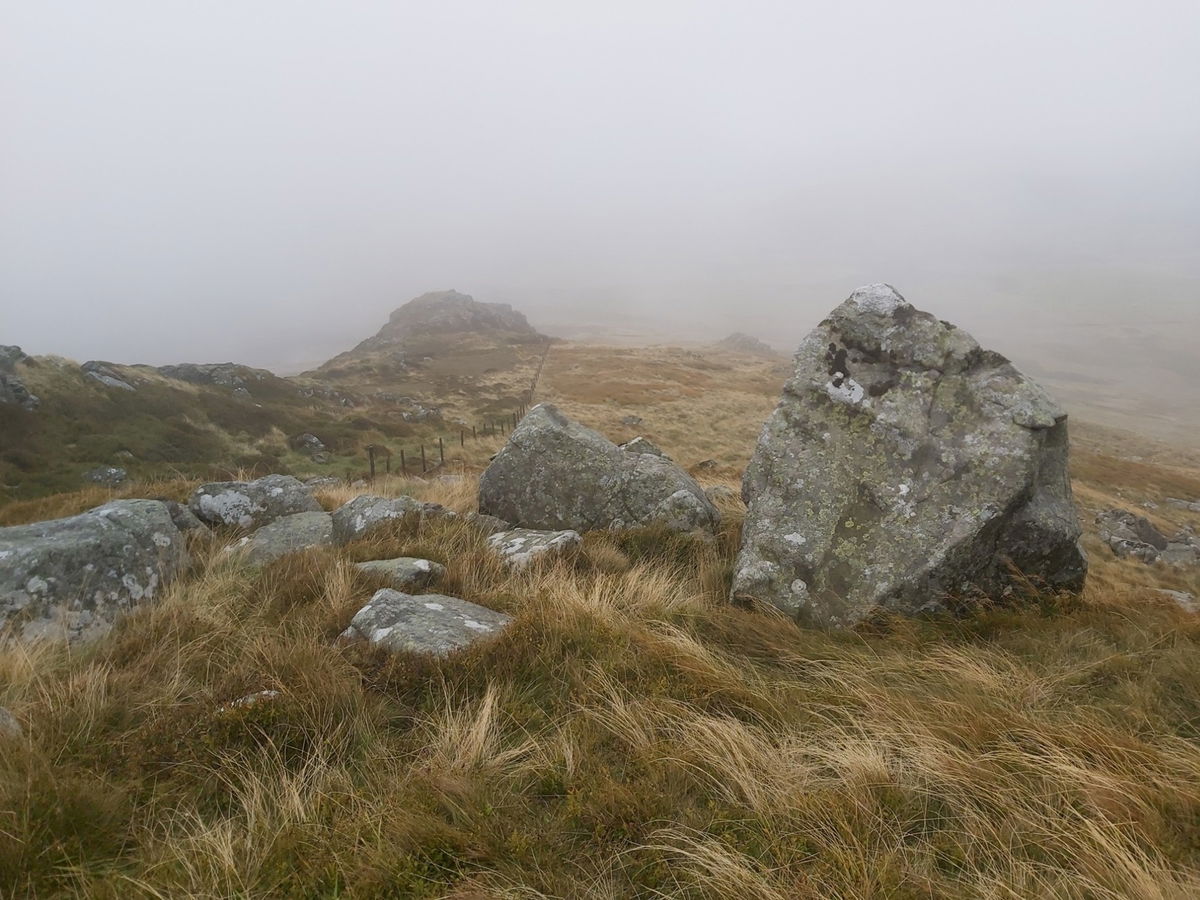 On attempt 1 I headed up via Cunyan Crags and it was super misty where at one stage I could only see around 50m in front of me.
On attempt 2, I had just ascended Hedgehope Hill as part of the Cheviot and Hedgehope Hill walk, but as at that point I was 5 hours in and my feet were soaking from Comb Fell, so I just headed on and didn't make the diversion.
Attempt 3 was on a light sunny-ish day, but as soon as got half way up, the clouds formed on top of the hills and visibility was dire. I turned around and sulked back to the car.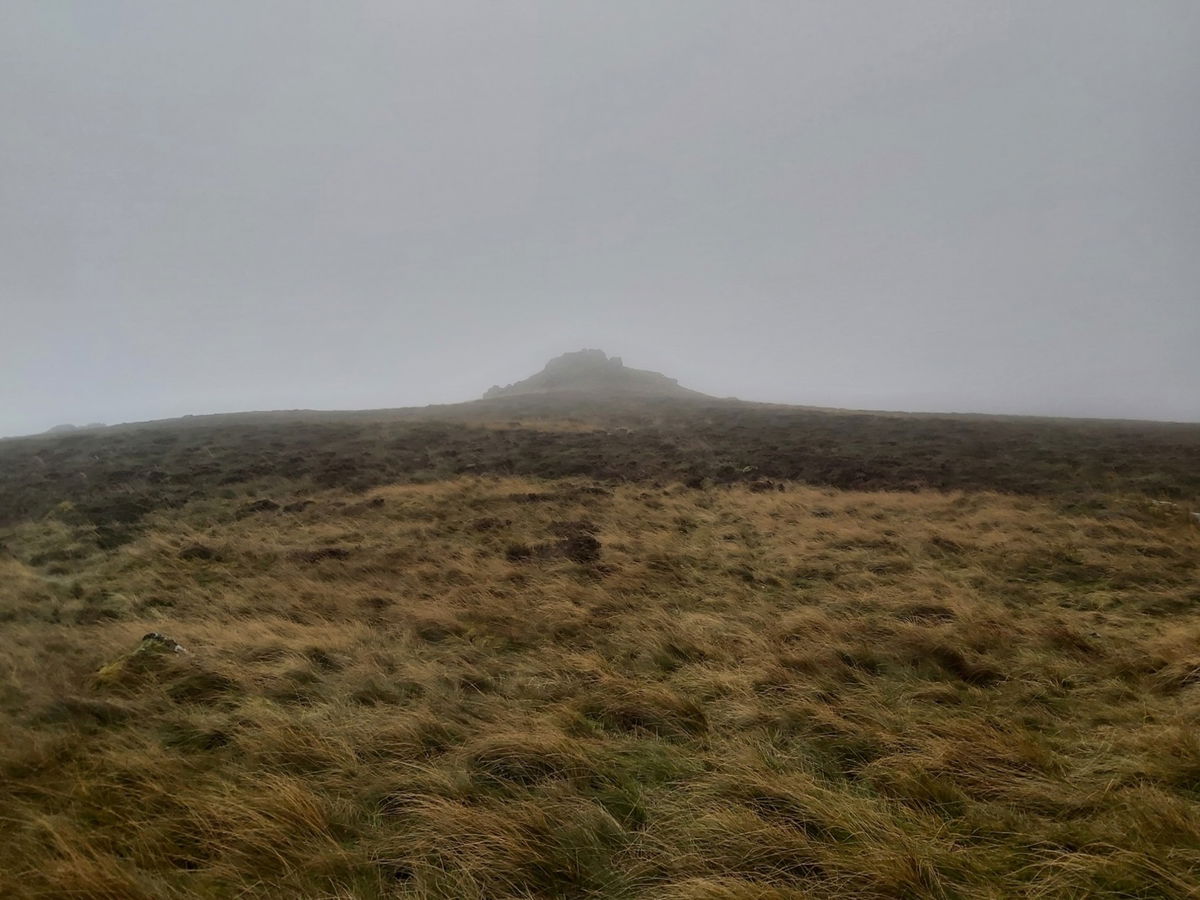 Today's forecast was bright sunshine and clear skies with a temperature of a whopping 10 degrees, so I donned the boots and made a statement that today was going to be the day that I visited the Great Standrop.
I also wanted to revisit Cunyan Crags in better conditions so the plan was to park at Hartside just before Linhope and head up to the crags on Dunmoor Hill, then along to Cunyan Crags before heading up Hedgehope and along to the Great Standrop.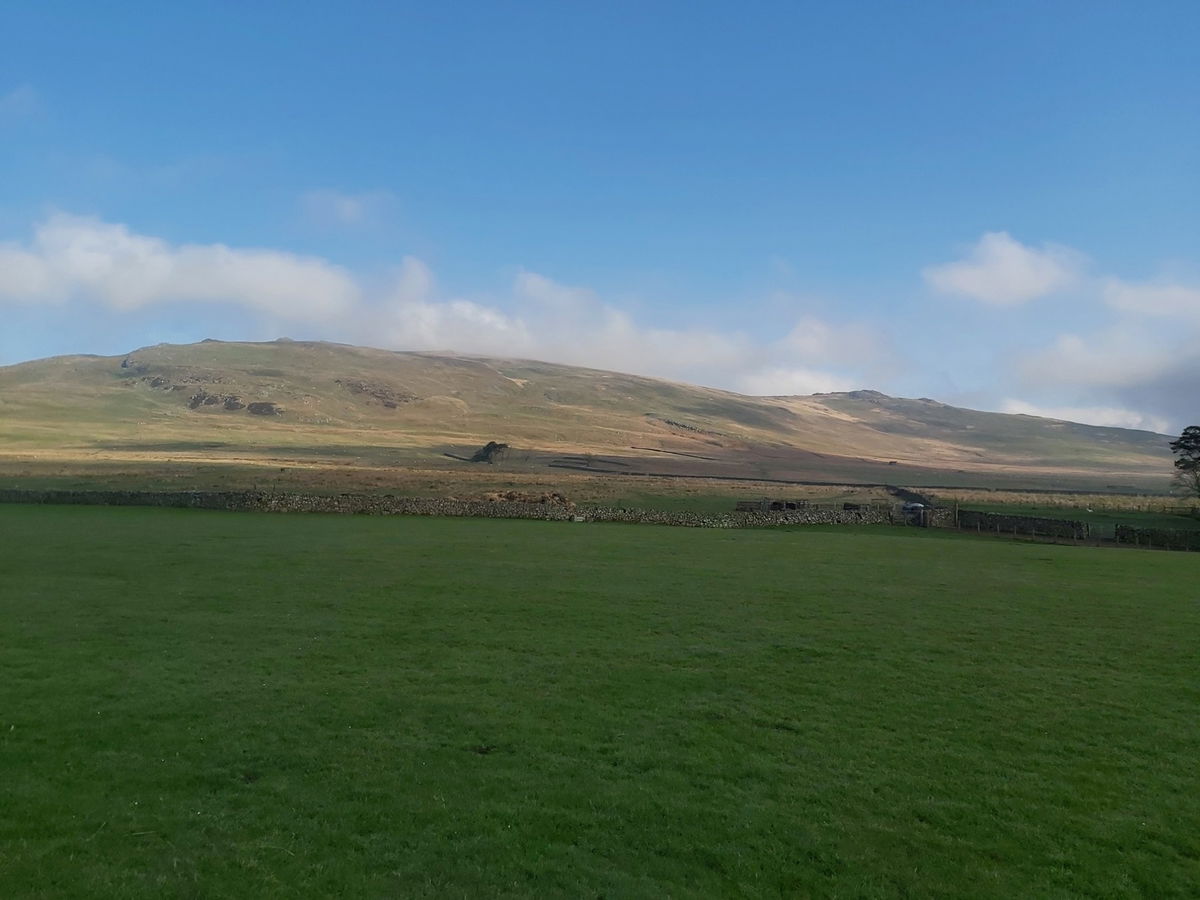 The view from the car park shows Cat Crag and Long Crag to the left of the hill and Cunyan Crags to the right. Weather looking good so far!
But then I pan over to Hedgehope Hill (middle hill in the distance) and there was a cloud cover on it. Damn!
With it being sunny I was hoping that any cloud or mist would burn off by the time I got there. Fingers crossed.
Just before I enter Linhope Village there is a little sign pointing to the The Dod which is beyond the crags, so I take the permissive path through the gates.
I follow the track and through a gate onto the open access land.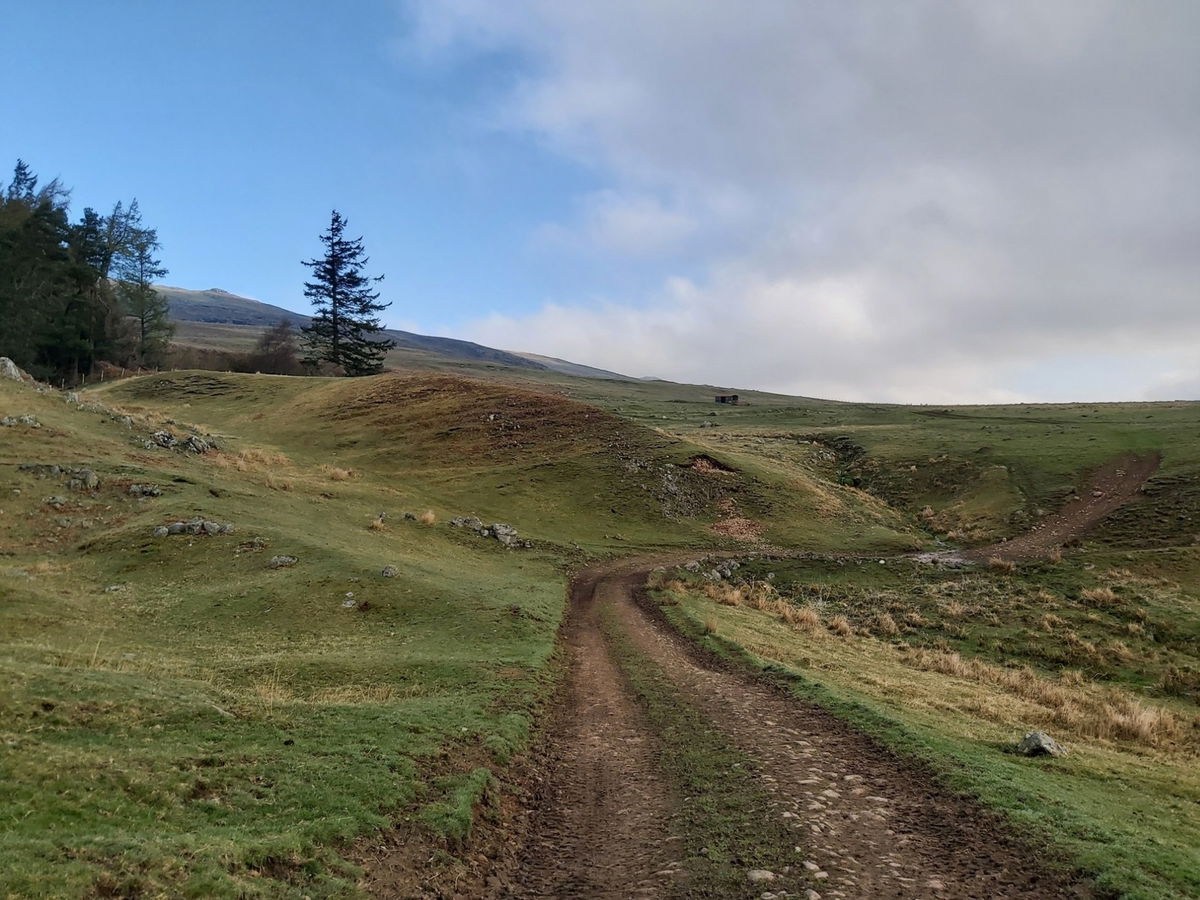 I catch sight of Cat Crag and Long Crag from the bottom of the hill and my route takes me to the left up the side of the hill.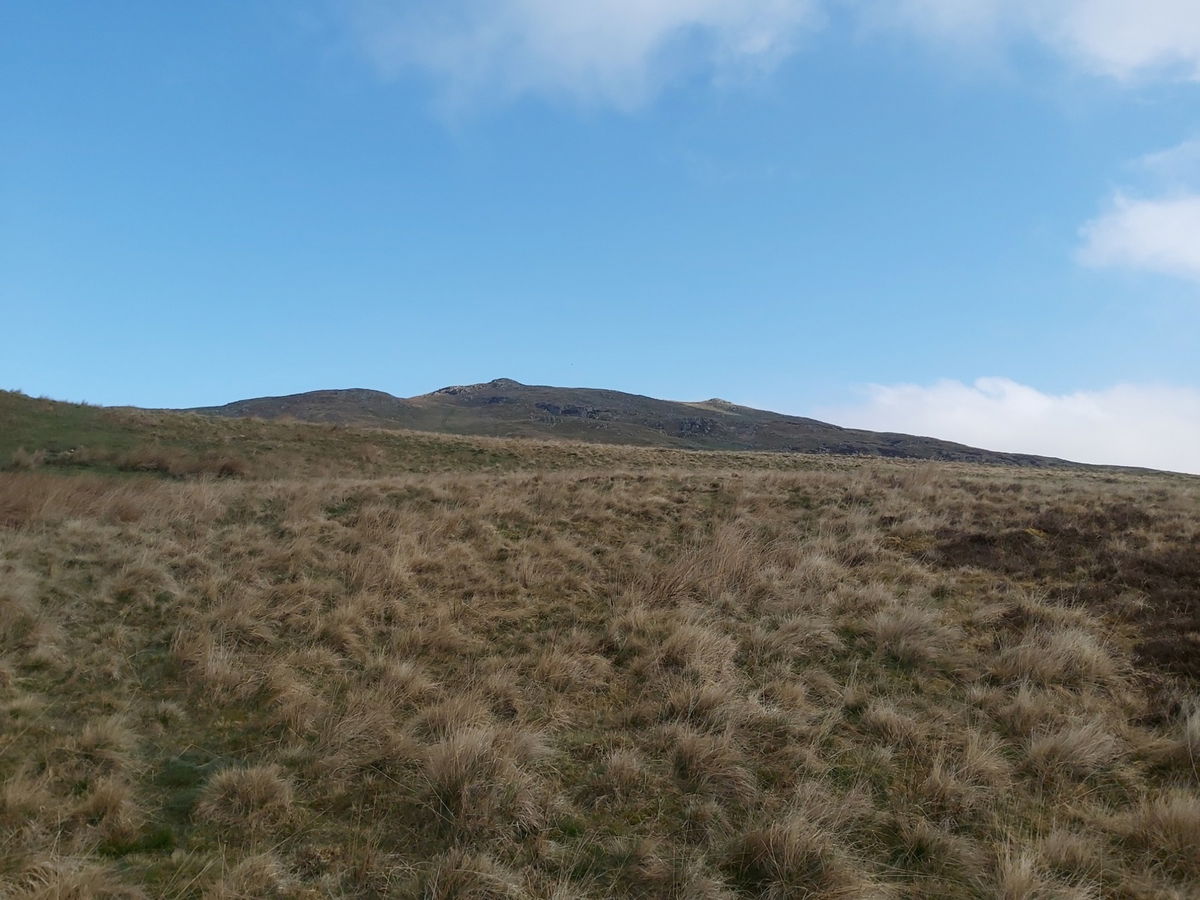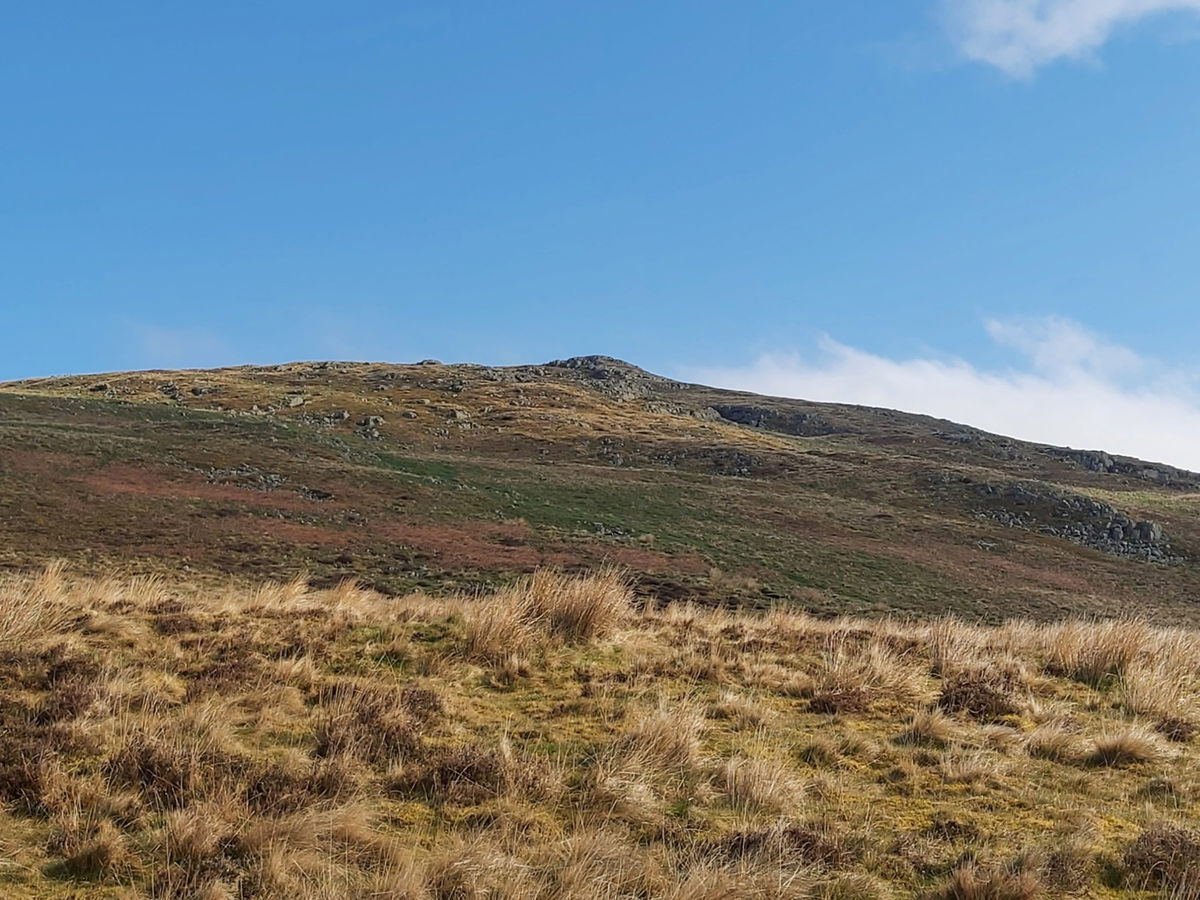 Then half way up I catch my first glimpse of the Great Standrop. Crumbs that looks a long way away! You can just make out the Little Standrop next to it.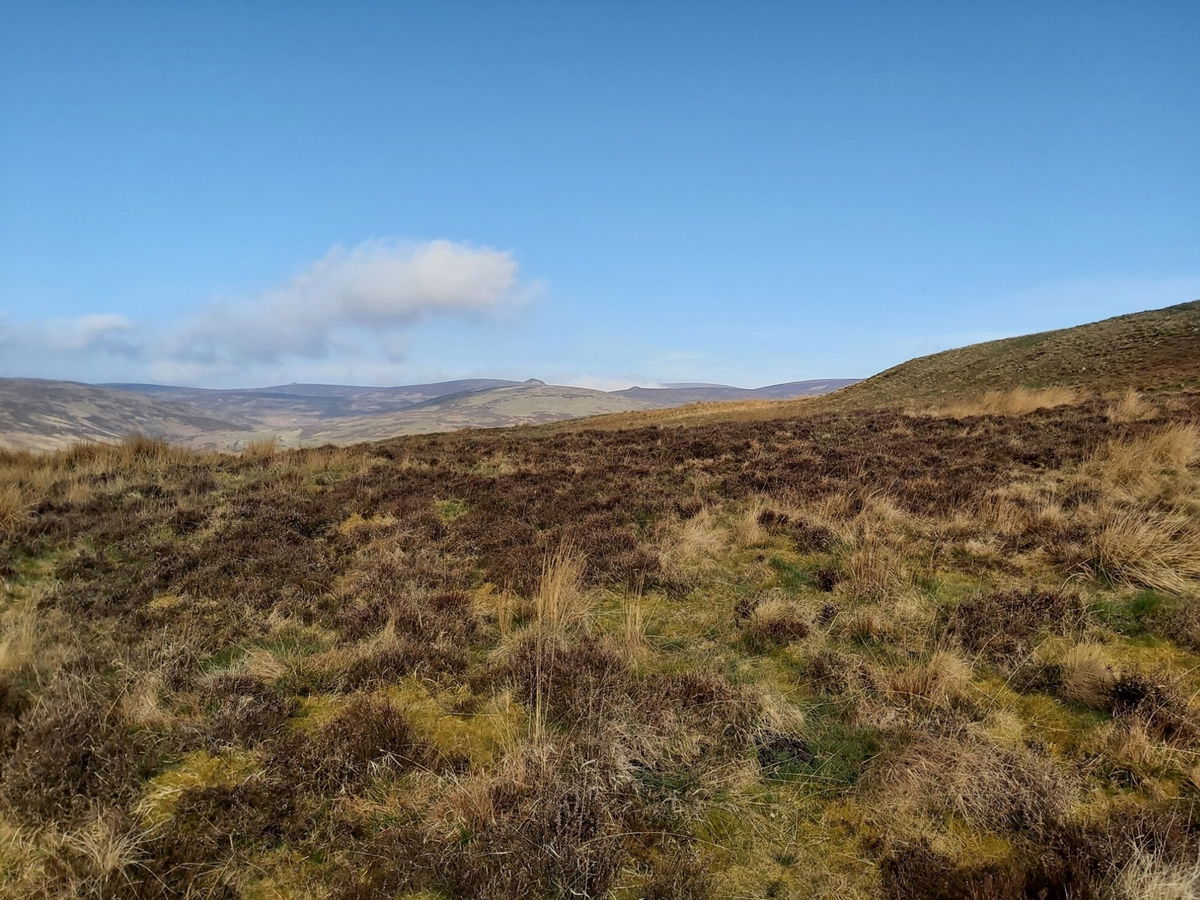 I pan the camera over and "Oh joy!" look at Hedgehope Hill, totally covered in cloud!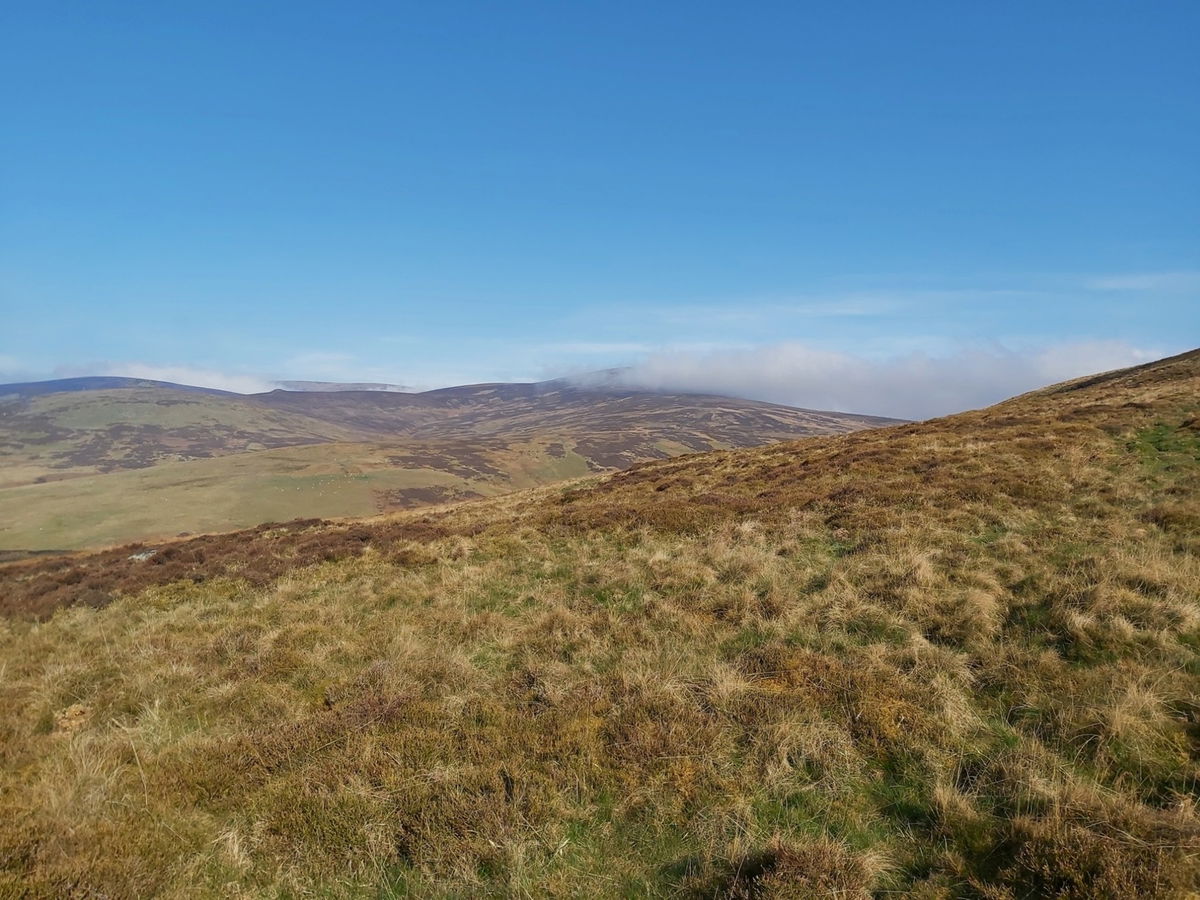 Crossing fingers the sun will burn this off I persevere on and find a little Slow Worm enjoying the weather. Apparently the slow worm is neither a worm nor a snake, but is, in fact, a legless lizard.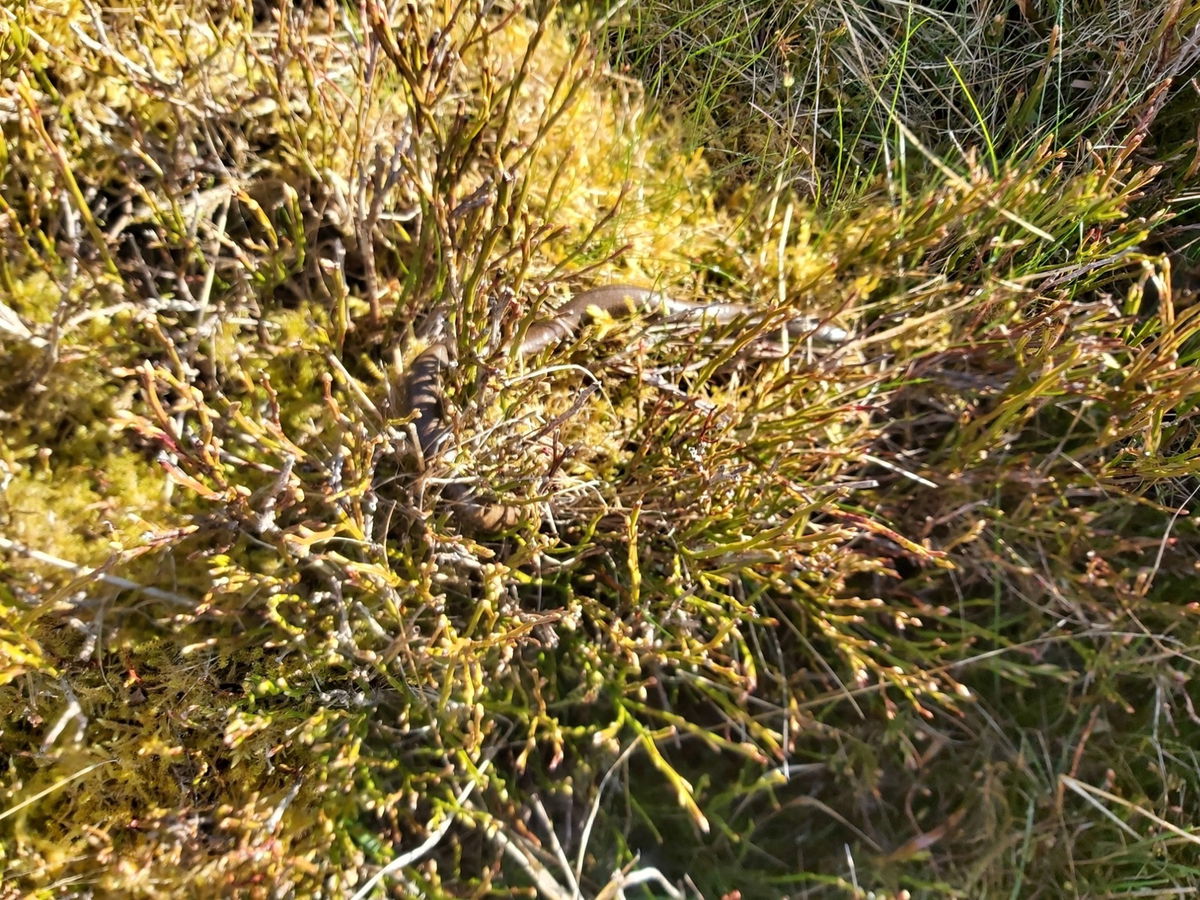 And I am pretty much at Cat Crag.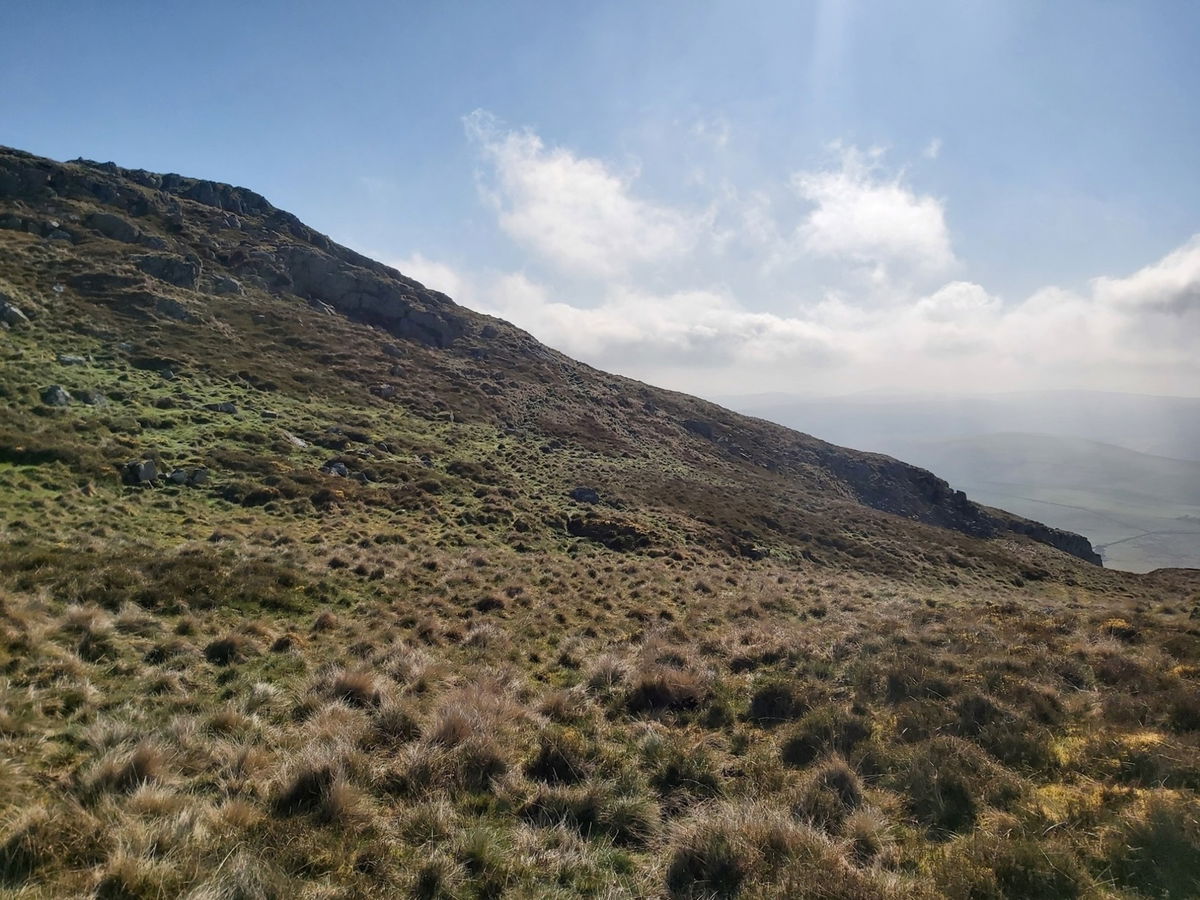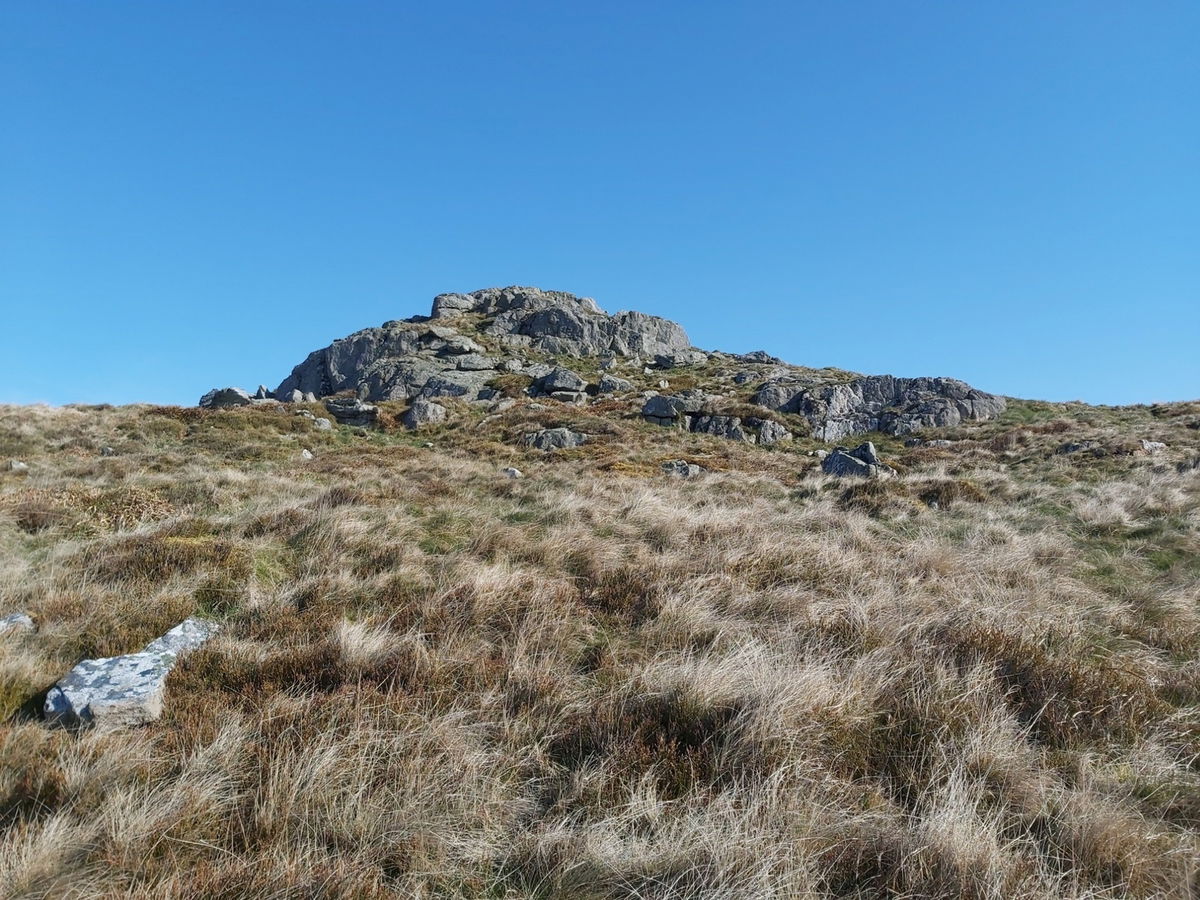 Of course you have to climb it and some swell views from the top with Long Crag in the distance.
Cloud starting to clear, whoop!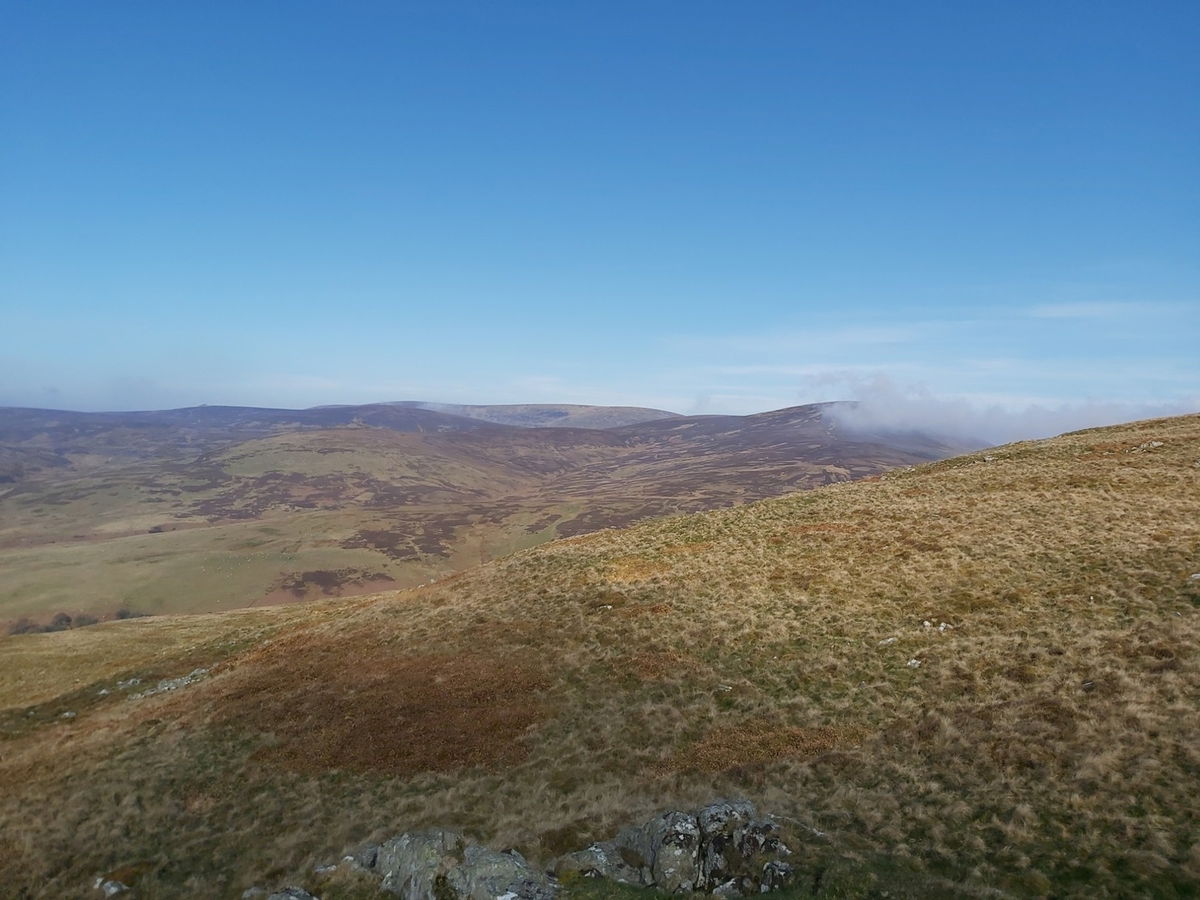 I continue heading over to Long Crag.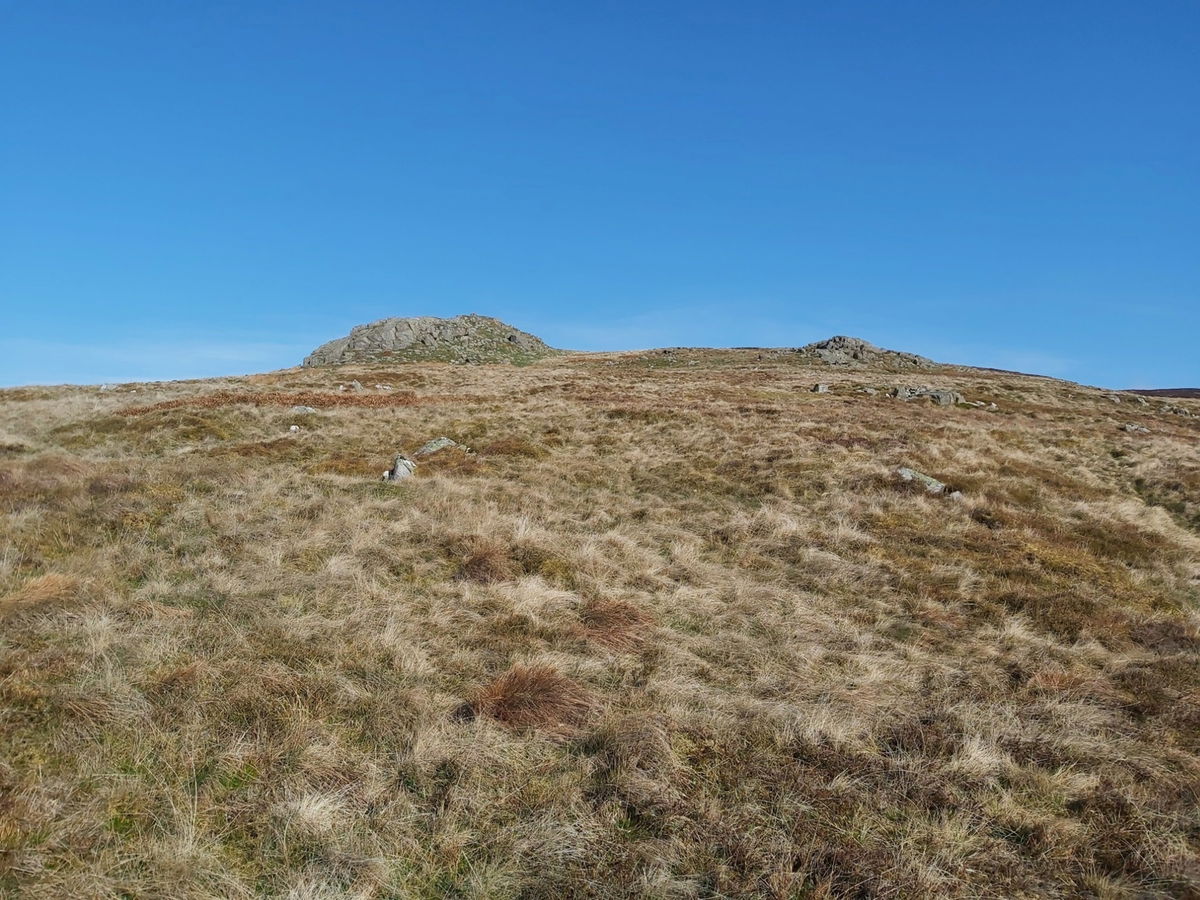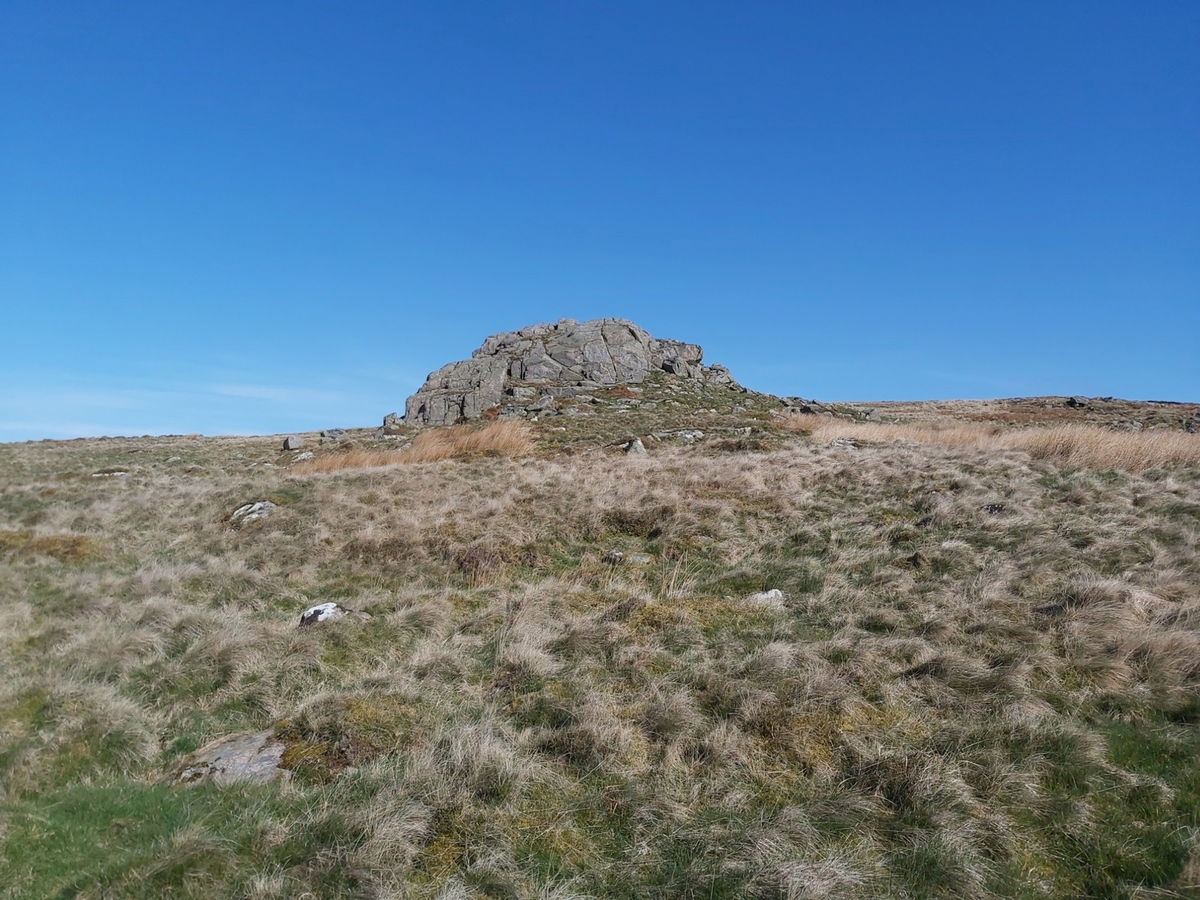 Lots of other little fab crags knocking about too.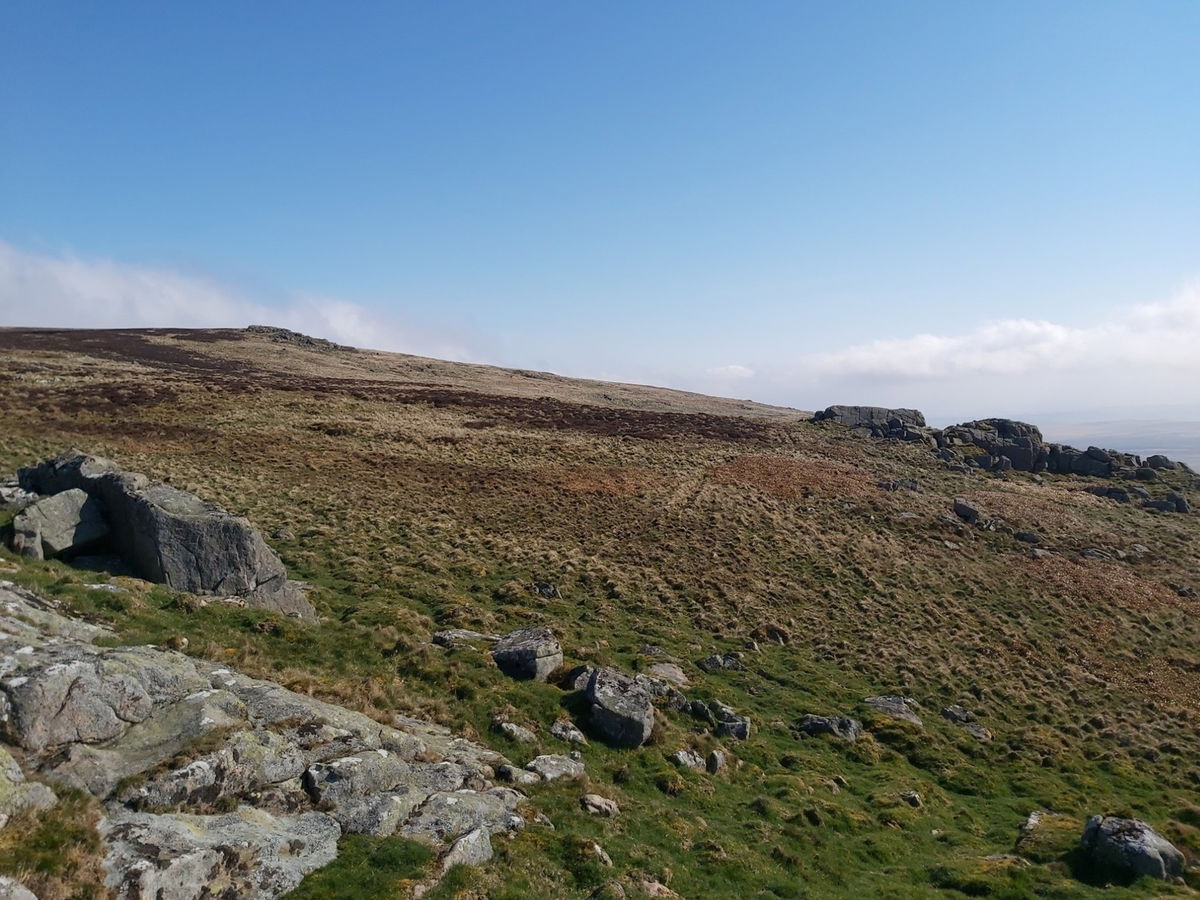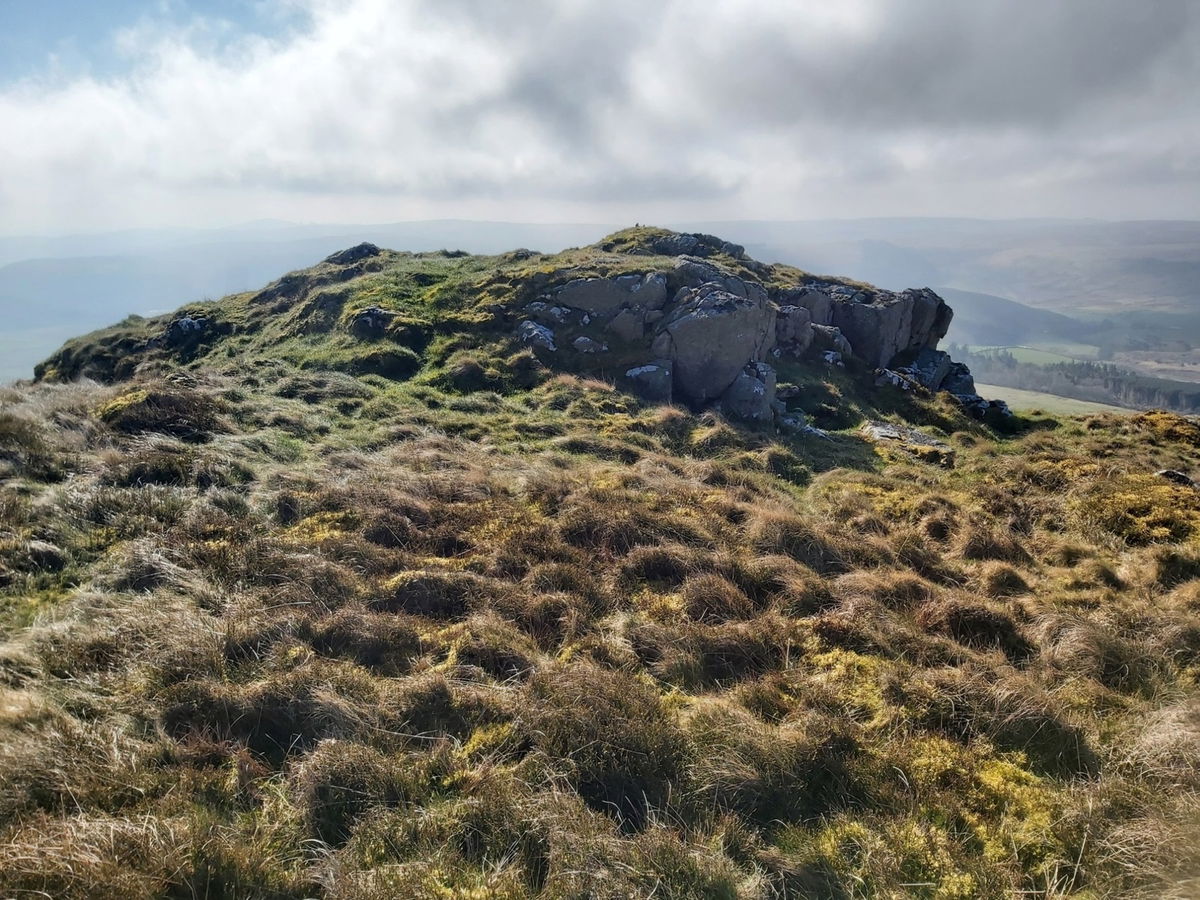 Well hello Hedgehope Hill with no cloud. And just peeking up behind it is The Cheviot.
I take a final few snaps of Long Crag and then I make the trek over the top of Dunmoor Hill to Cunyan Crags.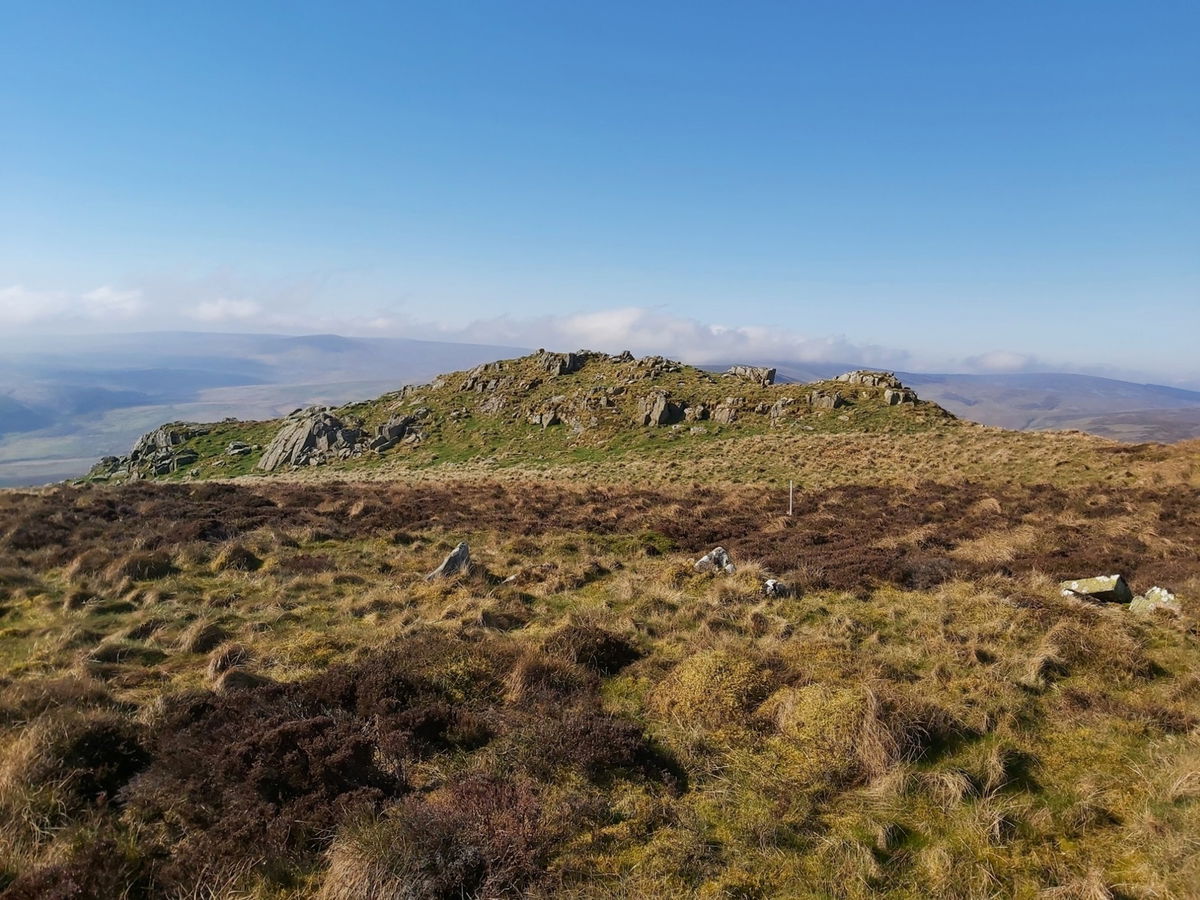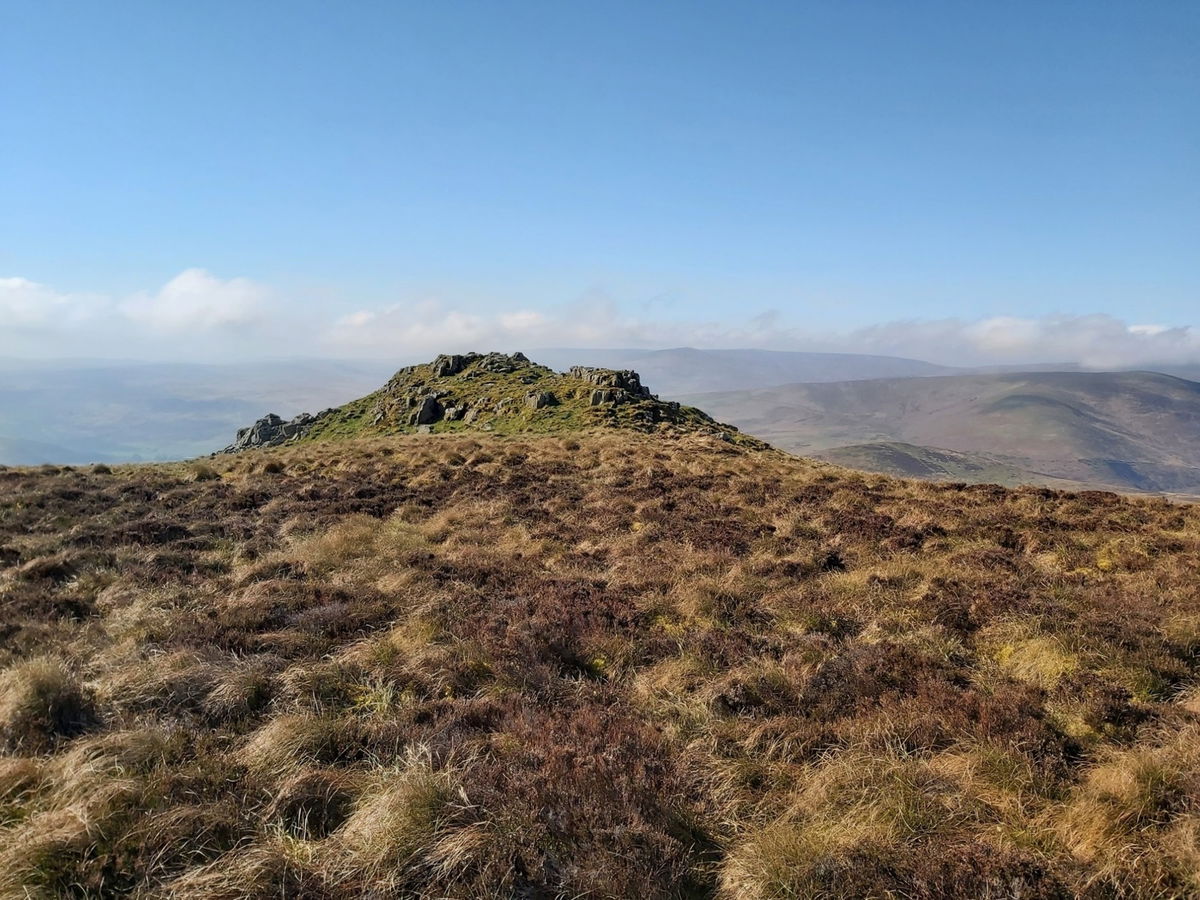 My last walk to Cunyan Crags was in ludicrous rain and mist, so my photos weren't too great. Hopefully today they will be a lot clearer. A few more crags along the way.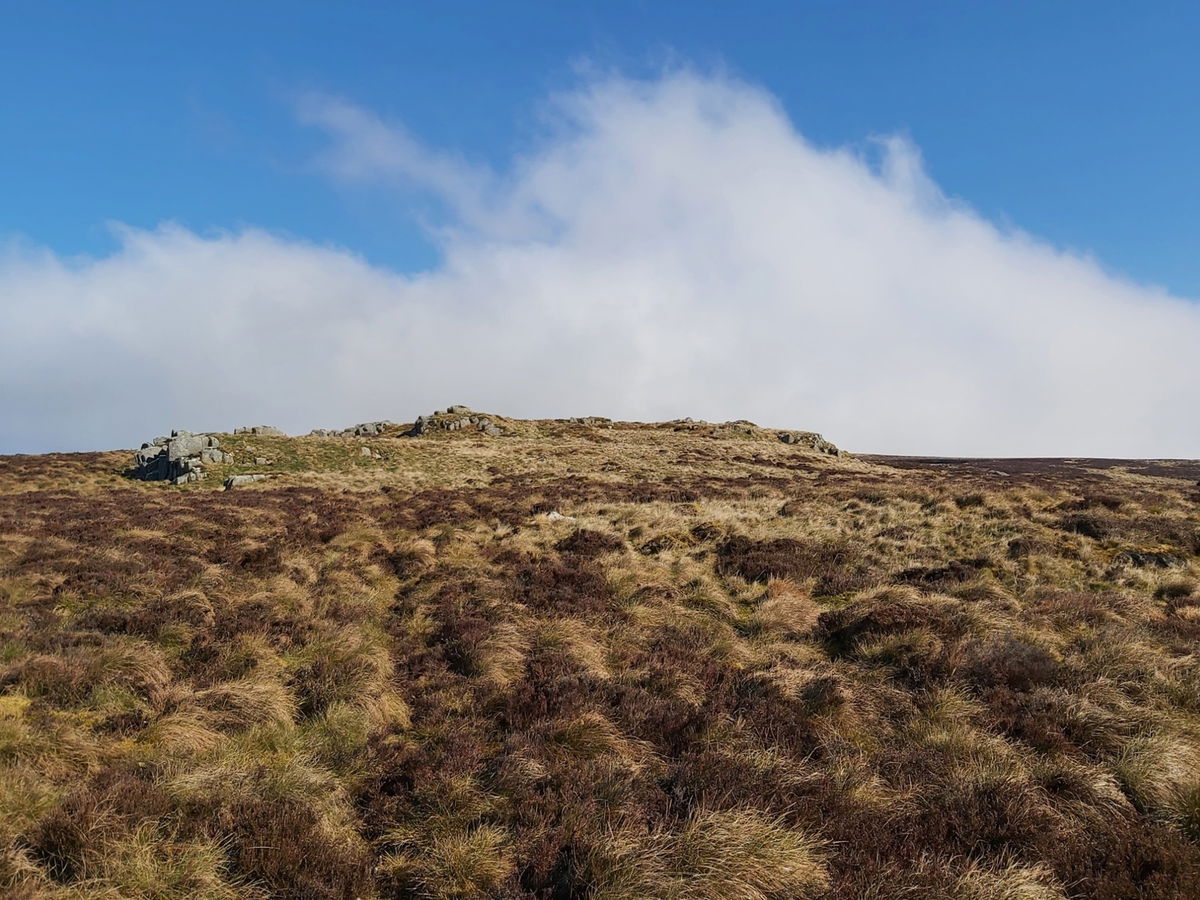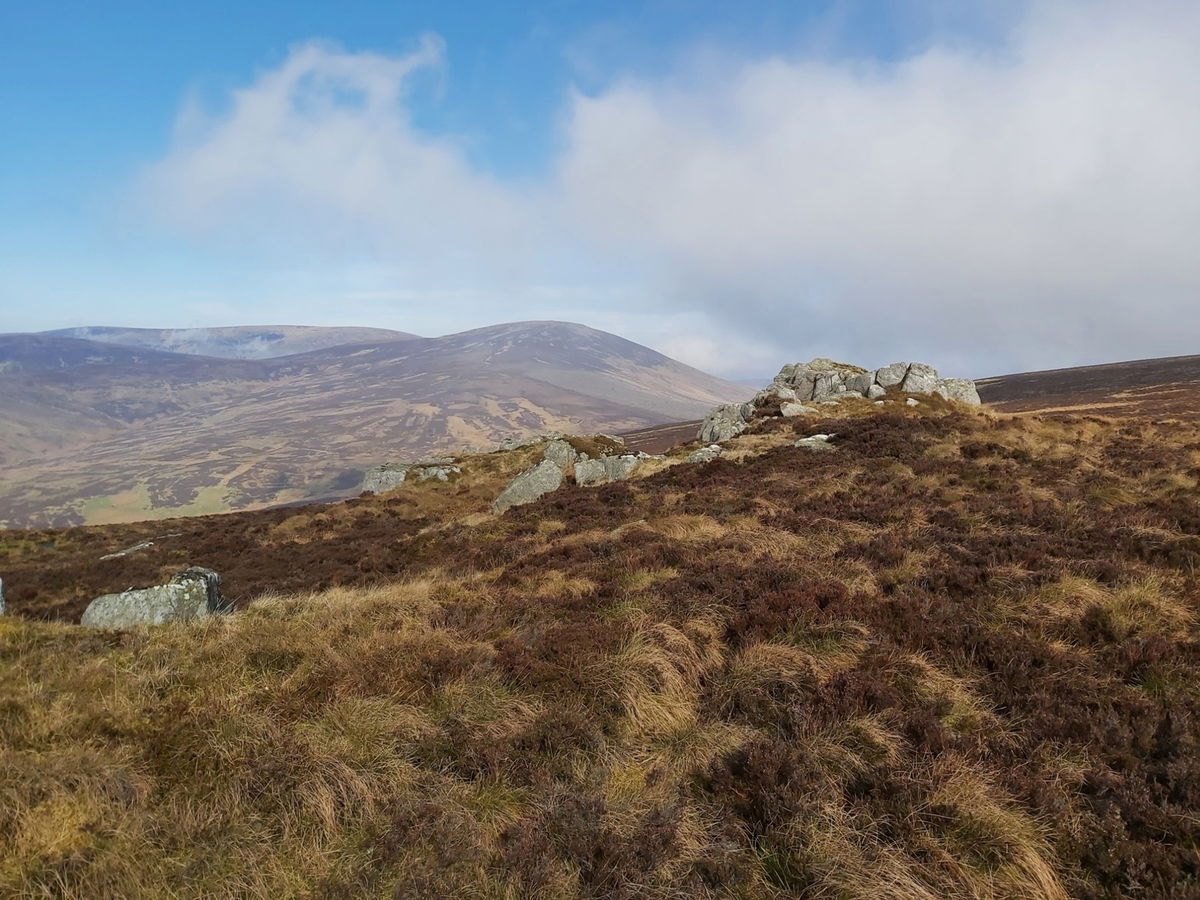 From the top of Dunmoor Hill I get my first proper look at Cunyan Crags. Shrouded in mist! It's a canny jaunt down to the crags and then I have to retrace my steps back up, so I contemplate even making the journey at all. My adventuring feet get the better of me and I make the descent.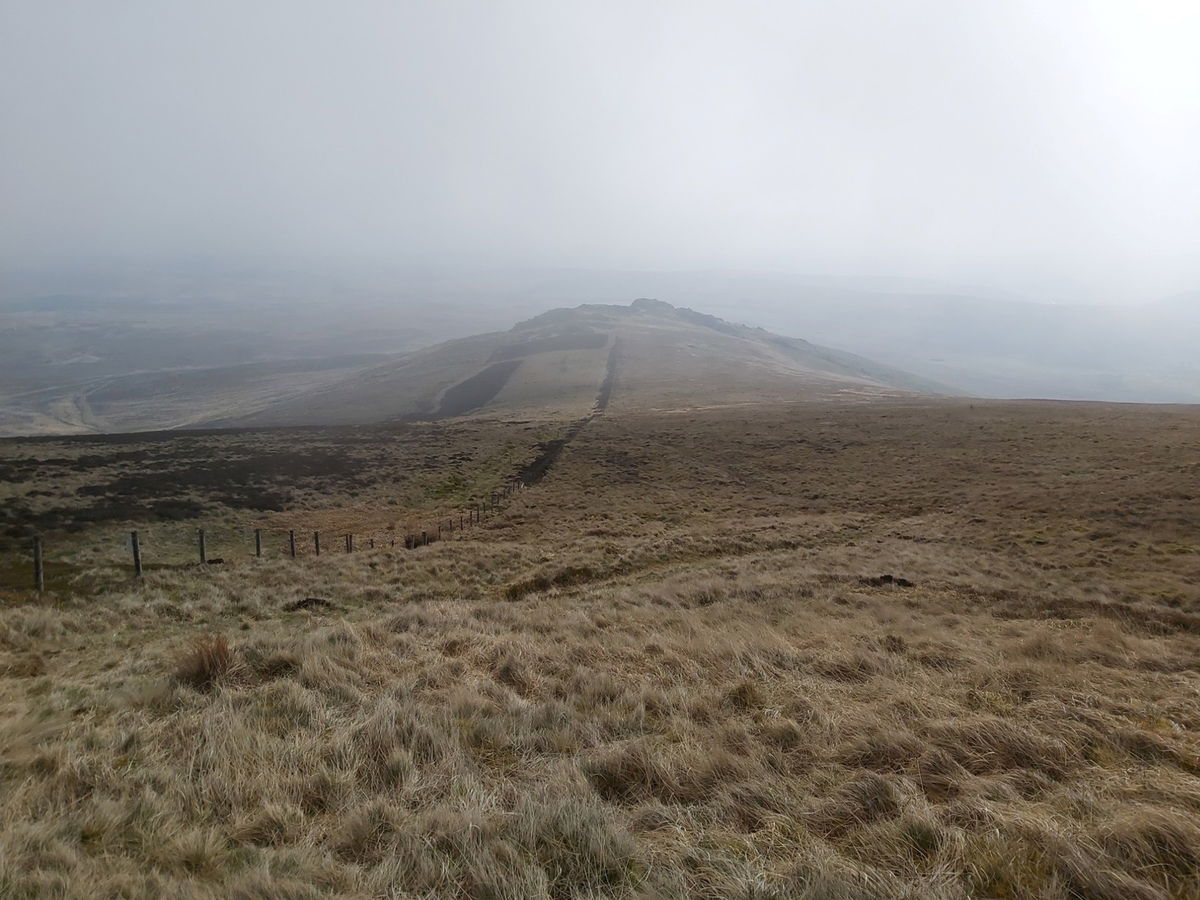 Fortunately as I get nearer, the mist parts and I am left with glorious views of the crags. I up the pace and take a wadge of photos before it comes back.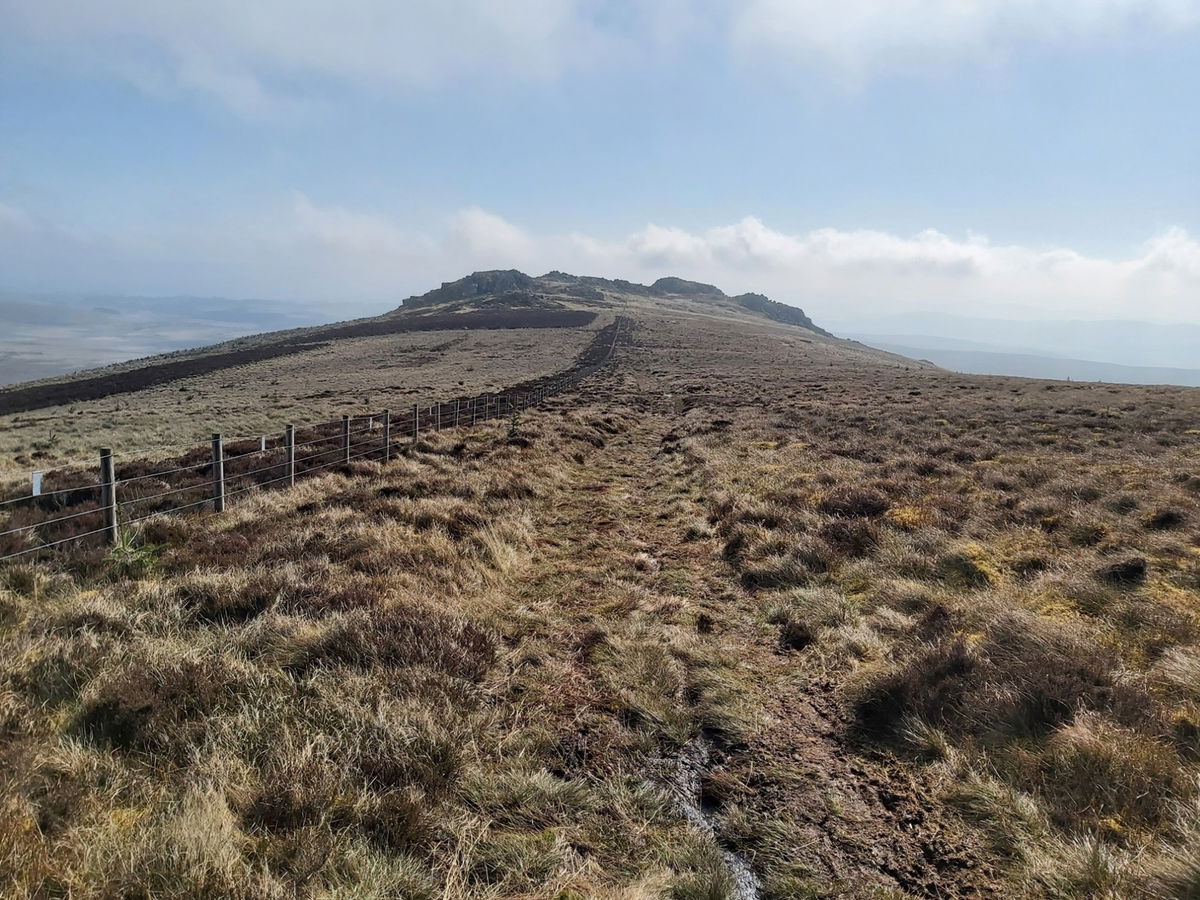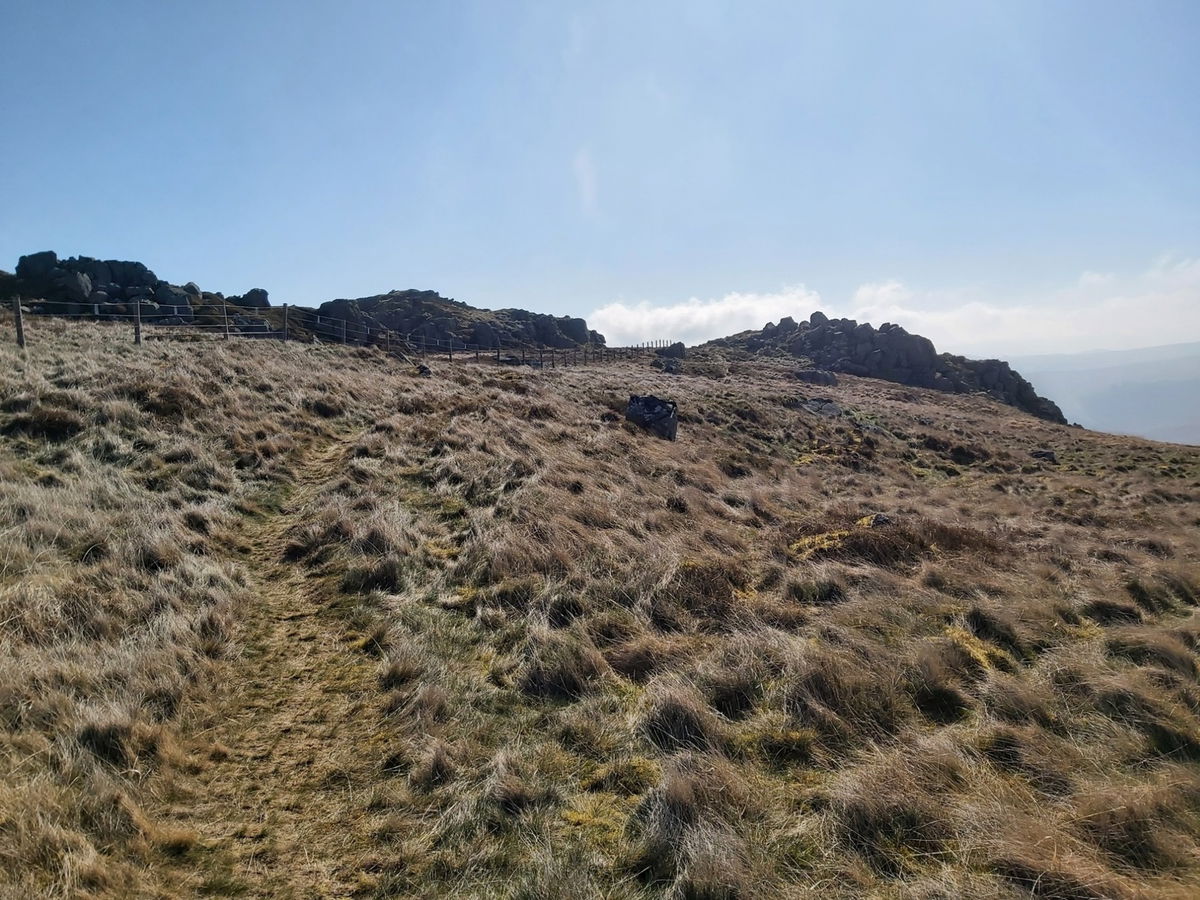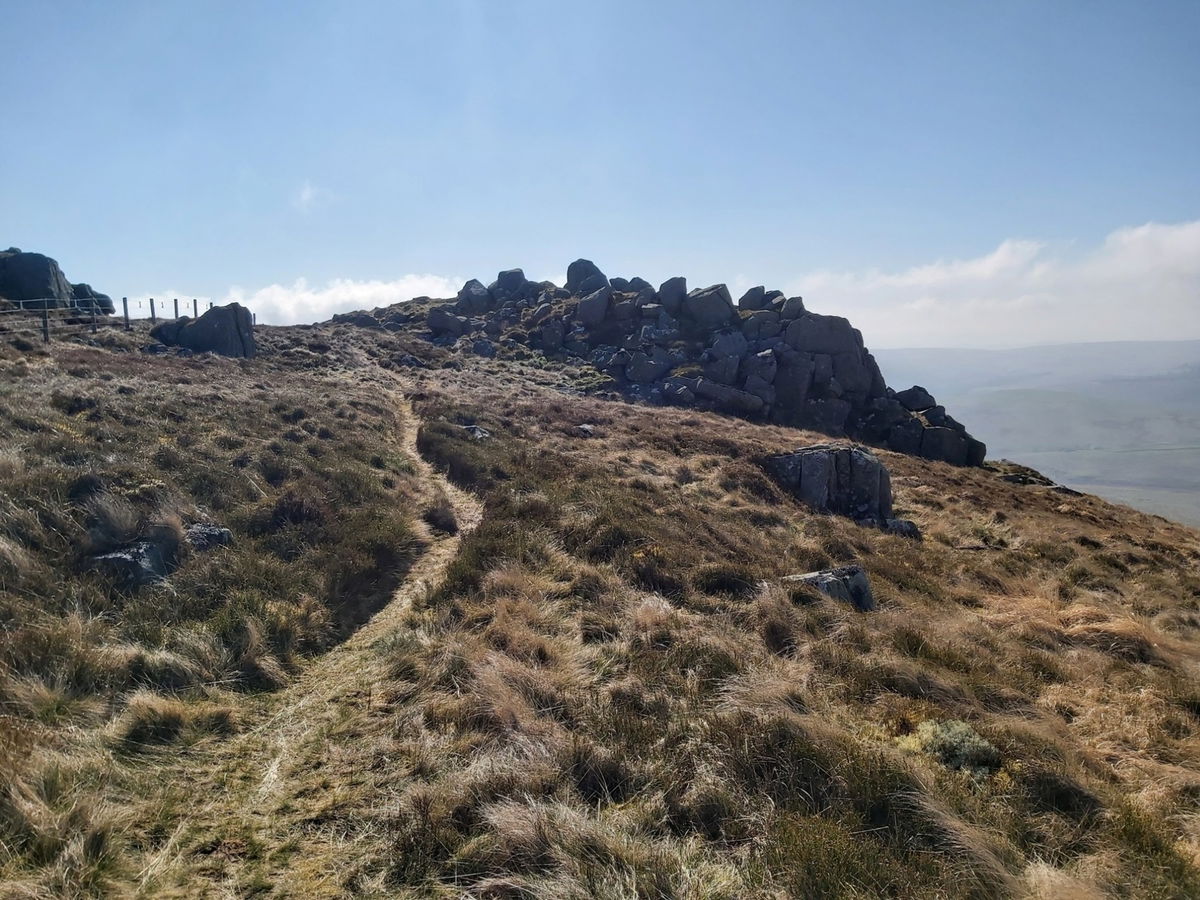 The mist seems to be keeping at bay so I snap away.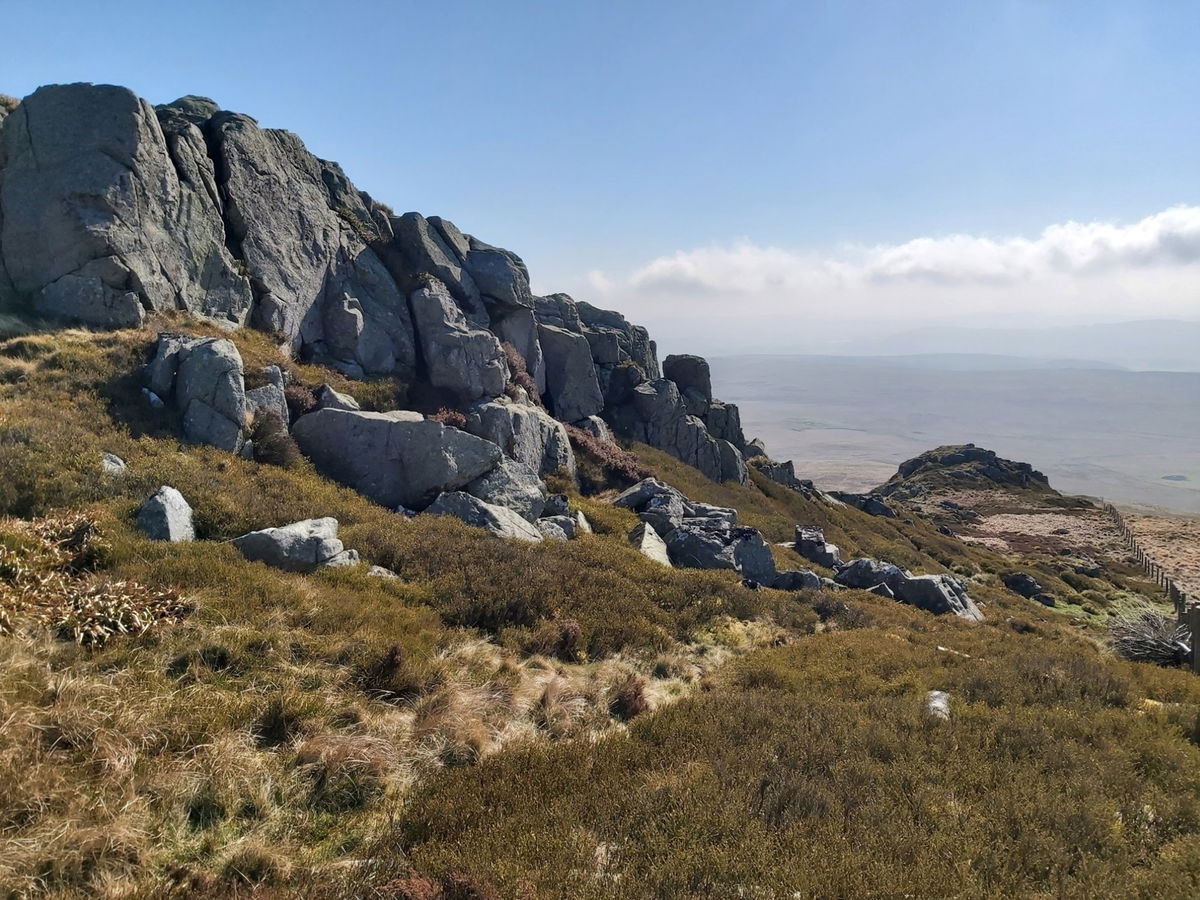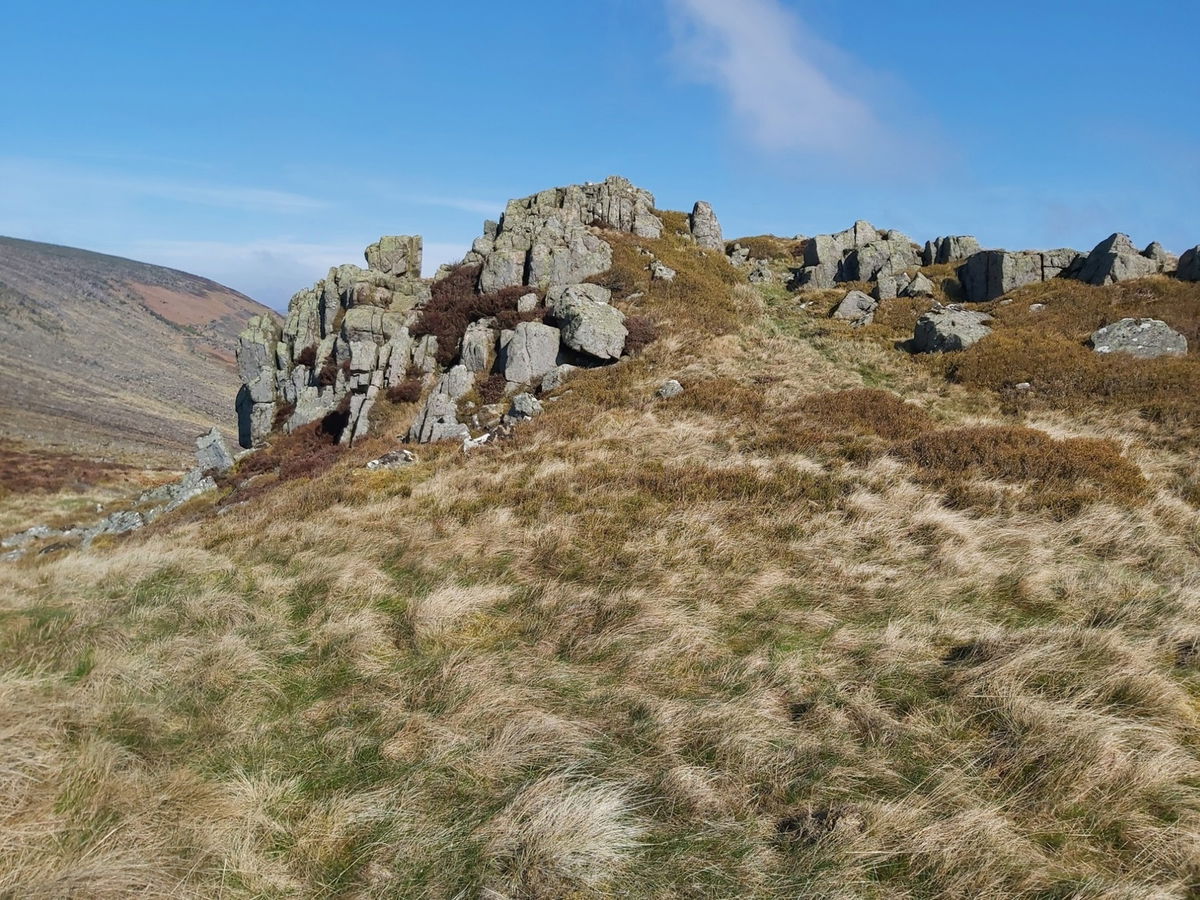 Just a few more photographs.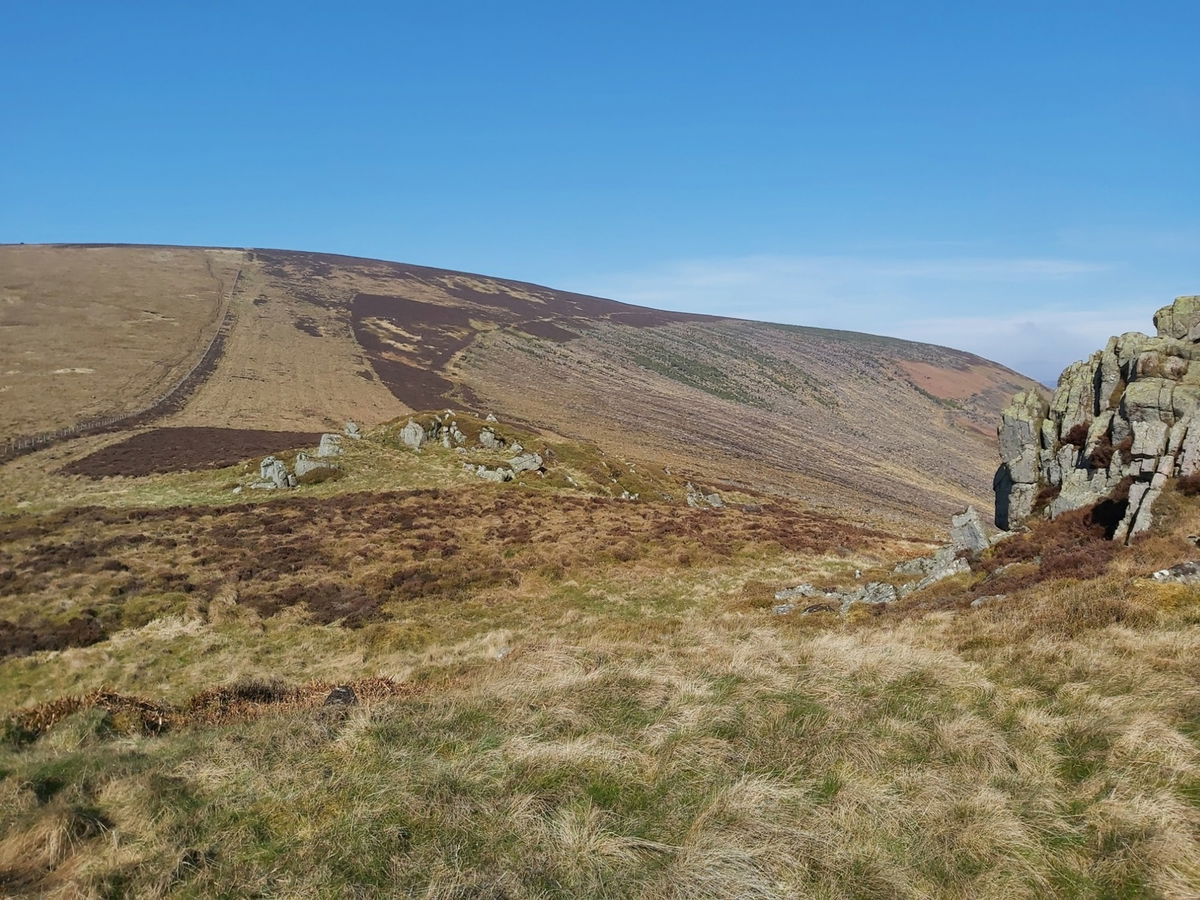 If you squint on the top of the hill in the distance you will see Langlee Crags which are to the north east of Hedgehope Hill. There are a plethora of crags around there so I am saving those for another adventure.
Since this post I have now visited these other crags and you can read about it here - A Compelling Cabal Of Crags.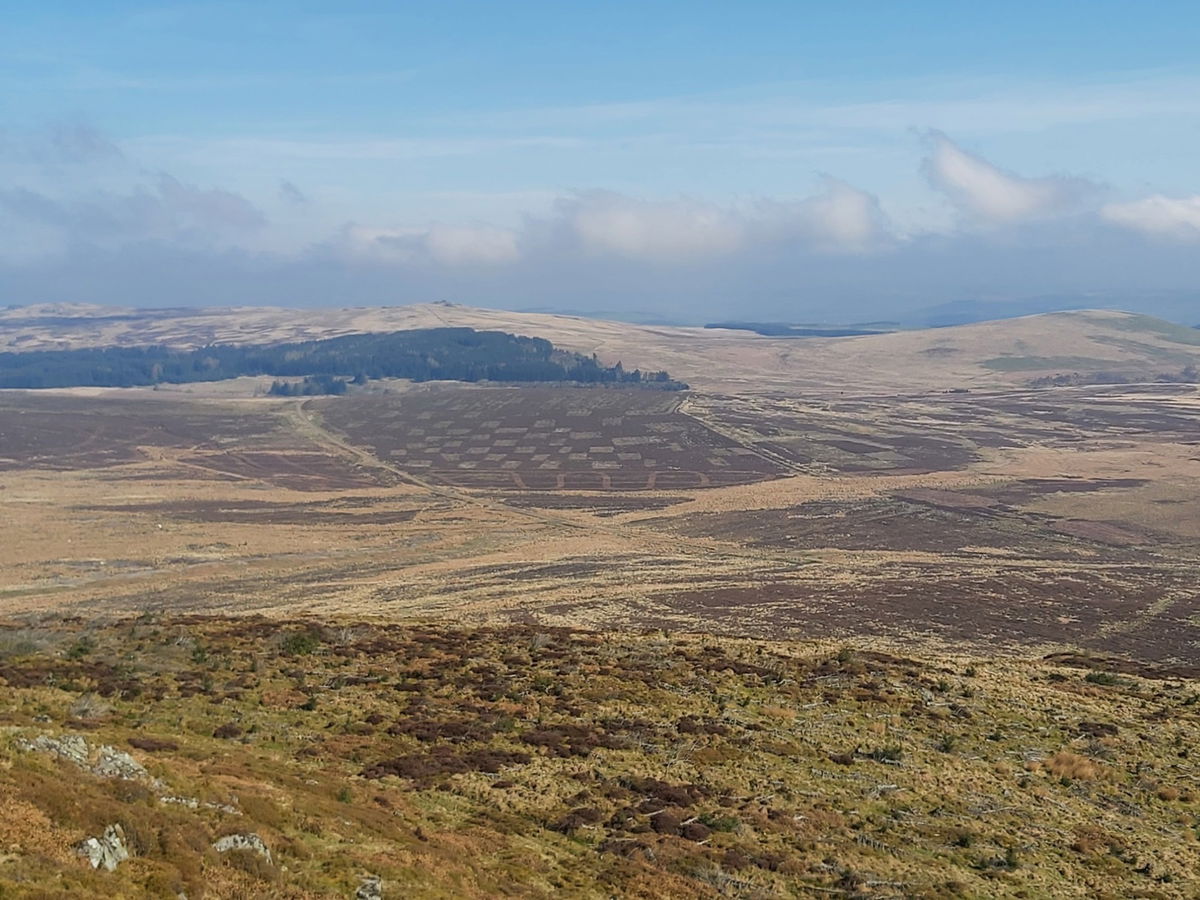 My route now retraces my steps back up to the top of Dunmoor Hill, and peeking back, Cunyan Crags are still looking resplendent..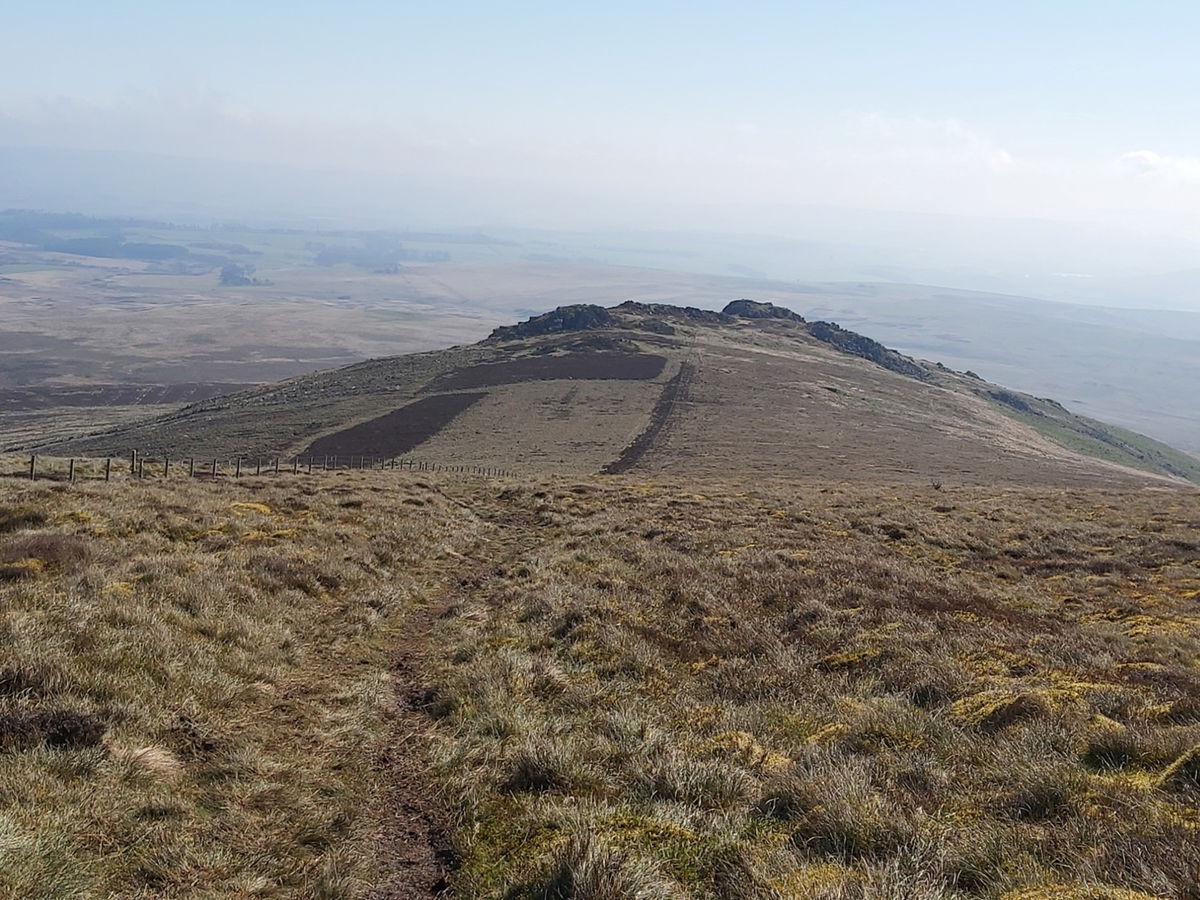 And more importantly, Hedgehope Hill is clear!
The plan is now to head up to the top of Hedgehope Hill and then find a path down to see the two Standrops. I spy a gate and a track heading up the hill.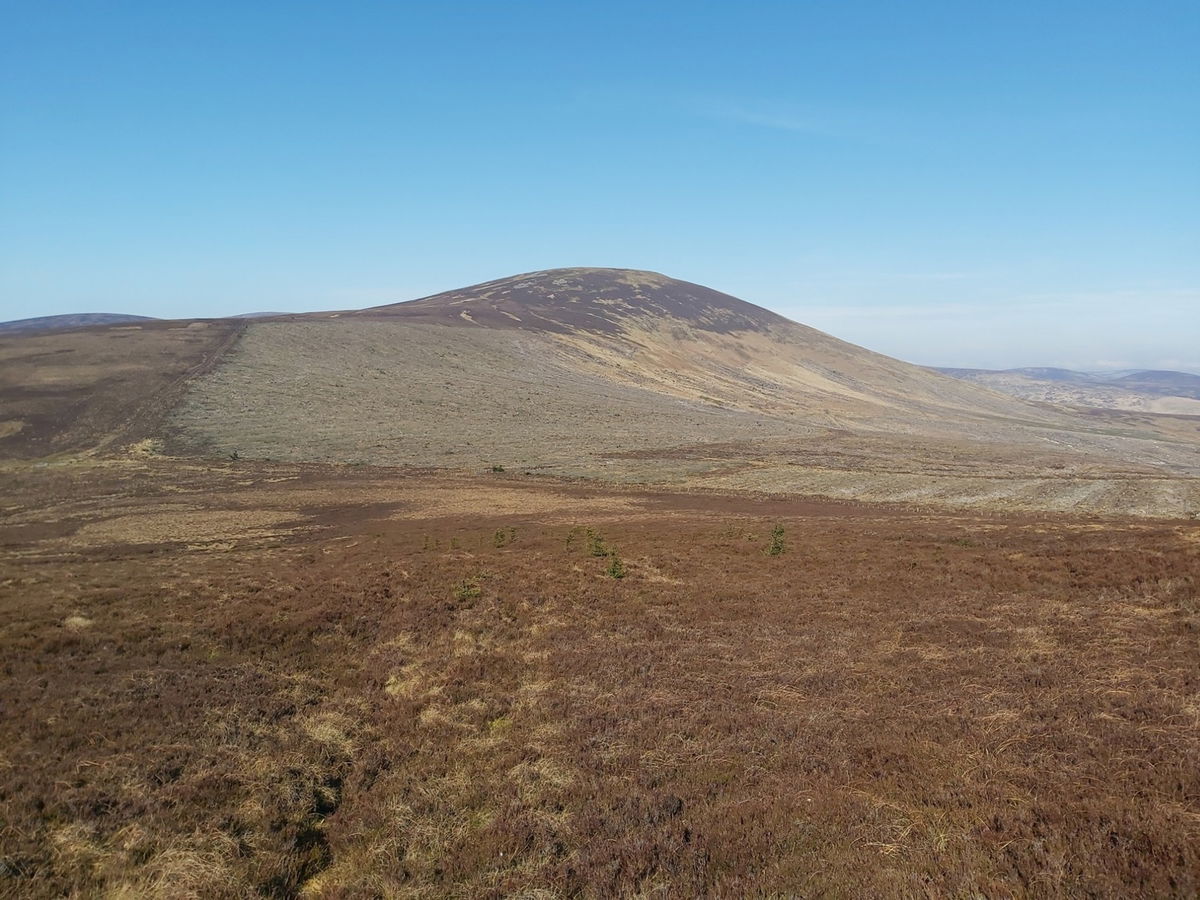 A much better view of Great Standrop and Little Standrop. I'm getting nearer.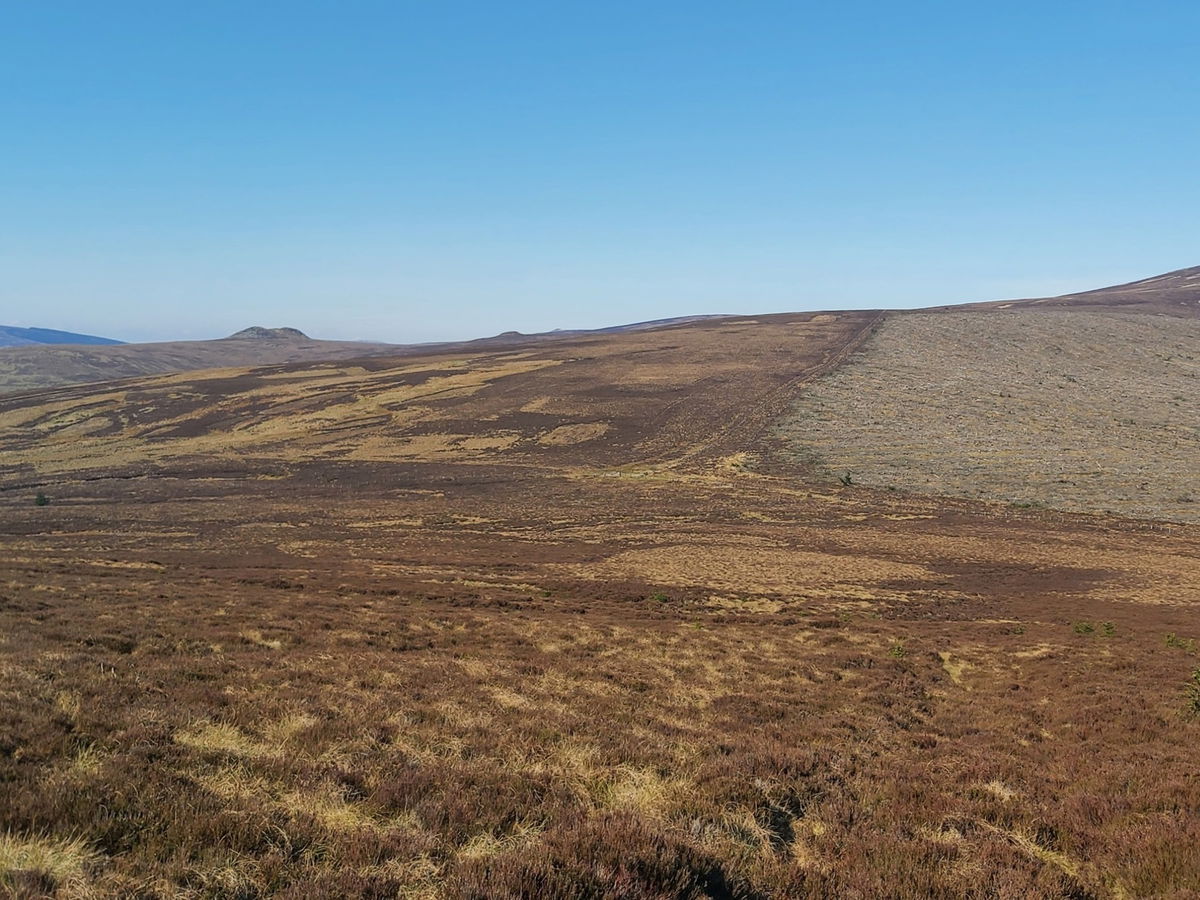 Now in the valley between Dunmoor Hill and Hedgehope Hill and time to ascend. It's a bit boggy already!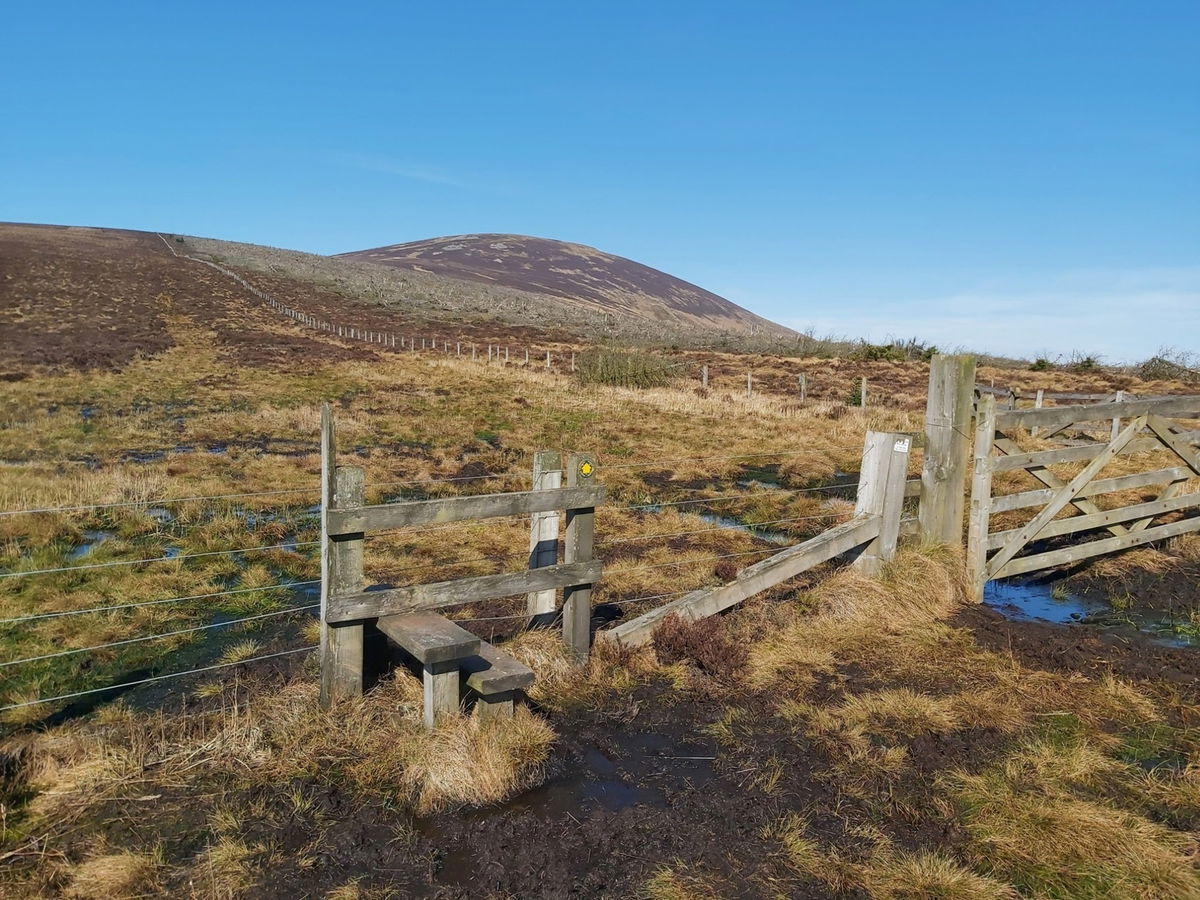 Getting a lot closer now. One thing that is not easy to see until you're actually up here is that there is a chunky ravine where the Het Burn flows between here and the Great Standrop, so it would be difficult to just cross country over to it from here. So I head up to the top of Hedgehope Hill and them down its southern face.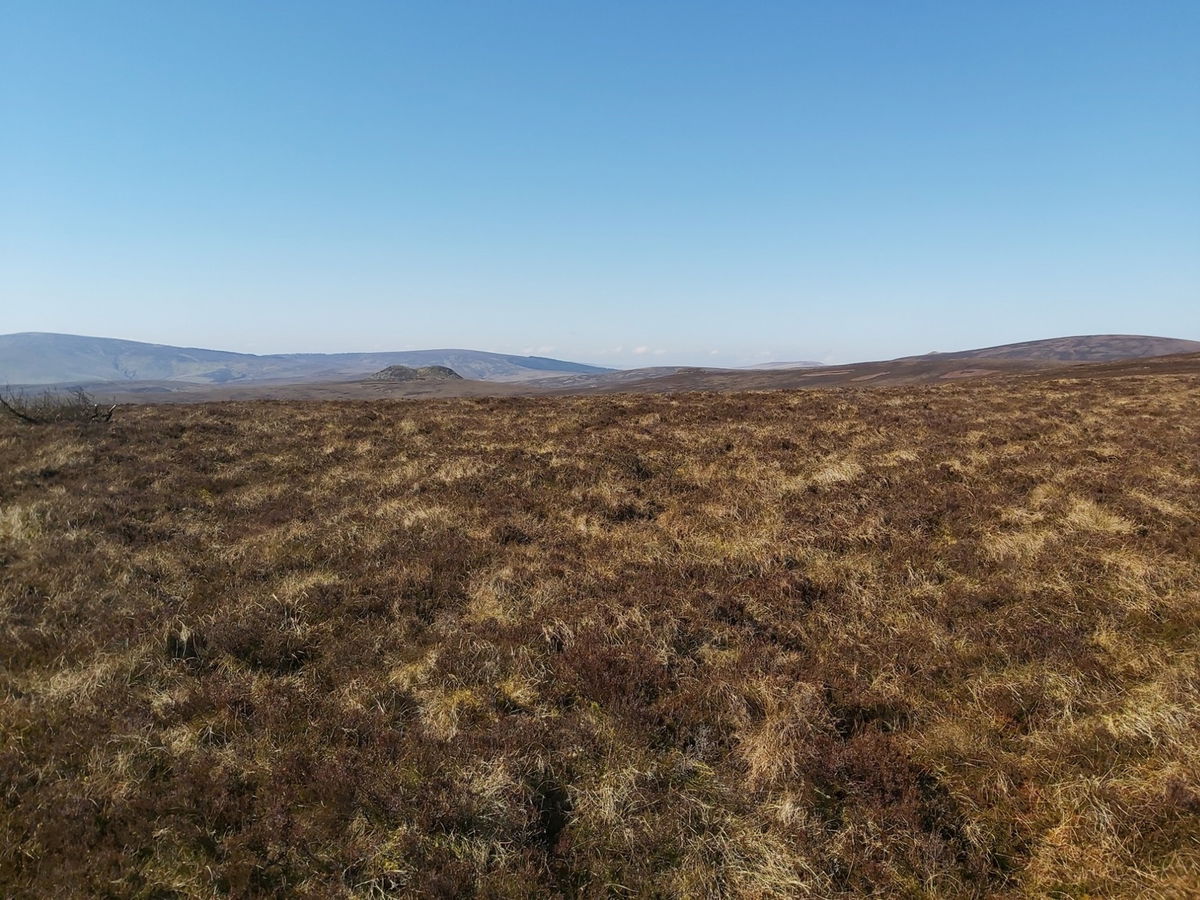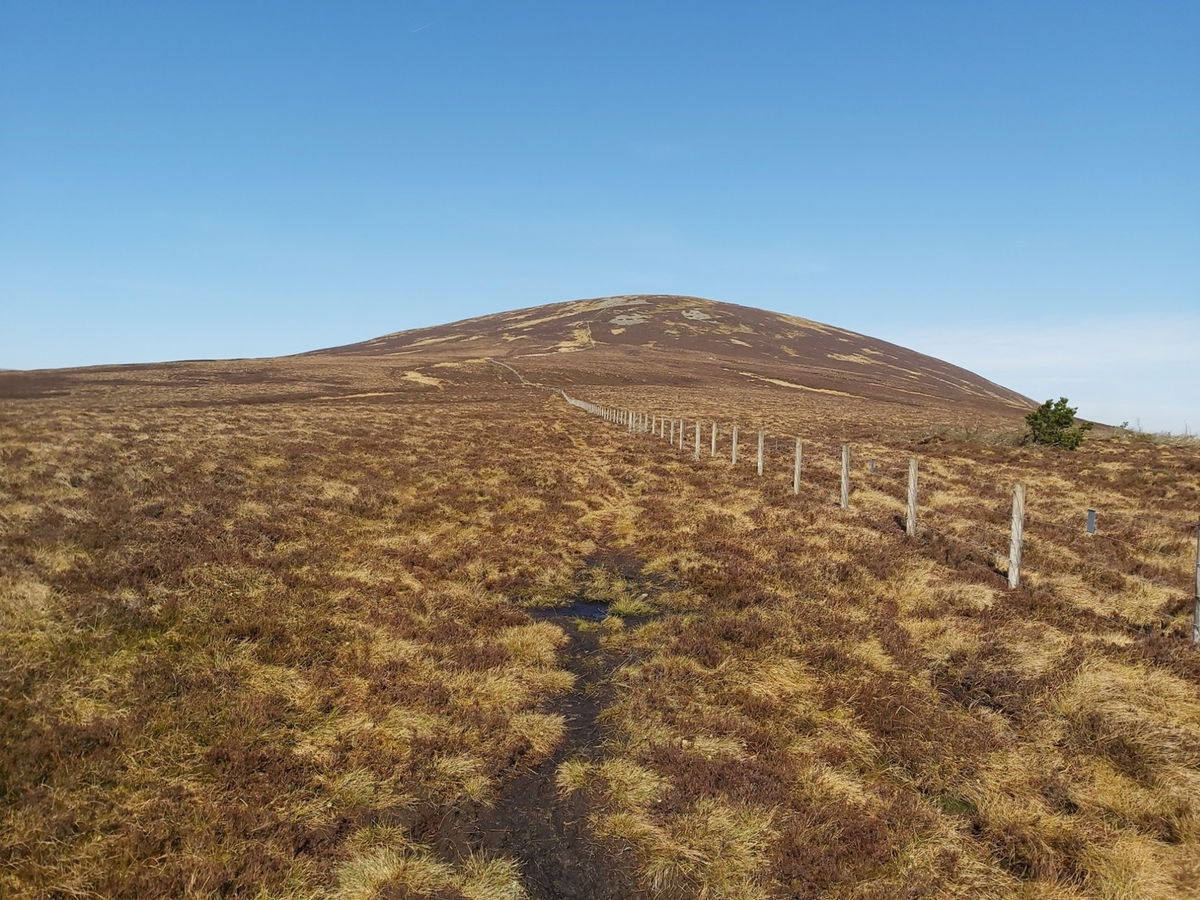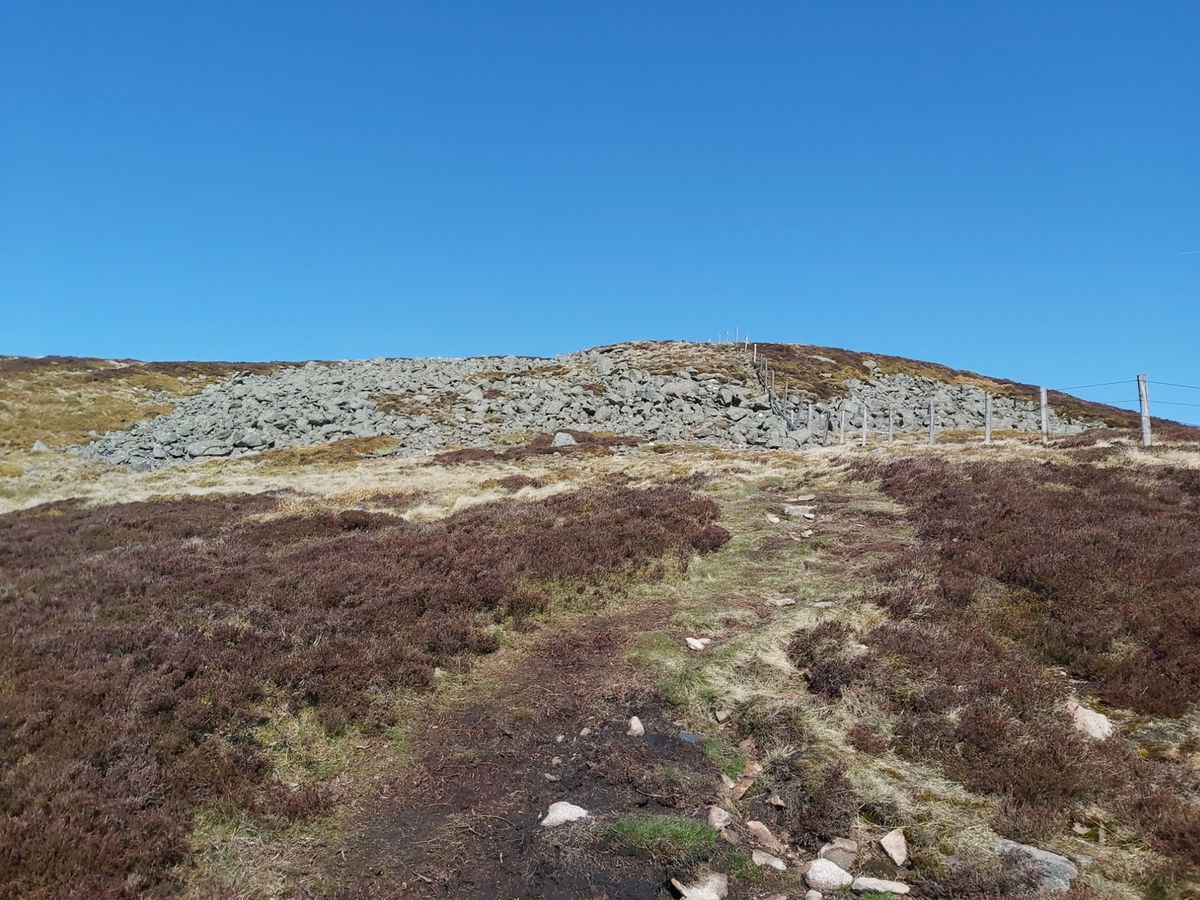 The Cheviot looking glorious as always.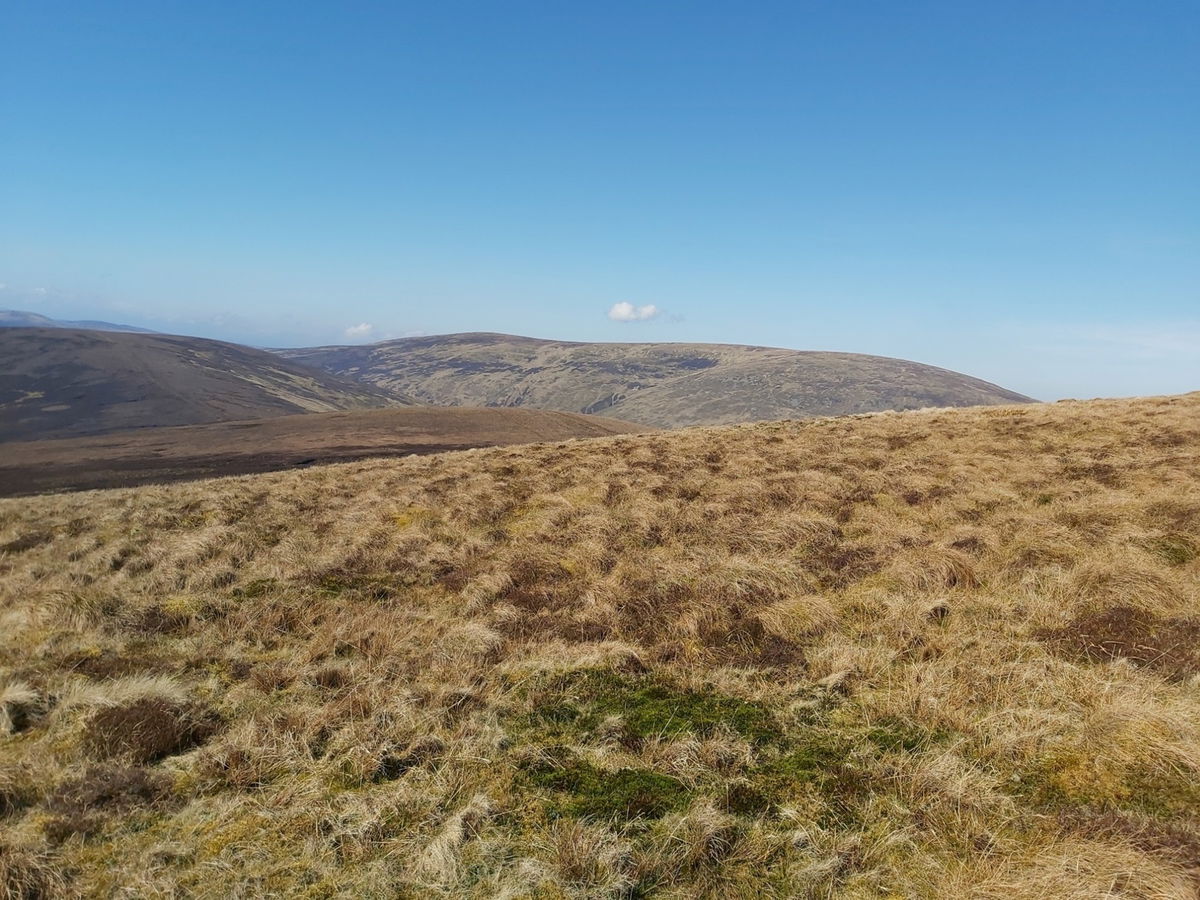 Even though these Standrop crags are just on the south face of Hedgehope Hill, they are still a canny trek away.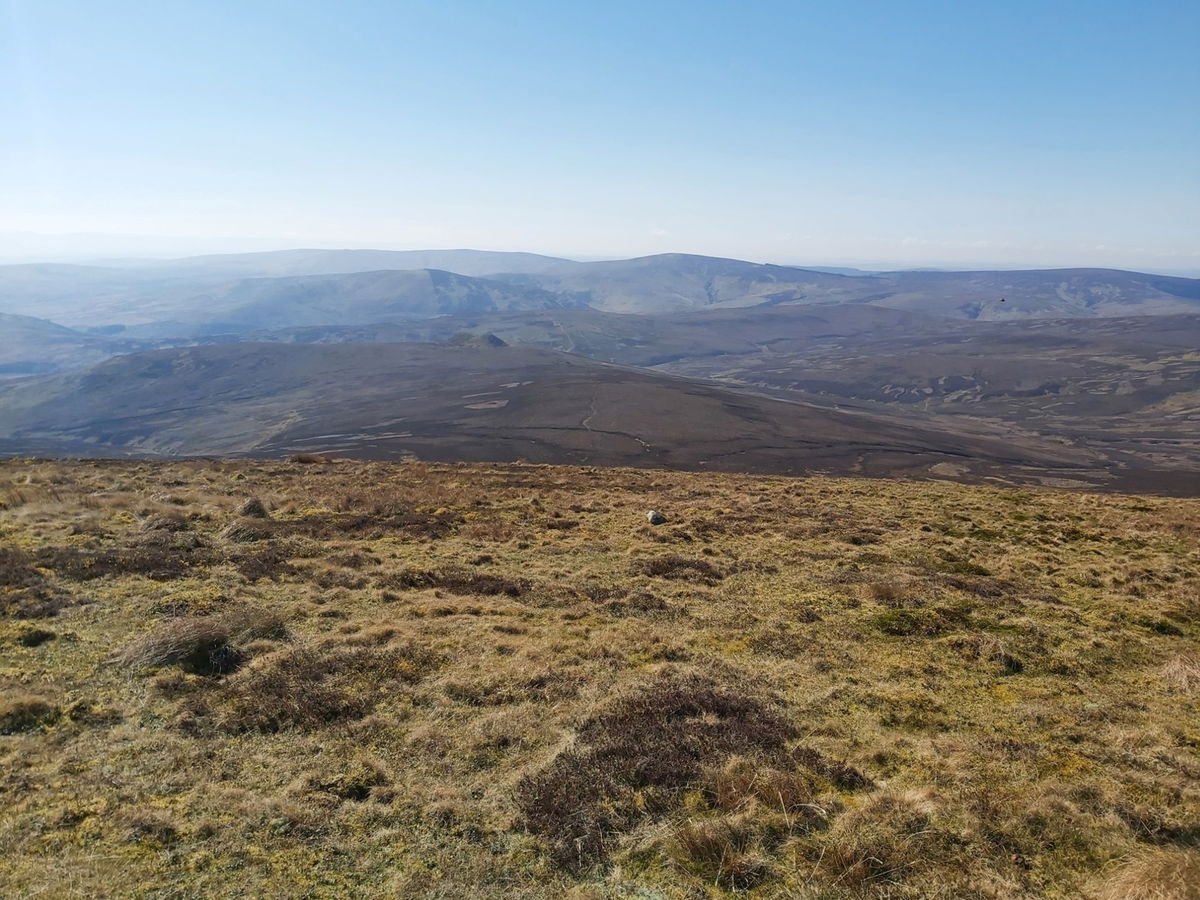 A quick visit to the trig point and then it's back down the south side of the hill.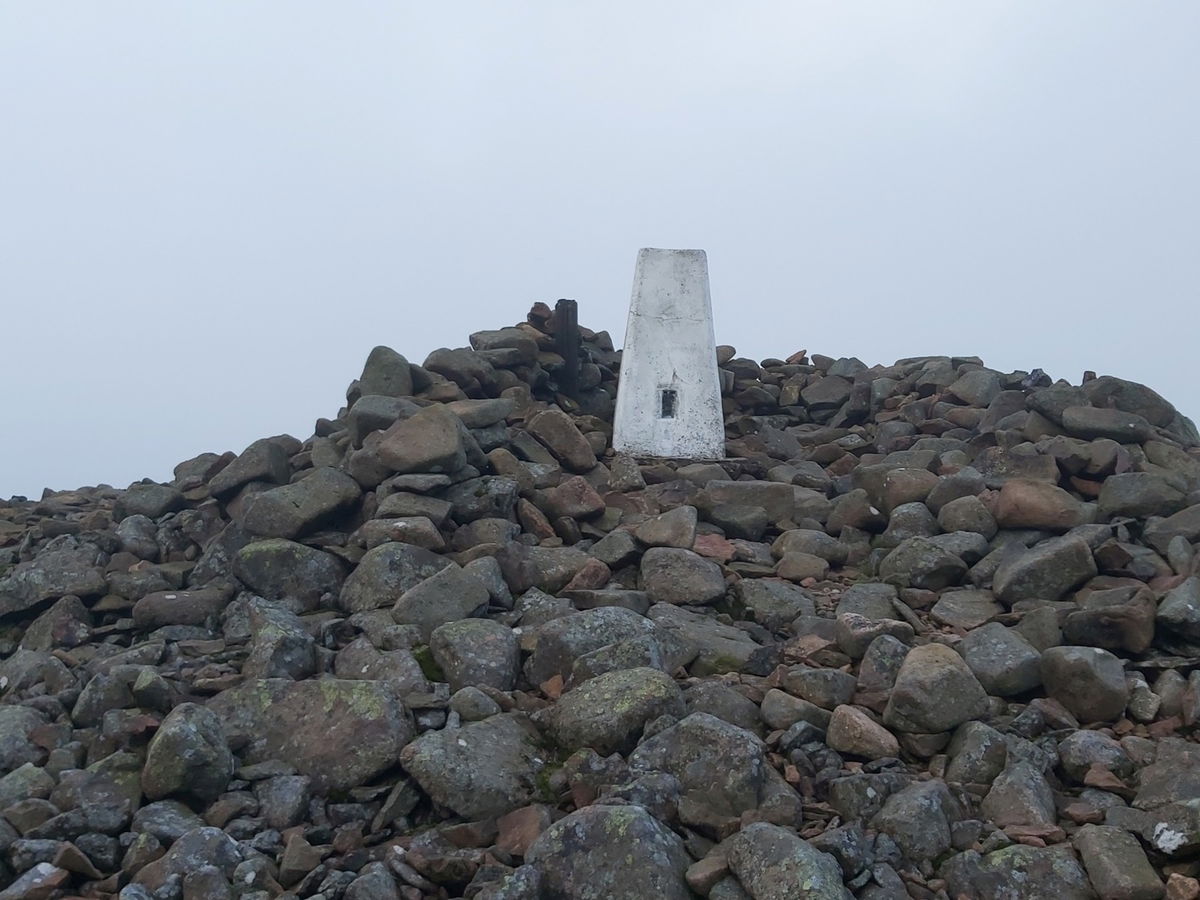 After a bit of a descent through some heather I find a track that is heading straight for Little Standrop.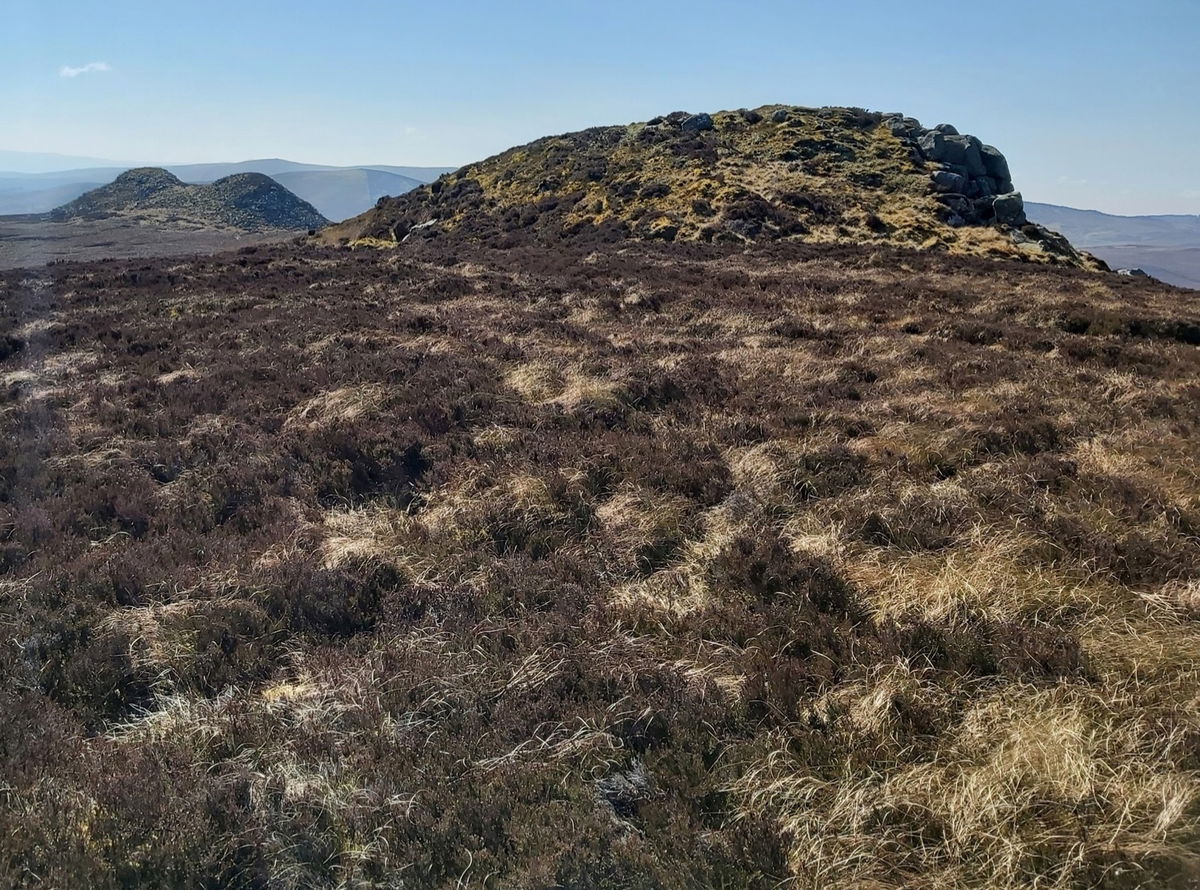 From the top I can make out Cat Crag and Long Crag on Dunmoor Hill along with The Cheviot and of course, Great Standrop.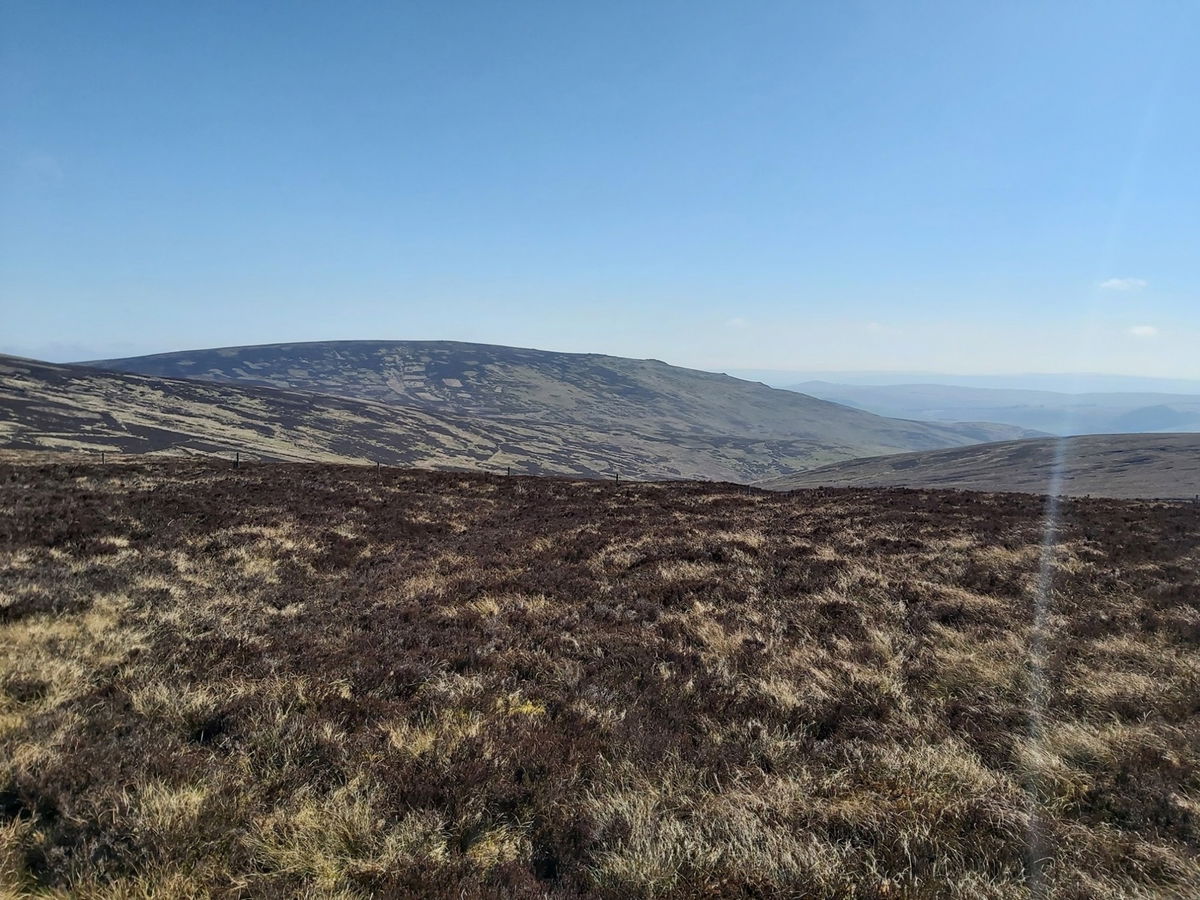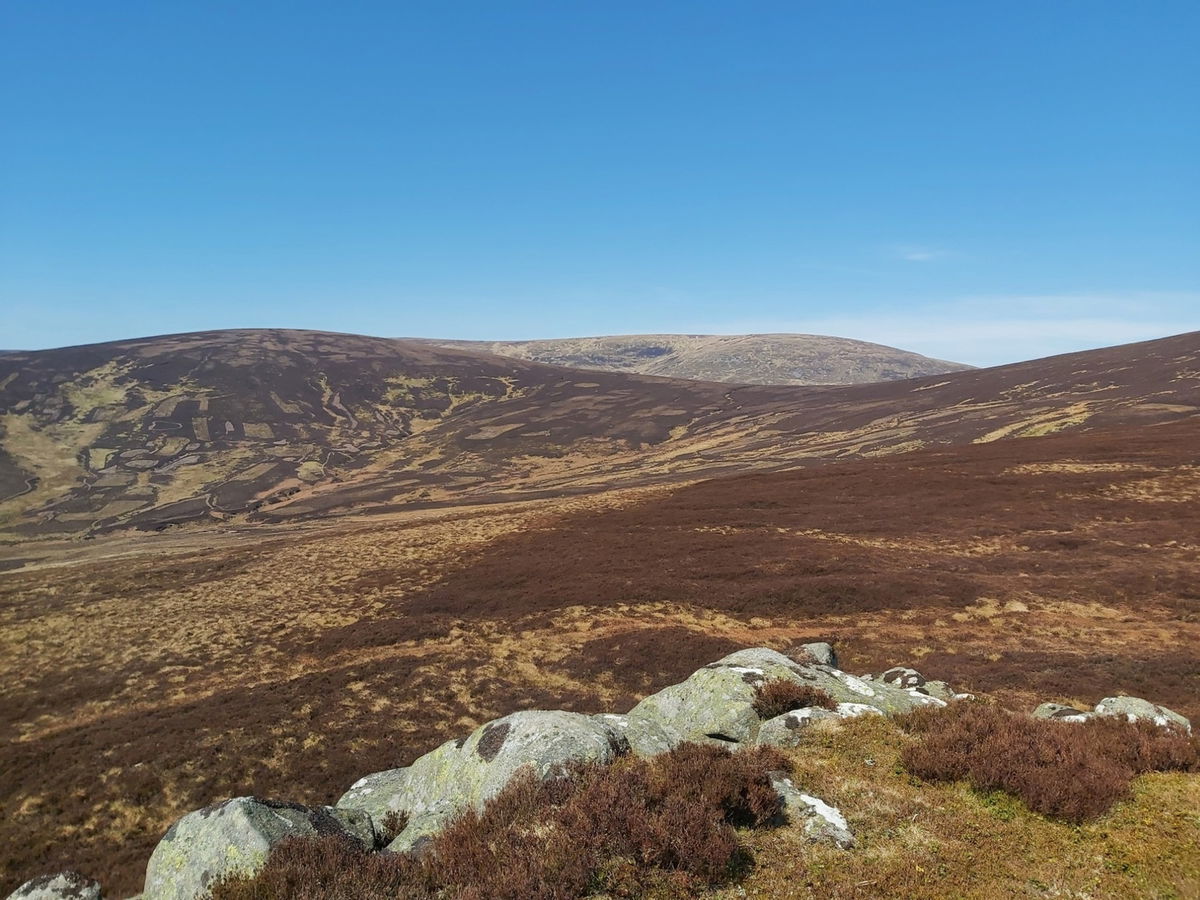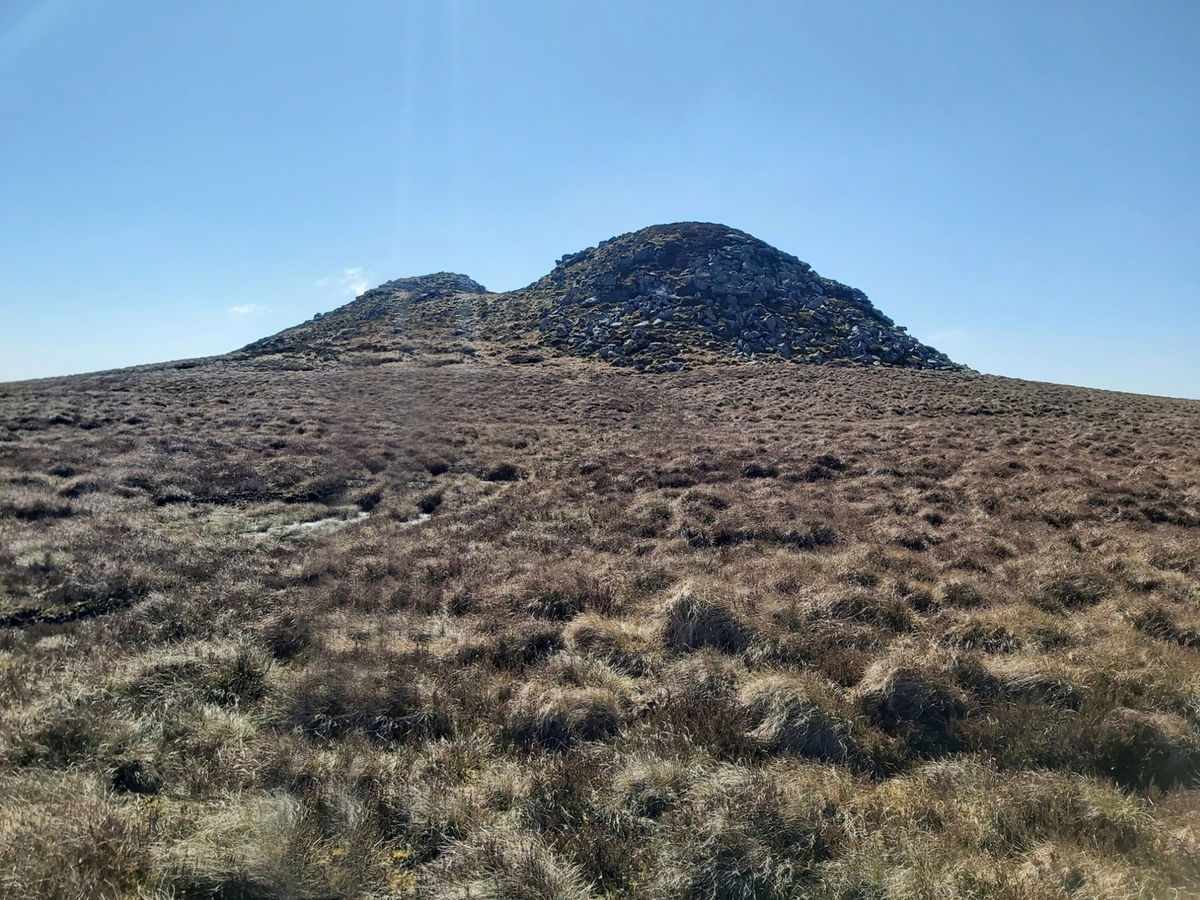 Time to meet my nemesis and with a quick look back to Little Standrop and Hedgehope Hill I head up between the twin peaks.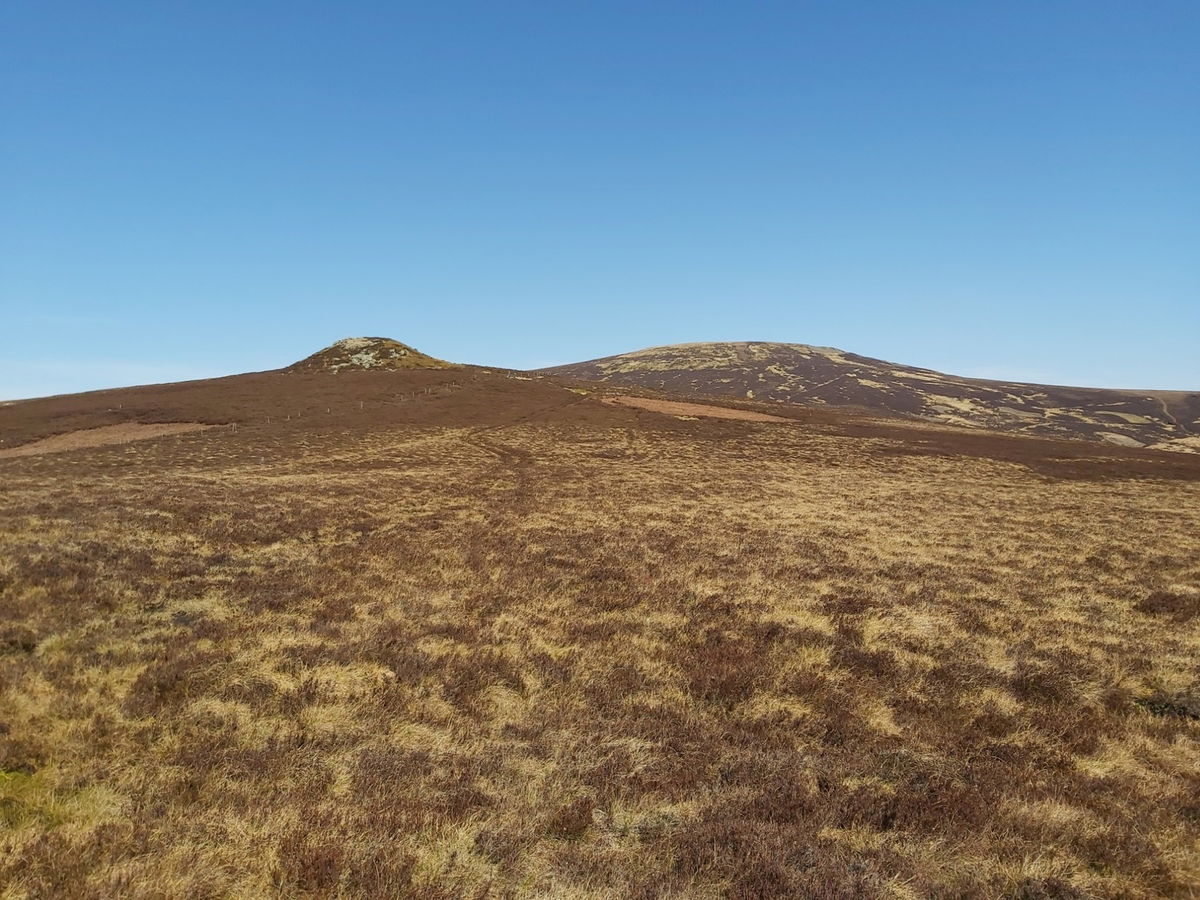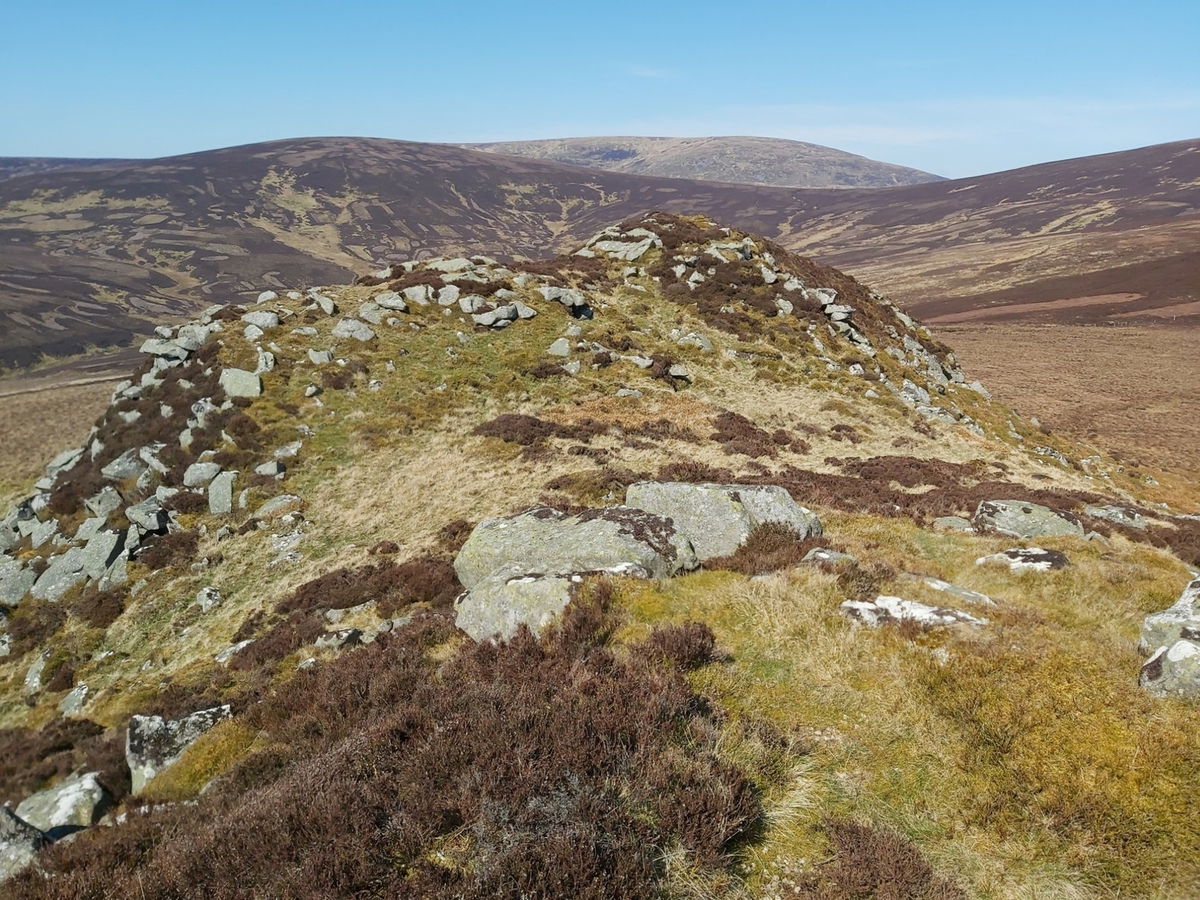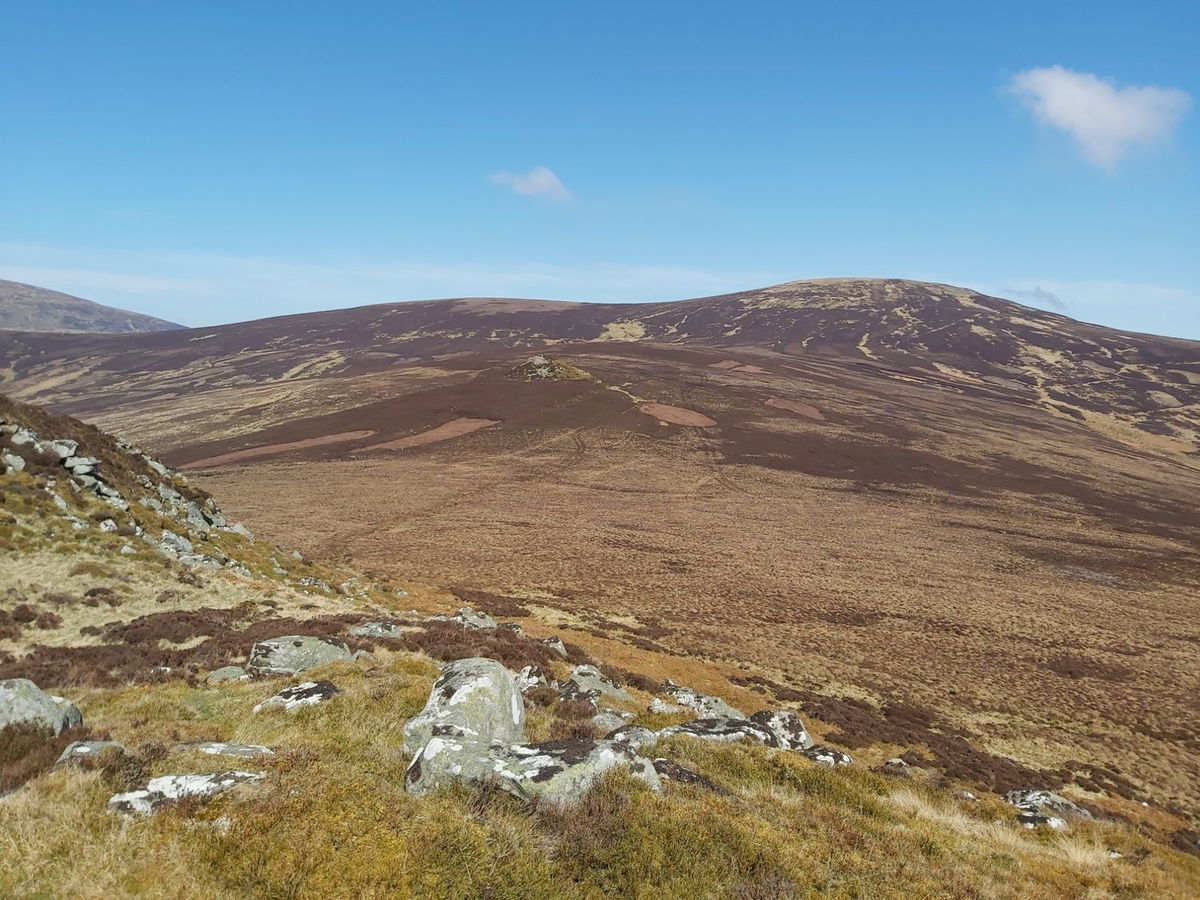 Absolutely spectacular views everywhere I look from up here.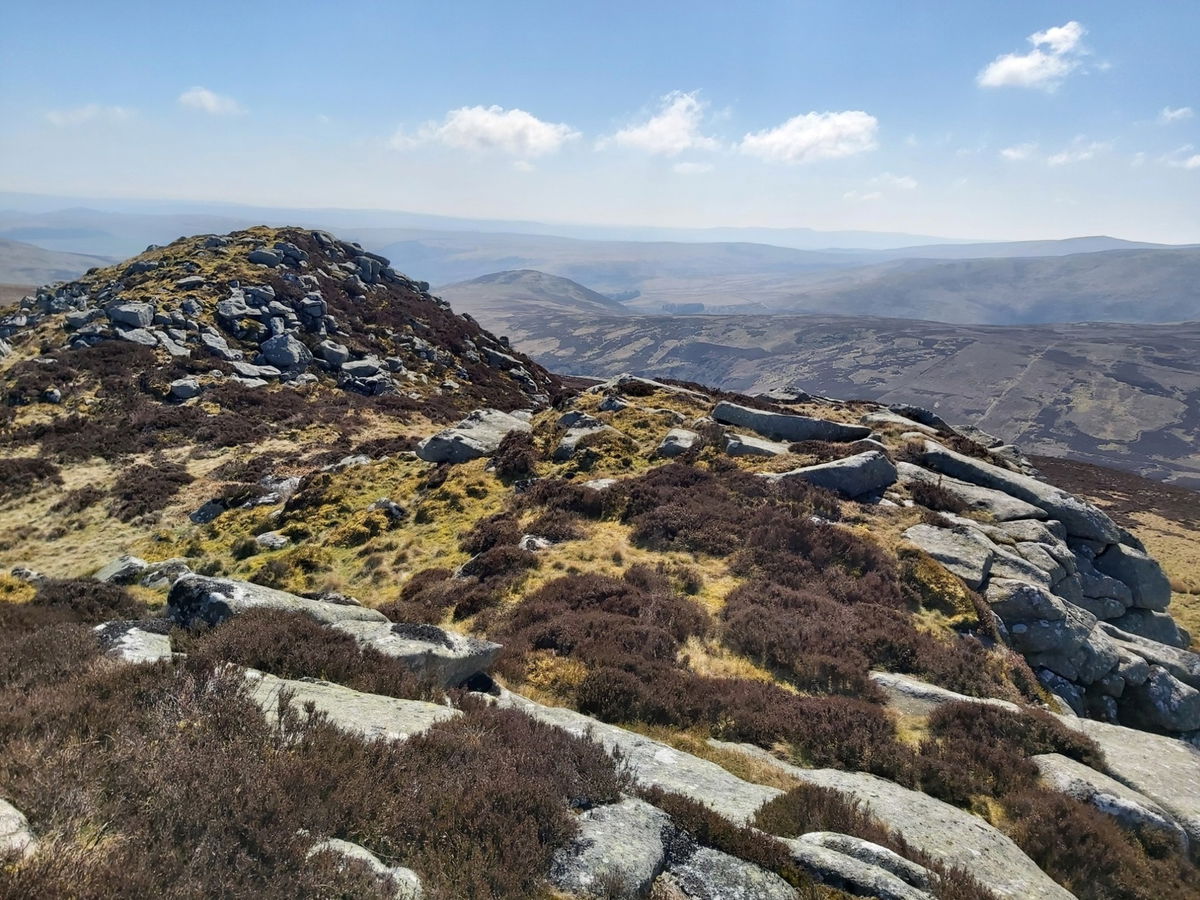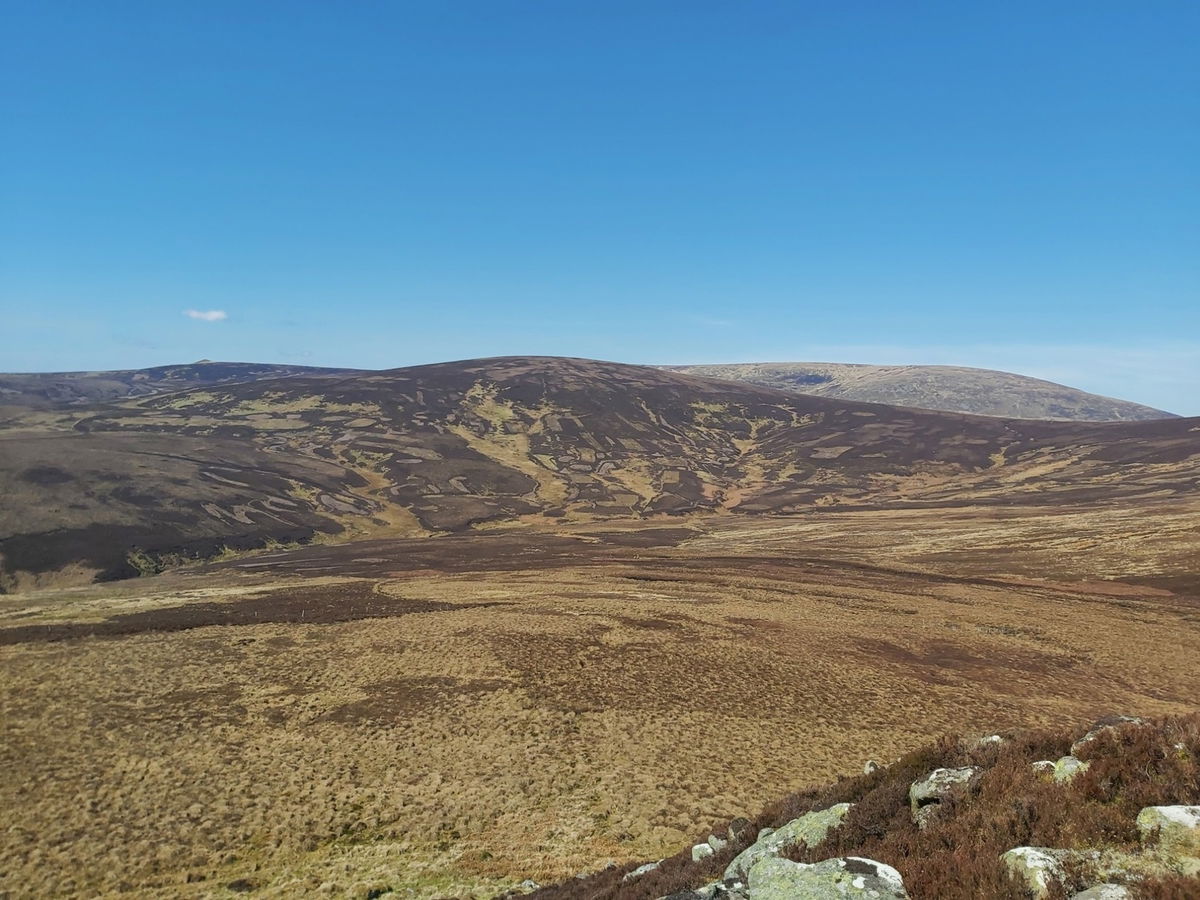 With a triumphant and virtual punch of the air, I head down and back towards the valley floor on my way to Linhope Spout. A little look back and maybe a wave as I leave the Great Standrop behind.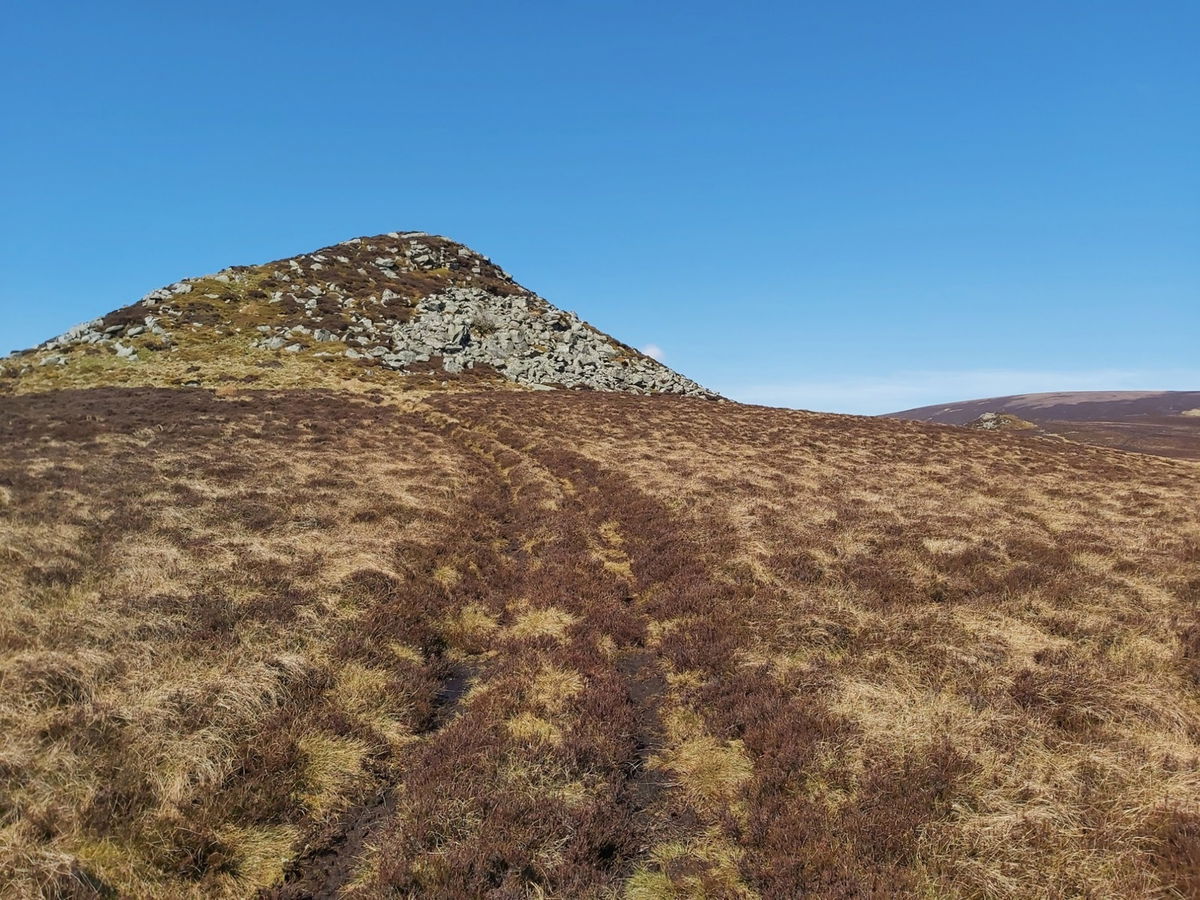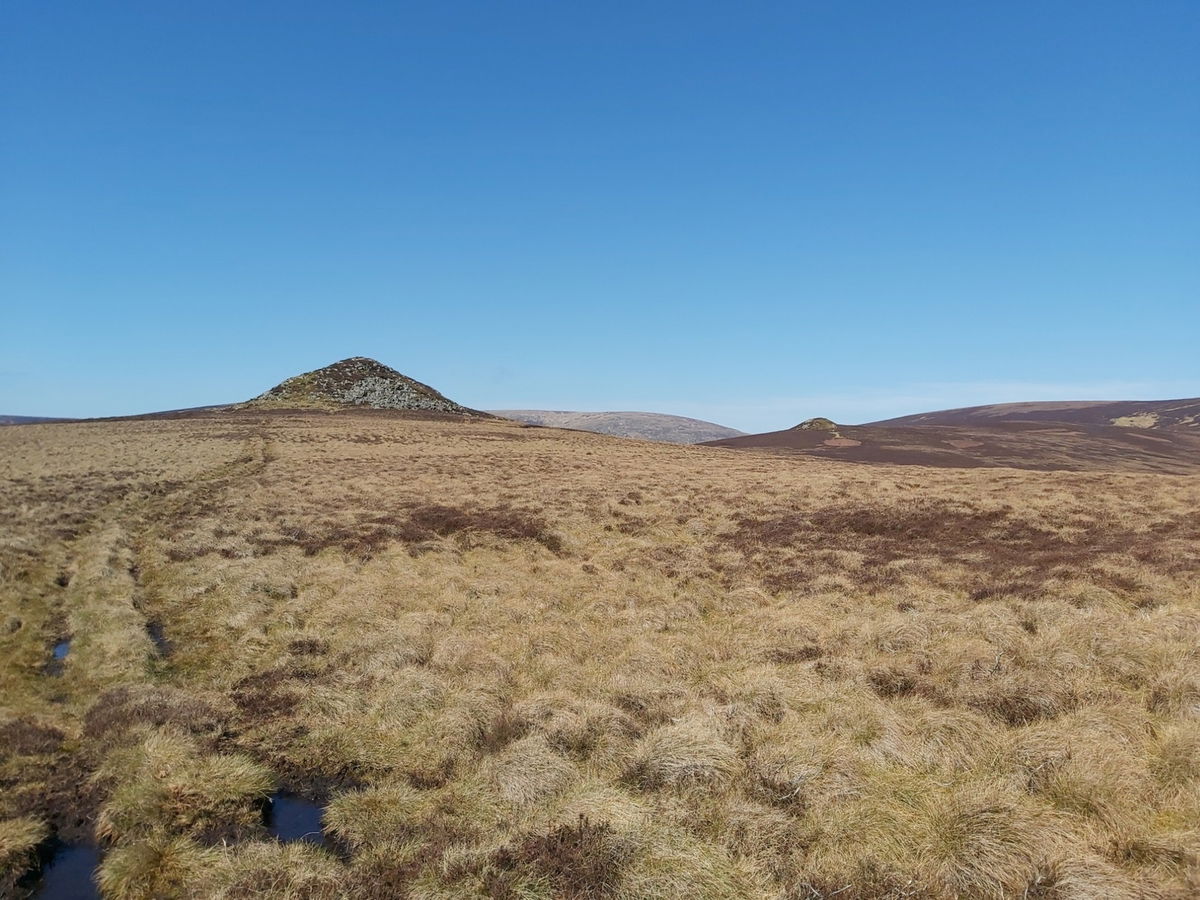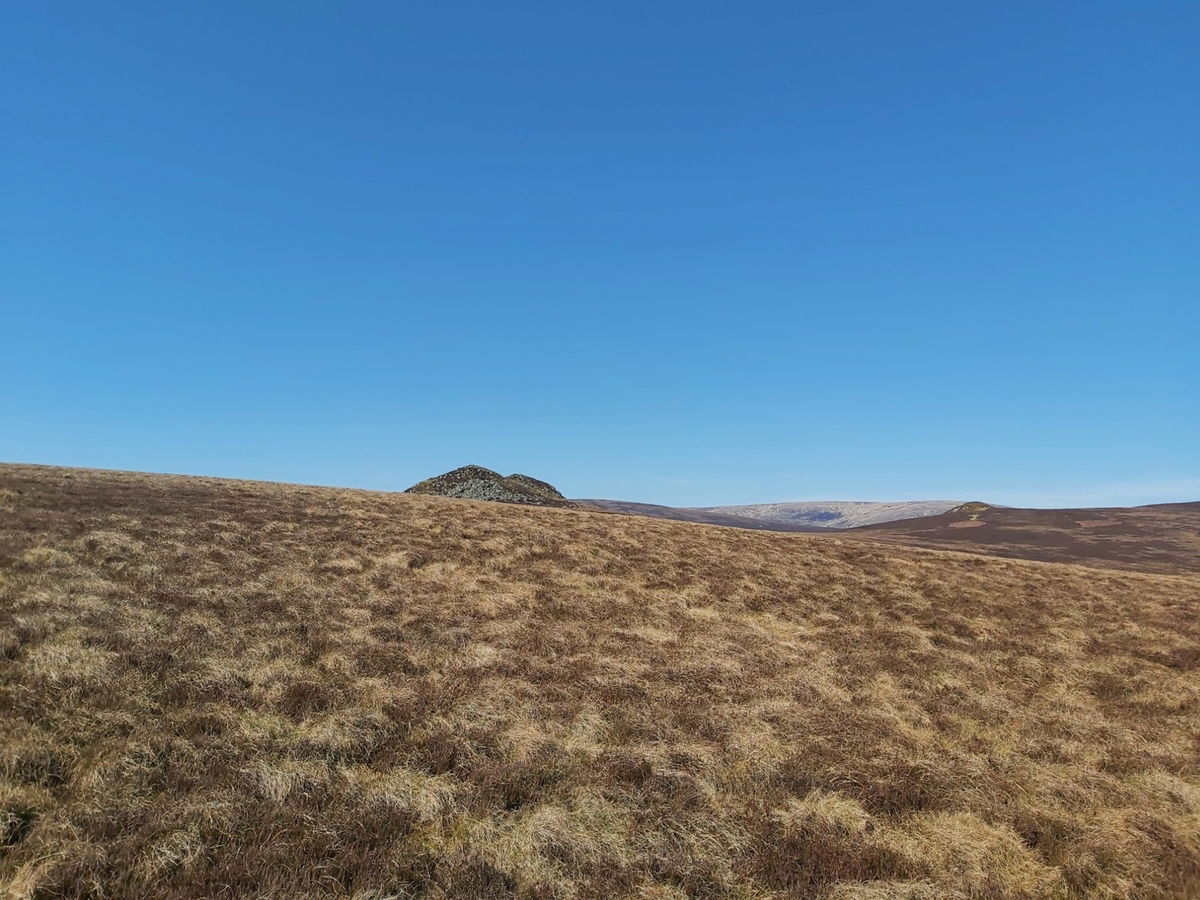 Heading down I get another look at the crags on Dunmoor Hill and I head towards the Het Burn that will join with the Linhope Burn to go over the falls.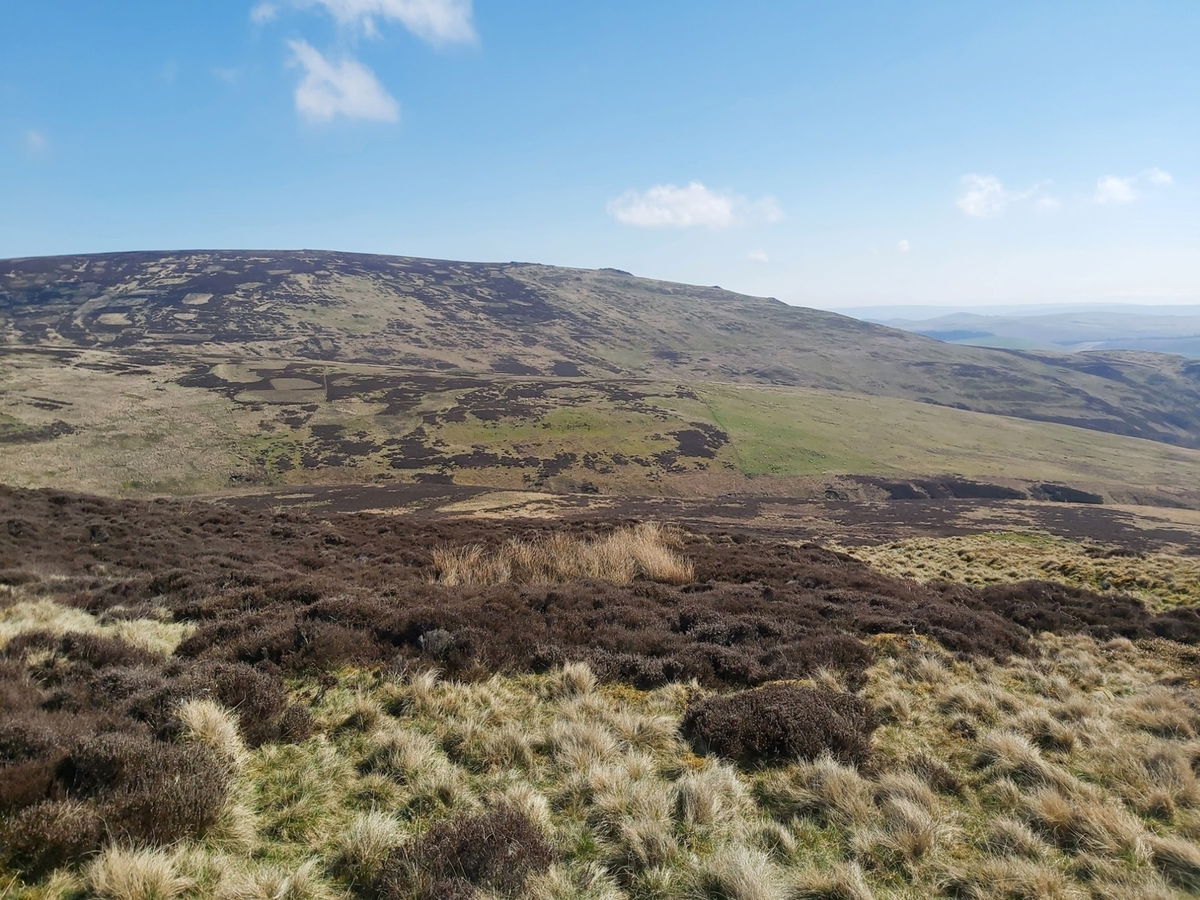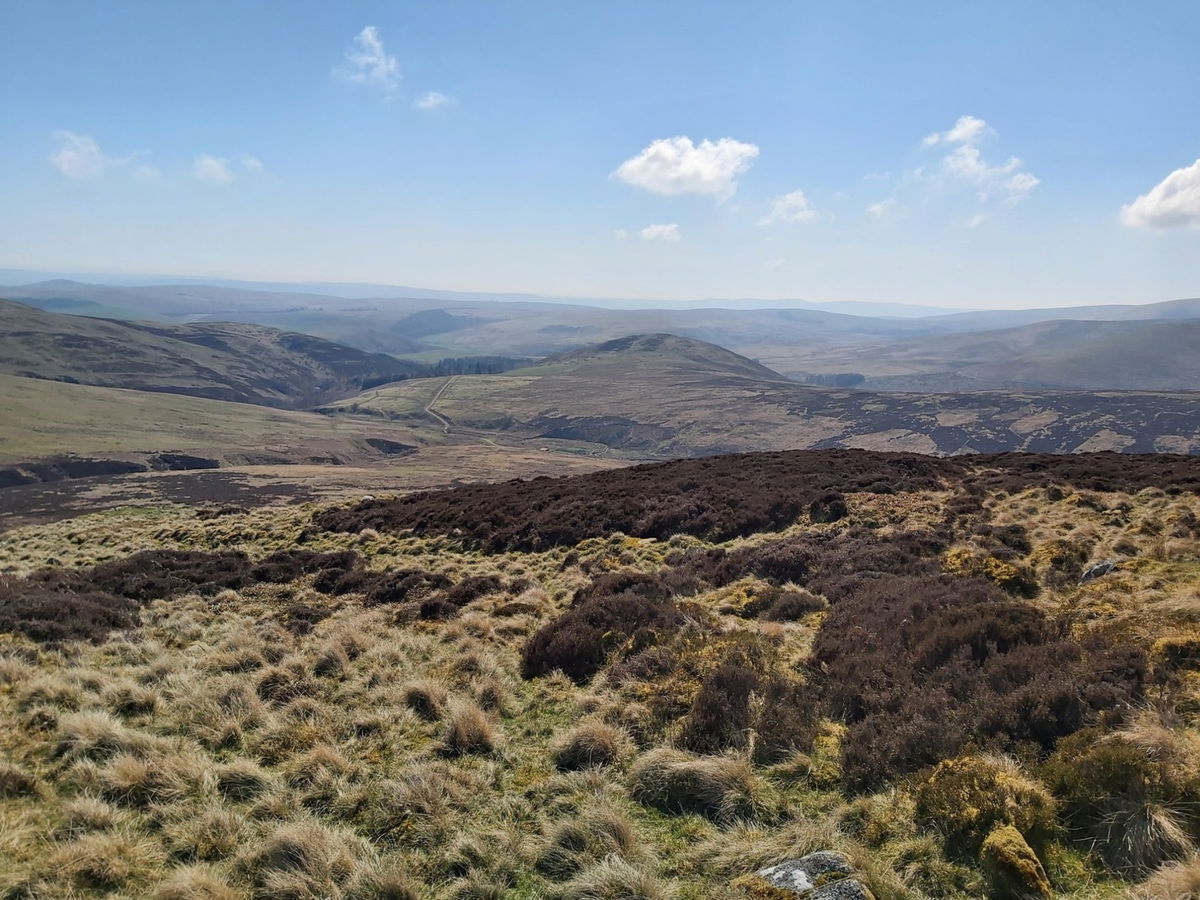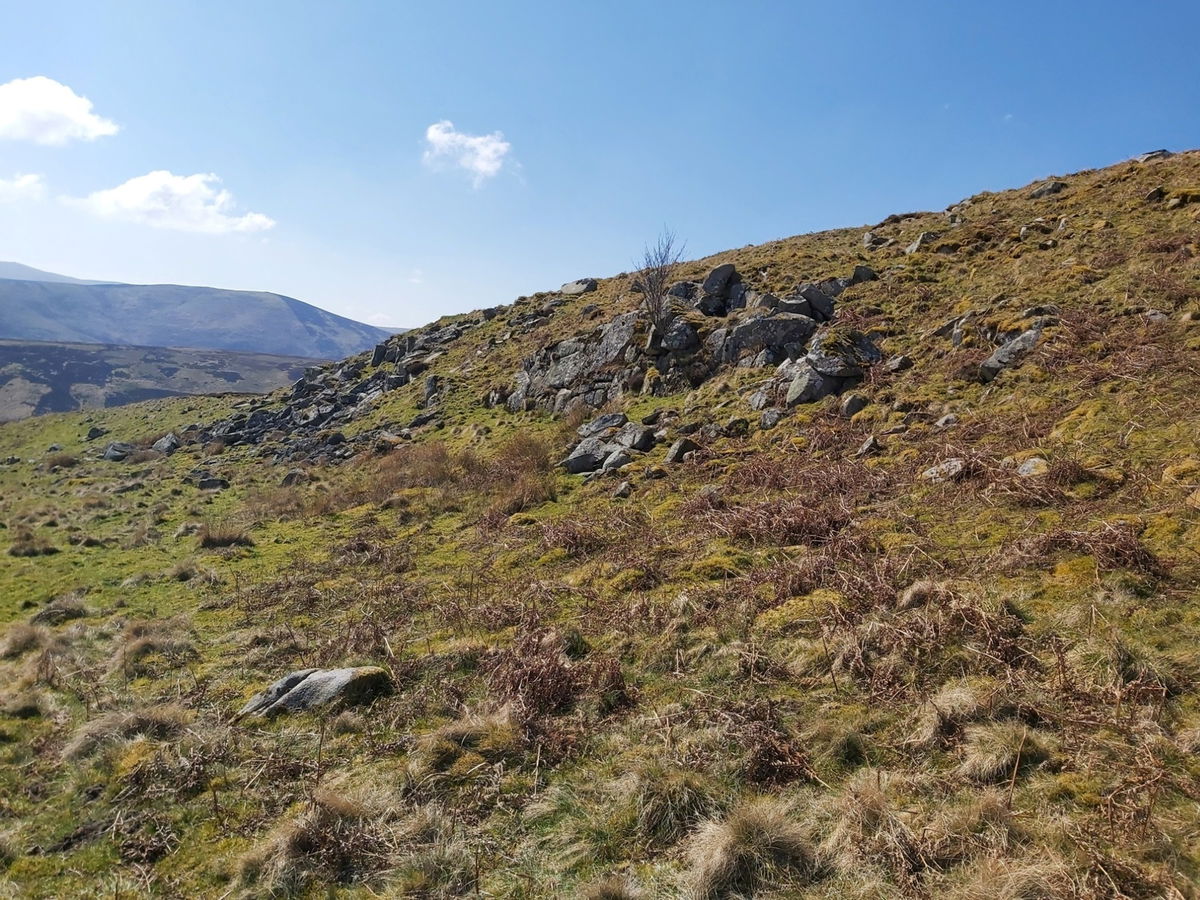 Fully down from the hills I meet up with Linhope Burn just before it heads over Linhope Spout.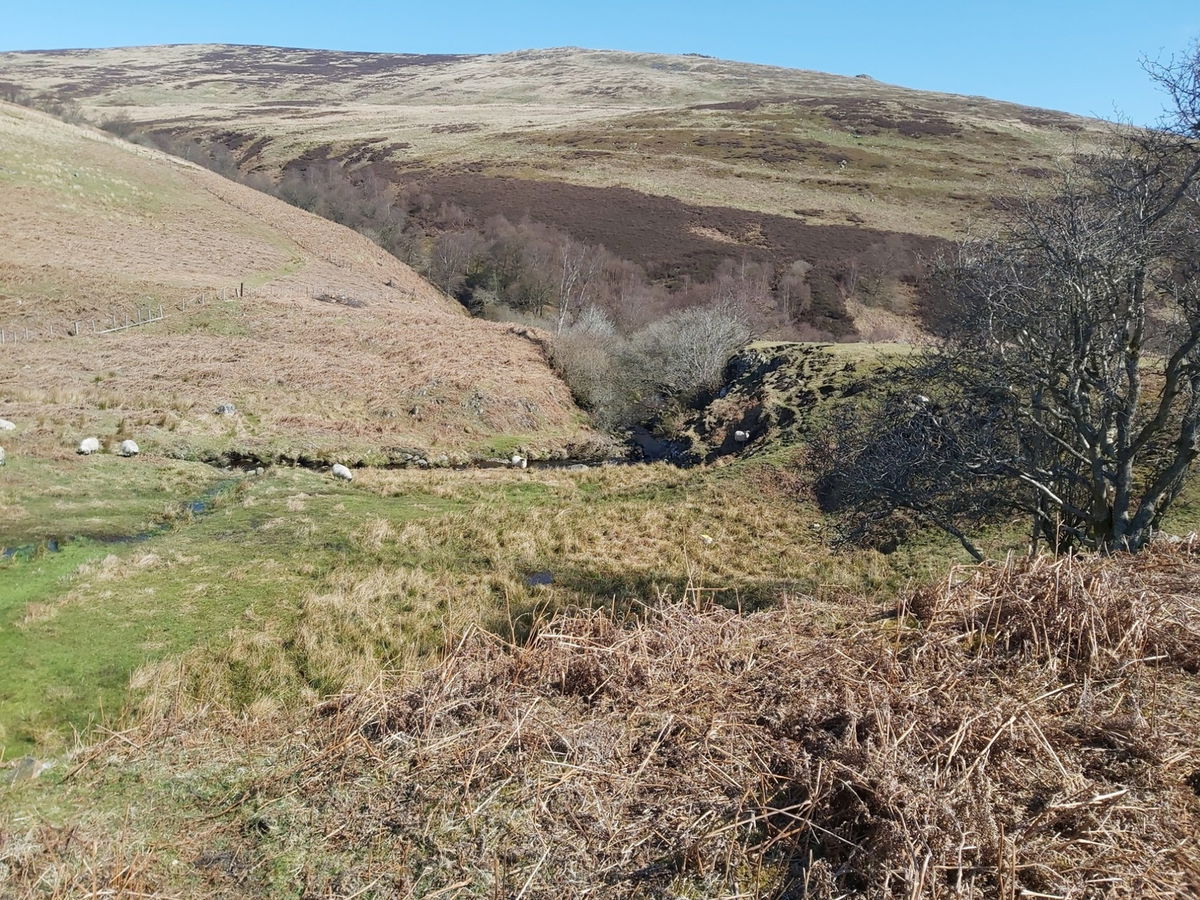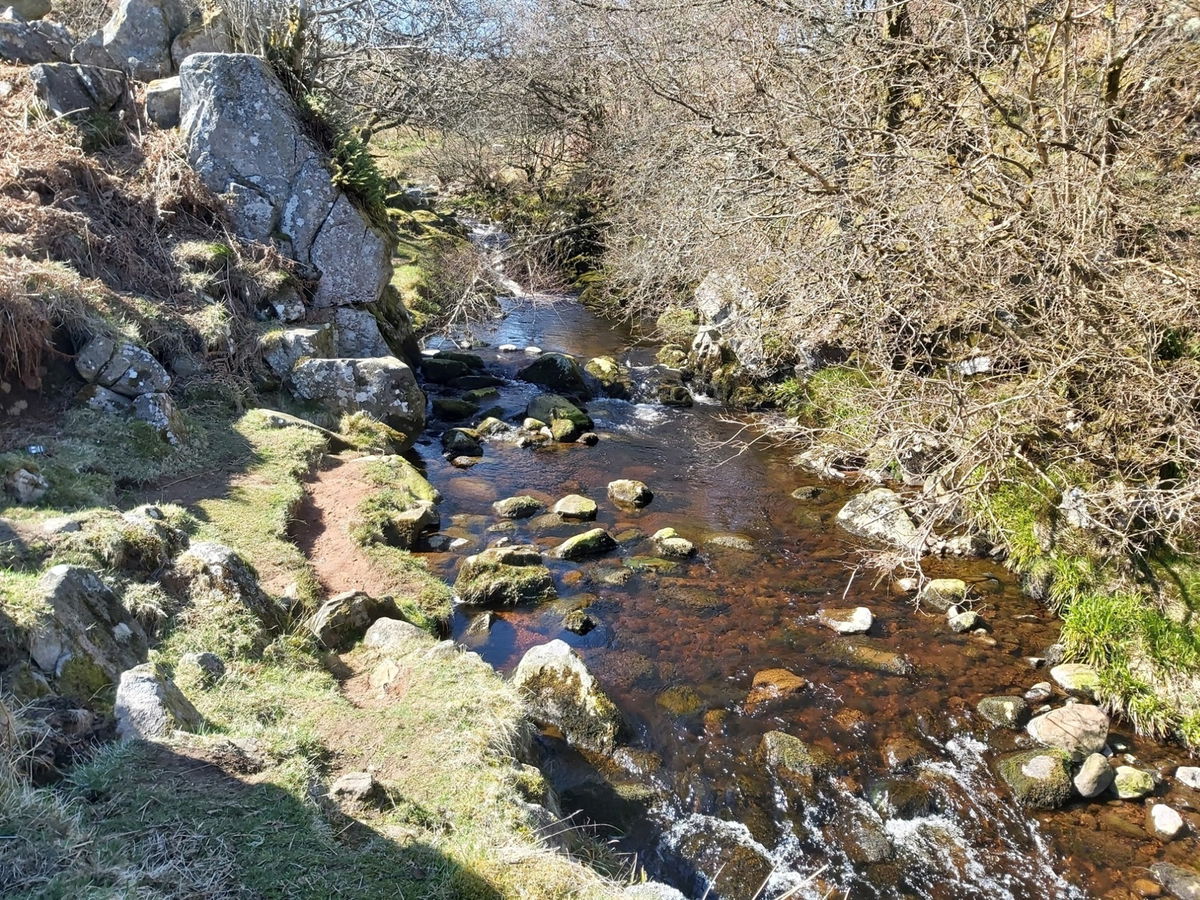 I'm now right over the falls and I keep a tight hold on my camera!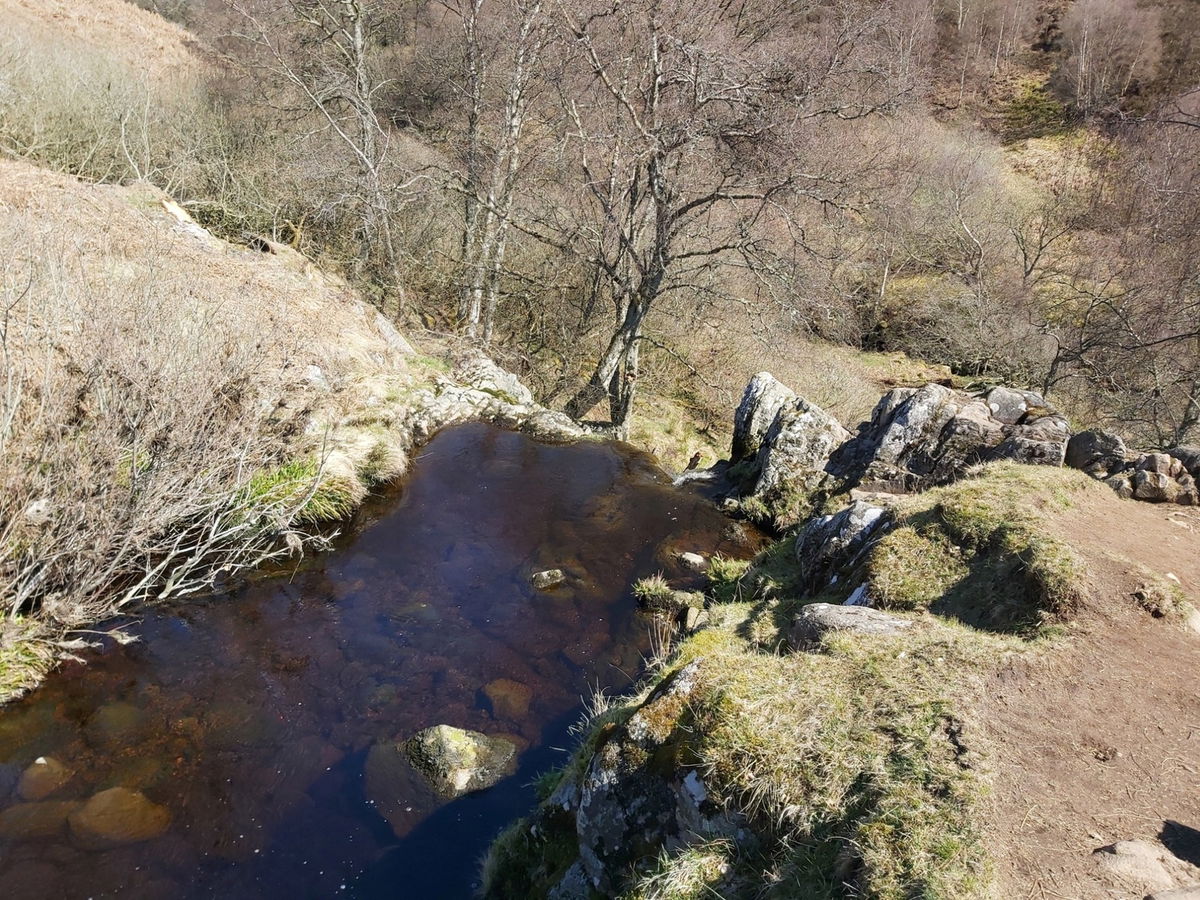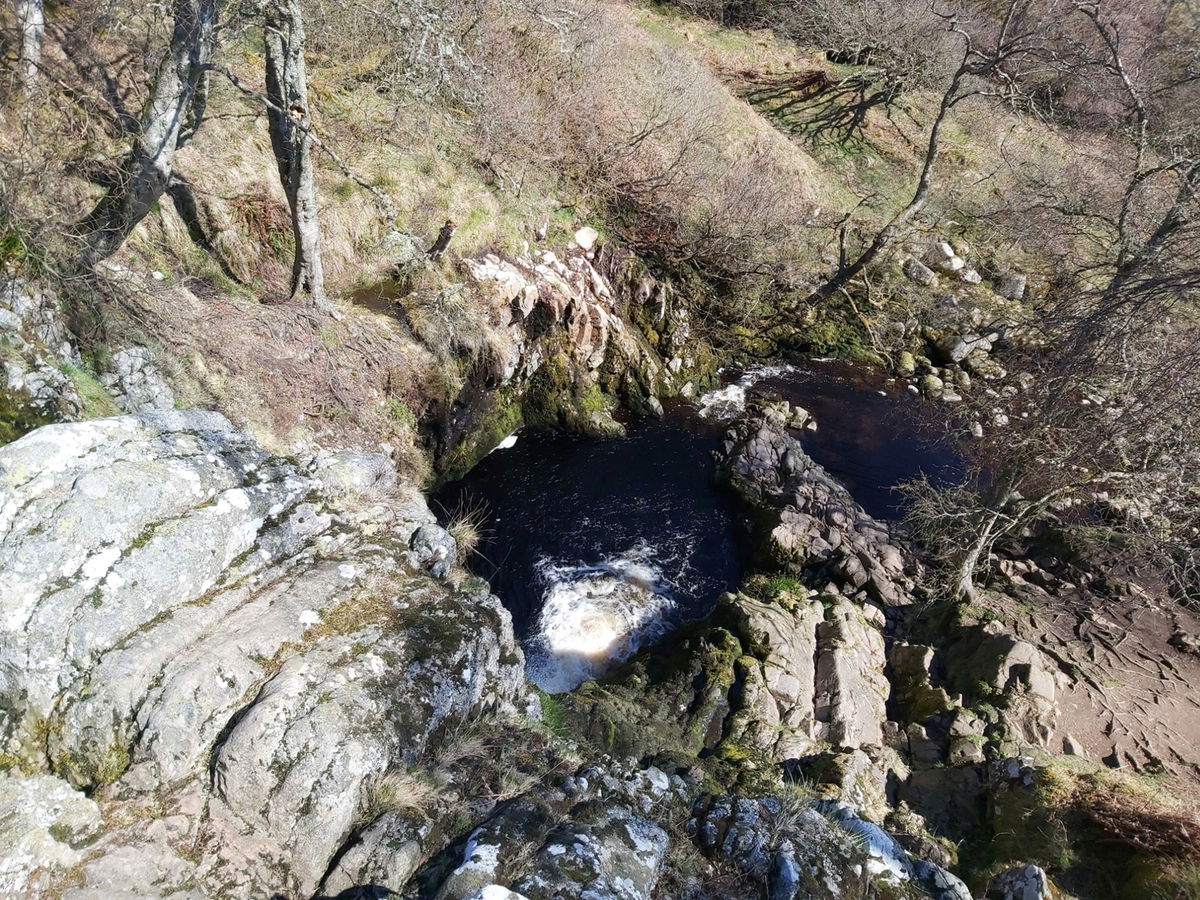 I'm a bit toasty now, but I still don't think I could be tempted for a dip.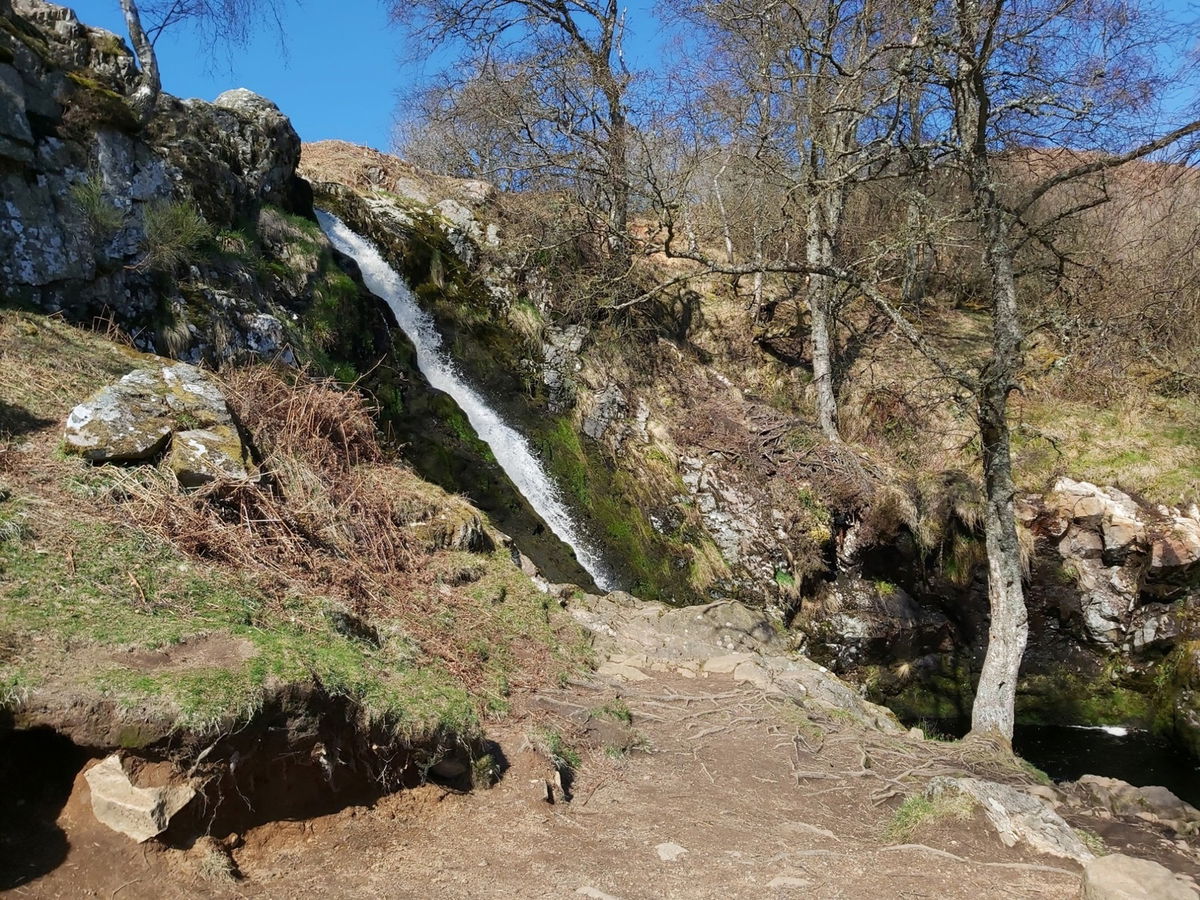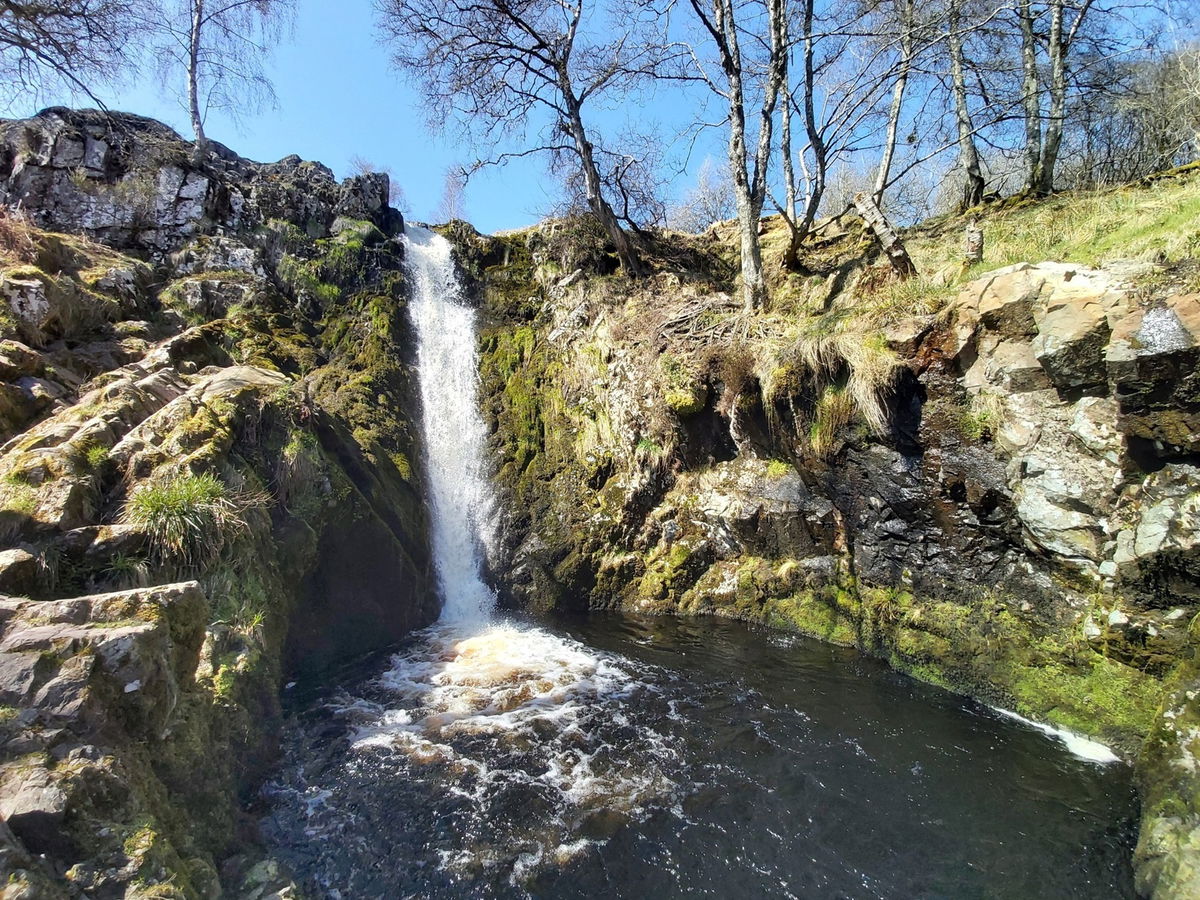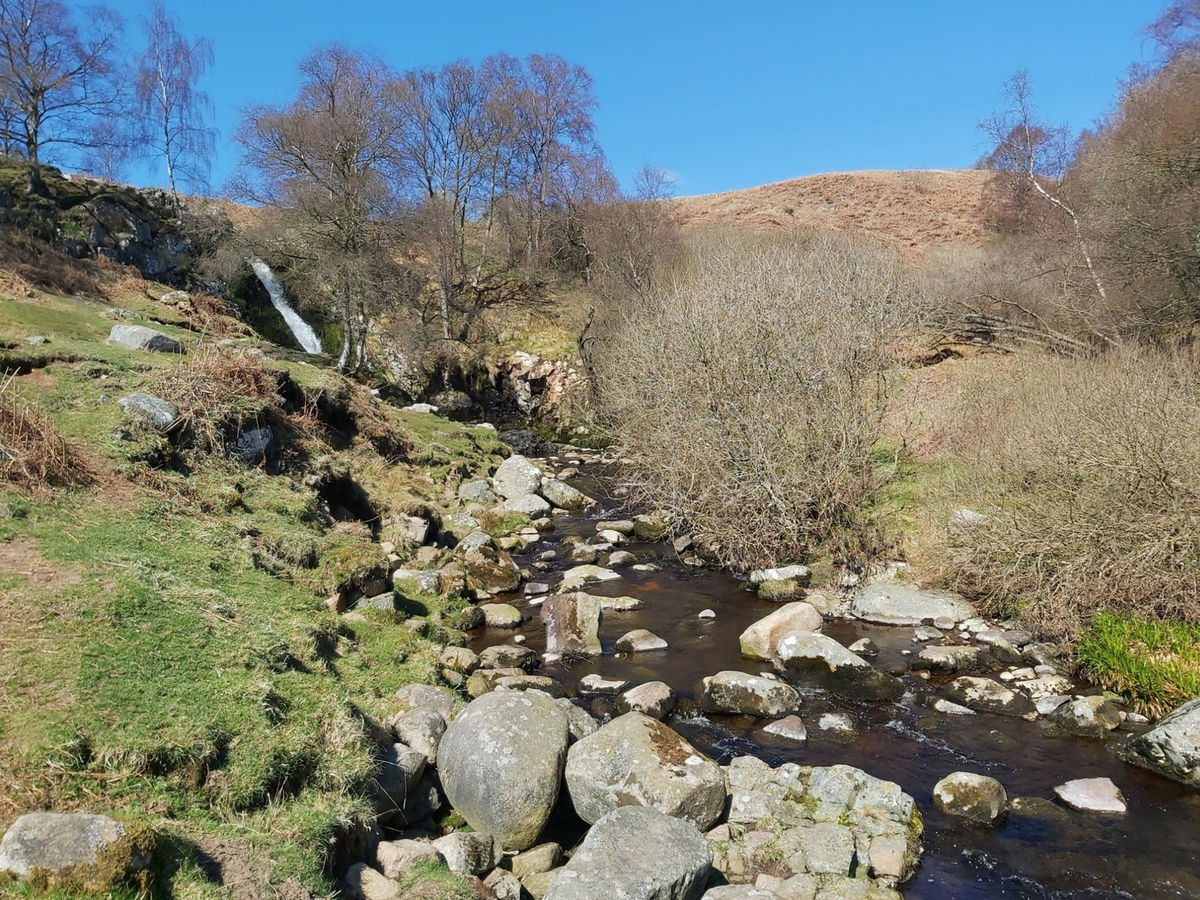 Looking up to Great Standrop from Linhope Spout I recreate the photo that started this obsession in the first place!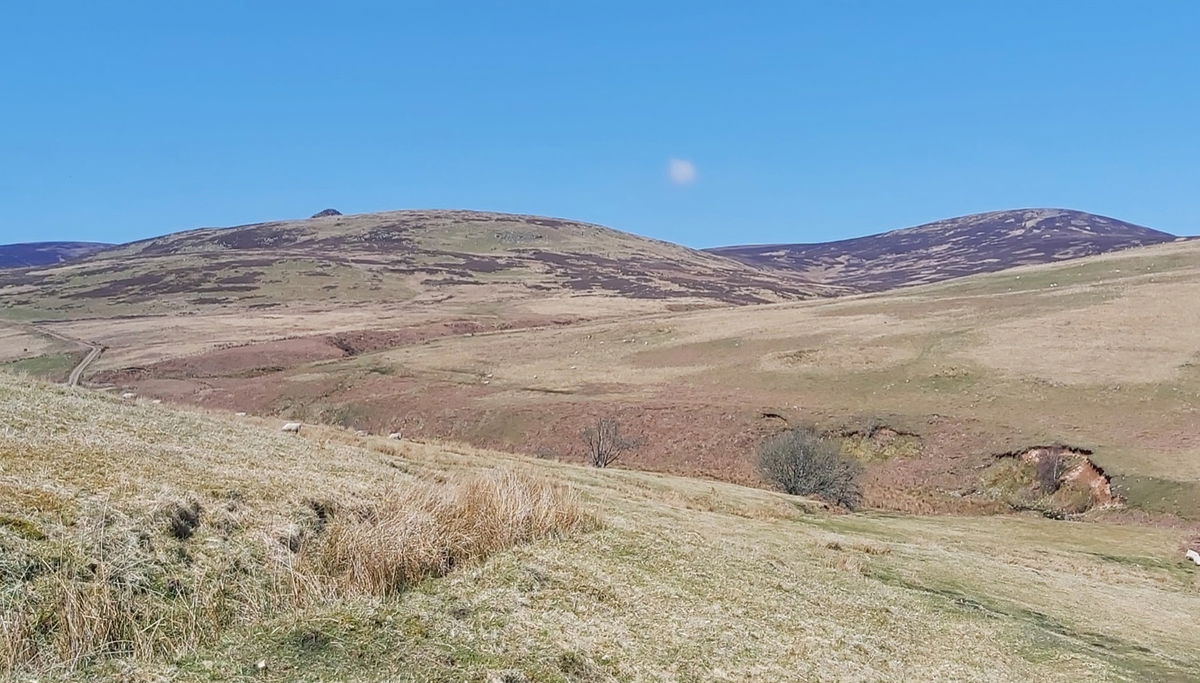 Then from Linhope Spout it's just a matter of heading through Linhope Village and following the road back to the car. Couldn't help but take one final picture of Cat Crag, Long Crag and Cunyan Crags.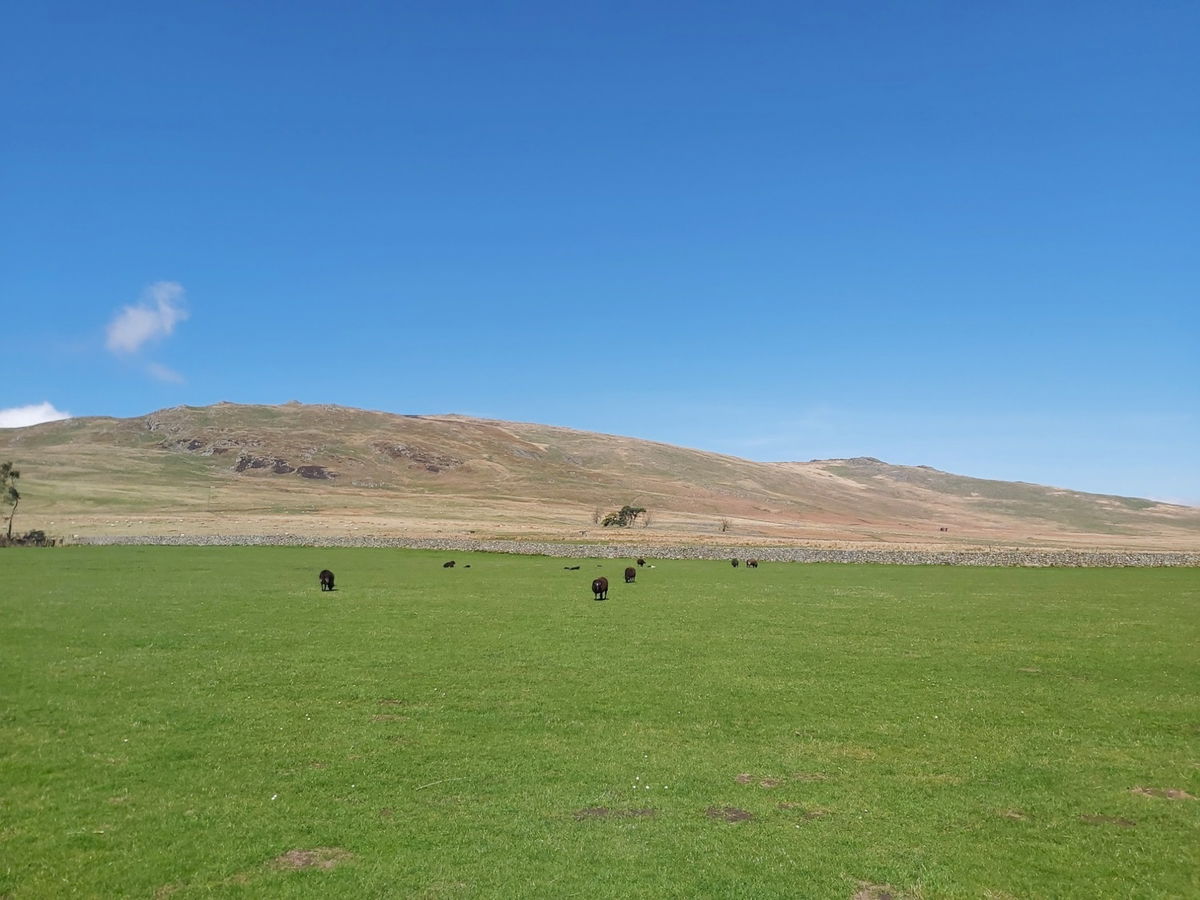 Another cracking wander out in Ingram Valley and finally bagging the Great Standrop!
Where to Park For Great Standrop, Cunyan Crags and Linhope Spout
Where To Park For Great Standrop, Cunyan Crags and Linhope Spout?
What three words
Park off the road just before Lindhope Village at Hartside.
}
Fabulous Places On This Walk
Discover what fabulous places you will find on this walk - Great Standrop, Cunyan Crags and Linhope Spout.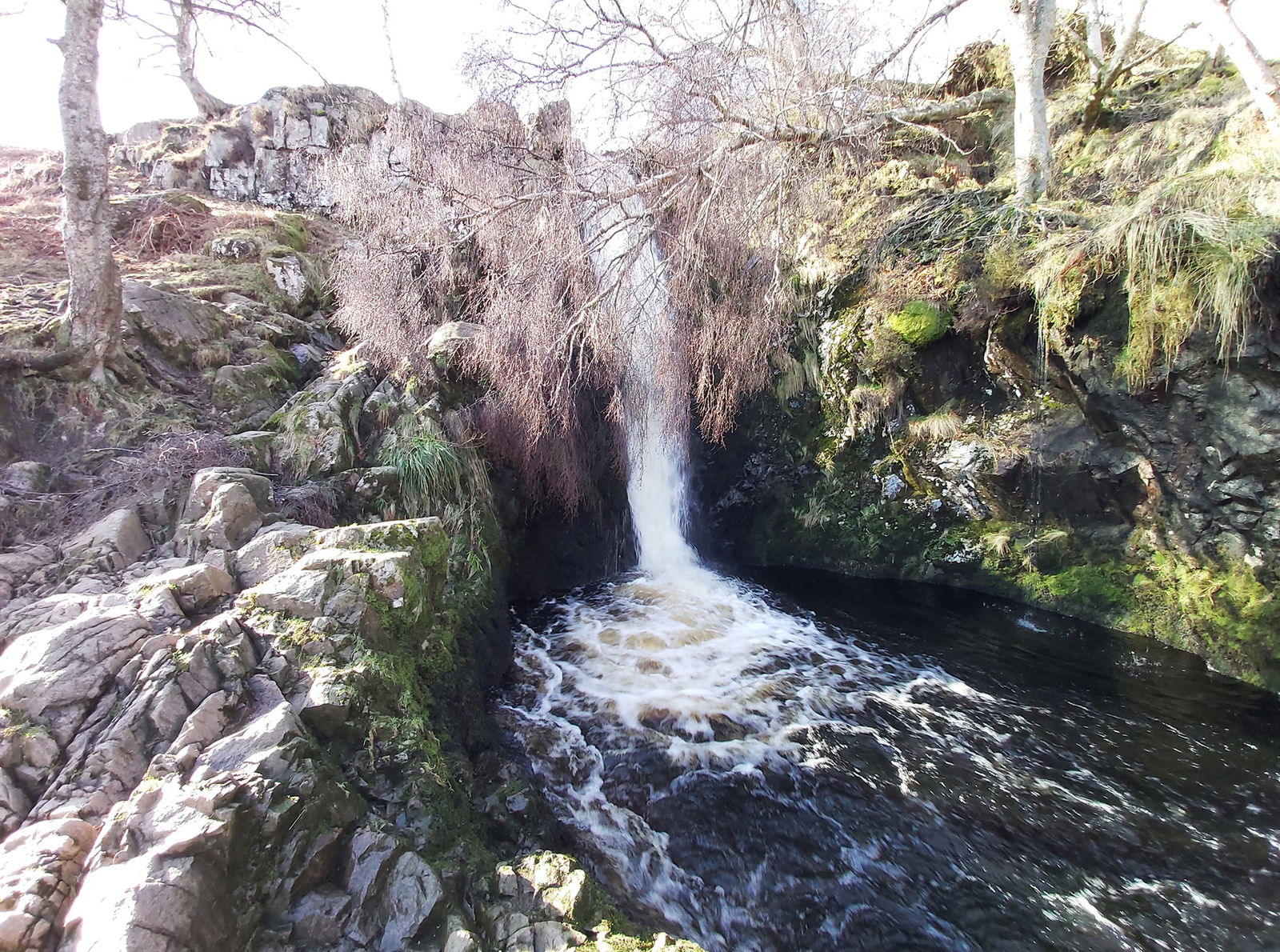 Linhope Spout
Waterfall
Ingram Valley
Northumberland
An 18 metre waterfall in the beautiful Ingram Valley.
Contributed by Simon Hawkins
Thanks for checking out this place on the Fabulous North! I do enjoy a wander out in to the countryside trying to find hidden gems that not many people know about. You can't beat a rogue Pele tower up a remote hill or a mysterious stone circle or a stunning waterfall secluded in a forest.
More Walks from Simon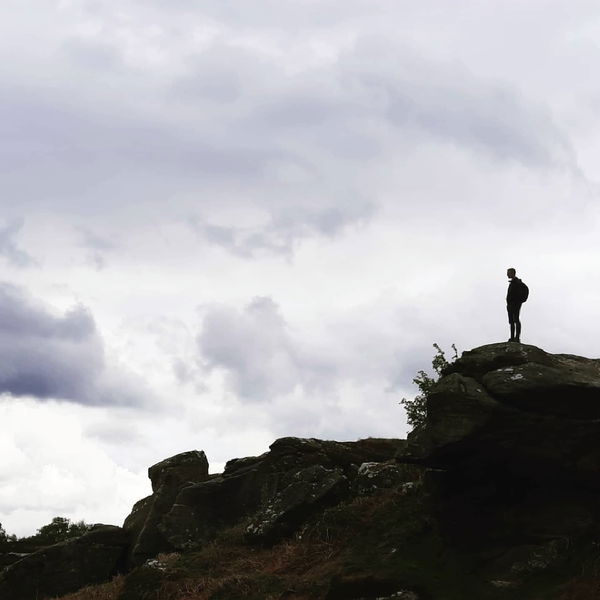 More Places In Ingram Valley
Find more fabulous places in Ingram Valley, Northumberland and if you know of a place we haven't listed, then let us know.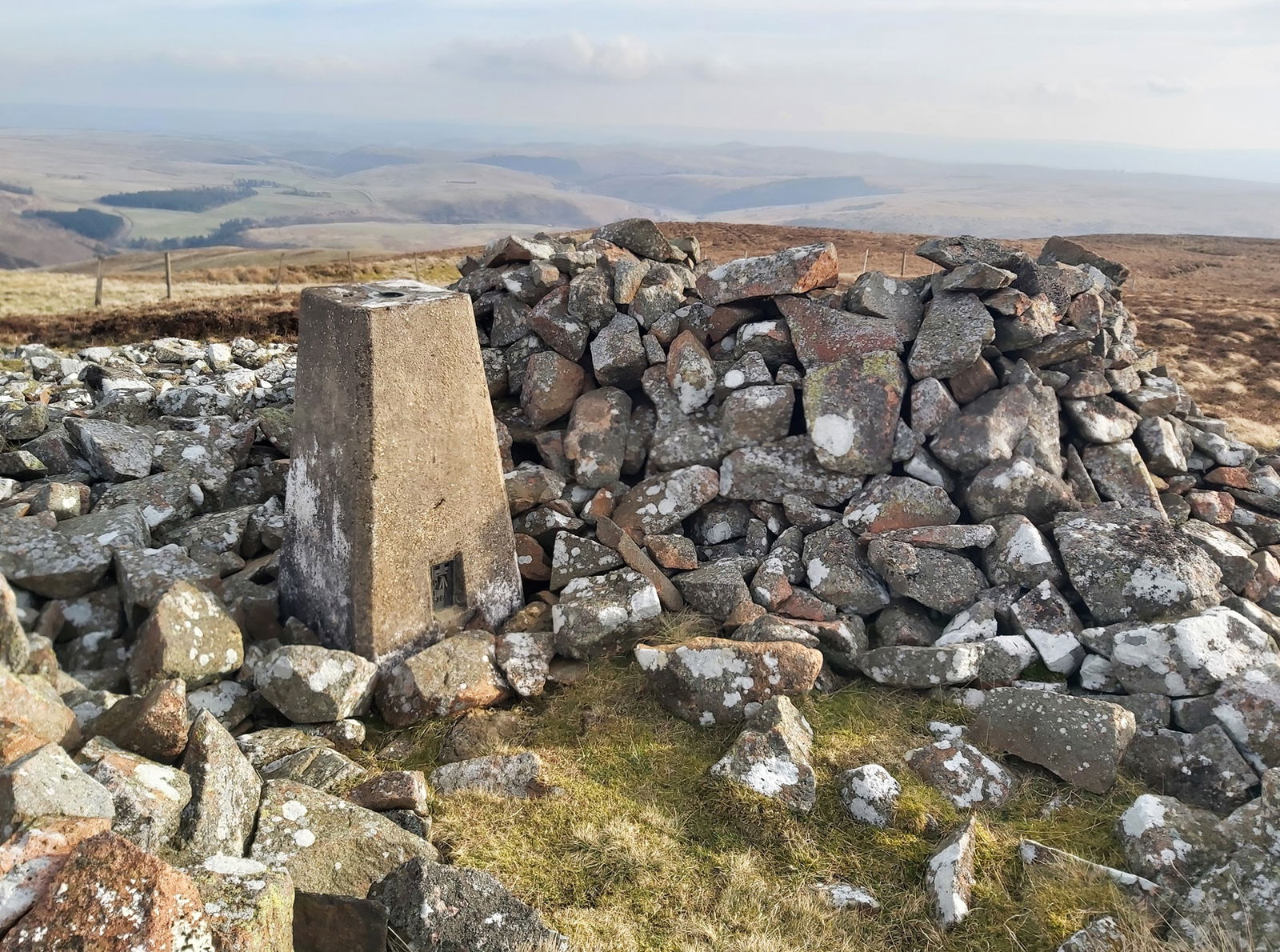 Shill Moor Trig Point
Trig Point
Ingram Valley
Northumberland
The trig point sitting on top of Shill Moor (529m).
Old Fawdon Hill Trig Point
Trig Point
Ingram Valley
Northumberland
The trig point sitting on top of Old Fawdon Hill in Ingram Valley (315m).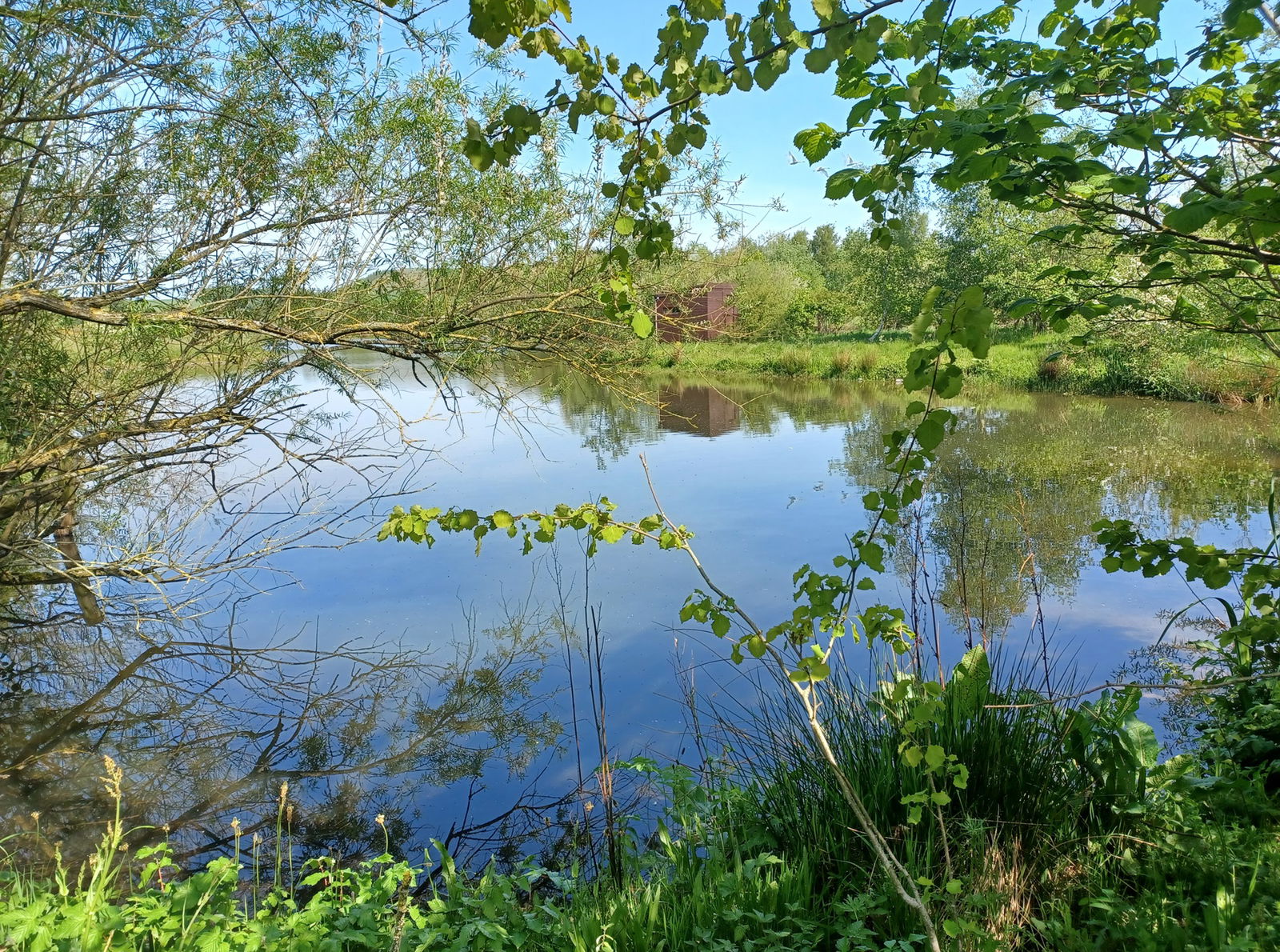 Branton Lakes Nature Reserve
Landscape
Ingram Valley
Northumberland
A Nature Reserve alongside the River Breamish in the Northumberland National Park
Find Us On Facebook
We post all our new places daily on our Facebook Groups page, so join the group today and be notified when we add a new place.
Join Our Facebook Group