Wharton Park
Landscape
Durham
County Durham
Wharton Park in Durham
Landscape In Durham, County Durham
A feast for photographers, natural history enthusiasts, structure admirers, sculpture lovers and children
Wharton Park is a wonderful place to go for a good old Victorian perambulation. There are views of Durham City's finest and one or two other gems.
The land on which the park and railway station are was inherited by William Lloyd Wharton (1789 to 1867) and the railway line was built in 1857. With the rough land known as Windy Hill to the North, Mr. Wharton established a public park. More about the great man later.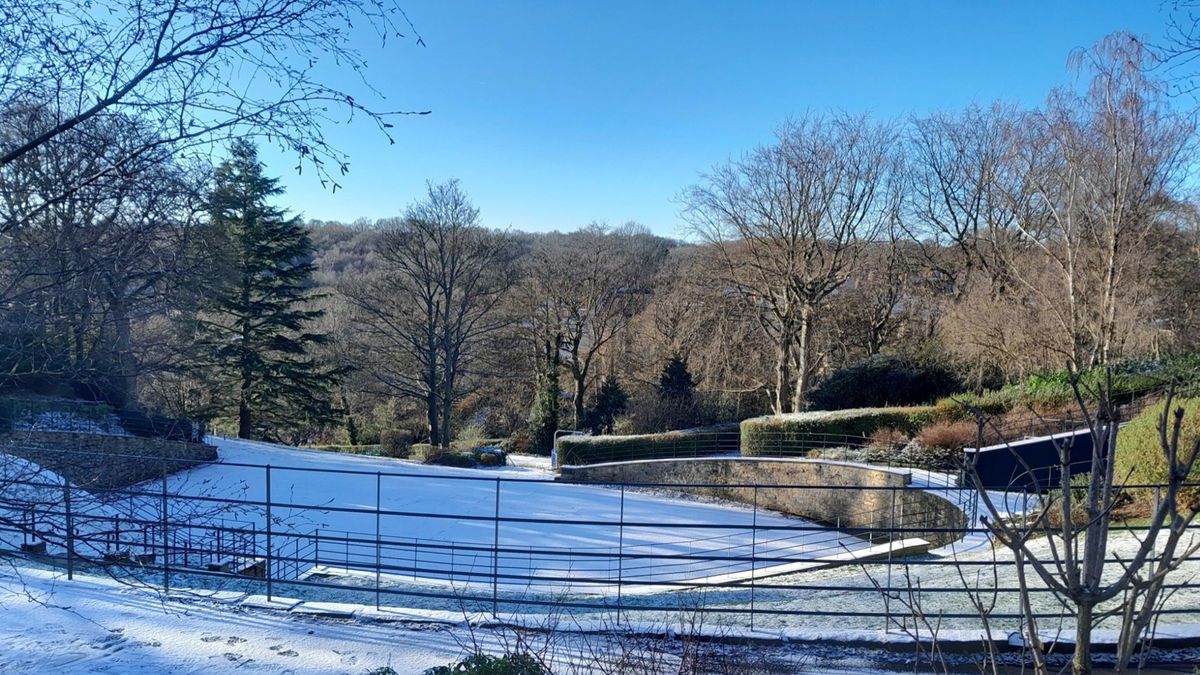 My first stop was the amphitheatre, it surprised me to find it dates back to when the park opened. It has a natural backdrop and the audience sit on the grass slopes, which you cannot see in this photograph above.
In 1871 the first Miners Gala was held and has made good use of the park thereafter.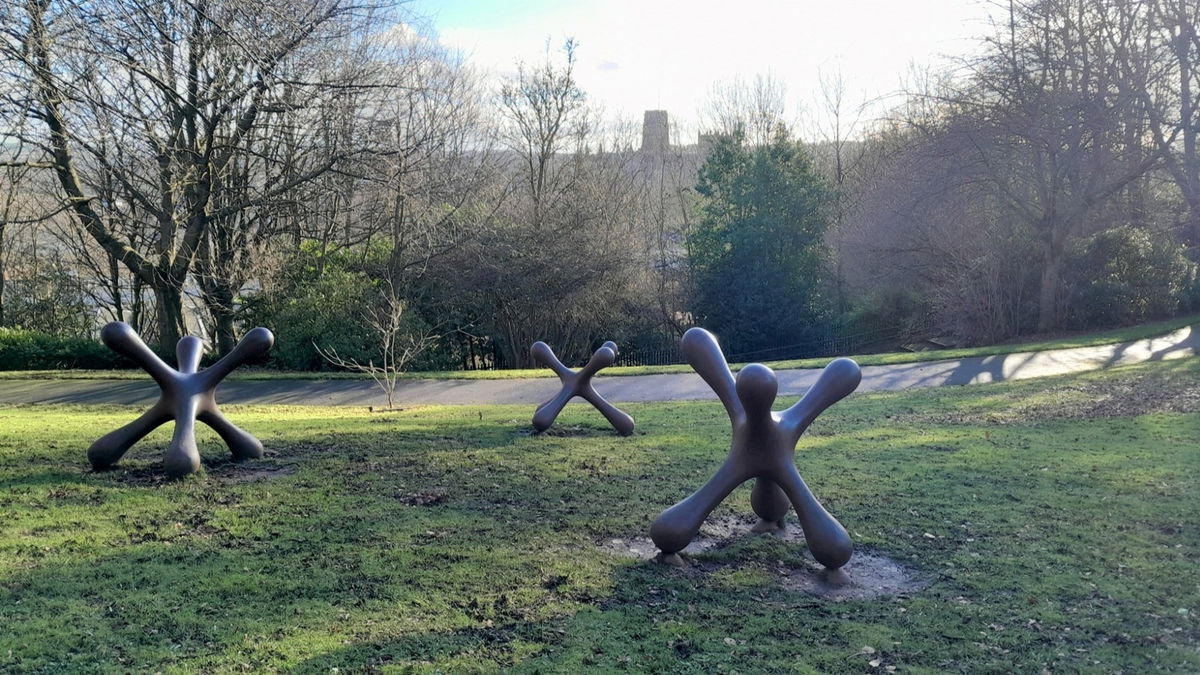 Following the path, I was amused at what I thought were giant 'Jacks' from the game older generations may have played. This installation is called P's in a Pod and has been about a bit in County Durham before resting here. There is an information board all about them.
Going down and around there is a beautiful big tree and under it you see what looks like arms waving and a glimpse of some concrete pillars. The wavy arms belong to a wooden chair which I guess is the teacher's chair, as arranged around it are benches.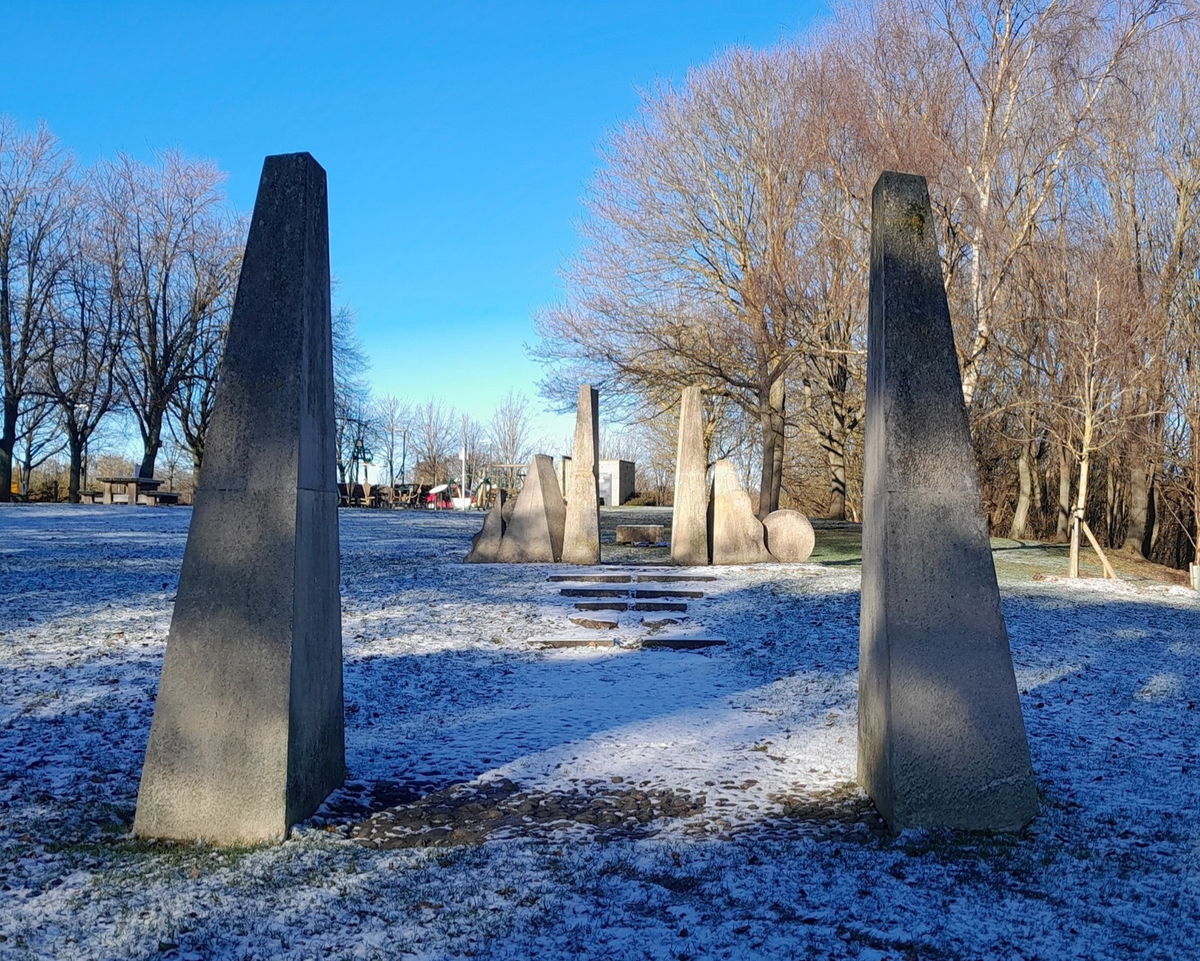 The Portland stone pillars look symmetrical, but the whole installation is not. This is called The Way (maybe for the Madolorian fans out there!) and there is a smart brass plaque explaining this.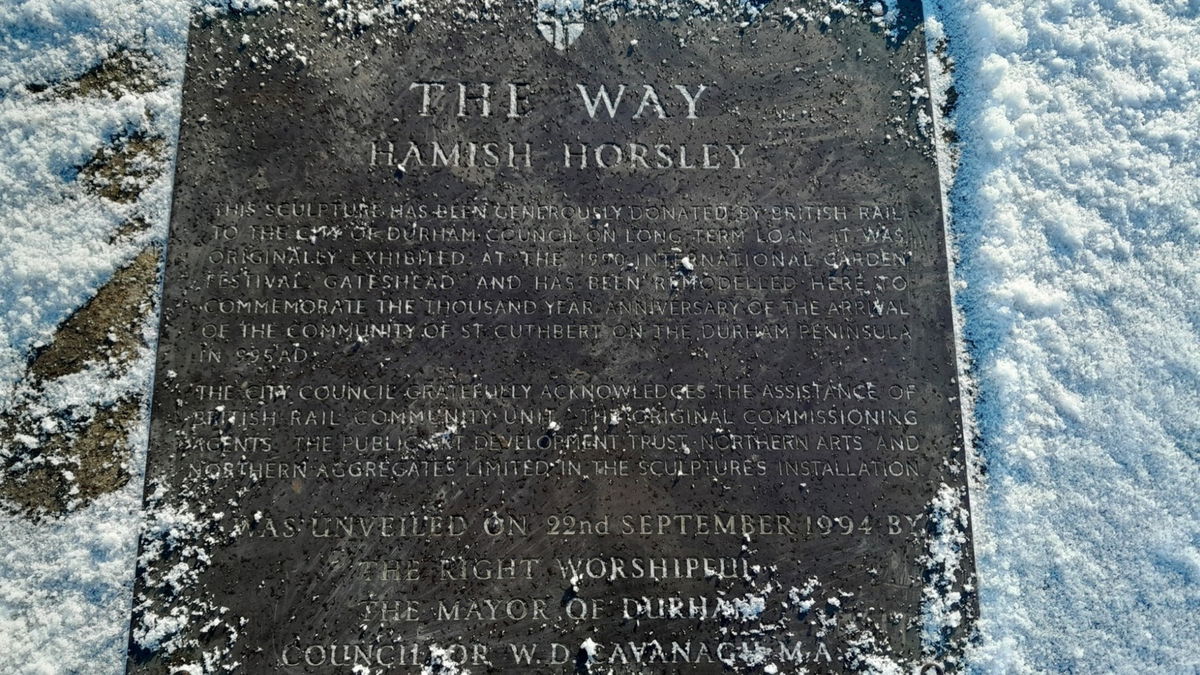 Importantly you must view from the north looking south as it represents part of St Cuthbert's journey to Durham Cathedral. You'd think it was made for this, but The Way was originally called Aion and was exhibited by British rail in their sponsored Time Garden for Gateshead Garden Festival (1990).
This was certainly ahead of its time for the trend of repurposing and must be a first for sculpture when it came here in 1994.
I retrace my steps take in the view and head off down past the entrance to the railway station which brought many visitors in the Victorian age here.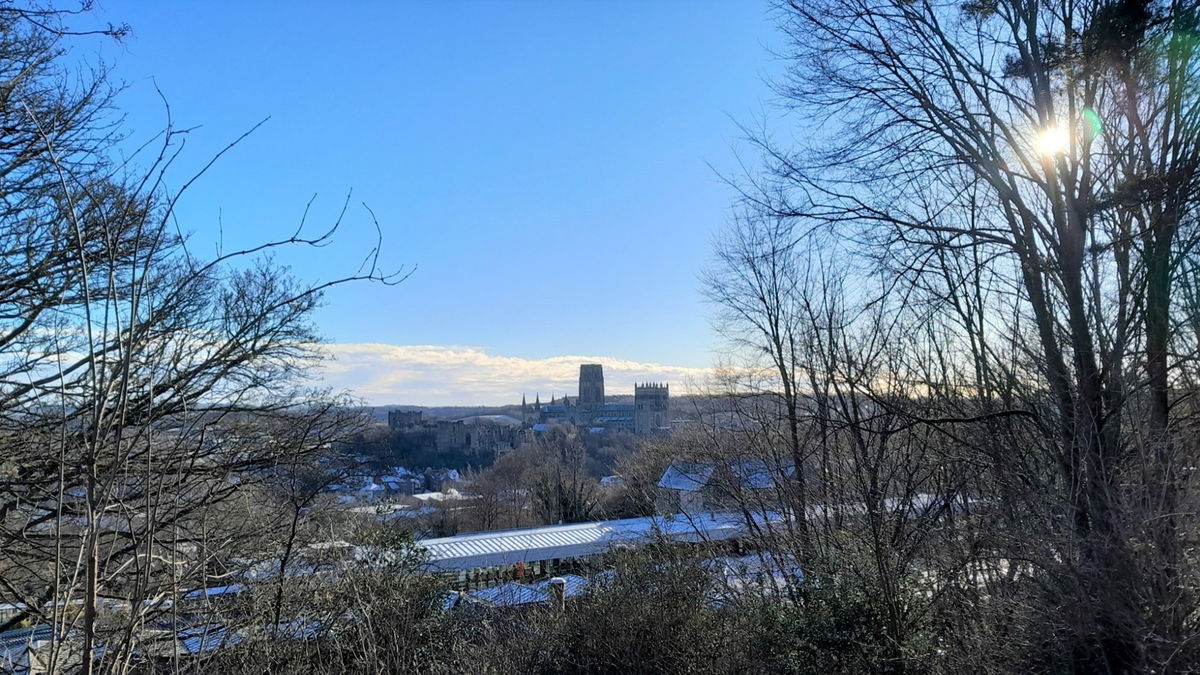 There is a splendid oak sculpture of Mr. William Lloyd Wharton. This is by Tommy Craggs, who is a British chainsaw sculptor. The image is of a pleasant young man of fine stature radiating in the sunshine.
William Wharton served as Justice of the Peace as his day job, and as High Sheriff of Durham (1833 to 1836 and I believe it was an unpaid role). As if that wasn't enough, he was also chairman of the Great North Eastern Railway and owned coal mines.
In his spare time, he enjoyed sports and championed games and sporting fetes in the park, he set up a rifle club and inaugurated the rowing regatta. He was the curator of Durham Observatory. In 1851 he established the Durham Market Company.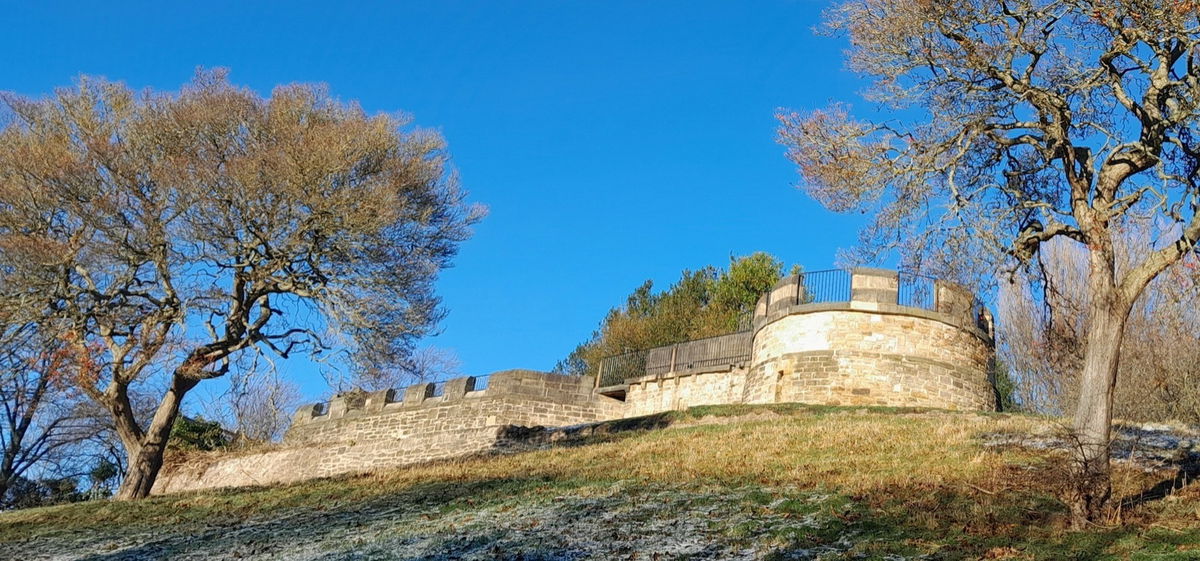 The Battery is a mock Castle, built for the view overlooking Durham Cathedral and Castle. It is level whilst the ground around it is not. In 1858 William Wharton gave this Belvedere (The posh name for somewhere commanding an impressive view from an open-sided gallery at rooftop level) to the city of Durham for the people to enjoy.
It got called the Battery when a gun captured from the Crimean war at Sebastopol was moved there in 1858. Other guns were placed at the Battery too, but in 1940 they were all removed for war salvage.
Lovely to admire its ashlar battlemented parapets, corbelled walkway and chamfered copings.
I amble down towards the North Road entrance and gaze at Albert the Good last seen with a head in 1968. However it cannot be Prince Albert as he was never King. This one is dressed in a medieval cloak and holds a sceptre and orb which are symbols of monarchy. This statue remains a mystery.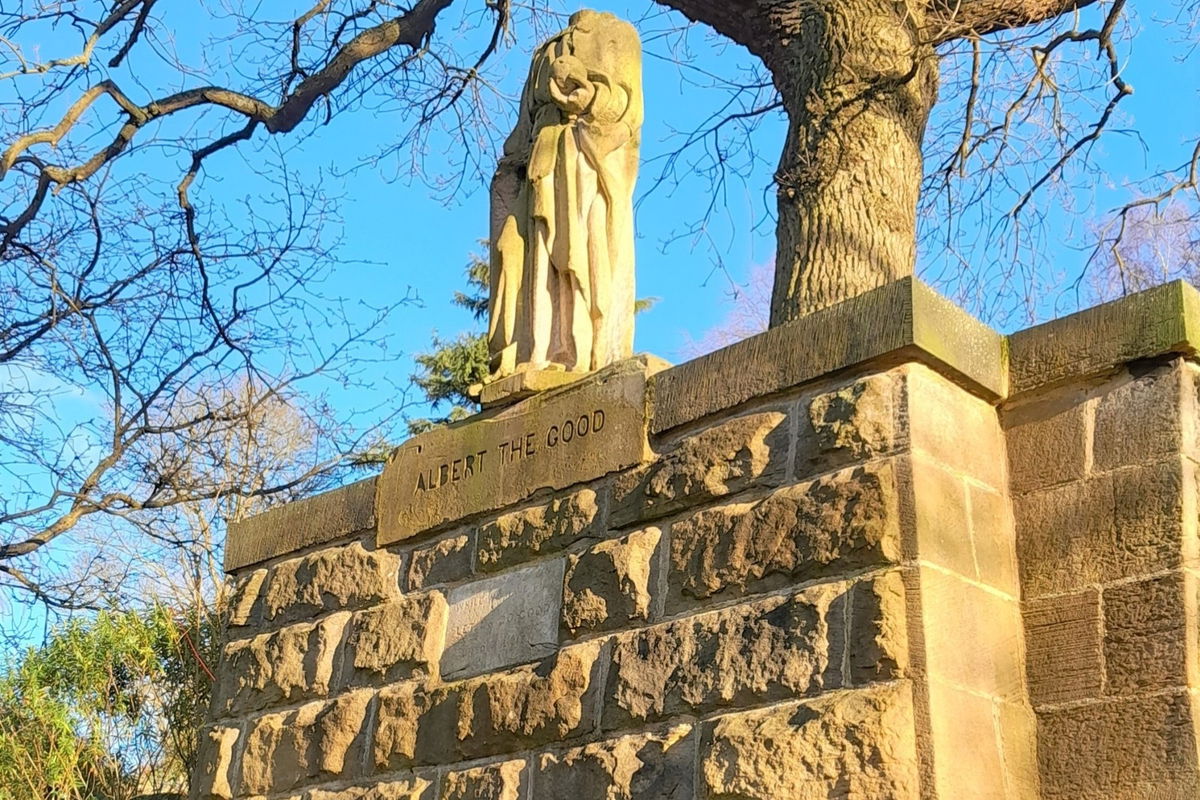 Albert the Good actually refers to the oak tree behind. Planted by William Wharton on the day of the marriage of the future Edward VII to Princess Alexandra. 10th March 1863. William Wharton desired to commemorate Prince Albert who had died the year before.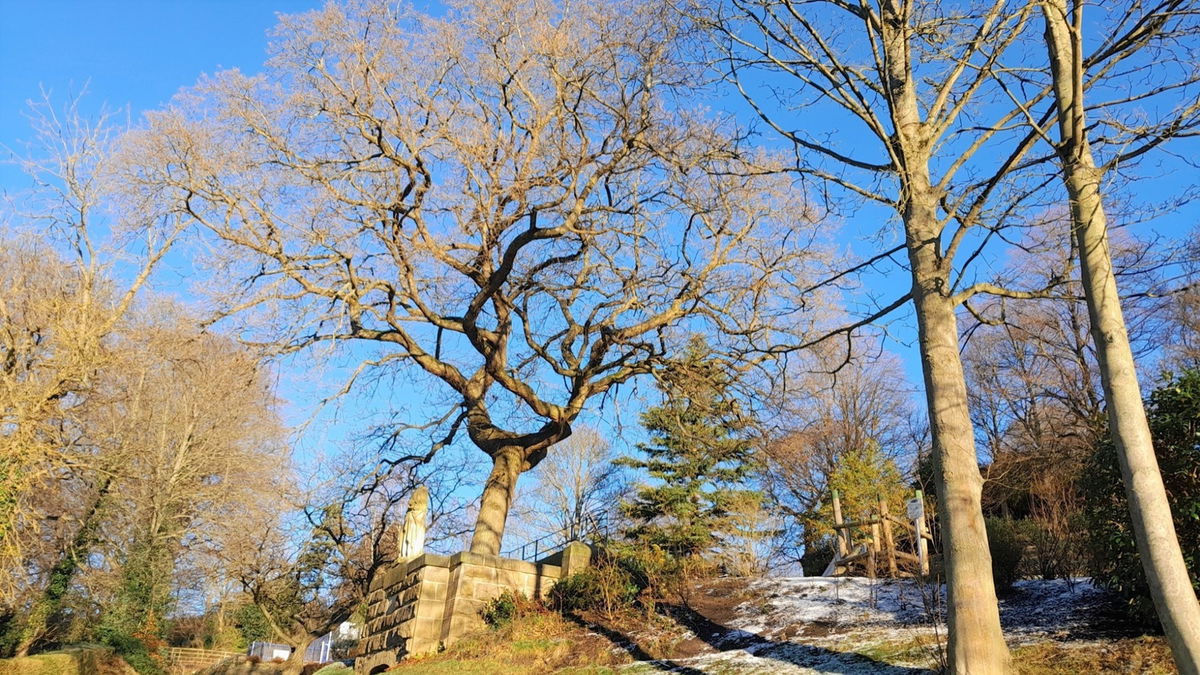 Nearby there are a couple of gems, one being down Obelisk Lane. Yes, that is a clue. It can be wistfully admired from the roadside..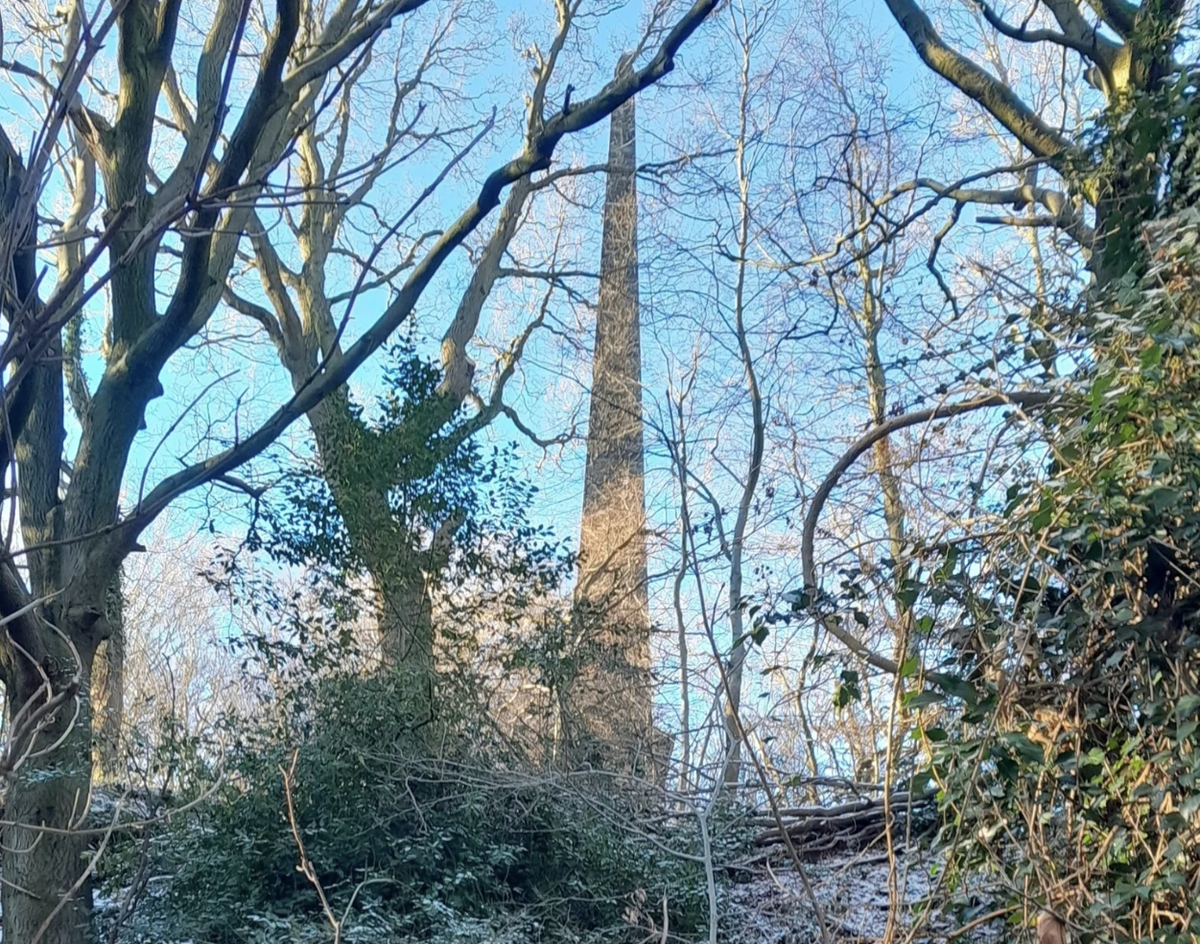 This amazing Observatory obelisk was another of William Whartons' projects. It is surprising how it can only be viewed from certain places around the city despite being tall at nearly 100 feet. This is one and a half times taller than the Angel of the North along the A1.
This obelisk was a marker for due north for the Observatory that was 1 mile due south of here. Inscriptions give Latitude, Longitude, Magnetic Dip & Variation and Height above sea level.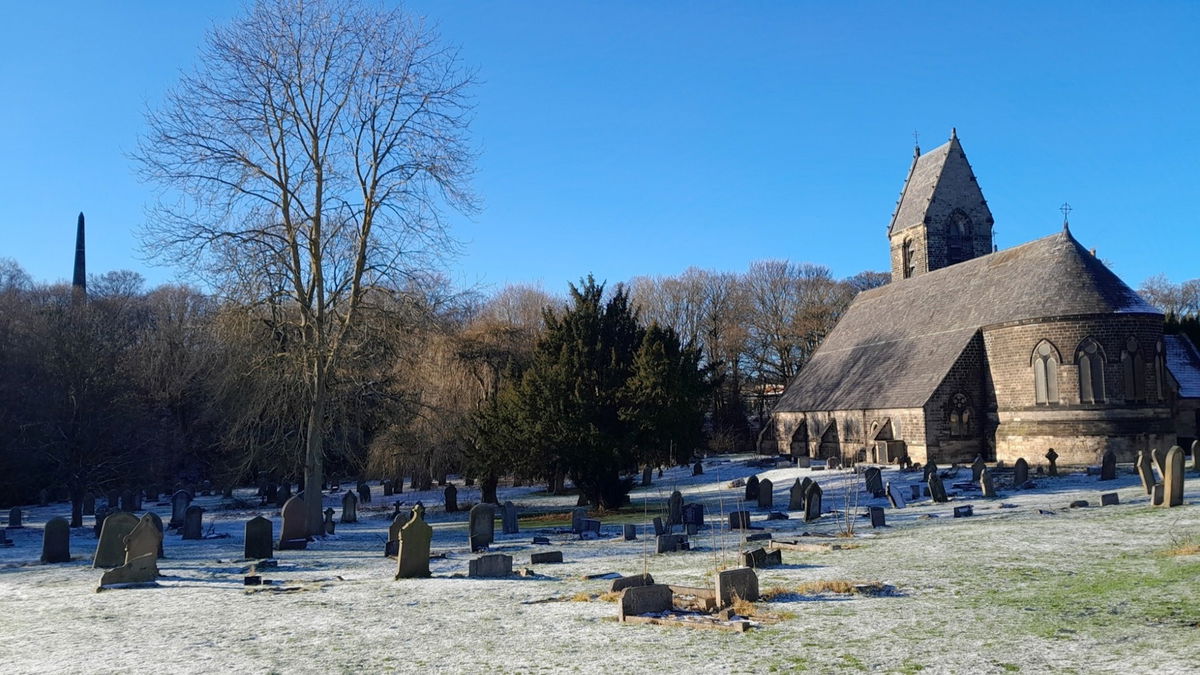 The other gem is Saint Cuthbert's Church. It's a wonderful church and worthy of a separate visit to view inside when open. I was sated enough with the outside. On the Framwellgate Perth AKA A691 side it is very scenic overlooking the Church, churchyard and my favourite obelisk. William Wharton is buried here.
Where To Park For Wharton Park?
Show Parking On Google Maps
Lat / Long
54.780792, 54.780792
What three words
Parking opposite the cafe and heritage centre in Wharton Park. I parked in their car park, but you can park on the street side around the area. Costs do apply. As of January 2023, at the park it is 50p per half hour and at the roadside is 30p per half hour. Opposite the parking, there is the visitor's center, café and handy amenities (The loos!)
Contributed by Rosalind Parker
Thanks for reading through and getting to the end of this post. I enjoy exploring the Fabulous North (Especially as a Southerner residing up North). I like 'snippets' of information, and more so, if they are obscure, amusing or meaningful. The photographs are taken on a mobile phone, without any enhancements.
More Places from Rosalind
More Places In Durham
Find more fabulous places in Durham, County Durham and if you know of a place we haven't listed, then let us know.
Crook Hall Gardens
Building
Durham
County Durham
Small National Trust site with medieval hall dating back to the 13th century.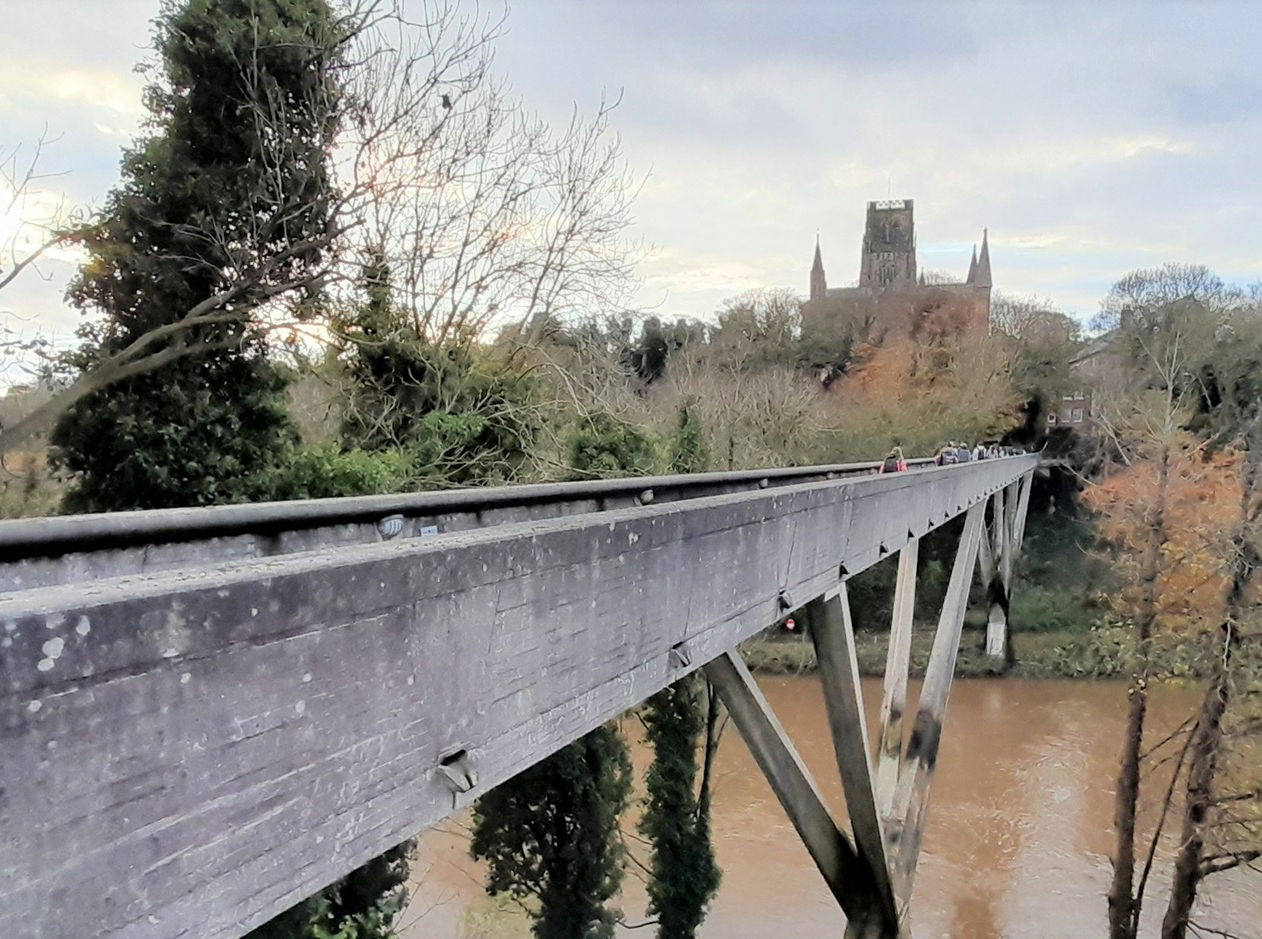 Kingsgate Footbridge
Bridge
Durham
County Durham
Modernist footbridge completed without using scaffolding in 1963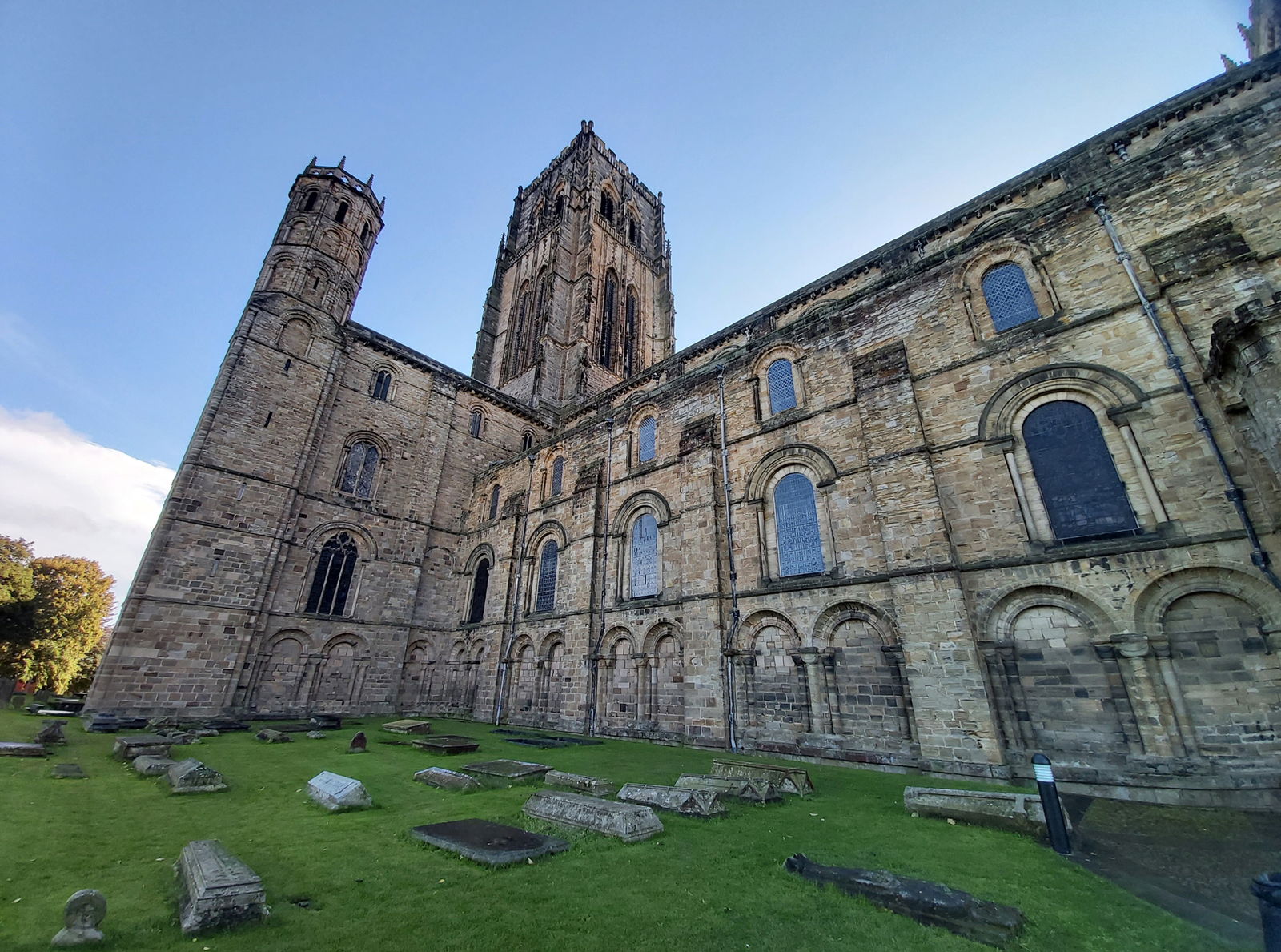 Durham Cathedral
Religious Place
Durham
County Durham
A stunning 900 year old cathedral built on a peninsula formed by the River Wear.
More Landscapes
So this landscape wasn't enough and you want more? Don't worry we have you covered.
Shaftoe Crags
Landscape
Bolam
Northumberland
Stunning crags and landscape with standing stones and a Devil's Punchbowl.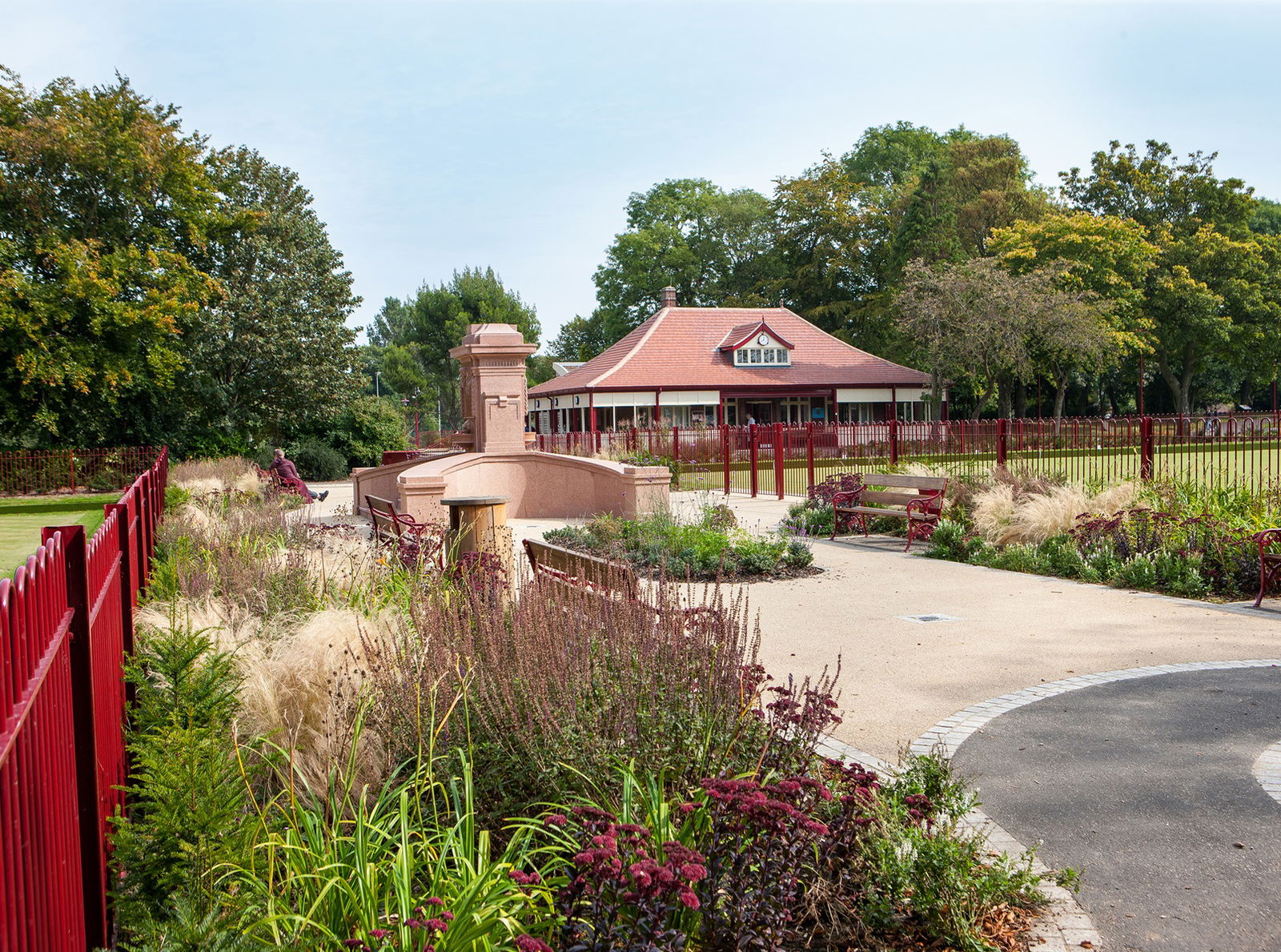 Wallsend Parks
Landscape
Wallsend
Tyne And Wear
A series of linked public parks in Wallsend comprising Richardson Dees Park, the Hall Grounds and Arboretum.
Find Us On Facebook
We post all our new places daily on our Facebook Groups page, so join the group today and be notified when we add a new place.
Join Our Facebook Group