South Shields Town Hall
Building
South Shields
Tyne And Wear
South Shields Town Hall
Building In South Shields, Tyne And Wear
Edwardian Baroque styled town hall which embodies civic pride.
Just over the River Tyne in South Shields is the spectacular South Shields Town Hall. What is commendable is that much of the building has not been changed, apart from a huge extension of 1960 around the back!
We managed to venture inside when we went on a tour as part of the heritage open days.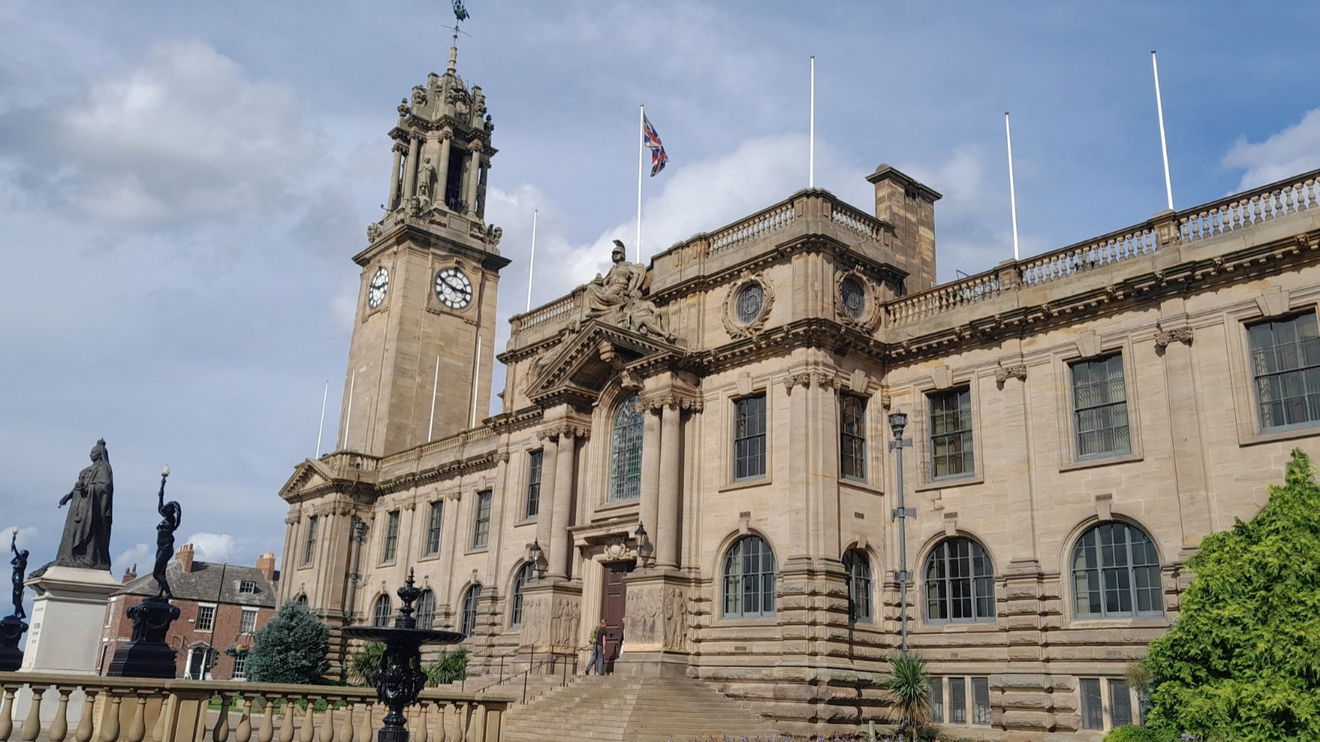 In the 1890s civic leaders decided they required a more suitable town hall and procured land along Westoe Road.
The building was designed by Ernest Fletch/Flatch. In the Edwardian era (1901 to 1910) this Baroque style graced many public buildings.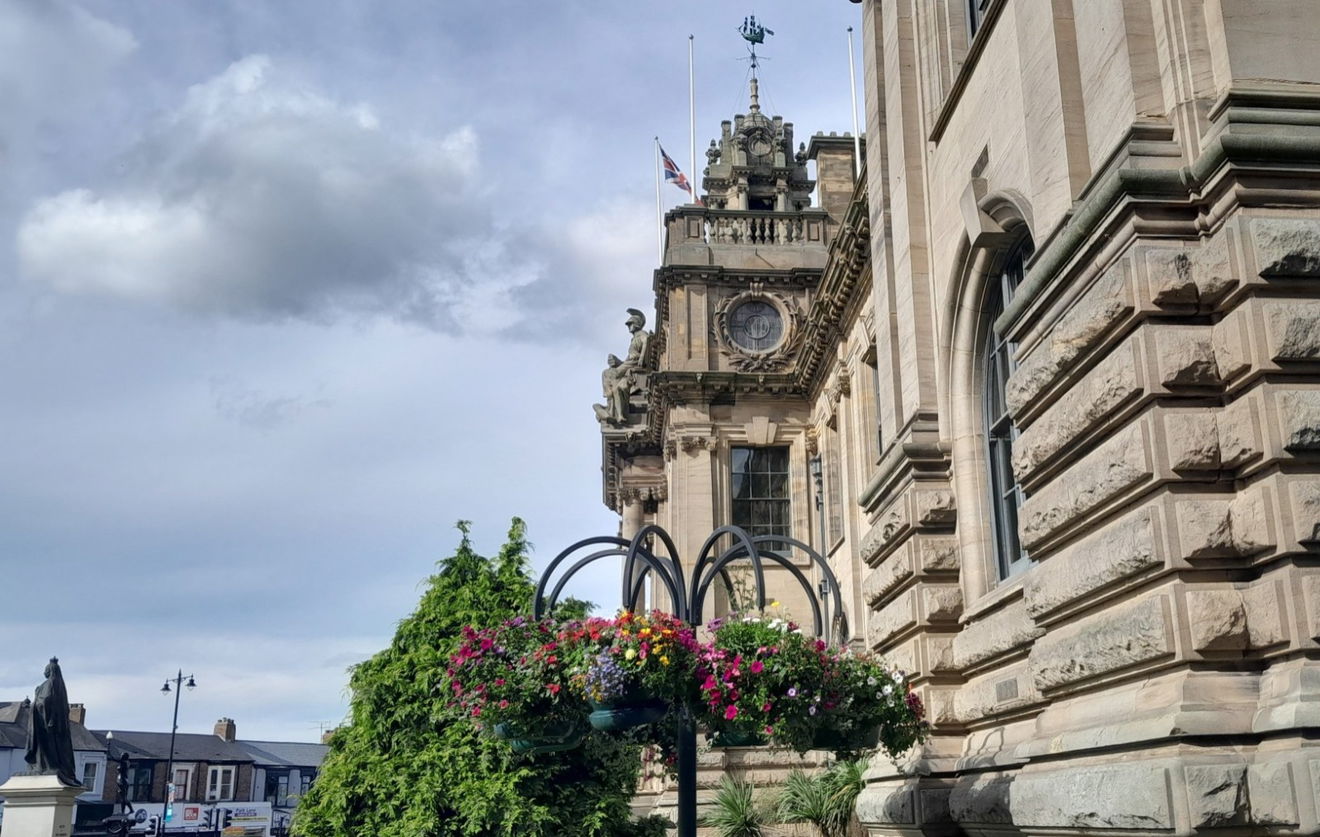 You may notice the figures first including the statue of Queen Victoria which was erected outside the Town Hall in 1913. It is bronze and made by Albert Toft (1862 to 1949) who was part of the New Sculpture Movement, which meant depicting their subjects lifelike and in more natural poses.
He also created this Queen for Leamington Spa and Nottingham.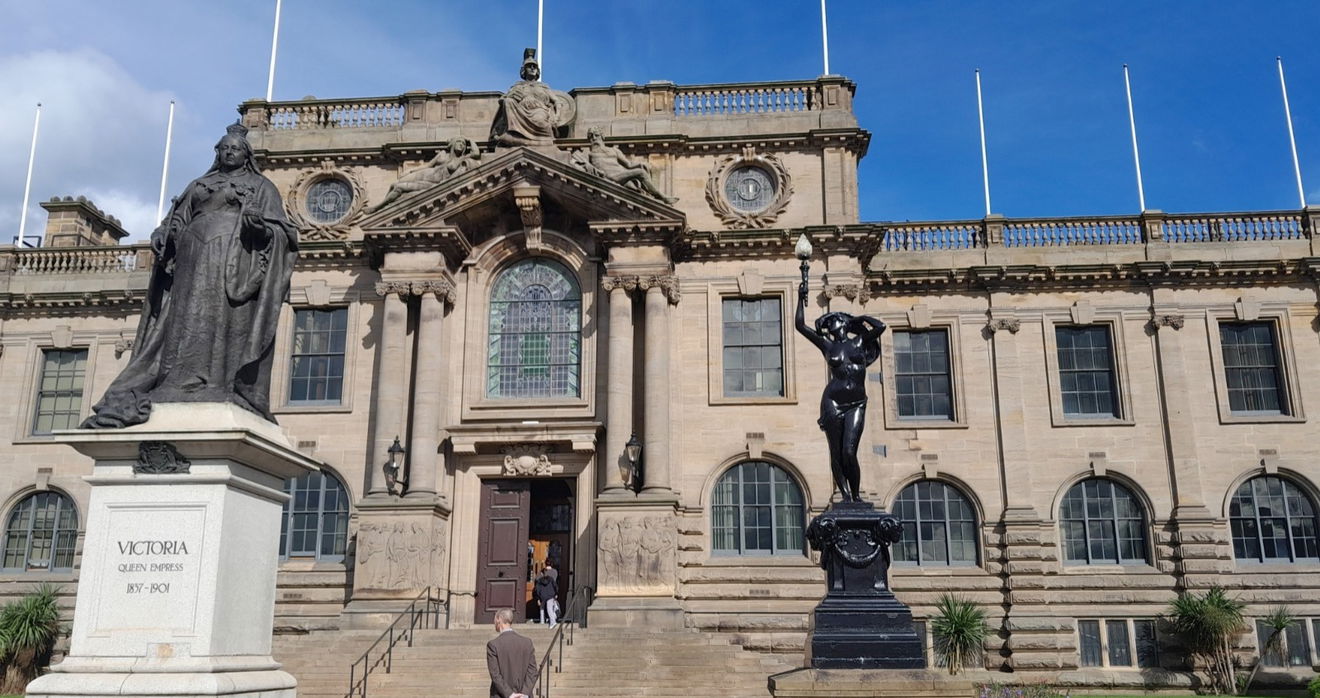 This bronze statue is 9 feet tall on a 12-foot-high Aberdeen granite plinth. She is accompanied by her handmaidens AKA hussies (reference made by a retired Mayoress) and depicted Day and Night (Veiled). Originally there were 6 and were moved to South Marine Park in 1951. It was affectionately known as the Titty Terrace! Oh la! They were returned in 1983.

Her Majesty scrubbed up well after a cleanse in 1920. Her dress has much detail to admire.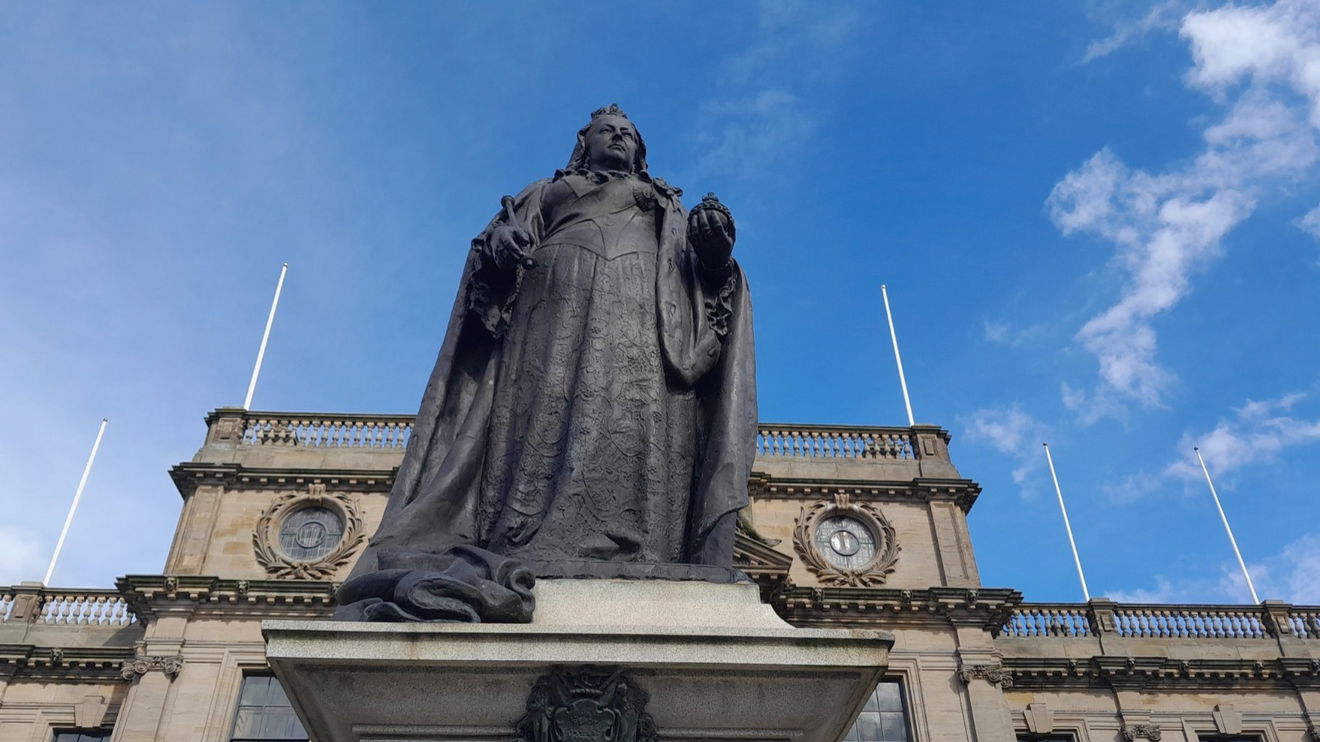 At the entrance, there are slender ionic order columns with fluted shafts as in Greek temples.
Above the main door the portico houses Britannica lording it (has she lost her trifecta?) and possibly the River God Tyne by her left side. On her right could be a Roman water deity or another hussy.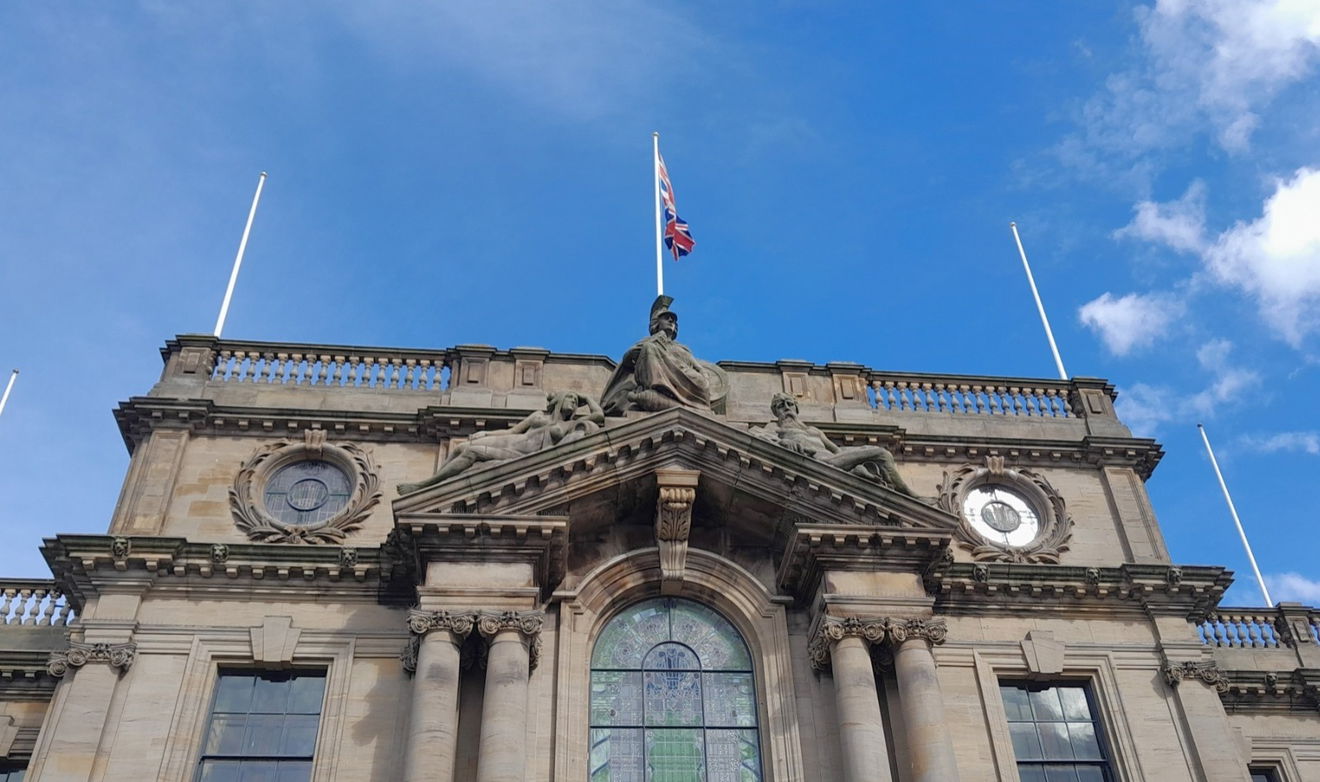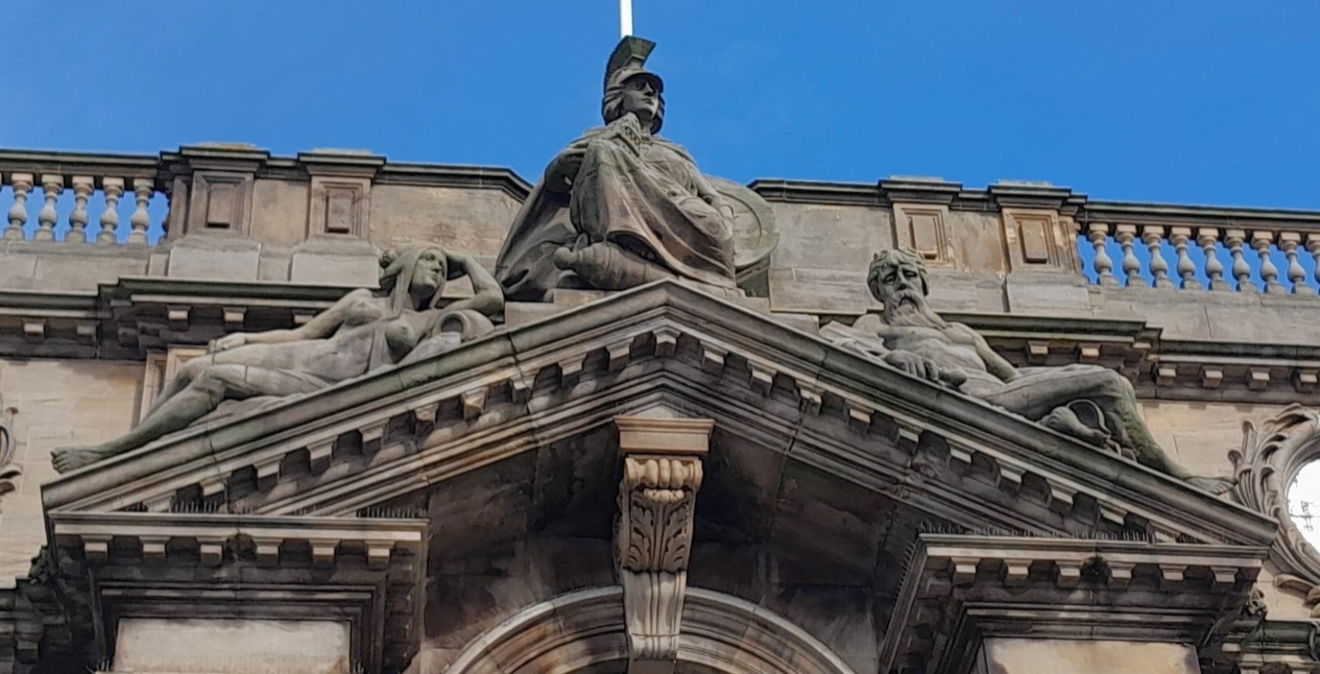 The 153 foot clock tower had to be built on the north side of the building as the ground was more stable than the middle where traditionally you would have put your town clock.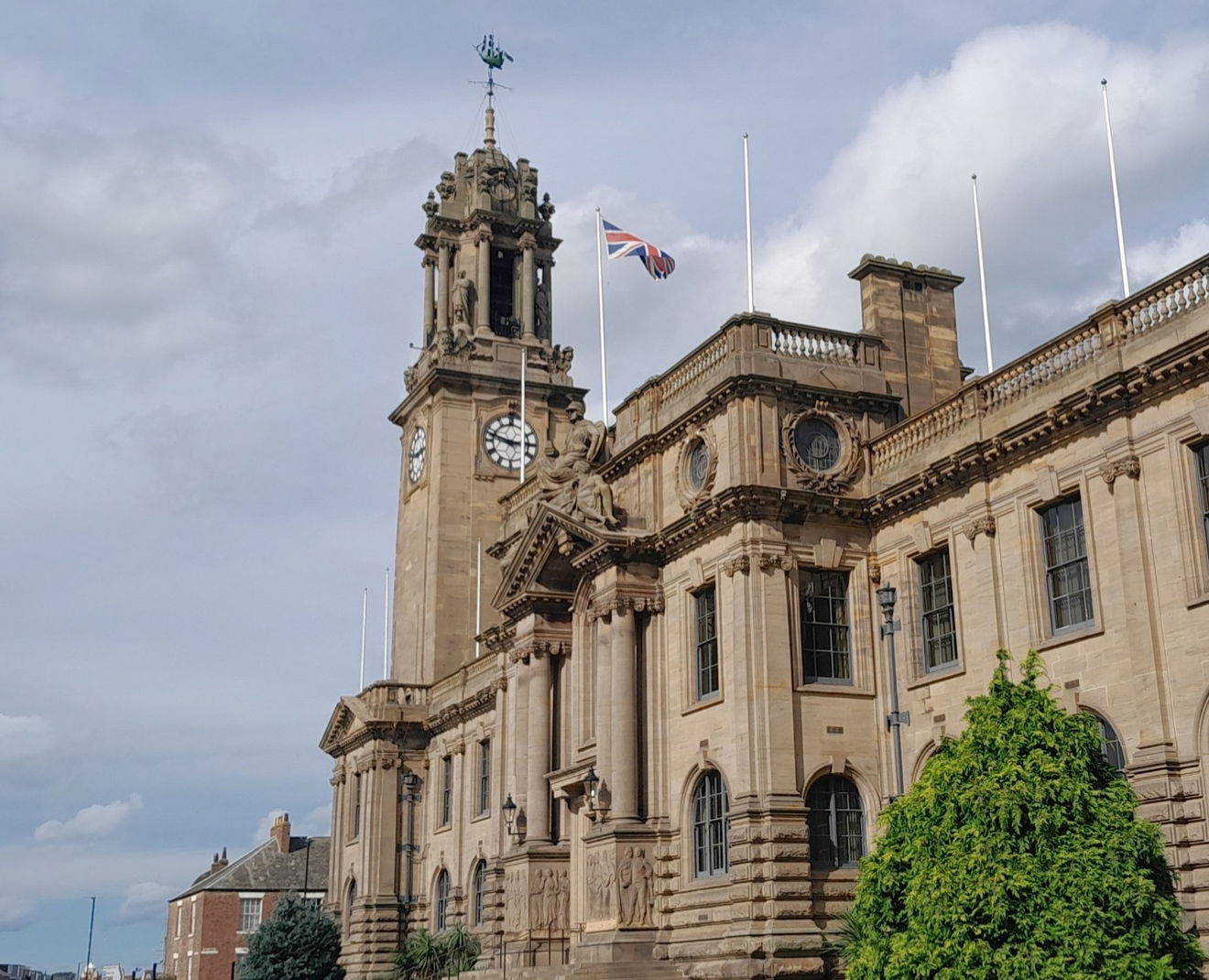 The clock tower has a female figurine depicting one of the four seasons on each corner. The cupola has a 7 foot high weather vane. It is a copper Elizabethan galleon. This weather vane has only ever come down twice. Here is a super
It weighs 1 ¼ cwt that's about the weight of a cougar.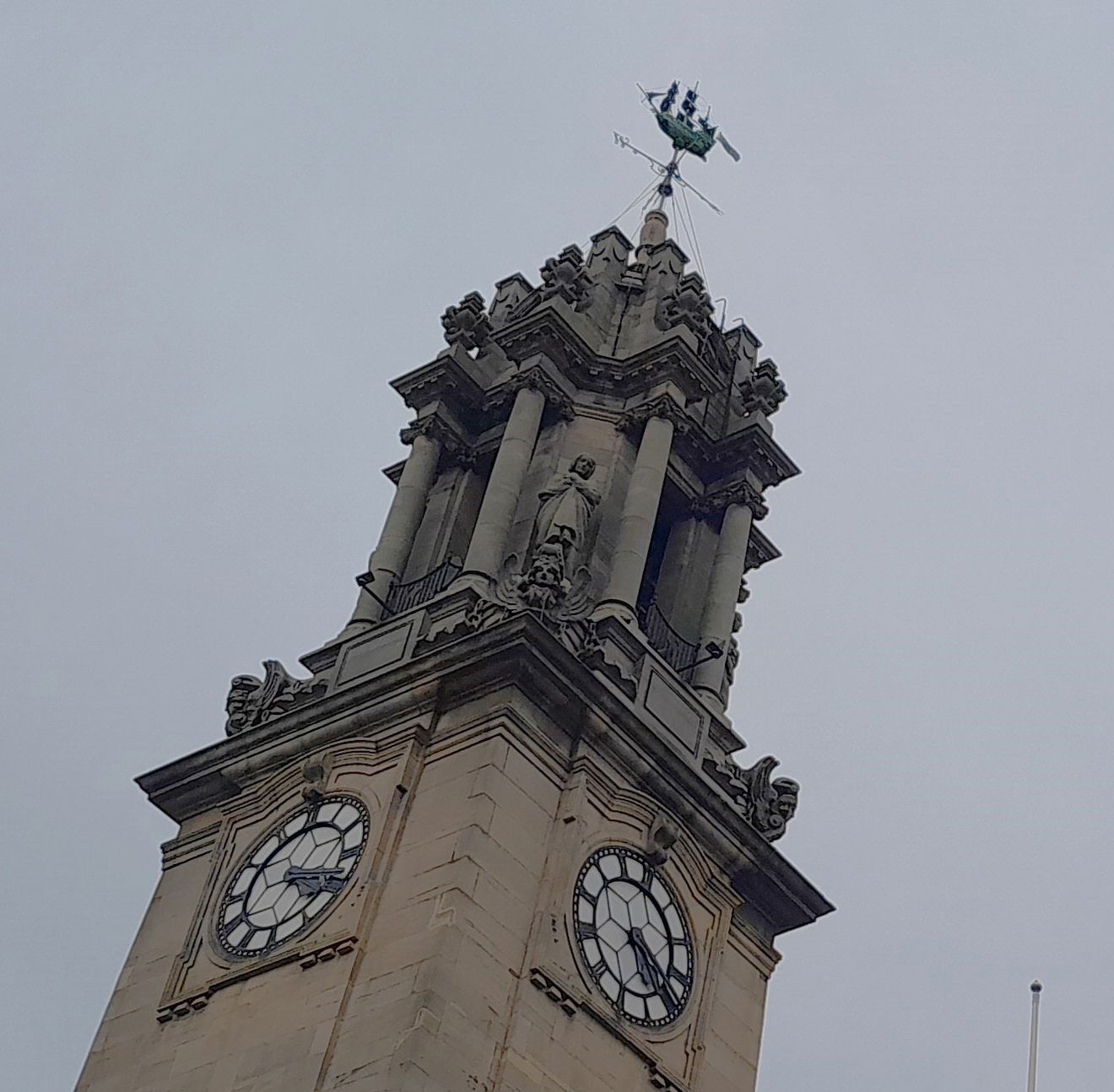 The clock causes comments as it has its own idiosyncrasies, mainly not keeping time. To access it, you have to climb out of a window and up a 'fire escape' type ladder.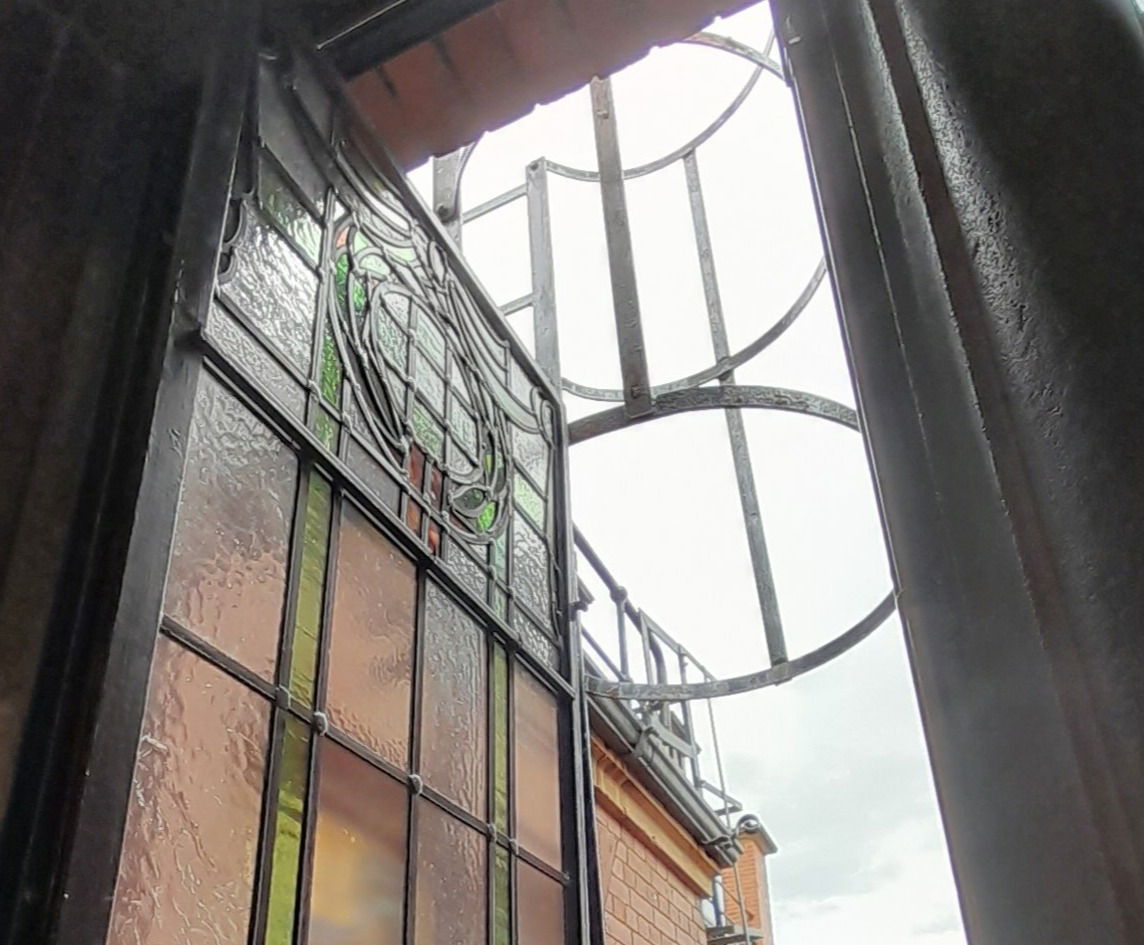 Inside the building, it is kept to the highest standards and would pass any inspection by royalty. The Queen and Prince Philip visited in 1954.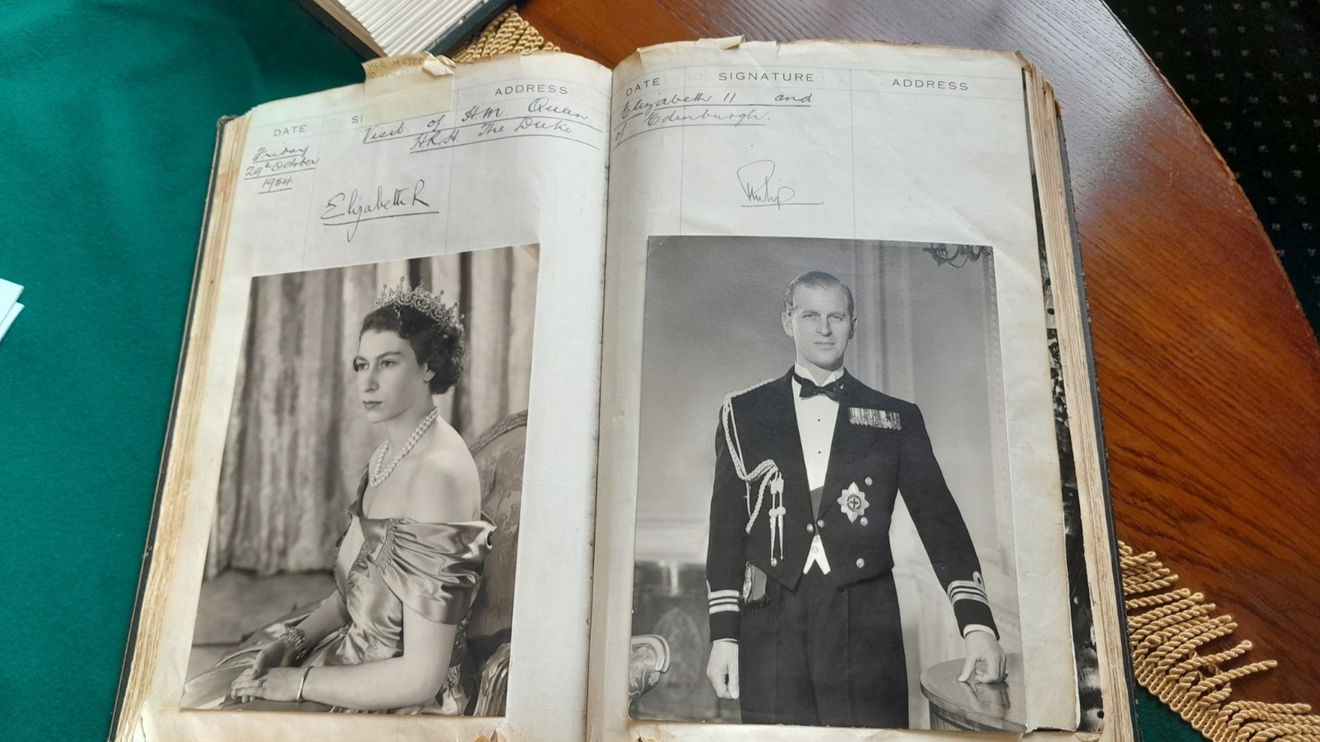 The main staircase is quite a show stopper and be sure to look up. The mouldings of fruits have been recently painted, highlighting their glory.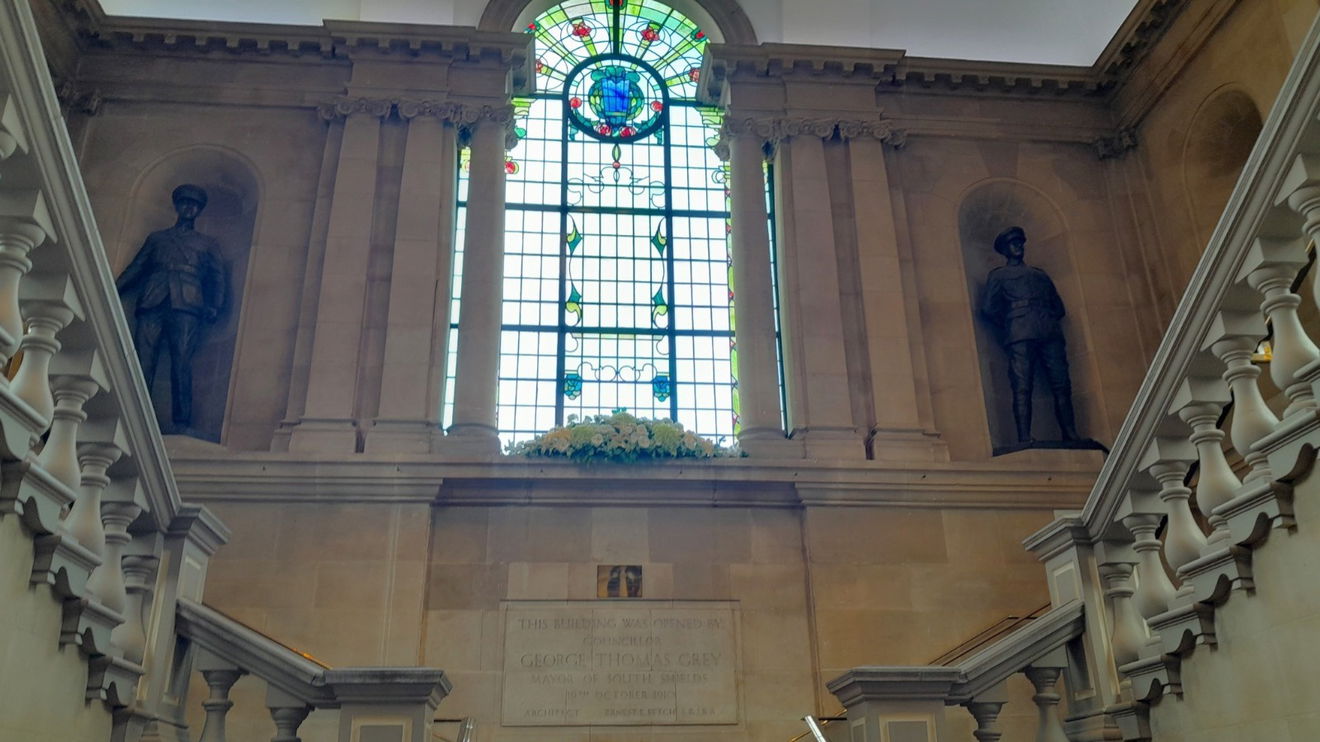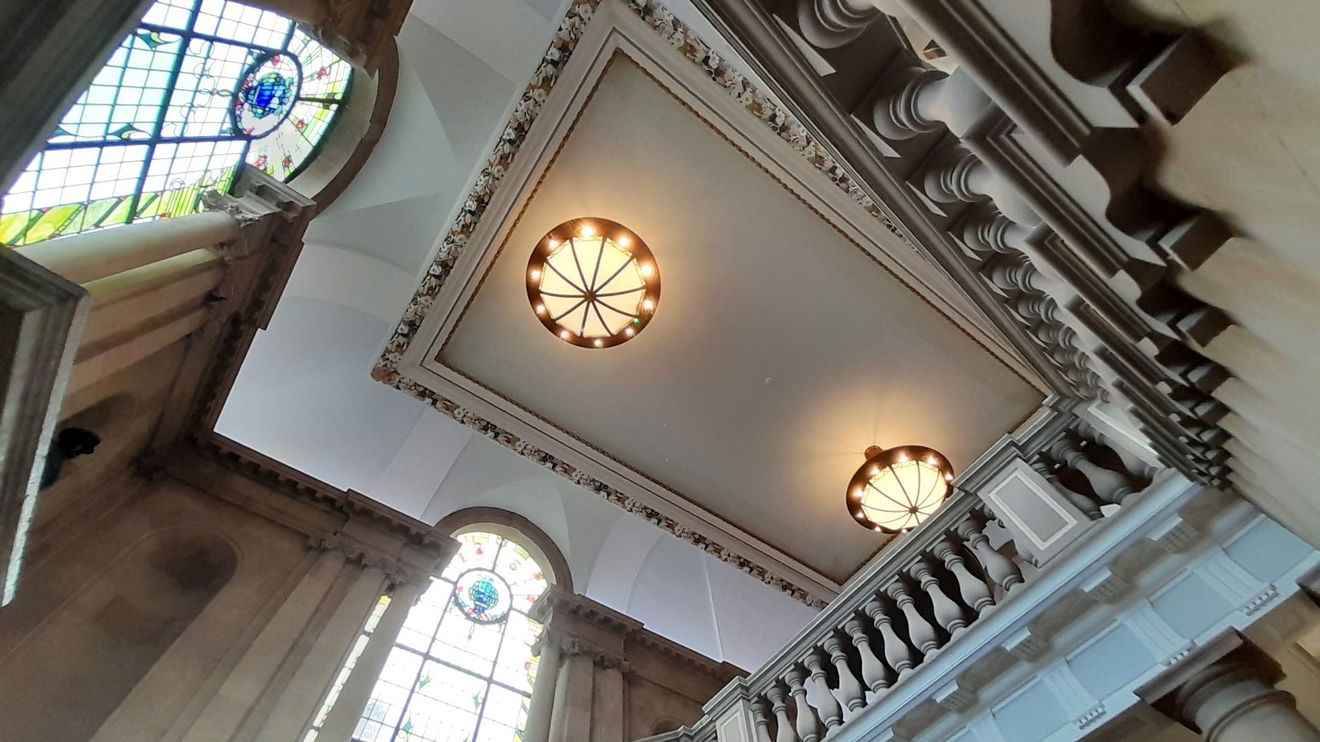 The two statues on either side of the first flight of stairs are a worthy tribute to Lieutenant Richard Annand and Private Thomas Young. Both received the Victoria Cross.
The sculpturer is Roger Andrews, and they were unveiled in 2007. Their plaques detail their bravery.

Marvel at the Italian marbled flooring. My husband's leather-heeled shoes resonated nicely whilst walking through the corridors!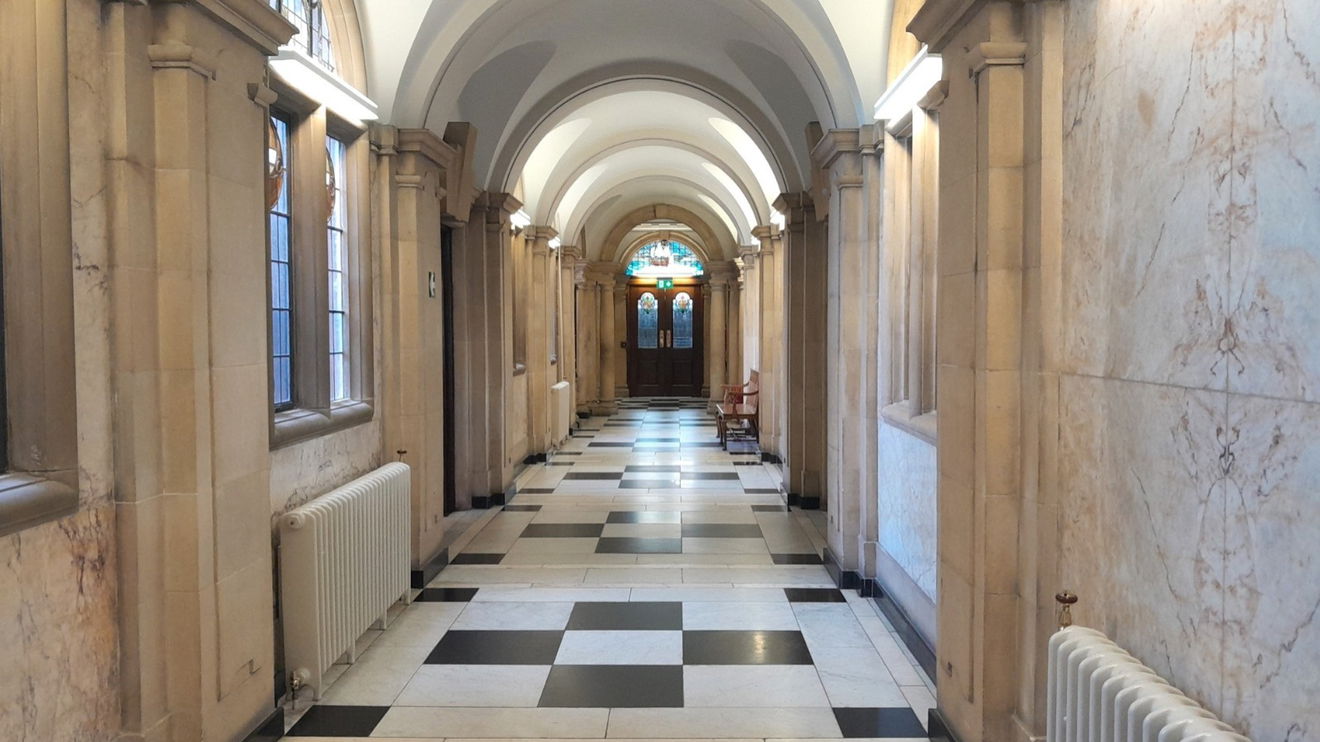 The Council Chambers are of a grand design which are laid out like a horseshoe. It has oak panelling, the windows are big, and the ceiling is high.
There are some intricate carvings in front of the mace and above the Mayor's chair is the South Shields Coat of Arms and Motto Always ready.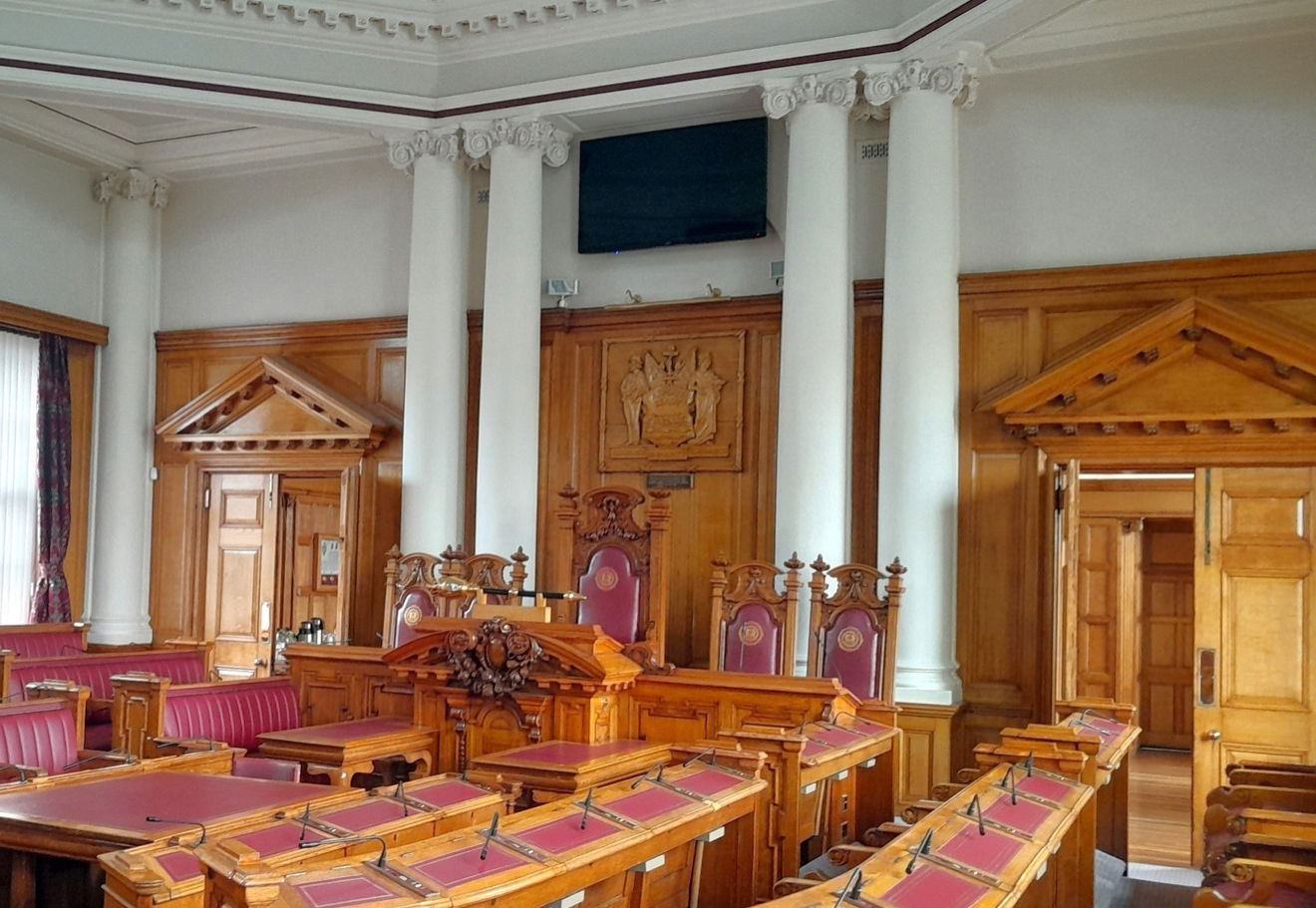 The South Tyneside Council was formed in 1974 and held meetings in this room. They have leather seats, ink pads, and microphones, but I couldn't work out which was the eject button!

We were allowed in the Mayor's Parlour which was informal.
The mantle piece held notable sculptures of South Shields people.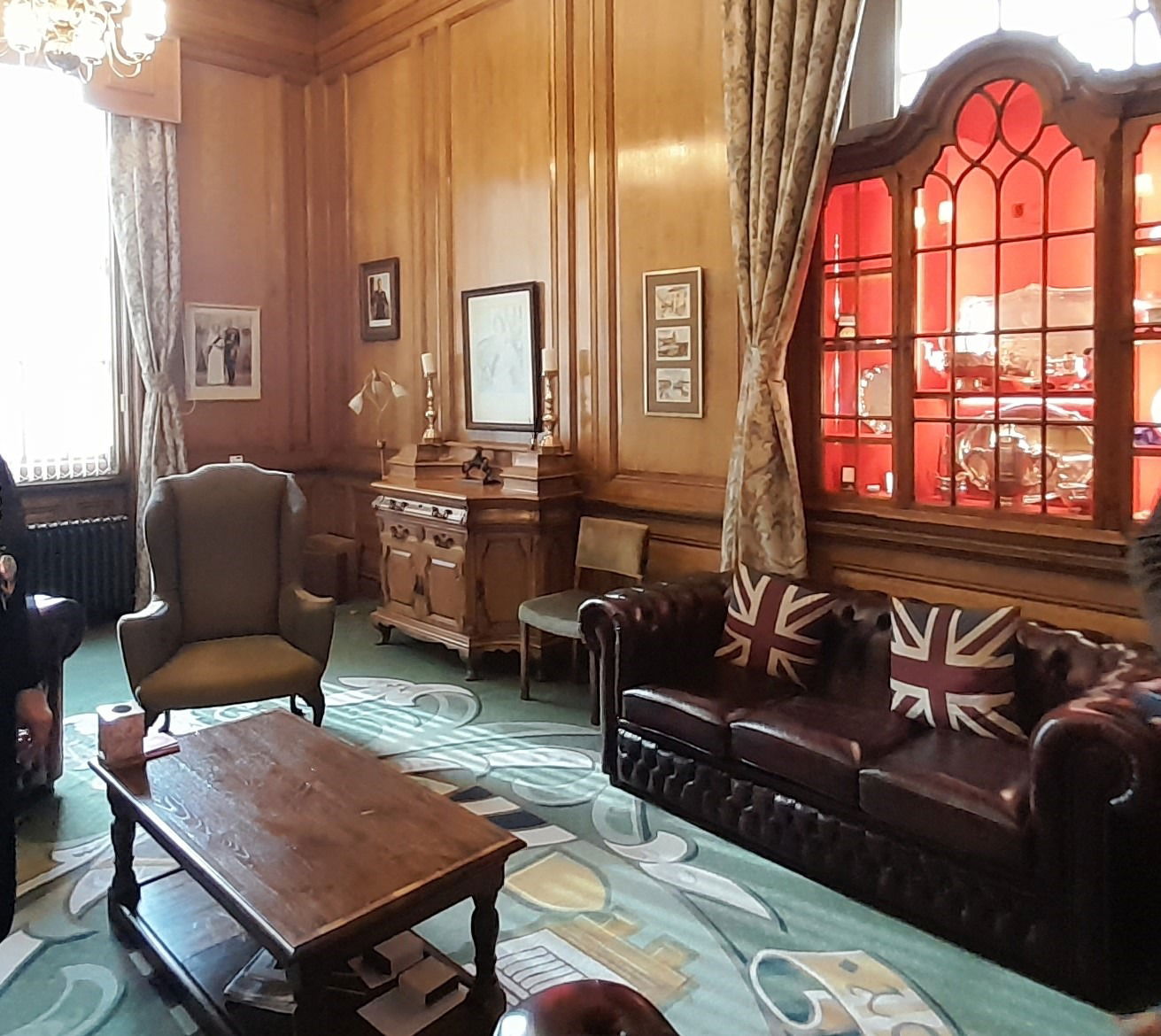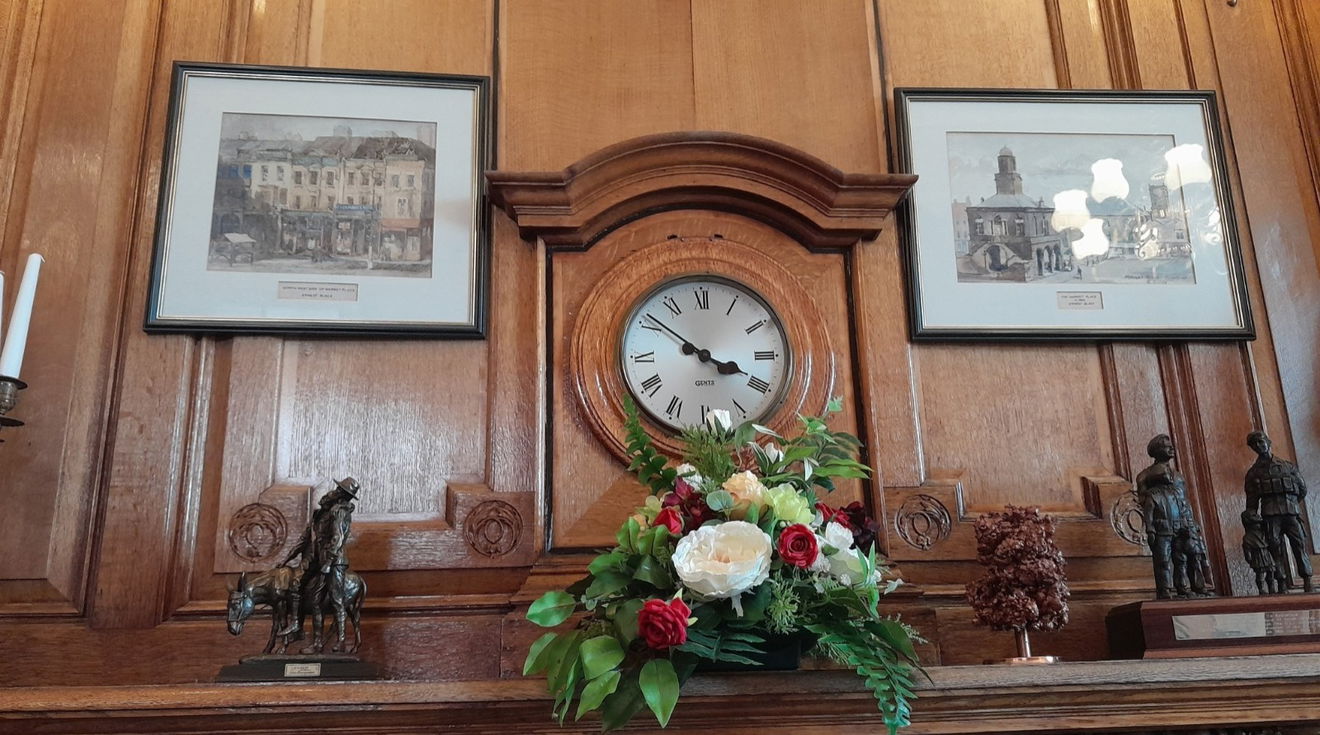 The Millennium Room was splendid and held some mining relics and bronze statue of a bonny pit lad and a banner.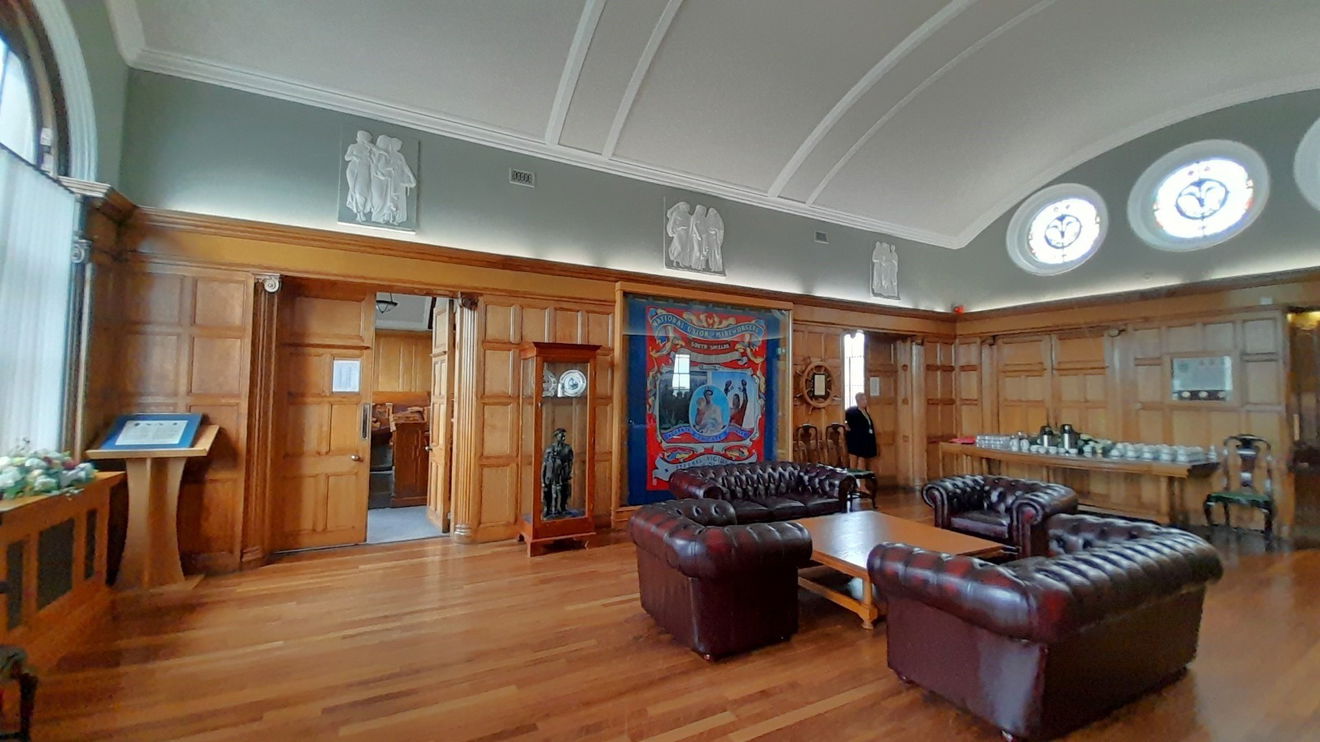 Other grand features throughout are the lights and windows. I would suggest Art Nouveau?
There are references to the shipping theme, which goes with the town's rich seafaring history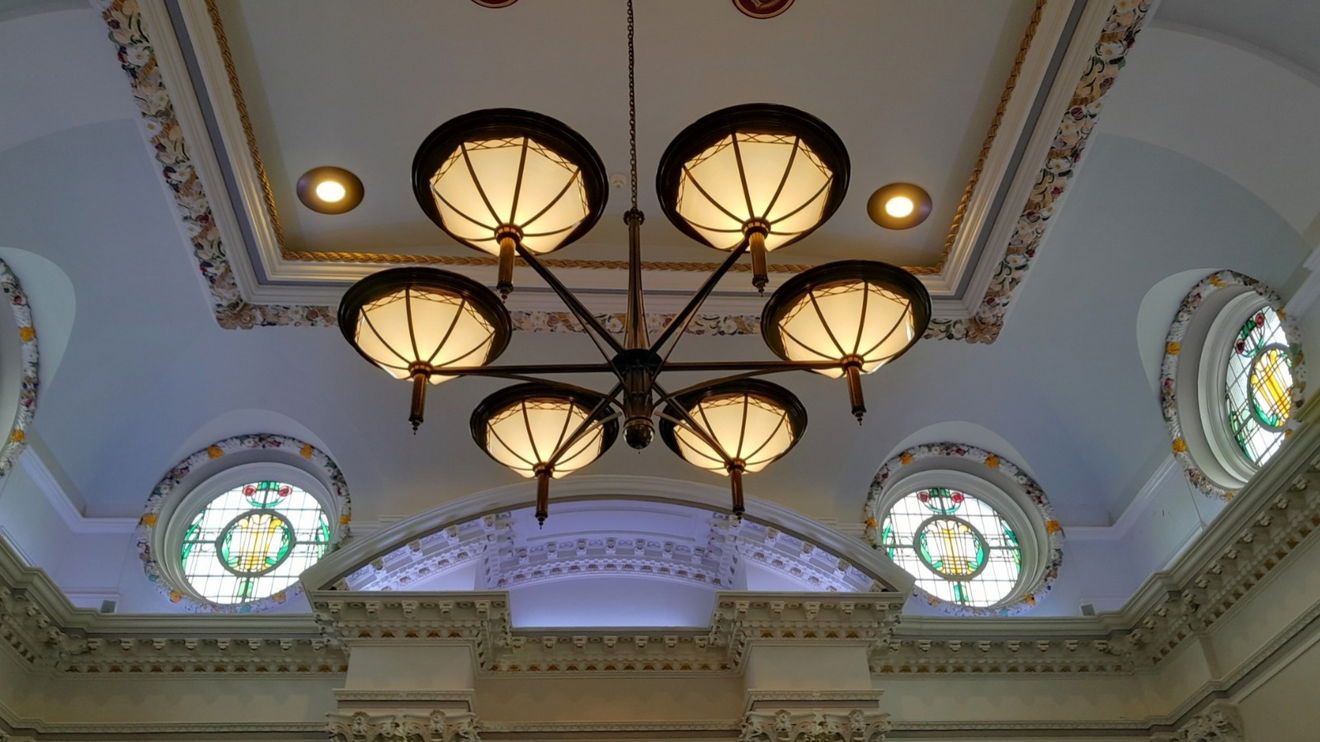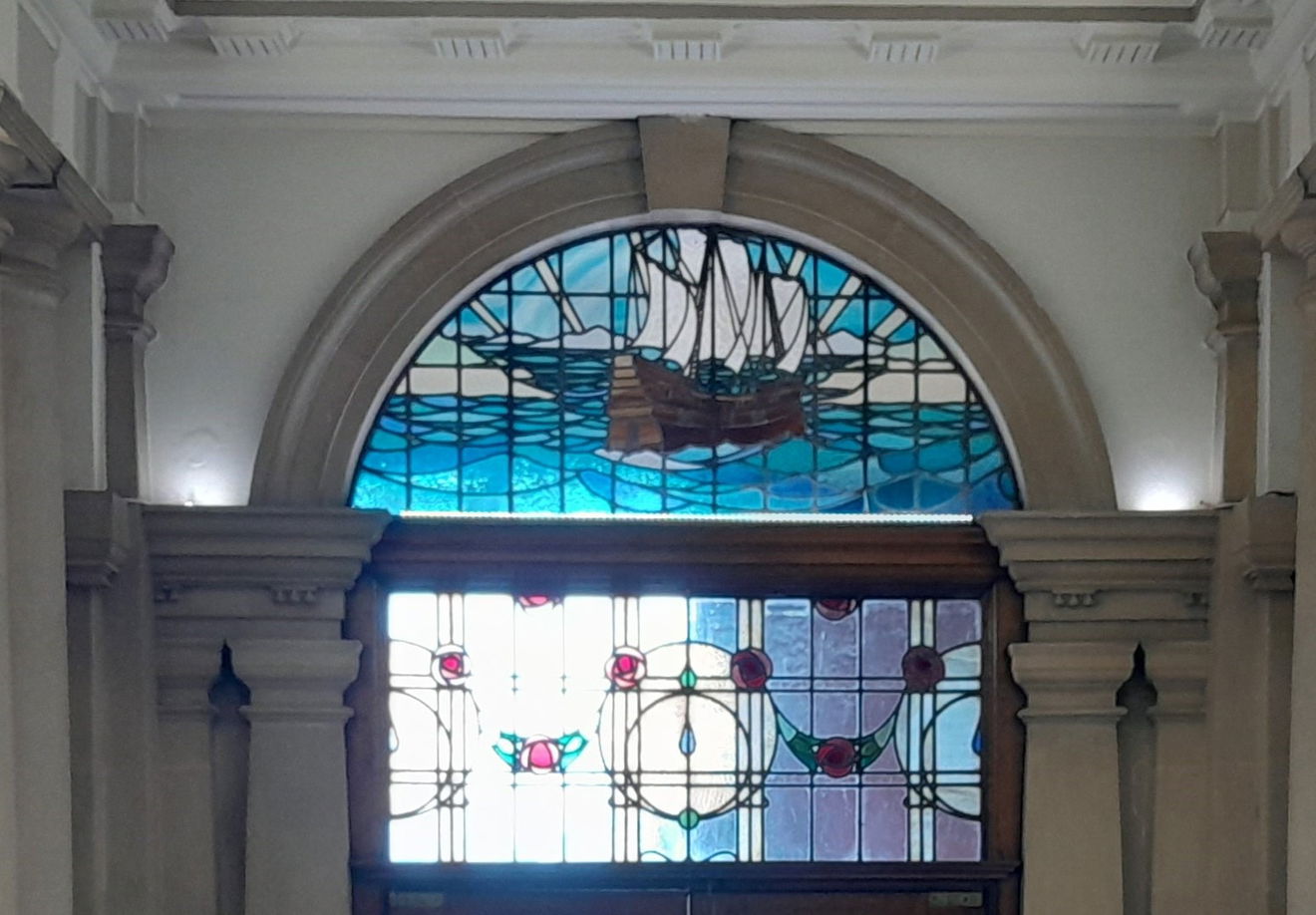 The main part of the Town Hall is a two-story building of finely dressed stone called ashlar. It does have an attic and a basement that you can see from the photo. A balustrade around the roof adds to the grandeur.
The railings around the outside are smart and have features too. There is an information board about the building nearby with some amusing detail.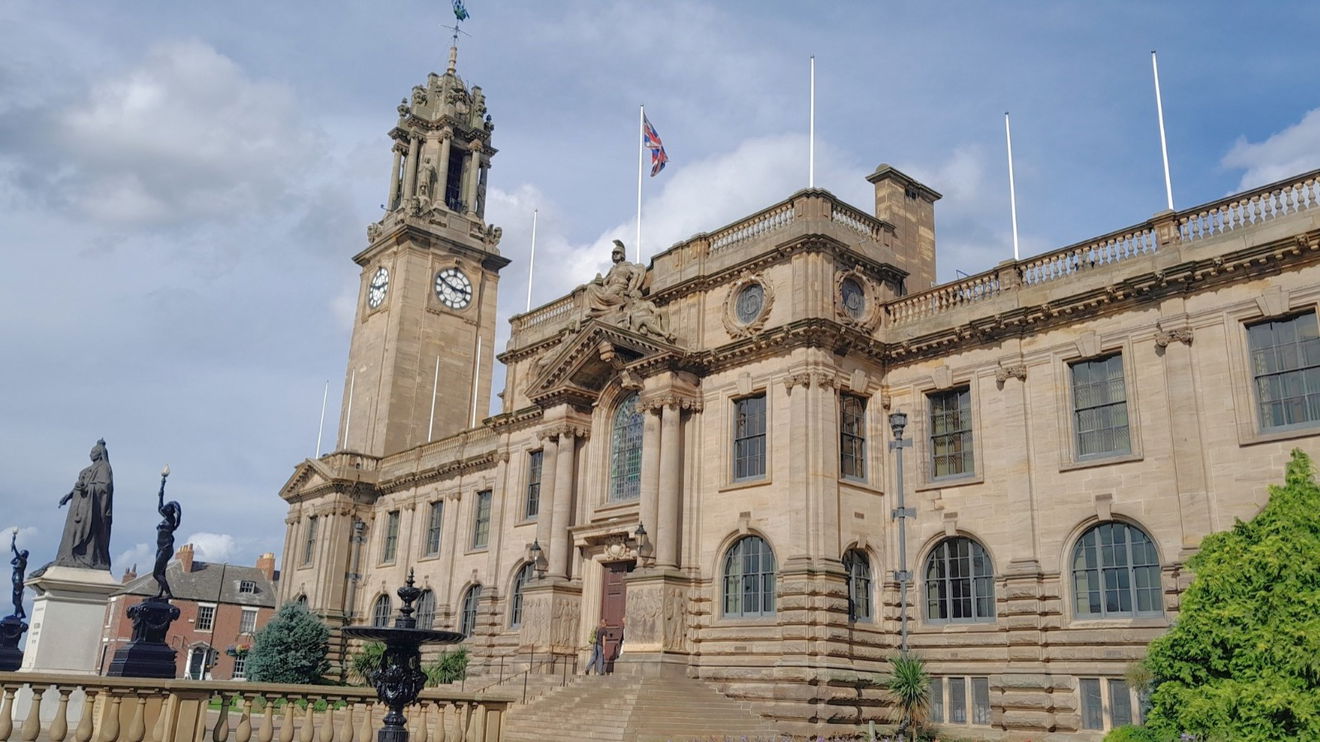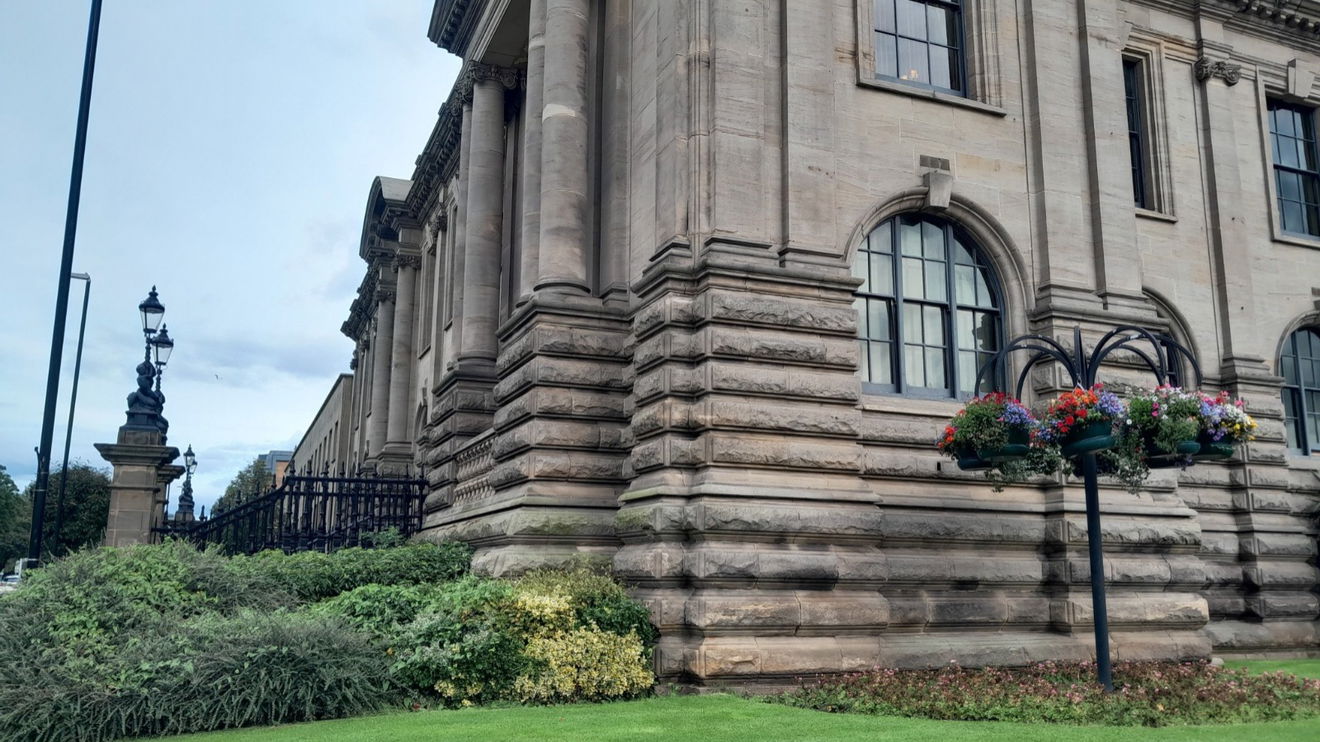 You cannot see on the roof the messenger Mercury on the copper spere unless you are a distance from the building. From what I can make out by squinting at photos, is that Mercury has been there since 1917 if not, the start.
Originally made with a wrought iron armature with a wax/plaster that had an electroformed/plated copper exterior. His modesty had cracked, so the fig leaf and other cracks needed restoring. There were other major surgeries required using stainless steel plates and welding. The caduceus (Mercury's staff) was structurally sound as it was brass plated and the snakes and wings pinned to it. An Ammonium Chloride solution was used to restore the copper look. Put proudly back in place in 2002.

Since, Mercury has been known to spin during high winds!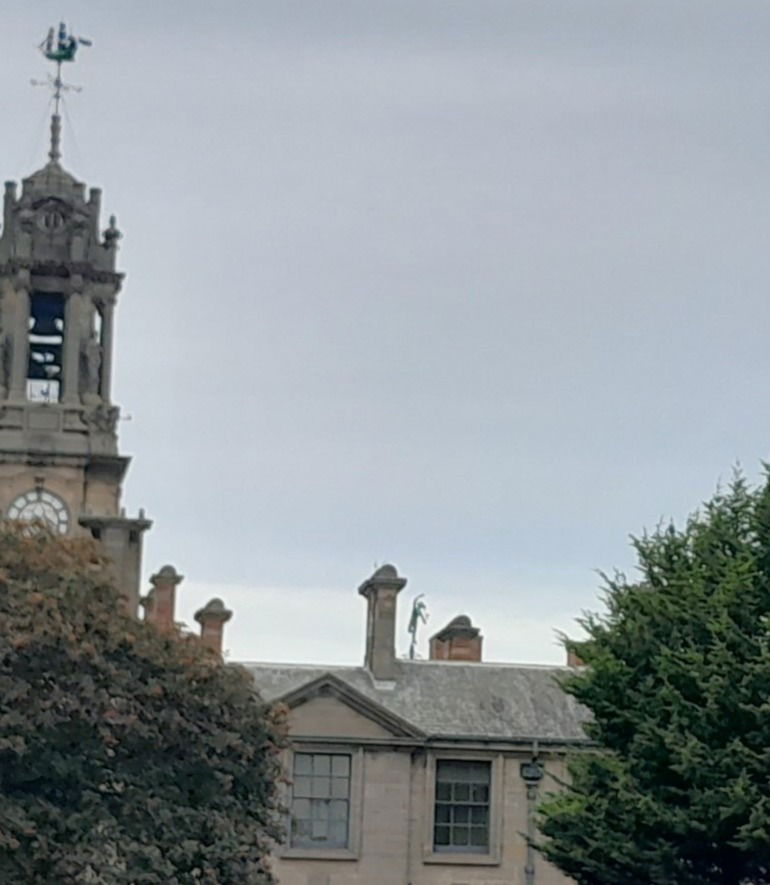 Look out for a short video on the Facebook group Pier to Pier (Tyne to Wear) where Ian Richardson posted Mercury spinning.
Below are two super photographs From Steven Lomas. I asked how he planned the photos, he said
" I took them earlier this year (2023) - would have to check specifically. The moon generally rises across that direction but yes I researched when the moon would be at the right angle for the image and had numerous failed attempts. The weather vane is beautiful and was fab to see up close. Smaller than I thought"
Thank you very much Steven.
How To Find South Shields Town Hall
Where To Park For South Shields Town Hall?
Show Parking On Google Maps
Lat / Long
54.993815, 54.993815
What three words
On street parking is available nearby. We used Erskine Road.
Contributed by Rosalind Parker
Thanks for reading through and getting to the end of this post. I enjoy exploring the Fabulous North (Especially as a Southerner residing up North). I like 'snippets' of information, and more so, if they are obscure, amusing or meaningful. The photographs are taken on a mobile phone, without any enhancements.
More Places from Rosalind
More Places In South Shields
Find more fabulous places in South Shields, Tyne And Wear and if you know of a place we haven't listed, then let us know.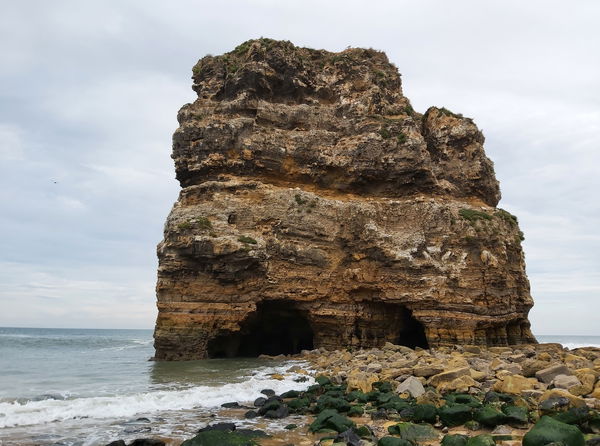 Marsden Rock
Landmark
South Shields
Tyne And Wear
A huge rock standing on the beach at Marsden, South Shields that has collapsed into an arch an then to a single rock.
Dolly Peel Statue
Statue
South Shields
Tyne And Wear
A statue to local heroine Dolly Peel, a smuggler, fighter against the pressgang and eventually nurse.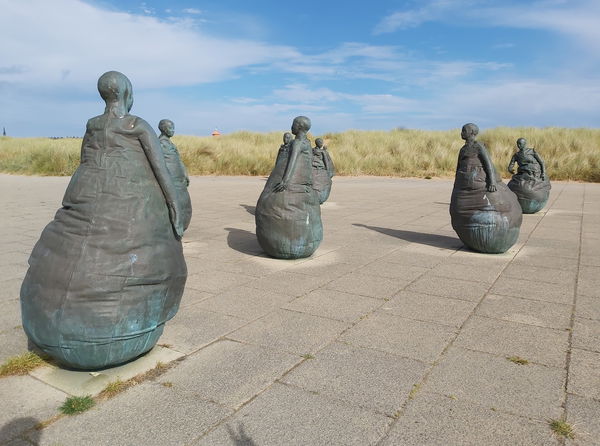 Conversation Piece
Art
South Shields
Tyne And Wear
A sculpture comprising 22 bronze figures by Juan Muñoz near South Shields beach.
More Buildings
So this building wasn't enough and you want more? Don't worry we have you covered.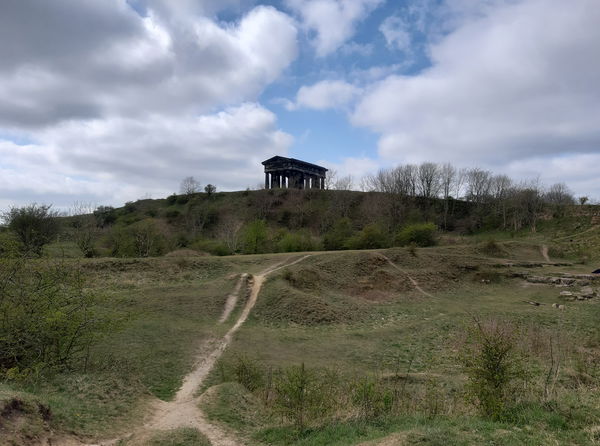 Penshaw Monument
Building
Sunderland
Tyne And Wear
A memorial in the style of an ancient Greek temple on Penshaw Hill owned by the National Trust.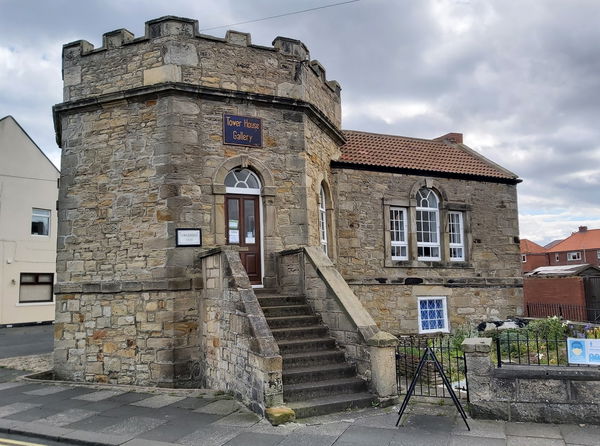 Tower House
Building
Seaton Valley
Northumberland
A castelled octagonal building in Seaton Sluice that was once a tax office, harbour master house and now a gallery.
Ryton Pinfolds
Building
Ryton
Tyne And Wear
Pens to hold stray animals, dating back to medieval times.
Never Miss A Fabulous Place
If you are afraid of missing out on all the fabulous places we post, or just want to be the first to know, then sign up to the Fabulous North.
Each week we will email you all the brand new places that we visit.
Sign Up To Alerts
Find Us On Facebook
We post all our new places daily on our Facebook Groups page, so join the group today and be notified when we add a new place.
Join Our Facebook Group