Seaton Delaval Hall
Estate
Seaton Valley
Northumberland
Seaton Delaval Hall
Estate In Seaton Valley, Northumberland
A beautiful grade I listed country house a mile from the coast, packed with glorious history!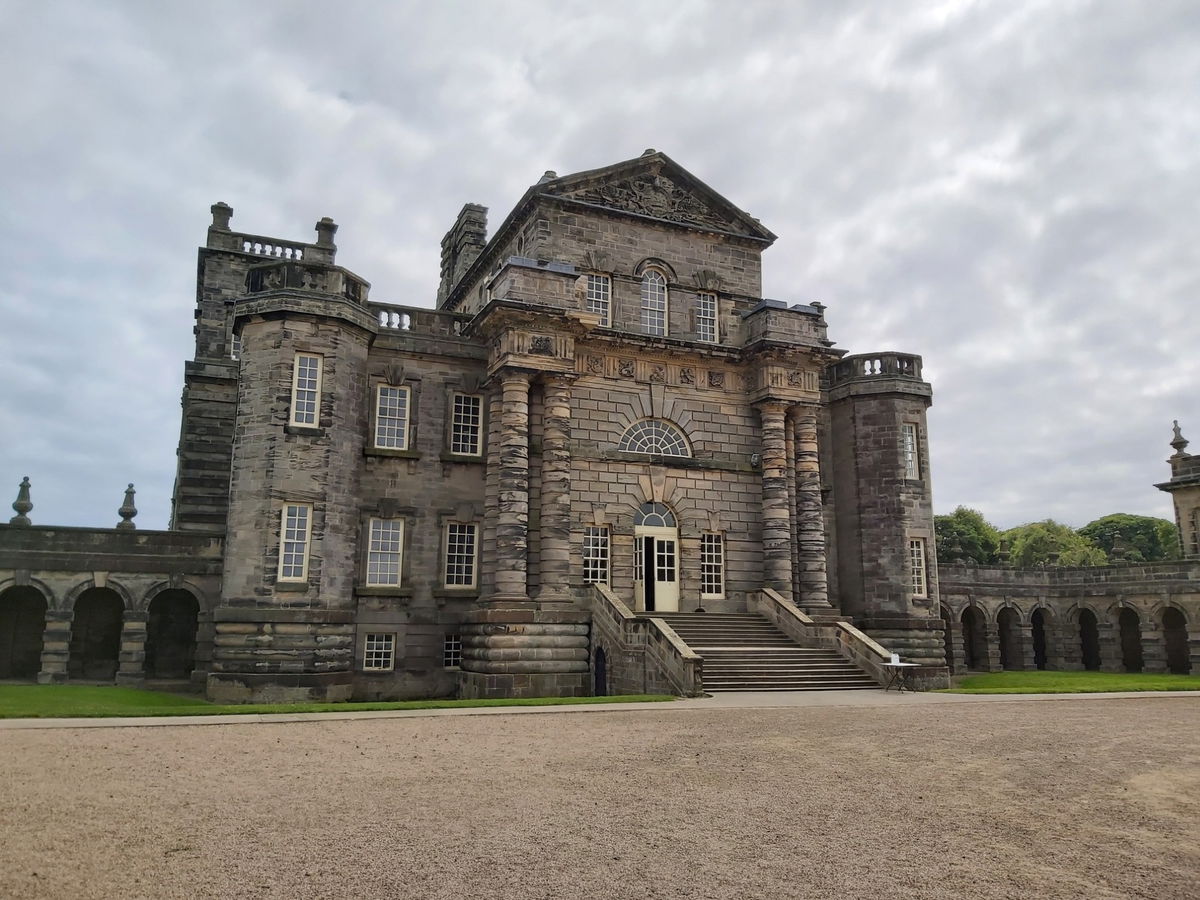 Growing up 5 miles from Seaton Delaval Hall, we must have driven past it loads of times in my youth. Unfortunately I was always petrified of the place due to being told about the white lady who haunts the hall and the lights were rarely on making it all the more creepy.
It wasn't until 30+ years later when the National Trust eventually took it over that I decided to get over my fears and make a visit (during the daytime of course!)
Now that the scaffolding is down and the basement is renovated we decided to have another trip and the National Trust have certainly worked their magic on the place.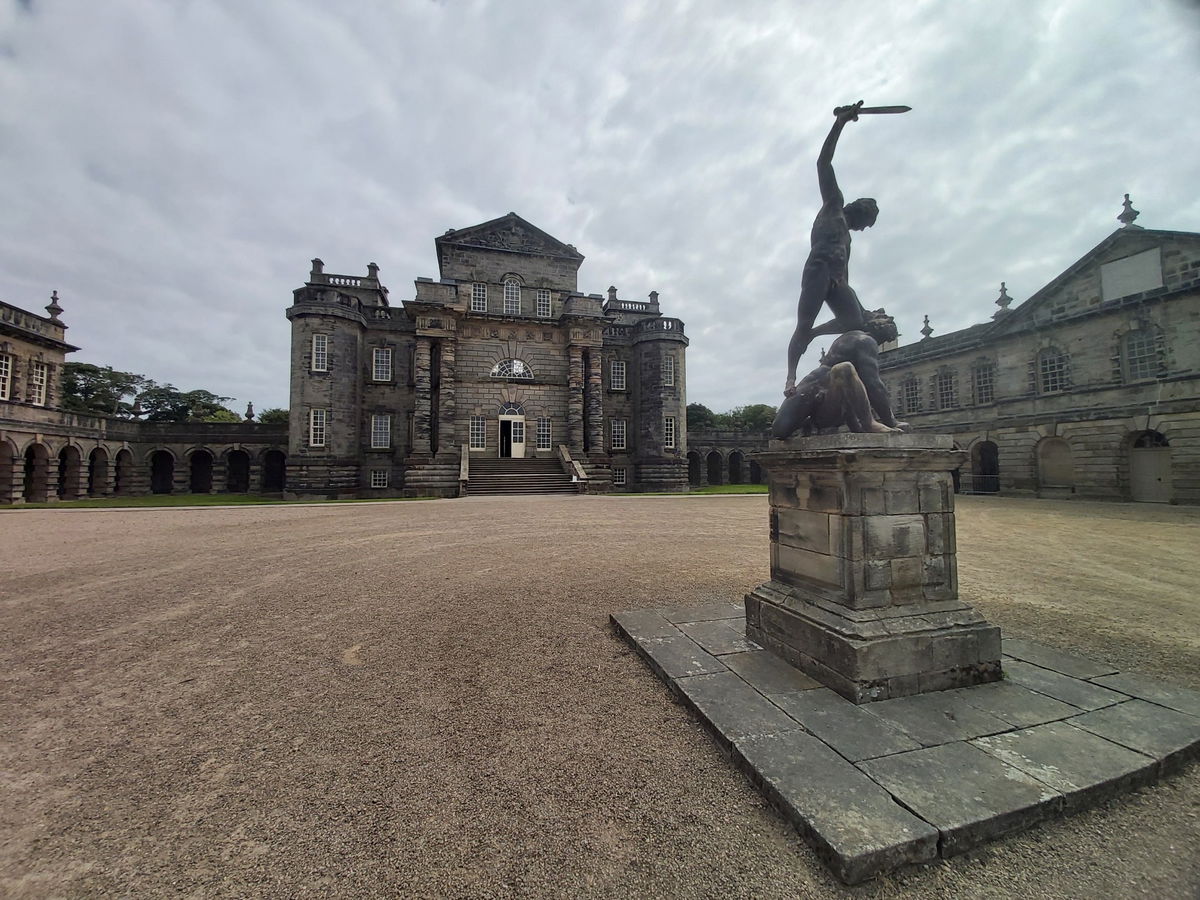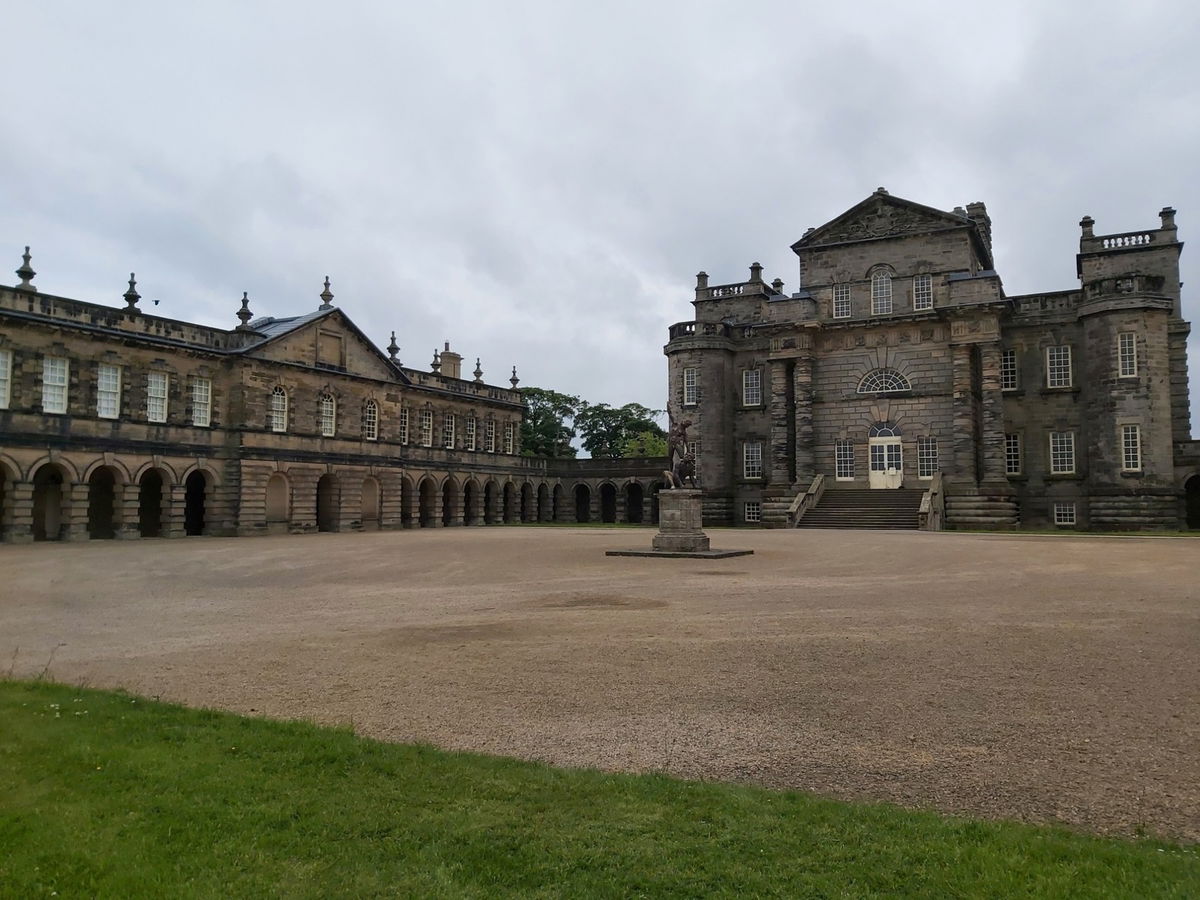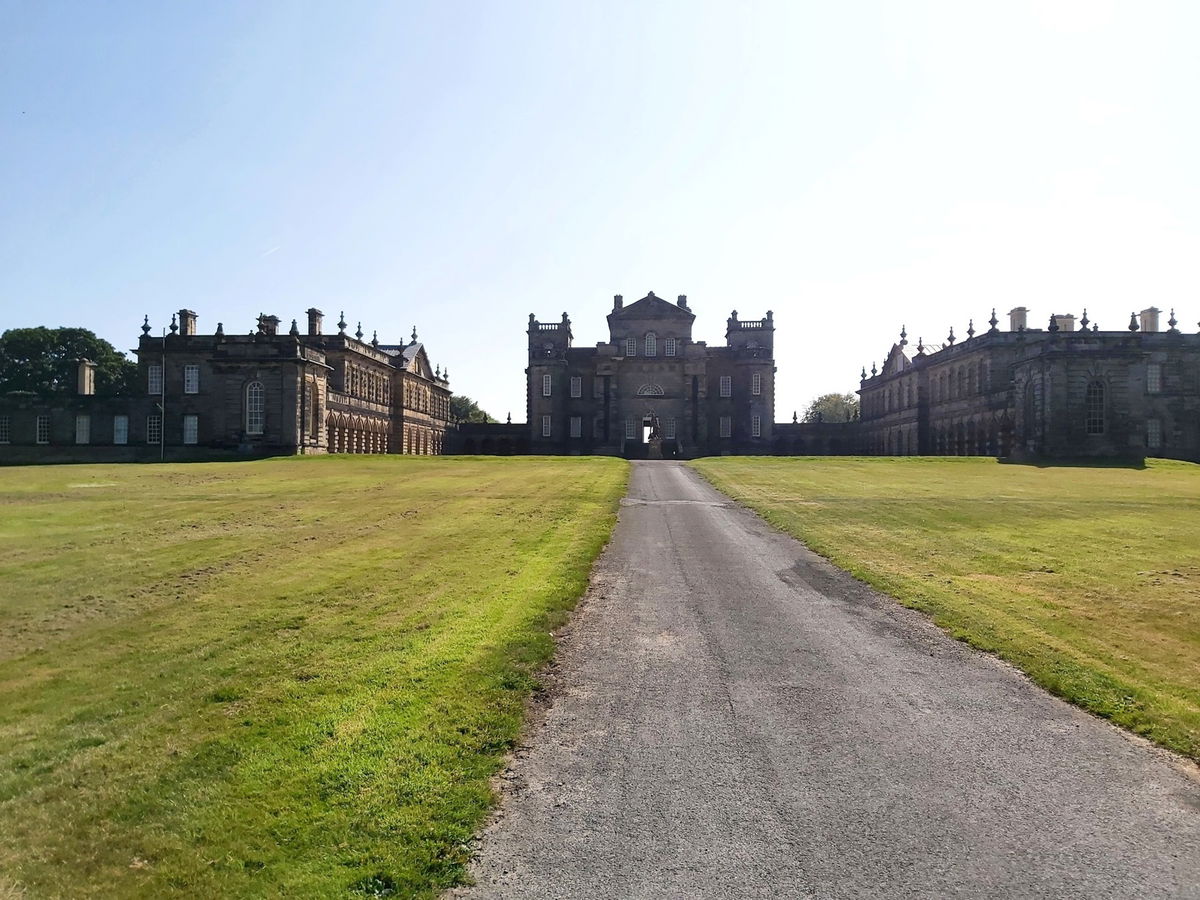 As the front of the building is exposed, then whether you are driving past or coming in for a visit, it's an absolute striking sight to behold. Strap yourself in as we have plenty of photos and a lot of history!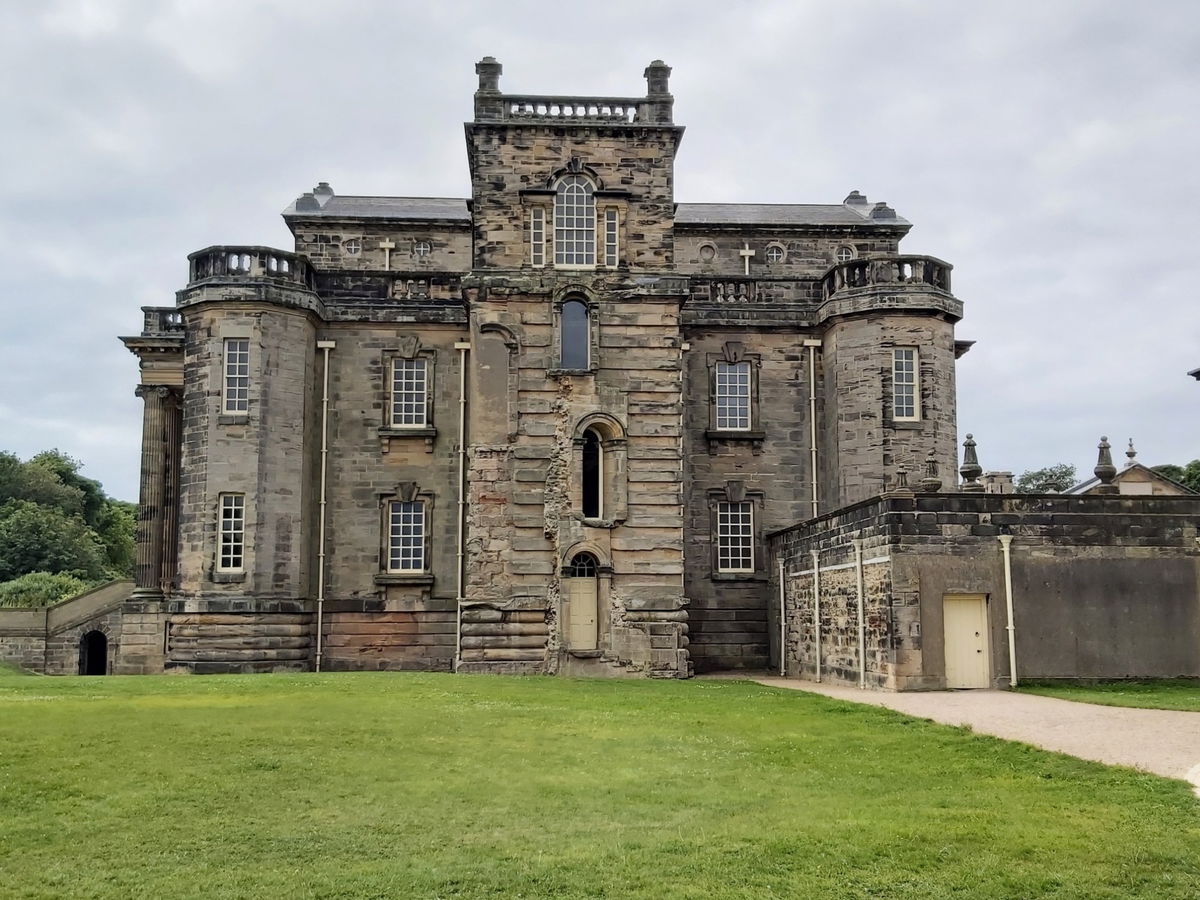 Now let's talk about the fascinating history of the place with Sandra, our resident in-house, official, unofficial, unpaid historian.
Seaton Delaval Hall as it stands today was designed by English Architect and playwright Sir John Vanburgh in 1718 for Admiral George Delaval. He also designed other outstanding buildings including Blenheim Palace and Castle Howard, though Seaton Delaval was considered his finest work.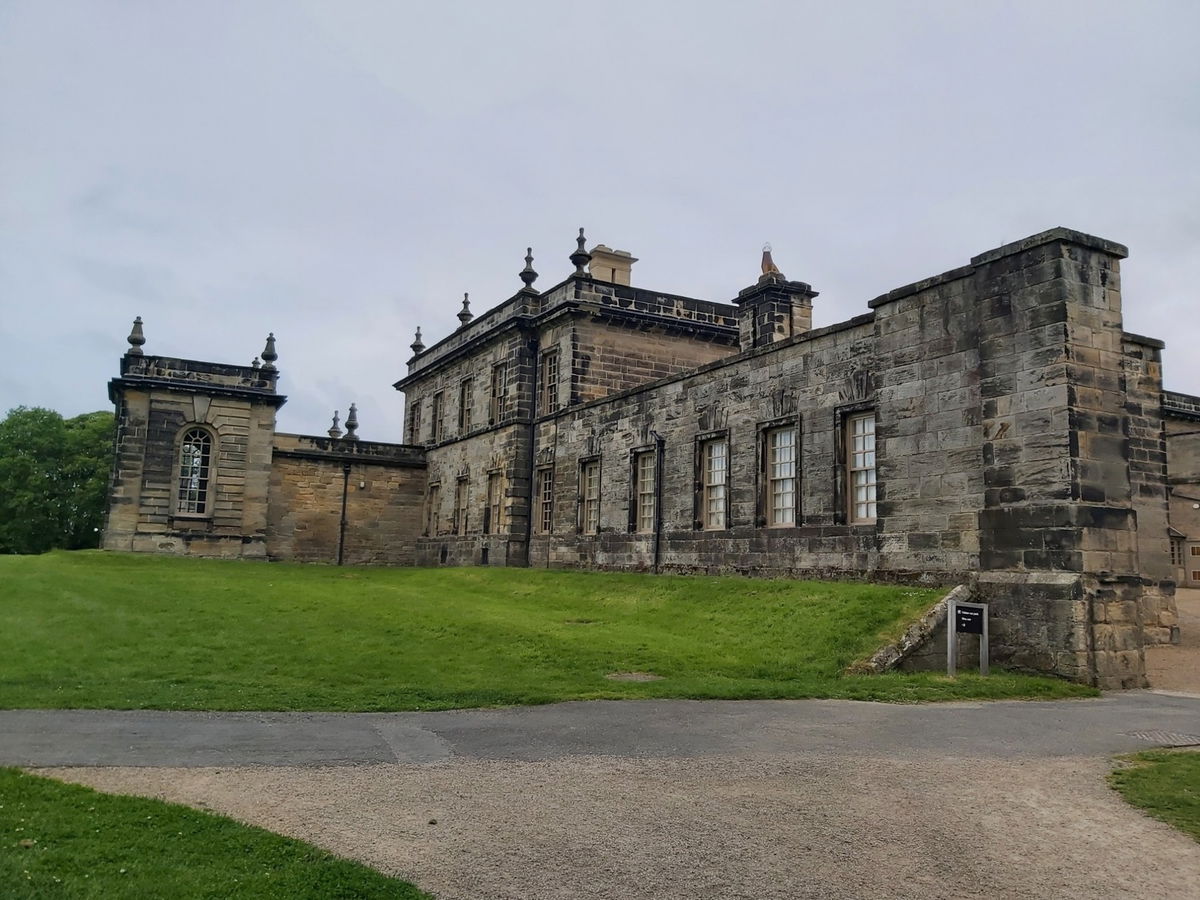 The house took 10 years to build and sadly John Vanburgh and George Delaval both died before it was complete. It was kept in the family, however, and inherited by George's nephew Francis Blake Delaval. In the 18th century the Delavals gained their reputation for fun loving and outrageous behaviour and were known as the Gay Delavals.
Captain Francis Blake Delaval and his wife moved in to the house immediately in 1728. They had 12 children (someone wanted a football team!) who were wild and undisciplined, and the family became well known for their practical jokes. One account says they had mechanical hoists in their bedrooms, which would raise the bedroom walls, exposing guests to public view.
Their son also named Francis was the most notorious Delaval, and was always in debt, spending his money on mistresses, socialising and gambling. He died in 1771 leaving behind at least 5 illegitimate children and a pile of unpaid debts.
Don't forget to visit the nearby Starlight Castle where Sir Francis Blake Delaval made a wager to build a castle in a day to accomodate his mistress!
In 1822 a fire broke out at the hall, which gutted the central block, and the south east wing was demolished because of the damage. In 1862, architect John Dobson added a new roof to the central block but inside remained the shell it is today.
Edward Delaval Henry Astley was the last Delaval to live at the house in the undamaged west wing until his death in 2007. The National Trust now manage the site and it opened to the public in 2010.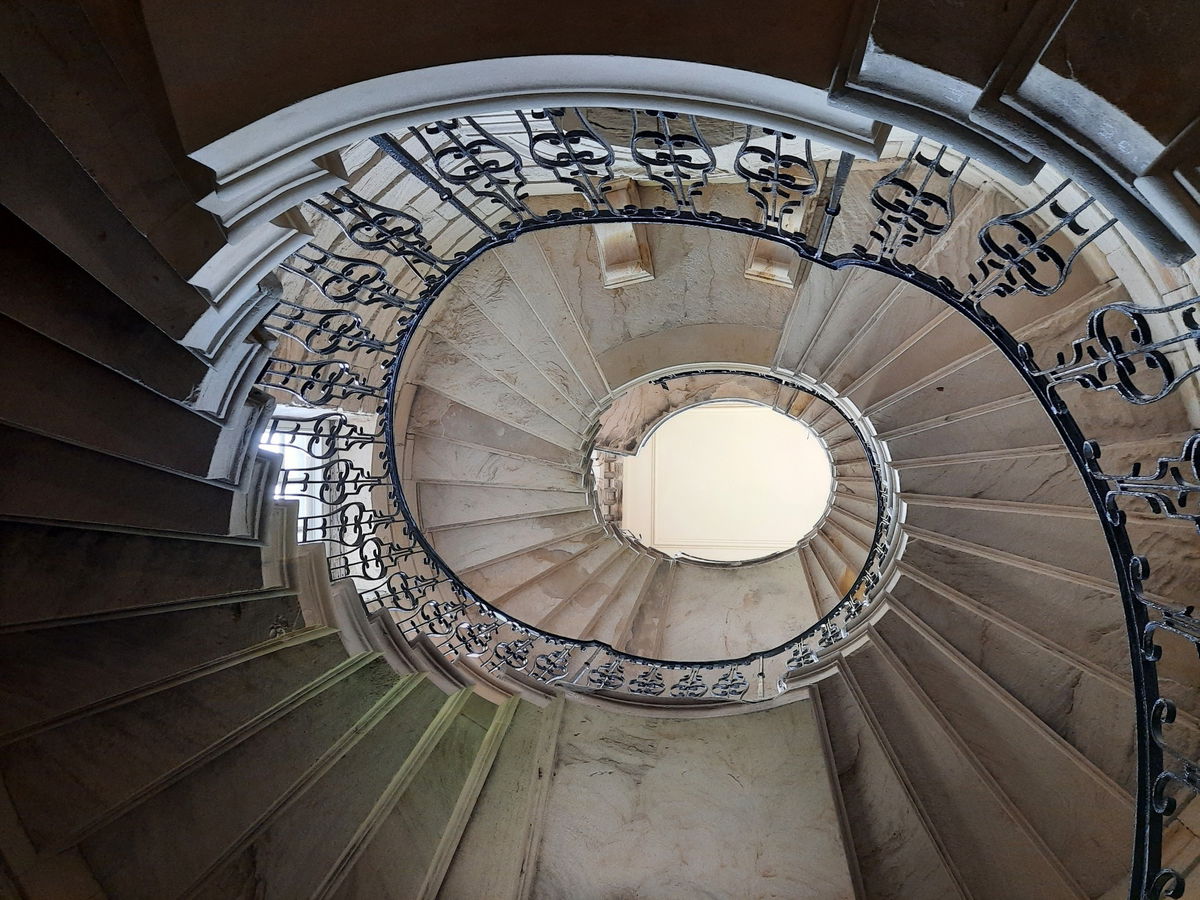 The Delaval estate is 400 acres and has a number of distinguishing monuments on it. There is a ruined mausoleum to the East, a large obelisk to the South and the stub of a second obelisk to the North.
There is also the Parish Church of Our Lady situated in the estate gardens. This is a 12th century church built around 1102 by Sir Hubert Delaval.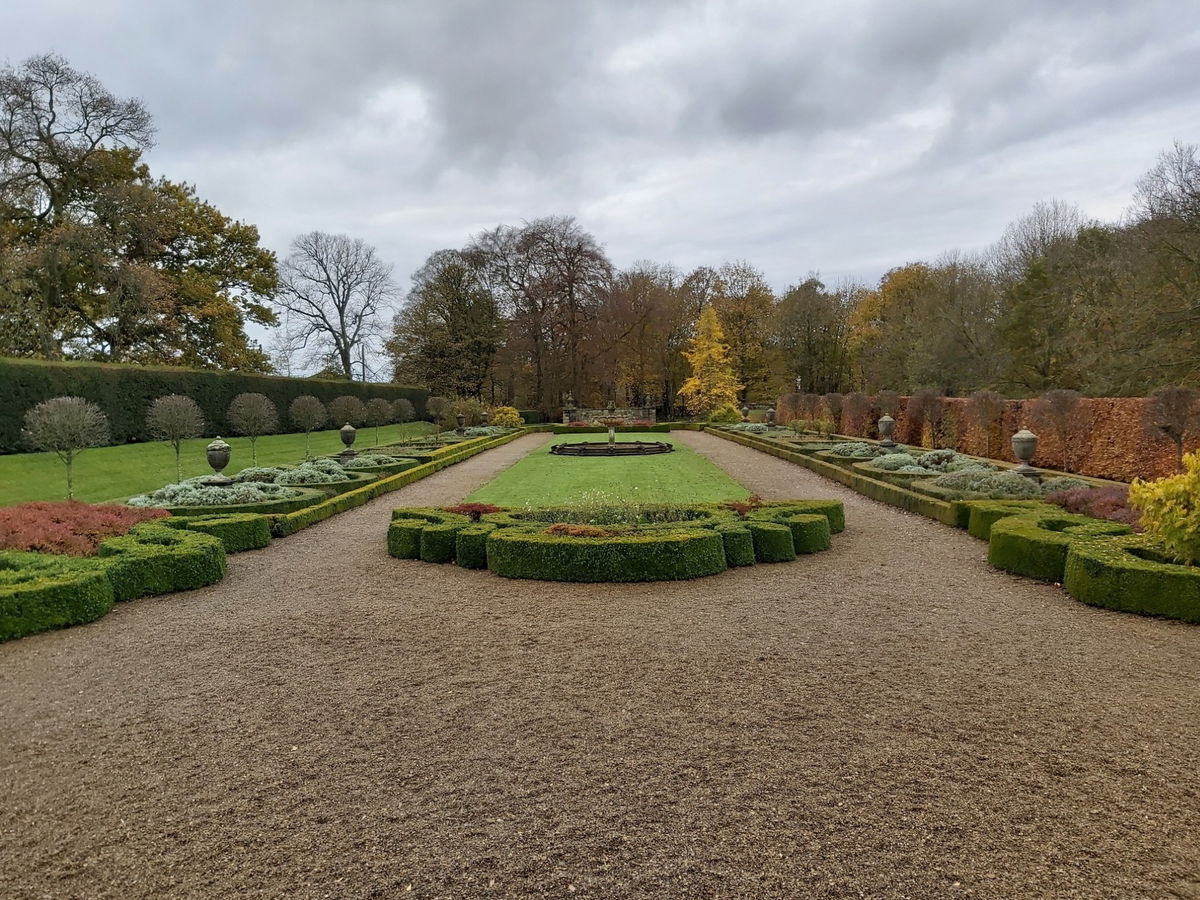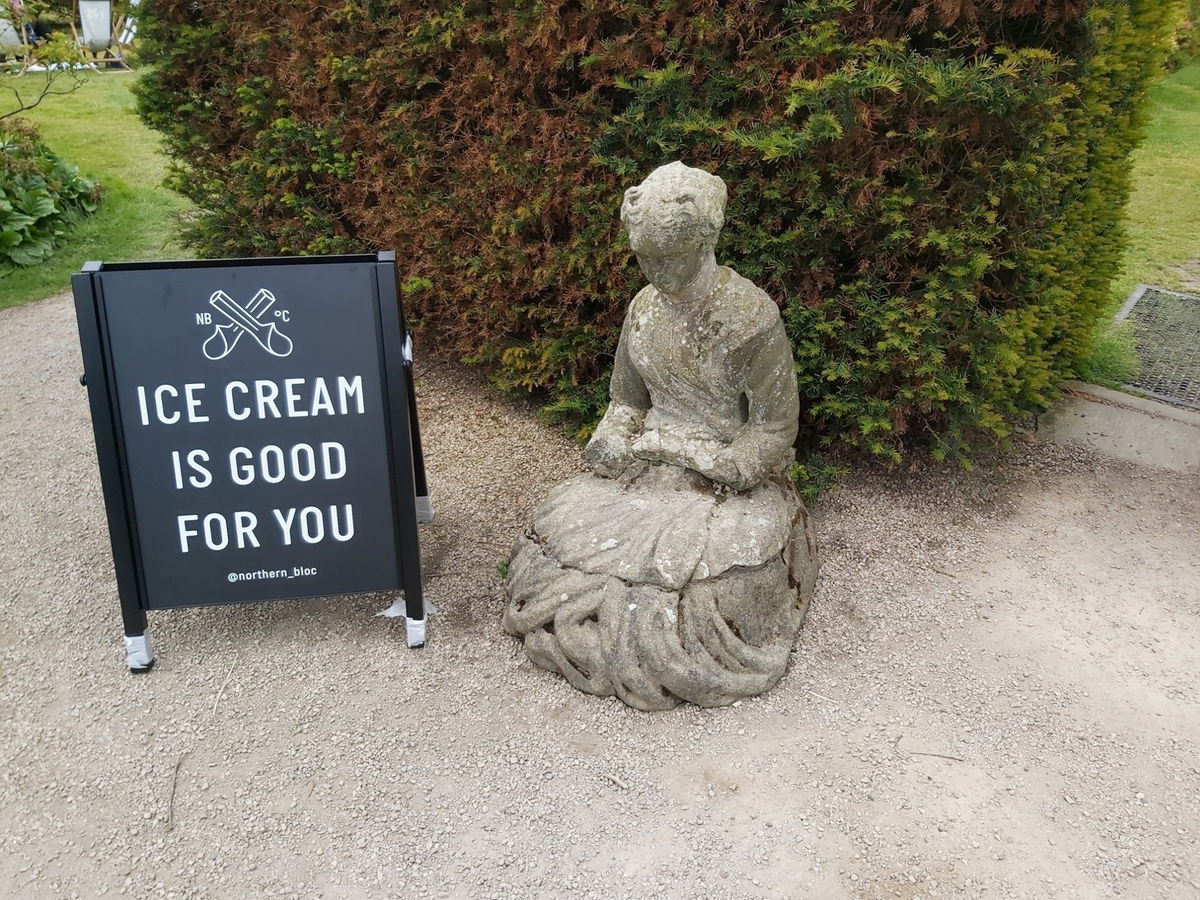 If you catch it just right at the end of spring and start of summer, you will be treated to the Laburnum Tunnel in it's full glory.
A full sensation for the senses as you wander down it.
Unfortunately there were too many people taking loitering in it for us to get a photo, however our fabulous friend the Coastal Custodian provided this lovely photo.
Sir Hubert was a supporter of William the Conqueror and was rewarded with the land which forms the Delaval estate. The church served as the family's Chapel for over 700 years before it became the parish church in 1891. Family coats of arms adorn the walls, and one has the inscription 'magna charta'.
This was a reminder that Gilbert Delaval was a powerful Baron who took an active part in the rebellion of the northern barons against King John in 1215.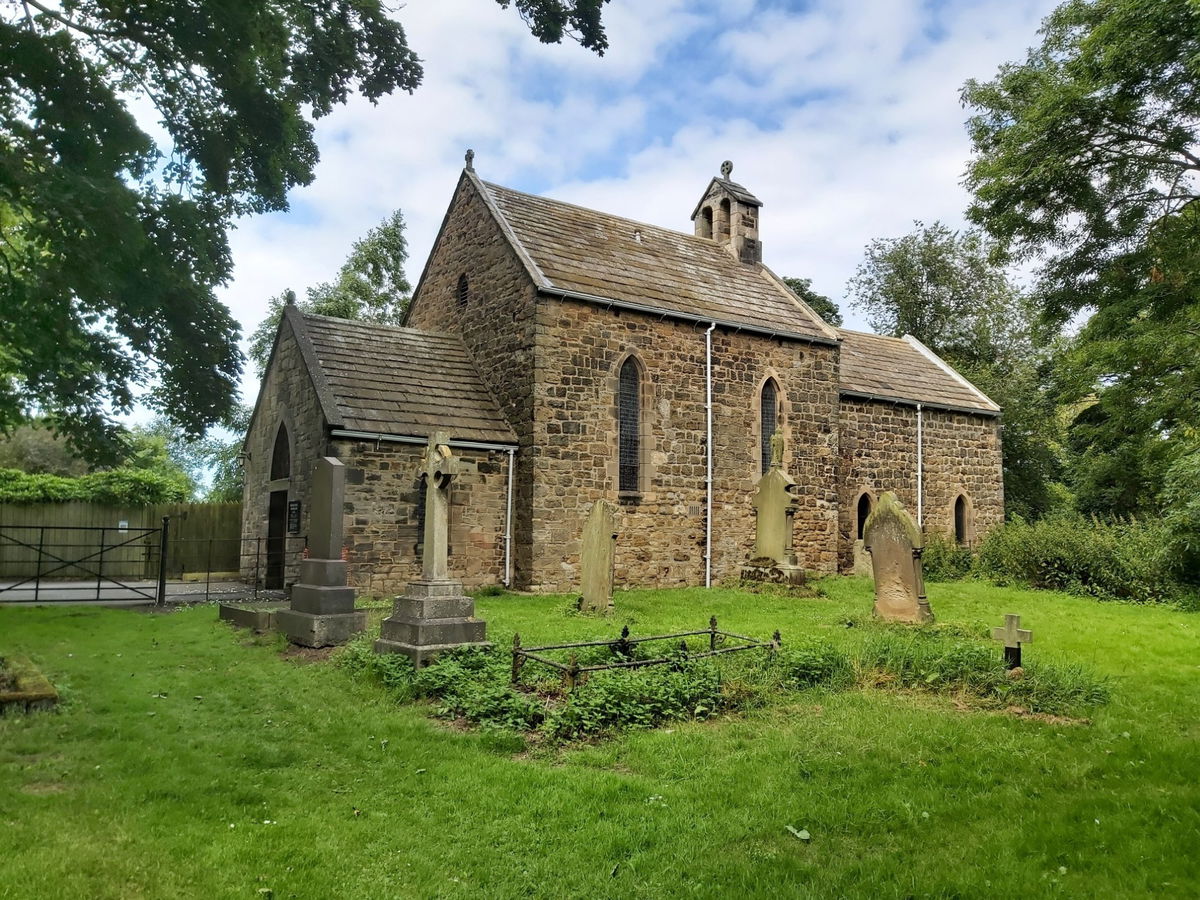 Thanks for that absolutely intriguing history!
Now you may have spied there are some statues dotted around the grounds. These were originally positioned in bastions, circular fortifications located at the four corners of the estate, but some have since been moved.
Here is a bastion below.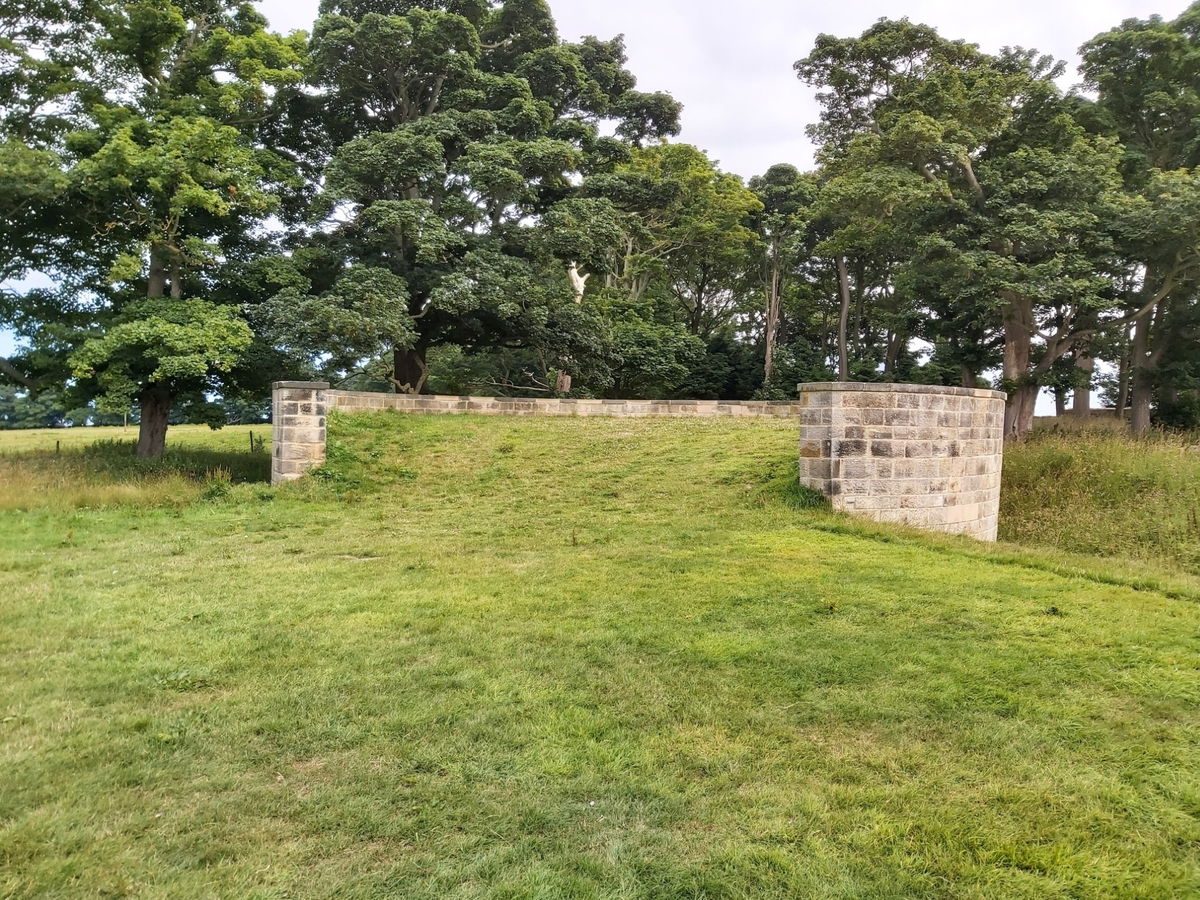 The first statue below is of David and Goliath and was located in the north-west bastion. It's now located in the courtyard in front of the hall.
The second statue, now located at the side of the hall next to the garden is Samson slaying a Philistine and was originally in the north-east bastion.
Next we have Diana and she is still located in her south-east bastion at the bottom of the garden.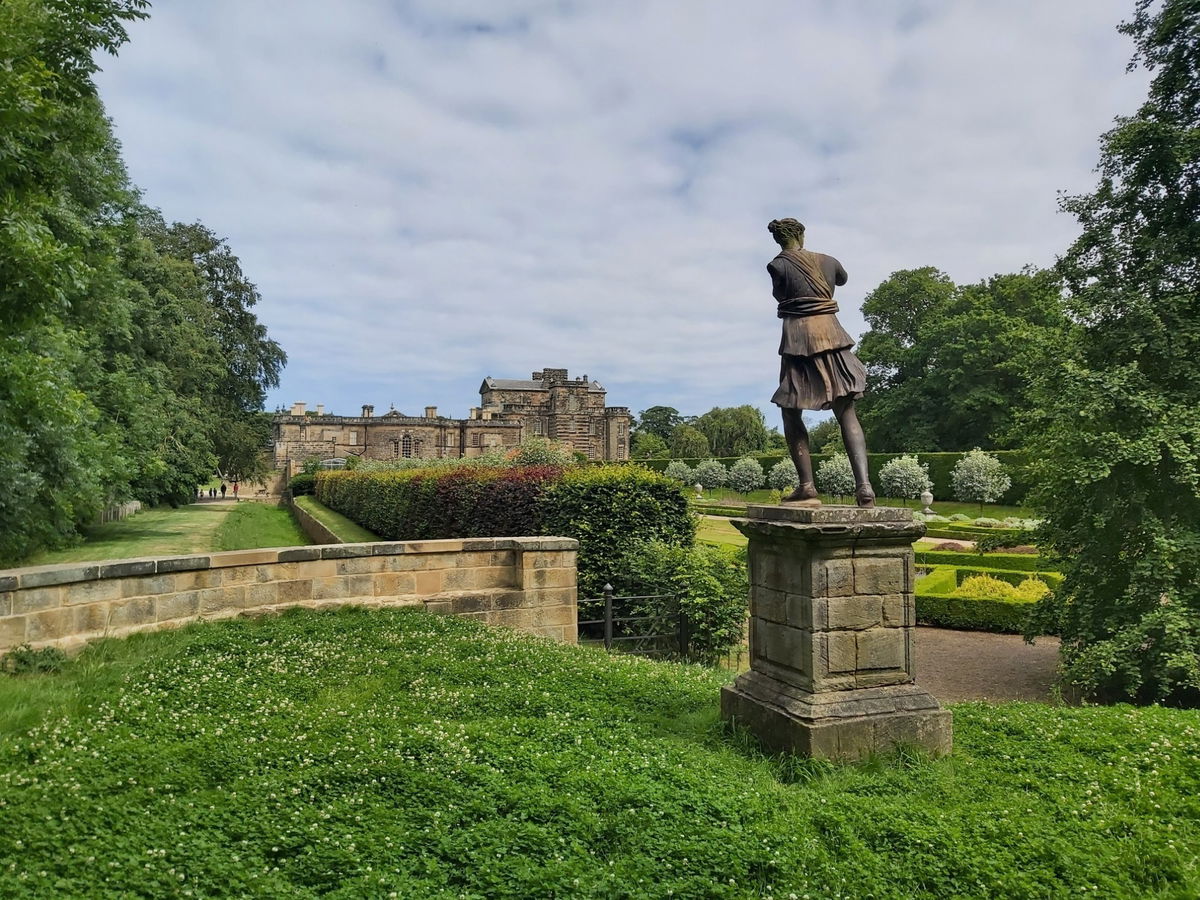 There is a fourth bastion in the south-west, but is no longer in the grounds of Seaton Delaval Hall. It's within the graveyard of the nearby Church Of Our Lady. You can't get to it directly from the hall grounds, so when you are finished your visit simply walk down the drive and head left to the church.
This bastion is also empty, but where is the fourth statue that would have stood here? Having done some research with no luck, we reached out to the National Trust who told us that there is currently no historical information on what it was or where it is now.
However rumour has it that the fourth statue was of the pagan god Pan and the church may not have been too happy to have this statue on their grounds and so it mysteriously disappeared a long time ago!
During the Jubilee celebrations we visited the church and there were a few historians there providing info, so we quizzed them. Again no one knew for sure, but one of them thought they had read it was the Roman god Mercury. The plot thickens!
More recently the west wing of the hall has now opened with a hoard of fabulous pictures, statues and trinkets.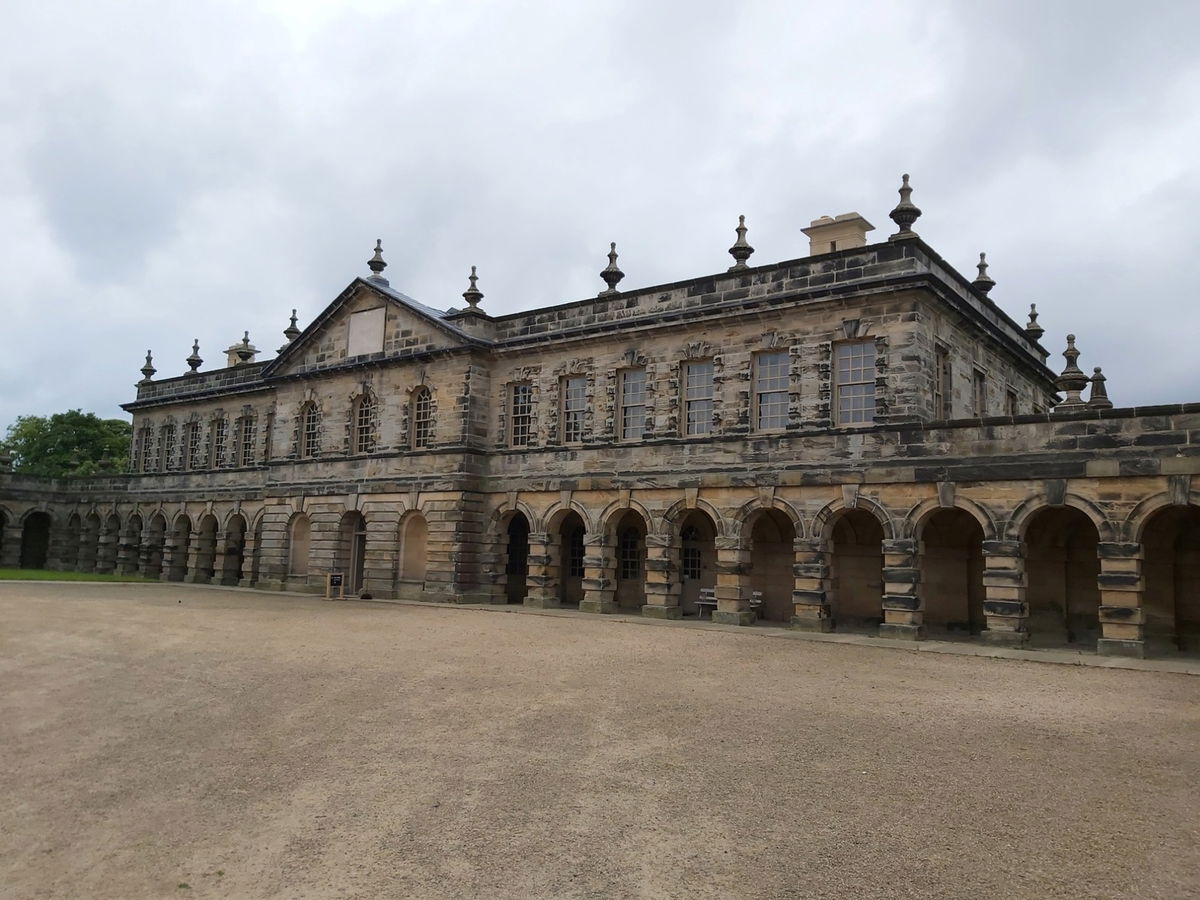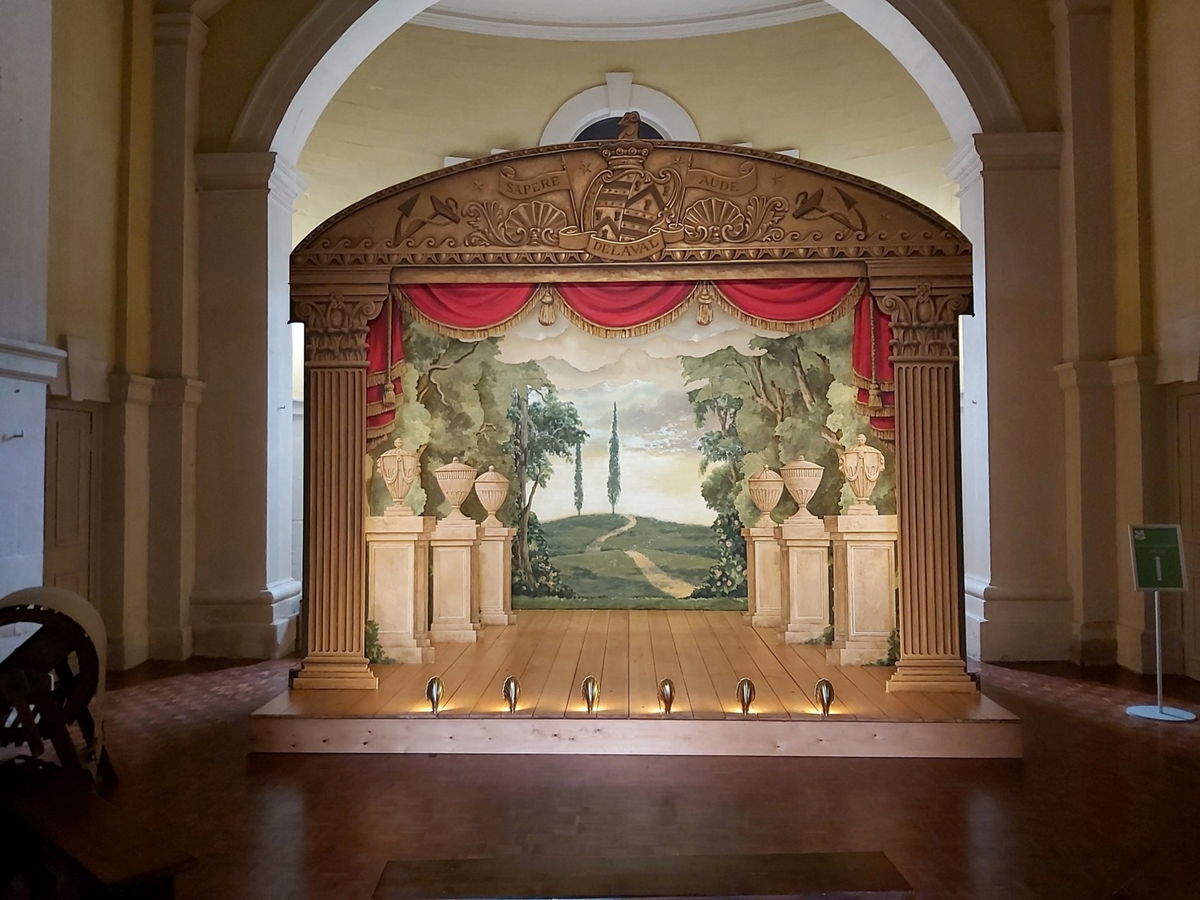 Some lovely family portraits of the Delavals and also a stage so you can act out your own fabulous shows, just like the Gay Delavals!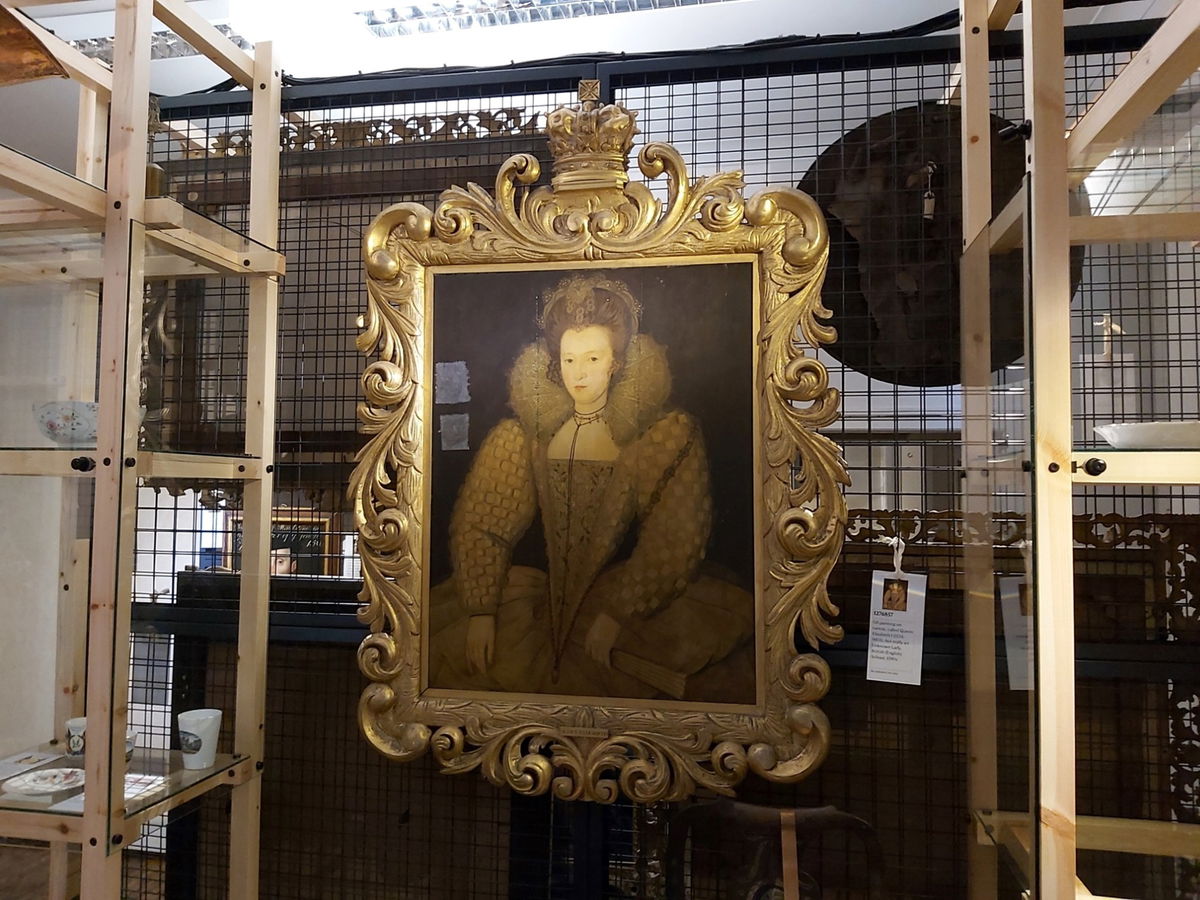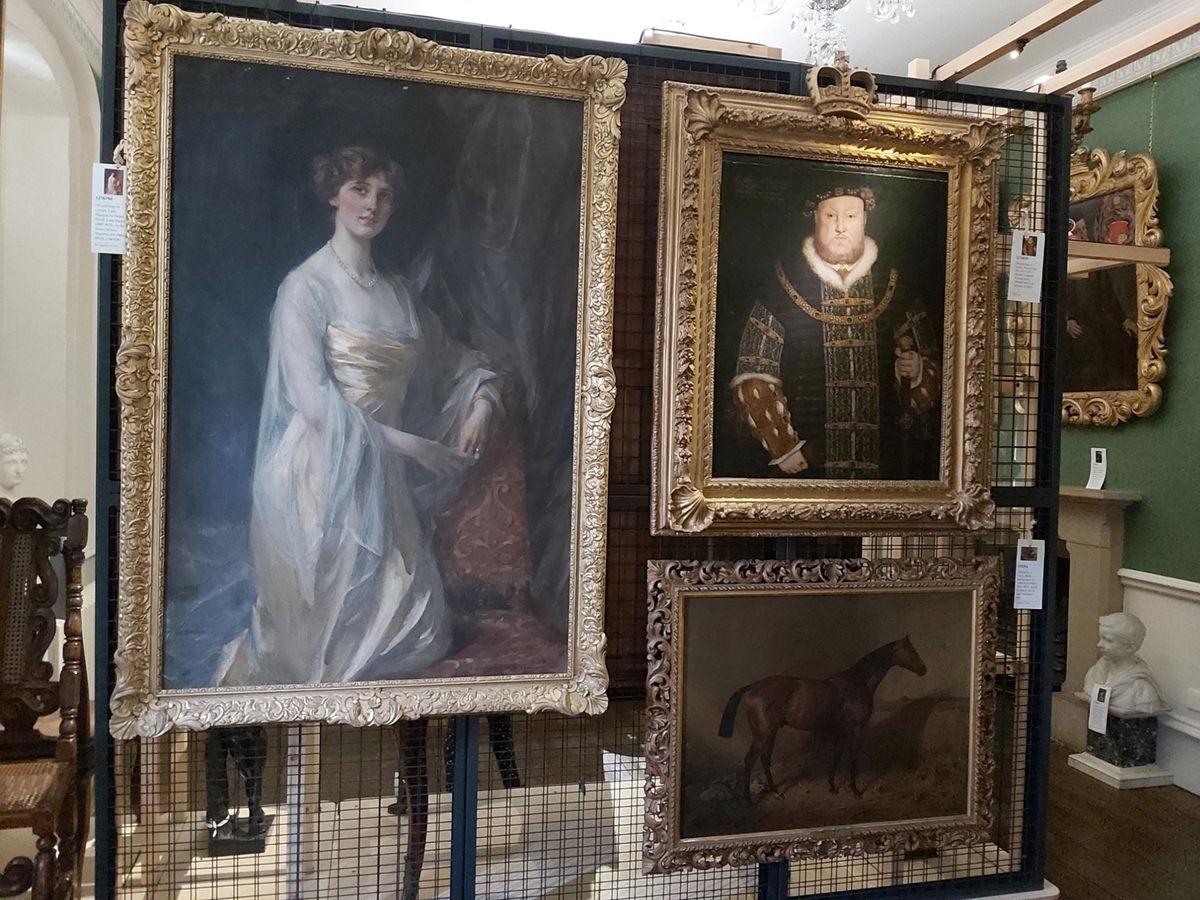 Loads more paintings dotted around including some royals showing up including Henry VIII and the OG Queen Elizabeth.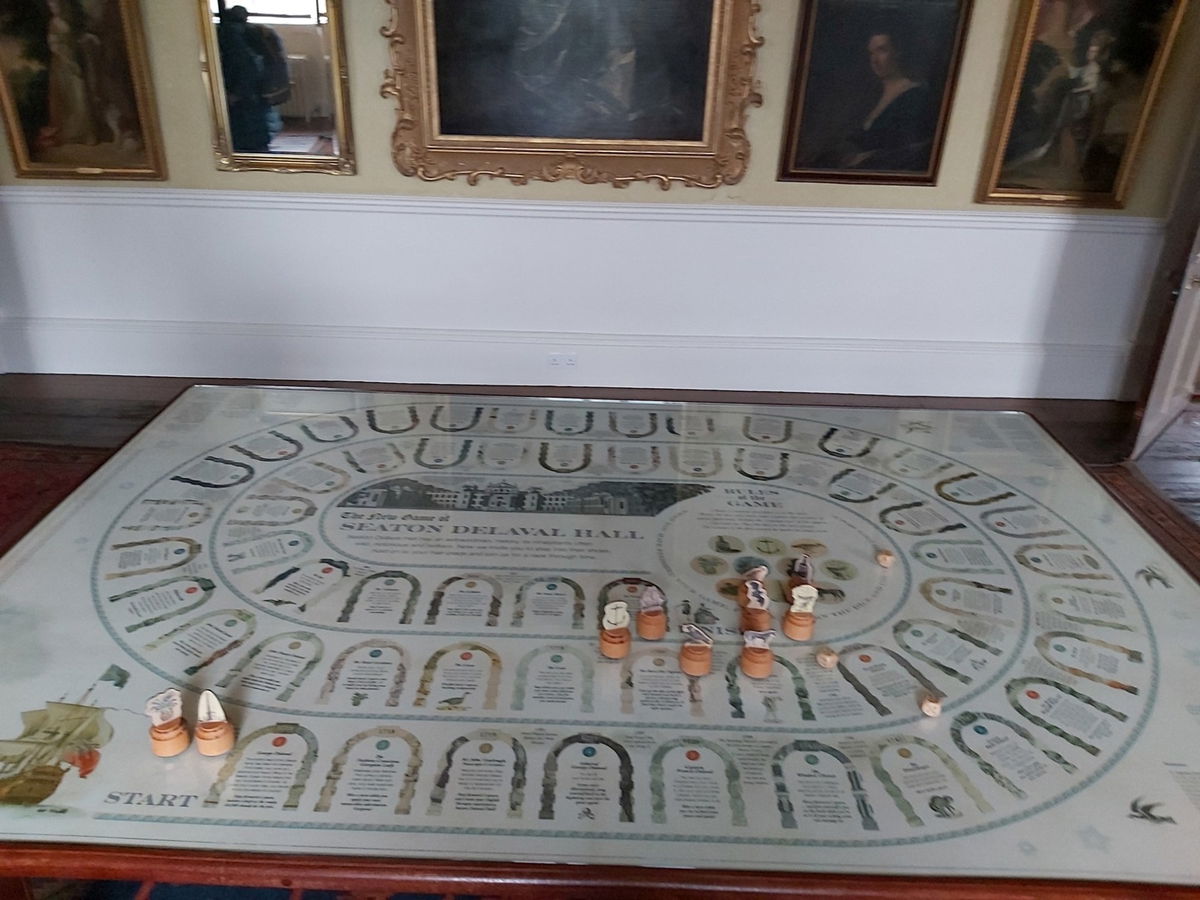 You can even put yourself in the shoes of the Delavals with a cool board game.
More pictures showing the evolution of Seaton Delaval Hall.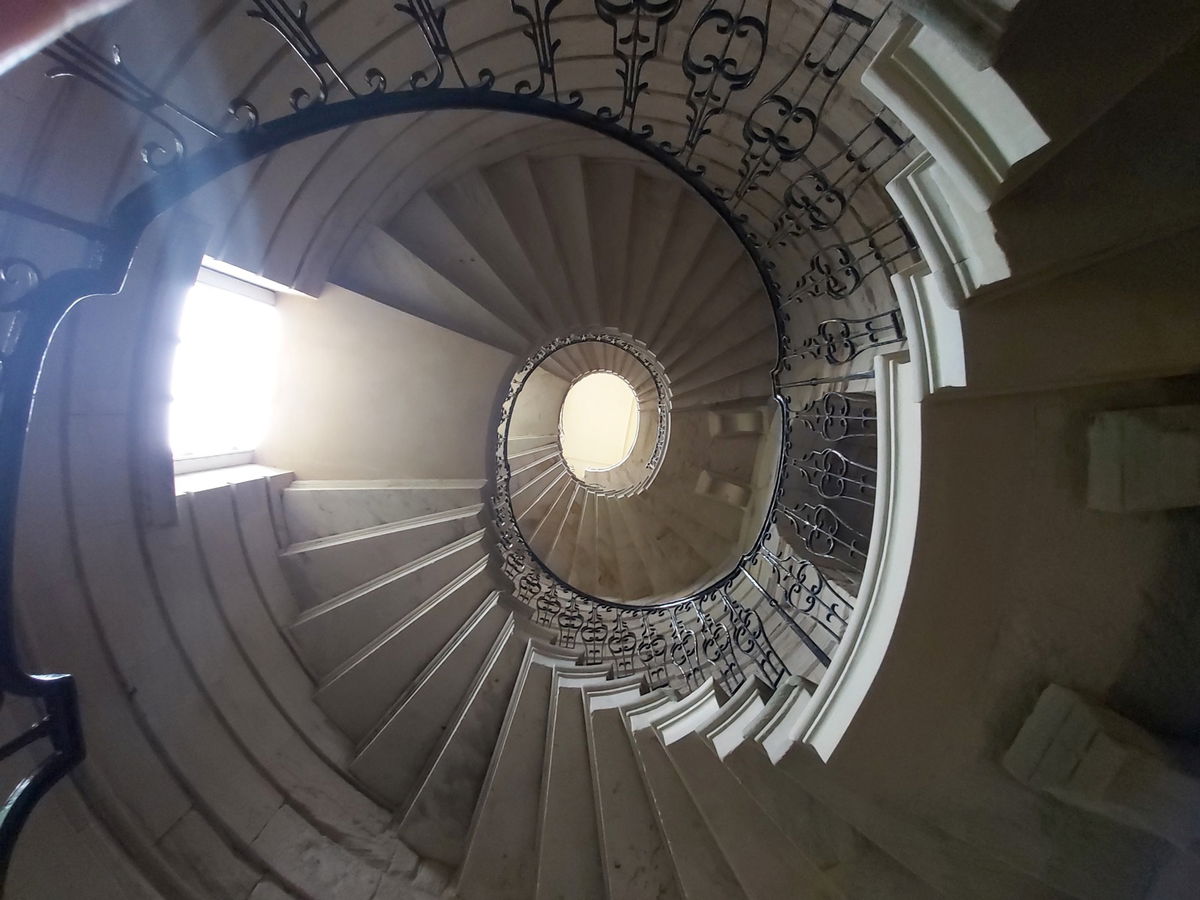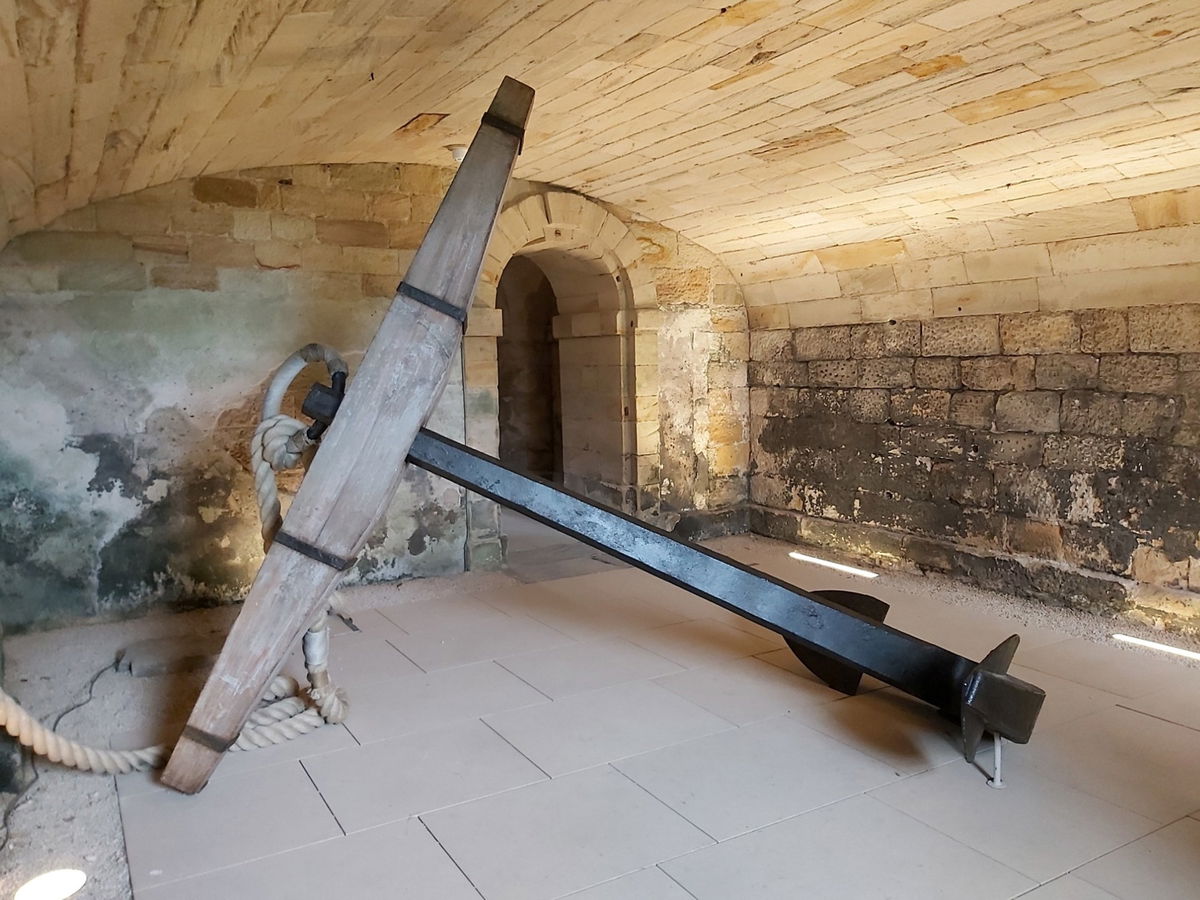 Heading downstairs to be greeted by an enormous anchor!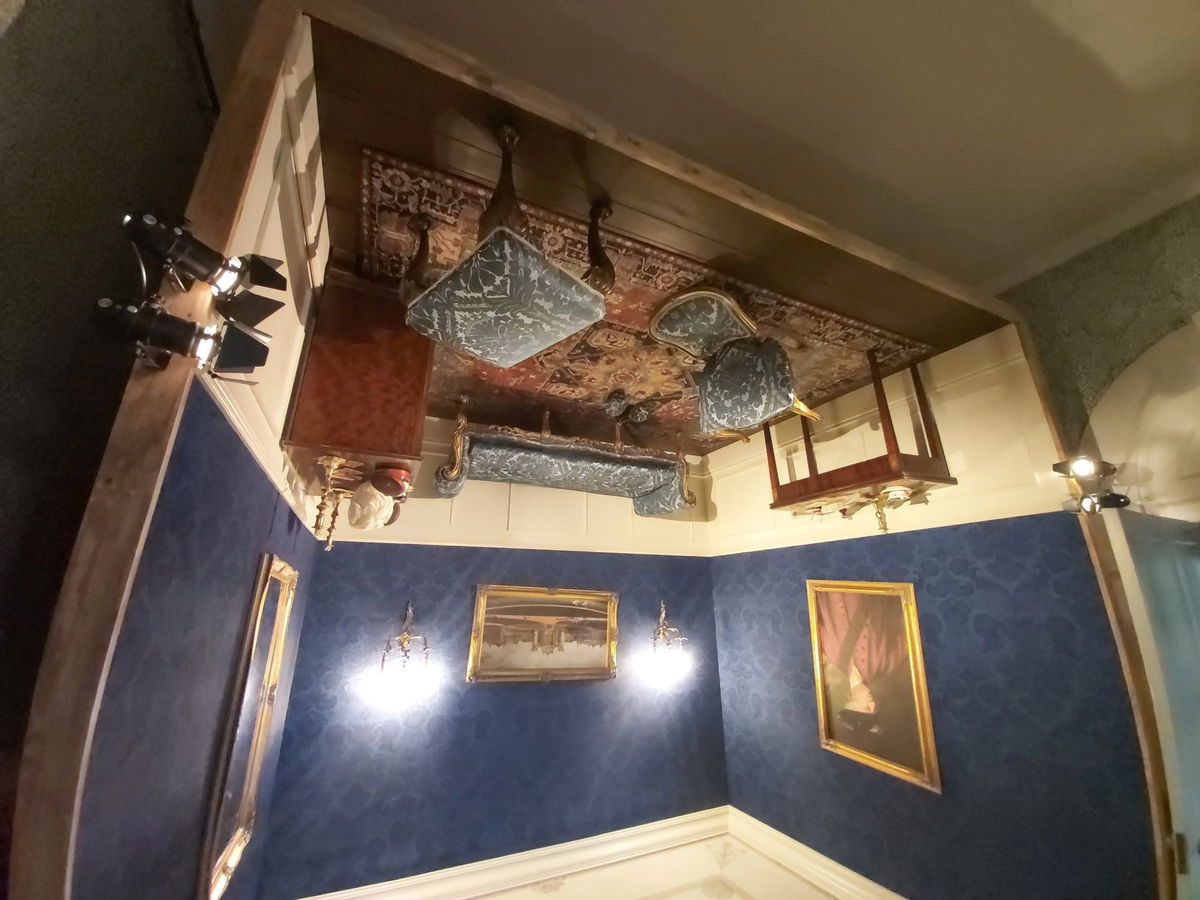 As mentioned above, the Delavals loved a practical joke and this wonderful upside down room is a great nod to their pranks and antics.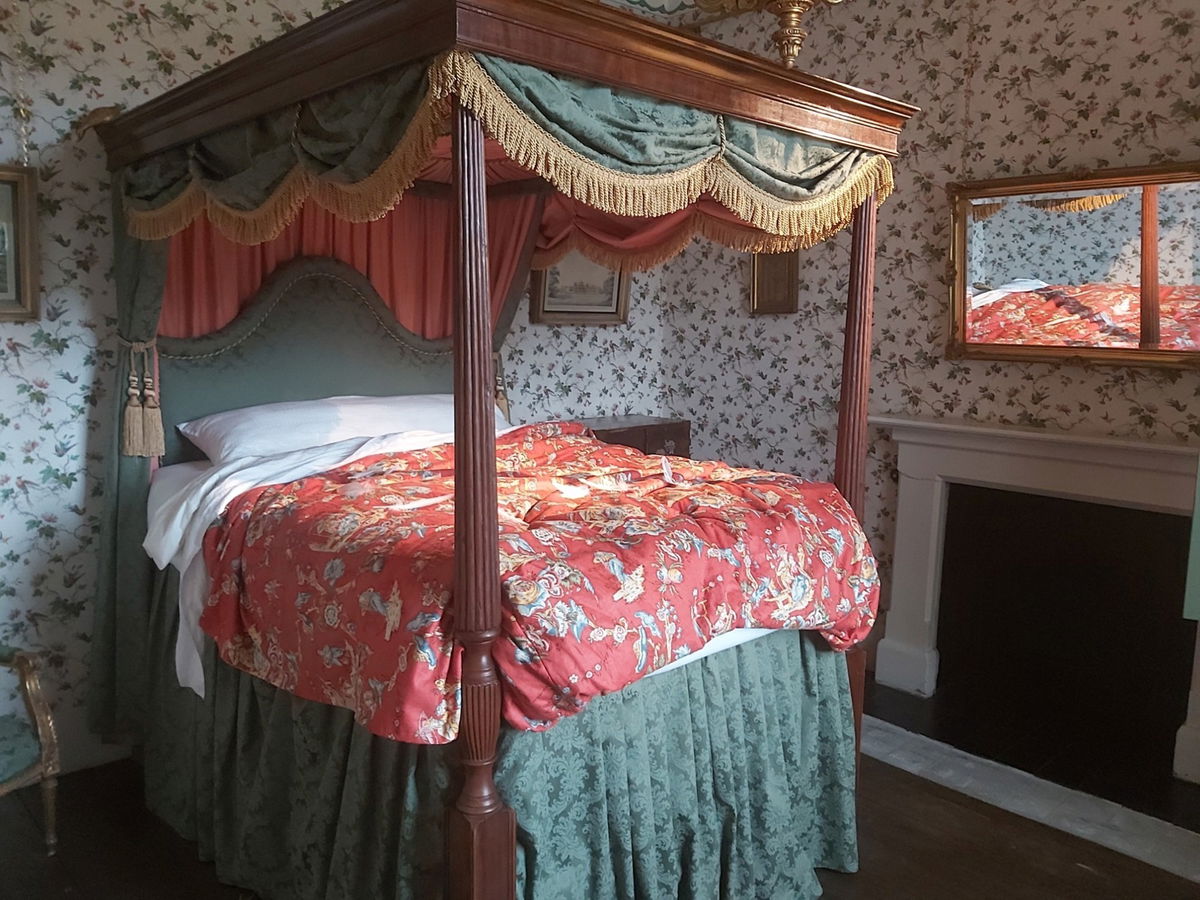 I hope this isn't the bed that would drop you into the bath!
.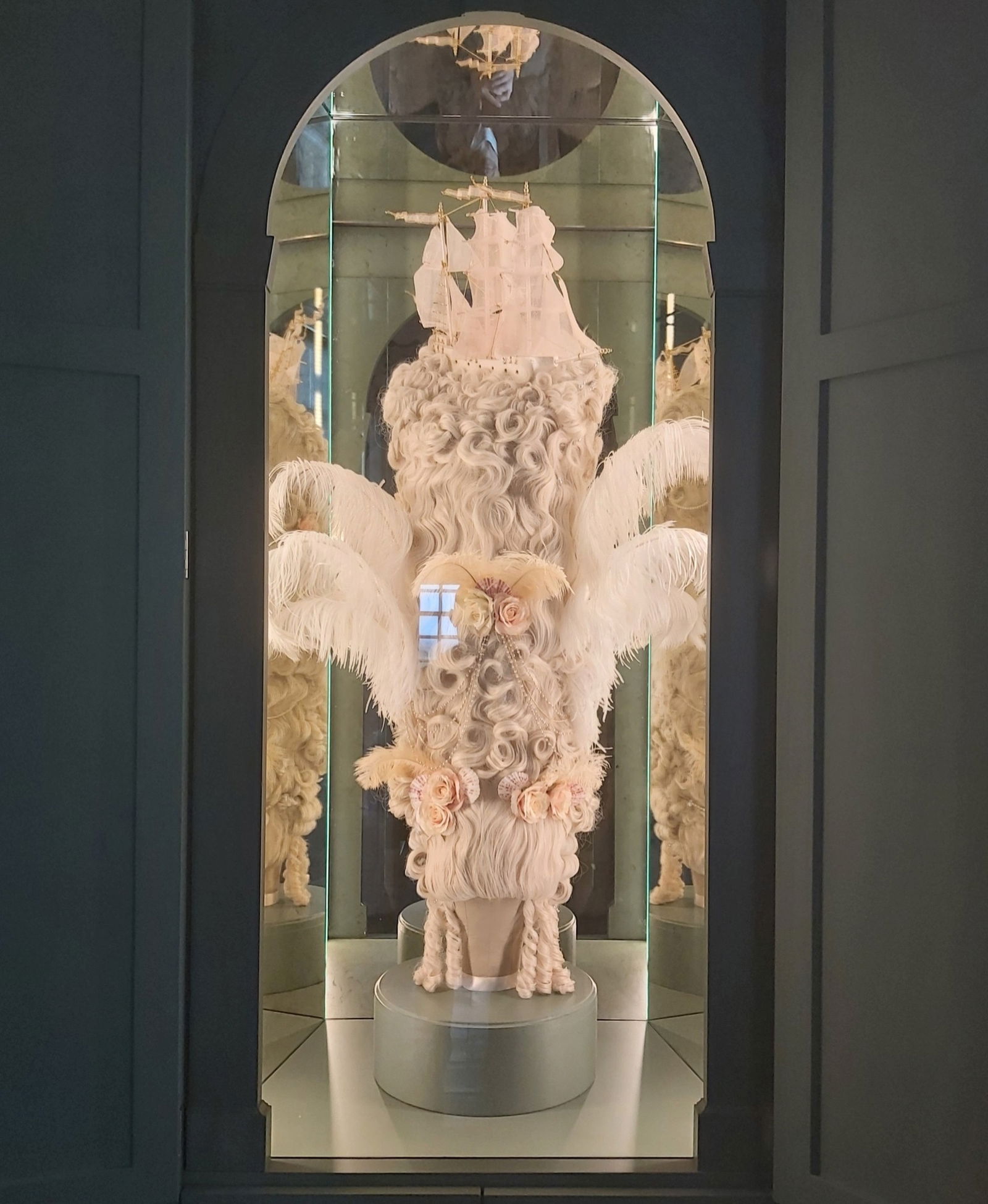 If you are still gasping for more information, then watch a tour of the Hall from the National Trust.
Hope you managed to stick with us through this mega post and head down to Seaton Delaval Hall soon and experience this fabulous place yourself!
And of course it's the law that after you have visited you need to get an ice cream from Arrighi's!!
How To Find Seaton Delaval Hall
Where To Park For Seaton Delaval Hall?
The hall has its own dedicated car park.
Contributed by Simon Hawkins
Thanks for checking out this place on the Fabulous North! I do enjoy a wander out in to the countryside trying to find hidden gems that not many people know about. You can't beat a rogue Pele tower up a remote hill or a mysterious stone circle or a stunning waterfall secluded in a forest.
More Places from Simon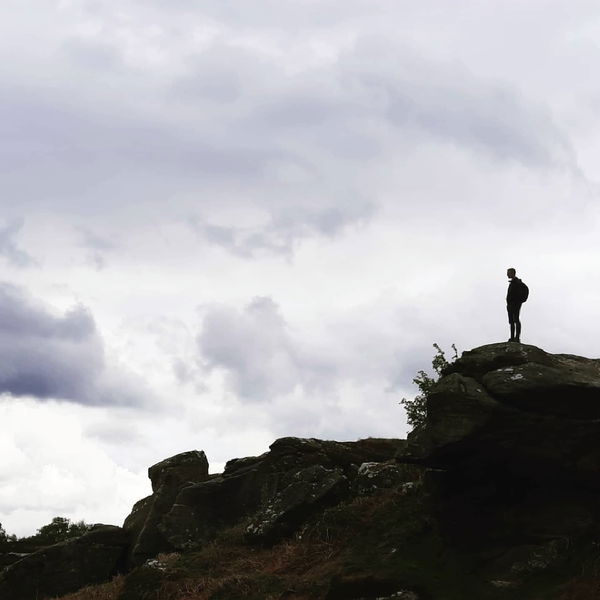 More Places In Seaton Valley
Find more fabulous places in Seaton Valley, Northumberland and if you know of a place we haven't listed, then let us know.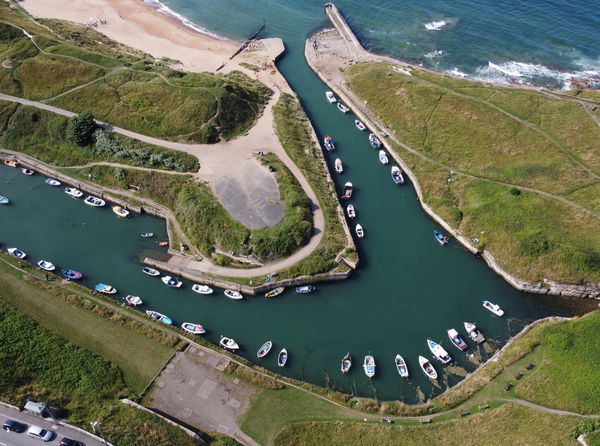 Seaton Sluice
Landscape
Seaton Valley
Northumberland
A small and picturesque harbour which used to export salt, coal and bottles.
The Church of Our Lady
Religious Place
Seaton Valley
Northumberland
A delightful 12th-century church tucked away beside the magnificent Seaton Delaval Hall.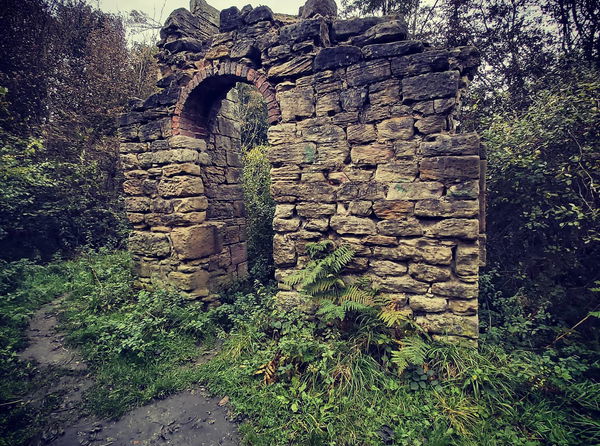 Starlight Castle
Tower
Seaton Valley
Northumberland
A tiny ruined castle just inland from Seaton Sluice.
More Estates
So this estate wasn't enough and you want more? Don't worry we have you covered.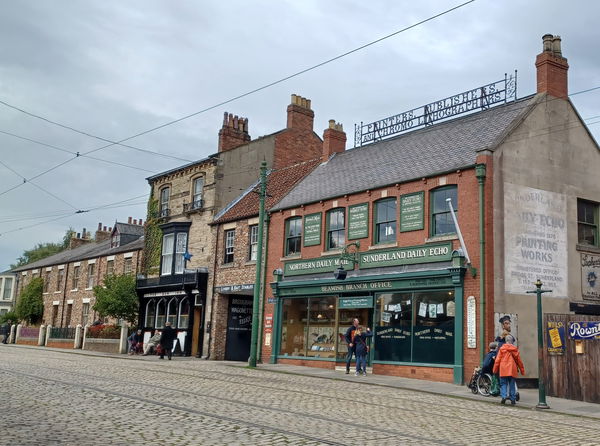 Beamish Museum
Estate
Stanley
County Durham
350 acre world famous open air museum set in rural County Durham.
Cragside
Estate
Rothbury
Northumberland
Cragside is a Victorian country house near Rothbury in Northumberland, built for William Armstrong and his wife, Margaret.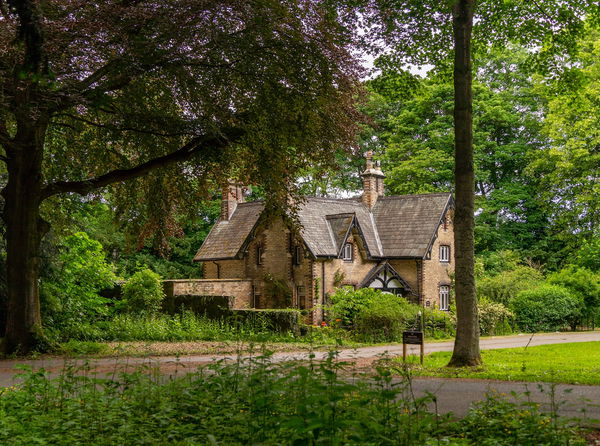 Lambton Estate
Estate
Washington
Tyne And Wear
One thousand acres of historic park and woodland set against the backdrop of Lambton Castle.
Find Walks To Seaton Delaval Hall
Find which walks will visit Seaton Delaval Hall and plan your next adventure.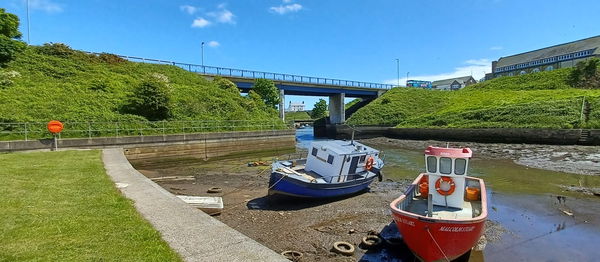 Seaton Sluice And Holywell Dene
9km (6 miles)
Seaton Valley
Northumberland
Circular walk starting from Seaton Sluice, following Holywell Dene to Holywell Pond then onto the waggonways, before returning via the Avenue.
Never Miss A Fabulous Place
If you are afraid of missing out on all the fabulous places we post, or just want to be the first to know, then sign up to the Fabulous North.
Each week we will email you all the brand new places that we visit.
Sign Up To Alerts
Find Us On Facebook
We post all our new places daily on our Facebook Groups page, so join the group today and be notified when we add a new place.
Join Our Facebook Group